Dear Supporter,
This is the donation page for the New Zealand Centre for Political Research's campaign for a colour blind New Zealand and the DECLARATION OF EQUALITY.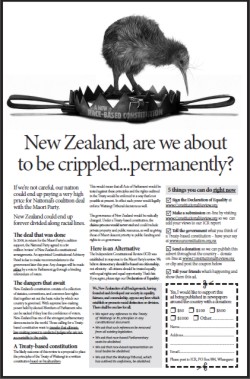 The NZCPR opposed the campaign by the Maori Party to enshrine the Treaty of Waitangi in a new "written" constitution as supreme law, by running a high profile public information campaign encouraging New Zealanders to step up and become involved – you can read the full text of the advertisement HERE.
We also prepared a comprehensive report, "A House Divided" outlining the dangers of a Treaty of Waitangi constitution that we sent to the Government – you can read the full report HERE.
Essentially, our report explains that equal rights of citizenship should be the defining feature of our democracy, and that legal discrimination on the basis of racial ancestry should be opposed. The constitution should be directed to the common good rather than becoming a vehicle for the enforcement of destructive tribalism.
However, those seeking constitutional status for the Treaty of Waitangi have not gone away. They continue to push their cause through many different avenues.
We must remain vigilant and fight against a Treaty of Waitangi constitution in all of its forms since it would irrevocably establish New Zealand as a racist state where one's legal rights depended on racial ancestry – accelerating our drift towards racial separatism.
The reality is that New Zealand's present constitutional arrangements, give this country one of the strongest parliamentary democracies in the world, with the ultimate law-making power held by elected Members of Parliament who can be sacked if they lose the confidence of voters. Whereas a "written" constitution would take power away from ordinary citizens and their elected representatives and deliver it to an un-elected, unaccountable and politically activist and politically-correct judiciary.
Please encourage others to support a colour blind society by signing the DECLARATION OF EQUALITY.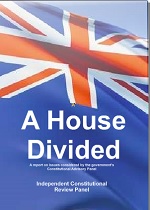 And please support our fight against those who seek to entrench the tribal elite in a position of unassailable racial, legal, cultural and economic superiority over all other New Zealanders by submitting the form below.
Help us to prevent New Zealanders becoming second class citizens in our own land.
Thank you for your generous contribution.
Warmest regards,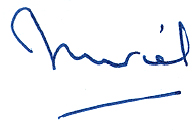 Dr Muriel Newman
NZCPR Founder and Director
Convenor of the Independent Constitutional Review
Email: muriel@newman.co.nz