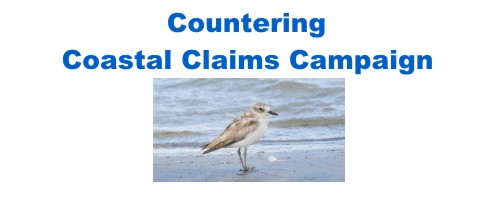 Click here for maps of claims, newspaper claim ads, High Court claim applications, spreadsheets of applicants - and register your interest in opposing local claims...
Latest Column

The Marine and Coastal Area Act is flawed in many respects, but especially in its failure to define a critical legal test. As it stands, unless the law is amended, it will be Judges rather than Parliament that determines whether Maori interests will own some of the coastal marine area or most of it.
Latest Guest

The Marine and Coastal Area Act should be closed down, but instead it remains a privatisation threat to our coast. My Association, the Council of Outdoor Recreation Associations of New Zealand, has been concerned about attempts to privatise New Zealand's foreshore and seabed since 2004.
This Month On NZCPR

The recent volatility in sharemarkets around the world should serve as a warning to our new Government about the fragility of financial markets and the crucial importance of having a strong balance sheet as a buffer against future economic shocks.
---

With the Jacinda Ardern-led tripartite coalition government passing its hundred day milestone in the 52nd New Zealand Parliament,  Labour and National are now running neck-and-neck in public opinion polls.  Either could potentially win the next general election in 2020 outright. 
---

Over the years Waitangi Day has changed from being a celebration of the birth of our nation, when two peoples were united as one, to becoming a grievance day for tribal activists pursuing their Maori sovereignty agenda.
---

Decades of pronouncements, proposals, plans, policies, and programmes aimed at reviving Te Reo Māori have acted like an accumulation of grime on the edifice of the language. These accretions need to be cleared away, to get a more detailed impression of the state of the language and its prospects for survival – if indeed there are any.
---

Under the guise of 'compassion', the agenda is all too easily captured by vested interest groups that are promoting welfare policies that will increase dependency on the state, rather than reducing it.
---

Earlier this month a public wharf on Matakana Island, off the Tauranga Coast, was blockaded with barbed wire and fence posts. A sign placed at the front of the Panepane wharf said, "Bugga Off."
---

A rahui was placed on Cable Bay after a drowning. A man and his family playing touch rugby on the beach were told by a local to ''Clear off…You can't swim here, you can't fish here, you can't play on the beach, so get out of here".
---