Dear Supporter,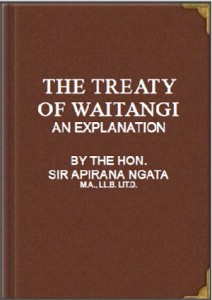 This is our Treaty Book Project fundraiser page – if you wanted the NZCPR's regular donation page, please click HERE.
We have posted on-line Sir Apirana Ngata's explanation of the Maori version of the Treaty of Waitangi, that he wrote in 1922, long before Maori sovereignty activists had become radicalised and began re-inventing the Treaty. The booklet, The Treaty of Waitangi, was published by the Maori Purposes Fund Board and distributed to all Maori families.
To read the book, please click HERE.
We have long believed that if this book was widely available to New Zealand families, it would counter the Treaty 'partnership' fiction, which is being used by the tribal elite not only to gain power and public resources, but to indoctrinate children in schools.
Accordingly, we have now launched our Big Idea Treaty book project, to raise money to publish Sir Apirana Ngata's book and distribute it as far as we can around New Zealand.
If you would like to contribute to this project, please fill in the form below.
If you would prefer to donate by phone, using your credit card, we are happy to help – please call us on: (09) 434 3836 .
And if you would prefer to donate directly, here are the details – Internet Banking: please credit ASB Bank NZCPR Treaty Book Project account: 12-3099-0833814-51 – but please include your first name as well as surname in the reference area, and email receipt@nzcpr.com if you would like a receipt.
Thank you for your wonderful support.
Kindest regards,

Dr Muriel Newman
New Zealand Centre for Political Research
PS If you have any problems, please phone us on 09 434 3836 or email me at muriel@nzcpr.com