"SAY NO TO 3 WATERS!"

QUICK LINKS:

Local Government Directory – HERE
(scroll down to see a suggested letter to use)
Directory of MPs – HERE
Three Waters public information leaflet:
Flyer-2 HERE and Flyer-1 HERE
Three Waters Public Information Campaign fundraiser – HERE
To keep informed register for the NZCPR mailing list – HERE
*Please note that new information is being added below: latest update 18.12.21
Background:
The Government is trying to rush through changes that will see public assets effectively confiscated from local authorities so control can be given to private tribal corporations – without ratepayers being aware of what is going on.
Bruce Smith, the Mayor of the Westland District Council, is providing inspired leadership: "My view is that because of the implications of transferring over a quarter of Council's total assets at below valuation there is only one safe road to take. I will be advocating for a binding referendum to go out to the people of Westland seeking direction on in or out. It's called democracy. It's hard to imagine how any council in New Zealand will be able to make a decision without the clear direction a referendum will bring."
We are urging everyone to join in and contact their local council representatives to demand they hold a public referendum so the community can be properly informed and decide whether to join the Government's scheme.
We have four background articles. The first NZCPR article is HERE and the latest HERE. And the first article by Mayor Bruce Smith is HERE – and the latest HERE.
Email Councillors:
The email addresses of all local authority councillors can be found in the Local Government Directory HERE. We would urge you to send a quick message to your local council representatives to suggest they follow the lead of the Westland Mayor and commit to a public referendum so the community can decide whether to opt in or out.
Distribute Leaflets:
We are also encouraging concerned New Zealanders to join our "Peoples Press", by printing and delivering public information pamphlets around their community highlighting the need for a referendum.
Leaflets that can be used for this purpose can be found HERE (flyer-2) and HERE (flyer-1).
The leaflets are also posted on our website so you can use the social media and email buttons to share them: Flyer-2 HERE and Flyer-1 HERE .
Contribute to the Fundraiser:
We are continuing our fundraising efforts for a nation-wide public information advertising campaign to highlight what's going on. If you would like to support the campaign fundraiser, please click HERE.
Keep Informed:
To keep informed, please register for the mailing list of the free weekly newsletter from the NZCPR public policy think tank by clicking HERE – it's how we keep in touch.
*NEW INFORMATION:
*Latest Update 18.12.21 – DRAFT THREE WATERS BILL
A working group of nine Mayors and nine iwi leaders have been appointed to consider how the new governance arrangements for the four Three Waters entities will work, and as part of that initiative, the Government has provided a draft Bill to inform their work – see HERE. This draft will provide an indication of what will be in the final Bill, which is expected to be released in March once the working group has reported back.
The NZCPR will launch our public information campaign once the final Bill has been revealed next year.
*Latest Update 20.09.21
New images for social media: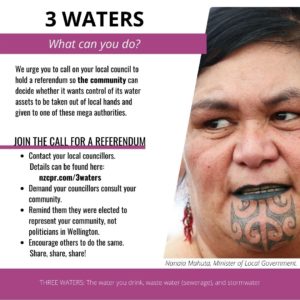 Four MORE images available from our Peoples' Press website page HERE
*Latest Update 10.09.21
New Flyer-2 for Peoples' Press community print and delivery: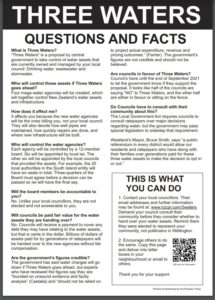 You can visit our Peoples' Press website page HERE (please use the form to submit your ideas for flyers).
*Latest Update 08.09.21
Mayor Phil Goff: Response to Three Waters

Mayor Phil Goff says while Auckland Council supports the government's objectives in seeking to reform New Zealand's three waters system, it shouldn't come at the expense of accountability to the community. "The issue at stake here is about responsiveness and accountability to the people of Auckland through their elected representatives," he says.
Goff Media Statement 11 August 2021 – Three Waters Reform Proposal
*Latest Update 29.08.21
Frank Newman: Three Waters – Lifting the veil of complexity
While the Three Waters reform has made headline news, the dialogue to date has largely accepted at face value the expert opinions that central government says proves the case for reform. The debate has not looked behind the veil, into the expert reports. There is a practical reason why that would be the case. They are not a leisurely read, and I doubt many journalists have ventured into the reports themselves. Read the full article here: https://www.nzcpr.com/three-waters-lifting-the-veil-of-complexity/
*Latest Update 21.08.21
Mike Yardley in Stuff: Axe Three Waters Model and Cofund Infrastructure Projects
…I believe a preferable alternative would be to axe this four-entity model and instead propose directly co-funding water infrastructure projects, particularly for councils with low ratepayer bases, in partnership with local government. The current 50-50 funding arrangement that governs roading projects lights the way.
Read the full article here: https://www.stuff.co.nz/opinion/126087162/axe-three-waters-model-cofund-infrastructure-projects
Jonathan Milne in Newsroom: Fifty mayors speak out on water reforms
From the Far North to Invercargill, the country's leaders give their verdicts on what the $120b-plus water reforms mean for ratepayers. Local Government Minister Nanaia Mahuta isn't yet committing to compulsion.
Read the full article here: https://www.newsroom.co.nz/make-water-reforms-mandatory-govt-told
Suggested Letter to Send to Councils Calling for a Referendum
– don't forget council email addresses are HERE.
Dear XXX

I am writing with respect to the Government's Three Waters proposal. As I am sure you would agree, it is perhaps the most significant decision affecting ratepayers since the amalgamation of councils in 1989.

The Local Government Act requires councils to consult with their communities over any plans to transfer water services, and a strategic asset like water requires the highest level of consultation.

I therefore respectfully request that a full consultation process be undertaken by the Council to not only ensure ratepayers are properly informed about the consequences of central Government taking essential council-owned water services without compensation, but are also able to have a say on whether to accept or reject the Government's proposal.

While the Government has made the claim that the assets will remain in Council ownership, this is simply not true. Once the assets have been passed to new water entities, control will be passed over to an unelected board, and lost to local ratepayers for ever.

The proposed Three Water Authorities will be huge bureaucracies, and while the Government talks about economies of scale, experience shows almost without exception, that the bigger the bureaucracy the greater the inefficiency.

The proposed Governing body is to be a "partnership" between iwi and councils. Half of the positions on the decision-making board will be appointed by iwi and the other half by all of the councils in the region. The result is smaller councils will have virtually no say at all.

Since decisions of these governing authorities will require a 75 percent majority, in effect, that means the total control of water will be passed to unelected and unaccountable private iwi corporations.

Why are iwi being given the power to control our water? That has not been explained by central Government, yet it is a core part of these reforms.

I would respectfully suggest that you should refuse to join the Three Waters scheme until you have received clarification on the role of iwi.

The infantile advertising campaign being run by central Government that denigrates the reputation of local council water management, and the instructions by the Government for councils not to consult with their communities over Three Waters, indicates the politicians are walking all over councils and treating them like fools.

Again, with respect, our council needs to stand up for ratepayers to protect the assets that we ratepayers have paid for over many years.

At the very least, a referendum should be held so ratepayers are fully involved in the decision about the assets that their families have paid for.

Yours faithfully…
*Please note that this letter has also been posted on our Breaking Views blog HERE.
As more information comes to hand we will post it here…