The Peoples Press is a network of people using their home printers to publish material for circulation in letterboxes around their neighbourhoods.
Why do we need a Peoples Press?
Why do we need a Peoples Press? Because the "mainstream" media are now failing to uphold the fundamental principles of Accuracy, Fairness and Balance. Regrettably, some in the media have become advocates of a particular political view and are refusing to publish or broadcast contrary opinions, even when those opinions are rational, well-argued and based on fact.
Our role is to encourage as many people as possible to join the Peoples Press and provide material suitable for printing. We fact-check the content to ensure it is factually correct and not defamatory or unlawful.
Submitting material
If you have material that you consider worthy of publication by the Peoples Press, please submit it for consideration. Please remember the material must be factually correct. It can of course be critical, but it must not be abusive or defamatory.
Please provide your material in A4 size, in print-ready form as a Word document or PDF, using the form below.
Three Waters
Flyers (A4)
Images to download & share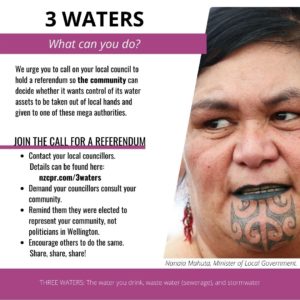 He Puapua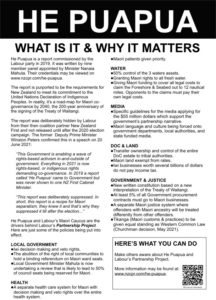 Images to download & share
Video to share