He Puapua – What is it?
He Puapua is a report commissioned by the Labour party in 2019. It was commissioned to be the pathway for New Zealand to meet its commitment to the United Nations Declaration of Indigenous Peoples.
See the full He Puapua report HERE
In essence, it is the road-map for Maori co-governance by 2040, the 200-year anniversary of the signing of the Treaty of Waitangi.
The report was deliberately hidden by Labour from their then coalition partner New Zealand First. The former Deputy Prime Minister Winston Peters confirmed this in a speech on 20 June 2021: "This Government is enabling a wave of rights-based activism in-and-outside of government. Everything in 2021 is now rights-based, or indigenous rights demanding co-governance. In 2019 a report called 'He Puapua' came to Government but was never shown to one NZ First Cabinet Minister. This report was deliberately suppressed. In short, this report is a recipe for Maori separatism, they knew it and that's why they suppressed it till after the election in the full knowledge that NZ First is for one flag, one country, one law. It was a gesture of ingratitude and bad faith."
The heavily redacted version of the report was first obtained by the NZCPR in early March 2021 and its existence was made known to NZCPR readers. A short time later a full version was obtained by the NZCPR and circulated.
Many of the report's recommendations have already been implemented, or are in the process of being implemented.
The report authors are: Dr Claire Charters (Chair), Waimirirangi Ormsby, Naomi Solomon, Gary Williams MNZM and Dr Jacinta Ruru; and government officials, Emily Owen, Judith Pryor, Kayla Kingdon-Bebb and Tāmati Olsen.
Claire Charters is a New Zealand Māori academic from the Ngāti Whakaue, Tūwharetoa, Ngāpuhi and Tainui tribes. She specialises in indigenous peoples' rights in international and constitutional law.
Waimirirangi Ormsby is a 27-year-old, of Waikato, Ngātiwai and Te Arawa descent. She says her vision for the future is, "one or two generations from now to have indigenous people leading the way and having indigenous knowledge systems be implemented into constitution, into law and policy, into the way that we live our lives, for everybody."
Naomi Solomon has had various roles within Te Puni Kokiri and the Ministry of Primary Industries, working in the area of Māori policy development, including the indigenous rights portfolio, representing New Zealand at the United Nations, and providing expert advice on Māori intellectual property issues particularly in relation to Free Trade Agreements. She also served as a Private Secretary to the Minister for Māori Development for a period of time. She is a current Te Rūnanga o Toa Rangatira Board member.
Gary Williams describes this of himself: For more than 40 years, I have been influential in driving change for disabled people and Māori, both in Aotearoa and globally. I am proudly a Trustee of Ngā Hau e Whā National Marae and other NGOs.
Jacinta Ruru is a New Zealand academic and the first Māori Professor of Law. She is of Raukawa, Ngāti Ranginui and Ngāti Maniapoto descent. She is currently a professor at the University of Otago.
He Puapua – Key objectives
The He Puapua Hall of shame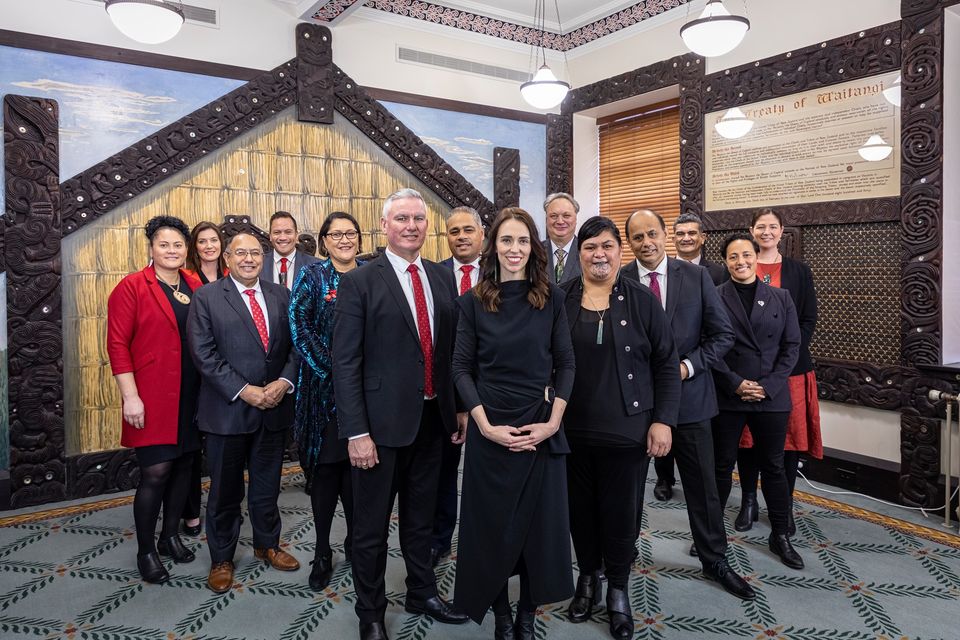 Labour's Maori caucus is at the forefront of embedding He Puapua principles into New Zealand society. The Maori caucus is now the dominant faction within the Labour Party and cabinet.
17 November 2020. (Radio NZ) – "Te Tai Tonga MP Rino Tirikatene and Northland MP Willow-Jean Prime have been unanimously elected as the new co-chairs of the Labour Māori Caucus. Prime said the Labour Māori Caucus now had a record 15 members, each of whom were a committed representative of their people. Tirikatene said Māori now made up 25 percent of Cabinet and a depth of talent within the caucus would ensure a progressive and strong Māori voice in every decision of the government." Read more >>>
Articles and further background information
Muriel Newman: He Puapua, The Final Step to Separatism – A recent report produced by the Ministry for Maori Development outlining a plan for implementing the United Nations Declaration on the Rights of Indigenous Peoples, raises important questions: Is Jacinda Ardern governing on behalf of the people of New Zealand, or is she turning this county into an outpost of the UN? Read more >>>
Muriel Newman: He Puapua, The End of Democracy – In March 2019, Prime Minister Jacinda Ardern authorised the development of a plan to implement the United Nations Declaration on the Rights of Indigenous Peoples. The Declaration had been launched twelve years earlier by the UN but at the time Helen Clark's Labour Government had refused to sign because the demands were too radical. Read more >>>
Heather du Plessis-Allan: He Puapua, We are well down the path of politicising ethnicity – There's a brilliant piece online today by Auckland University Professor Elizabeth Rata talking about He Puapua, the government discussion document on separate Maori systems. She argues we are at a crossroads as a country: we either decide to be a democratic-nationalist one, where there is only one category of people which is citizenship and everyone is entitled to the same treatment, or we decide to become an ethno-nationalist country, where we are divided into ethnic groups, and those who got here first claim "a particular political status with entitlements not available to others". Read more >>>
Peter Williams: He Puapua – let's give Willie Jackson some advice! – In this country today, the Minister of Maori Development Willie Jackson is going to tell us a bit more about what the government intends to do about the He Puapua report. And I just wondered this morning, if you'd like to give Willie some advice about which direction he should take the country based on the recommendations in He Puapua. Read more >>>
Muriel Newman: He Puapua, Disunity and Division. – In this week's NZCPR newsletter we look at the developing situation in Afghanistan and reflect on the dangers of tribalism and the He Puapua agenda that is currently being implemented in New Zealand, our NZCPR Guest Commentator Lindsay Mitchell shares the results of her comprehensive investigation into the progress being made by Maori under colonisation, and our poll asks whether you agree that DoC's $26.5m taxpayer-funded visitor centre at Dolomite Point should be gifted to Ngai Tahu. Read more >>>
Graham Adams: Winston Peters is back… and so is He Puapua. – The NZ First leader claims Ardern's government hid the radical report on Māori co-governance from him. Graham Adams reckons he will extract a heavy price for the betrayal. With the help of a largely dismissive media, concerns raised in April by David Seymour and then by Judith Collins over the revolutionary report He Puapua were soon damped down. But now Winston Peters has entered the fray — and it became clear this week that he has a very personal interest in how it has been handled. Peters alleges the report — which charts a path to co-governance between the Crown and Māori by 2040 — was kept from him deliberately despite NZ First and Labour being in a coalition government at the time. Read More >>>
Tony Sayers: He Puapua – the Wolf in Sheep's Clothing – The document 'He Puapua' is apparently, the roadmap for the implementation of 'The United Nations Declaration on the Rights of Indigenous Peoples (UNDRIP) into New Zealand Law by the Year 2040. This implies that He Puapua should reflect the principles of UNDRIP. However, as I read both documents, it becomes apparent that this is not entirely the case. He Puapua, is using UNDRIP as a disguise, it is obviously a wolf in sheep's clothing. Read more>>>
More information may be found at Breaking Views (Here >>>) Enter "He Puapua" in the search bar.
The People's Press
For more from the Peoples' Press See HERE >>>