July 18, 2021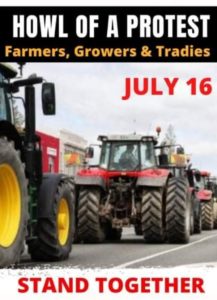 It was certainly a howl of a protest last Friday. Tens of thousands of New Zealanders from all walks of life turned out to support the Groundswell protest. With convoys of tractors, trucks, utes, dogs and horses, Kiwis in more than 50 towns and cities across the country joined together to send the Prime Minister a message: "Enough is enough".
As one of the protest organisers said, "They only seem to have four sports in New Zealand at the moment, that's rugby, cricket, netball and bashing farmers – and farmers and rural people have really just had enough."
The Government's 'divide and rule' approach has seen farmers villainised for far too long. It's undeserved and unacceptable.
From the imposition of a bureaucratic farm planning regime to regulating when crops can be planted and where livestock can be grazed, under the guise of the United Nations Agenda 2030, private property rights are being undermined through a multitude of sustainability and biodiversity controls – including 'Significant Natural Area' land confiscations.
On top of that, climate change restrictions loom as a major threat.
In spite of AgResearch confirming our dairy farms have the smallest carbon footprint per kilogram of milk in the world at 70 percent lower than the global average, with sheep and beef farmers having the smallest environmental footprint of any red meat producer at 50 percent lower, the Climate Commission wants farmers to slaughter a million cows and 4 million sheep to meet Jacinda Ardern's excessively harsh emission targets.
This is in spite of the UN Paris Accord specifically requiring governments to exempt food producers from restrictions. In fact, if reducing global emissions really was the goal, instead of penalising Kiwi farmers, the regulators would be encouraging them to increase production to gain a greater share of the global market.
For many New Zealanders, Jacinda Ardern's ute tax on essential work vehicles for which no electric alternative exists, was a final straw.
Her dismissal of their concerns: "I do not accept any suggestion of a rural-urban divide", shows just how out of touch the PM is with real New Zealand.
Instead she is fixated with imposing her radical socialist values onto society – expanding the power of the State not only through tighter controls over farming and other businesses, but also through centralising the management of services that have traditionally been devolved to communities.
In addition, the PM is covertly embedding her separatist "partnership" agenda into every aspect of our lives.
Last year's creation of the mega agency, the New Zealand Institute of Skills and Technology, is a case in point. It not only 'hoovered up' community-based polytechnic and trades training assets, but it also introduced separatist control.
The new health reforms are following the same model: power is being centralised and local democratic control lost through the abolition of District Health Boards, with Maori control of a separatist health authority – and the power of veto over the entire New Zealand health system.
These two reforms were mapped out in He Puapua, the report commissioned by the Labour Government in 2019 to provide a roadmap for Maori co-governance of New Zealand by 2040.
The New Zealand First leader Winston Peters claims the Prime Minister "deliberately suppressed" the report, keeping it from his party and the public.
But Jacinda Ardern denies the report was deliberately hidden, compounding her deception by claiming He Puapua was just a discussion document and is not being enacted.
Her comments bring to mind the words of Aleksandr Solzhenitsyn: "We know they are lying, they know they are lying, they know we know they are lying, we know they know we know they are lying, but they are still lying."
When it comes to fresh water, He Puapua outlines the separatist goals: "provisions to make co-governance and co-management of freshwater bodies compulsory" – and "receive royalties for the use of natural resources such as water."
The Three Waters proposal Prime Minister Ardern is currently forcing onto local government, delivers the He Puapua objectives. By transferring the ownership and management of drinking water, storm water and wastewater infrastructure, from 67 local authorities into four new agencies co-governed by tribal interests, Jacinda Ardern will pass control of fresh water to Maori.
Co-governance of these water authorities would give Maori the right of veto over all decisions relating to the allocation and use of fresh water. As sure as night follows day, the end result will be free or heavily subsidised water for Maori users, and a royalty paid to Maori whenever anyone else turns on the tap.
As Victoria University's Dr Bryce Edwards observes, "Coming on top of the He Puapua report, with its vision of 50-50 co-governance with Maori, this will stoke suspicions that the Three Waters project is as much about power-sharing with iwi as it is about reducing costs and ensuring consistency of water quality and administrative efficiency."
Jacinda Ardern has no mandate for her Three Waters proposal.
While Labour's election manifesto stated, "Labour will reform New Zealand's drinking water and waste water system and upgrade water infrastructure to create jobs across the country", it did not specify control would be delivered to Maori.
Nor did it signal that local government would be stripped of major assets and a core role, with communities no longer able to have any say in the delivery and pricing of water services.
As political commentator Ashley Church says, a main weakness of the proposals is the "loss of local democratic control, unwieldy and illogical boundaries and, most alarmingly, the likely creation of huge, bloated, faceless bureaucracies which will almost certainly be less efficient than the bodies they replace. It's also important to note that water is not the same as a utility like electricity where scale provides cost and delivery efficiencies. Water issues are usually quite specific to local communities and require localised solutions based on geography and a unique mix of lifestyle, commercial activity and rural production."
Furthermore, there are no guarantees the reforms will produce the improved outcomes being claimed. Labour's dreadful track record of over-promising and under-delivering, give local communities little confidence that the cost savings would eventuate – or that there would be any avenues for redress.
This week's NZCPR Guest Commentator, Bruce Smith the Mayor of the Westland District Council, has produced an excellent video HERE explaining the debacle of the Three Waters reforms – and is kindly sharing the details of his 'journey' with us:
"Some months back, government announced a one-off payment with no strings attached, costing $740 million across New Zealand, to stimulate the economy during the covid recovery period. All the councils had to do was supply the Department of Internal Affairs with a full analysis of their current Three Waters assets and programmes. Councils also had to spend the money on Three Waters assets…
"There were very tight timeframes for the supply of information over Christmas 2020. Then came a series of rushed meetings around the country. The key message from the government's PR team was 'we have proven the case for change'. PR spin at its very best."
Bruce explains that a further carrot was dangled for councils that decided to join "the Masterplan for centralised control of water."
This $2.5 billion bribe was available for councils that agree to sign up. But it has strings attached – the money must be spent on the Government's priority projects including climate change and engagement with Maori. $1 billion of the funding is coming from central government, with $1 billion from the new water authorities – in other words, from future water users. The remaining $500m is to refund unavoidable costs incurred by local authorities during the transition.
Bruce Smith describes the Three Waters project as "PR spin at its very best". He explains that the government stressed participation in the scheme would be optional, and councils took them at their word.
They advised that Three Waters assets owned by each council would be transferred into one of the operating entities, and while councils would receive cash to retire any debt, there would be no compensation.
While councils would still own the assets through some form of joint ownership of the water authorities, there would be no shareholding. The new entities would then borrow up to $160 billion (more than the Government's total net debt) to fund their activities using council assets as security.
Bruce says, "Government's proposed governance structure takes all decisions in relation to Three Waters away from Councils. Ratepayers will be billed direct from the water company. The governance structure has been proposed as 50% councils who have put in 100% of the assets and 50% Iwi."
It is no coincidence that the boundary lines of the four water authorities have been aligned with tribal boundaries. In the South Island it is proposed that six elected members of the agency would represent 21 South Island councils with their population of 1 million, while the other six would represent those who affiliate with Ngai Tahu, which has 68,000 members, only half of whom live in their tribal area.
When it comes to progressing the Three Waters proposal, the Department of Internal Affairs warns, "A large scale communication eff­ort is required to ensure local government support reform."
That "large scale communication eff­ort" is now underway in the form of an infantile and patently incorrect $3.5 million propaganda campaign depicting local government as failing to provide safe water to the public.
Journalist Karl du Fresne says it takes "advertising to a new low", and he outlines the ridiculous text: "Imagine Aotearoa without good water. What a stink as place that would be. Trout would be grumpy. Boating no fun. And dirty ducks a sad sight to see. Mean as manus wouldn't be mean. Showers a complete waste of time. Bathrooms would be just rooms. Togs just undies. And our awa, all filthy with slime. That's why we've got a plan, 'cos we're water's biggest fan. So let's make it better than fine."
He explains "The accompanying illustrations, crudely drawn comic-style, showed a pipe belching noxious-looking waste into a river, a duck swimming through sludge and a horrified child bather coated in muck, all eye-catchingly presented in full colour… That's right: we're paying for an extravagant advertising campaign aimed at persuading us that the government's grab for control over the nation's water infrastructure is in our own best interests."
The country's Mayors were incensed by the adverts, and, as Bruce Smith explains, "collectively wrote to Minister Mahuta asking her to withdraw the ad which was considered inaccurate and insulting".
He says the Minister's answer was "a firm no".
It's time the country's Mayors woke up to the tapestry of lies being told by Minister Mahuta and Prime Minister Ardern.
Being rolled out is a plan for an unprecedented transfer of billions of dollars of ratepayer-funded assets to central government with control given to Maori tribal interests.
This is being done without any offer of compensation and without any consultation with the communities that own the assets – even though the Local Government Act requires councils to consult their communities when considering the disposal of strategic assets.
Local Mayors and Councillors must surely realise that if they do not unite to block this radical proposal, they will be progressively stripped of virtually all of their useful purpose.
Not only that, but they will become known as the ones who failed to stand up to the heavy-handed tactics of central government, which wants to seize ratepayers assets without compensation, removing the right of communities to have a say in the quality and cost of the essential services being provided to them.
Mayors have until September 30 to advise the Government whether or not they agree to join the scheme.
All councils should urgently hold a binding referendum of the residents and ratepayers they were elected to represent, to ask whether they want their assets transferred to central government without compensation, so control of water can be passed to iwi.
Please note: To email this article, please use the PRINT button on the top right. And to register for the NZCPR's free weekly newsletter, please click HERE.
THIS WEEK'S POLL ASKS:
*Do you believe local councils should hold a binding referendum of residents and ratepayers before deciding whether to opt in or out of the Government's Three Waters proposal?

*Poll comments are posted below.
*All NZCPR poll results can be seen in the Archive.

THIS WEEK'S POLL COMMENTS
| | |
| --- | --- |
| Like virtually all the other contributors, I agree that this great, democratic and free nation of New Zealand, is being systematically and intentionally chained to the wall and suffocated to death. Many are calling for total rejection of this brattish school-girls, perversity at the next election. Right action too, but that's far too distant into the future–over two years in fact! Way too much damage will be inflicted in the remaining time of Labours depraved realignment; and if we know this then the photo Queen and her subservient puppets will know it to. In other words, Ardern and her spineless slaves are clearly confidant that they can instill the new programmes, legalise and lock them in and have them up and running. And all in good time to seduce enough of the nation, backed up with a misguided collection of intellectuals, mixed race activists, many with only small amounts of Maori blood in their veins as well as a general peppering of urban idealists, many who've probably never done a hard days work in their lives, I am not a racist and will confront anyone on that; but so many of those who endorse this marshmallow, pandering tiptoe-very- discreetly scenario, are in it for the image, the hype, the reward or because it's trendy. Nothing wrong at all with .any person seeking to correct where realistically possible, some of the mistakes from yesteryear. But it needs to be addressed to the wider genuine Maori population and with the respected Elders involved–not the poncy radicals, and completely devoid of any involvement from the sick, distorted mothership of the U.N. What then can we all do, as time is so desperately short? It seems automatic that Arderns team should be brought up short in the High Court, or challenged by the major Agencies for Law and Justice that we have in the land. But it seems that most have been bought or bridled and remain passive. I cannot believe, the extent that this gutless crew of weak imbeciles are simply walking over the rights and lives of so many people. They have no mandate, no moral grounds at all, they're self righteous, arrogant and so self inflated. And yet, they're getting away with it. What a fairy tale of sub juvenile hogwash, that PR message on the 3 waters proposal–it's impossible that this trash and drivel, apparently came from professional, educated minds. I don't have any special solutions; writing to most of the drones in Arderns Garden, will probably gain little. If we knew they would be read and passed to the relevant Minister, it would help to wear them down. But perhaps,,as I've suggested before, we should request, cajole plead, and write without ceasing, to all the Ministers of National and Act. To respond to this Labour assault and war with them, is what they're paid to do. We need to write to Winston and encourage him and his team, to get back into the Ball game and steal the ball. It's time to put aside the minor differences of Policy and practice between the Parties; a coalition of National, Act and New Zealand First, may be our only hope to save this dangerous day. The party political differences and their relevant finer points, can be brought into play at a later date;–we–all of us, Politicians and citizens are actually fighting for our National identity and SURVIVAL. The battle could be restrained and won with these three parties working shoulder to shoulder. It seems well worthwhile that, we simply must contact, encourage and support them within the other parties.NOTE: Winston is not back yet but all indications suggest he's returning to political action. Much encouragement could cement his decision. | Alan |
| Based on what I see from you editorial ,I for one do not wish to see transfer of any rate payer funded asset to Central Government . Forget compensation . | Cliff |
| We have had enough of dictatorship. How do we stop this? | Gay |
| Let's face it, the ratepayers are and will continue to fund the water infrastructure in New Zealand. Do we really want a non democratic, non accountable race selected governance imposed on us by a government with absolutely no mandate to do so ? Our water quality standards are among the best in the world, do we need this let's fix the housing crises, let's fix the energy sector, let's fix farming government of naive incompetents have a go at our arguably most critical infrastructure? Please, we must stop them. | Donald |
| I have read the responses to the 3 waters issue and I am in complete agreement in general terms. However it concerns me that there is a such a strong ill feeling towards Maori in general. This is social engineering and PR spin by Ardern at its best. Divide and rule is her plan and nothing else matters except the numbers on election day. Mahuta and her mates are nothing but puppets for Ardern and as usual the divisive minority get to stand on the podium because of our biased left wing 4th estate. It's a shocking and unacceptable political scenario that's evolving but let's not play into the hands of Ardern by fueling her race card when she is the sole issue. | Bernie |
| Three Waters is just the tip of the iceberg. Look at what has happened under the Wai262 claim regarding indigenous flora and fauna cultural and customary heritage rights in relation to taonga. https://www.tpk.govt.nz/en/a-matou-kaupapa/te-ao-maori/wai-262-te-pae-tawhiti This is closely followed by work being done by Government funded Genomics Aotearoa who are looking in to the role of traditional guardians and institutional stewards in the context of genomic research and taonga species. https://www.genomics-aotearoa.org.nz/projects/te-nohonga-kaitiaki People are going to be blindsided by the impact that this will have on private companies making products using New Zealand biological materials. | Amy |
| as far as a LOCAL body referendum can be binding.. | Brian |
| This defines democracy. | Frank |
| This governments radical ideas and proposals need to stop. NOW | Doug |
| | |
| --- | --- |
| I'm not sure everyone understands whats going on here. If people don't understand they won't do anything we need the referendum spelt out so everyone understands this is HUGE!! | Frank |
| I am sick of this racist Government. We need to rid this country of them, now. | Ro |
| Urgent | John |
| Councils need to stand up and say NO to the racist Marxists Ardern and Mahuta. What the hell do we need to pay royalties to apartheid Maori? We need to be marching in the streets – good on the farmers for their protest. | Monica |
| The government think we are fools but I believe a referendum would prove we are not and give councils the answer they should give which is an outstanding NO. | Elaine |
| democracy | John |
| Ardern and her commie mates in Wellington are out of control. I want a general election | Carole |
| This will be the first opportunity for us to officially register our disapproval of the Government's forcing legislation through at all hours of the night and in extended sitting hours without reference to the adverse ways they are affecting us. Examples of this include the Maori wards being forced through despite our recent vote against them and no referendum allowed. Health Boards abolished and central government takes control. Technical Education being centralised with no option and Nelson's considerable monetary reserves confiscated. Local council's administration of water supply and ownership confiscated using a bribe of $20 million in taxpayer money, in Nelson's case to persuade Councils that the Government must control all water. This will then be passed over to Maoris so they can then add their demands and dip into the consumer's back pocket. Consumers are threatened that if they don't agree, water costs will go to $9,000 a year in short time. Goodness knows where that figure comes from. Labour's aim is the Government must control every facet of living to prevent as many as possible owning or running a business. | Chris |
| Democracy must be followed, not as is the case currently with dictatorship | Rob |
| lets make councils send out voting papers now before that treasonable person called mahuta does what she did about pollywogs being on council without the voters saying yes or no, also to me allowing the govt to steel our assets and give away to a bunch of missfits who have more than likely never paid rates in their life's is corruption of the first order between labour,, sorry make that a commie govt and her brown nosing mates. | Richard |
| this is another power grab too be shared with iwi and must be stopped | john |
| When you take something from someone who doesn't want to give it to you, it's theft. Why can we not hold this government accountable? | Fiona |
| There was a certain German mid-20th century ethno-Socialism that did not begin with gas chambers. It started with one blood-and-soil racist party controlling the media. Controlling the message. One party rewriting history. One party deciding what is truth. One party censoring speech and silencing opposition. One party dividing citizens into 'us' and 'them' on ethnic grounds, and calling on their supporters to harass 'them'. It started when good people turned a blind eye and let it happen. Bearing all that in mind it is grave cause for concern that, arguably, the top five China virus pandemic lessons are: 1) Most people would rather be in the majority than be right. Most people would rather get-along-to-go-along with the majority than be right. By right I mean here have opinions about subjects that are bounded by a domain of facts that conform with sound logic, facts and what is proven to objectively true, backed-up by the available empirical evidence. 2) Between 20%-30% of the population, 20%-30% of all men and women, have strong authoritarian tendencies, which will emerge under the right conditions. 3) People's fear of death is only rivalled by the fear of social disapproval. The latter could be stronger. 4) Propaganda is just as effective in the modern day as it was 100 years ago. Easy access to limitless information has not made the average person any wiser, nor has it endowed them with the common sense and critical thinking skills necessary to detect ideology-backed media propaganda campaigns or to detect when Machiavellian demagogues, who claim to be champions of the poor, are telling lies to the powerless to grab power for themselves that will ultimately impoverish us all. 5) Anything and everything can and will be politicised or racialised, or both, by race-Socialist ideologues, their intersectional feminist girlfriends in the state-paid media, academia, intersectional white left tribalists, Maori supremacists, the mouthpieces of ethno-Socialist government, and those who trust them. 6) Most fair-minded people believe the government acts in the best interests of the people. Even many who are vocal critics of the government. But race-Socialist government; Critical Race Theory believing politicians, bureaucracy in the boa constrictor grip of CRT, acts in its own best interests and the governed be damned! (That's why we should have as little government as we can possibly get away with. Baizu white left government is not the saviour of the people. Government is but a necessary evil.) | Shaun |
| Imperative that there is adequate wild consultation before any decision is made that will have far reaching effect on our water supply. | Virginia |
| THE GENERAL PUBLIC should decide as to the central government taking the water resources away from local government. As we all know Maori are behind this move and can see this as a money making scheme. Bring this Government Down. | ken |
| These actions are ruining New Zealand and ruining its people. | Pieter |
| It's racism gone mad | Bruce |
| I do not know how government can give control to ONE body of something that falls from the sky for everyone | keith |
| The political elite in Wellington have no mandate from the electorate to take over ratepayer owned assets. For goodness sake New Zealanders – Wake Up! – We all know the greedy Maori iwi "Leaders" will be lining up with their water meters at the ready for another taxpayer funded income stream. | Rex |
| Better that councils reject this ridiculous and dangerous proposal outright | N. |
| Just Yes | peter |
| but it won't happen in Gisborne. They bulldozed thru' the Maori wards without consultation. So the same will happen here. | mike |
| Bring back democracy in NZ. | Peter |
| YES, Definitely. Too much at stake to be introduced with no mandate. Communist rule going on here, democracy being destroyed. Deliberately. | Grahame |
| Bring back the Guillotine. Heads must roll to stop this madness. Oh and don't forget your knitting. | Graeme |
| why are we paying for these ridiculous Clean Water ads? They seem to be aimed at people with little or no intelligence . A real insult! | Eliza |
| Everyone in NZ needs to read Bruce Smith's speech. I cannot believe that this is happening in our so called Democratic country.. I am fast losing faith in Jacinda after admiring her ( what I originally thought was ) her astuteness and maturity. I now fear for the future of our country under her leadership. | Susan |
| Absolutely, definitely a loud, clear yes, yes, yes. | Rosemary |
| It's rate payers right to have a say. | Erica @ Max |
| Ratepayers are the owners of these assets! Councils are elected by ratepayers to. protect that asset base! | Roger |
| And dump this Labour government. | Malcolm |
| This socialist government is taking away all of our rights. Communism is not far away. Our PM is making all the decisions for us. She was not given the mandate to do this. New Zealanders have a right to the democracy that belongs to us. | Robina |
| Yes! it's time the people had some say. Instead of being dictated to by Jacinda and her comrades | Laurie |
| An extremely deceitful and untrustworthy government. | Jeff |
| We already have elected representatives, but can we trust them, if the answer is no then yes we need a biding referendum | Geoff |
| Private enterprise built this country God help us from now on. What a load of rubbish when we hear we are a team of five million. | Ross |
| This is just another ploy to make it easier for govt to eventually transfer all water rights to Maori tribes! | Janet |
| Otherwise we are in danger of losing local control over local situations. Every district is different and one size cannot fit all. | Jocelyn |
| YES YES YES .. democracy should demand it!! | Maddi |
| It's the only way to know what the majority of the public are thinking. Te Poo Pooa will see record sales in water tanks. Mind you, NZ is getting exactly what it voted for. As a pensioner, I'm not fooled by pension or benefit increases when they are eroded by the cost of living almost immediately. We need more referendums. | Ray |
| Yes they should, but no, they should not need to if we had a proper democratic government instead of this bunch of communist tossers. | Peter |
| Just another step in the creation of a communist New Zealand. | Michael |
| Stay out of Government proposal completely | Jill |
| The peoples voice needs to be heard and followed in regards to this radical proposal from our extremist government | John |
| It's no longer a takeover by stealth – its a full on power grab. | Brian |
| absolutely, I believe the PM talked to "being the most transparent Government ever". Time to stand behind your words. | Gavin |
| Definitely should be the water situation controlled by Maori is frightening about time NZ stand up and say enough get rid of this abysmal government | Sidwell |
| Democracy is dyeing under this government | John |
| Water is too important for the government to manipulate. | Margaret |
| I understand that the all powerful, singing, dancing performing proposer of this move can take control anyway. A national referendum would be ignored. A local one would almost certainly reject the suggestion but would be fighting against propaganda circulated by government with deep pockets . But let's not capitulate . Start a writing campaign to every mayor and all councillors asking them to stand firm against this attempt and any others to control everything. The cartoon message should be questioned by asking which parts of the country it refers to so that measures can be taken against the offenders. It's an illusion of the worst kind | Mike |
| Joining the dots now on this with the forced Maori Ward situation being clearly a preamble to forcing the Government's Three Waters 'initiative' through via undemocratic process. Just look at what rubbish is available on DIA website about this: "Taumata Arowai will operate from a te ao Maori perspective aspiring to higher outcomes for wai and tangata in Aotearoa. We will work in partnership across Aotearoa, taking our lead from Te Tiriti o Waitangi, to regulate and influence the water services sector to improve outcomes and reflect on the importance and interconnectivity of the health of tangata and of wai." WTF? | Tony |
| they're separatists, thieves and liars. | Gregor |
| Yes! When will this mob listen to the electorate? | Brian |
| This needs done now immediately | Trevor |
| Absolutely! | alan |
| Stuff Labour | GORDON |
| I am totally disgusted by this abhorrent power grab. Sleepy Kiwis need to bloody well wake up! | Allan |
| Going on how this government is operating it may be the last democratic referendum decision we have. Even then I would not be surprised if the Labour Government just compulsory takes over the water if not accepted by councils. | Beau |
| This idealistic dictatorship has to stop. | Anon |
| Surely they must consult and given the time allowed to report back to the acceptance or not .it does not allow this! | Chris |
| I have voted yes but with reservations. The gene pool for local body politics is not great and the amount of people who vote is very low. If you look at what Labour are getting away with at the moment we all should be very worried. We are already creating a very divisive country and now effectively with water control going to Maori we are just digging a deeper hole which will help to destroy this country. | Salve |
| 100% we should have a referendum on our brought and paid for infrastructure, including Maori wards, language etc. This appears to be a coup from a small group of mixed race to gain power and financial benefit only for "their people" Ardern is telling 85% of New Zealanders To Eat Cake, she is on a roll; she cares not a jot for her country, its all about the UN dictate. | Sam |
| yes all councils | terry |
| Electricity reforms failed – what hope for water – government incompetent | Janie |
| Yes a referendum should be held on all the important issues in New Zealand not just this one. The Treaty interpretation, Our Countrys name and Maori Wards as well as whether we want the Maori language introduced into our day to day lives. | Janine |
| Decidedly so | James |
| No doubt about it. COMMUNISM at its worst | Bev |
| Lets not underestimate the significance of this backdoor takeover of a peoples resource by the Marxist leader of this Government. She has had another backdoor entry on land with Areas of Natural Significance. It appears that she is beginning a Communist State grab of all private property, already labelled "theft by the Crown". When is your house next? As already hinted will it be by way of death duties? There will be the usual blurb about don't worry its only a 5% tax, but what is to stop it being 50% or even 80%? When they have water and land everything else will follow. | Terry |
| Stop the rot that the Labour government is so hell bent on destroying our democracy. | Carl |
| Absolutely! | Jane |
| I consider it vital to hold a referendum for the future good of the country | Chris |
| A referendum could be dangerous as the Govt hold most of the spin delivery cards . They change the rules as they go . This is a very serious matter . Personally I think , especially here on the WestCoast we should simply refuse to comply with anything the Govt says. Water is our greatest asset for all who live here regardless if they are Maori or non Maori. We are all born of the land and it is a birthright, Race doesn't come into it. | Greg |
| If what you say is factual Te Paupau as written should not get into law. Full page adverts highlighting this atrocities should be made so that more kiwis can see what is at stake here. | Doug |
| I wrote comment and booklet of Arthur Chresby. Contact me for more vital information. Ian | Ian |
| We have got to take a stand against the cancer of communism that jacinda and her comrades are quietly but quickly slipping in the back door of New Zealand. | Urban |
| This has implications for iwi ownership and control | Susan |
| Nationalization sucks. Government running anything is always a recipe for disaster | Richard |
| Yes. The UN's 2030 AGENDA is running the country. No matter what government we elect in the future, nothing is going to change. Get out of the U.N., the Paris Climate Agreement and regain some of our stolen sovereignty. The centralised power and control of Globalism (actually fascism) is evil and will end badly. Enjoy your last days, weeks, months and years of bloodless freedom. | Don |
| we will insist we are consulted and the council will abide by our wishes as to the assets we own. | keith |
| This proposal stinks and shouldn't even be on the table. No one owns the water in New Zealand. The assets for this proposed distribution were paid by all rate and tax payers so the government should have no right to them. There will be a lot of angry tax payers if this continues. | Jo |
| We are in a very dangerous situation. Our democracy is truly at risk | Miles |
| Water should never be owned by anyone. It is a product of Creation and comes from outside anyone's control or ownership. Nor should it be corporatised in any way that allows personal or corporate business profiting. It must be managed locally and should be sacrosanct to territorial councils. | Jack |
| Whangarei have shown backbone and said NO!. I trust them to stand firm on this. Other councils must know what is going to happen and do what it takes. This might be the thin edge of the wedge. | DICK |
| The most left wing Government New Zealand has ever had!!!!!!! | Les |
| I doubt carterton council would ever consult ratepayers in anything | Ayden |
| Democracy says we should have a say about our assets | Bev |
| Whangarei water supply system has been developed and paid for by rate payers and is 1st Class. Opt out. | Richard |
| Next question : how do we stop this Government quickly? It is rolling along just a little bit too easily! | Robin |
| What is going on is scandalous. Councils need to unite against this grossly undemocratic move. | MURRAY |
| It belongs to local Council, not political interests. | Trevor |
| if it's not broken then don't fix it !!! | Brian |
| Absolutely disgusting !!! | Helen |
| Yes! Yes! And again, yes, to a binding referendum! Don't let the Government take over what happens with our water! | Jacky |
| As a Tauranga resident with a govt appointed commission rather than a council, it is essential to hold a referendum before any decision is made regarding 3 Waters. | Alan |
| It might be a bit late to hold a referendum, but Jacinda should stop the Three Waters fiasco immediately. It is just a way of giving Maori control of water. I do not see how it would be cheaper for a giant buracracy to improve the water and sewerage etc. etc. Drop the scheme immediately. | Frank |
| This proposal affects all city councils in NZ and proposes to take all existing water assets out of these council hands. As a government agency/department would then own these assets they would be administered by yet another government department. We know how 'efficient' government departments under socialist governments so we can expect it will be over staffed and ineffective. We all know the track record of the current government projects in over promising and significantly under delivering. It will be another project that will have a huge con advertising budget that will have dubious 'facts' and heaps of promises. As for Maori having a 50% right to sit on the controlling boards is ridiculous. That is racist in my view to start and is not a fair representation of our population. | Keith |
| What next will this disaster of a govt do! | Peter |
| It would be nice if we lived in a democratic country where we could vote on major decisions and those elected to serve us, and paid by our tax dollars, actually did what the people voted for. | Caro |
| Sounds like another strand to the Apartheid trend. You are right, it won't be five minutes before we are PAYING Maori for something that falls out of the sky – and everything will be FREE for them! | Sylvia |
| This could well be a turning point in New Zealands future. Labour should be ashamed of their lies and deception. | Rick |
| Another step too far and a step further into Aparthied. Why cant I protest that I am being racially discriminated against? | Brian |
| The only way to stop the loss of democracy in NZ is for the public supporting a referendum on this issue. This PM is one of the most deceitful and deceptive leaders that NZ has ever had. | Wayne |
| I fear for the future of NZ if these separist / racial policies are enacted. | Steve |
| A Democratic process, unlike the 'Bulldozer' type Agenda being driven by the current Government. | Geoff |
| Enough of this bulldozing of policy without any mandate from the public – opt for kicking out this government. | Clive |
| Enough. Leave our water control to our local councils with et red a funding from government for. smaller councils. No Maori involvement | Norman |
| Surely there must be some way that the people of this country can get this mad communist & her cronies forced out before they totally ruin New Zealand! | david |
| Councils operate an asset that is the property of the ratepayer and they are US! | John |
| YES _YES_YES!!! The Three Waters proposal needs to be shut down – forever. Current law declares this is the only way ahead., maori are NOT a majority in this nation and NEVER WERE.. They still number less than a quarter of the total population. They have NO RIGHTS over and above this.. It is time TRUTH was acknowledged in New Zealand, They are not and never were the indigenous people to live here. Mori Mori were here – a peaceful, welcoming people who suffered terrible treatment from the hands of the incoming maoris, who were kicked out from their home lands for criminal behaviour. Stop this despicable government turning our nation into another South Africa. This government has to resign, now, and not wait for the next election to remove them from office. No one owns the water, and never will. It is administered by local councils based on the geography of each area. NO ONE OWNS THE WATER. GOD DEFEND NEW ZEALAND from this unjust and dishonest government. | CMM |
| If successful, this proposal to donate all our community, water-related, assets into the Three Waters four bodies is stealing assets paid for by taxpayers over the years to leverage extraordinary borrowings to finance the seperatist movement currently underway in NZ. Watch Bruch Smith`s video if you`re not convinced! | Pieter |
| Let's be logical. Water in the form of rain comes from the sky. Thank you Mother Nature. It belongs to no-one. For Maori to claim they own it is ridiculous and an outright lie. | Robert |
| A clear telltale sign of where this is headed is in the article's aforementioned statement…'It is no coincidence that the boundary lines of the four water authorities have been aligned with tribal boundaries.' Maori boundaries! We have been warned. My non-racist blood is starting to boil. | Robert |
| They are taking the water to give to the maoris | stephanie |
| Yes us ratepayers need to express our rights to keep our assets in local control. | Margaret |
| If councils "opt out" what is the consequence? | David |
| I have already emailed government with questions still to be answered I am not holding my breath and won't lose any sleep as I am 100% sure answers to my questions will not come. All I ever get is an email it has been received | Mary-Ann |
| COUNCILS- STAND UP AND REQUIRE A BINDING REFERENDUM before mid-September!! | Jim |
| Absolutely. Water belongs to everyone, not just Maori ! | gary |
| Needs to involve all community | Chris |
| there should be no referendum, it should just be NO!!! its theft at its best | anita |
| Our Labour Government stopped a referendum pertaining to Maori wards on local councils. Pure communism! Perhaps they would stop one on "Three Waters" as well? They were voted in because they were trusted, and they betray that trust. This calls for a general election right now. | Kevan |
| Yes provided the full implications of the Governments radical proposal are clearly explained. | Les |
| It's time to wake up, and stop this government doing radical changes with no consultation from the public that pay their wages | Valda |
| Absolutely but more than anything we have to get rid of this Government. They don't seem to have any idea how to run the country and enormous damage is being caused. Will a future Party be able to unravel all the damage 'this lot' are doing. Binding referenda on these issues are absolutely essential. | Helen |
| We have had enough of Councils decisions to do things that have detrimental effect to all rate payers | David |
| Absolutely! I find it hard to believe the speed at which this government are taking away the choices that councils and individual citizens have, and putting them in the hands and control of entities who lack the knowledge and ability to make these decisions. Dictatorship and communism is alive and well in NZ. What have we as a country come to when we're letting this all happen? | Dale |
| I STRONGLY urge EVERYONE to email Goff to hold a BINDING REFERENDUM so ALL CITIZENS & RATEPAYERS can say what they want,and tell him the LOCAL GOVT. ACT REQUIRES COUNCIL TO CONSULT WITH THEIR COMMUNITIES IF CONSIDERING THE DISPOSAL OF STRATEGIC ASSETS ALREADY PAID FOR BY RATEPAYERS & to STAND UP to govt. & NOT TO BE WEAK,remind him he was elected to represent us.. | Cindy |
| We must vote the red peril out of govt | Richard |
| It's all complete bullshit and smacks of racism and a complete lack of common sense. The opposition parties need to get their act together collectively and say they will reverse this nonsense. They will certainly pick up enough votes to get back into power. Bruce R. | Bruce |
| Enough is enough.Jacinda should be got rid of ASAP | Derrick |
| Definitely – we paid millions to fund those assets and our grabbing parliamentarians want to steal them!! for no other purpose than another divisive control partnership! What a load of horse manure | tont |
| Obey the law, F-wits. | Reuben |
| the answer is really NO. they should just use their brains and tell the government stop being racist and butt out. | Richard |
| THis Government is simply walking over the rights and liberties of the 99% of the 5 million! 1% is in control!!! | Adrian |
| This .is blatant left-wing, socialist engineering at its very worst. | Rick |
| absolutely – power to the people !! | tony |
| A referendum is the only way citizens have of voicing their concerns. It is a must. | Dennis |
| Be fair and transparent as shes said | Paul |
| This has to happen we need to make a stand. | Kevin |
| We all deserve a say on what is best for our community, not just being dictated to. | Brian |
| It's about time the 85% of non Maori stood up to all these divisive proposals in favour of Maori. | Faye |
| | |
| --- | --- |
| This plan is insidious and will surely invoke apartheid. Why do we let these socialists kick us around so easily. | Derek |
| No question about this but I fear "democracy" as we have had in NZ, will be overridden once again. I truly worry for our future as a nation. | Mary |
| I abhor what this government is doing to this country | Gail |
| This us radical socialization by stealth and we all need to stand up for the democracy our forefathers fought for. | Andrea |
| We are supposed to be a democracy as well as equal citizens | Wolf |
| Opt out. There is no need for a referendum. Councils need to do the job they were elected for which is to look after the interests of their local community. | Igor |
| Councils certainly must hold a binding referendum of ratepayers before deciding to give, without compensation, the assets ratepayers have paid for. As for giving these assets, or 50 per cent of them, to people claiming to be Maori, who have made no contribution to the supply of these assets in the first place %u2026 You just have to be joking. | Rob |
| Councils should act in the best interests of their ratepayers and opt out. Skip the referendum. This matter is too important for that. | Kerry |
| It is unbelievable to fathom having governance of water.we live on rain water . She is a sneaky woman who should be booted out | Shaun |
| most definitely, stop this nonsense. while we still can. | gerard |
| Stop this socialist racist government. They are dividing our New Zealand | Steve |
| Stop this bull these muppets are off the rails. | Les |
| The water infrastructure belongs to each local ratepayer group and must not be stolen by this Socialist Labour Govt. JA is being lead by her Maori caucus who want control of this country. It is up to us ALL to see that they do not get their hands on our assets by stealth. There is NO need for a Maori Party as there is already one alive and up to racist tricks in the Labour membership. | Graeme |
| Yes, definitely. That's what happens in a democracy | Marilyn |
| I despair | valerie |
| Absolutely! We need to put the brakes on traitorous Adern's sick agenda in any way legally possible. | Tony |
| It would be vita; that voters were fully informed on the issue so they could make a considered vote | william |
| We need to stand up for for our rights. We are most probably 60% of the population and we don't matter to the government. | Warren |
| It would be cheaper in the long run to hold a general election, if we could rely on the press to stick to the evidence instead of the politics. | maurice |
| Absolutely !!!!!!! This is just another move by our Marxist Government to control us further and implement more Maori control of us with the usual money grabbing by them. Perhaps we need a revolution as no doubt the HUGE majority will agree. History tells me that the majority only tolerates a belligerent minority for so long and then they are squashed as they should be. | Alan |
| It is hard to imagine a more radical and untrustworthy Government than this one! Surely even Ardern's admirers must be coming to their senses now?? | David |
| While some council's management of 3 waters is less than ideal wholesale stripping local assets from the community is not the answers. Mahuta's add campaign is insidious propaganda to convince the woke and the stupid that current water supplies are dangerous and only Cindy and her mob have the answers- this is probably one of the ,most dangerous undemocratic stunts they've pulled | Ihaia |
| A no brainer | Bruce |
| This mindless radicalism by these people who are undermining our basic security must stop. Coming from our Prime Minister this is horrendous. | Edgar W. |
| Bruce Smith should be applauded for his understanding and article covering this very important proposal. All Councils should be having public meetings where they can give their position on this matter and canvass residents and ratepayers to gauge their understanding and opinion. From that they should be able to determine if it is necessary to have a referendum, however as in the past, this Government can bin referendums that do not suit their position by making a law change. Any referendum needs to be binding and protected by common law from being ignored. This master plan is another ridiculous and dangerous idea eroding common sense and is doomed to failure from an economic perspective with an underlying agenda of encouraging separatism. | Steve |
| Tauranga where I live is controlled by Mahuta puppets or commissioners as she calls them So fat chance | Ray |
| Absolutely yes .. With all of the surprises that the current bunch of Labour and Green clowns are now foisting onto the New Zealand public, this is just another socialist based initiative for which they have no mandate to enact.. Even those who were misguided enough to vote for Labour at the last election must surely now be regretting their decision | Rob |
| Yes, of course they should. This is OUR country and we are NOT the government's 'whipping boy!' The people vote for governance – except for 'friends' via List Members. IF this Government adopted the Three Waters proposal, title for NZ water could then be quietly transferred to activists just like so many other aspects of New Zealand. Then we would be up the river without that proverbial paddle! | Stuart |
| We MUST do something to protect our democratic rights in every area before it is too late. Could this site host a forum for suggestions as to a plan of action? | Beverley |
| Absolutely there should be a binding referendum as the 3 waters are one of the Ratepayers assets and local councils should retain control . The public should be made aware of the insideous nature of this Government's proposal and TV advertising of it, and of the bribe they have offered to make councils agree to their demands. | Mary |
| All of the people should have the opportunity to have a say on this matter | Shaun |
| However this comes at a cost of course. I wonder wether it just be better to go ahead and NO! | Liz |
| Honestly, one wonders what exactly is coming next with this Liebour Govt…!!! It's absolutely surreal and mind boggling what is happening to this country and at a phenominal rate it makes it very difficult to keep up with their tyrannical communistic actions, but HOW do we STOP them? | Bruza |
| A referendum is a MUST. This is just another confiscation of our assets, by She, Comrade Ardern, who thinks she can "build back better., but in reality will be another bureaucratic balls up and more bumbling bureaucratic monsters will be set up. You talk about the four sports including bashing farmers, add landlords to that lot. Who is she going to aim her nasty communistic arrows next? This Govt is crawling with socialists/communists, including that minister of finance who has been with Comrade Ardern since University days where they were involved in activism. They need to go – can we get our MPs to have a no confidence vote and fresh elections? Baffles me how UK, Canada, France, Australia the USA with a idiot president, and NZ are all cooperating with the evil plans being forced on us by the UN without protesting about where the world is heading, with talk of depopulation, vaccines, indoctrination of our kids, apologising for having white skin etc etc. scary stuff. | carolyn |
| Yet more expense for the people, proposed by this useless power-grabbing labour lot | Dave |
| The Mayors of New Zealand have an absolute responsibility to refuse to be a part of this appalling grab for ratepayers assets by Central Control, and then to pass it to Maori Control. How utterly repugnant and disgusting. I have decided that we have a Fascist Government. If it was Communist, they would be rounding up intellectuals and incarcerating them, but wait, they are not being incarcerated physically, but bludgeoned into silence and/or compliance in fear of losing funding. New Zealand is at a serious political crossroads and all of us are in danger. The Farmers Protest which I was very happy to join, was a great start to claiming back our country, but it is only a baby step. We need to get really serious and oppose this current Governments efforts to disenfranchise property owners and Nationalize our private assets. What are we going to do people? We need to stand together and get our shoulders to the wheel quick smart. | dianna |
| Ratepayers can't afford to give mixed Maori free lunches and privileges especially as mixed Maori try to avoid paying rates on Maori land and increase costs to all other rate payers. This thieving from paying ratepayers that Jacinda and Ms Mahuta are trying to legalise must be stopped before we become a Maori based apartheid ruled country. For the sake of democracy and all our soldiers that died for democracy somebody HELP | Brenda |
| I believe the government are also going to put sodium fluoride in to all of our water supplies despite the fact most caries are caused by sugar! | linda |
| This poisonous group of bandits (i.e.the current ungovernable government) must be stopped in their tracks. Roll on the next election – let's turf them out. | Patrick |
| Time is running out, faster than the majority realise, for the democratic system of government that made us successful in the past. The children have been indoctrinated with theory being taught in schools as fact, for nearly two generations now. Currently the lies preached as truths, include; Maori are Indigenous to 'Aotearoa' & their land & peaceful way of life was stolen from them by the WICKED WHITE man. And so Jacindas agenda, is being endorsed by a large proportion of the population. Kids are now having to stand up in class & apologise for being white, for goodness sake. The right of parenting has been overshadowed by the introduction of laws, that are designed to force parents to feel guilty, if they speak the truth, {racist} or discipline {child abuse} their children. Agenda 2030, known as the Great Reset, here we come.. | A.G.R. |
| This Govt. should be disbanded | Pierre |
| Consultation with the people is a must! | angus |
| If councils held a referendum for every decision they made, nothing would get done . We make our choices at election time, some policies we will agree with, but may have to accept others we don't. | Mike |
| They should just reject it outright. They majority of the ratepayers would have no idea of the implications of this move. Many are apathetic toward local body issues and non votes would be taken as yes votes by the left councilors and politicians. This should be resisted at all costs. | Murray |
| But will this govt take any notice? Bring on the next elections | Maurice |
| Commie dickheads | Allan |
| They certainly should but will not because that would be democratic. If they did the Government would ignore the result, which would against it, because the Governments Greenie and Maori mates wouldn't play ball with Labour any longer. It's a cess pit and there is nothing we can do about it…. The country is stuffed. Sorry to say it but it is true. (Don't think National or ACT will come to the rescue, they can't even sort themselves out. | Bruce |
| AND ACCEPT AS FULL AND FINAL ,WHAT THE RATEPAYERS WANT. NO DEVIOUS ATTEMPTS TO OVERTURN THIS COUNCIL TERM OR ANY FUTURE COUNCIL TERM. ONCE YOU'VE GOT YOUR ANSWER….. JUST LEAVE IT ALONE AND GET ON WITH YOUR CORE BUSINESS. | Creed |
| This proposal is outrageous! | Marg |
| Ratepayers own those assets. | Maree |
| Tauranga will leap at it because of the council being run by the government | David |
| It's our money and assets. Those who have been foolish should not get a hand out. The people of Christchurch paid for the dam at Lake Coleridge and it was taken off us. No compensation. The sooner people can see what this Government is really like, the better. | Irene |
| This is the continuing erosion of the long held belief that no-one owns the water. | Norman |
| What a waste of everyones time and resource | Greg |
| The government plan is outright theft of ratepayers assets without a credible explanation of any possible benefit to the community except for their dream of centralized control, i.e., communism | Graeme |
| Marx and Stalin would both support Miss Ardern's and Mrs Hahutu's efforts in the nationalisation the nations water assets all based on their claim that it will save money and stimulate post COVID-19 growth recovery. As with all of Miss Adrerns pronouncements [lies , lies and more lies] and Mrs Hahut's intransigence to promote anything other than her predilection for the furthering of maori dominance and control of the nation's resources (and as far as her Three Waters Programme) without any contribution towards the nationalisation of the nations assets. The imposition of the Government's Three Waters Programme cuts at the soul of our democracy. No way should it proceed without the agreement of the clear majority of ratepayers/taxpayers who contributed to the creation of the associated assets. Without question a binding referendum of local body ratepayers/residents MUST be conducted by Local Authorities BEFORE any decision regarding participation in the Three Waters programme occurs! | Michael |
| this communistic Govt is giving control of everything to maori, NZ has got major problems coming up | graeme |
| We must be informed what this Government intends to do with our water. | William |
| The centralizing to State and Iwi control of our water assets is Soviet style governance and bound to fail what it pretends it will do. We'll see if out local authorities follow the Government's directives meekly without input or referendums by the ratepayers. A tragic turn of events in this country! Shame on Ardern and Mahuta. | Warren |
| This is outright apartheid in disguise. Handing control of our water to Maori. | Lesley |
| Don't think they will take a blind bit o notice! | Christina |
| Come on Local Councils. Unite. It will only be by numbers we can oust this Govt and minions. | Helen |
| With councils being bribed by the government to relinquish control of our water – our voices need to be heard. | Tebs |
| Of course! | Bryan |
| Referendum is the only way forward. | Neil |
| Let's retain some rights | sheryl |
| What we are essentially talking about here is the provision of potable water, wastewater and stormwater services to urban households be they in Auckland, Eketahuna or elsewhere. These services are not a taxpayer responsibility. However the Cheshire Cat is happy to cost shift the costs of providing 'social housing' (an abysmal failure for the Cheshire Cat) on to ratepayers/households. | john |
| It Fine how it is leave it alone hands off | Barry |
| Yes, but Councils should be voting no anyway to such a crazy idea and why do Maoris coming in from nowhere get a 50% say? Well, 'answer me! answer me!. | Eric |
| Blatant govt attempt take over bid to give control to maori. Over my dead body | John |
| What if it is already too late ? | Catherine |
| It is the right of ALL Ratepayers to be heard and rightfully allowed to have their say by a binding referendum as to the outcome of the Government's Three Waters proposal can be accepted democratically be accepted by the community. | Roy |
| They pass to much without the rate pater knowing | Colin |
| How 15% of the population can have so much say of course we need a referendum on this dangerous water proposal | Russell |
| Unbelievable what this Labour Government is trying to push through. without the consent of the people of NZ | Sue |
| Water should never be in the hands of a few | Brian |
| Of course we should, we live in a democracy don't we!!! While we are at it, have another one and get rid the Prime Minister and the stupid pack of lackeys that calls itself a govt. | Ross |
| Our voices MUST be counted. | susan |
| But any other method of blocking Mahuta's & Ardern's crazy, communistic antics MUST be applied NOW | Bob |
| Just commonsense really | bruce |
| Three waters MUST NOT happen. It would be an unmitigated disaster. Furthermore it looks to be more about giving Maori a permanent income stream for no input than providing clean water. | David |
| of course! | Esther |
| We have or at least I thought we had a democratic society being one person- one vote regardless of colour or creed. Our Socialist P.M. thinks differently!!! So did Hitler! Is there any difference | John |
| This socialist govt has lost its mojo and its authority. | Ian |
| Of Course!! It's the only ethical action to take | bruce |
| And the result would be a firm NO to this controlling governments power grab. Time to vote them OUT | Jeremy |
| That's the democratic way. | Jenny |
| This is another Maori led Mahutu run effort to take control of our waterways Rivers & streams It must stopped councils must Hold referendums so we Can vote on this | Ian |
| Again I say that this is part of jacindas plan to divide and conquer NZ so her communist govt can take over so WAKE UP and protest against this commo trained bitch | eric |
| If this asset grab is allowed to happen, it will be yet another disaster that this Government seems to specialize in. Start putting pressure on your Council NOW, before it is too late. | Ian |
| This is redistribution at its worst! So undemocratic! | Glenn |
| Stop the theft | Barry |
| The only way to go. | June |
| I. Vote no for the simple reason Councils had referendums re Maori wards and simply ignore results therefore they are not to be trusted. | Lesley |
| There is no discussion about this matter, they have to. In addition this and other such articles should be printed in the press regardless of cost, in the interest's of this country going forward. The media need to give back the bribe money given to them and start telling the whole truth | Tom |
| As the government requires the council's to consult with their ratepayers and other interested parties within their territories then it stands to reason that the Government should consult with the it's citizens on major matters as well? | Garry |
| But the COUNCILS (Not just Mayors) should – all 67 – say "No" regardless of a referendum. The planned water groups (4) have no business if they have no assets. | Mark |
| Government has lost touch with reality and is trying to set up conflict within NZ | Diana |
| I thought this country was a democracy, not part of the communist bloc! | Geoff |
| you bloody councilers work for us the ratepayers ,end of storey,we demand that you don't hand our many years of paying for our water supply inforstructures over to the bloody govt that will give control to a minority group that they cant even get to pay rates in many instances and never have ,,you will be very clearly stealing our assets ,,you don't work for the govt you work by our tolerance and votes we are sick of your empire building and playing the govt tune,,grow some balls and represent your angry rate payers | tony |
| This is a communist take over to give it away to a minority group from the educated majority who have built this infrastructure from nothing. If this was to happen we would not be able to go to own own rivers to wash our cloths?? go the reds | brian |
| The propoganda is as pathetic as the proposal. I am sick and tired of the maorification of nz. | Neville |
| How the hell can we trust Central Government with their biased agendas | Doug |
| local areas know their own needs best. | Sydney |
| One doesn't need too many brains to answer a resounding yes to this question on the need for councils to poll their residents and ratepayers and the results to be binding on the Councils decision to Govt. | Ian |
| There is no democracy with this Labour government. Wake up NZ. We are living in a dictatorship. | Ken |
| TO BE BLOODY SURE. | ERIC |
| Yes it would be good to have a say. | Jen |
| Just another way to prop up the "Maori Cause". | judith |
| But that will be nipped in the bud as soon it is apparent The Team of $5M is NOT behind this shabby and lying Government. Look what happened to Maori Ward Referendum ?- crushed! Were the farmers listen to ? Not for 1 minute. This will go the same way… | Robyn |
| The more I read about this the more worrying it becomes, no local councils should not lose control of all the rate payer owned assets handing more money and power to a minority group. | Digby |
| Unbelievable what this socialist government is trying to do | Greg |
| I do not believe a word that issues from Ardern or any of her communistic followers. Cannot even be bothered to read the biased newspaper any more. | Murray |
| We are a a Democracy NOT a Bureauracy. Jacinda has to go !! | Pierre |
| The government has no right to control council/ratepayers paid assets, this is the thin edge of the wedge in giving control to Maori. The intention of this government is very clear, given the current minister of local government, and what she has already done, ego vetoing the democratic right of ratepayers to vote against Maori wards. | Peter |
| The PM is a dangerous woman. The socialist rabble that back her have to be stopped. And I am an average Kiwi that can see we are heading towards anarchy. We need to act now | Kevin |
| Whilst I agree that ratepayers should have the final say on who is responsible for their water management, it is clear that most Local Councils, including mine, ignore the wishes of the community. | Martin |
| Councils may be forced to accept the government's proposals a referendum would let the government know how their citizens feel. | Lynne |
| Absolutely …. but in my location, ie .. the Kapiti coast, we have a useless mayor who believes that maori should get everything. He,s making himself very unpopular with a growing number op people. Monkey Mahuta has just one mission in her ugly face , and that is to destroy NEW ZEALAND, no matter what the cost is, so long as her family of savages get total control. … time for a coup! | Des |
| this is essential in any democratic system | John |
| How else can democracy be upheld.We must oppose Comrade Jacinda's totalarian programme. | David |
| Without doubt. The current proposal by government is purely a deception to facilitate an easy transfer of shared ownership transfer to Iwi. It must be stopped now. | chris |
| Great Reset agenda in action. She is in 'donkey deep' with the World Economic Forum. | Susan |
| Democracy must prevail | Peter |
| If this passes without a DEMOCRATIC ratepayers vote then this country is DOOMED ,and the New Zealand we all know and love will cease to exist | Francis |
| Absolutely yes! This nonsense being belched out by Jacinda Adern, her cronies and spin doctors have huge consequences for New Zealand. I wish people would wake up and see what is happening under their very noses | Heather |
| the thin edge of the wedge. Were doe's it stop | owen |
| I do not want a communist state | Brian |
| We are sliding down a slippery slope to separatist policies and will no doubt increase racism in this Country ! As Don Brash said all those years ago "ONE PEOPLE ONE NATION " we must not promote racism and this is certainly what the Labour/Greens Government are doing right now ! We the citizens are all New Zealanders and should all be treated equally. | Andrew |
| The assets belong to the rate payers not the council | david |
| Govt is attempting to steal what ratepaayers have paid for over generations, and give to moari (a very small % of population). Their bribe which has come lately is also totally unacceptable. This govt has to go and soon. | Michele |
| yes yes | rex |
| It's time to March against State control | John |
| Socialism has never worked, no matter where ever it has been tried. So it should not come as a surprise that the biggest promoters of that crap system is promoted by people who inhabit institutions where no one has to work to collect a paycheck. | Sam |
| this government has no mandate to do this | Gordon |
| We have had enough of this governments dictatorship.Why don't we all march in support of our local councils. The farmers had the guts to get up and have their say. | Owen |
| Yes – at the very least. Alternatively the Councils could save time and money by simply telling Jacinda and her coterie of scribble-faced brown parasites where they can shove their proposal! | Scott |
| The current madness of the government is frightening. Divide and rule is the game. Not New Zealand's way! | Alison |
| Yet another back door proposal backed up by propaganda TV advertising | Peter |
| The contemporary appetite for loading councils with non democratically elected racist maori representation means that council decisions can no longer be trusted to reflect the wishes or interests of the community as a whole. | Kevin |
| iT MUST HAPPEN SO SAS TO STOP THE THEFT OF ALL NEW ZELANDERS WATER | RICHARD |
| Definitely ! But will they have the balls to allow us to have a say? | Darryl |
| Stalinda her henchthings will just brush it off, after all they know best how to spend your money. Besides, anyone who objects is just a redneck racist and can be comfortably ignored. | John |
| Current councils are doing their best with 3 waters within the current guidelines. Giving it to central Government and ultimately the Maoris would be a complete disaster. The Maoris will just then ask continually for more funds. Who will be paying for it. US. Fuck the Maoris. | Graham |
| Absolutely 'yes'!!! It is scary to vote in a reform which puts the 85% in a worse position. So much waste of money with the cartoon commercial! | Marianne |
| Its OUR assets that this government is wanting to give away. | mike |
| Yes absolutely, but I believe Mahuta will just seize council assets anyway thus making participation compulsory. | Graeme |
| However it is unlikely to happen and also if successful the current government will still ignore it. | John |
| it should be the public that choose not the government. | colin |
| What happened to democracy in this country? | Murray |
| Extremely un likely though, that our communist totalitarian driven government will allow any plebiscite that would most likely see the government AGENDA defeated. | Bob |
| Well actually no referendum need occur for councils simply to reject this racist plan. Any plan pursued through the bribery and dishonest propaganda seen here can wisely be thwarted if at all possible. | Johan |
| Probably moot as Mahuta will force it anyway. | Grant |
| Just another step on the ladder by a wicked commo deceived Government, taking control of everything and giving it to an equally deceived people using culture Maori Taonga , the worship of many gods to obtain power and money. | Dene |
| Essential. This LAbour scheme is in the realm of fantasy . | Tom |
| Democracy at work something the Government does not understand. | Warren |
| If the waters are taken over by Govt they will feel free to vest control into any group they like. Look out for nepotism and corruption | Adrian |
| A double whamy, not only of a setup for another Labour failure that will result in the very situation depicted by their ridiculous cartoons, but that's a big step forward in Ardern et al's grand Maorification apartheid experiment. | Ron |
| If we can't stop Communist Cindy for a a few years at least we can slower her down. Demand a referendum will do that. | Tony |
| Absolutely they should. This is the thin end of the wedge being driven into our population to divide us on the basis of race! | Alan |
| How long is going to take for the left leaning voters to realise that they got it wrong? All rate payers, excluding any Govt Dept's should consider NOT paying their water rates demands until such time as the true reasons are acknowledged. | Barry |
| TIME this Labour Government and Jacinda are held to account. CALL and election NOW…. | Carl |
| This Ardern led Labour government is a total disgrace and has no place in a democratic country. This "three waters" thing is just one more step along the road to communism and take over of our democratic system. If New Zealander's do not wake up in the very near future and fight this bunch of communist traitors masquerading as our central government we will be presented with laws and undemocratic and racist rules we will not be able to remove in the future without a major scrap or even civil war. It appears that Labour have only one goal, to eventually present an impoverished and racially divided country to the UN or China. It makes me wonder what did our fathers fight for in the bloody wars over the last 100 years of so – I thought it was democracy and freedom. | Roy |
| before the September deadline. | Rita |
| Wake up citizens of New Zealand, this is happening right under our noses. | Cherry |
| What a joke. Surely we are going to have to take more action to stop these lunatics. Should the Governor General be asked to dismiss this grossly dangerous and arrogant government. | Alan |
| All Councils must refuse to hand over control of the 3-waters to a central government. If this takeover is approved, what next ? | Frank |
| Most definitely, as ratepayers we deserve the right to have a say. | Lawrie |
| Absolutely! This is a scandal! | Carol |
| It's socialism at its worst | Merv |
| A binding referendum is a good thing in a functioning democracy. We do not have such a thing. here in NZ. We are – as the text quite rightly says- facing faceless bloated burocracies and this so called Govt is nothing else.but faceless..Like the UN !! They have reduced themselfes to parasitic entities living of the host until the host cannot sustain them any longer and collapses. BY then the instigators of this global mess will have retreated into their gated high security communities , live of the remaining spoils and let the rest of us go to rot. At this point all these slogans like climate change, race gender ,social warriors covid and the like will have become empty words without meaning. Chaos has been achieved and anarchy has its own dynamics. | Michael |
| This Govt plan is horrifying. | Megan |
| Absolutely, anything else would be totalitarian and completely undemocratic. | Donald |
| But God help us if numpties vote to allow Councils to opt. The great unwashed of New Zealand are being sucked in by the powerful axvertising from Labour. The 3 Waters campaign on TV is classic propoganda with no facts or truthfulness. | Mike |
| This is total Maori take over | Peter |
| Absolutely | Jon |
| Maori do not have any more special relationship with natural resources than any other New Zealander. | Jacquetta |
| And we need it now not at the next local elections. | John |
| This information is unbelievable in NZ. What are we coming to. | John |
| yes show everybody what a dangerous situation is being created | Nigel |
| Absolutely! | Patricia |
| absolutely, this govt hides everything thats important to us and lies. This is the worst government in 30 years | patrick |
| This is almost unbelievable. If you did not understand the intent of the Marxist PM and her cohort Mahuta, they have started to play another round of their He PuaPua 2040 plan. This action must be stopped and it is our collective responsibilities as ratepayers to pressure our local councils to oppose this takeover plan. | Chris |
| Most certainly. Council's are guardians of these assets that have been paid for, sometimes more than once, by ratepayers | Kevin |
| Of course they should- that is the very essence of democracy, especially when you are making such fundamental changes. But of course they won't! | Roger |
| ABSOLUTELY. | Robyn |
| Absolutely. Of course, with those councils that are set to gain financially from Three Waters that will certainly not happen. Let's hope the other councils who have invested wisely in water infrastructure and will lose financially see it differently. | Derek |
| Binding have a habit of going wrong. Often less than 50% vote and even if there is a majority it can be as low as 25% of eligible voters. By all means have a referendum but NOT binding. Councilors are elected to make decisions. | Raymond |
| Three waters is wrong | Ray |
| Is it possible for this idiot government to actually go through with this for me this is the straw that will break the camels back | Peter |
| It will make no difference, however: this crypto-communist government will push ahead anyway. Think about the Maori wards, the history curriculum, the State takeover of the media….. There are very dark times ahead. | Graham |
| Of course. It is the tax payers of New Zealand who have contributed to this infrastructure. How dare Nania Mahuta spend our taxes to advertise in such an immature and idiotic manner. It goes goes toward the dumbing down of New Zealand and the people who still have some intelligence. | Dell |
| PM J. Ardern simply MUST GO! She is a communist & has no genuine regard for NZ citizens! | Isabel |
| Three waters is sinister and insidious. Why should we trust control of fresh water to Maori? More divisiveness and Apartheid being entrenched in NZ. | Geoff |
| Without such a poll it would just be further erosion of our democracy | William |
| Of course they should, this Maori takeover of everything is a real concern. | Graeme |
| A citizens vote on this is absolutely essential ! | Ron |
| Why not introduce a poll to recall and replace this govt due to miss management ignoring the little constitution right nz has. | Russ |
| There needs to be some backbone shown by councils and the people need to decide, after all we are doing the paying. We are supposed to be a democratic society | colin |
| While voting Yes, the issue should never have become an issue in the first place. Regardless of what any of us think, this will happen. New Zealand has been hijacked by zealots. I can't wait to leave. | Shelley |
| communist takeover | Carol |
| No mandate for this, and no plan published | Phil |
| i am fed up with with this racist government and their racist policies | murray |
| That's what is called democracy. We are not yet a communist country but we will be very soon if Jacinda keeps getting away with introducing her socialist program 'the leap of faith". I fear the next election will be too late. | Richard |
| | |
| --- | --- |
| Absolutely 100% there should be a referendum on this and whether the population is happy for Te Reo to be forced upon us!! | Bradley |
| There is NO democracy left in New Zealand…..read some history people. The time has come to stand up for some common sense, and let this Labour Government know enough is enough | Bryan |
| Of course we should have a referendum, but we won't get it. This government has already acted ti take away the right to have referenda on Maori wards. They are committed to reducing democracy, not extending it. | Rod |
| Water belongs to all, the water I catch belongs to me. Council infrastructure belongs to the ratepayers, and personal infrastructure belongs to the person, sack the communist labour government ASAP . | Alan |
| It is absolutely despicable that a government who got into power by misleading the populace about their true policies, now takes away the pillars of democracy, like referenda, unilaterally impose centralising and separatist, racist policy and in the process strip local communities of their control over resources. Mao would have taken pride… | Fernguy |
| Bring democracy back and hold this socialist govt to account | Frank |
| The water belongs to everyone. | Sheila |
| The proposal is an asset grab that removes water resource management from those with recognition of the variable water needs of regions. Centralising this is not only illogical, but is another step to separist government. The devil is in the detail that Jacard and her PR spin team are covertly avoiding to communicate. See what the communities think of this by binding referenda. | Stan |
| New Zealand is in trouble we need to help out stop this bull shit | Jimmy |
| I wish Kiwis knew what living under a totalitarian regime would be like! | Stuart |
| Sadly we have a Horse leading the country with a bunch of Donkeys be hind her | David |
| Absolutely racist divide and rule communism | Greg |
| I believe this is essential, this transfer of control cannot be allowed | Jan |
| Most certainly because the local mayors and councils wont have the guts to give a definitive no to government. With this Ardern socialist government's obvious plan to: enact the He Puapua proposal, steal control of life-giving water, ban free speech, remove democratic right to elect councils, create a separate Maori Health with power of veto, buy the media, provide funding for criminal organisations, give control of coasts to Maori, give control of Corrections and Oranga Tamariki to Maori, change school curricula to teach students what to think not how to think with emphasis on indoctrination of all things Maori – surely this country is approaching or is at the stage where the Government is about to usurp the Monarch by handing back to Maori the sovereignty which they ceded by signing the Treaty of Waitangi commencing on 6 February 1840. It must be time for the Governor General to exercise The Reserve Powers and dismiss this Prime Minister. Preferably before the appointment of the next proposed Governor General, who, cynically, is of Maori descent. (No surprises there.) Other reserve powers are to dismiss a Prime Minister, to force a dissolution of Parliament and call new elections, to refuse a Prime Minister's request for an election, and to refuse assent to legislation. These powers to act without or even against ministerial advice are reserved for the most extreme situations and with the exception of the appointment of a Prime Minister following an election, no New Zealand Governor-General has ever needed to use them. Without recourse to any Binding Citizens Initiated Referenda this would seem to be the only bloodless solution to this country's current political problem. | Terry |
| If we don't we're history. | Mark |
| The whole things smells of Maori clipping the ticket in future for nothing | Graeme |
| Jacindas regime is all about population control and nothing about ecological preservation – water control, food control, fuel control, destruction of our economy and surveillance of citizens are the tools of her regime. ENOUGH IS ENOUGH!!! God given provisions for humanity to thrive must never be under communist control!!!!!! GOD Help us DEFEND OUR BEAUTIFUL FREE LAND we pray. | Hanna |
| ever more rubbish being peddled | erin |
| Totally behind you | chris |
| We can all see the sneaky objective of this government's plan to seize our local water assets and hand governance over to race based boards.The brazen propaganda playing out on TV is utterly pathetic, and an insult to the intelligence of NZders. And we had to pay for this drivel! | Dell |
| This is just appalling | Charles |
| Most definitely | Rosanne |
| OPT out. Save all referenda costs. Kiwi build. Communist buffoon fearmonger Agenda21 CCP puppet | Zoran |
| Yes, I'm sure the overwhelming response from the public will demand that it's binding, and that Maori do not get control of any sort over water | Kevin |
| In the interests of Democracy they should, although better still, they could simply tell the Government right now to p. off, as should be the case. I still see the smirk on the MInister's face when announcing this latest money and power grab by Maori. Borrowing 165 billion? For infrastructure? Bet billions go into their own pockets as per normal. We should somehow force a vote of no confidence in this Government, and get rid of them now. They are simply Marxist and the majority of New Zealanders did not sign up for this. | Folkert |
| This is Communism as well as racist at its finest. A binding referendum on this, as well as racist Maori seats on councils, are musts. Let us have democracy in New Zealand for a change! | Kevan |
| Yes there should be a referendum but the proposal to transfer the infrastructure should be tested through the courts – on the basis that it does not meet the "significance" test in the Local Govt Act. The structure the Govt is proposing is simply a construct done with the purpose of creating the lie that "ownership" of the assets remains with the councils when the effect of the proposal is that control over those assets has been taken away from the ratepayers that provided those assets. | Anon |
| Communism in the Bolshevik form. Stalin & Lenin would be very proud of Ardern. | kevin |
| Essential! As is a referendum on all the socialist and divisive policies being implemented. We must all make our views known in the strongest terms to our local councils. | Nat |
| Vital that opinion is gauged albeit that any such initiative will be shouted down as racist | Richard |
| This government is dangerous and out of control. Our freedoms are being whittled away right before our eyes. I hope we can last until the next election. | Tracey |
| I have indicated Yes, but actually, I believe we should be taking harsher action against the preposterous pathway this govt is on. We think communism is looming as a very real threat to our way of life; we are already there, my friends. Racial division is just another tool in the Marxist conversion box and this has been driven for decades, by successive govts. This lot currently in power have simply upped the ante, while using the heavily-propaganderised wuflu as a very convenient cover. I protested along with the farmers in Rodney district. I hope Groundswell keep up the pressure. Perhaps drying off dairy herds might be a good next step ….. | Sharen |
| Absolutely or they'll all be looking for new jobs come the next elections. | Kaye |
| It's well overdue that "The Leopard" (a creature that never changes it's spots) asked us what we want done before she does anymore damage. | Tony |
| The last ditch attempt at preserving democracy in NZ needs to made NOW! | Mark |
| What does it take for New Zealanders to finally wake up and stand up, or are we so dumb we do not see the writing on the wall. | Sven |
| Sick of this Government and it's dictatorial ways. To anyone, who didn't live in this country long term, i.e. – a visitor – they would think that we had the filthiest water in the world. It's disgusting the way that this Government is treating the country and it's people. Time they were gone! | Heather |
| No they shouldn't have it and iwi certainly shouldnt | Lyn |
| Maori are 16%of the population and want to control our water. No way should this ever happen . Labour is creating racism in NZ | lyall |
| These assets have been paid for by ratepayers so should remain owned by ratepayers | Helen |
| Our money needs our decision to be transferred anywhere | Laurel |
| It must be the voice of the people who decide. | Wayne |
| Comrad jacida at her best. Just two more years will it be too late to change things and return to normality | Andrew |
| All councils across NZ must be able to see the disastrous consequences of allowing control of our water assets to fall into the hands of iwi. As ratepayers and citizens we must demand a referendum on this! | Miriama |
| Another grand giveaway to Maori, in Jacinda's master plan. | Graeme, |
| This is nothing but an asset grab to be turned over to Maori control as in Te hoho (deliberate misspelling) | Nick |
| Wake up sheep | Barras |
| This should not have providence it was not in labour's manifesto or mentions in any of their meetings | Wrndy |
| I think there should be a nation wide rates strike, until adern comes to her senses or better yet resigns | Tracy |
| Just another giveaway to maori interests- we'll all pay dearly for this deception, if it's enacted | Trevor |
| Although I don't think they should even do that. They should just say no. | Andrew |
| Thats how democracy is supposed to work by general consensus: | mike |
| | |
| --- | --- |
| Yes I do but do all residents and ratepayers understand this legislation or will they just vote on the propaganda from the Gvt propaganda machine streaming at us from the TV. | Margaret |
| Time we had an election and forced Jacinda out of government. She is dangerous and so are her socialist ideas. | Diana |
| Comrade Ardern and her clown government needs to go ASAP | Allan |
| The problem remains that the sheeple will still believe the lies of our government tells us. Unbelievable that this nation even considers the so called maori misinformation. Well over 90% of people who call themselves maori have a large majority of other ancestors, predominantly what they call pakeha. Lunacy. | Leonard |
| Government spin led by Adern and her duplicitous team would have to be carefully monitored and countered with facts | Julian |
| Yes before the communist led Government passes with urgency a bill to stop such a referendum. | Colin |
| NEW ZEALND's political system should move towards the use of BINDING!!! referenda for all decisions made at both Local Government and Parliamentary level. We, The People<< make up the democracy, not the ideological desires of a U.N. indoctrinated PM and her brainwashed, Marxist (or compromised) followers in both Labour, National, Greens, Maori Party and ACT! | Bruce C |
| This Government are out of control. They have forgotten they are our servants. As elected representatives they must seek a mandate from their constituents. To not do so is at their peril. The wording of their advertisement displays contempt of our intelligence, casts false innuendo of the current environment something these spin doctors delight and are continuing to produce on a daily basis. What has happened to our investigative reporters? If the news organizations have accepted the Current Governments bribe they cannot be considered as independent News Reporters. | Steve |
| This would give councils the chance to demonstrate that we are still a democracy. | Janice |
| There's nothing to stop conscientious councillors from setting up their own voting systems (much like this one), if they really carte about the opinions lof their constituents. It doesn't need to be binding but it would often give a councillor a clear idea what his ward wants. | Ian |
| No one appears to have looked at any alternatives. | Ian |
| This sooner this lot is dumped the better. PM JA has no idea of what she is getting into. Her financial projections are so far out of reality proves she does not know what she is talking about. She appears to be incapable of rational thought. | John |
| What this government is doing is terrifying. The Germans thought Hitler was promising good things until they saw what he was doing! | Colin |
| Only when there is a massive number voting then maybe then the Govt will back down | Reg |
| A referendum so rate & tax payers can have their say is critical ,but can we get the sheeple to stop feeding on fake news to do anything about it. N.Z. has one of the most pathetic & naive electorates in the western world,partly due to foreign owned & now government paid for media,the average Kiwi will run a mile when you try to inform them about anything political. For gods wake up all you sheeple.but unfortunately they don't subscribe to .NZCPR because they are to busy watching rugby or other dumb distractions such as local state owned TV. | Allen |
| No time to do this but there is time to say no, because there isn't enough time | Leah |
| The ratepayers and residents own the three waters infrastructure & without these three responsibilities, the only major infrastructure left is roading. There would be no surprise if that is also taken off Councils, as it is already part funded by government. Councils would then be too small to survive in their present form. No guesses as to what happens then. | John |
| This is H20 we are talking about….All local councils must have a Binding Referendum of Residents and Ratepayers and ensure that the 3 waters proposal is destroyed for ever…. | Christopher |
| Just another greedy Maori asset grab. This almost defies belief. | Rod |
| Rate payers have funded the construction and maintenance of these assets and they MUST be consulted before the assets are sold off | Graeme |
| The total arrogance being displayed by Adern and that racist Mahuta is out of order. We do not consent!! Bring on the referendum for councils! | Neil |
| Hells teeth, we paid for what we have and this government wants us to basically pay again for someone else to maybe get what we have, because they didn't upgrade when necessary. | Mike |
| public infrastructure is first on the agenda what is next ???your house or farm or business | les w |
| what I think is unprintable | Merryl |
| It's just another way of creating social divisiveness and disintegration and finally chaos. – as a prerequisite to central state control and ultimately N.W.O world Government | Colin |
| This is the only way to give legitimacy to the reform. Without it it the government would have no mandate. | Mladen |
| demonstrate democracy this way | david |
| It's cost the ratepayers billions of dollars over the years and now the government wants to steal it for bugger all. As we all know water is supposed to be the liquid gold of the future. | Maree |
| Our council assets have been paid for by the community and to confiscate these assets is dishonest and underhand. | Mike |
| This power grab must be stopped if we are to have a country at all | Kathryn |
| communism | Lynn |
| So blindingly obvious. Put Jacinda's spin in the sewer she has sunk herself into. | Mark |
| Any decision on the Government Three Waters proposal must be decided at the next election ballet box when hopefully the current Socialist Labour Government will be thrown out together with their communist ideas. | Roydon |
| Stop the dictatorial methods let the locals decide what they want and can afford. Clean water for humans is fine; but do farms need these same standards ? | Peter |
| Democratic process | Tony |
| | |
| --- | --- |
| Absolutely! A binding referendum is essential. Ardern's betrayal of New Zealanders by giving control of water to Maori is a disgrace. | Wendy |
| Labour couldn't run a piss-up in a brewery – how could we even contemplate them running water services. | Pete |
| Let communities have a say on this reckless Three Waters proposal, but make sure they are told the truth not propaganda. Whoever wrote and approved those ridiculous ads should be sacked. | Warwick |
| So all of this disruption is being planned to disguise the fact that our dear Prime Minister wants Maori to be given control of fresh water in New Zealand. When are the media going to call her out on this? Oh, I forgot, they've been bought off! | Thomas |
| Good on Bruce Smith for opposing this separatist plan – I wish he was our Mayor! And yes, all councils should hold referenda so communities have a chance to reject what Ardern is planning. | Andy |