Dear Supporter,
Thank you very much for signing the DECLARATION OF EQUALITY – your participation and support is greatly appreciated.
If you would like to keep updated on constitutional issues – including attempts to undermine democracy – we suggest you register for our free NZCPR Weekly newsletter HERE
There are on-going attempts to introduce a new constitution based on the Treaty of Waitangi as supreme law, we ran a public information campaign to fight against this serious threat to our democracy. If you would like to support our efforts, please click HERE
If a Treaty based constitution gets forced onto the country, most New Zealanders will become second class citizens in their own country – subservient to an elite tribal ruling class.
To stop the hijacking of our constitution, please encourage your family and friends to sign the DECLARATION OF EQUALITY.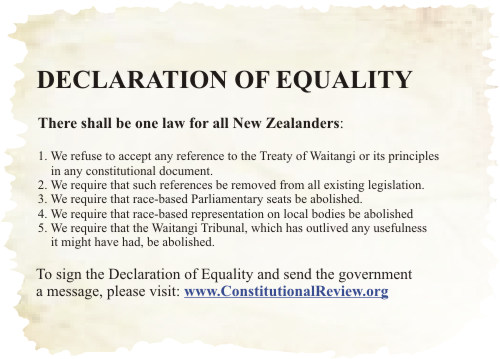 Thanks again for your interest and support.
Kindest regards,


Dr Muriel Newman
New Zealand Centre for Political Research
muriel@nzcpr.com