View our latest NZCPR Weekly Newsletter …

– to receive this free newsletter each week by email click the button and register

Dear NZCPR Reader,
This week…
In this NZCPR newsletter, we review the Three Waters debacle including the latest outrage – the shock expansion of the bill to cover coastal and geothermal waters, our NZCPR Guest Commentator Frank Newman shares his concerns about the serious damage to democracy being caused by the Government's lies and deceit over Three Waters, and our poll asks whether you believe the primary objective of Three Waters is to deliver control of water to Maori.
Last week…
In case you missed it, in our last newsletter we revealed the extremist assumptions that underpin the Government's climate modelling have now been discredited and we are calling for all policies using these assumptions to be suspended HERE, and our NZCPR Guest Commentator Barry Brill provided four articles analysing the announcement by the UN that shocked climate alarmists HERE.
Court of Appeal Fundraising…
Thank you so much to those kind readers who supported our Court of Appeal fundraiser. As we have explained, we are raising funds to appeal a High Court Marine and Coastal Area Act ruling to the Court of Appeal, which, if left unchallenged, would result in tribal control of most of New Zealand's coastline – the opposite of what Parliament intended. If you would like to support our fight against this miscarriage of justice, please click HERE.
Will you support the NZCPR?
The New Zealand Centre for Political Research is a public policy think tank that plays a significant role in informing public opinion and influencing decision-makers. Since we provide all of our research and commentary free of charge, it is only through the wonderful generosity of readers like yourself that we can produce these newsletters and run our important campaigns. We greatly value every contribution – please click HERE if you would like to help.
Please note: If you don't like website forms, you can donate directly – but please email receipt@nzcpr.com if you would like a receipt. Direct donation details are: NZCPR ASB Bank account 12-3099-0833814-00.
Thank you for your on-going interest and for your wonderful support – and please help us reach out to others by sharing our newsletters as widely as you can!
Warmest regards,

Dr Muriel Newman
NZCPR Founding Director
NZCPR Weekly:
TRIBAL CONTROL OF WATER
By Dr Muriel Newman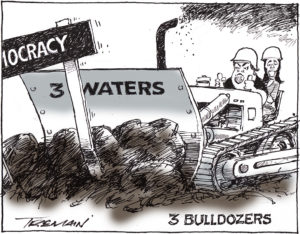 New Zealanders have been well and truly duped by Labour over Three Waters.
From the outset, the primary objective has always been to deliver control of water to the Maori tribal elite. It is only through lies and manipulation, a compliant media, and an absolute majority in the House that Labour – or more accurately the Minister of Local Government Nanaia Mahuta – has been able to progress the reforms to where they are now.
Three key changes have been introduced to give control of water to iwi.
The first involved confiscating water assets from councils and centralising them into four mega Water Services Entities so 'co-governance' arrangements could be introduced.
'Co-governance' is a benign euphemism for 'tribal rule'. It's a clever description, because it 'sounds' equitable, even though it's profoundly discriminatory since it gives tribal minorities veto rights over those representing the majority of New Zealanders.
With co-governed Regional Representative Groups giving the tribal elite ultimate control over Three Water Entities at a strategic level, a way had to be found to deliver local control to iwi.
That has been achieved through the Bill's 'Te Mana o te Wai Statements' – which the Boards running the Water Entities must 'give effect to.' These statements can cover any aspect of water services: whether pipes, consents, levies – nothing is off the table.
In fact, when Newstalk ZB's Heather du Plessis-Allan asked the Deputy Prime Minister Grant Robertson whether Te Mana o te Wai Statements could enable local Maori to "control what a farmer does with his or her pond on their private land?", the Minister could not answer: "Ah, no, I wouldn't think so … yeah, look obviously Heather I'd need to refer to the detail…".
Just like their proposed overhaul of hate speech laws, which were eventually shelved, Labour's Cabinet Ministers do not have a proper grasp of what they are about to inflict onto the country.
The only one who really understands the insidious detail is Nanaia Mahuta, and she's pushing her own agenda.
To ensure tribal control over the new Water Services Regulator, the Minister established a powerful Maori Advisory Group with the authority to issue directives to the regulator's Board.
So, with the plan for tribal control of water stitched up, the Minister set about manufacturing a crisis to justify to the public her confiscation of their water infrastructure and services.
A multi-million-dollar advertising campaign was launched to build public support for reform. By depicting sludge coming out of taps it aimed to discredit local councils.
The Minister also embarked on a disinformation crusade – exemplified in her second reading speech on the Bill: "We need to take this crisis seriously. We need to act with urgency. I do not use the word 'crisis' lightly, but when an estimated 34,000 New Zealanders get sick from drinking water each year, that is a crisis."
The Minister's on-going claim that a tsunami of 34,000 people get sick each and every year from drinking contaminated council water, is a complete and utter fabrication. It is not based on current health data but on an ESR report estimating the incidence of waterborne gastro-intestinal disease in New Zealand that was prepared for Helen Clark's Labour Government in 2006!
The 34,000 figure was the upper band of a 'guestimate' based on UK statistics because the incidence of disease in New Zealand was insufficient for modelling purposes: "the size of most outbreaks is small, averaging nine cases per outbreak in 2000-2004, and is smaller than any other countries for which data are available." The author even highlighted the unreliability of his estimates by noting in the report: "The reliability of this method is questioned by the author."
Apart from one tragic accident in 2016, when farm runoff entered a town water supply during a storm, New Zealand's freshwater quality has been amongst the highest in the world.
The fact that the Minister is using unreliable sixteen-year-old figures to push her crisis narrative, demonstrates only too clearly that she simply cannot be trusted.
Then there's the litany of lies about the new system including the false claim that councils will still 'own' their confiscated assets even though they will have no control over them – and that water users will save money even though every independent analysis warns the figures do not stack up since the alleged "savings" are based on a huge escalation of debt that's never repaid.
In effect, Three Waters is a Ponzi scheme based on interest rates of 3.5 percent, that maintains the illusion of a sustainable business for as long as the credit lines remain open. But with the new mega agencies reportedly spending money like water, and interest rates set to double, are Minister Mahuta's glib assurances about the affordability of her scheme credible?
Or does she even care?
The problem for New Zealand – and for Jacinda Ardern – is that Nanaia Mahuta has turned Three Waters into a legacy project.
Through this legislation she aims to deliver tribal control of all New Zealand water – continuing the work of her parents Sir Robert and Lady Raiha Mahuta, who, with the assistance of her sister Tipa Mahuta and the former New Zealand First MP Tukoroirangi Morgan, successfully established 'co-governance' of the Waikato River.
With Tipa Mahuta appointed chair of the water regulator's powerful Maori Advisory Board, and Tuku Morgan appointed chair of the northern Three Waters iwi body, both have key Three Waters roles to assist the Minister to deliver Maori supremacy over New Zealand water.
At a recent iwi leaders meeting, Tuku Morgan condemned an alternative Three Waters plan, which excluded co-governance, saying, "We will never be denied, we will never go silently in the night, our voice must be heard at the table and we must take our place, end of story."
Those are not the words of someone committed to using their Three Waters co-governance role to serve the public good, but the arrogant and intimidatory demands of an elitist, who believes they have the 'right to rule'.
And that is the ethic underpinning Three Waters. Any hope that water services under a tribal veto would serve anyone other than an iwi minority are naive and misguided. These tribal rulers will call the shots and they will be accountable to no-one. They will not be able to be challenged, nor sacked. They represent the totalitarian tribal rule objective of Nanaia Mahuta's legacy project.
The extension of the Three Waters legislation from dealing only with freshwater, stormwater and wastewater to include coastal water and geothermal water was buried in Parliament's Finance and Expenditure Select Committee's 200-page report on the Bill.
It simply said, "In the bill as introduced, Te Mana o te Wai and Te Mana o te Wai statements would only apply to freshwater bodies. However, water services also discharge into coastal water, and may affect geothermal water. We believe it would be appropriate to expand the bill's application of Te Mana o te Wai to these other water bodies."
Without any public consultation at all, the Bill has been expanded so all water in New Zealand will be controlled by iwi.
What a legacy Minister Mahuta has created!
How long will it be before iwi introduce a levy on freshwater – so they can receive a royalty in perpetuity every time a Kiwi tap is turned on?
How long it will be before geothermal power generators are pressured for a slice of the action?
And, how will tribal control of coastal water out to the 12 nautical mile edge of the Territorial Sea affect the 600 overlapping claims lodged under the Marine and Coastal Area Act?
The inclusion of coastal and geothermal water in the Three Waters Bill appeared to have surprised the Prime Minister and key members of her executive.
The Minister of Energy and Resources Megan Woods confirmed as much during a radio interview with Newstalk ZB's Mike Hosking: "The select committee report was the first time I've ever heard of the thought of including any more waters into the Three Waters bucket. So this hasn't even been talked about by Cabinet… As the Minister of Energy and Resources, I'd probably have some views on geothermal! It's not something we've even considered."
And at Monday's post-Cabinet press conference, when questioned about the inclusion of coastal and geothermal water in the Three Waters legislation, the PM still seemed confused: "My issue is that I'm struggling to quite understand the question that you're putting to me…"
It turns out that while the Ministerial Working Group on Three Waters had suggested including coastal water in the Bill as one of their 47 recommendations, back in April Minister Mahuta had advised Cabinet that such a change would not be introduced until the second Three Waters Bill, since it would require a substantial work programme to ensure alignment with the new resource management legislation, new water regulations, and climate change planning.
Although geothermal water was not mentioned by either the Working Group or the Minister in her Cabinet paper, it has now been included in the Bill, alongside coastal water – even though the Minister's substantial work programme has not been carried out.
Is rushing these into law now, instead of waiting for the next bill, a sign that panic is setting in?
Has Minister Mahuta suddenly realised that her Cabinet colleagues are unlikely to support the controversial expansion of iwi powers to cover all New Zealand water in an election-year bill?
Since coastal and geothermal water were not included in the Bill until after submissions had closed, members of the public have had no opportunity at all to have a say on this explosive issue.
The Prime Minister has now made the bizarre claim that including coastal and geothermal water does not alter the "scope" of the Bill – and she asked for it to be clarified.
Minister Mahuta obliged through Supplementary Order Paper 306. All references to "coastal" and "geothermal" water have now been removed from the Bill and replaced with the term 'water' – "as defined in the Resource Management Act" – where it states "water includes fresh water, coastal water, and geothermal water"!
So, while coastal and geothermal water are still part of the Bill, the Government's subterfuge makes it harder to 'see' that three waters has now become five.
This week's NZCPR Guest Commentator financial analyst and former local body councillor Frank Newman describes the toll on New Zealand democracy from the lies and manipulation associated with Three Waters:
"Unfortunately, the consequences of Three Waters go beyond a debate about infrastructure. The lies, the gross dishonesty, and the consultation charade will inevitably damage the public's confidence in Parliament and democracy itself.
"Who now could be bothered putting any effort into making a submission to Parliament when they not only know their opinion will be ignored, but realise they are being played and treated like a fool?
"And why would anyone have any respect for Parliament and politicians when politicians have destroyed any notion that we live in a representative democracy founded on the principles of 'government of the people, by the people, for the people'.
"The truth is Labour does not believe in democracy – at least not the kind of democracy that the people want and not the kind of democracy that has empowered and liberated communities throughout history and created unprecedented prosperity."
Many questions arise from this whole Three Waters debacle, including who is actually in charge?
It certainly appears that Nanaia Mahuta is bulldozing her legacy project – tribal control of all New Zealand water – onto the country, over-riding the Prime Minister and Cabinet, and treating the public like fools.
Filled with dangerous detail that will undermine New Zealanders' rights to water and our democratic way of life, this Bill is a huge mistake.
Jacinda Ardern needs to rein in her errant Minister and scrap Three Waters while there is still time.
Please note: To register for our free weekly newsletter please click HERE.
THIS WEEK'S POLL ASKS:
*Do you believe the primary objective of the Three Waters law change is to deliver control of all New Zealand water to Maori?

*Poll comments are posted at the end of the main article.

*All NZCPR poll results can be seen in the Archive.

NZCPR Guest Commentary:


THE THREE WATERS LIE
– democracy the loser
By Frank Newman

"What Labour wants is the sort of democracy that their colleague Tamati Coffey described when he said he wanted to 'tweak democracy to make it work for us here in Aotearoa'.
"What he really means is the kind of democracy that suits his personal agenda for Maori rule, where he is one of a handful of elites at the top of the pecking order.
"Labour's downfall will be that they have let Nanaia Mahuta and her Maori caucus colleagues run amuck with her personal agenda. Let's hope their downfall is a lesson for future generations – the lesson being that tribalism and racial privilege is a fast track to division and social chaos.
"Mike Hosking is right when he says, 'Maori are no more less important than anyone else'.
"And that it the crux of the matter. Are we going to accept that Maori should rule simply because their ancestors (or a fractional part of their ancestry) arrived before our ancestors? If so what a foolish and spineless society we would be."
*To read the full commentary please visit the NZCPR.com website.


What's new on our Breaking Views blog…
Breaking Views is administered by the NZCPR – the views are those of the authors. Here is a selection of this week's articles…
Spreading the message:
**REGISTER FOR OUR NZCPR WEEKLY NEWSLETTERS**
Anyone who would like to receive our free NZCPR Weekly newsletter is more than welcome to register for the mailing list HERE.
Please help us spread the message by sharing our newsletters…
Please help us spread the message about our newsletters by sharing them as widely as possible. This can be done by forwarding the newsletter itself, or, if there are problems with spam filters, by sharing the newsletter link: www.nzcpr.com/newsletter. Content from the newsletter can also be copied into your own email. To share individual articles on social media, please visit the website and click on the article in question – the Facebook and Twitter "share" buttons can be found on the top right, along with buttons to "share by email", and "Print".
Have Your Say…
Speaking out in a democracy is crucial – please find all MP email addresses, local authority councillor email addresses, contact details for newspaper letters to the editor, social media links, and other useful contacts on our "Have Your Say" page HERE.
Ensuring you receive our newsletter…
To ensure you receive our newsletters, please whitelist our newsletter mailing address – or add it to your 'safe senders' list. The address to whitelist is: newsletter-bounces@nzcpr.com … If your newsletter fails to arrive, it can be viewed at the 'Newsletter' link on our NZCPR.com website.
___________________________________________________
New Zealand Centre for Political Research
PO Box 984 WHANGAREI
Ph: 09-434-3836, Fax: 09 434-4224, Mob: 021-800-111
muriel@nzcpr.com
www.nzcpr.com

To unsubscribe from the newsletter, send this email – but don't forget to reply to the confirmation message.
If you need help unsubscribing, please email admin@nzcpr.com with "REMOVE" in the subject line.
Please note it's important that you contact us over unsubscribing problems because
it's often caused by the fact that it was an older address that was registered,
not your current one, and we will need to search for that.
To change your address please email admin@nzcpr.com with "ADDRESS CHANGE" in the
subject line, advising the new address to be added and the old one to be removed.