View our latest NZCPR Weekly Newsletter …
– to receive this free newsletter each week by email click the button and register

Dear NZCPR Reader,
This week…
This week we examine the impact of Winston Peters' decision to form a coalition government with Labour and the Greens – and assess whether their policy agenda is causing the economic downturn he predicted, our NZCPR Guest Commentator Dr Bryce Edwards explains that the election of Marama Davidson as the Green Party co-leader signals a radical shift to the left, and our poll asks whether you think New Zealand First should have used their veto power to block the ban on oil and gas exploration.
Last week…
In case you missed it, in last week's newsletter we exposed how Local Government New Zealand is attempting to undermine local democracy HERE, and our NZCPR Guest Commentator Cr Mike Lally explained why the right to demand a referendum on the introduction of Maori wards is so important for local communities HERE.
Tax Review review deadline fast approaching…
Last month we wrote about the Government's Tax Review – see HERE – and recommended that everyone who is concerned about the future of our economy should take the time to make a submission. This is a reminder that the deadline for submissions is fast approaching – Monday April 30. Submissions can be emailed to submissions@taxworkinggroup.govt.nz – full details are available HERE.
Contact Local Body Councillors…
If you would like to contact your local authority Councillors, their email addresses and other details can be found through the Local Government Directory on our website HERE.
Contact MPs…
The shortcut to sharing your views with Members of Parliament is on our website HERE.
Share our ideas…
Please feel free to forward on these newsletters. Anyone is welcome to register for the free NZCPR Weekly newsletter HERE.
Ensuring you receive our newsletters…
To prevent our newsletters being blocked by your Internet Service Provider, please add the newsletter mailing address newsletter-bounces@nzcpr.com to your email address book – and if you can, to your computer's Whitelist or Safe Senders list as well.
Finally…
To maintain our independence, the NZCPR accepts no government assistance. We can only operate because of the wonderful generosity of readers. Thank you so much to everyone who supports us. If you like receiving our newsletters, we would really appreciate your support too, so we can keep on producing them. Please click HERE to help.
Thank you for your interest and support.
Warmest regards,

Dr Muriel Newman
NZCPR Founding Director
What's new on our Breaking Views blog…
Breaking Views is administered by the NZCPR – the views are those of the authors.
Frank Newman: Well-beings and oil wells
Last week saw the first reading in Parliament of the Local Government (Community Well-being) Amendment Bill. The Labour lead troika intends removing the requirement for local councils to act in a way that is the most cost-effective for households and businesses…
Bryan Leyland: "Things you know that ain't so" – the Royal Society
Things that you know that ain't so: The Royal Society of New Zealand is committed to science and open debate. The degree to which the Royal Society of NZ has abandoned its scientific roots is dramatically illustrated by their strong promotion of "climate change"…
Each week we highlight just a selection of the many articles on our Breaking Views blog. Mole News outlining the build up of race-based privilege and the Global Warming Policy Foundation Newsletters opposing climate alarmism are published almost daily. You can subscribe to the Breaking Views RSS feed here: https://breakingviewsnz.blogspot.com/feeds/posts/default
NZCPR Weekly:
A LURCH TO THE LEFT
By Dr Muriel Newman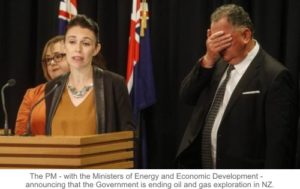 On October 23rd last year New Zealand First leader Winston Peters announced that he'd chosen the most radical left wing coalition in this country's history to become our new Government.
While those involved in previous MMP negotiations had rejected the idea of allowing the extremist Green Party anywhere near ministerial power, Winston Peters accepted they would have three Cabinet posts.
During his coalition announcement, the New Zealand First leader made the unorthodox decision to talk down our 'rock star' economy: "Our negotiations have taken place against a backdrop of changing international and internal economic circumstances which we cannot ignore. We in New Zealand First believe that an economic correction, or a slowdown, is looming, and that the first signs are already here."
He said he was foreshadowing the downturn so he wouldn't get blamed for it when it arrived. But whether he likes it or not, he is to blame – for choosing parties that advocated deeply radical left-wing and spendthrift policies to run the country, instead of the party that most people voted for, with its proven track record of responsible governance.
After only 6 months, the new Government's policy agenda is now being identified as causing the economy to slow.
Last week economic forecaster Infometrics 'slashed' its outlook for New Zealand, explaining, "The prediction by Winston Peters of an economic correction or slowdown appears to be coming true."
They forecast New Zealand's economic growth slowing to 2.4 percent per annum by the end of this year and slipping below 2 percent during 2019. They also predict that our per capita GDP growth could fall into negative territory.
They say, "A range of factors have combined to drive the slowdown, many of which can be sheeted back to government policy".
Included in the factors they identify are "the dumping of major roading projects in favour of rail and public transport", "capacity constraints in the construction sector", and a major "slowdown in migration" – from 68,900 in the year to March to below 17,000 by early 2021, resulting in more Kiwis heading across the Tasman, and "fewer New Zealanders coming home".
These sentiments are reflected in a report by the New Zealand Institute for Economic Research, also released last week, which says, "Business confidence had fallen sharply in the December 2017 quarter in the wake of the new Labour-led government taking office, and this pessimism has carried over into the first quarter of 2018."
Government policies of major concern to the business sector include changes to employment law and New Zealand First's minimum wage increase to $20 an hour. Firms are worried that increases in the minimum wage are forcing up costs and constraining their ability to grow, since wage relativity in the workforce is requiring pay increases for other workers as well. As a result, many businesses say they are now investigating labour-saving technology to reduce their reliance on workers.
Is this what New Zealand First really wanted when they promoted their irresponsible $20 an hour minimum wage policy? And don't they understand what a disastrous impact it's having on the most vulnerable and unskilled in society, who are finding it increasingly difficult to get a job?
Last week's shock announcement by the Prime Minister that she is banning all future deep sea oil and gas exploration in New Zealand – without any consultation at all with the oil and gas industry – will no doubt undermine business confidence even further.
Unbelievably, this radical policy was not part of Labour's coalition agreement with the Greens or with New Zealand First, nor was it even part of Labour's election manifesto. Instead it turns out that Jacinda Ardern has sacrificed the entire oil and gas sector for an extremist election pledge that was made by the Green Party: "The Green Party will not accept applications for new coal mines or deepsea oil and gas exploration and drilling."
It appears the Prime Minister's motivation for announcing this Green Party policy as her own – on the eve of her overseas trip – was personal. She wants to make an impact at the Commonwealth Heads of Government Meeting in London, where, just like at APEC last year, there will be opportunities for her to demonstrate that global warming is her nuclear free moment, and that through her radical climate change action, she's leading the world.
But at what cost?
As the Mayor of New Plymouth described it, the Prime Minister's decision is a "kick in the guts for the future of the Taranaki economy". She's put at risk the livelihoods of 11,000 people who work in the oil and gas industry – along with almost 120,000, who live in the Taranaki region.
While the Prime Minister justified her ban on oil and gas exploration as being necessary to put New Zealand on the path to achieve the coalition goal of zero emissions by 2050, the Business New Zealand Energy Council says her claims are a nonsense: "There will be no overall reduction in global emissions and potentially an increase in emissions as a result of this ban as global exploration from places with lower environmental standards fills the gap left by our reduced output."
At the present time, some 60 percent of New Zealand's energy needs come from oil and gas. The oil and gas industry contributes over $2.5 billion to our economy and pays around 42 percent of all profits to the Government in the form of royalties and income tax – some $500 million annually.
At the current production rates, New Zealand's natural gas reserves in the main Pohokura, Maui, and Kupe fields in Taranaki, will only last about 10 years. This has led to concerns that the ban on new offshore exploration will hit gas-dependent households and businesses hard. Around 265,000 homes rely on gas for cooking and heating, as do schools and hospitals along with other public and community amenities. Gas is used in the production of most of our exports – almost half of the energy needs of food processing, and a third of wood processing. It also plays an essential role in the production of methanol and urea fertiliser, and is crucial to the electricity system, providing backup generation when demand exceeds supply, or when the hydro lakes are low.
When it comes to oil, New Zealand produces just over a third of our needs. Oil is one of our top ten export earners, with almost all of the crude oil we produce of such a high quality, that it's exported. To meet domestic demand for fuel, lower quality Arabian crude oil is imported and refined at Marsden Point.
Altogether, New Zealand has 17 sedimentary basins within our Exclusive Economic Zone that contain possible commercial quantities of oil and gas. Currently only one basin – the Taranaki Basin – is in operation with 20 oil fields.
It was always New Zealand's ambition to become energy self-sufficient through exploration. Our untapped oil and gas reserves are said to be of a 'world-scale', and – like in Norway – they have the potential to transform our economic future.
Since Norway developed its oil and gas resources in the 1970s, it has experienced economic surpluses. The Oil Fund – now the Government's Pension Fund – was established in 1990 to invest the surplus revenues of the Norwegian petroleum sector. It now has over US$1 trillion in assets, making it the largest sovereign wealth fund in the world.
That could have been New Zealand's destiny. But thanks to this radical three party government, in the long run, we may have to rely on costly imported energy, not only for the future security of supply of our electricity system, but even to fire up our barbeques.
While the Minister of Energy has explained that the 31 active exploration permits, with mining rights that could last up to 40 years, won't be affected by this ban, the problem is that the investment needed to produce commercial levels of oil and gas from wells, runs into billions of dollars and Labour's announcement has sent out a clear signal to oil and gas investors that 'your money is not welcome in New Zealand'.
A case in point is New Zealand Oil and Gas, which has a joint permit with Beach Energy to explore the Canterbury Basin off Oamaru. It's an area of huge potential, but since it will cost over $50 million to drill an exploration well – with only a 20 percent chance of success – the companies would need investment partners prepared to take the risk. Then, if they do want to develop a field, a massive $6 billion dollars in infrastructure spending would be required.
Since long-term capital commitments are far less likely in a hostile political environment, the most probable outcome of Jacinda Ardern's announcement is that oil exploration companies will take their activities to countries that are more welcoming. As long as there remains a demand for oil products, oil exploration will continue – it just won't be in New Zealand.
As could be expected, the Green Party was jubilant at the Prime Minister's announcement. A triumphal email sent out by the Energy Spokesman, Gareth Hughes said, "I had to pinch myself because I almost can't believe we did it! Today our government has announced the historic decision to end all new fossil fuel exploration in our oceans. Ending deep sea oil and gas exploration has long been a key goal of the Green Party and today, in Government, we've delivered it. Without question it is our biggest victory yet. We've stopped the rigs."
He went on to say, "I hope this is just the first of many major victories for our environment our Government will deliver."
He may well be right.
This week's NZCPR Guest Commentator, political scientist, Dr Bryce Edwards of Victoria University, believes that the recent election of Green MP Marama Davidson as the Party's female co-leader – by 110 votes to Julie Anne Genter's 34 – signals a radical move to the left:
"The Green Party membership have voted resoundingly to take the party in a more left-wing direction by selecting Marama Davidson as the new co-leader. That's the consensus amongst commentators analysing the announcement. Of course, commentators differ over many other elements of the result – for example, whether it is progress, or a step backwards – but no one suggests that the landslide victory for Davidson is anything other than a resurgence of radicalism in the party…
"[Political reporter] Henry Cooke paints a picture of the Green activist base wanting to see a more radical and leftwing leadership than is currently being delivered by Shaw, or would have been provided by Genter. And as an example, he refers to Genter's infamous desire to replace 'old white men' on corporate boards, saying that, in fact, 'Many Green members don't want to put more women in the boardroom, they want to destroy it'."
New Zealand First has given us a very extreme Government, with a very naïve Prime Minister. Any thought that Winston Peters will be a moderating influence on this Government is just wishful thinking.
In fact this is the third time in just two weeks that New Zealand First, as the self-proclaimed Champion of the Provinces, has rolled over.
Firstly, they supported Labour's announcement that large-scale irrigation schemes would no longer receive government funding – even though they know that such schemes are the lifeblood of rural communities.
Secondly, they supported the 'no-new-taxes-until-after-the-next-election' Prime Minister's announcement that all motorists will have to pay a new petrol tax of 12 cents a litre, with Aucklanders forced to pay over 20 cents.
And now, they have agreed to the wind-down of the oil and gas sector – even though it has the potential to bring real jobs and growth to the regions. This will no doubt bring about the further deterioration in our economic prospects that Winston Peters predicted.
Is this really what New Zealand First voters wanted?
THIS WEEK'S POLL ASKS:
Do you think New Zealand First should have used their veto power to block the ban on oil and gas exploration?

*Poll comments are posted at the end of the main article.

*All NZCPR poll results can be seen in the Archive.

NZCPR Guest Commentary:

POLITICAL ROUNDUP: GREENS GO RED
By Dr Bryce Edwards

"Heather du Plessis-Allan has a pessimistic outlook about the sustainability of a more radical approach for the Greens, and argues that this contest has shown the public how bad the red-green split in the party is.
"Of Davidson, du Plessis-Allan says: 'She's the darling of the far-left social justice warriors, her fans are the same people who loved it when Metiria Turei openly admitted beneficiary fraud and you get the feeling the environment isn't Davidson's top priority. This leadership battle was really a death match over which is more important to the Greens: the environment or beneficiaries. And the fight got heated.'
"Ultimately, 'The split personality can't go on living together. Not only is the animosity in the party too great, but not all voters who care about the environment also want to give hand outs to beneficiaries.'
"There are certainly many on the political left who are ecstatic about Davidson's victory. This reaction is epitomised by blogger Martyn Bradbury, who argues New Zealand now has a political leader equivalent to the radical Bernie Sanders and Jeremy Corbyn, saying 'Jacinda is our Trudeau, and Marama finally gives NZ its Corbyn and Bernie'…"
*To read the full article, please visit the NZCPR website.

___________________________________________________
New Zealand Centre for Political Research
PO Box 984 WHANGAREI
Ph: 09-434-3836, Fax: 09 434-4224, Mob: 021-800-111
muriel@nzcpr.com
www.nzcpr.com

To unsubscribe from the newsletter, send this email – but don't forget to reply to the confirmation message.
If you need help unsubscribing, please email admin@nzcpr.com with "REMOVE" in the subject line.
To change your address please email admin@nzcpr.com with "ADDRESS CHANGE" in the
subject line, advising the new address to be added and the old one to be removed.