The High Court Marine and Coastal Area Act claim advertisements as published in newspapers around the country can be seen below. They are arranged in publication order – click the ad to read details.
Updates on developments are available through our free NZCPR Weekly newsletter – anyone is more than welcome to register for the mailing list HERE
We have now launched a fundraiser to help those fishing and recreation groups who are opposing ALL claims in the public interest to cover the tens of thousands of dollars they will incur fighting this resource grab – please help those who will be standing up for you in Court by clicking HERE.
To return to the Countering Coastal Claims Campaign page, please click HERE.
25 April 2017 – Whakatohea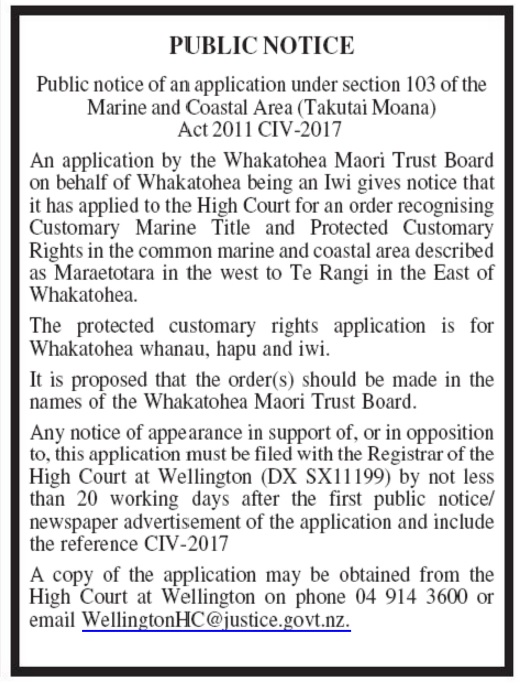 26 April 2017 – Ngati Tama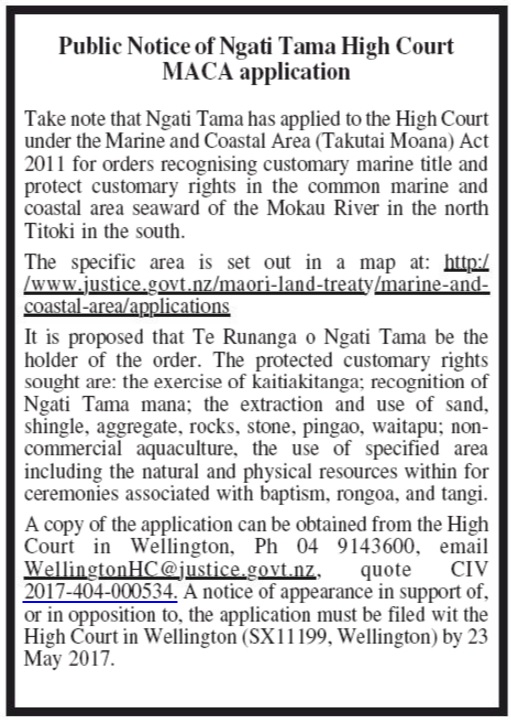 27 April 2017 – Otakanini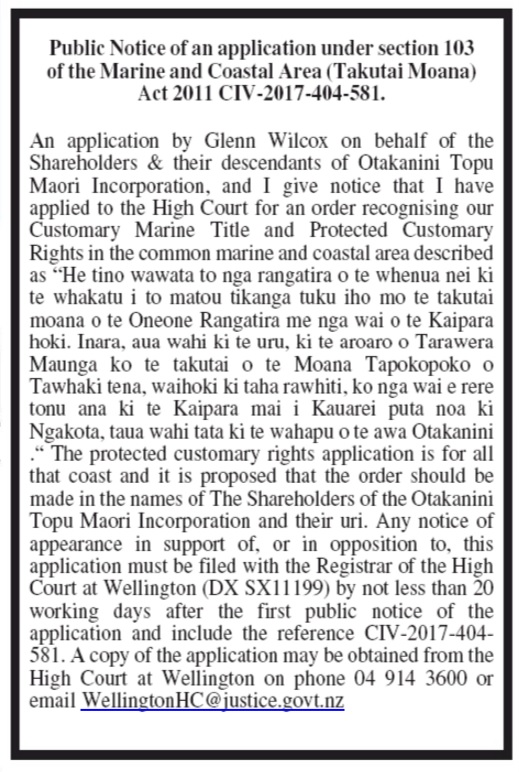 28 April 2017 – Ngati Awa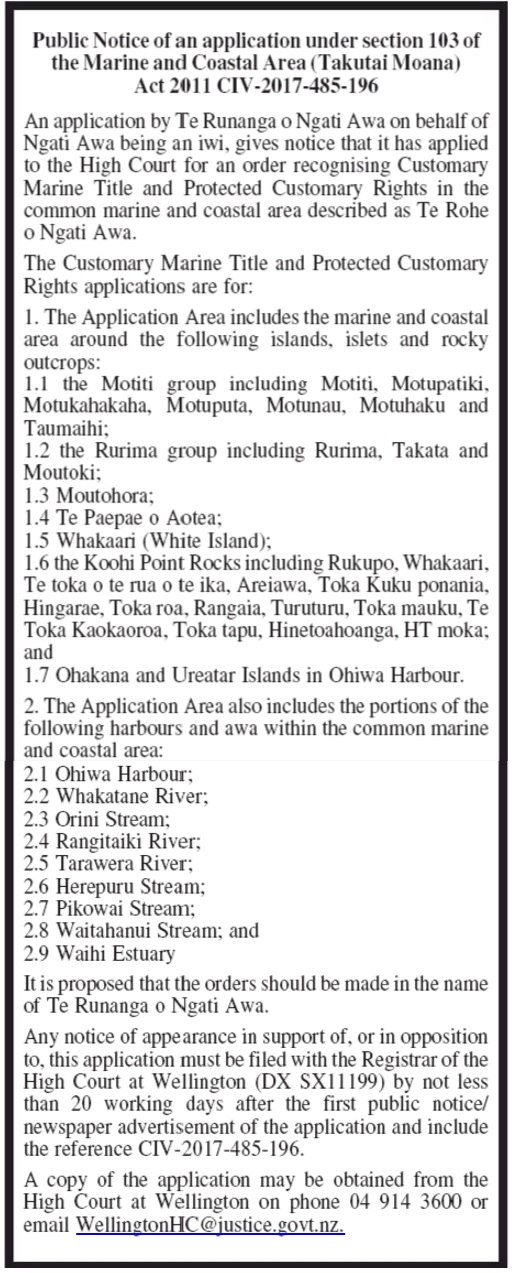 28 April 2017 – Rangitane & Wairau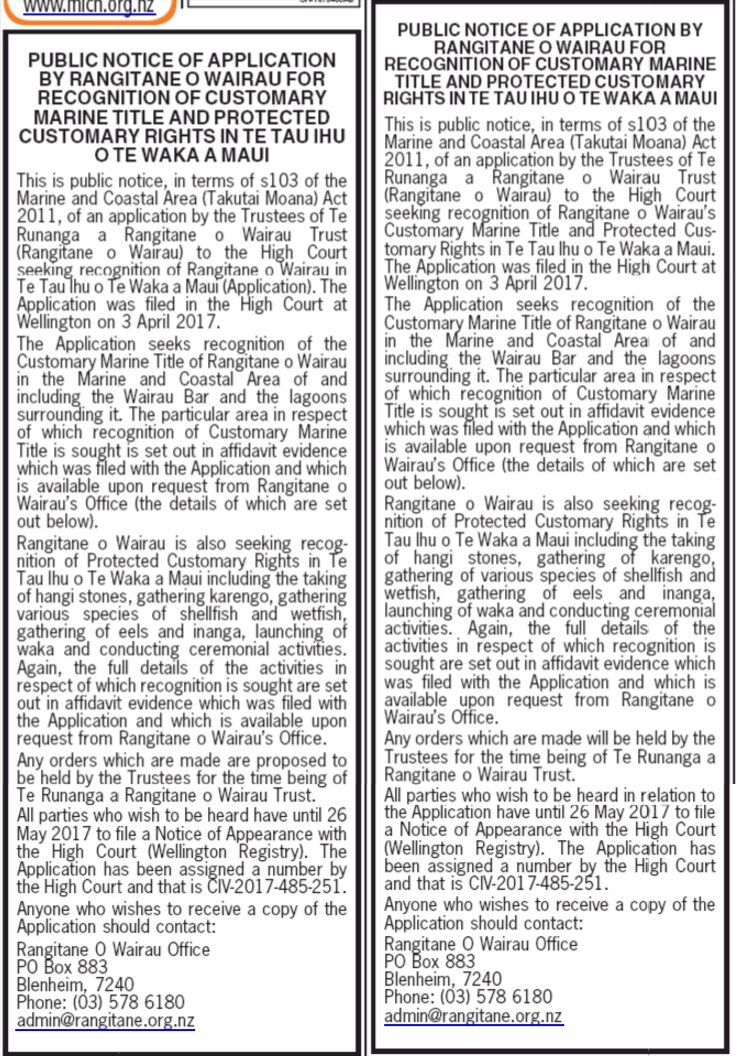 28 April 2017 – Rarawa & Whaingaroa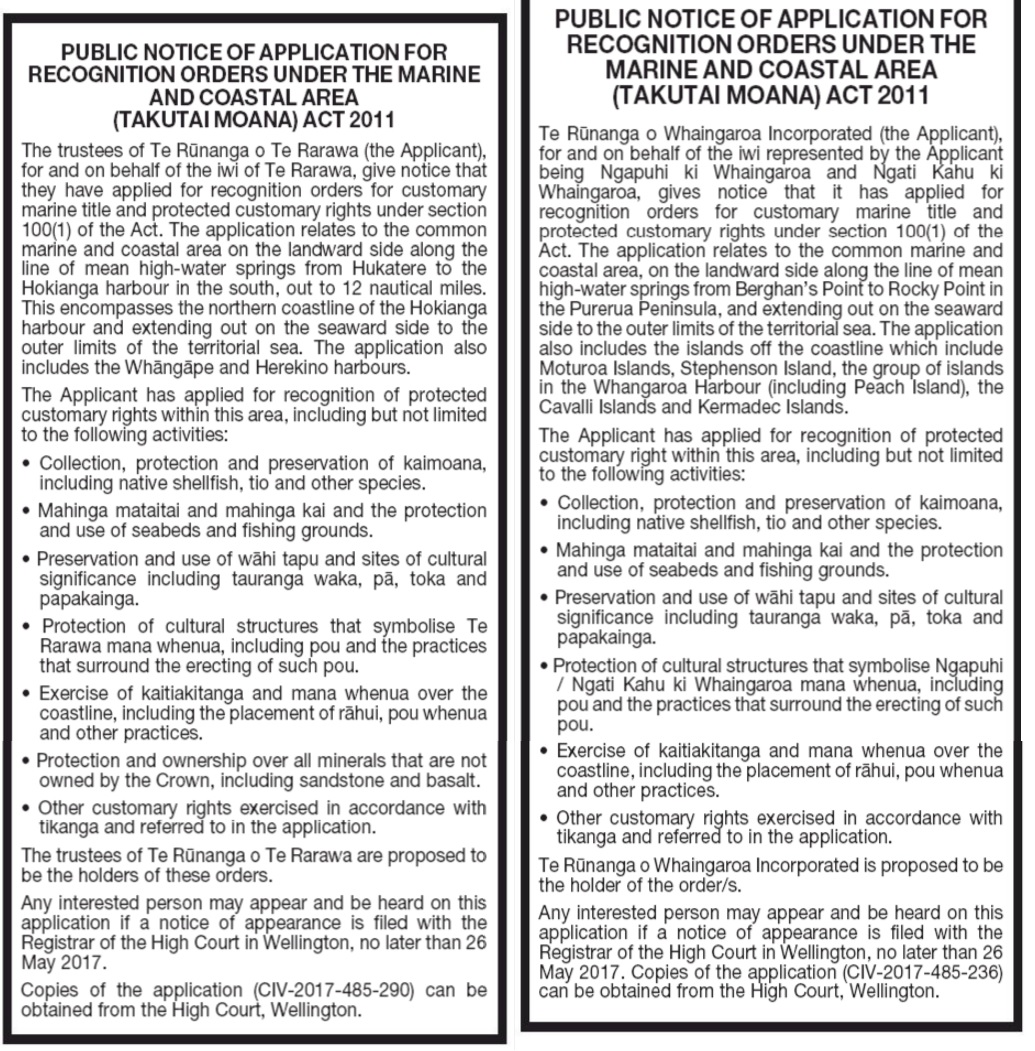 29 April 2017 – Te Kotahitanga & others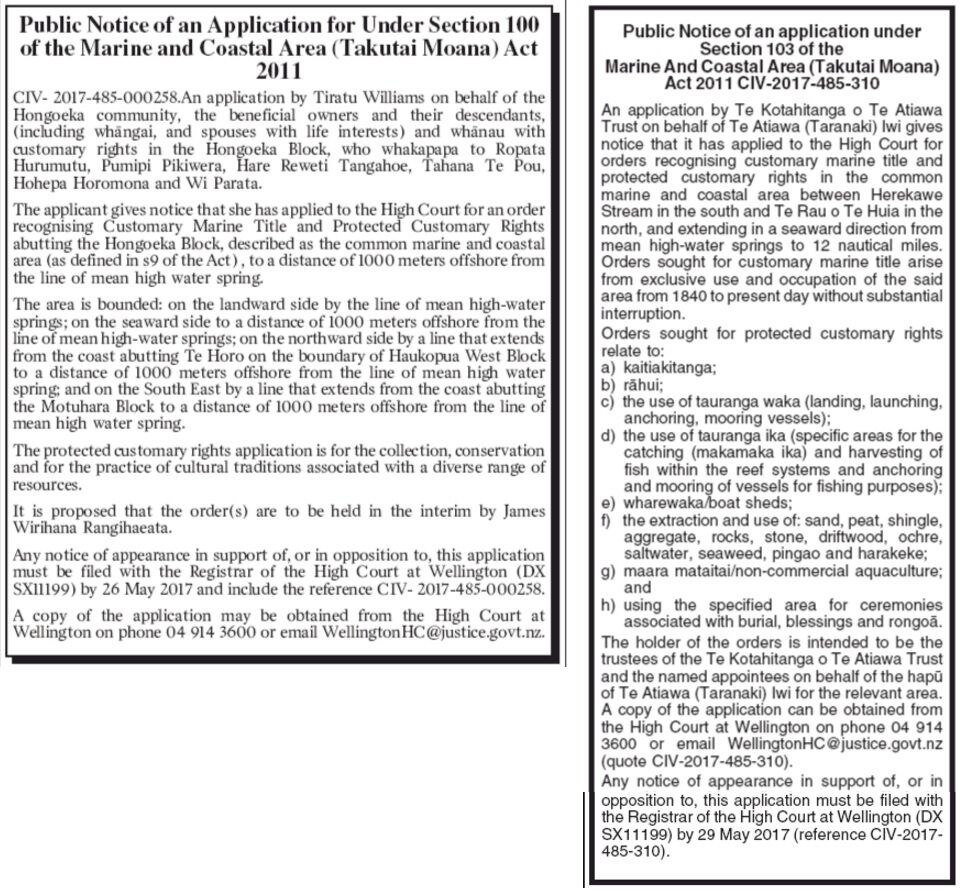 29 April 2017 – Ngati Kawau & others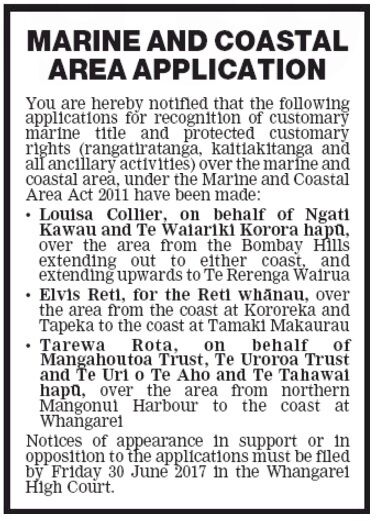 30 April 2017 – Maanu Paul for the whole country

1 May 2017 – Ngati Whakaue

2 May 2017 – Parengarenga Trust Ninety Mile Beach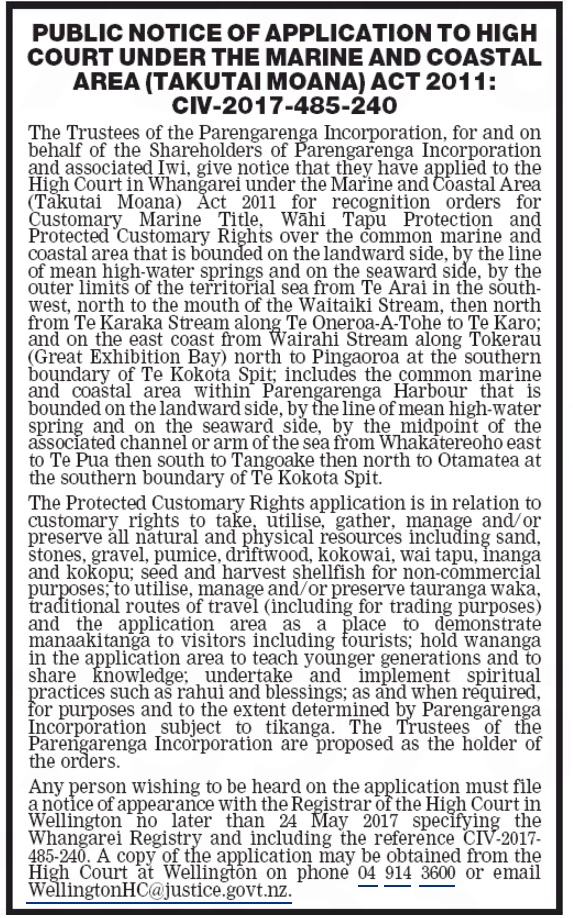 3 May 2017 – Ngati Tara Tokanuia claim advertised in Herald


To view, click the link HERE



3 May 2017 – Ngati Kawa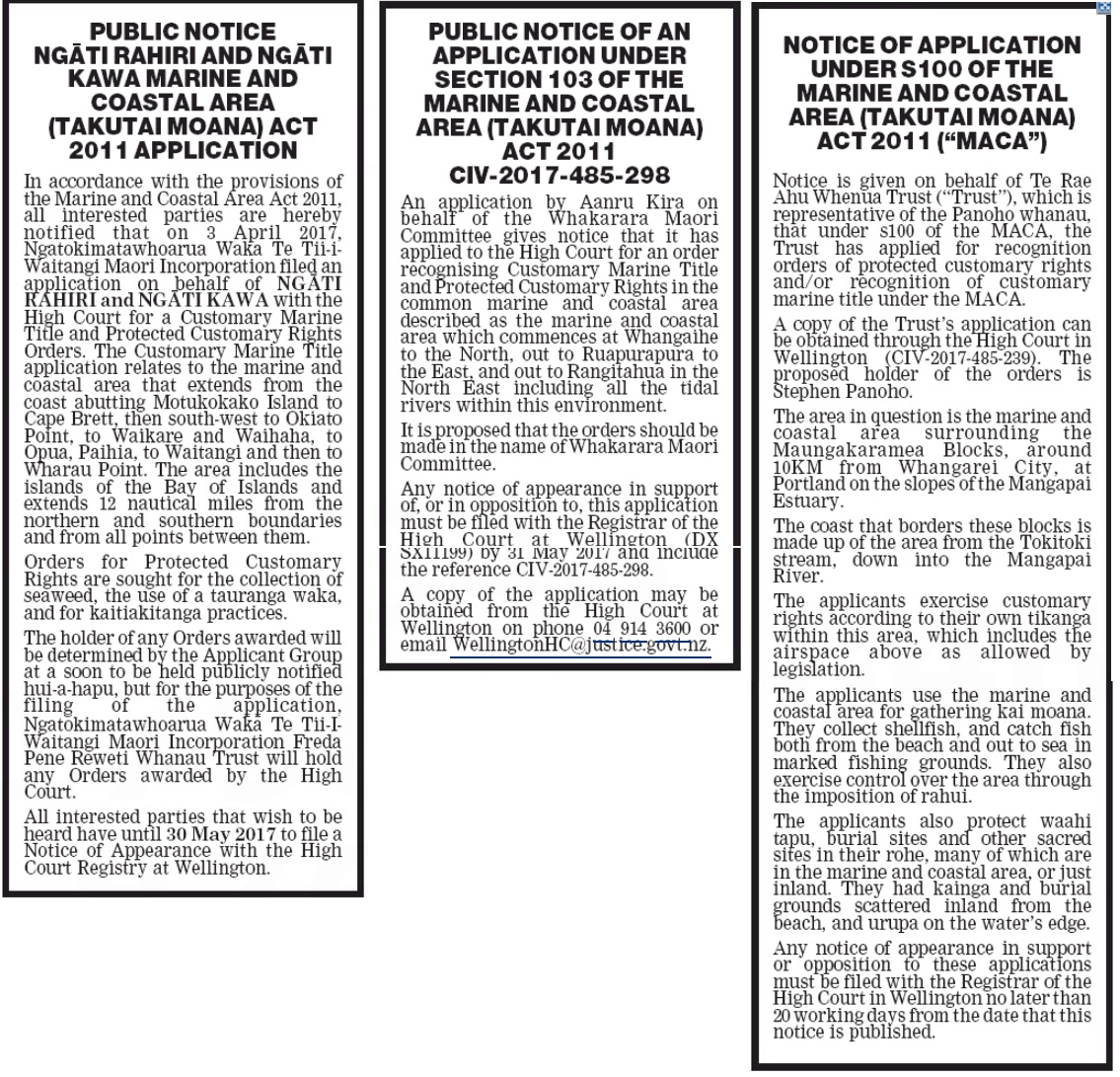 3 May 2017 – Ngati Tamaahuroa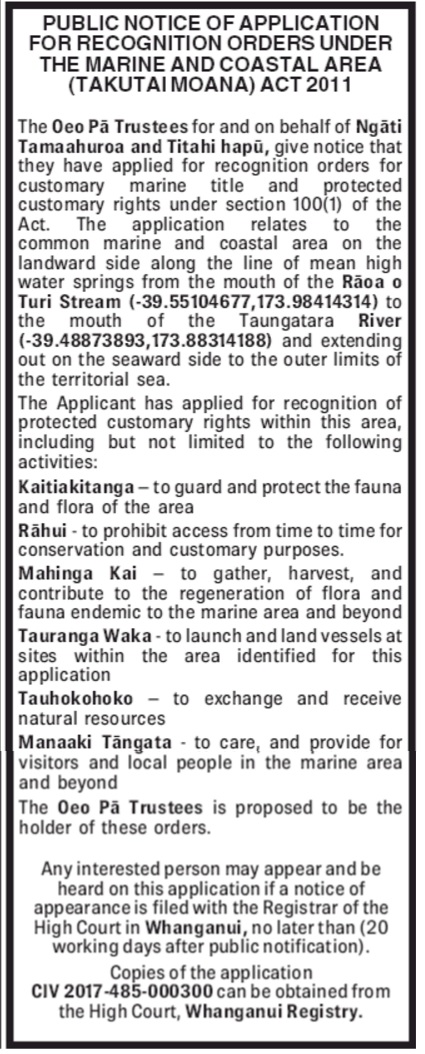 4 May 2017 – Ngai Te Rangi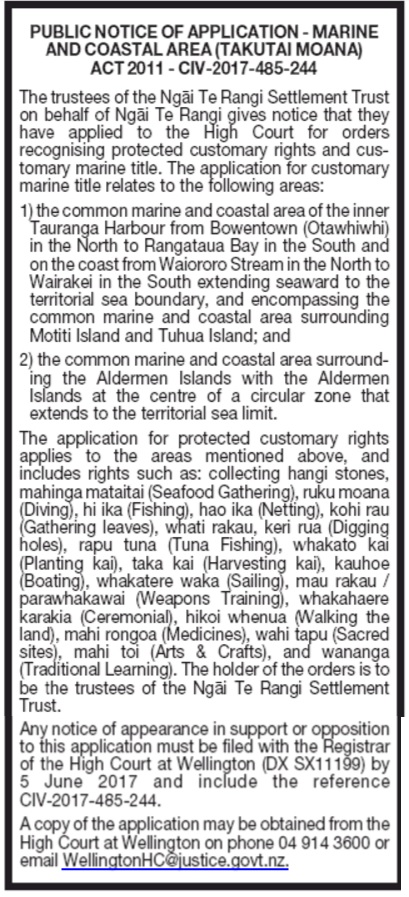 25 April 2017 – Various

26 April 2017 – Ngati Whatua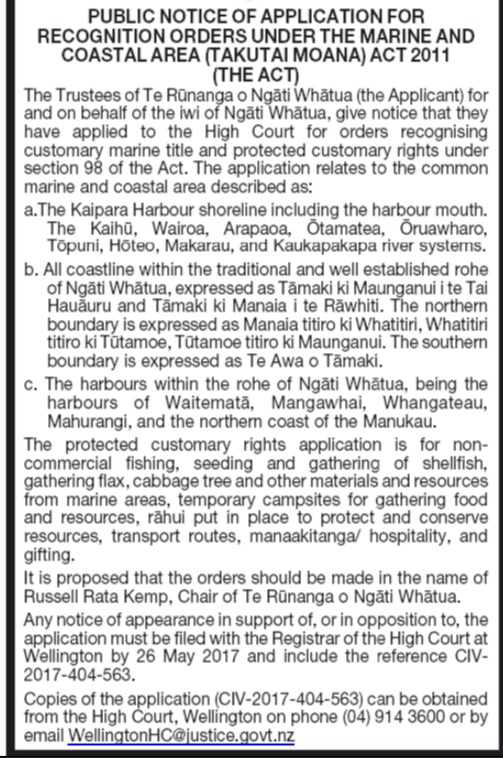 27 April 2017 – Hikakino & others

28 April 2017 – Mutunga & Ngaruahine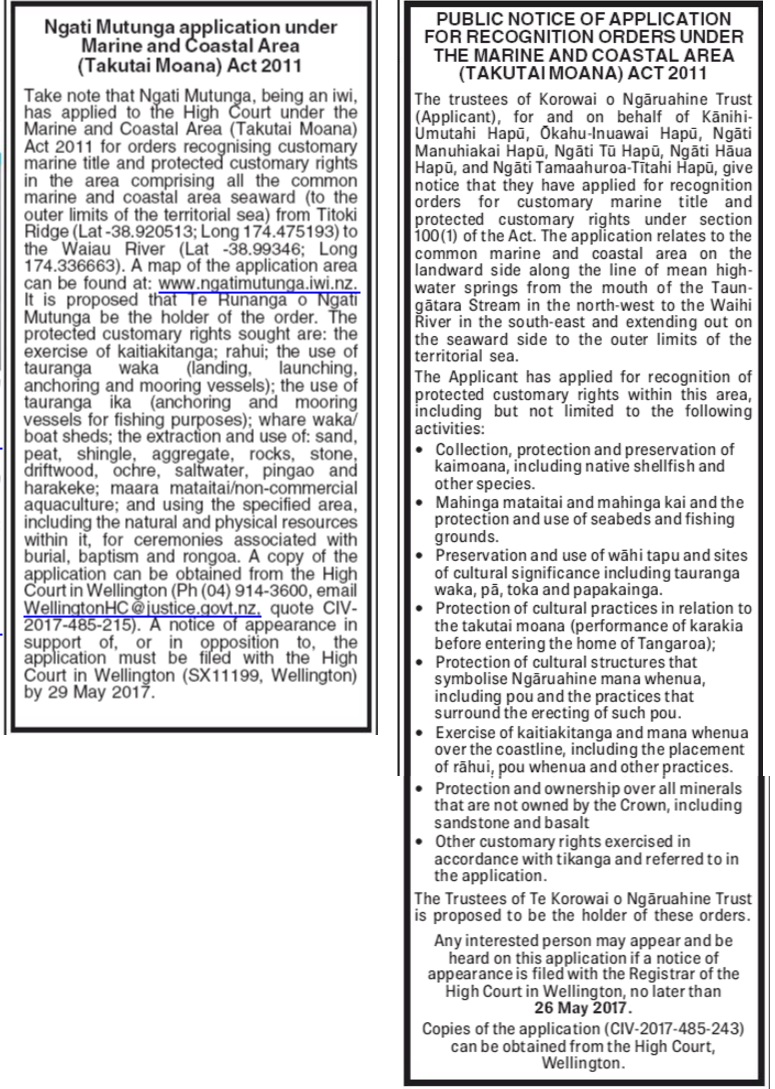 29 April 2017 – Taranaki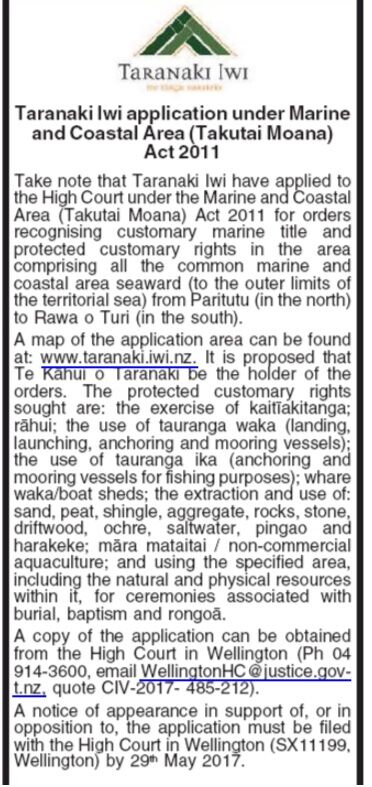 29 April 2017 – Ngati Wai
30 April 2017 – Ngai Tahu claim for all South Island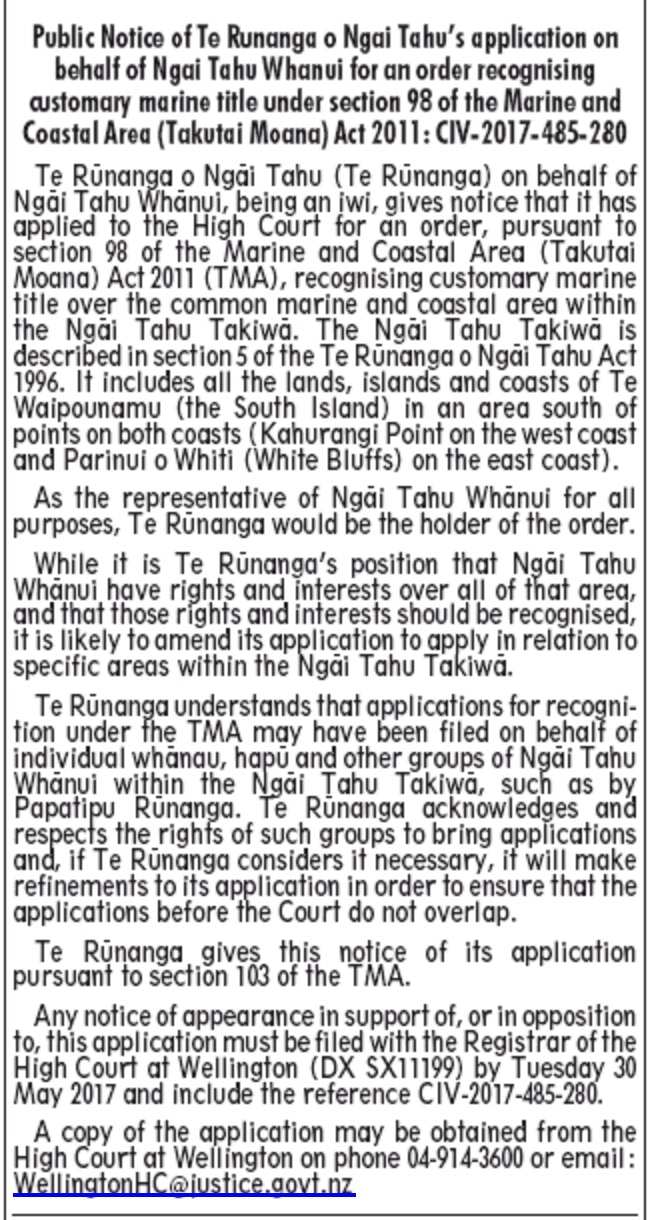 1 May 2017 – NgatiMakino & others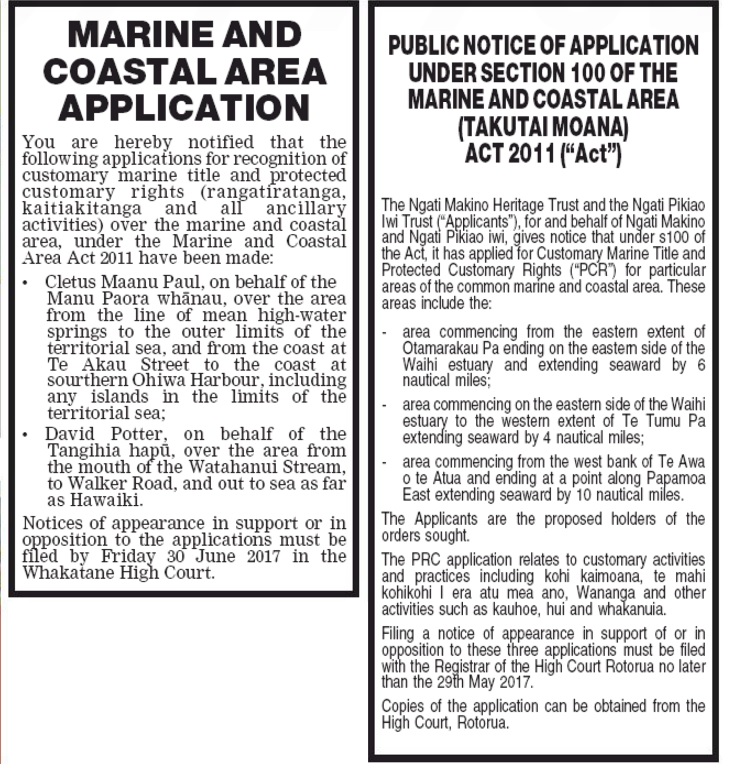 1 May 2017 – 15 claims advertised in Herald
To view, click the link HERE



2 May 2017 – Ngati Kahu & others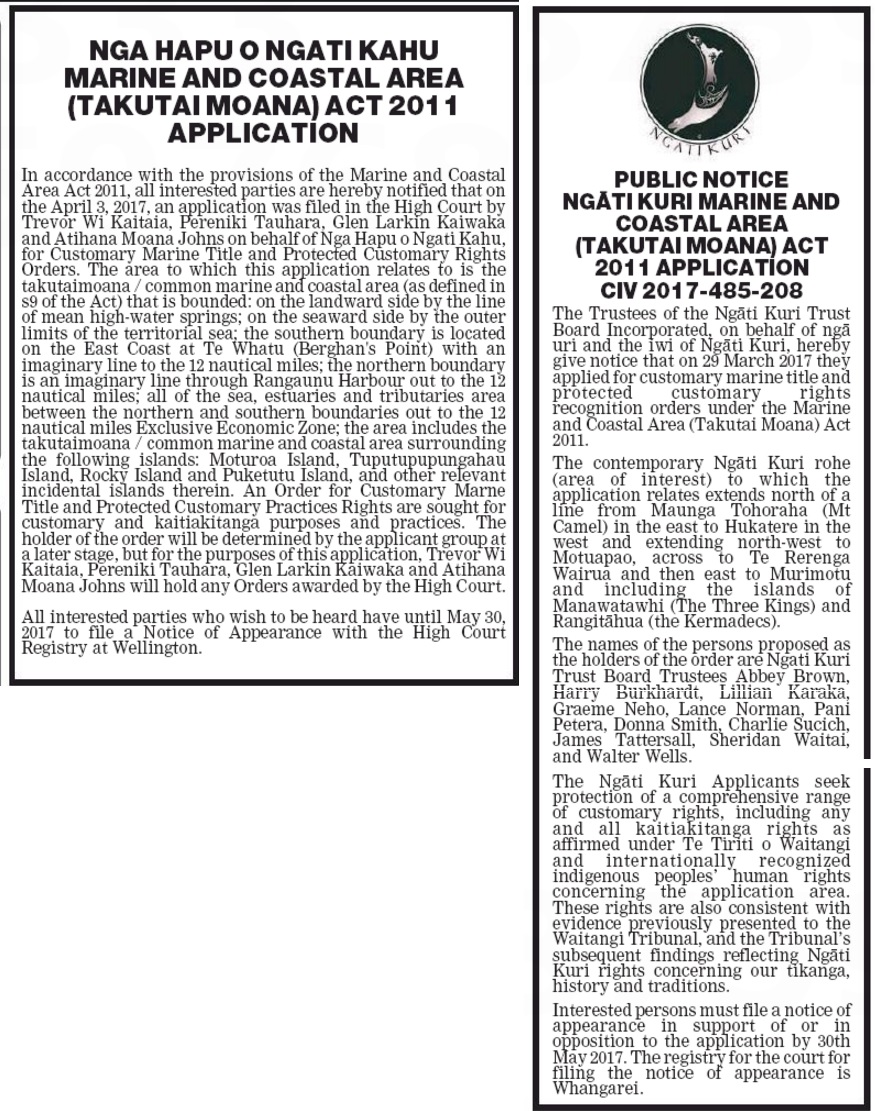 2 May 2017 – Te Waka-a-Maui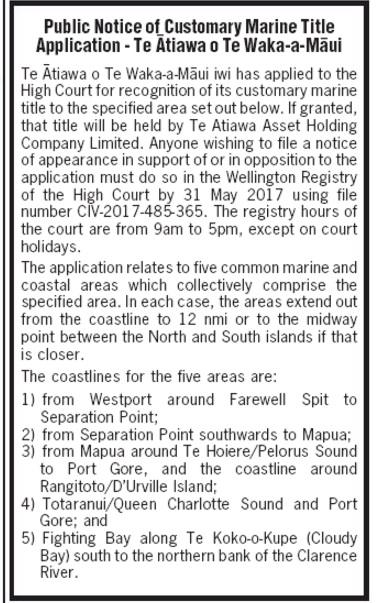 2 May 2017 – Te Awa claims Wanganui River & others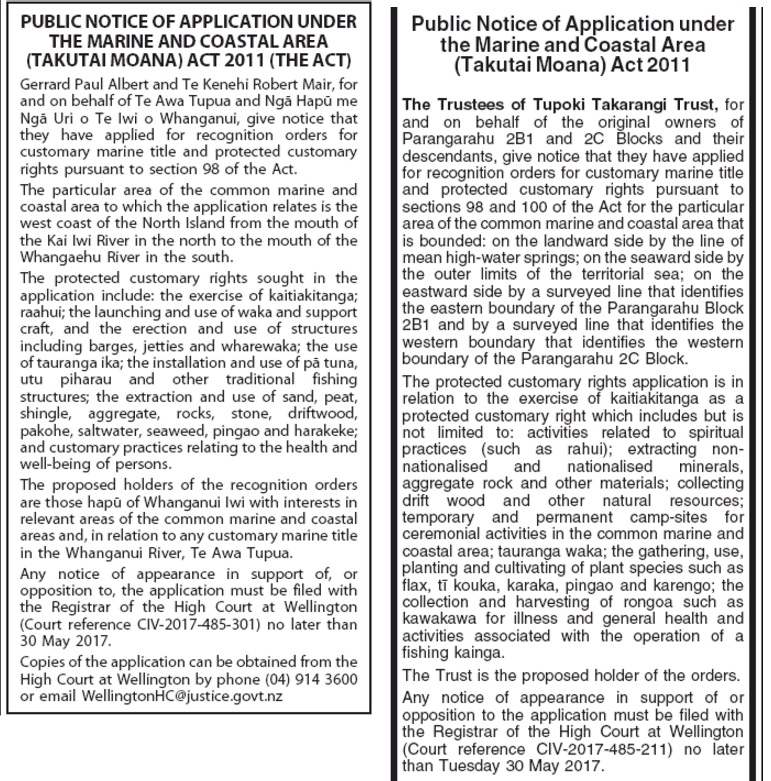 3 May 2017 – Ngati Ranginui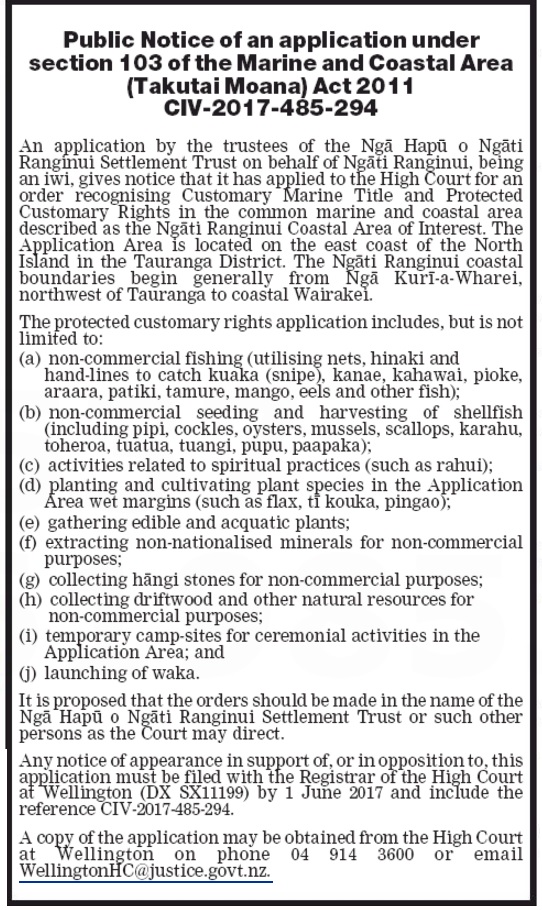 4 May 2017 – Te Rorohuri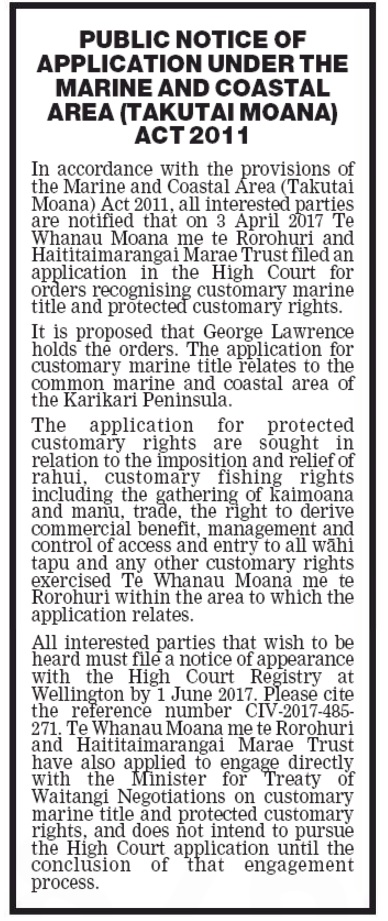 26 April 2017 – Ngati Rongo
26 April 2017 – Ngatiwai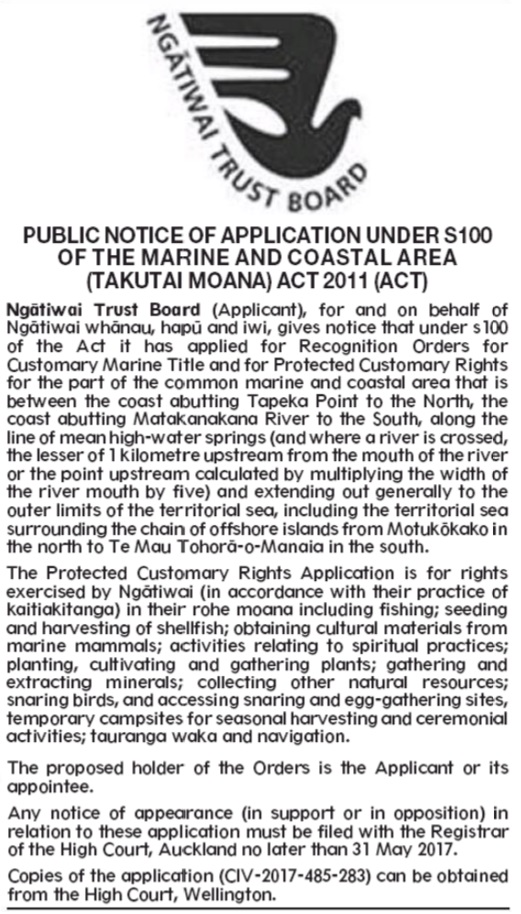 27 April 2017 – Henare Tahuaroa-Watson Whanau & others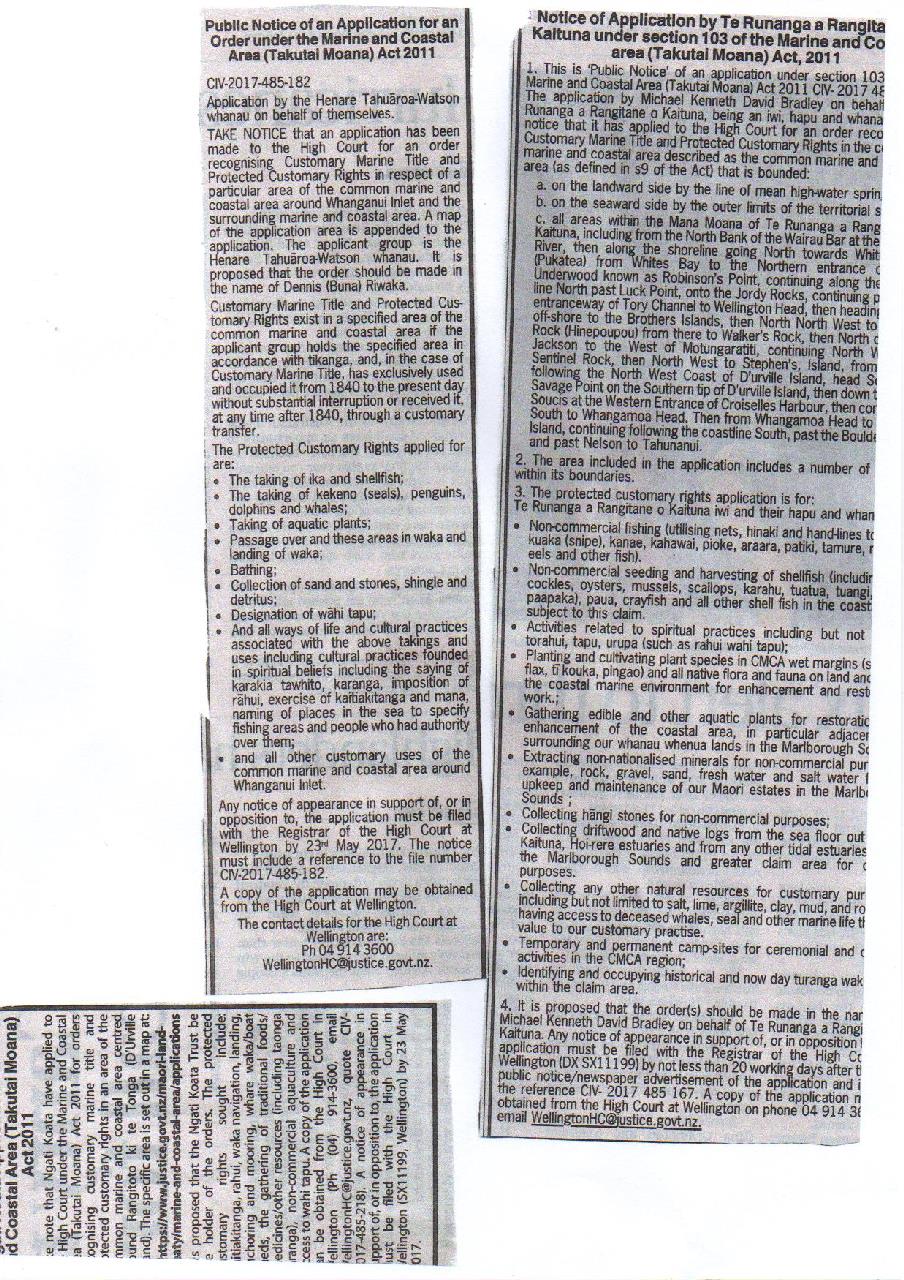 28 April 2017 – Rangitane
28 April 2017 – Rongowhakaata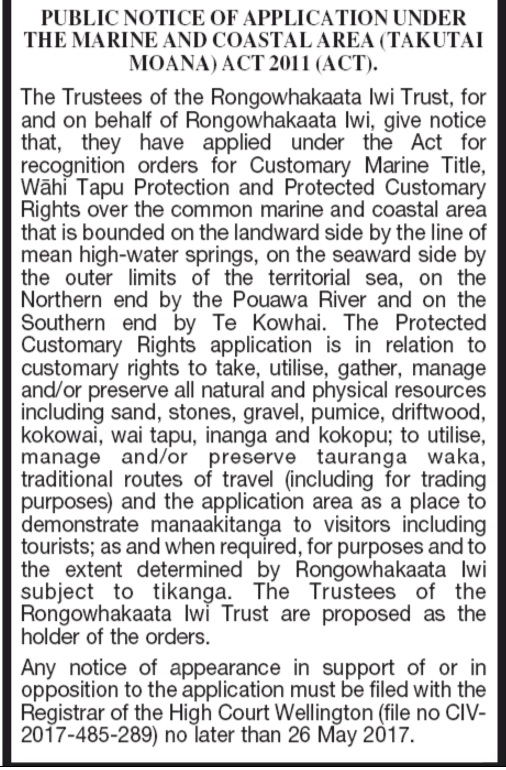 29 April 2017 – Kahungunu & Ruanui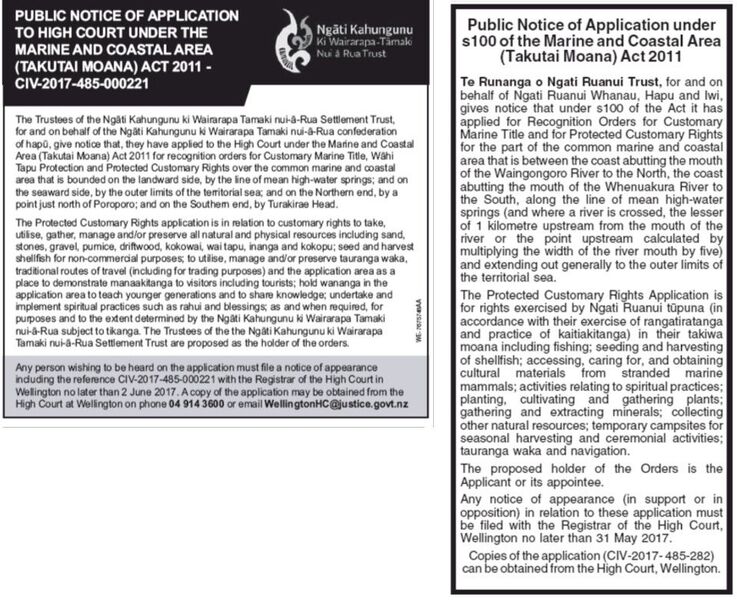 29 April 2017 – Ngai Tamanuhiri & others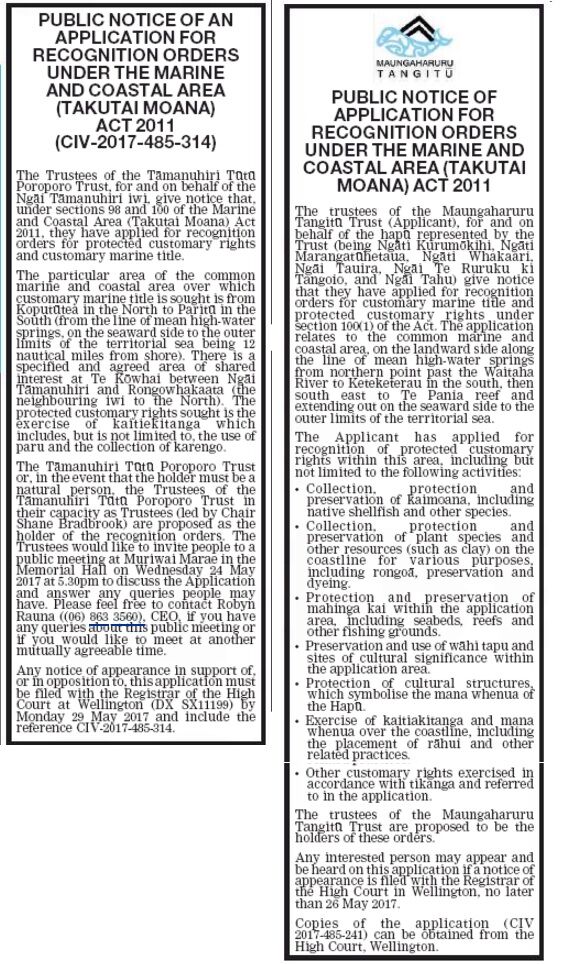 29 April 2017 – 30 claims advertised in Herald
To view, click the link
HERE
1 May 2017 – Ngai Tuahuriri & others

30 April 2017 – NgatiTakamori & others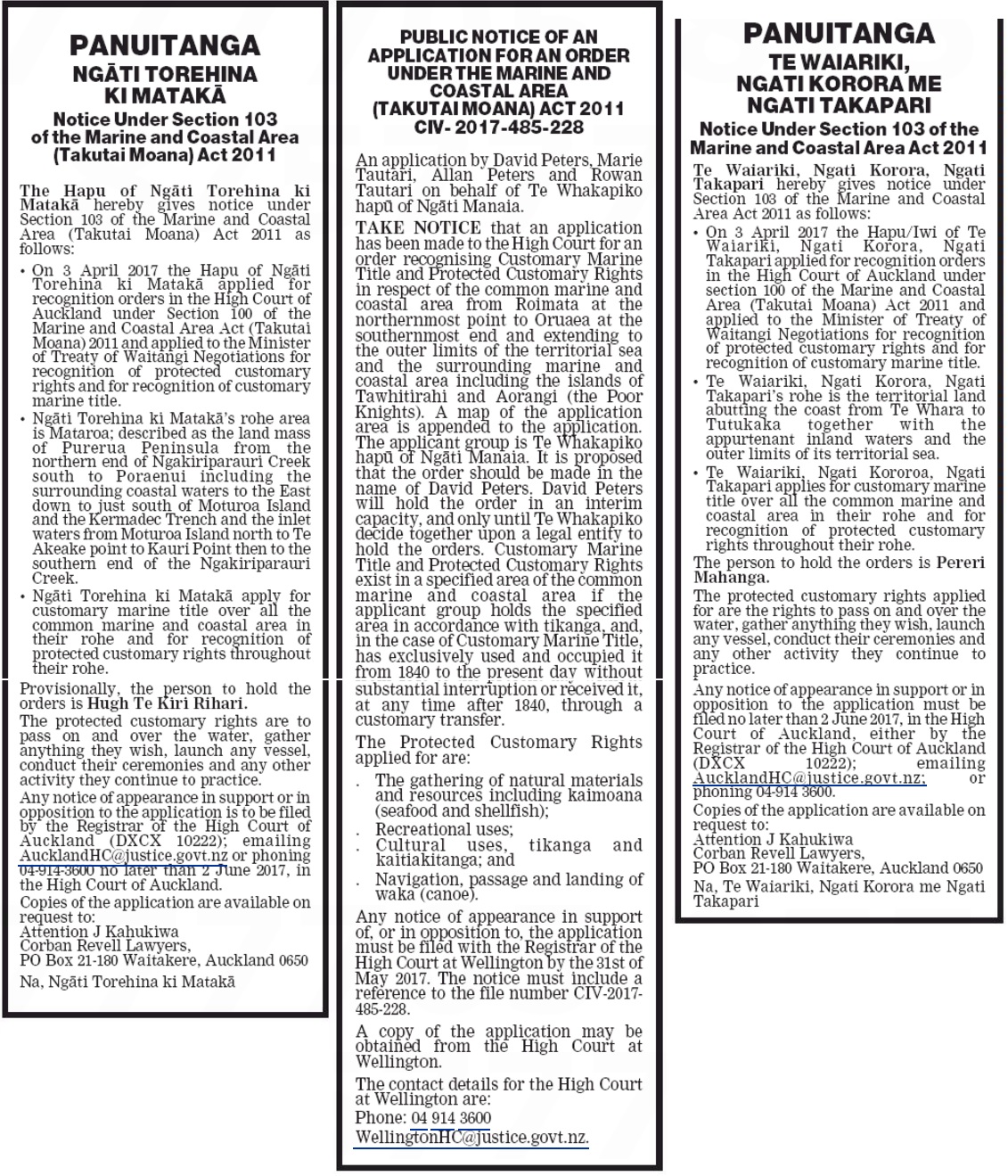 2 May 2017 – Ngai Takoto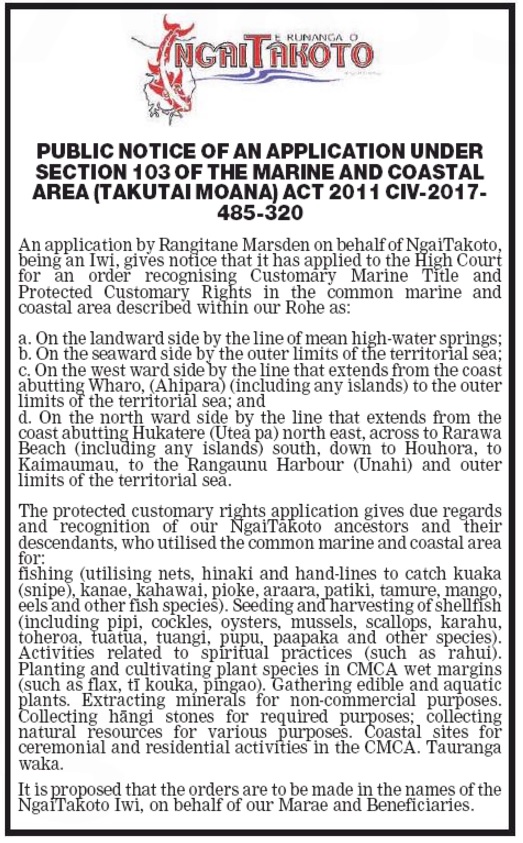 2 May 2017 – Ngati Whakahemo & others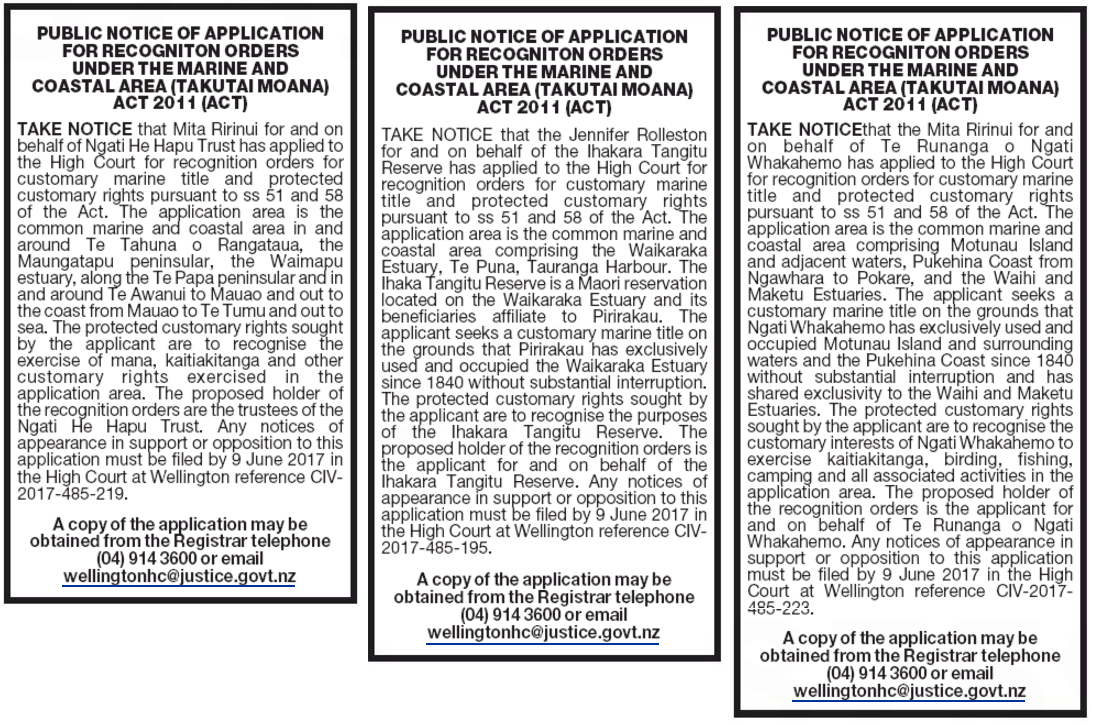 2 May 2017 – 3 claims advertised in Herald


To view, click the link HERE



2 May 2017 – Te Patutokotoko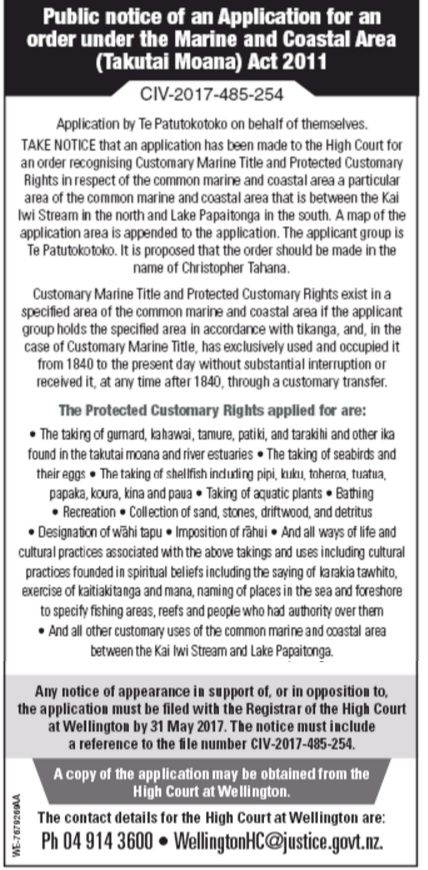 4 May 2017 – Ngati Raukawa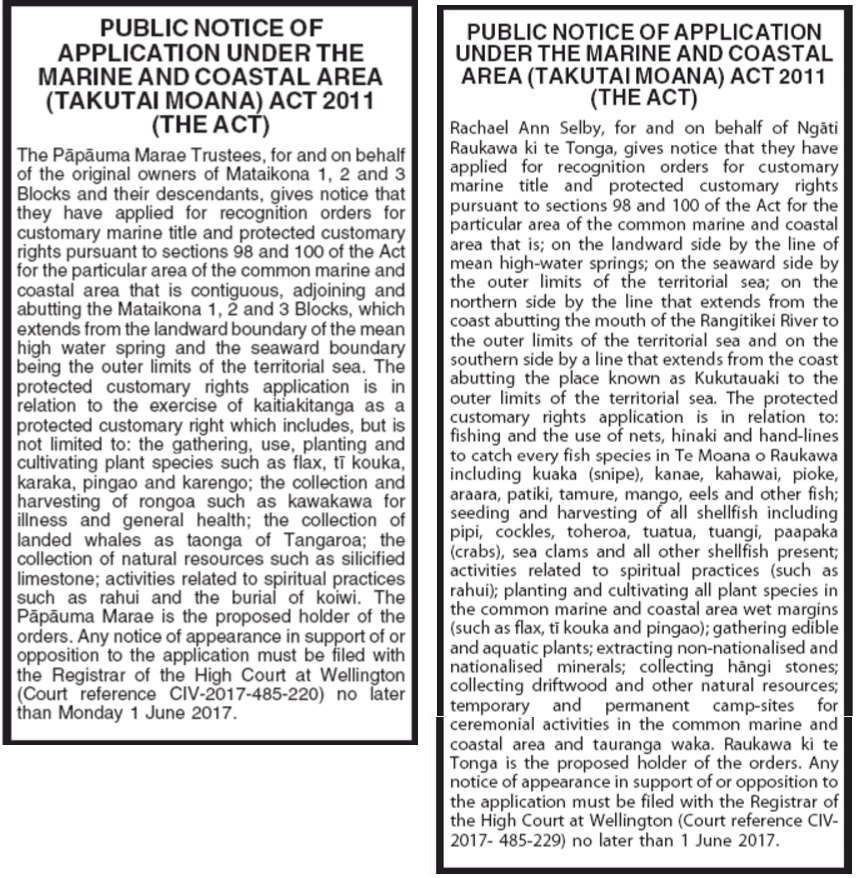 4 May 2017 – Nga Potiki a Tamapahore