Dear Supporter,
This is the donation page for the New Zealand Centre for Political Research's fresh water public information campaign fund.
We have already run two high profile nation-wide campaigns on fresh water.
You can read the ads by clicking the images.
The first ad, published last November, was designed to raise awareness of National's plan to pass control of fresh water to iwi.
The second ad, published in April, was a call for public submissions to the Government's consultation process, urging opposition to the the race-based control of fresh water.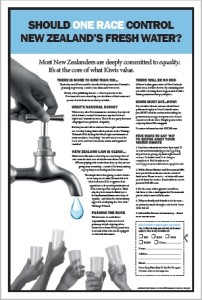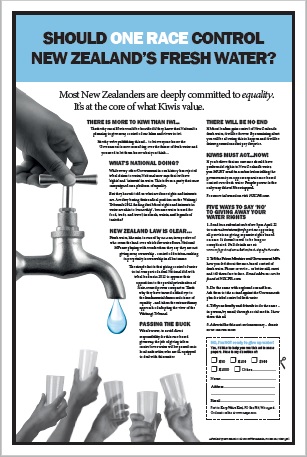 We are anticipating that more ads will be needed.
Once the Government releases the details of their proposed reforms – ahead of drafting legislation and changing the law – we are anticipating that we will need to do more advertising to build public support for our opposition to the race-based control of fresh water in New Zealand.
Since newspaper advertising is so expensive – around $10,000 for a big ad in a good position in a major newspaper – we are now raising funds for a new round of advertising.
If you share our concerns over the race-based control of fresh water and would like to help us build our campaign fund, then please submit the form below.
And if you don't like using website donation forms, the details are here, but please remember to include your email address so we can send you a receipt:
* Internet Banking: please credit ASB Bank Keep Water Kiwi account: 12-3099-0833814-52
* Cheque: please send the donation and form HERE to Keep Water Kiwi, PO Box 984, Whangarei
* Credit Card phone donation: please call us on: +64 (09) 434 3836 – payments will appear on your statement Aas 'Keep Water Kiwi'. (You can check our local time HERE).

Thank you for your generosity and support.
Warmest regards,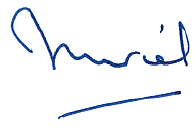 Dr Muriel Newman
New Zealand Centre for Political Research
Convenor of the Keep Water Kiwi Campaign
Email: muriel@nzcpr.com