February 9, 2023
Dear Supporter,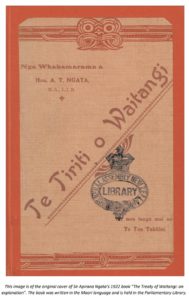 Thank you so much for contributing to the New Zealand Centre for Political Research's Treaty Book Project.
If you are donating by Internet Banking, please log into your online bank facility and credit your donation to:
ASB Bank NZCPR Treaty Book Fundraiser Account 12-3099-0833814-51
And please don't forget to include your first name and surname in the reference area – and email receipt@nzcpr.com if you would like us to send you a receipt.
And if you have donated by credit card, you will receive an automatic receipt from Windcave our secure payment service.
Thanks to your wonderful generosity, 100 years after Sir Apirana Ngata's book was first distributed around the country, the process will resume to ensure more and more New Zealanders learn the real truth about the Treaty of Waitangi!
Warmest regards,

Dr Muriel Newman
New Zealand Centre for Political Research
www.nzcpr.com