March 22, 2020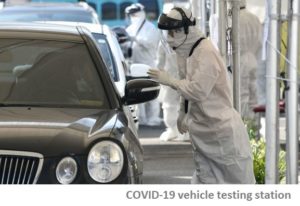 The global COVID-19 crisis is deepening. Within 12 weeks of the new coronavirus being detected in workers at a live animal market in China, 100,000 people around the world had caught the disease. Twelve days later that had risen to 200,000 and now, six days later, there are almost 380,000 cases.
New Zealand's first case was reported on February 28. In just over three weeks, the numbers have grown to 102. Two of those cases appear to signal community transmission.
The graph is now rising so steeply that a new nation-wide alert system has been introduced. On Saturday the Prime Minister told the nation that New Zealand was at Level 2. Just two days later, she raised it to Level 3, and advised that in 48 hours it would become Level 4.
The country is being closed down. Supermarkets and other essential services will stay open, but everyone else has been ordered to stay at home.
As always, Jacinda Ardern claims her decision is world leading. While that may sound reassuring to some, the reality is less so.
In early January, the Government activated New Zealand's Pandemic Plan. Based on the 1918 flu pandemic in which 9,000 people died, the plan provides a strategy for managing a serious health crisis. It outlines a worst cases scenario in which 40 percent of the population becomes ill over a two month period, with millions infected and tens of thousands of deaths.
It's the sort of tragic scenario Northern Italy is facing. They are calling it "the apocalypse".
Because a pandemic would disrupt supply chains, the Ministry of Health has stockpiled medical supplies including personal protective equipment such as gowns, gloves, and masks.
On 24 February the Prime Minister said there were 18 million face masks in stock. Ironically retailers are unable to secure supplies to meet public demand.
COVID-19 is highly contagious because as well as infecting deep lung tissue in serious cases, it infects the upper respiratory tract enabling the virus to spread through breathing, coughing and sneezing. Most of those infected are asymptomatic. That appears to be the case with most children.
While the virus infects people of all ages, those who are older or have pre-existing medical conditions are most at risk.
In older people the virus can trigger a cytokine storm syndrome, causing the body's immune system to go into overdrive and flood the lungs. A new treatment advisory states: "Accumulating evidence suggests that a subgroup of patients with severe COVID-19 might have a cytokine storm syndrome. We recommend identification and treatment of hyperinflammation using existing, approved therapies with proven safety profiles to address the immediate need to reduce the rising mortality."
While the spread of COVID-19 is rapid around the world, China, South Korea, Taiwan, Hong Kong and Singapore all appear to have contained the disease, without destroying their economies.
Although China ended up with over 81,000 cases and more than 3,200 deaths, the infection was largely contained within the Hubei province. While South Korea also had an early crisis with more than 2,600 cases emerging over a twelve day period from a single religious gathering of 500 people, they have managed to contain total cases to 8,961 with 111 deaths.
In Hong Kong there are 318 cases and 4 deaths, in Taiwan 169 cases and 2 deaths, and Singapore has 455 cases and just 2 deaths.
While Jacinda Ardern has closed down New Zealand, these countries have all shown it is possible to contain the disease without destroying the economy: they rigorously test for the infection, they isolate people with the virus, they meticulously trace contacts, and they require people to not only practice good hygiene and social distancing, but to wear face masks in public places as well.
They believe isolating people with the virus is absolutely critical to managing this disease. Patients in a serious condition are treated in special isolation hospitals, while those with mild symptoms are often housed in makeshift facilities. This strategy not only prevents family members from catching the disease, but crucially, protects regular hospitals, patients and staff from cross-infection.
This week's NZCPR Guest Commentator, Professor Dale Fisher, Chair of Infection Control at the Singapore's National University Hospital, explains how their approach has contained the virus, while still enabling the country to operate:
"Looking at what we do differently, I think the biggest one is Singapore didn't let positive patients back into the community. China also didn't do that. Wuhan created 50,000 hospital beds in two big temporary hospitals. These weren't hospitals for sick people; these were all the mild cases that Australia, Europe and US sends home.
"Home quarantine is not easy. You're not supposed to mix with your family, you're supposed to have your own toilet, you're not supposed to have visitors. If you're going to keep people at home, you need to be really sure they're not transmitting it.
"In Singapore, we think it's better to hive those people off and look after them elsewhere until the virus is clear."
Professor Fisher explains that contact tracing teams get in touch with everyone who has come into contact with an infected person, arranging to pick up and test those with early symptoms.
"If people don't have symptoms, they're put in home quarantine. And home quarantine is very strict. A couple of times a day, you'll get an SMS and you have to click on a link that will show where your phone is. In case you cheat and leave your phone at home with someone else, the government has people knocking on doors now and then. The penalties are pretty harsh.
"We have been very strong on community engagement. The messages we send are: if you are sick, stay home. If you are sick and have had contact with a COVID-19 patient, come in for a test. If you can't stay home and you have to go out, wear a mask."
New Zealand has fallen well short of best practice.
There has not been nearly enough testing.
Microbiology Professor Andrea Crisanti of Padua University explains how testing eradicated the virus from the community where Italy's first COVID-19 death occurred: "We tested all residents of Vò, a town of 3,000 inhabitants near Venice – including those who did not have symptoms. This allowed us to quarantine people before they showed signs of infection and stop the further spread of coronavirus. In this way, we eradicated coronavirus in under 14 days."
As a result of testing the community they found another 89 people were infected – most displaying no symptoms whatsoever. A second round of testing ten days later found only six people were infected. By identifying and isolating infected people, they were able to eliminate the virus.
Professor Crisanti says, "At the time the first symptomatic case was diagnosed, a significant proportion of the population, about 3%, had already been infected – yet most of them were completely asymptomatic… Asymptomatic subjects represent a good 70% of all virus-infected people. Our study established a valuable principle: testing of all citizens, whether or not they have symptoms, provides a way to control this pandemic."
With most virus-infected people having no symptoms, New Zealand's testing regime is far too limited. At the present time the only people who can get tested are those with clinical symptoms (a temperature of 38 degrees Celsius or over, or an acute respiratory infection with a shortness of breath, cough or sore throat) who have travelled overseas or had contact with someone suspected of being infected with the virus.
The World Health Organisation has repeatedly said, the only way to get on top of this pandemic is to "test, test, test". As a result, other countries are operating drive-through testing stations to provide quick, safe and free tests to anyone who is concerned. The results are texted through the next day.
With everyone about to be confined to their homes, New Zealanders now need free access to testing so that those being infected by asymptomatic family members can be identified too.
We also know that face masks are essential in the fight against COVID-19. That's why health professionals wear them.
In all of the countries that are beating the disease the Government has issued face masks to citizens, which they are required to wear in public. They reduce hand to face contamination, and encourage social distancing.
Now we are at the highest alert level, New Zealanders must be issued with masks.
It is also unacceptable that people cannot buy hand sanitiser. The shortage is due to overly restrictive health and safety regulations introduced in 2017 that prevent manufacturers from using 1,000 litre vats in the production process, requiring 30 litre vats instead.
If those regulations were suspended, the 600,000 bottle backlog could be cleared in a week instead of 3 months. The Prime Minister needs to sort this out.
In spite of New Zealand's pandemic plan being launched in January, the Government has been unable to tell journalists how many ventilators are available for COVID-19 patients. Kiwi firms have offered to help manufacture them, but the leadership needed has been lacking.
When the Prime Minister announced "the widest ranging and toughest border restrictions of any country in the world", the feedback from travellers was that the restrictions were a farce – no temperature checks, no explanation of the new requirements, and insufficient details collected to ensure people self-isolate.
The Government's latest decision to close down the country will cripple the economy. The sharemarket has been in freefall. Wealth is being destroyed. Many Kiwi businesses will not survive.
The Government has now expanded their business support package of three-month weekly wage subsidies of $585 for each full-time worker and $350 for part-time workers to include all employers experiencing a 30 percent drop in revenue compared to the year before. A business finance guarantee scheme and help for mortgage holders is also being worked on with banks.
In a bizarre twist, the 'business support' package not only boosts beneficiaries and pensioners through a $25 a week increase in welfare benefits and a doubling of winter energy payments, but it also penalises landlords through the freezing of rents and the banning of no-cause terminations.
If the Government is genuine about wanting to help Kiwis get through the difficult times ahead, they should consider reducing GST to 10 percent and/or lowering petrol tax, both of which would also provide a welcome stimulus to the economy.
Furthermore, the minimum wage increase from $17.70 to $18.90 an hour, that will cost businesses an extra $50 a week per worker from 1 April, should be postponed.
While New Zealand's health authorities are doing a sterling job trying to cope with the pandemic, the Government's leadership has appeared piecemeal and reactive.
When looking at the 102 confirmed COVID-19 cases posted on the Ministry of Health's website, the vast majority were infected overseas. Flight details are known and other travellers can be tracked.
While not all details of cases have been provided, it looks like only a dozen or so people have been infected from within New Zealand – mostly by those returning from overseas.
Furthermore, there appears to be only two cases to date where the source of the infection cannot be ascertained, that could signal 'community spread'.
Unless the Prime Minister knows something that we don't, it certainly appears that enacting the Singapore model could have prevented the country from needing to be closed down.
Under that approach, everyone infected with COVID-19 would be isolated. Seriously ill patients would be admitted to an isolation hospital – such as a private hospital facility – not a public hospital. Those with mild symptoms would be housed separately until their tests are clear. The Army will have facilities that could be used if needed.
All of the contacts of the infected people would be tracked and tested. Anyone infected would go into isolation. Those testing negative would go into home quarantine under strict monitoring.
In the two cases of suspected community transfer, the communities themselves would be quarantined and everyone tested.
The rest of the country could carry on, with everyone being careful and on heightened alert – essentially the same as in those countries that have successfully contained the virus.
With good management, a complete shut-down of the economy may not have been necessary.
THIS WEEK'S POLL ASKS:
*Do you have confidence in Jacinda Ardern's leadership over COVID-19?

*Poll comments are posted below.
*All NZCPR poll results can be seen in the Archive.

THIS WEEK'S POLL COMMENTS
| | |
| --- | --- |
| It is her forte, leadership in times of crises. Pity that she can not show that same leadership in normal times | Brian |
| Too little too late | Stewart |
| Ardern is wallowing in the power she has as leader She reminds me of Hitler and Stalin | Danny |
| What leadership? She may come across as an excellent speaker but whatever she says is very questionable. She claims that had NZ had not gone to level 4 "tens of thousands of NZ'ers will die" I believe that is complete scaremongering. We all need to remember that first & foremost she is a socialist who cares little if our society, based on capitalism, is totally turned into a socialist state. Whats more, her cynical raising benefits by $25 per week & claiming that as a response to the COVID-19 pandemic has been a convenient excuse to slip in what the Government would have done in the lead up to the election. Once again, she has proved to anyone who cares to think about issues, she cannot be trusted. | Rex |
| Should have closed border much earlier and enforced quarantine. | Ross |
| No. Now that we have it – test, test, and test then isolate the positives. | Don |
| She is an airhead, only intent on doing the bidding of the UN through Aunty Helen. She is a dangerous communist and I suspect that she has taken these measures so that people can"t see what is happening in the background. She cannot be trusted and is proven to be a continual liar. | Neil |
| She hasn't got a bloody clue what is going on, just follow the leader and love China | Martin |
| All talk …only interested in buying votes | Dianne |
| We have no statics of the annual flu infections in past years to compare / Panic Panic Panic with modern technology The economic cost to this country is going to be astronomical | John |
| It is not just her leadership but more importantly the advice she is being given. Typical Kiwi | Tom |
| Too little, too late.Ardern is not a leader, incompetent, and trivial, real wet behind the ears. | Ced |
| Ardern should have read the signs weeks ago even watched those countries that were doing it right, implemented a port and air shut down for all incoming traffic2-3 wks ago, then go straight into grade 4, unless she knows something we don't? | Ced |
| inept would be a compliment | Barry |
| Not impressed. Too little, too late! | Linda |
| Too slow and poorly advised. The economic repercussions will be devastating. Trust a Labour government to get it wrong. Professional politicians shouldn't be in charge of this. | Dennis |
| Her actions does not tackle the COVID19 issues without destroying the economy. | Gillian |
| We will see how it pans in the fullness of time. There are always the greedy people that will have different take on the situation. | Chris |
| All – she's incompetent | Carolyn |
| Complete overreaction. The 'cure' is now worse than the disease. Livelihoods are ruined! | Stu |
| Had Jacinda followed Singapores example we may have not have been required to close the country down . The moment we had 10 possible COVID-19 patients that was the time to close the country down not close the stable door after the horse has escaped !!!!!!! | Ross |
| The world is at war with the Wuhan virus. Pres. D. Trump is a wartime leader, Ms J. Ardern is not a leader and only inspires totalitarian tendencies true to her ideology. | Monica |
| why not face masks for all? it is logical that breath droplets are infecting surfaces. They are lying to us | Paul |
| The stable door has been left open too long and most of the horses have bolted | Arthur |
| Too little too late | Bev |
| No thermal testing at airports a serious omission | Thomas |
| Jacinda is doing an admirable job and I feel very confident of her leadership | Mika |
| I am somewhat appalled with her announcement—where she said that every NZ r will require to be home by 11.59 pm except those caught out with the South Island ferry business etc. She also said there will be Police checks roadside side, Army may be called in to help on this and substantial fines for those who offend. This statement has scared many people who live in motor homes, some by choice, some by necessity. People should have been given the time to quietly make their way to destinations, not stressed about the threat. People should also have been given safe locations where they can park up, free of charge over the lock down period with sanitation facilities provided and fresh clean water for their SELF CONTAINED campers etc. . Instead they were made frightened and anxious and felt the need to travel long and dangerous driving hours on the roads to get to somewhere, anywhere they HOPED was safe. | Colin |
| Airport screening should have started much sooner. Less cost in posting health professionals at boarder with contact follow-up. No Confidence in this COL, at all. Rewarding one race with tax payer money under special powers is corruption. that money could have been used for screening the boarders to PROTECT all New Zealanders. However no confidence in Simon Bridges either. | Sam |
| She likes look like she leads the wold and to hell with realities. | Bryan |
| Our boarders are the problem. Close, Test, Isolate, quarantine. | Carole |
| There was no need to close down the country it will be a hard road back for some businesses | Ann |
| Jacinda is a talker and a showgirl ! | James |
| Not by the reports coming in as to what is actually going on instead of what we are led to believe by Government | Helen |
| Too little and far, far too late | Mark |
| Far too little, far too late. What happened to testing all people arriving in the country Too many tourists ignoring isolation. Far to many people with covid 19 allowed to self isolate. Where is the Test Test Test? | Robbie. |
| My vote has nothing to do with your pointless and overdone post. There are alternatives to smashing the economy and thereby risking a major economic slump ans elsewhere in the world tose alternative are being successfully played out. My vote is derived from Ardern's total lack of openness in hiding behind a wall of "I know better than the rest of you and you shall do as i tell you or you will be imprisoned. | Victor |
| Her decision making is all emotive to make her look good. She is an ineffective leader, not using sound logical business strategies & leans a lot on feelings as all the Labour caucus appear to do. | Jo |
| very week and destroyed the economy to placate the chinese government | John |
| Border control did not exist. She let the virus walk in thru the airports. Where is the quarantine for the infected. Get them out of the public!! | Craig |
| Jacinda is grandstanding for the international community, and seems to not really care of the real impacts to nzers, hopefully this will bite her at the election. | Murray |
| Always late | Colin |
| Ahead of other countries | Gary |
| This is nothing different. I don't have confidence in her 'leadership' full stop. She treats Nzers as if we are all children and she is our mother. Wrong, wrong, wrong! | Cherry |
| to much dithering has caused major panic buying and these special powers could never be resinded since we have a KGB run country. but I'm not sure if the national mob would do any better with there leader in charge, time will tell. | Richard |
| NO! NO! NO! She has puffed herself up as a world leader, and done very little testing and as people came home they were given very little information and not kept track of. My grandson came home from Canada, thru the USA and has had NO follow up, but is in absolute isolation by his family. | ruth |
| During this lock down, nothing has been said about the possible crime rate. What if gangs and crim's use this lock down period to advantage them-selves. I say, shoot them and make an example to other gangs and criminal organisations, that this country means business on organised crime during a period of crisis. | Reg |
| Her government isn't skilled enough | Oxana |
| Jacinda is an extreme Marxist Socialist. She is thriving in this total government control situation, & probably dreams at night, or whenever she dreams, that this situation will never end. There are many aspects of Singaporean government that we should implement here. Including crime punishment etc. But will that happen in our once proud nation? NO.. | A.G.R. |
| Just a typical knee jerk reaction like the gun laws. China, Singapore, and a couple of other countries have isolated carriers at the border and have not totally shut down their whole countries .China to date has lose 3000 out of 300,000,000 people less than a normal flue virus, other stats can be found on the internet | David |
| She knew we were a clean and healthy country, so she ignored every recommendation to shut our borders, and deliberately waited for enough infected people to arrive, then shut them. This number of infected travellers guaranteed the community spread that she needed to implement and normalise the UN's police state over our freedoms. | Paul |
| What leadership? She's a great talker though. | Graeme |
| for years now I have maintained that NZ should have huge warehouses dotted around the country stacked full of items like tents, blankets, portable cookers, Portaloos, sanitising stuff, towels, facecloths, chlorine tablets for water, camp stretchers / portable beds, matresses, first aid kits, in fact everything one needs in a disaster, including facemasks, breathing apparatus,, gas cylinders etc etc. I'm nearly 70 and am angry I can't buy hand gel, face masks, hand sprays —the basic stuff for everyday hygiene during such a disaster. And to learn that the production of some of these items is held up by draconian laws while parlimentarians swap insults with each other in parliament for laughs, is farcical. Of course I'm angry. Bring back the McGilly cuddly serious party. I'm absolutely sure they could do better. | Ray |
| People entering NZ have not been screened, tourists are STILL moving freely around NZ and i have just learned that my neighbour over my back fence has just arrived back in NZ from the USA (where there are about 35000 cases ) four days ago. I am sure that my neighbour will self isolate in a responsible manner, but given the high risk that even the flights home posed … should all new entrants be placed in quarantine to be safe? | Des |
| All very earnest in the presentation but no questions asked about how other asian nations have minimised the problem. People don't realise that after all this is over the borrowings, whether private or commercial, will have to repay the loans. It's gong to take years for the country to recover and it's pretty obvious that there will be far more go bankrupt in N Z than deaths from the virus | Mike |
| Believe we should have closed our borders earlier. Fancy letting in people and expecting them to self isolate! More testing and separate those who have it. | Heather |
| I say yes because at the moment I do – if everyone can pull together and go in total lockdown for 4 weeks – totally isolate the people with the virus – we may have a chance. But we must pull together we wont do it unless we do | Kerin |
| The CoL has once again demonstrated their complete and utter incompetence and adding insult to injury have subjected us all to their ceaseless political grandstanding on the "wonderful" job they our doing. | Richard |
| Haven't heard of any recovery plans to get the country going again after the shutdown and I'm not aware of any government planned initiatives | Terry |
| Our P.M. Is a knee-jerk Leader. Witness the really dumb gun Law amendments. Worse is the reluctance of our media to air responsible comments criticising the Govt. We now have the Police visiting Gun owners trying to get them from using the internet to complain about the Coalition Govt. Expect to see brown shirts issued to the Police soon | david |
| We were too slow in reacting to the situation | Albert |
| She had a lot of lead time that could and should have been used to research the success or failure of other countries systems. That would most surely have lead to better systems being introduced here. Our level of testing is far far too low | John |
| This woman is not leading, she is being told what to do by the scientists, and following their qualified advice. Trying to appear knowledgeable and making statements to the people in attempts to present herself as she alone has made all decisions. Everyone can see through her artificial patronising tv appearances. She never opens a statement and acknowledges what the scientists have advised her before she speaks about the situation and then pronounces " I HAVE DECIDED" !!!! The reality is that too little too late has passed, measures should have been taken weeks ago, we will now see the consequences of this feeble response by these politicians. The situation in Europe weeks ago was a loud and clear message conveyed to the world. It was clearly demonstrated by Ardern that she totally missed it !! | David |
| Exasperated beyond belief. Action taken too late. | Roy |
| Not really,This country never looks to see what other countries similar to ours are doing when crisises develop and follow their lead No, they have a debate and take the words of the loudest empty can. Sometimes democracy needs a good shake up. | Dennis |
| Would appear NOT to be in control | Geoff |
| don't trust her | grant |
| she could have completely isolated at 5 people | Stan |
| Should have acted to stop the virus at the border. | Bruce |
| only consolation is that they are such a incompetent lot they have had to take advice from the experts | Anne |
| Too little: Too late and far Too theatrical! Just what we have come to expect from this Fairy Tale woman. She is not the leader we need, but sadly, there appears to be no-one else on the political scene who could be guaranteed to do better. What a sad state for a country to be in. | TOBY |
| Absolutely NOT. The PM bloddymindedly refused the obvious cancellation of the March 15 memorial as she wanted again, world wide attention and praise. That stupidity and failure to isolate many others returning / coming into NZ has caused serious risk to all as well as seriously damaging the economy. | Neville |
| She should have had ALL the returning people quarantined in a separate facility immediately they landed. Her slow response has caused the outbreak here in NZ.. Had she been more astute in doing this, maybe NZ would be disease free now. | Rod |
| Needed to wait and observe overseas results. | Laurie |
| she could have learned from Singapore and China how to do it better. | Gerhard |
| Not followed proven examples that work right from the start | James |
| Poor implementation of checks at Int airports and insufficient testing of the general population. | gary |
| Can not complain | David |
| Too little, too late. Given the stable door was bolted after the horse had bolted, it would have been better to simply bite the bullet once the first case had landed in NZ and go for herd immunity, maintain the economy and accept nature would thin out a small percentage of the vulnerable. Including myself. | Geoff |
| She is an absolute waste of space like the rest of her cabinet. They have no idea how businesses run as none of the m have ever run one. Communism under a Socialist banner. | Garry |
| As usual with this government. All talk and ideas but very little real meaningful action. | Murray |
| Far too slow and far too lenient. | Judith |
| Taxcinda should have been intelligent enough to learn about the virus from other countries, positive and negative experiences before , being too slow to implement the so called level 4…and consequently we would of had time to access more test kits / swabs etc . | roy |
| | |
| --- | --- |
| If in doubt PANIC. | Terry |
| left it to late & more support for small business"s is required Also – why did the maori"s get $57 Million ?N | Phillip |
| Far too late | Warren |
| Better sound than many, usual failure expected | Alister |
| Cultural Marxists need a victimhood to survive in politics. Ardern is attempting to create a whole nation of victims by using Covid-19 as a screen. | Ron |
| Jacinda is totally incompetent, lacking in capability and experience | Sherryle |
| More or better could maybe happen but would someone else have made better choices in an unknown situation. | Laurel |
| The self appointed protector of the Muslim Community, Comrade Princess Jacinda did nothing to shut down NZ until the vote catching stunt of attending the Mosque shootings Anniversary, only after this did the "Coalition of Losers" actively start to try and control something that has been building up worldwide since January, now we are in the mess we are in because of her personal agenda for her life/career and stuff everybody else in NZ | Tom |
| She will however have to provide much tougher leadership in the weeks ahead | Merv |
| Scare them and save them | Bruce |
| I think she is also using it as an election platform i.e. 51m/57m$ to one race exclusively on top of what we others will have available. Then they get a double dip as well | Carolyn |
| She is doing what she is being told and what should be done. Nothing to do with leadership. My biggest concern is that this Government has a history of using adverse events to ram through legislation that is contrary to democratic debate and supports their socialist agenda and advance towards One World Government. | Bruce C |
| I have no confidence in Ardern or any of her muppet ministers.It will take years to get NZ back on its feet. | Steve |
| HOPELESS GOVERNMENT | Maurice |
| Has the ability to present the speeches written for her with some confidence but lacks the economic nous to make better decisions for the country's long term good | Catherine |
| We have a bunch of Public Service Muppets being directed by the PM and sundry people (Twyford, Lees-Galloway, Clark) who have all been shown to be incompetent. What are the objectives Ardern has given these people? How many people are we intending to kill etc. | Derek |
| When the PM goes on TV and talks in her typical kindergarten patronising manner, you know there's not much behind the eyes. Its not only her, look at the other MP's and ask yourself, 'would I have those people cut my lawns?' Wrong people in the wrong place in the wrong time. | Rex |
| But she does a great PR job | Russ |
| I am afraid our PM, Miss Ardern is using the pandemic to again further her ambitions of entrenching a socialist/communist dependent state. What is the reasoning for increasing welfare payments by $25/week when this group is the least effected by a lockdown. The Singapore model certainly seems to be more effective for the immediate and long-term and appears to be much more effective in targeting the problem. A new hijab and more incantations to be kind and caring just don't cut the mustard in any meaningful manner. | Michael |
| setting aside the staged propaganda presentations (complete with framed picture of M Savage PM, what a joke), the real experience of local testing was shown to be so inept as to be farcical, the measures of control especially border control and tourist activity control were totally absent, the current measures made unilaterally offer little real additional protection for their huge damage and are seen to be more akin to socialist population control than to any real medically based isolation. Individual livelihoods have been replaced by regulation and helicopter money, while real useful productivity has been sacrificed. Service personnel are being worked at risk while unskilled socialist voters have a free non working holiday, was that because the woke Govt realized it was their unskilled dumbed down city based voter numbers that were most likely at risk , due to their poor social habits. | Richard |
| Not at all. First she asked all NZers to come home and many of the covid cases were brought into NZ as a result of that. Then they didn't test at the airport. Hard to believe when it could have been easily done and saved our country and peoples lives. It was a pathetic lack of care. Now she's saying NZers would be better off staying where they are and don't come home. Good God. She sabbotaged the country by telling them to come home and now we have the virus here and spreading without any proper plan, she says don't come home. Silly cow. | Fiona |
| Jacinda and her cabinet are totally out of their depth. Total shut down of the country is a disaster making the remedy far worse than the problem. | Lew |
| its an approach based on saying nice things and assuming that Govt is the only solution – a typical socialist view | Wayne |
| She is a socialist/communist pawn with an eye to greater things, just like Helen Clarke. | Phillip |
| This Labour Government and Jacinda are only interested it their News Reports and smiling. As usual the New Zealand government have NOT viewed or taken into consideration World and Countries better containment and testing. Labour have been "FOUND WANTING" a FAILURE | Carl |
| All talk and media cameos! | Alastair |
| It is clear that she is a rank amateur. She does not have a clue about anything much at all, let alone be the instant expert and leader around the controls of country in the grips of a flu type virus.. I really doubt that she could manage a queue in a fish and chip shop. She is a phoney, a complete flake. Definitely not my PM. | Luke |
| No, too little, too late. The controls at the border were pathetic – infected people were just streaming in, not enough testing and now the economy is screwed. | Kate |
| No where strict enough border controls; – and too late implementing them. ALL those coming in after the border was supposedly closed should have gone to Whangaparaoa or into a hotel for 14 days no matter who they were or where they came from. | Ted |
| Too little too late (again) | Fred |
| Too much 'how good is labour' is the announcements. There is no cabinet information security details of the lockdown decision were in the public domain over the weekend | Alan |
| Should have shut down the borders, tracked down and tested tourists and immigrants and isolated the elderly much earlier. | Sharon |
| Just another example of her complete and utter lack of any life and business experience on which to make sound decisions. Just an overgrown student protester | james |
| She has been too slow closing our borders and appears to only have acted after Australia closed their borders. Why were flights from the Pacific Islands allowed to come in unchecked? | Lynn |
| Reactive not proactive | David |
| It's the Prime Minister and her Team of senior MPs who have failed us by being re-active without adequate research. | Roger |
| sad to say Jacinda has no ability to lead all she can do is follow orders from the UN and line up for photo shots | Russell |
| Her lack of real life experience really shows when the pressure is on. | pdm |
| We know a number of people who have returned to NZ in the last couple of weeks and ALL of them have said the checking and information available at the airports is just a joke. Proper intervention early at this point could have almost stopped the situation we are now in. | Peter |
| Piecemeal and 'too little too late.' | Sylvia |
| Leading us in to a welfare dependent socialist state | Ian |
| Seems to dither and not take good advice | William |
| Nil. Nix. Zero. | Coral |
| I don't vote for Labour and never will as long as they hang out with the loony Greens. Jucinda is doing a great job as far as Covid19 goes. | Alan |
| Yeah Jacinda! I don't necessarily agree with everything that this coalition does but… So glad we have this government in place right now, given the alternative of those austerity (imposed for the middle class and below at least) bastards who ruined the health system over the previous three terms. NO question. | Daryn |
| The key would have been controlling the borders better – more testing – putting anyone with symptoms straight into a private hospital or facility, and requiring everyone who came in to self-isolate from MONTHS ago. Especially as everyone knew this was a thing since about January. | Harry |
| I was ready to throttle her 4 wks ago, when Chinese were still allowed straight from Wuhan to Auckland. Passengers seen vomiting on the tarmac were allowed straight through customs. | George |
| she has allowed the virus to keep coming into the NZ, community, mostly through Auckland airport where there have virtually no effective checks – still! | Gordon |
| She is welcome to prove me wrong though. | Pavel |
| This is the scam of all scams apart from the wars that have been fomented by the same criminals. Read nomorefakenews (Jon Rappoport) for example. There us no white knight. The fight back against the coming tyranny has to be a coming together of ordinary people with extraordinary knowledge. | John C |
| like the singapore model | norman |
| I think she is just parrotting medical dogma and already I can see discrepancies between her and the police and what is happening overseas. | Graeme |
| Too late, why will we never learn from countries that are first off the blocks to take action in times of crisis. | Trevor |
| Just 2 weeks too late | Paul |
| decisions being made to push the political agenda. | jim |
| Should have started at level 4 and eased up when required. | Blair |
| Shutting the country down will do more damage and cripple the economy with many job losses. Not a good option. | Grant |
| she dropped the ball and was waiting on other counties to do some thing. She is no leader that we saw with the housing and gun buy back and now she has our lives in her hand —God help us | Dave |
| More worried about her image.Should be utilising The portfolio ministers | John |
| I believe they have been to lax with testing and people entering the country. The self isolation hasn't been strict enough. I can't help but think that there is an ulterior motive To all this | Shane |
| What Leadership? The amount of economic destruction reaped by the PM and a political system unable to analyse the realities will be far more fatal to people than the Chinese virus. A few numbers that hopefully will prompt functional analogy are these. Last winter in NZ 48,000 people caught "The Flu" and 100 of those died! Globally, 770,000 people died of AIDS last year, 2 million new cases emerged and 32 million people are waiting to die. No deaths from the Chinese Virus have yet been recorded in NZ! AIDS is the real pandemic and the World Health Organisation (WHO) has done nothing about it for decades. It would be a fitting first step for any PM to sever the umbilical cord joining us with the World Health Organisation to enable the government of the day to work for the national interest – us. Democracy is about the best interests of the majority not the minority! Too many of us will become, jobless, homeless and incapacitated by a deep economic recession created by the PM and the political system itself. | Frederick |
| This government supports apartheid by giving a seperate $56 million to Maori | len |
| The detail is under a hick layer of hype | Roger |
| Too SOFT, too SLOW. | Graeme |
| My Whangarei business is in shutdown. 15 people may loose jobs | Roger |
| We are doing the best we can with what we've got. We do not have Singapore's assets. | Don |
| Typically knee jerk reactions and looks lacking in knowledge | Gareth |
| Purely Political posturing! | Ron |
| But she makes a lot of noise: sometimes the right ones | Frank |
| Not thought through, like tell people and students to go home and stop public transport like Ferries, so they can't? | Peter |
| not good enough | donal |
| Too little too late. | Terry |
| Comrade Cindy decided( when other countries clearly demonstrated how to quarantine people at the border) to let in people and asked them naively to " self quarantine' . Sure enough a number of these high risk travellers did not bother and started spreading the bug. In short: Exactly like the failure with the CHCH shooter- made possible by slack execution of police security checks this same crap attitude repeats itself on a much more dangerous scale. This Govt is a danger to us all and as before rushed measures are forced to deal with the problems comrade cindy and her glove puppets have allowed to slip into our country. We — as usual –will pay the price for these humungous stuff ups. | Michael |
| ring the clvvid number . The first thing required is your WINZ number. Unbelievable | Basil |
| I returned from India and Singapore last Thursday. We had to answer simple health questions but nothing else. Security was ,and probably still, is a farce. We didn't actually see a high use of face masks in Singapore but all of the country felt relaxed. I do not share Muriel's confidence in face masks but I am not an expert. I despair for our business community. This is the worst possible government we could have had at such a crucial time. | Alan |
| too little testing and tight control at the borders and we are at lest a week late with the total shut down | Barry |
| Her actions have not matched her words. Her approach has been reactive and too slow. The people coming in from overseas have not been tested or at least questioned deep enough. We have empty hotel that could be used to house all even mildly affect people so they are not at home and "self isolated". The Singapore experience is certainly worth following. | Keith |
| Overall I think the initiatives and management by this government has been satisfactory, the PM has articulated societal requirements eloquently IMO. However I think the borders should have been shut down at the onset. | steve |
| As usual, this bunch of children are all talk and no action. They seem incapable of learning from countries that have successfully contained this bug. | Ronmac |
| They should have banned all flights from China when they first heard about the virus from the Chinese doctor that died from it, or soon after. All cruise ships should have been made to leave immediately including those in our waters. The response has been too slow. | Dorothy |
| Our government has bought into the globalists plans to cripple the world economy and usher in a global currency and government under which all citizens can be controlled and manipulated. | Claire |
| no, sounds like a last ditch plan to catch votes, and will cripple nz economy. | james |
| She has proved her self once again to show lack of leadership a bloody disaster for New Zealand We are one of the few Countries in the world with no land boarders three international airports and a few sea ports .!0,000 military 11000.police and we should have activated these people to monitor every one who entered New Zealand six weeks ago . We had the actual information on China's effort and success at the end of JAN NOW its too late | bill |
| Too little, too late. Should have quarantined every person entering the country for 2 weeks at Whangaparoua | rob |
| Community standards and respect for fellow citizens is at the lowest in memory and they can't be trusted to do voluntary requirements. Border control means rigorous follow ups. | Jim |
| She should have just closed the border and let the social distancing plan work. Shame on her, all she is doing is screwing the economy and going to need more taxes from us all to pay her generous handouts to the bludgers again. | Michael |
| I believe Jacinda has been a massive disappointment as a leader while hoping to appease her 'colleagues' rather than take necessary hard leadership decisions. A typical true politician! | Stuart |
| Great opportunity for presidential type statements and grandstanding. As usual all hype and no substance. Thankfully the hugging has disappeared! Then we have the racially based $56m specific to maori health initiatives to help them fight CV-19. Can somebody please explain why maori should be singled out for extra funding and supposedly special treatment. Yes they might be vulnerable due to smoking, excess weight, diabeties etc but whose fault is that? Colonisation I presume? | Chris |
| | |
| --- | --- |
| She looks like she's barely holding it together, mind you given the only real job experience she's ever had was working for a fish & chip shop, its hardly surprising | John |
| To slow, to weak, to much talk with little rigid enforcement action. The media is too selective in what it reports and is short on HARD FACTS! | Mike |
| Plane after plane full of presumably NZers returning home are landing in Auckland and all these people a free to go into the community, without testing, with a request to self-isolate if they feel ill. How do you think that is going to work out? | Mike |
| Too little, too late, too slow. | Paloma |
| shes a show pony | Brian |
| She's doing very well | Peter |
| Why are Maori being given more money other people live in this country' | Jimmy |
| Over done sadly. | Ian |
| Ardern was on holiday abroad when she should have been here – she's been trying to play catch up since she got back to NZ. Her unfortunate demeanour (wobbling head odd facial grimacing) does not project an image of being in control | Lloyd |
| Should have shut the borders a lot earlier. | Anon |
| Too young and immature. | Gavin |
| Too little too late. There should have been a rapid response to what was developing overseas. Self isolation is the safest method of combating the spread of this virus – the worst to hit the country since the flu epidemic of the 1920's. | Brian |
| She is great at PR but not project management. There is also no "I" in team. | martin |
| Too slow to react, not enough done, NOT world leading so she is electionering already. | Bruce |
| It%u2019s just being used as photo ops and an eye to the next election. | Isabella |
| not hard and fast enough. too much faith in self-isolation. Army could have set up isolation camps for all incoming. | Lindsay |
| Certainly not. A prime minister who goes on public TV promising to hit "hard and early" when testing was made almost impossible in the early stages is a dangerous liar. | Rob |
| We are in the third phase of left wing political control. The first ,stifle free speech. That has been ongoing for some considerable time. Second phase, disarm the people. To wit the current firearms laws. Much much more than simply MSSA weapons. Third phase, draconian control of the people under the guise of the new rule being "for our own good and the good of the nation'. Compare this process with various totalitarian regimes around the world over the previous century. | Colin |
| On reading you column I am even more frightened for our country. | Laraine |
| Not a great fan of Jacinda and even less so of the Labour Party but at least she didn't play politics like the Leader of the Oposition. That was where by election vote was going … now I think I will vote for micky mouse. Keep safe everyone this virus takes no prisoners | Bruce |
| All she wants is to be seen as a world leader which she will never be. she talks as though this present government has the brains to deal with all problems arising but they have't look at the housing debacle what a mess so will the present problem end up this way Get someone in power with brains not just a mouth. | John |
| By any measure, she lacks the ever-so-necessary, instinctive qualities of leadership – and, in these dire circumstances for every New Zealander, her blatantly vote-chasing decision to award $56 million to exclusively Maori interests is an utterly outrageous infamy. | Jim |
| A mixed bag. | Stan |
| She's playing to the next election! | Graeme |
| going about it the wrong way | John |
| Our Drama Queen has once again over reacted and will claim to have saved thousands of lives by her actions Level two or maybe level three but not level four. | Jack |
| I have to admit it that she has performed very well in recent times there might be enough support in her activity to pull Labour out of a certain loss at the election. | Warren |
| Leading from Behind, is not leading. With the view we have had of other nations, an opportunity has been lost through the untimely changes, the lack of Confident information reassuring people that they will be OK. Detailing HOW food etc will be managed…. | Lionel |
| Jacinda Ardern is not following the verbiage with proper physical systems. A number of people have phoned talkback with reports that there is no management of people coming in through the airport. People returning from overseas are not even questioned and just wandering off into the general population. So hopeless at actually doing anything that really matters. Such a stupid government. | Dianna |
| Borders should have been closed earlier, travellers in isolation upon arrival. | Sheena |
| This is a very serious moment in time. Since you wrote that newsletter we've had 30 more cases. Shutdown is more important than the economy at the moment. If you look at Bergamo and Madrid you'll understand that! The Imperial College report by Professor Neil Ferguson and his co-writers is a must read. I think perhaps you might stop carping and realise we're in this together | Phillippa |
| In this case I would say yes I do, the assumption we could have done what Singapore or the rest of Asia did is stupid, we are not an authoritarian state and our people are not sheep and just follow. That is the way the west is. | Jeffrey |
| Not really. She speaks well but a lot is 'knee jerk' reaction.After the event. | DICK |
| I have said from the beginning that our borders should have been closed immediately rather than relying on people to self isolate – there will always be those who would just thumb their noses to this unfortunately! And it has proven to be the case. | Janet |
| Scaremongering rhetoric does not help in this situation | Rick |
| She is a reactor. She does not lead | FRED |
| Should have declared stage four weeks ago | Bruce |
| To Slow to Late | Les |
| Who do you have confidence in. Simon Bridges is not the person to lead on this one either. He is a total twat. The sooner National replace him as leader, the party will once again prosper along with the country. | Graham |
| Good heavens NO! Whatever she might be qualified for it certainly has nothing what ever to do with government. Her cabinet have a very similar level of competence. | Rogert |
| The entire cabinet and the govt dept pointy heads providing so called advise have suffered from paralysis by analysis and seem completely devoid of common sense All of this may well end up in some degree of civil unrest as an unintended and unforeseen consequence of the so called World Leading response .Guns and booze being stockpiled is not a great combo | Phil |
| Definitely a big NO! | Bruce |
| How could one have confidence in someone whose actions are too tardy and ill-considered, and as a result are leading to an un-necessary economic catastrophe. | Ronnie |
| This island nation surrounded by a huge salt most should never have a government ruin the lives of all its citizens in the way JA is doing. Genuine early and hard decisions made in February for proper isolation and tracking of all international arrivals was needed. Emotional manipulation now by the PM is not quality leadership. The citizens of NZ deserve much better . | Alexandrina |
| Too little – too late. Self isolation with any means of phone tracking is useless. It's a money saving scheme that does not work. It would have been better to use a military camp space where patients can be monitored for the required time. | anon |
| She is committed to social engineering and the Covid-19 epidemic is playing right into her hands. People are being driven like sheep into their further dependency on government welfare. | Darryl |
| She clearly doesn't understand the most basic of business dynamics, with most of her ministers falling under the same umbrella. And there are all the signs she and her cohorts will seriously damage our critically important export returns both in the immediate and longer term due to the manner in which she is handling the Coronavirus issue. | John |
| The borders to overseas tourists should have been locked instantly – the premise that these tourists would go into self-isolation was a farce. There is no way someone coming here on their OE to do a quick cheap holiday to see the sights of NZ was going to self-isolate. This was impractical and the government should have known this. | Chris |
| Acted too late. | John |
| Too much hand waving and nice smile does not mean she is sorting things out. If the country ends ends up down the bog then what? | Tim |
| | |
| --- | --- |
| Too late and economy stuffed | Howard |
| Jacinda is essentially in the hands of her expert advisors so I really don't see any difference in the way this is handled with a national leader. Good idea about the reduction in GST though | Richard |
| Her main priority seems to be to be the first to do things so her name is in lights. Sadly she is not getting it right. The Singapore example makes that clear. | Linton |
| I agree Ardern should have tried something like the Singapore model first before going into lock down | Paul |
| Haven't any confidence in her anything | John |
| The Govt response was too late and not strict enough at the start. Too many infected people slipped thru under the radar | Graeme |
| Under the circumstances, I think she is doing okay, but I think she should have closed the borders sooner. | Len |
| I am not in a position to know otherwise. If the lessons learnt show that I should have voted no, I will. | Graham |
| She's doing a marvellous job of sneaking in all the appalling policies she couldn't otherwise get through by screeching "safety" and then revving up the bulldozer. | John |
| She isn't a leader, merely the reader of a script written by someone else. All the decisions made around Covid-19 have been made by others, none by Ardern herself or her ministers. | Wade |
| I don't have confidence in Jacinda's leadership? in anything. | Alan |
| For all the reasons outlined in your article. Where are the face masks, where is the testing of everyone, how are they going to police the total lockdown? Who is going to take any notice? We were going to move to Singapore last year and now wish we had! | Fraser |
| Seems to me that the PM is only answering the questions that she or her advisers have agreed on. Instead of politicing, ie. the amount of funding just for Maori should never have been mentioned. As for the speech from the throne, !!!! This reaction should have been implemented at least three weeks ago and the border entries enforced without question. | Barry |
| She vascillated and procrastinated for too long before taking action. | Peter |
| I have no confidence in Jacinda Ardern at all. | Lee |
| Not now that I have read Muriel's piece! | Ray |
| Doing a great job | Alan |
| tHE ALTERNATIVE IS APPALLING | dickie |
| Control by China Inc of the WHO and the NZ Govt. is the concern. The question is how can we get rid of our connections with China Inc and their many arms that are now wrapping around our country. Our PM is not on the right page? | Richard V |
| Because she ain't the rooster that's ruling the roost. | Alan |
| Measures should have been earlier. | June |
| Jackgender is nothing more than a pimp for the NWO, this is a test case to see how far they can push us to accept their order. | wayne |
| Too little, too late | Gabrielle |
| she should have done more 2 mths ago but did nothing wait and see attitude | Cherryl |
| Most of the things this Govt has done is good but I feel the closing of our borders was not enough and a bit too late, should have been more strict and even now we have too many non Kiwis here.Too many exemptions also when we are all going to be on lock down, not quite good enough. | Barbara |
| The actions taken may be acceptable but the timing is not. New Zealand's borders should have been closed a month ago. New Zealanders abroad should stay where they are and we should look after tourists who are here. The aim should be at lest two fold; to avoid the spread and to isolate those who are infected and their contacts. | Peter |
| I have been publishing this advice since Mid January. I have also been publishing Horunal club specialist medical articles. Instead of listening to me, they have accuse me of scare mongering and creating terror in the community | Tony |
| Too little to late and now too extreme | Glenn |
| no confidence whatsoever – Arderns only claim to fame is reading from a teleprompter – don't expect sense or logic | Collin |
| She has provided inspirational leadership thru the terror attack and also the White Island disaster. The public love her. | Emerald |
| She sat on her hands and did nothing. ONLY acting when she felt our Neighbours Australia was going to outshine her ,which wouldn't have taken much. Far too late to act.and even when she claimed to be acting, up until as late as 23 March, at our airports , the battle front, effective controls checks and barriers were non existent. She is just a puppet and hopefully in September the strings will be cut and we may then have an effective Prime Minister and cabinet. | Vernon |
| It's a disaster that didn't need to happen. She's made herself look good & strong but if people looked at other countries they'd see that she ackted too long & slow & it was only when she was pressured did she close schools etc.SoA BIG NO jacinda gets an approval rating of ONLY 19 like the virus. | Cindy |
| Jacindarella sounds good and empathetic but she still uses this pandemic to progress her political agenda by giving Maoris an additional $56 million! | Rayward |
| She may be a posturing fluent speaker who plays the sexual card but I have no confidence at all in her as she has shown she can be quite ignorant and is inexperienced. | Bruce |
| Too little, too late | Ian |
| Decisions made by only public servants that do not live in the real world nor understand economics of commerce | mark |
| She's been proactive instead of reactive | Trevor |
| She's just posturing again to look good here & overseas | Graeme |
| very over reactive person she is not a good leader | Michael |
| Far to little to late the boarders should have been closed to everyone except NZ passport holders and permanent residents every one entering should have been quarantined at port of entry for 14 days minimum | Peter |
| Too little and too late. The genie is out of the bottle now and no respirators or masks available. | Errol |
| Jacinda dropped the ball very early. Her response to visitors entering the country was pathetic allowing contemptuous behaviour and the early spread of the virus. She simply hasn't the intellectual competence to manage this situation. | Lee |
| Hindsight always makes you an 'expert'. ALERT 4 will beat the 'virus'. "ACTION and LOCK DOWN"…'roger, we copy that..' | Christopher |
| Dr Newman's piece listed all that is wrong or insufficient with Jacinda's actions. Well done Dr Newman. | Kelvin |
| People were entering the country with no testing and even when told to self-isolate they continued travelling around NZ – no wonder the numbers have increased | sheryl |
| These are unknown times need strong leadership | Rex |
| Too little, too late. Reactive not proactive. Inability to act in a cohesive manner and communicate clearly and concisely | Roger |
| Our border checking is scandleous. | Jim |
| I don't have any confidence in Arden, full stop, but she seems particularly out of her depth on COVID-19 and seems to lack any ability to think deeply and outside the box. | Gary |
| Yes but no. The borders are lacking control to the extent visitors are walking FREE. Free to go anywhere with no checks the 14 day isolation requirement. Shame on Government for not monitoring the rules etc. | RICHard |
| Should have been more proactive sooner instead of pandering to Chinese interests | DJ |
| Testing is the key – not just of patients displaying symptoms but also others to get an early view of statistical spread. Enforced Isolation rather than "we trust you to do the right thing" | Mark |
| Some benefits have been poorly targeted. Eg Heating allowance. | John |
| My god its time to step back from being so bloody redneck and get behind all the steps that rational experts are in support of. To be taken seriously on matters such as this you need to stop being so Soimon and become rational kiwis. | Phil |
| The initial control at the border was a farce and too little too late.Window dressing. We needed to implement a 100% strict border control, isolate kiwis returning home until tested and proved free of the virus and allowed domestic tourism and all Kiwi businesses to remain open as a result. All should wear masks. | Kate |
| the corona virus is an emotive red flag Ardern is hell bent on destroying the economy under the guise of a total bullshit.Of course brain dead nzers will fall for it hook line and sinker | rowan |
| There are successful models out there such as Singapore that she has chosen to ignore. She always knows best. | Bruce |
| | |
| --- | --- |
| Border control should have been far more stringent from the outset in China. | Cherry |
| You cannot compare the Singapores Governments ability to respond with New Zealand's. Both China and Singapore are able to respond without consultation. We are not. Whilst I would not expressly support the Government's current makeup they have done the right thing in this instance. that does not give them automatic right to govern going forward. any government would have done the same thing. So yes I have confidence the current government has done the right thing and at the tight time. | Greg |
| An overall demonstration of incompetence | Brian |
| In 1992 in Brazil UN members agreed on Agenda 21; that the world would be depopulated by 95% by the year 2030. In order to bring this about destruction of economies worldwide is essential. Imprisonment of the populace and the patrolling by police and Army are signs of a fascist state and a portend of things to come. | Jenny |
| Once again too little too late. | Chris |
| Adern is a poseur. | Richard |
| But she will win in Elections through buying the bludgers with extra money after not shutting the borders 6 weeks ago | Allan |
| They say empty vessels make the loudest noise. Ardern is a good example. She is full of effusive hyperbole that will impress the sheeples of this country. She is not a leader. She is all about adding value to brand Ardern. | Robert |
| Reactive rather than proactive. Panic decisions, covering up having closed a blind eye to what could eventuate . | Diana |
| No real plan has been developed. Help the poor and hit landlords and businesses. | Lachlan |
| Level 4 is a major over reaction which will lead to massive unintended consequences, and economic destruction on a large scale. It is simply foolish. Totally agree that the Singapore model would work here. It needs resourcing and sophisticated coordination. This Govt is not intelligent or reasonable enough to go that way. They prefer the bludgeon. People will put up with that for a very short time, and then comes the blow back. | Graham |
| She is looking for brownie points but I think she has failed us . Of cause the sheeple will think she is marvellous until they run out of grass & money. | Allen |
| No she is using this to further her Socialist doctrine,Freedom of speech on the radar from the communist LITTLE | Greg |
| Frankly I don't have confidence in her leadership on anything…. Although on this "Kung Flu" thing she has done better than usual….if somewhat belatedly and at the urging of her masters, at the UN | Kathryn |
| No. Destroying the economy, our airline, businesses, jobs, and people's wellbeing because 102 people got sick, many of whom have very little symptoms is abominably poor leadership. So much better to isolate and quarantine maybe 2,000 people overall who have been in contact than ruining the lives of 5 million people. People won't comply across the board therefore this thing cannot be contained – all she has done is make it now move through our population at an agonisingly slow rate and push us further and further away from being able to recover. | Linda |
| Too little too late. Socialist spending on Maori and beneficiaries is a disgrace and impoverishes the very people that have to try to remain in business to pay it all back | Rod |
| Too much too late. The borders, especially from the worst affected countries were closed too late. Killing the NZ economy is reckless. They should have looked at how other countries, like Singapore and South Korea successfully contained the virus without sacrificing our economy, which will affect us for years to come. | Peter |
| No , she is not a leader and never will be She is far more suited reading nursery rhymes to kindy kids | Murray |
| Self isolation for those persons coming into the country was a pathetic response to the potential risk. They should have been quarantined at the border. Too late now. Shame she did not use the same knee jerk response she is capable of as demonstrated after the CHCH tragedy. | Gary |
| She wouldn't have a clue | Norm |
| As with everything else this lackwit does, she is high on verbosity low on delivery. | Chris |
| There seems to be a world wide contest to see which "leader" can sound the most dramatic, death rate is still quite a tad short of a standard flu season but by going to level 4 she has single handedly saved the lives of tens of thousands of Kiwi's so not all bad, while media is pushing "we are all doomed" message I prefer the other option "don't panic". | John |
| Jacinda is doing exactly what she declared she would do in a 2008 speech in Hungary, as president of the World Youth Socialist Movement, to , and quote" To destroy capitalism", unquote. This is sure one way in how to do just that, shut down the country and economy under false pretences !!. | John |
| Too little too late | John |
| Ardern is an idiot. No need for lockdown which will cripple the economy. The good news is that as a result Labour and its idiot leader will not be re-elected. | Garry |
| Took way too long to act and now we have community infection. | Jonathan |
| all talk…too late action | Murray |
| Airports were recognised as the source and the issue of lax control. People need to be held accountable | John |
| She was too late and will not listen. | Chuck |
| She's a worthy PM | Kevin |
| Handling quite well. | Hone |
| She is not up to the job and it's all about her. Every speech is I this and I that when it should be We or This government. | Peter |
| A govt who couldn't supply houses mysteriously comes up with 12000,000,000, billion package before any one knows the ramifications of C-Virus ,instead of gradually bringing in restrictions /as in 2009 and 1980s scenerios of when AIDS first appeared ,they have induced panic into a population that has grown up on electronic ly fed media posts/ Climate Change; Globle Warming ;SARS; bird flue Swine Flue ,;the world was supposed to collapse at the beginning of 2000; But wee should look back and wonder what ever happened to the technically advanced Roman Empire? | Geoff |
| Absolutely not. If it comes to a choice between losing my business and putting employees out of work compared with getting the flu, I will take my chances with the flu every time. | Shelley |
| | |
| --- | --- |
| The response from the politicians is pure incompetence. | Roger |
| This is too much for Jacinda Ardern. She lacks leadership capability. The Director General of Health would make a better Prime Minister. | Robert |
| Our Prime Minister is all talk. She is playing to an international audience with little understanding of the impact of her decisions on real New Zealanders. We are just collateral damage. It is extremely depressing to have a government that is so incompetent. | Chris |
| I have no confidence in this government. They are destroying our economy and our livelihoods. | Stewart |
| The media may love Jacinda Ardern, but she is shallow and has not got what it takes to lead in a crisis. God help New Zealand. | Mark |