November 5, 2017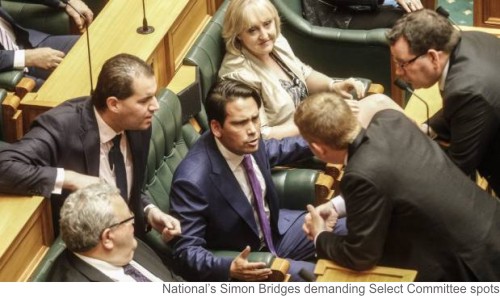 Following on from the controversial way the new Government was formed – whereby kingmaker Winston Peters chose a coalition of losing parties instead of the winning National Party – the 52nd Parliament also got off to a controversial start.
National scored a significant win against the Government in the very first minutes of the new Parliament when they threatened to call a vote to oppose Labour's choice of Speaker – unless they were given more Select Committee spots. With five Government MPs missing from the swearing-in session, Labour was unable to use their proxy votes, leaving them short of their full contingent of 63 votes in the 120 member Parliament. Unsure of whether they had the numbers to win a vote in the House, National took advantage of their confusion to settle a row over Select Committee places.
Since 1996 there had been 120 Select Committee places in Parliament, but with some opposition parties struggling to cover all of their Committees, the Standing Orders Committee had recommended a reduction in numbers. They decided not to set a number in the Standing Orders – the rules under which Parliament operates – but to leave it to the discretion of the Business Committee, with a suggested target of 96 seats across 12 Select Committees.
Under Standing Order 185, "The overall membership of subject select committees must be proportional to party membership in the House". But with only 96 spots available, National, the largest party in our Parliament – and the largest Opposition in our history – had an entitlement that left some MPs without a Select Committee membership.
Select Committee work is extremely important to opposition MPs, as it enables them to not only scrutinise new legislation, but through departmental reviews, hold the government to account.
National had requested the Business Committee increase the number of Select Committee places to 108, giving them 51 spots, so that apart from the two whips, Leader, Deputy Leader and Deputy Speaker – who don't normally serve on Committees – all of their 56 MPs would have a role.
But such an accommodation meant Labour would have to cover four more Select Committees, with one extra for New Zealand First and the Greens – so they refused. They claimed that their extra large executive of 31 Ministers and Under-Secretaries – who don't serve on Committees – had already put too much pressure on their backbench MPs.
The deal in Parliament on Wednesday gave National the extra Select Committee spots requested, in return for supporting Trevor Mallard as Speaker.
But the whole fiasco made the new government look amateurish. That was compounded when they tried to talk their way out of their embarrassment. They claimed they gave in to National to avoid a contested election whereby the Speaker would be elected only by a slim majority.
But over recent years, contested elections for Speaker have become the norm. In 2014, when David Carter was nominated by National for Speaker, New Zealand First contested the election by nominating Ron Mark. David Carter won by 93 votes to 13, with 12 abstentions. And in 2013, when National nominated David Carter to replace the outgoing Speaker, Lockwood Smith, Labour nominated Trevor Mallard for the job. David Carter won by 62 votes to 52.
Trying to deceive the public was not the most auspicious way for the new Government to start off their new term. But Prime Minister Jacinda Ardern carried on the farce, describing the incident a "minor irritation" and claiming that Parliament needs to work collaboratively: "You will see this side of the House maintain that spirit in the way that we work inside this House and I hope it is a spirit you will see maintained by the Opposition."
It is indeed ironic that it took the fiasco over the Speaker to force Labour to find their spirit of cooperation over National's completely reasonable request for more Select Committee spots.
But it is even more ironic that on the very day that the Prime Minister chose to publicly climb onto her high horse about the need for Parliamentary parties to work together, it was revealed that her Deputy Prime Minister is attempting to sue the Opposition – but more on that shortly.
To compound Parliament's controversial start, in spite of railing vociferously against National's use of urgency over the last nine years, calling it outrageously anti-democratic, Labour, New Zealand First, and the Greens all agreed that the first item of coalition business – Paid Parental Leave – would be introduced under urgency.
Urgency is a provision that allows the House to sit for extended hours in order to ram through legislation that bypasses the democratic process. Labour argued that their paid parental leave private members bill had been through a Select Committee process, so public submissions were not warranted.
But not only is it over two years since that Bill was introduced, but it is also the only Private Members' Bill ever to have attracted the Government's financial veto because of the cost.
There is a world of difference between Members' Bills, which are usually light on detail, and Government Bills, which are accompanied by Cabinet papers and departmental reports. They are also subjected to rigorous Regulatory Impact Statements, which provide a high-level summary of the problem being addressed, the options and their associated costs and benefits, the consultation undertaken, and the proposed arrangements for implementation and review.
No such analysis has been carried out on Labour's Parental Leave and Employment Protection Amendment Bill, and nor has it been costed by Treasury.
By undermining due process and denying the public the right of consultation, Labour is demonstrating arrogance and a lack of respect for democracy.
But it's not just the Government as a whole that's been controversial – so too have some of the new Ministers.
The new Minister of Police, Stuart Nash didn't see the incongruity of announcing that to fulfil the promise of 1,500 new sworn officers, he would recruit them from overseas.
The policy lasted only a day.
A whispered exchange between the new Minister of Veterans' Affairs and the Prime Minister, on the stage at the RSA's National Council opening, led New Zealand First's Ron Mark, to promise RSAs government funding.
Labour's new Housing Minister Phil Twyford announced that the new Government is planning to seize privately-owned land for housing projects – if the owners get in the way of their building programme. It also turns out that Labour's promise to build 100,000 new homes may not actually mean building them – but buying some already-built homes instead.
The new Health Minister David Clark wants all District Health Board chairmen to submit a letter of resignation, which he'll reject if they are on the same wave length as he is – otherwise they'll be axed.
The new Justice Minister Andrew Little is claiming that the three strikes law doesn't work and is planning to fast-track its repeal – in spite of that not being signalled in their 100-day plan.
The new Minister of Education, Chris Hipkins promised to scrap charter schools, but following rebellion within his own ranks – plus the reality of signed Crown contracts, employed staff, leased premises, and other promises – he's now talking about integrating them into the state system instead.
The first year of free tertiary education is due to start in February, but it's already November and the universities haven't been told how it will all work. They're also worried that admissions may increase by 15 percent. Nevertheless, students are being told to go ahead and apply.
All of this rush is leading to growing calls for caution. Trying to implement the huge raft of major policy and legislative changes announced by the Governor General in the Speech from the Throne – see HERE – within 100 days, is not just foolish, it's reckless.
With brand new Ministers, a new coalition, and a huge policy agenda that hasn't been costed, nor assessed by officials, the plethora of unintended consequences that will undoubtedly result from this rushed agenda, will be bad news for the Government – and for the country.
However, while the first day of Parliament was regarded as somewhat farcical, the actions of the Deputy Prime Minister Winston Peters are causing anger.
The fact that he signed "discovery" papers against senior National Party MPs the day before the election, has led many to conclude that Mr Peters never intended entering into a coalition with National – that he simply strung everyone along, including voters, because it suited him to do so. Those serious assertions go straight to the heart of trust and integrity in our democratic system.
The legal action centres around the leak of details of his Superannuation overpayments during the election campaign.
The saga began back in July – at the time the Green Party co-leader Metiria Turei was admitting benefit fraud – when Mr Peters received a letter from the Ministry of Social Development saying his pension was being overpaid. He'd been collecting super since 2010, when, while living with his de facto partner Jan Trotman, he signed up. But for seven years he'd been paid more than he was entitled to. Once the overpayment was brought to his attention, he says he immediately paid it back.
During a routine operational briefing, the Ministry of Social Development's chief executive Brendan Boyle was informed of the case. He discussed it with the State Services Commissioner Peter Hughes to determine whether it was a matter that should be brought to the attention of Ministers under the Government's 'no surprises' policy. The Social Development Minister Anne Tolley and the State Services Minister Paula Bennett were both informed, and in turn they advised the Prime Minister's chief of staff Wayne Eagleson.
All have denied any part in leaking the information to the media.
Legal papers have now been served by Mr Peters on MPs Bill English, Paula Bennett, Steven Joyce, and Anne Tolley, National's former chief of staff Wayne Eagleson and staffer Clarke Hennessey, the MSD's Brendan Boyle, and journalists Tim Murphy of Newsroom, and Lloyd Burr of Newshub.
Mr Peters wants to "identify" then "sue" the people responsible for the leak. This legal action, which seeks discovery of information relating to a leak – including emails and phone records – is to ascertain who to sue.
Media freedom advocates are outraged by these developments. They say that Winston Peters' attempt to force journalists to disclose their sources will have a chilling effect on democracy.
This week's NZCPR Guest Commentator, freelance journalist Karl du Fresne, shares public outrage over these latest revelations:
"Post-election, Peters entered into – indeed orchestrated – what were held out to be 'good faith' negotiations with both parties on possible coalition arrangements. Both parties believed they were in with a chance – in fact an equal chance – and Peters was happy to encourage this belief. It suited him to do so because that way, both Labour and National would be keen to do business with him.
"But realistically, what chance was there of Peters going into coalition with National when he was simultaneously – apparently unbeknown to anyone but his lawyers – taking legal action against senior National ministers and officials? What sort of hopelessly dysfunctional government would it have been if the deputy prime minister (let's assume his appointment to that role would have been one of the conditions of any NZ First deal with National, as it was with Labour) was suing the prime minister?
"No, it's inconceivable."
Given Mr Peters is not letting the superannuation scandal rest, perhaps it's appropriate that there is further enquiry into the circumstances that gave rise to Mr Peters receiving substantially more in National superannuation than he was entitled to. As the Deputy Prime Minister it is important that the public can have confidence that his actions were all above board. To that end, Mr Peters should instruct the Ministry of Social Development to publicly release the file on the matter.
THIS WEEK'S POLL ASKS:
Should Winston Peters authorise the release of the file relating to the overpayment of his superannuation allowance?

*Poll comments are posted below.
*All NZCPR poll results can be seen in the Archive.

THIS WEEK'S POLL COMMENTS
| | |
| --- | --- |
| He is the master of deceit. | Kevin |
| It would be the honourable action to take – but then, it is Winnie-in-the- poo! | David |
| Minor issue | David |
| Devious, manipulative and Deceitful. I am sorry to say that I voted for him. Never again, but he will probably retire at the end of this term anyway. | Peter |
| What is everyone getting down on Winston for, The Mongrel National people released the information after Winston had realised and was going to pay it back. Also if you kept up with the news you would all know that along with Winston's overpayments there were just over 52.000. other people over paid as well, a bad fault with the National Government along with the superannuation office. So why did English and his wankers slip it to the news media??? All you people should get over yourselves and have a go at National ( the party of LIARS.) | Frank |
| Transparency is required from public figures with so much power and control over NZ citizens. | Marie |
| Yes, why not. He wants to bring it into the public arena by charging people, so let's all hear about it. He was a turn coat anyways, I believe he was always going to vote labour and put everyone through the hostage situation to make himself feel so important, and I think he always wanted to be Prime Minuster but has had to settle for second best. | Audrey |
| This from nzs greatest whistleblower | Barry |
| Sure– why not. It is his right to get at that bunch of back stabbers who wanted to discredit him just before the end of the election campaign. That is what I would call dirty politics. And besides— he did the right thing to pay these monies back straight away. What did Turei do??? certainly nothing of that kind!!!!! So folks —stop hacking down on WP— he is not all that bad . He is a shrewd politician and National treated him shoddily in the past so he is right to let them have one right on the chin for that. This overpayment thing was the last straw. I hope he will keep the reigns on Jacinderella before she goes totally ape shit with her socialist bollocks | Michael |
| Winston Peters is obviously a small-minded man. In fact we need an investigation into the whole government- election-deception-debacle. We have a whole lot of cowardly pc politicians here. We need a Trump-like politician here to shine transparency on government. | Monica |
| If he has a conscence he should use it or resign his position until he proved that he is "not guity !! | Graeme |
| Peters has tripped and fallen flat on his ar– because of his own 'tricky footwork' leading up to the election. I have been a strong supporter of NZ First policies, but no more. The Pundits have been proven right – "it's ALL about Winston", he doesn't care about NZ, nor the average Kiwi bloke (Blokess) – he has proven he just cares about Winston . . . so lets see some ACTUAL Truth about this matter. | MervB |
| I doubt he will though. It just might show that he knew about it all along. He doth protest too loudly. Talk about Winnie the Poo, the stench from his actions may just indicate the greatest criminal con that New Zealand has ever seen. His actions prove he never had any intention of going with National and all of his "Bottom Lines" were outright lies to fool the punters. Winnie needs to be hung out to dry. | Ronmac |
| Totally underhanded | Neil |
| As is usual– mr peters attitude seems like utu | Jenny |
| Who cares? | Ross |
| I think that the whole issue is a waste of time and should be allowed to fade away. Peters will only use it for more grandstanding anyway, after all, does anyone really believe that he is not a ruthless manipulator of the truth? | Peter |
| Yes – but I'm not holding my breath. Stand by for the biggest delaying action since the Retreat from Mons (remember he's a lawyer!) – or he simply could take a leaf out of Hillary Clintons' book and have the records mysteriously "lost" or deleted. Given his performance at the recent Election, I fear we have yet to plumb the depths of his duplicity and sheer animal cunning. Labour and the Greens will now have to bear the brunt of the damage his ego is going to cause them if his previous track record is anything to go by – National has been providentially spared. Some interesting times ahead – stay tuned! | Scott |
| Always was nothing but trouble. | Deborah |
| | |
| --- | --- |
| Didn't he get a letter every year saying his status was 'living alone' and asking if his circumstances had changed? | Juliet |
| Peters is a tosser. | Murray |
| He wants to get the matters cleaned up so allow the file to be released | Warren |
| We superannuitants have to attest to our circumstances regularly. These forms are unequivocal and must be signed honestly. Lesser mortals take legal requirements seriously | Catherine |
| Yes, but it won't happen. | Lee |
| He's just using this as a 'smokescreen' to hide other devious intentions! | Steve |
| Hes lied enough now !! So one last act of good faith may come from him as he will never deceive the public again because that is his last term as a serving MP. | Wayne |
| Whatever happened with his payments will be revealed in the pasage of time. Clearly the over opinionated Karl du Fresne should be removed from this sited if it is to maintain any sense of objectivity and integrity. I am so sick of opinions be spewed forth instead of facts and truth. | Anne-Marie |
| | |
| --- | --- |
| He would except naybody else to release files so if it's good enough for other people it is good enough for Winston | Russell |
| He almost certainly had previous correspondence from the Ministry which showed he was receiving overpayments of superannuation. | Jim |
| Time for an end to the endless games amusing Winston. | Jeff |
| Mr Peters seems to be displaying some of the classic symptoms of dementia. He perhaps should be stood down immediately pending an urgent medical assessment. | Richard |
| Thanks for nothing you ratbag. You had no intention of going with National and betrayed your 7% supporters. Instead you chose to support a immature socialist who was president of a youth communist organisation. Just watch this country spiral downwards over the next 3 years after we become inundated with young "refugees" (mainly males) who will then bring in an average of about 9 relatives from the Middle East, as did the "Tampa" youths. All part of the New World Plan, with Muslims running the future of which my grand children and future generations will be subjected to. Wake up NZ. | Carolyn |
| Transparency should never be one-sided. | Lynne |
| If he wants to stir the pot then he has to deal with the consequences | Colin |
| It appears that Peters is trying to justify his actions in not dealing with the Suoer over payment. He would have been aware of the over payment – he is not dumb – he has a legal background. This whole business makes him untrustworthy. | Brian |
| If you tell the truth you don`t have to have a good memory. Politician's don`t know the difference, right from wrong- hence a mad hatters tea party. | Robert |
| GET RID OF HIM ! | Simon |
| Yes he should. His actions over the recent elections have left me ashamed and embarrassed to think that I voted for NZ First and believing him. | Mike |
| The man of strong principles who wants to be seen as keeping the Gov honest | Maurice |
| Not unless we prosecute and jail the people who maliciously leaked private information. | Mark |
| Considering NZ First's voter support fell from 15% to 7.2% from the time of the illegal dissemination of his over-payment information – leading to the party gaining nine seats rather than 18 or so in Parliament – his present stand is an important point in exposing NZ's failing democratic process. | Paul |
| He is clearly culpable. | David |
| Heard of karma Winston? It's coming your way… | Mark |
| Discovery worksboth ways sothere is no reason not to release the file. National will get it one way or another in any case. | Kevin |
| But he won't. | John |
| NO ~ it is private information. National just need to accept they were beaten under the poor leadership of Bill English. Senior Nats have been found wanting, new blood is desperately needed. | Richard |
| As an Act of good faith to the public of New Zealand and to clear his own name of any wrong doing | Laurel |
| Yes. We need to know who leaked some ones personal details and for what reason. | Graeme |
| I will never cast a vote in favour of W.Peters again. Quite obviously the man is a charlatan and a thief. what a devious charade. | Bernard |
| Peters should be sacked | Murray |
| But fat chance of it happening! | Bruce |
| We will see who is telling the truth. Let's see if he will man up. | Brian |
| Yes, the file should be released on Winston Peters. Bring this coalition of losers down in one term or before. Deception an lies are a part of the socialist regimen. They cannot attain power by telling the truth. Socialism is living a life of the lie and its opposition just needs a lot more people to understand this. "Living a Life of the Lie" – a three part essay by Richard M. Ebeling. I commend this to your attention on line. | Don |
| I'd say yes, but I really don't care in this instance. It is really of no interest to me, and I don't see that it really is of any interest to anyone else. Unless of course, it was somehow shown that peters had purposefully taken advantage of the overpayment for some strange reason? I wouldn't think he would be that short of money as it was probably only a small amount anyway. He certainly won't get any sympathy for spending my money chasing a non event. | Neil |
| That's his business no on elses. He has paid it back so get over it and move on. No one has been hurt over this. | Graham |
| Of course. | Martin |
| Each year a pensioner gets a letter from WINZ asking if their living details are correct, how could Winston Peters get it wrong 7 times !!! | John |
| Public money, public view. | Peter |
| I still can't believe kiwis are still sucked into winston facade that he cares for new zealanders…..cant anyone see the pattern that everytime there is a controversal issue he jumps on board the popular train? | Rick |
| There is no way that Winnie will realease anything | Robert |
| Wast of public money and court time | Andrew |
| He broke all his promises after the election | John |
| Yes he should but quite frankly I believe he no longer has any credibility. He has clearly deceived the nation and carried out a deliberate sham over his so called coalition negotiations just so he could hog the limelight. Clearly those of the media who accuse him of being self serving are correct and have been all along. He has abandoned most who voted for him over his anti separatist promises and my prediction is he will be gone by next election if not before. | Rex |
| Must have something to hide that'll embarrass him. Anyway, why be surprised at anything he does, look at his track record. | Barry |
| The man appears to be dishonest | Rex |
| | |
| --- | --- |
| He knew about the problem first and it wouldn't surprise me if he leaked the information as he ( New Zealand First) weren't getting any coverages because of the Green Party problem | Kevin |
| If it is proved that WPs info was released by one/some of the names named then that is serious WP has a right to sue. The way in which the negotiations were conducted and the time line of the legal action WP started is to say the least immoral. WP may have some fishing skeletons from the past that may catch up with him. The Bible states – he who thinks he stands take heed lest he falls. That could apply to all involved. | Ross |
| We should know what really happened | Gerard |
| He is a public figure, being paid for by the taxpayer so should let the public know what has happened (in detail) | David |
| How could a lawyer sign a statement of any sort without reading it first?? | Owen |
| Yes. A big yes, that Winston Peters file be released. It would be even in his own interest because his legal action now indicates he has taken the New Zealand voting public (and the top voted political party in the election) for a ride. | Rob |
| Obvious if he wants everything to be out in the open and prove he has not done anything underhand or illegal. | Brian |
| Also disclose who is paying for his legal challenge? | Phil |
| Democracy must be transparent. Justice must be seen to be able to be done! | Colin |
| Absolutely | Gary |
| If Winston's lips are moving he's lying | John |
| Surely no one believes anything that Mr Peters says. | Ann |
| His action on the day before the elections in having legal papers served smacks of dishonesty | Ron |
| Having had friends in the same situation they need to be accountable. | Iain |
| None required! | Steve |
| Of course he should | Mike |
| Absolutely | Bryan |
| The whole consultation process with NZ First between National and Labour was a farce, a charade. Given what we now know it was not a level playing field. Peters was using National for his own ends, not for New Zealand First or New Zealanders first, to get as much as he could from Labour, and Labour took the bait. Now we have a Deputy PM who is deceitful in his own dealings, not just with National and Labour, but with the whole country. He's never been slow in pointing out this sort of thing in others. His actions, in my opinion, throw the whole new government into question. He should not only disclose his own superannuation payments, but he should relinquish his positions in the government. Can we ever believe him again? It's my hope that National will fight this whole business all the way. | Laurence |
| The man is a disgrace. His fraudulent "negotiations" with the National Party should ensure that he is censured by Parliament, and hounded out of public life. Won't happen, of course, but, for the good of the country, it should! | TOBY |
| Winston can't expect everything ONLY on his terms. Either the plaintiff ALL his cards in exchange for the same from the defense or he withdraws the case. | Geoff |
| Yes – we the NZ Public and Voters need to know what he has been [knowingly ?] up to.. Also.. he should show that his " ex Green "co-partner has been prosecuted, and the fine paid – back to Us.the public, who she knowingly stole from.. If she can't find ALL of the money – then like any other Kiwi, she does jail time – years not days!! | Elayne |
| What has he got to hide? | Les |
| Of course he should – he's morally bound to – except he is not subject to that sort of restriction – he just acts as he choses. | Auntie Podes |
| Plus how much he has actually paid back | Elsa |
| Judas Peters; betrayed the New Zealand public | Paul |
| How come he did not know he was being double paid? | Barry |
| | |
| --- | --- |
| If there had been ANY dishonesty on his part, I'm sure he would have been charged. He told them he was living with a partner when he applied for super, so Im guessing it was a mistake on the depts side. | George |
| He knowingly took money he was not entitled to. | Peter |
| I just can't believe Peter didn't know something was wrong with his super payments. I'm just so disgusted with him as I feel totally betrayed. He has reneged on the very policies that convinced me to vote for him. I know it was against my better judgement and the condemnation of him by many others but I thought, given his age and this possibly being the last time he heads NZ First he really would want to 'go out' with having done something really meaningful for the whole country. What an idiot I was not to listen to my inner self. | Helen |
| ALSO FOR POINT OF THE DISCUSSION IT SHOULD BE POINTED OUT THE EXTRA MONEY A PERSON ON SUPER LIVING ALONE GETS COMPARED WITH A LIVE IN PARTNER. | TONY |
| Everyone is equal. | David |
| What a surprise! Peters who lied to the people of this country has revealed himself to be the actor he has always been, thoroughly untrustworthy, and his negotiations with the other parties was no more than an act to what is best for Peters, not for the country. He has a clear history which confirms to the population that his political antics are childish, remember his displaying a sign to the media with the word NO! Immature and attention seeking. This situation created by MMP ! | David |
| Trust is something that must be earned. We trusted Mr Peters to make a balanced assessment in choosing which party he would support, but how could he have sided with National when he knew he would be sueing leading National leaders within days of the decision? He needs to release the file to show openness to regain some trust. | Jill |
| Absolutely…. but obviously he wants to try & hide the truth… | Bruce |
| To say that I am extremely disappointed with Winston Peters is an understatement of the year. | Ron |
| Typical Winston Peters attitude | David |
| What is good for the goose, is good for the gander!!!! | Roy |
| If he's innocent he has nothing to fear. | John |
| Lets hope that by their release that some information warrants that Peters can be sued as he may have knowingly be overpaid. So lets stick it to ths scumbag. | Ken |
| YES. I understand Winston Peters lodged his legal claim against the National Party just prior to his beginning 'negotiating' with the Labour & National 'negotiators' who presumably had no idea of his legal claim. Who in their right mind (Winston?) would lodge a legal claim against any potential business partner before stepping in the door to begin negotiating? Unbelievable and hypocritical. If the above is correct Winston had NO intention of partnering with National – and he deceived Labour! Perhaps he'll sink in New Zealand's swamp!! | Stuart |
| Winston if he was honest he would have announced the "error?' when he was first advised. That way everyone would have supported his honesty. As it now stands he could have either leaked it himself or must have something to hide. Fess up Winston. | Edwin |
| And if you believe that he did not know you are not living on this planet | Tom |
| Let's get the information out there for all to see. | Andrew |
| Peters is in the same category as Metiria Turei and all information on the overpayments should be made public. | Doug |
| Someone in his position should be completely aware of their entitlement and whether what they are receiving matches that entitlement. People in his position should have any receipts, whether it be superannuation or and reimbursed lunch expenses, thoroughly checked to ensure that they are beyond further scrutiny. | Sue |
| As he making this a public debate all the facts should be shown. | Sue |
| I have voted NZ first since Mr Peters became its leader. But he has now forfeited my respect and how he expects Jacinda to rule nz with no experience and such a raft of unreasonable and inflationary legislation measures defies common sense. Does labour and Winston wish to bankrupt NZ? | David |
| Only if Mr Peters persues his legal action. The fact that he is taking legal action amply demonstrates his petulant egotistical perspective. This type of attitude in leadership is singularly undesirable, to put it mildly. The man is yet again on a power trip, strutting like a cock sparrow. This does nothing to improve New Zealand's standing as a mature nation. So destructive. So unnecessary. The overpayment was real and the discovery was very late, so something was badly amiss. Let's check and see what caused the problem. One law for all. | Dianna |
| All government officials should be open about Government payments especially past ones. | Ian |
| Absolutely, Peters actions are self-serving and disrespectful of the coalition process. Those annual WINZ letters request recipients to check their information and so assure their entitlements are correct. The statement "Your Living Situation:…You are living alone." is in bold print on the front page of the WINZ letters. As is the statement "Is the information above correct? If not please call us….etc". The onus was on Mr Peters to correct the error and it appears he did not act accordingly for several years. Thats where his responsibilities are, not to pursue a witch-hunt for perceived greivances against those party to a logical sequence of events that somehow outed him in the process. An internal inquiry into the alleged privacy breach would be appropriate, not legal action. | Paul |
| How could someone with Winstons supposed intellect not notice additional funds turning up in his bank account each fortnight for 7 years. Some lawyer if he can't read a simple WINZ form, don't hold much hope for him as Dep PM signing docs on behalf of NZ'ers. | Toni |
| I thought of voting for NZ First but didn't because I felt that I could not trust Peters. I feel fully vindicated for that lack of trust and now feel that MMP has been proved, once again, to deliver a worse outcome than FPP. | Paul |
| No point. | Gerhard |
| Yes | Alan |
| Simple transparency. | Peter |
| We cannot see Winston getting voted in again as it just shows you, he cannot be trusted | Tony |
| It would give the nation a better understanding of the whole affair. | Dennis |
| Given what he was doing behind the scenes post election his integrity must be in doubt. | Ian |
| It's a farce – s was his post election "serious and meaningful assessment of what was best for the country" – dream on, what was best for Winston | Connie |
| Transparency ? What has he got to hide ? | Andrew |
| How are we suppossed to trust him without him doing this. To call his actions a mistake is plainly too stupid for words. | Mike |
| | |
| --- | --- |
| This sod never had any intention of going with National so he should come clean with how much he was over paid. What the hell did he go on the pension for as apart from 3 years out of parliament he would have been on an MP's Salary or above as a minister. Greedy Twit | Colin |
| Thats his private bussiness and should stay private, would any ordinary person like their personal business with winz or bank etc like it made public, I think not. | Richard |
| Just another piece of evidence that suggests our deputy PM is both dishonest and possibly worse? Think back several elections to the Kermadec Restaurant and a brown paper bag scandal. Once again our deputy PM is showing his true colours. Time for Mr Peters to be honest with the electors and resign before he is pushed out of politics by the legal system. | Chris |
| He is always going on about 'Transparency'. Now let him put his file where his mouth is! | Bob |
| Lets find the truth | Peter |
| It might give more evidence that Winston Peters is a crook, and the old expression "he protesteth too much" comes to mind | Lloyd |
| Unprintable | Russ |
| If only to be transparent. | Mike |
| This is a simple case of juvenile actions by National to embarrass Peters in the hope that this would reduce his chances. Now being caught out they(you) come up with facile arguments to try to justify the stupid juvenile plot – I for one am grateful that it has backfired. | Rob |
| What a farce. If he was actually living with his partner at the time of applying for his pension, then surely he would have known that he was not entitled to a 'living alone' allowance. If he was not aware then he should not be in Parliament never mind Deputy Prime Minister. | Margaret |
| The fact that he wont makes you wonder what actually the file contains. Me, I don't trust the guy. | Colin |
| The secrecy that otherwise continues around this elderly politician must be terminated. The truth must be told to reveal all and not simply what he decides to. | Barry |
| If privacy is to be protected this should not be changed whenever it might suit some to do so. If there had been a legal reason to make the matter public, e.g. if Peters had broken the law, then that would have happened already. | Hans |
| Mr Peters has for years been "wanting to see justice done and spouting loudly of the fact" – now he has the chance to clear his own name and stop being a vindictive little man. He won't though as he loves drama and intrigue. What a politician!!!! | Elizabeth |
| What l would like to know, is, how does one be overpaid the government super that one is entitled to at the age of 65 . How come he was overpaid and obviously got more than the rest of us.? Did he not go through the same inquisition that everyone else does? | Jill |
| I voted for him AND now need him to be the person in thought he was | Bill |
| A mistake was made in over-payment. Its minor and has been rectified. The media deliberately ignored him, NZ First policies in the election. Very nasty. And then do a leak. Its time for Winston to get them back. | James |
| To damned right he should. He would be the first to require the same from any other parliamentarian. | Carl |
| Indeed, I neither know nor care what Mr Peters chooses to release because whatever he says he will put his own "spin" on it. He is a nasty deceitful old man and I would not entrust him with the kids pocket money. And now he is virtually running New Zealand? As we have all evidently shot ourselves in both feet by letting this happen, we now have to watch this saga play out from beginning to end.., and deal with the consequences (remembering the "spin" for many months to come. | Mabel |
| He sets himself up as totally up front so what's he got to hide? | Bruce |
| | |
| --- | --- |
| He a fraudster. Anyone else would have been fined! | Simon |
| Winnie the conman | Cutty |
| Someone needs to face the courts over this. | Bruce |
| Certainly he should, who does he think he is | Peter |
| Yes now that he has taken the issue further by trying to take others to court , and at the end of the day he is a parasite living of tax payers monies and he does nothing good for the country and will continue to cause delays and other havock in parliament. | Roy |
| …Corruption at all levels of the Govt. Departments…Root out the traitors and fire them…! | CHowes |
| Not just authorize the release of those papers – but there should be a legal demand he does so in order those both sides of the story are revealed | Hylton |
| Let the whole world see it. If he's going to sue and put it in the public arena, do it now. | Graeme |
| It will prove his innocence (if any) | Geoffrey |
| Will resolve any questions | John |
| Winston personal information should not be released. When you have problems. Do you want your personal information released !!!!!. | Robert |
| Winnie is getting very dishonest | Colin |
| So he knows who to sue ?? | Kevin |
| Yes–Because at least every year(or in the event of) a Recipient of Super has to notify, whether there has been a change in their circumstances, such as entering into a Marriage or a De Facto relationship. It defies belief that this someone, a Senior long Term Politician who deceptively angles for high Govt Status IE. Deputy PM, innocently overlooked this Requirement, clearly spelt out to by notification to all who receive Superannuation. Deception at its banal ugliest , release the File. Don't hold your breath.!!! | Jack |
| It is well known that Mr Peters does well in oposition but cannot govern. This incident substatiates this. | Ian |
| He is determined to embarrass the previous government because the news of this becoming public was embarrassing to himself. Show and tell us why! | Hugh |
| At the very least the public have every right to know how such an overpayment could have occurred and how it could have gone on for so long. As an executive of our "enlightened" new government which was claiming honesty and truthfulness prior to the election – I would think the Deputy Leader would honour this commitment. But perhaps it is like his so-called "Bottom Lines". | Michael |
| | |
| --- | --- |
| It beggars belief that Winston Peters did not know his super payments were wrong. And it shows all his election promises were a lie. | Roger |
| Absolutely – we need to see what he's been up to. | Simon |
| What a two faced *@#%*@#! To think we all trusted him during those coalition negotiations when it was all just a sham. He's a disgrace. | Mary |
| Yes, if Peters is raising his super again as a serious issue that is going to affect the operation of the government, then he needs to release the information. | Jack |
| I am so disappointed and angry with Winston Peters – he manipulated us and lied to us all. | David |