February 11, 2018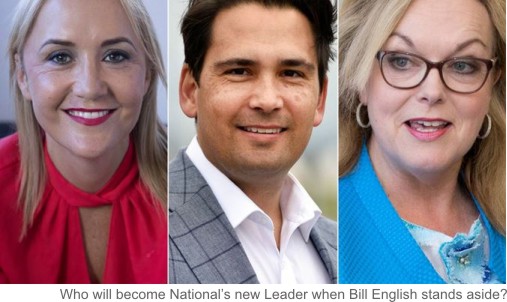 The recent volatility in sharemarkets around the world should serve as a warning to our new Government about the fragility of financial markets and the crucial importance of having a strong balance sheet as a buffer against future economic shocks.
Thanks to the prudent financial management of the former National Government, the country was able to pull through a recession, the global financial crisis, two earthquakes, and commodity slumps, and still be in a sound financial position with positive growth prospects.
A Listener poll published just before the last election showed that New Zealanders were overwhelmingly supportive of National's conservative approach, with 84 percent believing that the country was doing incredibly well for a small nation at the bottom of the world, and 76 percent saying there was no better place to live.
When asked which potential leader would be most capable of managing the economy, 47 percent chose Bill English, with only 29 percent opting for Jacinda Ardern.
The election result confirmed National as the most popular choice for leading the new Government with 44.4 percent of the vote, while Labour trailed on 36.7 percent.
However, when faced with the choice of delivering a government that supported lower taxes and reduced government spending, or one that promised higher taxes and more spending, 'kingmaker' Winston Peters chose the tax and spend parties of Labour and the Greens.
New Zealand First's decision to form a Government with the parties that 'lost' the election has greatly increased public disillusionment with MMP – but voters should take heart. A new analysis by this week's NZCPR Guest Commentator, freelance journalist Michael Coote, reveals that the 2017 election may signal the beginning of the end of minor parties holding the balance of power, as voters opt to return to a de-facto first-past-the-post voting system:
"The centrifugal era of political party politics under MMP in New Zealand that prevailed from the general elections of 1996 through 2014 was favourable to minor parties at the expense of the two major parties, Labour and National. This period was terminated at the 2017 general election.
"From 2017 onwards a centripetal era is unfolding, which is ill-disposed to minor parties but revives the two major parties into contention for first-past-the-post election victories. Effects arising from the 2017 general election have reinforced the political duopoly of Labour and National as the two natural alternating parties of government, while at the same time destabilizing the remaining three minor parties – Act, Green, and New Zealand First – that made the cut to return to Parliament.
"At the 2020 general election, Act, the Greens, and New Zealand First will quite probably be out the door. At a higher level, the case has been demonstrated that New Zealand's MMP system does not necessarily preserve multi-party plurality indefinitely and that ultimately voter preferences determine whether a first-past-the-post system emerges over successive party vote-dominated elections. If first-past-the-post is restored under MMP, it may be quite some time before minor parties are returned to Parliament, given the established trend for their elimination and the tough 5% party vote threshold."
Whether the country returns to an effective two-party voting system – as Michael has outlined – remains to be seen, but certainly the post-election polls indicate that New Zealand First, in particular, will have a real battle to remain above the 5 percent Parliamentary threshold, since so many supporters feel betrayed by the party's failure to deliver on their campaign promise to hold a binding referendum on the Maori seats.
While National is holding up in the polls, questions are invariably being asked about the future prospects for the leadership team that led the party into opposition. Although the issue is primarily media driven – with no apparent appetite amongst the Caucus for deposing Bill English as Leader – it will nevertheless need to be confronted at some stage. The front runners have been named as Judith Collins, Simon Bridges, Amy Adams, Jonathan Coleman, Nikki Kaye, and Mark Mitchell.
Rumours are also swirling that some National MPs may be ready to quit politics. This prospect was fuelled by the Party's unprecedented move of inviting their next four list members along to last week's two-day Caucus retreat. Those are the MPs in waiting, should any of the sitting list MPs retire. Prime amongst those tipped to leave Parliament are the former Speaker, David Carter, and the former Attorney General Chris Finlayson, who was responsible for the shameful Marine and Coastal Area Act, which could yet result in the whole New Zealand coastline going under Maori control.
In thinking about National's future leadership options, some are suggesting the Party should emulate Labour and elect a young leader from the millennial generation.
Others, however, are calling for caution, since millennials – who were born between 1980 and 2000 and now outnumber baby-boomers – have priorities that differ from those that have traditionally guided government policy in New Zealand.
In an article in the New York Times last year, Dr Clay Routledge, a Professor of Psychology at North Dakota State University, explained that since the millennial generation regards security as more important than freedom and democracy, their influence is having a profound impact on public policy – including fundamental human rights such as free speech. While earlier generations, whose families fought wars to defend freedom, believe that free speech is sacrosanct, many millennials would prefer governments to regulate 'offensive' speech.
Professor Routledge blames 'helicopter' parenting for this changing attitude, saying that over-protective parents 'hovering' over their children to shield them from harm and keep them safe, have left some dependent and vulnerable to exploitation.
He explains, "Colleges and universities have exacerbated the problem of dependence by promoting a culture of victimhood. American college students (who are some of the safest and most privileged people on the planet) are to be protected from, and encouraged to be ever-vigilant about and even report, any behaviour that could cause emotional distress. Feelings and experiences that were once considered part of everyday life, such as being offended by someone's political views, are now more likely to be treated as detrimental to mental health."
He believes that it is fear – fear of failure, of ridicule, discomfort, ostracism, uncertainty – that pushes people to adopt defensive positions, making them less tolerant of those they disagree with, and leading them to value security over freedom and liberty.
So is our millennial Prime Minister and her team changing the focus of politics in New Zealand?
Certainly we can see that their agenda has prioritised the key 'millennial' concerns of inequality, climate change – "my generation's nuclear-free moment" – and a more expansive role for government, while sidelining some of the more traditional public policy concepts such as the free market and minimal government interference as the basis of a healthy economy.
The Wellington-based political commentator and analyst, Dr Bryce Edwards, believes the media has contributed significantly to this sea change of ideas by escalating the number of articles published on millennial issues. On his Liberation blog, he notes that in 2002, the New Zealand Herald published just 26 articles on inequality. In 2016 it published 421.
However, the quality of some of that reporting has shown an unprecedented deterioration, as Frank Newman recently pointed out. In his blog post, Junk news cut and paste, he outlined how a questionable press release issued by the charity Oxfam last month, alleging that inequality in New Zealand is rising dramatically, was published by the Herald almost word for word without any contrary views: "Quite frankly the press release is junk PR, and the media turned it into junk news. Even if the Herald did not have the inclination to obtain a counter comment from someone local, it could have added balance into the report by extracting comments from an article published by the Foundation for Economic Education called Oxfam Cares More About Ideology than Poverty. It appears the Herald chose not to undertake even a cursory Google search to bring balance into its reporting."
This is in contrast to a similar Herald article published a year earlier, when the reporter balanced Oxfam's claims with comments from then Finance Minister Stephen Joyce and the New Zealand Initiative, as well as Labour Leader Andrew Little.
And with regard to the Foundation for Economic Education article mentioned by Frank, the author Martin van Staden is scathing about the Oxfam inequality report, saying, "It is high time that Oxfam be reduced to irrelevancy, at least as far as public policy goes. Its dodgy methodology, nit-picking of facts, and ideological commitment to the non-problem of inequality – at the expense of the very real problem of destitution – make it an intellectually dishonest player in policy advocacy."
There are many other factors, in addition to the media, that are, of course, influencing the direction of the Government and its policy agenda.
The unions are now playing a critical role and, as affiliated members of the Labour Party, they are behind the major changes to employment law that have been outlined, which are responsible for the recent plunge in business confidence.
Also important is Labour's return to traditional class politics, and in particular, its influence on Maori relations. A focus on the needs of Maori for such things as jobs and decent housing has trumped the elitist demands of the iwi establishment for constitutional privilege of the sort delivered by National.
As Willie Jackson, who was responsible for Labour's election campaign in the Maori seats pointed out, "We'll get to the foreshore and seabed and other stuff but those are not priorities for us – don't talk about tino rangatiratanga or foreshore and seabed when you've got families sleeping in cars."
Prime Minister Jacinda Adern reinforced this approach at Waitangi when she opted to help serve bacon butties to the crowds who had been present at the dawn service, rather than following the tradition of former political leaders and attending the iwi leaders' breakfast at the Copthorne Hotel.
John Moore has analysed these developments: "Labour's strategy of taking on the Maori Establishment as a way to regain its position as the party of choice for Maori, points to a failure of iwi-endorsed Treaty-based government policies to uplift Maori materially. Policies such as support for te reo Maori, state funded Maori television, the compensation of iwi for past abuses of the Crown, and a legal recognition given to the Treaty, have all acted to raise levels of Maori pride in terms of their identity and their place as the indigenous people of Aotearoa-New Zealand. However, this focus on culture, race, and sovereignty issues has failed to uplift the majority of Maori in terms of their economic position in New Zealand. And in fact, the emphasis on Treaty and cultural policies has occurred alongside an actual growth in Maori poverty."
He's right. With iwi leaders claiming it's the State's responsibility to lift tribal members out of disadvantage, not theirs, Treaty settlements have created a growing gap between the haves and the have-nots. A burgeoning tribal aristocracy now lives like royalty on generous taxpayer funded proceeds, while their cousins are left struggling in the country's worst social statistics.
As a nation founded on egalitarianism, such a racially defined class-based society, is not the sort of New Zealand we want.
Thankfully, the new Government appears intent on reversing the elitism that characterised the previous administration, whereby National had become the puppets of the iwi leaders – appeasing their demands by giving away New Zealand's precious public resources and governance rights.
Chris Finlayson was the master of this arrogant and failed experiment in Maori relations, and it is to National's shame that they allowed him that indulgence, which, amongst other things, is now forcing New Zealanders up and down the country to defend the coast from privatisation to Maori.
Whether the new Government will be prepared to reverse the worst of National's dreadful race based 'appeasement' laws – including the Resource Management Act changes that allow tribal chiefs to sit alongside councils to co-govern the private property of others – remains to be seen.
But at least there now appears to be some hope – ironically, from a Labour-led government.
THIS WEEK'S POLL ASKS:
If Bill English was to step aside as National Party leader, which of the following contenders do you believe would be the best choice as leader – Judith Collins, Simon Bridges, Amy Adams, Jonathan Coleman, Nikki Kaye, or Mark Mitchell – and why?

*Poll comments are posted below.
*All NZCPR poll results can be seen in the Archive.

THIS WEEK'S POLL COMMENTS
| | |
| --- | --- |
| Changed my mind about Amy Adams, I don't like her now because she is too pc. Perhaps M.Mitchell for deputy. | Monica |
| Astute and guttzy | NORMAN |
| Somebody is needed to stave off Winston Peters as he will be the defender of Ardern. Judith Collins is a street fighter and will handle the job very well. The others need more " refined mongrel" and aren't up for the scrap.. Judith Collins may not be everybody's cup of tea but is the only one going to the party at large rather than lobbying your mates in Parliament | Mike |
| She can see that maori are not failing because the system is broken, they are simply failing the system & it aint the system that is broken, it is maori, their attitude, ideology & general outlook on life that is broken. | Glenn |
| Judith Collins is the only one among those listed who has the experience and the strength, good speech, clever and I am guessing will not be bullied. Mark Mitchell as deputy would give a fresh face to hopefully a new National. | Sam |
| | |
| --- | --- |
| Judith Collins is more able, but Nikki Kaye will be more acceptable to the public. | DAVID |
| NOT Simon Bridges | Alan |
| Don't you think Steven Joyce should be in the list? | Bruce |
| She is a strong leader. I think they need a woman to take on Jacinda | Mudge |
| Judith Collins – She's tough .. though one downfall is she is older that Ms Ardern and of course has been in the news re China and her hubby's company which could come back and bite her in the butt. Nikki Kaye .. health issues still? Maybe not strong enough? Simon Bridge – NO! Amy Adams – no charisma Jonathon Coleman – ?? Mark Mitchell – who?? | Maddi |
| Parliament needs a real 'crusher' leader of the opposition. I wish her well and reckon she will do the best job of all candidates. I hope Simon becomes Deputy Leader. Two capable and likeable people. | Russell |
| Very experienced stable | Colin |
| Steady hand. No nonsense decision maker. | Colin |
| She don't stand any nonsense…. | Ross |
| Mark Mitchell is for the future so needs grooming now. | John |
| Judith Collins is my pick. She is a strong knowledgeable lady and would show Jacinda up for what she is – flakey. I know she doesn't appeal to some so my choice would be for Judith first and if she didn't resonate with the public then Mark Mitchell would be my next pick. Simon Bridges would be unbearable to listen to unless he has some elocution lessons and he doesn't give me the impression that he is very knowledgeable but is very full of himself. Also, he would continue the Maori divisive policies when we really need to shelve them once and for all and progress as one, as was originally intended. So, definitely Judith Collins. | Helen |
| Fresh Face | Jim |
| Experience and confident public persona. | Bill |
| NZ needs a "no nonsense" Prime Minister like Duterte or Trump. Trump was magnificent in the State of the Union address where the Democrats were left squirming in their seats. Does NZ have a Trump or a Duterte to squash the liberal lefty pc nonsense? If so then now is the time to step up. | Colin |
| Would certainly be the best choice as Oppposition leader, although she would not be popular with party members and the public. However,she would certainlly hold the governement to account while giving time for a more electable leader to emerge from mediocraty | Brian |
| We need a leader who is strong and not afraid to speak out plus be very capable. someone who can provide a bit of mongrel or steel to deal to the PC brigade. | PETER |
| She's the only one who can oust Jacinda, it's quite clear she is smart, articulate and gets the job done. | Karen |
| She has experience and not considered part of the old guard | Wendy |
| Who else has the people support? | Ian |
| Our thanks and well done to Bill English. Now that the question of a replacement has become reality, Judith Collins stands out as the obvious choice with already making statements on what course of changes she plans to follow and her decisive decision making in the past and firm discipline makes her worthy of the leader's position. | Chris |
| Judith Collins She is upfront has the most experience strait no nonsense person, and we wish her good luck. | Ross |
| Only real contender in my book. | Allan |
| Articulate, experienced and strong. More likely to handle Jacinda | Jill |
| She's got guts. | Ian |
| Young and attractive a good oponent to Jacinda Adern. National needs to change its image from old and fuddy to younger and with it. | Peter |
| If Judith Collins is not chosen, then National will be stuffed at the next election. Amy Adams is too pc but I'm happy for her to be Deputy PM, – presenting a strong team against the communist Tooth Fairy PM. N. Kaye is not a well woman, S. Bridges is more concerned about himself and is not suitable for leadership. Mark who Mitchell? | Monica |
| I'm Insufficiently informed to provide comment | Michael |
| Judith's tough and that's what we need to deal to the loony coalition we now have. | Alan |
| Only one I don't know much about. The others don't cut the mustard ! | John |
| Hopefully she may lead National back to being a right wing party with less maori priviledges. | jenny |
| The only pleasant person, and with a willingness to consider before deciding | Rochelle |
| Collins is the only option. Steven Joyce is the next brains in line. None of them are likeable, filmstars or possers! What does the country need, a pretty picture, a smart mouth ,a snowflake or a Putin??? | Ced |
| | |
| --- | --- |
| experience | Peter |
| Has the strength to stand against left leaning policies. No nonsense leadership. | Timothy |
| Has the guts to expose the coalitions hipocracy | Roger |
| | |
| She has the strength to make the tough decisions that need to be made. | Laurie |
| I believe Judith Collins would take more of a hard line on treaty issues and not be swayed by all the pc bullshit. | Des |
| To give time to prepare the next (younger) leader. Need the "mongrel" in the meantime | Derek |
| Need a strong , unafraid woman to counter Jacindamania | Catherine |
| need a right leaning person to point to the weakness in the left rather than someone who seeks to do the same thing under a different party name. | Craig |
| Because she has what it takes to stand up to Jacinda Aderns and the media | Lynn |
| Mark Mitchell as Deputy | David |
| It's time for someone tough. | Pete |
| Level headed. Not easily flustered. Leads well. | John |
| Pragmatic plus testosterone ! | Alan |
| none of them | Vic |
| Strong character. | Juliet |
| She doesn't put up with any nonsense | John |
| A woman with the right attitude to challenge the govt. | Robert |
| | |
| --- | --- |
| Why wasn't Paula Bennett included, surely she is a contender too? | Ted |
| She has a lot of experience | Andrew |
| He is youngish, intelligent and charming without the "baggage" of some of the other persons. He has also been a good MP. | Glenn |
| Whatever it is that Ms Ardern has Nikki Kay has it is spades. | Steve |
| I have some doubts about Collinns but she is the most forthright, but whether she is a one with the best leadership potential, we never know until they are in the hot seat. In any event, it should be sooner rather than later to give ample time for Bill English's succeessor to bed-in. Who knows, this appalling government might have a very short life-span. Here's hoping. | Graeme |
| It's a bit of a lottery but probably Judith Collins – calls a spade a spade. With the retirement announced today of Bill English, reality strikes for National – an interesting time ahead. | Fiona |
| I think she would be able to put the PM and Deputy PM in place, which is hopefully OUT of office. | meg |
| she has balls | Terry |
| Judith talks from the lip, does not suffer fools and would ensure sence was brought back into negotiations with maori. | Dennis |
| Most experienced politician | Colin |
| Judith would be great opposition to Ms Ardern | Craig |
| She's a strong woman with experience and with a softer side than what is usually portrayed by the media. | Elizabeth |
| Strong competent woman. | Anon |
| Has the ability to take on Jacinda. | Margaret |
| National needs to get rid of John Key's PC leftie policies and many of his policies that they carried on with. | Lorna |
| A perfect 'policewoman' | David |
| Judith, I think would make a perfect 'policewoman' | David |
| Judith Collins is my Choice as he has a reputation of taking a tough line with issues. Remember her nick name was "Crusher" in the boy racer's car issue. | Colin |
| So Bill English has resigned. Gerry Brownlee, Nick Smith and the List member Chris Finlayson should follow suit. Finlaysons treachery in introducing the MACA will go down as the greatest loss of NZ citizen's rights to have access, to the coastline and harbours for recreational pursuits. | Maureen |
| None of them, they are allayers and losers looking after their own wallet | Peter |
| Because if he is leader nobody will vote for national. | John |
| Judith Collins is a stayer player withy plenty of oomph,, will make a great stateswoman preferably leading an fpp govt.go for it Judith | James |
| John Key. He is the only one I'd trust to deliver – He's proved himself good at it. It worries me that the names you give to vote on will just keep the Maori gravy train steaming ahead. | Don |
| Male presence in NZ Government is dwindling, and needs to be maintained. | Pierre |
| ??? | Edward |
| Far more practical than the others. | Peter |
| Niki is highly intelligent, is young enough to attract the next generation of voters, & having been given a second chance at life, I don't think she will blow it.. | A.G.R. |
| She's forceful and a clear thinker | Sean |
| She is strong – almost the antithesis of Jacinda Ardern – and will take the fight to her. | Annette |
| Judith is an old b***h people don't like. Most of the others are unknown to the public and were also ineffectual MPs in the last Government. Simon is the best of a bad bunch. | Paul |
| I feelv she could handle the preasure that goes with the job but i think SimonBridges would be a reasonable choise as well | Peter |
| Solid and pragmatic | Ed |
| Amy comes across as an alert and capable person. The only downside (for me) is her rapid speaking. | Barbara |
| Definitely not Jonathan Coleman or Simon Bridges, too smug for my liking. Crusher Collins has an edge that may be required to bring national up to speed for the next election. | David |
| This is a default answer. I believe that during the next 30 months New Zealanders will recognise the true value of Bill English as a leader, thinker and person. They will also realise what a shambles L-NZF-G outfit is and the mistake made last year. | Philip |
| Judith Collins is the only one with the guts to take on a Jacinda Adern led Labour government. However I fear there are too many wets in the National caucus for such a result. | John |
| right leaning | Alan |
| A no nonsence, pragmatic approach that wont bow to appeasement and expediency. | Steve |
| Judith will have the chance to speak her mind without Maori elite and Finlayson | Peter |
| The only one that has the mongrel to take it to the Labour led government. | Martin |
| Current prime minister followings do need to be challenged. I doubt knowing the press, that a man will be able to do that, so for that reason I consider it needs a women. | Maurice |
| None of the above … National has a real problem … where's the next John Key? | Barrie |
| We need a fresh face with NO BAGGAGE | Ed |
| (who the hell is Mark Mitchel?) Don't expect change from existing sycophants we need a Trump to fix this National Party created disaster. | Rex |
| I think Simon Bridges have a better general feel of all aspects of government | Albie |
| Johnathon Coleman has had exposure to a range of significant portfolios and also has practical commercial experience. I would prefer that Mr English continue as Leader! | Michael |
| Mark Mitchell to me is more rounded and does not appear to have the ego or the baggage that some of the others have i find the likes of Simon Bridges some what boring must be my age. | Ken |
| Best amongst this bunch. Collins and Coleman should stand aside for younger blood. | Graeme |
| none of above. they would be bloody stupid | Barry |
| Judith with Mark Mitchell as deputy would be a good combination | Murray |
| While I've selected Nikki Kaye I don't have any particular preference. If and when Bill English decides to step aside then I may make a decision on this issue. I do think the whole thing is media-driven, just like "Jacindamania" which is sailing along nicely thanks to her pregnancy announcement. | Laurence |
| It will be a woman, simply because they are women. No good to be a man in today's womens era | George |
| Judith Collins is the only one who could stand up and be counted without being a wimp | Lorraine |
| She means business….takes no prisoners and has leadership qualities. | Don |
| Bill English is doing a fine job but if he has to be replaced, Amy Adams would be an excellent counter to the nauseating sycophancy surrounding the present PM. | Doug |
| She is young and will gain the female vote | Ron |
| More likely to get votes than Coleman or Bridges. English, Smith & Finlayson need to go | Chris |
| Judith Collins would be a great pick but too many people find her too confronting. Mark Mitchell is a relatively fresh face and seems competent and reassuring | Geoff |
| I don't trust any they're all weak on things,I've ONLY chosen Amy because she gave more money to that kid who was jailed for years & was innocent. | Cindy |
| | |
| --- | --- |
| I just don't want JUDITH COLLINS | Karyn |
| Jonathan Coleman has the best temperament to be PM | Jim |
| He looks clean enough pity he stumbles when he speaks but he has the youth appeal | Warren |
| Solid no baggage | June |
| Judith Collins – she is Thatcheresque ! I refer you to a former communist Martin Durkin and his 71m inspirational documentary on line – MARGARET THATCHER – DEATH OF A REVOLUTIONARY. N.Z. needs someone like this to stop and reverse our country's increasing slide to the left. | Don |
| She is a strong resourceful lady . Very intelligent and has already taken on Jacinda and won. | Jan |
| I don't really know the true potential for leadership at this time. | Cyril |
| Tough, no nonsense politician with enough balls to do the job well. | Garry |
| —-and balanced up by the more liberal, driven and intelligent Nikki Kaye. And I'm a white middle aged bloke! But unlike the stupid Greens/labour doctrine, I say Gender, race, creed are irrelevant. best man/woman for the job is all that should count. | Geoff |
| He's young, enthusiastic and seems to know what he's doing. | Terry |
| She has balls 🙂 | Mark |
| None of the above – all are only interested in eating noisily from the trough of the public purse. I gave a valid answer of none but your poll would not accept that so lets go for the noisiest instead and let all our futures be damned! | Graeme |
| Younger, intelligent, experienced, not given to emotional outbursts, considers the facts before making comment, A steady hand. | Tom |
| Some very good people on the list, however my choice would be Judith Collins for experience and NO fuss attitude. | John |
| A strong person who does not follow policy like a sheep. Highly intelligent | Leon |
| The others are all too nice. Who is mark Mitchell? Judith Collins is not afraid to take things head on and do the hard yards. Not too sure about the others. | Kevin |
| A strong no nonsense person | Peter |
| Judith is decisive and strong. | Winston |
| Most emotional stability and experience to match | Hilary |
| She is intelligent, strong, no nonsense and has a sense of humour. | Chris |
| Not another woman | Rex |
| But none of them before Bill English yet | Davod |
| Some good options there but I'll go with Simon. | Mark |
| Solid Steady | Dave |
| Power of personality | David |
| She has the ability to do what is best for the country and scrap the useless dogma dished up by certain parties. | John |
| She has shown strong leadership potential over the years | Bryan |
| Given the general publics over the top admiration for Ardern, no male will be able to take her on without being told they are attacking unfairly where as a strong opposition woman has a chance, and both these are intelligent contributors in current opposition. | Phil |
| Youthful and smart, but will need a strong number 2 to keep him in line and to act as point attack against this rather pathetic and doctrinaire entity which is "the government". | Andrew |
| Needs somebody new.( not much of a choice) | John |
| Fronts up and tells it like it is | Robert |
| None of these pro-maori anti-democratic losers thanks. How anyone could consider the lapdog Bridges is hilarious. He can't even speak properly. | Derejk |
| Best of the worst | Neville |
| Best of a bad list. | GRAHAME |
| Someone whom I see with more spine and much less PC inclined – similar to Trump! Pride in New Zealand as 'One Nation' against the present racially divided and dysfunctional family structures often promoted through today's educational directive. | Stuart |
| She is anti abortion and pro family | Ken |
| Judith Collins has the experience, has a great brain, is an experienced politician, is a great debater – AND if given the chance would I feel bring all factions of the National party together to form a`n effective Opposition to win the next General Election. | Hylton |
| She is the only one that wont cave in to liberal left thinking | Sue |
| Best of a bad bunch. She would at least stir things up if not putting her foot in it. | Mary |
| has the charisma,is proven hard worker and is honest | Terry |
| Collins has been around long enough, and I think tough enough to show a bit of strength to look after the country, not the maori! | Bill |
| The only one of the six offered that has genuine experience and a backbone when it comes to politics. The rest strike me as people who would be no better than the likes of Chris Finlayson!! | Tina |
| If the field had been level when English was given the leadership, she would have been voted leader. National to its shame initiated the shite against Winston Peters which resulted in the administration we have now. What a mistake. | John |
| She is tough and the right needs a strong leader. | Gerry |
| Lots of varying experience, right age, well presented, savvy and down to earth. Well liked. , | Colleen |
| She is the only one with balls… | Hans |
| Judith has great experience and is a tough lady. She is very intelligent and has all the skills required to be a very successful Leader. All of the other "contenders" on your list, fail in Leadership, Maturity, and/or executive decision making skills. I suggest as her Deputy, Simon Bridges. He looks good and has a lot of potential. He will learn a lot from JC. Having said all that, I think Bill English did a great job on the financial side, but allowing Findlayson to squander taxpayer funds on appeasing the Maori Elite was so astonishingly disastrous for New Zealand, that I am left speechless by the stupidity of it all. The results are an extremely arrogant, ignorant bunch of elitists with a multitudinous following of knuckle dragging, surly, violent thugs … who imagine they can bully and abuse the rest of us, simply because they have brown skins. Appalling, disastrous and incredibly detrimental to the social and economic fabric of New Zealand. | Dianna |
| She comes across as firm decisive and she is very media savvy | Ken |
| No contest! Judith Collins is a seasoned member of the National caucus; the most intelligent member of parliament (of any party) bar none; most importantly, she has the grit and determination to see the National Party return to its roots. She is very popular amongst the back-benchers (and it's caucus that gets to decide on the leadership, of course). Her critics claim that her background of "scandal" works against her; frankly, outside of the beltway and the political junkies elsewhere, for most of the electorate this is a non-issue. After the era of Key-led "glide", this country desperately needs a strong leader who is not afraid to take bold, challenging decisions. The other candidates on your list are wishy-washy and, fundamentally, just further subscribers to the ethos of "Labour-lite" that allowed this country to waste nine precious years whilst National were in power. The leadership change needs to be sooner rather than later, because this cobbled-together coalition isn't going to last three years. | Graham |
| Strongest leadership qualities | Peter |
| | |
| --- | --- |
| She is strong. | Terry |
| None I wish to see Bill English remain,he hes been the Finance Minster through Nationals 10 years under JK and done a great job. | Carl |
| Need woman v woman and a woman who has life experiences. | Toni |
| If a change of leadership was too be made I don't think any of the above fit the Bill (no pun intended) | Frank |
| I think she is a young and intelligent person who would make a great leader to challenge the incumbent. | Andrew |
| Experience and "balls" to hardball the "snowflake" opposition | Martin |
| ….has the push and strength to step out side the status quo and get the real show on the road… | CHowes |
| A woman with a sharp tongue to contend with Jacinda, smart, knowledgeable and mature. | Graeme |
| She is not blinded by the self serving duplicity of Govt bureaucracy. All the other so called contenders, are either self absorbed and/or lightweights to a degree, and definitely uninspirational if National seeks to regain the Treasury Benches. | Jack |
| Has a little of the Key charisma | Anne |
| Because she tells it like it is and is not afraid of the fake news media | Cutty |
| Calm and logical under pressure. Plus has the best name recognition. | John |
| Judith has the firepower! A great counter to the Coalition! | Ross |
| Even though he has an odd voice and comes across as a bit of a yokel, he seems pretty onto it. Anyone but Paula Benefit, PLEASE! | Andy |
| I am not sure that any of these politicians strike me as a suitable leader of the National party. For some reason, Paula Bennet seems more suitable, and I believe she will grow and and show she has the strength for the position. | Neil |
| Definitely don't need Collins or Adams. | Jon |
| My clear preference is for Bill English to lead National into the 2020 election. If not, Judith is the only other candidate with the charisma to get elected. | Barry |
| | |
| --- | --- |
| Judith Collins is the natural successor to Bill English. She has the strength and commitment to make a great Prime Minister. | Gordon |
| National's new leader has to have some mongrel in them and crusher Collins has that in buckets! | Roger |
| Amy Adams does a very good job but I'm not sure she has what it takes. Simon Bridges fancies himself in the role but he comes across as too full of himself. Coleman and Mitchell don't have much presence. Kaye does a decent job as does Collins. But given Ardern is young, I would probably go for maturity. | Simon |
| Jacinda Ardern is very likable. John Key was likable, but Bill English not so much. So National's leadership contenders are going to have to work hard on their likability! | Rachel |
| I'm not sure any of them have what it takes, but I probably wouldn't have rated John Key before he took over the leadership either. | Andrew |