October 21, 2018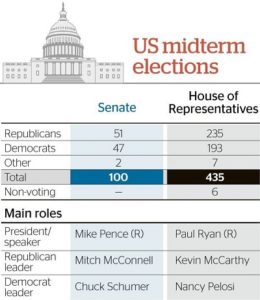 It would be a huge mistake to believe that most Americans are obsessed with President Donald Trump, Justice Brett Kavanaugh, Dr Christine Blasey Ford and the ongoing drama in the nation's capital.
Fox News, CNN and MSNBC have high ratings, but most Americans don't watch cable television networks — they get on with life and are usually more interested in local matters.
Gun issues are rarely out of the headlines. For example, Chicago has been obsessed with the trial of police officer Jason Van Dyke for the 2014 death of 17-year-old Laquan McDonald, whom Van Dyke shot 16 times. Van Dyke is white while McDonald was black.
Van Dyke claimed he shot the teenager in self-defence, but the dashboard camera told a completely different story.
The jury believed the video, rather than Van Dyke, and the police officer was found guilty of second-degree murder and on 16 counts of aggravated battery, one for each shot he fired into McDonald.
Van Dyke was the first Chicago police officer to be found guilty of murder in 50 years, even though Chicago police shoot and kill around 15 people each year, mainly young black males.
Meanwhile, Wall Street and New York City are a mixture of positive and negative stories.
Last week's US employment data was encouraging, with the country's unemployment rate dropping to just 3.7 per cent, the lowest rate since December 1969.
However, US interest rates are rising as the economy gathers momentum and US corporate debt has soared by US$2.7 trillion over the past five years, to US$6.3t.
This massive debt increase is a concern to investors because a large portion has been used to boost sharemarkets through share buybacks.
The annual New Yorker Festival was particularly critical of President Trump. This is not surprising, as Trump received only 9.7 per cent of New York City constituency votes in the 2016 presidential election.
Presenters included author Malcolm Gladwell, Stormy Daniels' lawyer Michael Avenatti, a Trump property developer, former US Deputy Attorney General Sally Yates, US Supreme Court expert Jeffrey Tobin and David Barstow, the author of the recent 14,000-word New York Times expose of Trump's finances.
The main criticism of Trump was that he hasn't adhered to the tradition and norms of previous US presidents, particularly the separation of the White House from the public service and judicial system.
He is also unpopular with New Yorkers because they believe he made most of his money from inheritance and tax dodges.
Presenters speculated that Trump will sack Attorney General Jeff Sessions next month and replace him with an individual who would not recuse him or herself from Special Counsel Robert Mueller's investigation.
Republican Senator Lindsay Graham, one of Trump's golfing buddies, is a candidate to replace Sessions.
The appointment of Graham as Attorney General could see Mueller's report consigned to the bottom drawer, never to see the light of day.
Consequently, the upcoming midterm elections on Tuesday November 6 are important because they will determine whether the Republicans continue to control the Senate and House of Representatives and give Trump free rein for another two years.
The Senate, which has two members from each of the 50 states, comprises 51 Republicans, 47 Democrats and two independents at present. The two independents — Bernie Sanders (Vermont) and Angus King (Maine) — vote with the Democrats.
Thus, the current situation in the Senate is effectively 51 Republicans and 49 Democrats although Vice-President Mike Pence, who serves as President of the Senate, has a tie-breaking vote.
As senators have a six-year term, either 33 or 34 seats are up for election every two years. However, there are also two special elections next month, bringing the total number of seats available to 35. These two extra seats are because of resignations before the completion of full six-year terms.
The Democratic Party has 24 Senate seats up for grabs, the Republicans nine seats and the two independents, Sanders and King, are also up for re-election.
Democrats need to hold all 24 seats and win four of the nine Republican seats to get a clear majority on their own.
The party needs to win only two Republican seats if it can maintain the confidence of the two independents, although King has indicated that he may support the Republicans in future.
Many of the seats will be determined by local issues, rather than pro- or anti-Trump sentiments.
The most vulnerable Republican seats are Arizona, where Senator Jeff Flake is retiring, Nevada, Tennessee, Texas, where Senator Ted Cruz is standing again, and Utah, where Senator Orrin Hatch is retiring with Mitt Romney standing to replace him.
Opinion polls show that Democrat Senate candidates are slightly ahead in Arizona and Nevada but marginally behind in Tennessee. However, Cruz and Romney should hold Texas and Utah for the Republicans by comfortable margins.
House of Representatives members have two-year terms, with all 435 voting seats being contested next month. In addition, there are six non-voting seats from the District of Columbia, Puerto Rico, American Samoa, Guam, North Mariana and United States Virgin Islands.
The Democrats need to win 25 seats to control the House but with 435 individual seats it is difficult to forecast the outcome.
ABC News is predicting that the Democrats have a 74.5 per cent chance of winning House control, although those odds have fallen slightly in recent weeks.
A poll of polls shows that 49.2 per cent of voters will support the Democrats while 41.4 per cent support the Republicans, but total votes don't necessarily win US elections.
The consensus view is that the Republicans will continue to hold the Senate, with the Democrats having a better than even chance of regaining control of the House.
Trump and the Republican Party have had big wins in recent weeks with the appointment of Kavanaugh to the Supreme Court, the North American Free Trade Agreement (Nafta) and the 3.7 per cent unemployment rate.
Kavanaugh's appointment placates most Republicans while attracting some support from conservative Democrats.
The Supreme Court — which now has a clear five conservative, four liberal mix — will continue to oppose gun controls, back tough immigration laws, have a negative stance on gay rights, potentially repeal abortion rights and support the rights of big corporations over individuals.
Trump's legacy will be long lasting, particularly in terms of his rejection of traditional presidential norms and his Supreme Court appointments.
His two appointments to the court, Neil Gorsuch and Kavanaugh, are 51 and 53 respectively, whereas the two oldest justices, Ruth Bader Ginsburg and Stephen Breyer, are 85 and 80 respectively and have a strong liberal bias.
Kavanaugh received strong support from low population states where there is widespread opposition to gun controls.
The two Republican senators from South Dakota, which has a population of just 870,000, voted in support of Kavanaugh while the two Democratic senators from California, which has a population of 39,540,000, voted against him.
Senators who voted against Kavanaugh are estimated to have received around 20 million more votes than pro-Kavanaugh senators at their last election.
Although justices have life tenure, the two oldest justices, Ginsburg and Breyer, must eventually retire.
If Trump remains President, and the Republicans continue to control the Senate and the House when they retire, then Trump will have a huge and long-lasting impact on the Supreme Court.
His impact on the US economy and financial markets has been positive to date but volatile times lie ahead as investors assess rising interest rates, Trump's trade policies and the upcoming US midterm elections.
First published in the Herald.