August 9, 2020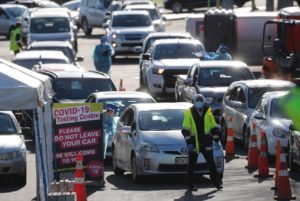 The news that Auckland was being ordered into an Alert level 3 lockdown for three days, and the rest of New Zealand into Alert Level 2, came as a blow to a country that is still struggling to recover from a lockdown assessed as "the most stringent in the world".
Prime Minister Jacinda Ardern had justified her hard-line approach on the basis that the virus would be "eliminated". But the new outbreak shows how unrealistic that was. The re-emergence of the virus confirms the warnings of health experts who said from the beginning that influenza viruses like Covid-19 are too infectious to eradicate.
The original four Covid-19 cases were discovered in a South Auckland family, with no known connection to overseas travel or to anyone who works in isolation facilities or at the border.
A woman in her 50s had a fever and cough for five days before being confirmed positive, and the Mt Eden finance company where she works has been shut down with 130 employees now being tested.
Her husband, who had been on sick leave for nine days with flu-like symptoms, tested positive for Covid-19 on Monday, after first being sent for a test the previous Thursday. All 26 employees at the cold storage facility for imported goods in Mount Wellington where he worked had been sent home and were being tested.
One of the couple's daughters – a woman in her twenties – and her pre-schooler tested positive, while her partner and a second daughter of primary school age, were negative.
Meanwhile, the infected mother had visited her brother and his teenage daughter who attends Mt Albert Grammar School, while the infected elder daughter and her pre-schooler had travelled to Rotorua and Taupo for a holiday and to visit relatives.
To date, thirteen more cases were identified yesterday – mostly work colleagues and family members – and thirteen more today. All except one, which is still undergoing investigation, can be related back to the original cluster.
The outbreak has raised questions about who knew what and when.
Doubts have arisen because the Government, which had "eliminated" Covid-19 for over three months, had suddenly begun issuing warnings about the potential for community transmission and lockdowns. They also did a U-turn on facemasks, changing from vehemently opposing them to recommending that everyone get one – 'just in case it's needed'. There must have been a trigger event to cause such a significant shift in the Government's PR messaging.
Newstalk ZB's Mike Hosking asks, "Just why, when we were celebrating 100 days of no community transmission, is the government launching 'yes to the test', and telling us to buy masks? There was suspicion, that proved correct. Did they know something was wrong and didn't tell us?"
As a result of his investigations, veteran political journalist Richard Harman reports:
"The Director-General of Health, Ashley Bloomfield, confirmed that he was made aware there was a potential case in South Auckland just before 3 pm on Monday. 'That person was swabbed yesterday (Monday) when they presented to their general practitioner with symptoms,' he said. 'That test was processed twice and returned positive.'
"So on Monday, Bloomfield had a positive test result for one person in South Auckland. However, the Prime Minister said the first she learned of the case was late yesterday afternoon [Tuesday]… 'roughly 4 pm'."
So, is it feasible that the Director General of Health would deliberately withhold the information about a new case in the community from the Prime Minister on Monday, only informing her 24 hours later on the Tuesday?
Richard Harman believes there were earlier indications that something was amiss:
"There are other signs that the Government was expecting something like what has happened. On Friday, the Officials Committee for Domestic and External Security Coordination held an unscheduled meeting. No one knows what that was about but Covid would be highly likely to be on its agenda. The same day, Bloomfield, began a campaign to show how to wear masks and suggested people should wear them one day a week to get used to them. If there are further outbreaks of Covid-19, masks will be another important component for the Government's strategy, he said."
There have also been four unexplained cases of travellers from New Zealand arriving in their home countries and testing positive for Covid-19 – one arriving in South Korea, two in Australia, and the latest arriving in Japan this week.
With the Director General now belatedly admitting that the virus may have been circulating within the community for weeks, questions are now being raised about the truthfulness of the messages that have been coming out of the Beehive.
Certainly, concerns that front-line health workers were chronically short of protective equipment were consistently raised during the pandemic only to be brushed off and denied. Later investigations, however, not only revealed the shortages existed, but that they also contributed to some of the Covid-19 deaths.
It was the same story with the flu vaccine – with the public being urged to get vaccinated, doctors complained of shortages, which were denied by Ministers and the Director General. However, a TVNZ investigation confirms that the public were being misled.
And this week we have seen a repeat of the same story over testing swabs – GPs say they do not have enough while the Director General says there are plenty.
These are not the only examples of an inconsistency between what the Director General and Government politicians are saying, and what is actually happening. Alarmingly, it now appears the regular testing, that had been announced was being put in place for all staff coming into contact with high risk travellers, was never introduced.
Back in June, following the release of two infected and untested sisters from managed isolation, who travelled from Auckland to Wellington, the then Minister of Health David Clark announced the new procedures. Not only were quarantined passengers to be tested on day 3 and day 12 of their 14 day stay – and not allowed to leave unless they returned a negative result – but all staff involved in the airport and isolation facilities, were to also be regularly tested.
In his press release, the Minister said, "Under our enhanced strategy, priority for testing will be given to those who are most likely to have been exposed to Covid-19 which is our border and airline staff… These workers include: Border workers in customs, biosecurity, immigration and aviation security at airports, and the people who clean at international airports or maritime ports; Staff who work in managed isolation and quarantine facilities, including those who drive people entering the country from the airport to the facilities; International air and maritime crew."
But this week frontline Air NZ workers have revealed that's not happening. With managed isolation facilities in Auckland reaching capacity, returning Kiwis are being flown from Auckland to Wellington to undertake quarantine.
One such flight operated last week without proper safeguards, sparking concerns that it will "only be a matter of time" before a flight attendant catches Covid-19 from one of the passengers and becomes a source of community transmission.
The crew on those special flights have been refused full personal protective equipment for the duration of the journey, and nor are there any requirements for the crew to isolate after the flight. Instead they are free to operate regular scheduled flights immediately afterwards.
Reports have also emerged that bus drivers ferrying returning passengers from Auckland Airport to hotels in Hamilton and Rotorua are not being tested even though they are in close proximity to infected passengers for hours on end. Some drivers say they have never been tested – not even once.
There have even been reports about people working in isolation facilities not wearing face-masks – as Newstalk ZB's Kate Hawkesby explains: "And speaking of masks, I was sent a photo yesterday, of someone staying in managed isolation at one of the Auckland quarantine Hotels. They were surprised with all this mask talk going on, how few people inside the actual hotel were wearing them. Inside the lobby, where the photo was taken, there was a barista standing at a coffee machine, with a security guard in front of him waiting for a coffee, alongside a guest waiting for a coffee too. None of them were wearing masks. If ever there was going to be a risk of community transmission, I would've thought surely that's it?"
These types of risks were identified in a Health Ministry report, Minimising the risk of a Covid-19 outbreak from border arrivals, that was leaked to the media last week. It says that frontline workers caring for travellers – including airline crew, customs officers, caterers, hotel staff, security, cleaners and bus drivers – posed a greater risk of spreading Covid-19 into the community than returnees breaking isolation rules.
And with a new report from Newshub confirming that almost two-thirds of Auckland's 3,000 border and quarantine workforce has never been tested, it is clear that the Government's promise of regular testing of all workers involved in keeping our borders safe has not been fulfilled.
Is this how Covid-19 has leaked into our community?
It is certainly thought to be what happened in Victoria in Australia – that the virus was spread to the community from a quarantine facility worker.
Given the lackadaisical approach by the Government to border management that has been reported by workers, it certainly looks as if their failure to keep our borders secure may have led to this community outbreak that has closed down Auckland and put the rest of the country at risk.
The Deputy Prime Minister certainly thinks so, revealing to Australian television that the new Covid-19 cluster is linked to a breach in New Zealand's quarantine system.
The Leader of the Opposition says she is extremely disappointed in the Government: "I am, like I'm sure the rest of the country is, extremely disappointed that this [Covid-19] has been allowed in through our borders."
With all election campaigning on hold, and Auckland in a partial lockdown, Judith Collins is now calling on the Government to postpone the election until later this year or early next year: "We just can't go through a full general election based on postal ballots and things like that, it's untenable."
While the Electoral Commission has planned for the election to go ahead under level 2 restrictions, having some regions of the country at level 3 or higher would make it virtually impossible to run. Accordingly, the Government decided to delay Wednesday's scheduled dissolution of Parliament to give it time to properly assess whether a September 19 election day is still feasible.
This week's NZCPR Guest Commentator, Otago University Law Professor Andrew Geddis, explains how an election date can be changed:
"Up until the issuing of the election 'writ', which is the official instruction to go ahead and hold an election, the prime minister alone gets to decide when the election will be. Although the governor-general formally issues this writ, she does so purely on the prime minister's advice.
"However, that writ has not yet been issued and is not planned to be until August 16. As such, there is not yet any legal requirement that September 19 be our polling day. Should the prime minister conclude the planned election date is no longer tenable, she can simply nominate another Saturday instead. She is free to pick any date until early December, by which point the law says an election must be held as parliament's three-year term elapses."
Professor Geddes also explains that under new amendments to the Electoral Act, the election could be delayed until next year if there are concerns that 2020 will not be safe enough to vote.
The Prime Minister has said a decision on the election will be made on Monday. Whatever the result, having a free and fair election is paramount. If Auckland is required to remain under a partial lockdown, it is difficult to see how that can occur.
Please note – you can register for our free weekly newsletter by clicking HERE.
THIS WEEK'S POLL ASKS:
*Should the election be held on September 19 as planned or should it be delayed?
*Poll comments are posted below.
*All NZCPR poll results can be seen in the Archive.

THIS WEEK'S POLL COMMENTS
| | |
| --- | --- |
| Too risky for Jacinda's popularity to delay it. National would be able to recover from the little problems they have had in the recent past. | Peter |
| A fairer playing field for all political parties. | Peg |
| they hold all the cards at present | Barry |
| | |
| --- | --- |
| Bit of a dead question now since the Tooth Fairy has put it off until Oct 17. But even that date is too early to allow all the emerging disasters from this ill advised & unnecessary lock down to convince the voters how bad this government has been. And totally unfair on the opposition parties. | Rex |
| There might be another outbreak when the new date arrives so 2 weeks extra would have been enough as we are desperate to get rid of this incompetent, Marxist government. Ardern was criticized on Fox news by Alex Berenson for pushing Aucklanders back into lockdown last Friday & Saturday. | Monica |
| delay may be best | Judith |
| let the people have their say. | Brian |
| It seems unfair that Labor is the only party getting air time at present. The election must be delayed. It should be in 2021. | Denis |
| As I understand it most Democracies have gone through bloody conflicts for centuries and always have held elections – ON TIME or thereabouts! But NZ is Special in that it is locked into Socialism that the country seems to accept – Time Will Tell! Particularly as economic collapse is now moving at a faster pace due to the political virus and pandemic. There is enough rubber in the COVID figures to put a new set of Tires on all of the 16,000 Jet aircraft parked on behalf of the 63 Million aviation employees out of work! Being in a Special State of Mess initiated by "Comrade" Adern it would be wise to postpone the Election Date to allow the National Party extra Time to get it right. Not only should the Socialists be thrown out but new policies MUST be introduced to create revenue. | Frederick |
| unfair advantage of only one person fronting the people and no room for other parties to state their case, or smaller parties.. | Lynda |
| If Jacinda pushes ahead with the election now it will prove this is the most corrupt government ever to be endure by New Zealanders. | John |
| As much as I feel we need an election ASAP in the hope of gaining new prime minister I believe a september election would not be in the best interest of our nation. | Tania |
| Needs to be delayed so parties other than Labour can do the electioneering they have been prevented from doing because of the present Covid-19 restrictions | Mary |
| it is not democratic to have an election now, as covid has taken over any logic in campaigning | luciane |
| Must have time for proper meetings and such. | Hugh |
| just wait and see | Paula |
| if not delayed it will not be a fair election. | Ray |
| It is not democratic to proceed with an election with the population in some degree of 'lockdown' | Evelyn |
| Fairness and practicality | Barry |
| it would be completely against the principle of fair and transparent– if the election date is not changed from 19th Sept 202. It should be held in 2021 | jenny |
| At the moment it's the Jacinda And Ashley show everyday Conveniently shutting out any other party from electioneering So no postpone election | Elaine |
| Owing to the fact that the media are only allowing us to hear from J.A the election should not go ahead Sept 19th and I stopped listening to what J.A has to say some many weeks back I just press my mute button . | Helen |
| delayed until 45 days after return to level 1 or below | lyn |
| delay until 45 days after return to level 1 or below | ALAN |
| All parties need time to put their policies out to the voters and this cant be achieved if they are locked away and unable to do so. | Des |
| Lets get rid of some of the hype over Covid first. The election should be about economic recovery strategy, not Jacindas favourite topic. | Robbie |
| This is a democratic country, or was prior to November 2017. We need to fight to keep it a democracy. It would be unfair (ie undemocratic) to hold an election where one party is electioneering daily on TV whilst the opposition is silenced. | Roy |
| let this lot sort out the mess they have created, leave them there for another year. | Erin |
| give princes Cindy more time to get deeper in shit | george |
| Think of the training to be done for workers, 1st advance voting on the 5th of September? Con would be the cost of reprinting all paperwork etc? Not fair on other parties except Labour as they constantly have tv exposure. | Bernard |
| Because of incompetence the government should resign a s p | John |
| Delay but only until end of Oct/Nov. Desperate to have this govt outed ASAP. Please vote for common sense and reality | Sam |
| Opposition members can't campaign, and even the PM is so busy with the pandemic she is not telling us what her plans for post election are. Ridiculous to have an election under these conditions | Gail |
| Absolute madness to try and pull that off in the current conditions. | Steve |
| Fairy dust can't magically melt away the mess Ardern and her car-crash government continue to create. Total ignorance and incompetence. Pathetic. | Robert |
| Labour just stuffing about.\. Thy don know what to do | Carl |
| At the moment it appears to be a one way ticket, all other parties should be given an opportunity to voice their policies, if Jacinda were to delay the election I am sure she would earn more Brownie points, not that she needs to | Jan |
| I have too much to say to endeavour to write it here. | Heather |
| How can open electioneering go on under anything other than level 1 or less | Keith |
| For the sake of Democracy it must be delayed | Bryan |
| Honest governance of our Sovereign state is far more than just daily diatribes over TV by a kindergarten nanny focused on the miniscule covid threat. What we are not seeing is the raft of Dictatorial Socialist NWO preparations and regulations being shoved on the Nation under the smokescreen of Covid and without any consultation or Parliamentary oversight. This is NOT Acceptable and we need to open the Scene to full democratic mandate by open Election. Yes there is a risk that the contesting parties are at a serious disadvantage by being under a restriction to communicate but this is of lesser importance as the internet is still fully functional, but a lengthened period power in the hands of this Marxist dictatorial Col is far more dangerous and harmful to our society. Vote early no matter what the difficulty. | Richard |
| More chance for other political parties to state their case. And less chance this current Government will be elected because of all the Truth now emerging. | Geoff |
| We may not get a better chance! | Gary |
| For any election to be fair there needs to be the ability for all participants to compete on a level platform and put their various ideas forward. With one of the participants being in front of the electorate every day and the others being locked down there is no possibility of there being a level platform. I believe that the election should be put off till early next year as that will give all participants the ability compete on level playing field and the incumbents decisions and the results from those being fully exposed. | Robin |
| It should be delayed simply to ensure that the the current govt. whom are using the COVID responses as election tools, don%u2019t have an unfair media exposure advantage. The country needs to see the full extent of the negative results on the economy, before we choose who is best to sort them out. Jacinda wants the election now, to capitalise, on her media advantage. She and her very expensive spin consultants believe she is on the crest of her wave, so have the election sooner rather than later, when she gets buried by the economic wipeout her child like handling and self promoting COVID response will create. She is simply a B grade actor, nothing more. | LUKE H |
| Since such a huge majority (over 90%) believe NZ cannot permanently eliminate the virus a fair election of a government who can manage that situation would perhaps be in the best interest of the nation as a whole. there needs to plenty of opportunity for campaigning by all parties to clearly tell the electorate how they would do that and that can now no longer happen before september 19th | john |
| The Labour Govt would like to be re-elected on the basis of its Covid handling alone.i.e that we cannot afford to change horses in the middle of a crisis and Jacinda is getting free publicity constantly from it. However there is growing concern that we are not getting the whole truth. Elections should be put on hold until we can see with more clarity. including parliamentary debate about the economic implications for the future of the present spending of the Govt. | Harvey |
| As the blunders which have taken place are now being highlighted, lets have the election before people forget these blunders | Tom |
| Other parties are completely disadvantaged when the PM and others Cabinet MPs are on TV and in all media reports on the Virus. Plus levels 2 & 3 preclude fair canvas opportunities | Alison |
| There should be a level playing field for all parties and candidates due to the extraordinary face time Labour is receiving as a result of their mishandling the border quarantine | Rick |
| Delay the election by 2 weeks to allow other parties to poll. NZ must get rid of labour as jacinda and her cronnies, cannot be trusted. Labour opened the boarder toooo quickly and therefore the inevitable happened. She was elected to govern our country, keeping the people who put her there well informed about forthcoming policies etc. Jacinda didn't do this as she is being controlled by the UN, (Tedros), and commo china. VOTE HER OUT !!!!! | ROD |
| There is no valid reason for the delay except to give National a hope | James |
| Jacinda and her catamites are electioneering on the strength of their supposed triumph over Covid-19, in which a number of people apparently still believe. Let the dust settle and the truth emerge before we run the risk of putting our future in their hands again! | TOBY |
| Simply not fair at this stage. | Tim |
| There would be unfair advantage for the Labour Party if the Elections went ahead as planned on September 19th 2020. Provided there are no more Lockdowns especially at Level 3 or 4 and life can continue at a relatively "normal mode", then the 2020 Elections could go ahead, but already the Level 3 Lockdown for Auckland has put all other Parties at a disadvantage with no electioneering allow to happen. until the possibly the end of August early September…!!! | Bruza |
| NZ, needs to discuss consequences of current and proposed debt levels | David |
| Yes but not for very long. | cyril |
| It,s ONLY COMMON SENSE all the other parties cannot deliver their policies to people but jacinda is ON THE AIR EVERY DAY so she gets publicity galore but NOONE ELSE. | Cindy |
| Labour may lose votes with this latest outbreak, but too bad. The election should still be delayed while we get the virus better controlled, with stronger procedures. | Sheila |
| Delay please | Graeme |
| Definitely delayed. Comrade ardern wont want to delay, counting on her belief that she has popular support and the people will vote for labour, any delay will reveal the truth and the reality of the situation and handling of the pandemic in this country. A situation that she will vigorously attempt to avoid. | David |
| The current date unfairly favours Labour and the subliminal messaging they are sending. | Merv |
| Smaller parties need opportunity to present their case. | Brian |
| There is no time for candidates to get out and meet the people. Some parties are making good use of social media but that has issues. And it is not information from out own candidates. | Anthony |
| Most of us know what is happening So having the election on due date should be no problem | john |
| Covid-19 has come to the fore again, and so most parties are restricted from campaigning. The playing field is far from even as Jacinda is getting lots of free air time, while the other parties are getting little opportunity to have their say. | Laurence |
| Yes, why not it is more important than convitis,. | James |
| But don't delay for too long while this cobbled together bunch of incompetents do more damage. Please NZ, vote to get rid of this TV Star, she is totally clueless but comes across publicly as a good front person. God Save NZ | Carolyn |
| Keep things as much as normal as possible.Not concerned with politickng. | David |
| With Greater Auckland in level 3, electioneering suspended there is no doubt in my mind. Hopefully a return to level 1 countrywide will facilitate a fair contest. | Douglas |
| Preferably next year | John |
| I think JC wants to delay to have more substance to campaign against the opposition. By December the wage support schemes have all run out and the negative side effects on recipients and the economy will show to the point that even the left/Marxist socialist MSM will not be able to wrap this mess into nice weasel words ( they can try though). In short: The ideal scenario to unmask ( literally) the current Govt's utter incapability to deal with anything professionally and efficiently ( apart from borrowing to the hilt and throwing money around like there is no tomorrow) | Michael |
| Elections are by law supposed to be a democratic process. This simply cannot happen with no campaigning allowed in Auckland at least until after 26 August. We have an undemocratic government in charge now and we should not be forced to endure another term of failed projects and massive waste of taxpayer money. | Chris |
| It should be delayed for a proper campaign. Hopefully the electorate will see through the rose tinted view of this government by the media and put some competent people on the treasury benches. | Willy |
| All parties should have the ability to campaign not just the government through daily COVID press conferences. It%u2019s I democratic to not allow suitable time for parties to actively campaign. | Sheila |
| Labour out ASAP. | Robert |
| let labor sort out their problems first | Roy |
| | |
| --- | --- |
| Unfortunately it should be delayed. I say unfortunately, as I can't WAIT to see the back of this grossly incompetent, lying, marxist lot. On the other hand, Cindy has a free rein electioneering during her so-called C-19 updates, ….interestingly we are seeing much more of her this time around, with Bloomfield more in the background. Wonder why,,,,,, | Sharen |
| It's obvious | Richard |
| Delay will make it more democratic since other parties than the governing one may get some time to present their case to the public. The PM has had a free run and the others have been locked out. The Greens and NZ 1st are on Labour's coat tails so they want an election today! | Ray |
| People are not in the right frame of mind to chose parties for reasons that may not be for the best future of New Zealand | John |
| At least for a month after the present set date. | Laurel |
| with cindy the red on tv every minute of the day sprouting look at me, look at me the vote results would be a disaster if we do the election in september so lets wait as long as possible before we have a election so the playing field is even for all parties. | Richard |
| It is obvious that the other parties will have no exposure and no opportunity to promote their policies.. All we see in the media is the the prime ministers face. | dene |
| It would be totally unfair to hold the elections on September 19th while people are focused on the COVID 19 situation, and apart from the PM , Hipkins and Richardson, no other candidates are able to be visable. | Carol |
| Its world widely acknowledged that loc downs don't work and the Swedish method does. Adern wants to extend her time in power and get her face on TV as much as possible until then. | Rex |
| We need to be able to hear the policies of all parties on how they are going to economically get out of this situation | e |
| I bet Cindy would like to get it out of way before the shit really hits the fan. To be fair to all parties, it must be an even playing field. Delay it. | Peter |
| | |
| --- | --- |
| There is no possible way that it can be called a fair election if it goes ahead as planned! | Ron |
| Election should be as late as possible in November. Parliament should reconvene in the interim with an Epidemic Coalition to take over from the current cabinet., | Alexandrina |
| National and the minor parties must be given the opportunity to campaign without TV and other media splashing Ardern in peoples faces due to Covid. It is to be hoped eventually Ardern will realise Covid is here to stay and we have to live with and personally take responsibility for sensible precautions to minimize the chance of contracting it. Provided lockdowns cease and we don't continue to get Ardern in our face using Covid to stamp herself on us the election should be held in early December or early in 2021. | Clinton |
| Currently there is only 1 party campaigning while the opposition parties are in lockdown | Kevin |
| Delayed | Ross |
| We need a cross-party crisis team managing the country until the election and no new legislation to be passed by the current lot. | Fiona |
| To go ahead as planned will benefit Labou and hugely disadvantage all other Parties. | Catherine |
| Parties other than Labour cannot get their message out to voters. | Ian |
| Not possible to hold free and fair elections in the present situation of fear and Labour party dictatorship | Frank |
| Ths wY ALL PARTIES WILL HAVE THEIR DEMOCRATIC RIGHTS TO CAMPAIGN IN THE USUAL WAY | ROB |
| The situation is NOT normal. With her covid announcements Prime Minister Ardern has had a huge exposure in public over a long period, and still continues to have it, while all other politicians are largely invisible on the public stage. How fair would it be — how democratic — if she were now to rule that the election go ahead on the due date? While she has the authority to pick the date fairness on this occasion would demand she has the agreement of ALL the contenders when choosing the date of this election. | Rob |
| Time needed for truth to come out | mike |
| Until the PM says otherwise. She is simply applying the law that applies to her PRESENT situation | John |
| With the country being in level 2 and 3 it is not possible for all parties to present their policies to the electorate. | Vivienne |
| We should go back to level 1, and get back to normal. | Tony |
| Agenda 21 …. Get countries into deep debt and ruin their economy , so that the people are crying out for help . Then the United Nations sets up their One World Dictatorship Government . I believe the Coronovirus was released in order to achieve this . Fauchi announced , before Covid , that there would be a Coronovirus Pandemic in 3 to 6 months time and guess what , yes there was . How would he know that in advance !!! I watched the Video where he says it . This is a great tool to prepare us for Dictatorship . To have so much sloppiness in the Labour Parties management , I think they are not doing things that are so obvious for the control of this virus that it has to be on purpose . A number of porkies are being told to the people , methinks . | Colleen |
| It is now a double edged sword favouring the coalition government . From what I know the electoral commission a indefinitely delay a election if it is deemed unsafe . What is there to stop the current coalition government manipulating the danger levels of Covid19 to remain in power until they declare it safe. Every time a cluster no matter how small . | Max |
| Probably best to delay it until things settle down – maybe this was the plan all along, for whatever reason. | Scott |
| The full level of govt and min of health bungling and incompetence needs some sunlight shone on it at this point so we can all form an opinion on whose head needs to roll before talking a vote on Newhouse represents us | Dr Phil |
| The manipulation of this crisis by this inept left wing agenda driven coalition government will be a blot on the history of this country forever. | Max |
| The election MUST be postponed – out of fairness if nothing else. The longer the delay, the more likely the current government is to lose – so their are some advantages! | David |
| The pm campaigns daily on television but the opposition are silenced. | Neil |
| Delayed; we need to get this crowd of numpties out – and a delay will hopefully expose more ineptitude | Mike |
| For a person who campaigned on the promise that any government she headed would be trustworthy and open with all actions being transparent, the evidence of the last three years would seem to indicate the opposite., e.g.: 1. The release of the Ardern appointed QC's investigation into the alleged sexual harassment of parliamentary staff; 2. the investigation into the handling of and new legislation introduced on the basis of a "terrorist" act perpetrated by the Christchurch Mosque murders, including the banning from public view of the accused's manifesto; 3. the exaggeration and manipulation of data and lies and distortions uttered in order to support the passing of Zero Carbon Act; and 4. the continual quoting of the disproven claim of "going early and going hard" in respect of actions taken to "save the Nation" from the "ravages" of COVID-19; and 5. failure to provide the electorate with the source of the hundreds of billions of dollars, and a full explanation of how the repayment of this unheard of level of indebtedness is to be effected. The latest outbreak within the Auckland Region clearly shows the fallacy of Miss Ardern's claim that New Zealand "could ERADICATE" COVID-19. The Coalition Governments strategy of "Health considerations outweigh all other considerations" without providing the Nation with a cost-benefit analysis defies all reasonable thought that this Government has any business nous and acumen. If a the directors of a private company operated along the same lines, they would find themselves subject to prosecution. These facts need to be brought to the electorate BEFORE any election occurs. Given the current restrictions that have been imposed by Miss Ardern and her Government, it would be impossible to get fair and open debate, particularly when she has already berated the Opposition for not fully supporting and embracing her actions in dealing with the so-called crisis. Without question, the election must be delayed, and a full Parliament be in place to critically examine and hold the Government to account for their actions and supposed openness they have instituted and displayed supposedly to "SAVE THE NATION" prior to exercising their rights at the ballot box. | Michael |
| I don't feel anyone should be under lock-down restrictions on voting day. And I DO believe that all parties should have a reasonable time to campaign, instead of Jacinda just having centre stage. This is manipulation at its best. | Joyce |
| In fairness to the other parties the election date should be delayed. Why should the labour party talking heads have all the TV exposure due to Covid-19. Jacinda is really milking the pandemic. | Darryl |
| This could go on for ever | Dave |
| unreasonable in current circumstances | steve |
| Labour and The Greens must go. Bring on the Election and get rid of them!! | Trish |
| Jacinda will be in the limelight all over again giving her an unfair advantage | Laurie |
| Jacinda is playing on Covid Opposition cannot get its messages across | Tony |
| It is impossible for the election to go head on schedule. new date must be set. Under lockdown, regardless of level, campaigning has to be suspended, so to go with the original election date is totally undemocratic. Even if it means that we have to put up with this incompetent shower for a couple more months. | Dianna |
| Too soon and we don't know yet how the virus is going pan out. | Alan |
| Everyone needs a fair crack at it. | Andrew |
| Give Labour a bit longer to hang itself | Rob |
| Given the circumstances it won't be a fair contest.Anyway a delay will expose more of Ardern as a corrupt incompetent idiot. Instead of trying to play sensible kiwis again with her lies, she would be better to start cleaning up the shambles of her own personal life | Don |
| To hold the elections on Sept 19th would be unjust for all the other parties as they would not be able to hold rallies and get their respective parties policies across to the general public of NZ. In the mean time Arden and her coalition party are getting all kudos and raptures by getting daily TV air time. | Wayne |
| Wuhan virus is going to get worse so the Barracuda needs to grow a spine, make the decision and then tell us UNambiguously! Enough of his political appeasement and ambiguous inconsistent messages! | Mark |
| Totally undemocratic to go ahead as planed | Ian |
| Delayed by one month only. Sooner we are rid of these idiot commies, the better! | Neil |
| People now know how inept and deceitful this government is so lets have an election before they have a chance to recover. | Mike |
| Just delay it for now … | Kevin |
| If it is not delayed the the PM is deciding that for totally dishonest political reasons | Hylton |
| That is the only fair option under present conditions. | Suzanne |
| To be fair to the Team of 5,000 | Jim |
| Common sense. One team has already worked it s butt off to keep us safe and mostly this has been effective apart from breaches by idiots who think they can bust anything. Well this time they have, their own freedom and our good health. I am sure the Nats will see the sense in holding off on election date too. Just don't let Judith get the pip and start uttering spoilers at every opportunity. This crisis is bigger than both of them Be graceful, be kind (now who's talking?? ) and be DECENT about it all. This is not the end of the world unless you set out to make it so. Is it? This is certianly not a time for scoring "points" at all. Ms Arden has done a good job, within the limits of her own background, aided by skilled medics. Just do';t chuck all that away | Mabel |
| Jacinda wont be so popular by then. | Brian |
| it should be delayed. the govt has an unfair advantage over the opposition | david |
| Get rid of the drones and invigorate the Parliament. | Gary |
| Then we will find out the true amount of needless destruction inflicted on our businesses. | Florence |
| We've already lost our democracy with the COL we need a chance to regain it more than ever. | Chris |
| If the tooth fairy was likely to be defeated I'd say bring it on the sooner the better but a delay is more likely to wear off the gloss and at least reduce her winning margin. Anyway, who really would want the hospital pass that a win will amount to? This government by its blind belief in computer generated data has stuffed the economy of this country for at least a generation – the Zimbabwe of the Pacific. | Alan |
| The present plans help the government and are unfair to opposition parties. | Tom |
| It is difficult to make a meaningful decision without knowing each party's manifesto. Early next year suits me. | Dennis |
| This will be the acid test of Labour's integrity. | Terry |
| Delay for sure but what a problem this virus it just had to come in on a boarder breach and it was bound to happen as so few of the boarder and isolating staff were tested I feel we were not protected properly after all we went though if we go into level 4 again I believe there will be civil unrest and who can blame people this government is absolutely hopeless | Peter |
| Campaigning is not possible in the current environment and the PM makes daily political speeches | Neville |
| There needs to be an opportunity to discuss policies and ideas and that will clearly now include each party's a 'living with Covid' plan. | Mary |
| Damned if we do or don't! | Peter |
| I think that Ms Ardern has timed this in order to delay the election so that she is more likely to win it. | Kate |
| Get rid of them | Mike |
| electioneering is on hold for all parties except labour. this is grossly inequitable so the polling day should be deferred until the latest possible moment | Nick |
| Not a level playing field. Taxinda is playing the Civid card and will keep herself in peoples faces till the day. That's not fair. | Graeme |
| To allow the current panic to die down and a proper electioneering period to occur. | Gerry |
| As long as we are not in level and they can get out and electioneer | Colin |
| NO POINT In DELAYING, will achieve nothing | IAN |
| Go ahead as planned. There is only so much grandstanding and dirt digging you can take – if the political parties can't make a case for their intentions for the immediate future and beyond now when can they? | bruce |
| unfair to other parties if it goes ahead | Ann |
| We do not want to install another government of manipulation for the benefit of one person. | Bob |
| Postal voting happens now and could easily increase | Rochelle |
| | |
| --- | --- |
| We are in a mess. | Dick |
| Vote no matter the circumstances | Bob |
| The country needs to be assured that the risks from corona virus are as low as they can be before contemplating hundred going to election booths and standing in line to vote | Chris |
| With the new cases being found they will not change the level in the short term and Comrade will command the air waves, brainwashing the easily led into voting for Labour. She has already labelled it a COVID election. Setting the marketing strategy for her socialist take over. | Bruce C |
| Although if it goes ahead as planned the obvious stuff up by Labour will be fresh in everyone's mind and they would be saying NO TO LABOUR | sheryl |
| Labour will continue to play dirty tricks to skew the election, especially by trying to capitalise on Covid. Wants election as soon as possible before more chickens come home to roost. No useful policies. Just trying to glamourise themselves via Covid. | Jack |
| opposition parties given no time to campaign | Linda |
| Covid will be the main issue. I'd rather see more long-term economic issues be debated | Paddi |
| I believe the Level 3 lockdown imposed on Auckland will be extended, perhaps for 2 weeks. Therefore the election date should be pushed out until November. | Don |
| Most definitely. There has to be a proper electoral campaign so the current Governments poor handling of the Covid crisis and the economy in general can be put under a blowtorch by the Opposition and Jacinda and her team can be shown up as the failure that they really have been. | Allan |
| However that means we have the current ineffective/incompetent people calling the shots | john |
| Elections need to be put back until this mess is sorted | Russell |
| 2nd CD19 disruption makes it an undemocratic process for voters | Leanne |
| To give all parties an even chance to campaign | Terry |
| And ASAP! | Walnetta |
| If we are to remain a democracy | Graham |
| WE COULD WAIT FOR YEARS | Maureen |
| Delayed for a short time. Not next year. | Matt |
| Suggest it be delayed until late October | Barry |
| Do I trust PM ardern, not at all, her constant lying is hard to swallow, she is so wrapped up in her own self importance, she has forgotten that as a public servant she is supposed to be serving the citizens of NZ to the best of her ability, unfortunately she just doesn't have the intellect to do this, it's all about self. The sooner she is off the scene and out of Parliament the better off the country will be. | Merryl |
| This on again off again Covid is a total distraction. Already the other parties have lost ground while Taxcinda is on twice a day everyday using this for politicking. | Graeme |
| The current situation whereby the Labour party is the only party to have been able to hold their electioneering activity is simply a reflection of the political strategy of the labour govt to minimise the possibility of any of the other parties to be able to mount an effective political campaign | Maurice |
| Voted for delay but a hard call because the sooner the current government is out the better. | pdm |
| You cannot have people scared to go to the polling stations – with or without COVID. It needs to be delayed. | John |
| Delay the election to later this year, but no later. | Frank |
| There are enough reasons for delay to justify that move. It should be delayed to a date that is one month after a government undertaking not to repeat the lockdown sequence no matter what. | Victor |
| It's obvious that it can not be properly held on September 19. | June |
| With all the Hype about Covid 19, Elections at this time could hardly be Democratic. | Don. |
| Get it over and done with. | Chris |
| NO L PARTY HAS HAD TIME TO OUTLINE THEIR POLICIES OR VIEWS BEFORE THE POPULATION. THE ONLY FACE BEING SEE IS THE PRIME MINISTER OR MEMBERS OF THE LABOUR GOVERNMENT TOTALLY UNFAIR TO OTHER PARTIES. | Wendy |
| No one in this country is able to make a rational decision. With the PM holding the attention of the press and media 100%, it would be totally undemocratic and unfair to have an election now. | tony |
| Opposition candidates would have difficulty canvassing for support under the restrictions imposed due to COVID19. Labour, on the other hand, would have the benefit of regular media appearances and additional opportunities to entice voter support through further subsidies. | Martin |
| It ought to be delayed, for the good of the country; however, Ardern will decide on the basis of what's best for Labour. | Graham |
| It is obvious to delay it, but off course Labour would want to hold it now while they riding the wave of good feeling, if they delay it more holes and truth will emerge about how badly they are actually running the economy. | Fraser |
| I want, like most people I know, the CoL gone by lunch time. Unfortunately and for the sake of democracy, a delay to the election date is absolutely necessary. If the opposition parties cannot effectively campaign but the government still can with the help of its media progandists just makes a mockery of our democratic procesess. | Richard |
| I consider it to be undemocratic for an election to be held when voters are unable to meet and question candidates. Although unrelated directly to the question, I have lost faith in the Director General of Health in the last 3 weeks or so. He needs to decide whether he is in medicine or politics; at present he is performing poorly in both. | Peter |
| It should be delayed until later this year. Under no circumstance should the election be put back until some time next year. Giving the current government another year will make things worse for the country, given what they have done over Covid 19. | Ray S |
| With the re-emergence of covid in the community and lockdown provisions in place, and only one month until election day, it is time to delay the elections to allow all political parties and voters to consider party policies. The incumbent government is advantaged by the high public profile provided by the Covid-19 coverage. It is not a level electioneering playing field. | Paul |
| IT COULD BE MANY MONTHS NOW BEFORE THE SITUATION ALLOWS THE VOTERS OF N.Z. TO HAVE A SAFE LEVEL SET TO HOLD ELECTIONS. | Colin |
| While we see Jacinda on TV everyday for covid announcements the other party leaders can't effectively campaign due to lockdown. So while Jacinda's ratings go up be being seen everyday that is unfair advantage to Labour. Must delay the election if this is to be a fair election. | Andrew |
| In a democracy all parties are entitled to express their views prior to an election. The Govt has a monopoly due to the virus with daily reports. | Terry |
| Delay better for the country and provide equity and fairness to all other campaigning parties. If left at 19/9, there will clearly be an overt amount of media exposure for Arden and her un-realistic associates. This present governing party, must be removed from operative power, for the sane and reasonable future of this land. | Alan |
| There must be a free movement of people and an exchange of views weeks before an election. Jacinda will push for September as she knows her popularity is declining daily, it has to be soon. | Lee |
| Yes, for the next 18 months . This invisible deadly virus will if not contained destroy our lives as we know …… | Chris |
| To be fair to all parties time must be adequate for them to campaign in the accepted manner, including meetings, face-to-face connections with voters. In addition, because of COVID-19 the Prime Minister is enjoying significantly more media exposure than usual during an election campaign. | Jenifer |
| There is enough time for campaigning | Terry T |
| Too much on the virus and rugby hard to concentrate move it out to November. | Warren |
| At this stage the source and scale of outbreak is unknown and the only sensible decision is to delay until November. | Phil |
| | |
| --- | --- |
| The election should be delayed so it can be free and fair. It would be anything but free and fair if it was held in September. | Lewis |
| The election should be delayed until next year. Hopefully by then life will have got back to a semblance of normality! | Roger |
| Delayed otherwise Ardern will have a huge advantage and everyone else would be disadvantaged. | Bryan |
| The election must be delayed. All parties should have a fair chance. That is not possible when the country is in a state of fear. The PM is obviously planning to front up to the public every day through the Covid briefings so where is the fairness in that??? | Rosie |
| 2020 is a write-off! The election should be held next year when hopefully things will be more normal. | Murray |