August 27, 2017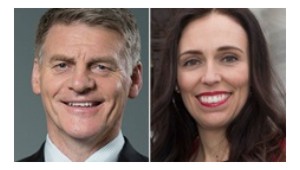 With just under three weeks still to go before voting day, political party election promises have been coming so thick and fast it feels like Christmas.
National kicked off their pledges with the announcement that if re-elected, $10.5 billion over ten years will be invested in roading infrastructure. Ten of the country's highest volume state highways will be upgraded to provide a safe four-lane network linking the regions to the major cities and unlocking their economic potential.
In health, almost $400 million over four years will be used to increase doctor subsidies, so more people have access to $18 GP visits. The scheme, which is available to everyone with a community services card, is being extended – including to those living in state-funded housing or receiving an accommodation supplement – to deliver free or low cost healthcare to 2.5 million people.
Over $1 billion has been earmarked for rebuilding Dunedin's hospital.
National's 'parents and newborns package' costing $400 million over four years, includes extending paid parental leave from the current 18 weeks to 22 weeks in 2019, providing pregnant women with free dental care until their child's first birthday, and for those struggling to conceive a baby, the IVF programme will be extended to allow for a third free cycle.
National has also announced that almost $400 million will be spent over four years on four major education initiatives – introducing digital learning for senior students, improving the teaching of mathematics, providing all primary students with the choice of learning a second language, and expanding National Standards, to make it easier for parents to track how their child is progressing at school, including through their mobile phone.
Another $60 million over 4 years will be spent on a defence-led boot camp based at Waiouru to crack down on the most serious young offenders and hold negligent parents to account.
Altogether, National's election promises amount to around $6 billion over four years.
When it comes to Labour, in spite of their new leader's repeated assurances that their spending pledges are moderate and affordable, the promises announced so far amount to a massive $30 billion over the next 4 years – five times more than National – with some manifesto undertakings still to be costed.
Labour expects to spend around $4 billion on education, with almost half earmarked for delivering more teachers and boosting the profession's working conditions. In addition they plan to scrap National Standards, repeal charter school legislation, freeze fees to private and integrated schools, and squeeze funding to private providers of pre-school and tertiary education.
The balance of that funding – over $2 billion – will be spent on tertiary students, including increasing student allowances by $50 a week and introducing three years' free tertiary education for anyone starting their studies for the first time next year, extending it to three years' free by 2024.
In health, Labour has promised to spend $8 billion, including cutting the fees for all doctor visits by $10, matching National's plan to increase low-cost healthcare to those on housing benefits, rebuilding Dunedin hospital, and boosting mental health services.
Labour's families package, which will cost $4 billion, will extend paid parental leave to 26 weeks, provide a $60 a week baby bonus from birth to the age of three, increase Working for Families by $50 a week and extend it to 30,000 more families, and provide a winter energy subsidy to a million eligible families of $750 for couples and $450 for singles.
Labour's commitment to build 100,000 new houses is expected to cost around $2 billion, and their contributions to the New Zealand Super Fund, of $2.5 billion a year, would start immediately.
Labour has also promised $3.5 billion to fund Auckland transport, including extending Auckland Rail, establishing light rail to Auckland Airport, and setting up a commuter rail service between Auckland, Hamilton and Tauranga.
With a tight election race in Christchurch, Labour has pledged $300 million to the Christchurch rebuild, and $100 million to Christchurch transport.
The big question is, of course, how does Labour plan to pay for their $30 billion spending spree?
The answer is simple – new taxes.
In addition to the $25 tourist tax on every visitor to New Zealand and an Auckland regional petrol tax of 10 cents a litre, Labour will cancel the $2 billion Families Income Package that was announced in this year's Budget and has been legislated to come into effect in April.
The package, which was designed to enable 'ordinary' New Zealanders to share in the benefits of economic growth, will deliver an average of $26 per week to around 1.3 million families from April 1st, reducing hardship for 50,000 children in low-income households.
By lifting the bottom tax thresholds from $14,000 to $22,000 for the 10.5 percent tax rate, and from $48,000 to $52,000 for the 17.5 percent rate, most workers will receive $20 a week in tax cuts.
Working for Families will also be adjusted with Family Tax Credits rising by over $9 a week for a first child under 16, and between $17 and $26 for other children. The Accommodation Supplement, which hasn't changed since 2007, will also to be raised from $25 to $80 a week for most families, and in areas of high housing pressure, up to $145 more a week.
The problem is however, that Labour plans to take this $2 billion boost to family incomes from those families that are set to receive it, and spend it themselves.
In addition to this effective $2 billion tax increase on middle New Zealand, Labour is also promising a Capital Gains Tax. But since they have not provided any details, we are unclear whether it will apply to businesses, farms, shares, or any other form of investment.
With the public having already rejected Labour's Capital Gains Tax twice – at the 2011 and 2014 elections – this time around they are desperate to prevent it dominating the election conversation. As a result – in the hope that they can avoid further scrutiny – they have announced that their Capital Gains Tax will be referred to a Tax Working Group that will be set up after the election.
So while Jacinda Ardern is busy claiming Labour is open and transparent at every sound-bite opportunity, their plan to impose a Capital Gains Tax before the next election, without any public mandate whatsoever, demonstrates the exact opposite.
A democracy deserves politicians who are transparent and honest. Labour's new leader is showing she is neither.
The reality is that voters deserve to know exactly how much proposed new taxes are going to cost them, before an election. That's what openness and transparency is all about – revealing the truth to voters, no matter how unpopular it might be.
Like the Capital Gains Tax, Labour is also intent on hiding the true cost of their controversial Water Tax until after the election, by also referring it to their Tax Working Group. They know that a price on water will not only impact heavily on those being taxed, but that the cost will flow through to households, who will have to outlay more for all goods and services that use water.
Adding to the controversy, Labour also knows that their Water Tax will trigger the largest Treaty of Waitangi claim in New Zealand's history, saddling taxpayers with a new Treaty gravy train for years to come. Jacinda Ardern's response, that this will not be the case, shows she is either incredibly naive, or dishonest – or perhaps both.
New Zealanders need to be very wary about a spendthrift Government that defers crucial tax decisions to a Working Group that has been set up with the sole objective of recommending tax increases. Who knows what Labour's Tax Working Group will recommend – perhaps it will be a capital gains tax on the family home, or the reintroduction of Death Duties, Gift Duties, or Stamp Duties. And who knows how much influence Labour's politicians would have on their recommendations.
In practical terms, such a Group is likely to recommend whatever Labour wants it to recommend, while acting as a suitable scapegoat – but the reality is that we don't really know.
Essentially the differences between the two major parties comes down to an underlying belief in how far a government should encroach into the lives of ordinary New Zealanders, and who is the most competent economic manager.
On one side, National is saying we don't need more taxes, if we manage the government's finances well. Stick with us because you know we are competent, and can be trusted to run a strong economy. We've pulled the country safely through three emergencies that could have thrown us into recession – the global financial crisis, the Christchurch earthquakes, and a major commodity slump – and given the chance, we will continue to deliver for New Zealanders as we have done over the last nine years.
On the other side, with Labour, we get the same tax and spend policies, but a more energetic and photogenic leader. They are saying trust us because we are passionate and positive – and with your help, we can change the government. There should be more fairness in society, so we'll ensure that well-off New Zealanders pay more to enable the rewards to be spread more widely. We are ready – let's do this.
In this close-run election race, some of the minor parties will become part of our new Government, so let's look at what they are promising.
The Greens' pledges include a 20 percent increase in the value of all welfare benefits, generous winter power subsidies, universal student allowances, free tertiary education, the scrapping of student loans, major investments in public transport, and more penalties for dairy farmers.
The Maori Party's new spending plans include developing an IwiRail regional train network, building 90,000 affordable homes, writing off the living cost component of student loans, introducing a universal student allowance, and creating thousands of new Whanau Ora jobs.
ACT is the only party wanting to decrease Government spending, and reduce taxes, by promoting a 25 percent cap on income tax and company tax.
New Zealand First is almost neck and neck with Labour over spending promises, including removing GST on fruit and vegetables, introducing a universal student allowance, scrapping student loans for those who work in New Zealand, building a rail link from Whangarei to Marsden Point and upgrading the line to Auckland, moving the Auckland container port to Northport, and buying back the power companies sold during National's 2012 partial privatisation.
New Zealand First also appears to be the only party raising concerns about the escalation of race-based privilege. Winston Peters has pledged that if he is part of a coalition government, a public referendum on abolishing the Maori Seats and on reducing the number of MPs in Parliament, would be a bottom line.
This week's NZCPR Guest Commentator, retired Judge and former law lecturer Anthony Willy, argues that binding public referenda are an important democratic tool, especially when it comes to deciding matters of fundamental constitutional importance:
"The proposed referendum on the future of the racially separatist seats is an issue which for New Zealand is as important as is Brexit to the United Kingdom. Let us hope that the overture made by New Zealand First on this important issue is not spurned by the other parties but comes to be recognised for what it is – the ultimate exercise in democracy."
If New Zealand First does end up becoming 'king-maker', it will be early October before we know how committed they are to a referendum on the Maori seats.
While polling booths open for early voting on September 11th and the election is on September 23rd, Winston Peters has said that, if he is in a position to do so, he will make a decision about which party he will 'crown' to be in Government by October 12th when the writs with the final election results are returned.
THIS WEEK'S POLL ASKS:
This week we are asking you to make a call: Who do you think will lead the next Government – National or Labour?


*Poll comments are posted below.
*All NZCPR poll results can be seen in the Archive.

THIS WEEK'S POLL COMMENTS
| | |
| --- | --- |
| No alternative | David |
| Neither party can explain youth suicide numbersor the increase in crime overn the last 55 years. One might think that U.S. derived feminism has destroyed something important in our social structure. | Max |
| Hopefully sufficient voters realise a vote for National means less of their money going to and being spent by government. | Terry |
| I think Labour will win because of the ignorance of the electorate as a whole (which is why ACT does not poll well). If, however more people take 10 minutes a week to educate themselves via NZCPR, then National do have a chance, but only a slim one. Interestingly I've talked to a few socialists I know lately and though they can't stand PM English, the share volume of new taxes has them not voting Labour. National need to remind the electorate that the Greens are part of the Labour equation and that the Labour leadership did not go against the former deputy leader benefit fraud, nor her failure to admit she did anything wrong. That to me is the same as endorsing what was done. This election is a matter of trust however the lack of trust politicians in general means it is all about image as usual, and light and fluffy "feel good" Jacinda will probably win it. Maybe, we will end up with a hung parliament and another election? Statistically National don't stand a chance though. And therefore, neither does my wallet… | Clark |
| But it will be very close | Kevin |
| A dishonest tax and spend Labour Party. No thanks. | Lee |
| TAXcinda is the name of the Labour leader and we do NOT need a progressive leftie in power. National need to change their leader to Judith Collins for a real contest. Binding referenda, especially for Maori seats, is an idea whose time has come. | Monica |
| Can only hope for NZ's sake that National get back in, but would like to see Winston keep them on the straight and narrow and get rid of Maoridom, the downfall of NZ. | Graeme |
| The Nats have had there turn at helping their mates get more of the wealth, its time to help the majority for a change, even if the right wing news media is desperately trying to push alternate facts to help keep the working class trapped in poverty. | Peter |
| Hopefully | Donald |
| I surely hope so! | Ted |
| So many people seem to ignore the fact that National have given billions of dollars of our money to Maori tribal chiefs. In many cases the claims are based on deliberate misinterpretation of the truth and the money does not help "Our poor people". They are just used as an excuse for the claim. National just keep borrowing money rather than running New Zealand as an efficient business. | Ernest |
| National pulled us through the 2008 Stock market crash thank God they were in power at that time. | Ross |
| Steady as we go | Claire |
| Hopefully National or all gains of the last ten years will be lost after three years | Roy |
| God help us if labour get elected Will be tax tax tax To support no hopers | Murray |
| National NZF and no maoris. | Graeme |
| Thanks to national party policies the country is ina huge mess and isgetting worse by the day.The dayly news paper reports show a lot of the mess that is going on to us and all arround us! | Theodorus |
| The least of 2 evils it seems | Konrad |
| It's time for change. National has become complacent. Now they are throwing promises like a lolly scramble. Why? They are desperate to same their own hides. Time to move on. | Peter |
| But with a reduced majority as many fools will fall for Labour's blatant buying of votes with the voters' own money. | Kerry |
| While I'm very unhappy with National because of their continuing and increasing racist policies, the others also have them and I would much rather National than Labour. NZ First did moot some time ago getting rid of everything to do with race but they don't mention it now, so I assume it is off the agenda. God help our country as there is no-one I'm at all happy with. | Helen |
| My gut feeling is that National will carry the day and NZ First will go into coalition with them to keep them honest ( just a figure of speech here) Re JA— I am really surprised how she popped up from nowhere to become Labour's first.There are two reasons I can think of : First a copycat action like the sudden appearance of Macron in France a good looking fellow without any previous political experience but hugely popular due to his good looks. Same with JA she is rather young ( 38) she is good looking (although her teeth are too big) but she has like Macron no experience which makes her an easy to handle glove puppet for the lobbyists and second they had nobody else .As far as Labour's policies are concerned.:They appear like a hastily cobbled together program without any consideration of how this taxation spree will affect all of us or the economy for that matter. And what cannot be squeezed by taxation will be borrowed. And we are in debt to the hilt in no time if this goes on for a wee while longer. | Michael |
| National with NZ First. | Wayne |
| I am worried it may be wishful thinking how ever!! | Roger |
| Woe betide us if otherwise. | Paul |
| There has never been a four-term Govt. Last time the foreshore was an issue there was a change of Govt. Silent majority will be aware of the undemocratic support to Maori with the present coastal claim process. Idiots in Govt have probably fallen out with NZ First over superannuation overpayments which went unnoticed. | Anon |
| Status Quo please. In my 68 years I have never seen Labour offer the voter a weaker line-up of dreamers ! | John |
| With help from NZ First. | Mark |
| With the support of New Zealand First National will lead even though they will get less votes than The Labour party. | Huria |
| NZ needs clear- headed stability in leadership NOT rock star hype and bribing of the youth. Keep NZ EUTHANASIA FREE too! | Maxie |
| I think New Zealand First will do much better than prediced by polls. | Janice |
| By the skin of their teeth, not that they deserve to be the gov't | Sam |
| The thought sickens me but I have a nasty feeling Ardern will suck people in despite being unwilling to reveal the massive taxes she wants to enforce on us. | Ron |
| Has valued most of what I value in accordance to trhe Magazine "WHO VALUES WHAT YOU VALUE" AND HAS already ongoing projects for people and country. | Martha |
| It's not the time for change. Also, its been said that Labour needs more than a smiley face. | Ray |
| Proabably close to 50/50 | John |
| Who will be paying for the Lunatic Labour Party promises. Billions, someone tell them they're dreaming. | Chris |
| People are sheep and will follow the fresh look labour. Still considering my protest vote to NZ First over raced based RMA, TOW, unelected appointee,s etc. waiting for a party who will unite New Zealanders with good fiscal management. | Sam |
| Unfortunately Labour because people are easily sucked in by bribes. | Leonie |
| Unfortunately! People really should have to sit an IQ test before being allowed to vote! | Campbell |
| It will take a miracle but I'm praying hard for such an unlikely now outcome. A plague on the Green Party's house! | Cyril |
| | |
| --- | --- |
| The spend by Labour would put the country back into a borrowing situation rather than reducing our reliance on outside influences. | Robert |
| Sadly Labour because a lolly scramble seems to trump common sense. Adern might appeal but may turn out to be as shallow as bird bath. Thick voters will get a thick government. | Tim |
| More spending will lead us back into debt, then another 9 years to get us out again. | Richard |
| NATIONAL, It has to be, and with NZ First if they need them, other wise God help NZ if Taxcinda Ardem and her mob get in. | Athol |
| Labour with the help of NZ First will be the next government. Just look at the National TV add, they have NZ First aligned that way already. Won't make any difference at the end of the day. Both Parties dance to the tune of their globalist masters. Look how John Key endorsed every-thing Helen Clark had put in place, & Bill English couldn't wait to ratify the Paris agreement on CLIMATE CHANGE. Notice how there is only a Promise Auction going on between the two Parties, with no mention of a long term employment strategy for a sustainable future. | A.G.R. |
| National will win the election if the voters spend the time and effort to study the offerings and records of the two main parties. | Peter |
| National by a small margin if they remain strongly against water tax, water ownership and close down the seabed and foreshore debacle. | Donald |
| | |
| --- | --- |
| When we look at the labour leader and understand that she failed twice to gain a seat in an Auckland electorate, and is only in her seat by virtue of Auntie Helen quiting, I have to wonder how competent this woman is. With excessive and irresponsible spending bribes to lure voters and very little substance to any of their policies, I have to wonder what the country is letting itself into by contemplating allowing this woman to step into the top job. I look back to how Auntie Helen left the country when National put them out. It was a "there, take that, we have spent everything" approach. But in contrast, the National Government is leading up to an election showing a reasonable surplus which anyone would call a "responsible" thing to do. Apart from all the maori gravy train carry on, even Labour recognize it is a good position! So NZ has the choice of lipstick on a pig, or a government that will do a reasonably "responsible" and honest job, made more so because Winston will have a major say in policy. | Neil |
| It looks as if Labour is on a roll with their 'amazing' vote buying promises. National is trying to match Labour with theirs but with a lesser photogenic leader. Sadly I can't see either Party Leader as a real Leader for New Zealand. What I think this will boil down to is the party that 'promises' the most 'bribes' via the most amount of handouts will win! This crazy system is slowly destroying this country – as more and more people await their next 'entitled' payout – all for what? Me. Me. Me. of course! More indebtedness – both private and public – from less effort of blood sweat & tears! What a political mess this country is in! New Zealand needs to 'drain the swamp' before it too drowns as more and more voters expect handouts. | Stuart |
| Hopefully, God help us if Labour get in. | Charlie |
| National has ruined the environment, we need to change now. | Gerard |
| It will be close. | Sheena |
| National could only if the population voted for the policies that would benefit the country. However most people are in it to feather their own nests. I would prefer a National/NZ First government. | Dennis |
| National, but only if the Banksters want them of course!!!! but Bill is well entrenched with them.. | Wayne |
| National has lost it not Labour winning it. | John |
| I am hoping that National get back in but the gullible people who think that getting a benefit at someone else expense is going to help the country stay on top are going to be very disgusted if the Labour party get and stop the tax cuts authorized next year This a step in the right direction if Singapore is any example to guide. They have low taxes and they have come from having 1/2 our income per head of population in 1962 to 2 and 1/2 times hours in 2015 and are destined to be the richest country in the world per head of population in 2030. The only party in New Zealand that wants to follow Singapore's way is the ACT party and they sit at around 1% in the polls. Does this mean that 99% us want to pay minimal taxes and get maximum benefits from the Government? The only ones that do this are the wealthy who can afford to pay smart lawyers and accountants to arrange their affairs in such a way that this happens In other words the poor end up subsidizing the rich. | Colin |
| Unfortunately, an indifferent, superficial electorate will follow the herd and give it to Labour, just because they think something dumb, such as 'it is time for a change'. Like Brexit and Trump, this will be another thoughtless democratic vote against democracy itself, because Labour will inevitably encourage yet more unelected maori representation. We will all pay, one way or another and the only winners will be beneficiaries and maori. New Zealand society is selling itself down the river again! WAKE UP NEW ZEALAND !! | e |
| We know what we'll get. No surprises. | Neil |
| Experience prevails | Monty |
| I hope that the parasites in the country are still enough of a minority not to see a labour government. After 9 years? of anonymity in parliament the latest labour leader is shifting into the position labour has always excelled at- spending other people's money to excess. God help us if they get in. | 6 |
| At least I hope so, better the devil you know! Although the devil in this case could be the continuing relationship with the Maori Party…time we dropped them, they are only divisive and self serving. | Audrey |
| I HATE to admit this. New Zealanders are ready for change. They will vote on personality and wild claims on how Labour can improve their lot. They will not consider how all that spending will be funded. I sincerely hope I'm wrong and that the average person will THINK about the big picture and the future of our country. | Annette |
| | |
| --- | --- |
| Very Close. | Wayne |
| Helen Clark and Labour nearly bankrupted NZ with their spending, Now Lucinda Ardern is hell bent on doing the same!! | Pierre |
| Drop kick the torries | Jeffrey |
| I really don't want either national OR Labour to be leading the next government. Democracy is based on Equal Opportunities for all, and Freedom of Speech. National and Labour have both proven to be willing to trade off our right to equality and free speech. People need to be willing to vote for the only party that openly supports a referendum, New Zealand First. | Joyce |
| Truth is I don't care. I feel that we are at a turning point with our democracy itself being questioned. At every turn Government must be report to Iwi based groups to get permission to introduce policy, Local councils are having to report to Iwi on actions that have been passed by the elected ward representatives and sign relationship agreements with iwi groups. The newspapers and media outlets choose what is of interest to the public, carefully omitting what the "powers to be" don't want to be discussed and the term racist being slung at any person wishing to discuss topics that the "Gravy Trainers don't want aired. How long before these overseeing bodies decide who can be considered for election. Time to remove the "Gravy Train" from office. End all Treaty settlements forever! Remove Maori electorates, roles and separatist Maori seats. Replace The Term "Maori" from all Laws and legislation and put "New Zealanders". This includes Policy documents that refer to Treaty i.e. according to the principles of New Zealand Society. ONE PEOPLE, ONE SET OF RULES TO GOVERN ALL. What ever has been put into place in the past 40 years hasn't helped Maori change their position within the societies statistics hasn't changed a thing! | Bruce |
| People are so naive it's too hard to call | Alan |
| We literally cannot afford to have a Labour govt., their promises are ridiculously impossible to finance with out bankrupting the country | Peter |
| Nine years is enough, people are ready for a change. | Graham |
| Interesting times, it will be a close call! | Murray |
| We can't afford the other mob | Les |
| Sadly because they will pitch right in with the separatist movements and further facilitate the oncoming co governance and apartheid | Bud |
| Time for a change | Barry |
| I'll bet on a labour /nz First coalition. Forget the promises,they come from politicians and as in the past few will be honoured. I believe people are over National and their Maori pandering ways together with their arrogance and deceit.Consequently people want change and the best offering is Jacindamania. | Don |
| Hard to tell but many saying they don't trust Labour. | Robert |
| I do not like they way they bow down to the maori wishes, but I do not want labour in with no idea except spend money which we do have. | William |
| By a small majority. | Colin |
| I, along with many others, see no alternative but to vote National. If we don't want a Labour Government who will wreck the country, we can't afford to play around strategically with smaller parties. | Lorraine |
| As H. L. Mencken said, "Elections are just pre-auctions of stolen goods. | Larry |
| National deserve to lose. Labour do not deserve to win, but they will. The Peters will get his baubles and beads, to our cost. | Mike |
| National with the the help of a NZ First coalition which will ensure the democratic acceptance of binding referenda. If National will not accept that,they will lose. Economically I am sure that National's $6billion 'budget' is conservative to allow for some of NZ First's bottom line items. Converesely, Labour's $30billion spend, added to Winston's requirements, would bankrupt the country. So, National, get your thoughts together and work with NZ First, starting NOW !! | Alan |
| Jacinda is naive and is dishonest promising much and divulging nothing. | Lorraine |
| I live in hope that the celebrity status given by the media to Jacinda Adern will be offset by a reality check before Election Day. | Lee |
| Labour promises lots of spending with their lolly scramble but hasn't declared the cost and their team looks real thin on the ground and unimpressive.. National has done a great job on most fronts and have a proven team so only self interest greed and Jacindarella thinking by swaying voters will dent National. Voters need to think carefully about what is fact and what is fiction. | Stan |
| | |
| --- | --- |
| For the sake of all new Zealanders and their children to come. You just can't borrow your way into government. My children and grandchildren will suffer. | Brian |
| There is NO way I want a Labour Goverment. They have too many NON accountable policies that they will no elaborate on. | Carl |
| Because the voters will be bought by thinking they will be better off from the promised hanouts, bees to a honey pot. | John |
| Hopefully as the Country is on good ecominic grounds, to go forward as next year will not be as good. Labour will just put the country backwards & further into debit. | Geoff |
| National has bought in all the race based legislation and I cant see them backing down so Winston will have to go with Labour | Arthur |
| Labour are promising the moon again, sumarised well in the article in this pamphlet. Labour are at present likely to win, we have too many voters who act like sheep | Raymond |
| I am hoping that the impactof glamour will give way to common sense! | Ron |
| I should like to see National lead the country another term. We are holding our own at present financially and Labour would as they normally are prone to do spend on the soft choices and feel good items. The world has come past those ideals, it is a dog eat dog universe. Get real. | Elizabeth |
| God help us under a spend thrift Labour outfit. | Lynn |
| Major issue with Labour is their proposed water tax, we need details of exactly what is planned. | Bryan |
| Not that it matters. They are all sitting on the same fence…it's just that one side is painted red and the other blue. We don't have right and left wing in NZ, just self-serving fatties with fence palings stuck squarely up their arses. | Mark |
| An easy choice. Sadly the media are not mentioning how many jobs in the regions will be lost to the water tax. THE MILLIONS COLLECTED will go to Wellington. The multiplier effect of that money not being spent in regional towns and cities will lead to potentially several thousand job layoffs. | Willy |
| Too many extravagant tax & pay "offers" from Labour to be credible. | Don |
| …what a dumb question !!! they are both a bunch of 'crooks'…. | CH |
| With help from Winston | John |
| A labour led government will be disastrous for NZ. Are voters really so stupid they can't see what ex president of world youth socialists has planned for NZ? Look at the lesson of Greece and even Australia where promise, tax and spend to stay in power has led. This is the major flaw in democracy. Politicians are not held to account for their stupid promises. | Geoff |
| Labour should but who really cares , they are all useless and never deliver on their promises and they are never held to account for their lack of performance . It annoys the hell out of me when they all start to produce the election bribes just before the election . Why can't the current govt do the things they promise when they are in power . I still can't understand why Bill English hasn't been made to stand down for telling lies about the taping scandal . | Jock |
| But it won't be straightforward: Winston Peters will see to that. Unpopular as he is with many, he will apply the brakes to the policies of whichever party forms the next government. NZF may even decide to sit on the cross benches, which will effectively mean that neither National nor Labour will be able to follow through on the majority of their election promises. One thing's for certain, though, which is that we'll see an end to Maori political privilege, because for Peters, it's personal. Then wait for all the hikois, protests, civil disobedience, litigation and the rest of it: as they say, you can't make an omelette without breaking eggs. Interesting times ahead! | Graham |
| | |
| --- | --- |
| Has to be if we are to maintain our economic stability. | Andrew |
| No Family of right mind would vote for water tax, capital gains tax,, maori seat entrenchment, permanent Apartheid policies, student loan scrapping, and more socialism regulation. Home ownership would become a dream and retirement security would become a nightmare. | Richard |
| If not we are in big trouble ! | Stuart |
| They had better or we are going to be in serious trouble. | Peter |
| And I have my fingers for may crossed! | Peter |
| I think the people are wanting a fresh face, honest transparency and a leader who will actually front up on addressing the hard issues. | Alan |
| Labour will just keep adding to our ever increasing social welfare expenditure. | Darryl |
| Labour will be the next Government. But they need to watch their spending. You can not keep on getting money from oversea's and give out money to people. | Robert |
| They are the only party capable of running the country. | Chris |
| It is 6 of one and half a dozen of the other all hollow promises | Colin |
| God help us if Labour get in! I still want to see National curb the TOW so may still vote NZF party vote. Still deciding | Elizabeth |
| We can only hope that National will be returned to power with NZ First as their new collision partner. Any other option is too scary to contemplate. | Steve |
| Unfortunately and sadly labour, not that I am a 100% national supporter, I cannot believe that people will vote for a party with a leader that has minimum experience, the back room labour "cloth caps" will be rubbing their greedy hands with glee, not god save NZ but god help NZ | Robert |
| A poor choice but the alternative is so much more destructive. | Alan |
| | |
| --- | --- |
| National – but only just. They are too complacent and have become arrogant, but at least they won't wreck the economy. | Simon |
| I think the country has gone mad and Labour will win. Heaven help us. | Kerry |
| If the election was held today, Labour would win because of all the favourable media coverage. But hopefully over the next few weeks, even the media will be forced to ask the hard questions and this Labour bubble will be seen to be mostly hot air. | Bryan |
| It will be a very close race. If John Key was leading National, I would say they would win comfortably. As it is with Bill in charge I'm not so sure. National should win because the country is doing well, so I say National by a whisker. | Jenny |
| With luck the last few weeks of the campaign will focus on facts rather than vague promises. There has been far too much hype in the election reporting. | Mike |