September 24, 2017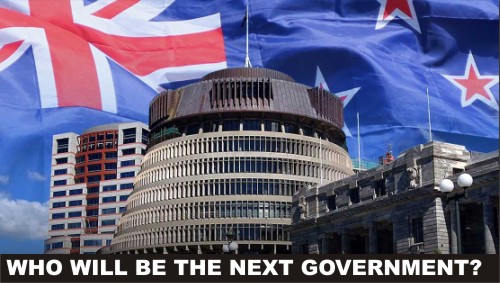 The votes are in but the nation waits. NZ First was the big winner on election night, even though it lost party votes and Mr Peters lost his Northland electorate.
The winner and loser tag applies also to National and Labour: National because it won the most votes but lost two of its three coalition partners, and Labour because it increased its vote from 25% to 35%, but remains 10% adrift of National.
The biggest losers of the evening were the Maori Party which is now out of Parliament, the Greens after losing 7 of its 14 MPs, and The Opportunities Party (Gareth Morgan) which fell well short of the five percent it needed to enter Parliament.
The election result is reflective of the truism that under MMP, when the major parties do well, the minor parties do badly. That was the story of the evening.
PARTY VOTE
The party vote election night results were:
Votes %

2014

(final)

Votes %

2017

(election night)

Change
Seats

2014

(final result)

Seats

2017 (election night)

Seats

Gain/loss

National Party
47.04%
46.00%
-1.04%
60
58
-2
Labour Party
25.13%
35.8%
+10.67%
32
45
+13
Green Party
10.70%
5.9%
-4.8%
14
7
-7
NZ First
8.66%
7.5%
-1.33%
11
9
-2
Maori Party
1.32%
1.1%
-0.22%
2
0
-2
ACT
0.69%
0.5%
-0.19%
1
1
0
United
0.22%
0.1%
-0.12%
1
0
-1
TOP
0%
2.2%
0
0
Total
121
120
The wasted vote totalled 4.3% (6.12% in 2014): 1.1% from the Maori Party, 2.2% from TOP, and the balance from a number of minnows. Counteracting this to some degree is ACT's one seat for a mere 0.5% of the vote which is more than its party vote entitlement. The failure of the United and Maori parties to win an electorate has eliminated the one seat overhang and the House returns to a 120 seat Parliament.
WINNERS AND LOSERS
Despite losing 1.33% of the vote and two MPs, NZ First has emerged as the biggest winner in the election. Winston Peters will decide who is the next Prime Minister and the direction the country takes.
Will he go with National or Labour, or will he take a third option which is to give confidence and supply to one and sit on the cross benches and dictate matters on an issue by issue basis?
The general view is the latter is less likely, but opinion is divided on whether he will go with Labour or National. Most are presuming the decision rests with Winston Peters, but it is also up to National and Labour and who wants it most. More on that later.
LABOUR
Labour achieved its best result since 2005 with 35.8% of the party vote. In the five elections between 1996 and 2008 with Helen Clark as leader, it averaged 36.6%. Labour has essentially returned to the "normal" that existed before the rise of John Key and the Labour's leadership failures.
The fact that Labour changed their leadership just seven weeks out from an election shows how late they came to realise that Labour's prospects with Andrew Little as leader were no better than they had been with David Cunliffe. While Labour changed its leadership, not so its policies. Going into a campaign on a platform of new taxes was strategically unwise and Jacinda Ardern made a tactical "captain's call" blunder to put capital gains tax on the agenda only to back-track and flip-flop on its implementation.
While Labour hopes to cobble together a coalition and become government, and may well do so, three years in opposition would give Ardern the time to establish her credentials as the Prime Minister in waiting, rewrite Labour's policies more in line with what the electorate wants, and extend its reach into the Green vote. It needs to do all of these things if it is to match National's share of the vote and unshackle itself from the extremist views of the Green Party.
GREENS
Despite the appearances of an election night celebration, behind the forced smiles the Greens will know the election result is a serious blow. Their party vote has fallen from 10.7% to 5.9% and half the number of MPs from 14 to 7 (although they are likely to gain another after the special votes are counted).
The Metiria Turei debacle damaged their cause and they exacerbated the damaged by poorly managing the internal dissention arising from it. But more damaging was the 'Jacinda' effect and what appears to be a tactical move by Labour into Green policy areas, which saw former Labour voters return to Labour. The days of the Greens profiting from a beleaguered Labour Party are clearly over. Their support has now returned to its core constituency which averaged 6% in the four elections from 1999 to 2008.
The Greens are likely to struggle under a resurgent and more confident Labour, and are vulnerable to being ousted from Parliament completely if Labour continues to out-green the Greens on core environmental issues.
NATIONAL
Bill English was a clear winner from the campaign, even though National was not. In the last two weeks of the campaign his presence grew from being a respected Finance Minister to being a likeable Prime Minister. That was a surprise.
National's only hope to remain in government is to do a deal with NZ First. National has shown it can work with extremist parties like ACT and the Maori Party, so it should have no problem embracing Mr Peters, should he entertain their affections.
ACT
The ACT Party vote fell to 0.5% – just 10,959 votes. To put that into perspective, a number of electorate MPs have majorities greater than ACT's nationwide vote!
Following the 2014 election result I made the following comment, "A huge amount of work and fresh thinking will be required to resurrect the Party. With National likely to move to the centre during its third term, more space will be available to ACT on the right, but can it overcome a tainted brand and does it have the wherewithal to take advantage of the opportunity?"
As it transpired National did become more centrist and ACT did not have the wherewithal to take advantage of it. ACT had an obvious opportunity to attract disgruntled National voters who believe in an enterprise society and want to send a message to National without supporting the left. ACT was the only option to do that, with the added benefit that every ACT party vote counted. Instead those disgruntled National supporters either held their nose and voted National to fend off a resurgent Labour Party, or turned to NZ First and risked Winston Peters coalescing with Labour. ACT has failed miserably to take the opportunity it was gifted. It also failed to attract the youth vote, which was touted as a benefit of having a youthful David Seymour as leader.
The reality is that ACT is now little more than an electorate. It has been unable to develop a policy platform that would attract former ACT voters. There were any number of policy opportunities for them to do so, such as racial privilege and the Maori seats, gangs, and drugs. These are niche areas where it could have set itself apart from National and attracted votes that are likely to have gone to NZ First.
The question for the Party's Board is, why bother? Is the Party content to merely support their sole MP in a well-paid job, or do they focus their attention on convincing at least 5% of voters to support the principles upon which the party was formed? The latter is the only real option given National has jettisoned ACT from being part of any new government this time round – it is no longer of any benefit to National.
MAORI PARTY
The upset result of the evening was Labour's clean sweep of the seven Maori seats, elbowing the Maori Party out of Parliament.
On election night, the Maori Party gained 15,103 party votes from the seven Maori seats, or just 12% of Maori roll voters; despite the Maori Party extracting significant gains for Maori from its coalition with National.
The other noteworthy result was the resounding defeat of Hone Harawera (Mana) by Kelvin Davis in Tai Tokerau. The question being asked is why voters on the Maori roll don't want Mana or the Maori Party. Quite possibly the sovereignty agenda of the Maori and Mana parties is too radical, even for Maori voters. The fact that all of Maori electorates are now back with Labour would suggest most Maori are more comfortable being part of the mainstream.
Given the collapse of Maori radicalism within the parliamentary system, the call for the abolition of the Maori seats may diminish, although it is fair to ask why the seats are needed at all when Maori don't want to be represented by a race-based party, and when Maori are now significantly over-represented in Parliament.
TOP
The failure of The Opportunities Party to gain significant traction yet again shows that money alone cannot buy representation (as was the case with the Conservative Party in 2014). Far from being humble in defeat, Mr Morgan lambasted the "establishment" and older voters, "I'm incredibly disappointed". "They're screwing the younger generation". "You bet they're selfish".
The simple truth is TOP had some very strange policies that were more plausible in a science lab' than they were in election involving real people. It's a weird party, with weird ideas, and fanciful ambitions. It has no future, either with or without Gareth Morgan as its leader.
The one virtue of the TOP experiment is that it has demonstrated yet again (as did the Conservative Party in 2014) why the 5% party vote threshold should not be lowered. That's their only noteworthy contribution to NZ politics.
VOTER TURNOUT
78.8 per cent of people voted, who were enrolled to vote, compared to 77.9% in 2014 and 74.21% in 2011. Of the 244,498 people registered on the Maori electoral role, only 126,114 (51.6%) voted. Only 70% of 18-24 year olds registered to vote (actual voting numbers are yet to be published).
Should we care that 1 in 5 voters on the general roll and about half on the Maori roll did not vote? No.
Quite frankly if someone is indifferent about politics then it's a good thing that they don't vote – they could end up voting for parties like TOP! Or perhaps they didn't like any of the parties on offer and they exercised their right to not vote – and that's fair enough. They may take the view that voting for a politician only encourages them!
We should stop begging young people to vote, for the same reasons. Unfortunately they are more like to vote Greens than TOP, which is equally as irrational, but explains why the Greens favour lowering the voting age to 16.
ADVANCE VOTING
A feature of this year's vote was the prevalence of advance voting. Over 1,240,000 advance votes were cast, compared with 717,579 in 2014 and 334,558 in 2011. That's more than 50% of all votes cast.
SPECIAL VOTES
Advance votes should not be confused with special votes, which are votes cast outside of a voters electorate or cast by those who enrol at the time of voting. They are not included in the election night count. There are 384,072 special votes, or 15% of the total number of votes cast.
In the past specials have favoured Labour and the Greens at the expense of National, and significantly so given many special votes will be first time voters.
It is likely that National will lose one list MP at the final count, and quite possibly two – one each to Labour and the Greens – although that will have little impact on the fact that National needs NZ First to form a government.
The special votes count will be released on 7 October.
THE POLLSTERS
The politicians were not the only ones being judged on election night. So too were the polling companies.
Of the three polls published in the last two weeks of the campaign, when all parties were considered, Newshub Reid was the most accurate, picking National at 45.8% and Labour at 37.3%.
Next was 1News-Colmar Brunton, picking National at 46% and Labour at 37%.
Horizon was the least accurate, and by a large margin, picking National at 38.5% and Labour at 38.2%.
All polls over estimated the Green and Labour votes.
THE FUTURE
The most likely, but by no means certain, coalition scenario is a National/NZ First combination. It's certainly the easier option as it would not involve the problematic Greens, and may suit the longer term ambitions of NZ First to establish itself as a constructive partner in government.
It is quite conceivable that Labour will look long-term and choose not to enter into a civil union with the Greens and NZ First. Labour needs to do three things if it is to be a long-term government.
The first of these they have done – changed their leader to someone with personality and public appeal.
The second is their policies need to be more acceptable to mainstream New Zealand. The Party is controlled by the trade unions so it is no surprise that their policies echo comradeship and a by-gone era where workers were genuinely repressed. The NZ Labour Party should have learnt the lesson from the modernisation of the UK Labour Party under Tony Blair. The trade union influence and the shadow of Karl Marx remain Labour's greatest handicap, and its greatest challenge.
The third thing is that Labour needs to kill off the Greens. It nearly did that at this election by cherry-picking a number of policies from the Green Party manifesto. The 6% Green vote needs to be Labour's if it is to become the first cab off the rank and remove the obstacles and complications that go with being inextricably linked with the Greens.
National has killed off ACT to within a heartbeat. Labour has killed off the Maori Party. It needs to do the same to the Greens, and can do it by out-greening the Greens.
But what of NZ First – which way should it jump? NZ First will have a future if it can demonstrate that it can be a responsible centrist party in government. National would offer greater stability in that regard. The challenge the Party is likely to face within the next three years is the anointing of a new leader. Shane Jones did not post a strong performance in the Whangarei electorate and has not done enough to make him a clear favourite to inherit the leadership from Winston Peters. Ron Mark may be the preferred option.
ACT is now irrelevant to National. Its best chance of survival in 2020 is to develop core policies that appeal to right leaning National voters and hope National does poorly. Only then will it have a chance of regaining the levels of support it had during better times. Otherwise it may be like United Future, which does not have a future.
So who won? National, Bill English, Jacinda Ardern, Labour, NZ First.
Who lost? Maori Party, Greens, ACT, United Future, Gareth Morgan , TOP, Hone Harawira, Winston Peters in Northland.