May 5, 2019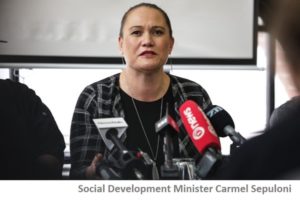 The Labour Government's $2 million Welfare Expert Advisory Group's report was made public last Friday – in the same week that Statistics New Zealand labour market figures showed the number of New Zealanders with jobs had fallen by 4,000 in the past three months.
Of the 3,939,000 working age Kiwis, the seasonally adjusted number who were not in the labour force had reached 1,164,000 in the March 2019 quarter, the highest since the series began in 1986.
It is thought that the Government's industrial relations changes were part of the reason for the drop in jobs being created, along with increases to the minimum wage.
The Advisory Group's report was delivered to the Government in late February, where it sat for nine weeks while Ministers considered their options. In the end, out of 42 recommendations with an estimated cost of over $5 billion a year, Social Development Minister Carmel Sepuloni announced that only three had been accepted – at a cost of $286.8 million over the next 4 years.
The first of the changes will see the introduction of 263 additional frontline staff to help more unemployed people find jobs.
The second will increase the amount that beneficiaries can earn before their benefit begins to reduce – in line with changes to the minimum wage. For job seekers, the threshold will increase from $80 to $150 a week, and for sole parents and those on supported living benefits, from $150 to $250 a week. These changes, which will come into effect on 1 April 2020, will, however, reduce the incentive for able bodied beneficiaries to leave the welfare system.
The third change involves abolishing the controversial section 192 penalty – formerly known as section 70A – that reduces the income of sole parents who refuse to name the father of their child. As a result, those women will receive an average of $34 a week extra from 1 April 2020.
This sanction was introduced by Labour in 1990 to ensure that fathers contributed to the cost of bringing up their children when mothers were receiving taxpayer funded benefits. A rort had developed whereby mothers received cash in return for not naming the father on the birth certificate, so he could avoid paying Child Support.
Under Helen Clark's Labour Government the penalty was increased, while under Jacinda Ardern's it will be abolished.
Comprehensive welfare reform was a major platform for Labour and the Greens ahead of the 2017 election. In calling for an overhaul – including the repeal of all benefit sanctions – the former Green Party co-leader Metiria Turei admitted benefit fraud and was forced to resign.
The Green Party continued on with her call for radical change, writing it into their Confidence and Supply Agreement with Labour: "Overhaul the welfare system, ensure access to entitlements, remove excessive sanctions and review Working For Families so that everyone has a standard of living and income that enables them to live in dignity and participate in their communities, and lifts children and their families out of poverty."
Indeed, the 42 recommendations of the Advisory Group deliver most of what the Greens had called for. And while Labour has only adopted three of the recommendations at this stage – in a response that can only be described as 'tinkering' rather than the 'transformational' approach they promised supporters before the election – they haven't ruled the others out.
This week's NZCPR Guest Commentator, welfare authority Lindsay Mitchell, has examined the working group's report and shares her analysis:
"The Welfare Expert Advisory Group has delivered what the Green-driven government wanted – a recommendation to wildly increase wealth redistribution – an ideological affirmation. The group advises, 'The fiscal cost of improving the adequacy and design of income support is estimated to be around $5.2 billion a year.' That's an increase of around 50 percent on current costs.
"Many of its recommendations are pie in the sky. It wants core benefit levels raised by up to 47 percent. On top of higher abatement rates, paid work for the unskilled would become uneconomical. People respond to economic incentives. For sole parents benefit 'packages' already rival income from employment despite the report's claims about grossly inadequate levels of welfare."
The problem is, as Lindsay notes, when the State gives out money unconditionally, far too many beneficiaries become locked into a dependency trap from which they are unable to escape. That's why welfare dependency has been identified as a very serious risk factor for able-bodied beneficiaries and their children. It's also why, welfare support was traditionally set at lower rates – to provide a temporary helping hand while someone found their feet and moved back into employment. Welfare was never intended to provide long-term support for people who are capable of working.
Many of the recommendations proposed by the Welfare Expert Advisory Group's would, in effect, undo the reforms that had been introduced by National to eliminate the dependency trap and reduce the harm caused by welfare. They had taken an actuarial approach to identify the true cost of welfare dependency to the country and to ascertain the priority areas for reform. They found that the average total life-time cost for those receiving welfare in the year to June 30, 2011, was a staggering $78 billion, with two thirds coming from those who had first received a benefit under the age of 20.
They estimated the average life-time cost for someone on the Unemployment Benefit was $59,000, the Sickness Benefit $96,000, the Domestic Purposes Benefit $123,000, and the Invalid's Benefit $136,000. Young women with children were found to stay on welfare for an average of 20 years.
With teenagers entering the benefit system potentially costing the country up to a quarter of a million dollars, more effort was clearly required to not only prevent young people from needing welfare in the first place, but to better support those already in the system to become independent of the State.
As a result, supervising adults were assigned to work with teenage parents. 'Income management' was introduced, whereby rent and necessities were paid directly from the benefit, grocery money was through a payment card that excluded non essentials like cigarettes and alcohol, and just $50 was available for discretionary spending.
Largely as a result of these measures almost half of all teenage beneficiaries left welfare and the rate of teen pregnancy plunged.
But in spite of its track record of success, Labour's Expert Advisory Group has recommended scrapping the income management scheme for young people.
The Advisory Group also wants to abolish many of the other key changes that National introduced to significantly reduce dependency on the State – such as the need to re-apply for a benefit annually, which has resulted in the cancellation of thousands of benefits by recipients who are working in the cash economy or using multiple identities.
At present, drug and alcohol use is no longer considered a valid reason for avoiding work. Anyone who refuses to apply for a job because a drug test is needed – or who fails such a test – will have their benefit cancelled. Similarly, anyone who is on the run from Police, with a warrant out for their arrest, will have their benefit stopped.
The Advisory Group has recommended that both of these sanctions should be abolished.
When it comes to raising children, the research is unequivocal – there is an increased risk of social dysfunction for children raised by sole parents on welfare. Child abuse, substance abuse, domestic violence, educational failure, crime, suicidal behaviour, are all much higher in single parent beneficiary families than two parent or working households.
This led National to introduce a range of social obligations for sole parents on welfare, to ensure their children are enrolled with a GP, that their Well Child health checks are up to date, that three and four year olds are involved in early childhood education, and that five and six year olds attend school.
With early childhood education available from age three, the work requirements for sole parents obliges them to look for part-time jobs when their youngest child turns three, and full-time when they turn 14. And if they have another child, work testing is suspended until the baby is a year old. When it resumes, the requirements are determined by the age of their next youngest child.
The Advisory Group wants to abolish both the social obligations and the early work requirements for sole parents.
If Labour decided to enact the Advisory Group's recommendations for more generous sole parent benefits and the removal of sanctions, the steady trend of sole parents moving into employment – that has been underway since National's reforms were introduced – would be reversed. This would increase the dependency trap and guarantee poorer outcomes for mothers and children.
The Welfare Expert Advisory Group's chairman is Professor Cindy Kiro, a Maori Pro Vice-Chancellor at Auckland University and former Children's Commissioner under Helen Clark's Labour Government, who should be only too well aware of the risks to children from intergenerational benefit dependency.
Of the Advisory Group's other recommendations, seven out of the first ten are race-based. Essentially the Group wants to see the Maori world view embedded into the welfare system, with the first recommendation stating that the Social Security Act should be amended to reflect that "The purpose of the welfare system is to whakamana tāngata…"
By taking an elitist approach and including race-based terms in their recommendations, the expert panel will have been aware that they would be alienating the vast majority of New Zealanders from properly understanding what their proposed welfare changes entail.
Furthermore, they appear to be attempting to cement into the Social Security Act Maori supremacist ideology by recommending legal amendments that would make the Chief Executive of the Ministry of Social Development accountable to iwi.
But not all partners in the Government are supportive of a 'soft on welfare' approach.
In 2017, New Zealand First's Regional Economic Development Minister Shane Jones announced a 'Working for your Country' scheme to get unemployed youth 'off the couch and into employment': "The country doesn't want people sitting on the couch and not working when there are huge numbers of work opportunities available. There's scores of young hoods in gangs, God knows how they still get a benefit, and they're a menace. I'm not having it. They may not want the obligations of living in our country but they're about to learn when you work for our country life gets a whole lot better."
He outlined how Maori leaders in the Bay of Plenty were at their "wit's end" about what to do with the dozens of young men they send to work in the forestry sector who then "refuse to accept the terms or aren't willing to change lifestyle attitudes", such as drug testing.
Shane Jones said, "If you're in receipt of a benefit and not willing to change your lifestyle and get into work, then expect sanctions to be put on you."
While the Minister's proposals clearly met with opposition and were never enacted, they do illustrate the gulf that exists between New Zealand First's approach to welfare and that of the Greens.
The Welfare Expert Advisory Group would be well aware that while their recommendation to significantly raise benefit levels would increase long term dependency on the State, it would also generate strong support from recipients for the Government. Perhaps that's what they wanted to deliver to Labour and the Greens – and perhaps that's what Labour will plan to enact before the next election.
But putting political considerations to one side, Government Ministers also need to weigh up the cost to children – reliance on welfare harms children and the longer the period of dependency, the greater the harm.
The reality is that welfare systems need to be continually reformed, but not in the manner proposed by the Advisory Group. Their report has, however, created an opportunity for National to propose its own welfare reforms – as a decisive point of difference.
The underlying philosophy of welfare should be to provide support in times of need and to transition people from welfare to work. In that respect the Expert Advisory Group's report is a total failure and an indictment on its authors.
THIS WEEK'S POLL ASKS:
Do you support Labour's decision to abolish the penalty for mothers who refuse to name the fathers of their children?

*Poll comments are posted below.
*All NZCPR poll results can be seen in the Archive.

THIS WEEK'S POLL COMMENTS
| | |
| --- | --- |
| The father should be accountable | Laurie |
| front up or be penalized I say Fathers have to be made responsible for there actions . | Bill |
| words fail me ; ask the tax payer ,so silly is Jacinda ; she really needs life experience , so that she can make informed decisions about people and the way they operate . | Roy |
| Ultimately only encourages breeding at the tax payers expense, there now being no obligation to name the father and for him to pay his way. | Colin |
| we are going down fast | Whitty |
| If a Mother chooses to be a solo parent and seeks the community to pay for the child's upbringing through State benefits then the community has a right to seek recompense from the Father. Where the pregnancy has been caused by horrific circumstances of rape and/or incest then the Mother should be given as much support as possible from family, community and the State. This does not preclude naming the perpetrator where they are known. The child's wellbeing is paramount and it is important to raise children in a loving caring family but financial handouts will not overcome that child%u2019s painful void later in life by having unanswered questions about their parentage. | Martin |
| Changed my mind on this. My earlier position, days ago, when I voted Yes, is, upon reflection, not sound, and it must be remarked that while it shan't be possible or seldom possible for an absentee father to evade attachment orders, for child care support, nevertheless there are cases where the mother has reason to not want the father having an access to the child. BUT some persons being what they are, these will exploit, as best they might in their wiles, coniuring a deceit of not disclosing the father, and think that'd be a clever ruse to evade financial responsibilities. Such would happen somewhat more now that before. Remember that some mendicants and marginals are more cunning than we are smart. | Leo |
| There has to be some measure of responsibility instilled in the individuals to make them accountable | Bob |
| | |
| --- | --- |
| How do we get rid of this socialist leader and her lot of bloody losers? Of course the father should pay and there should not be ANY benefit if she produces another baby while collecting from the taxpayer. If Australia thinks Taxcinda is so wonderful, they are losers too and are welcome to her. Good riddance Jacinda. | Carolyn |
| What is the thinking of this government – of course the father should be named. We have gone from one extreme to another. Those mothers who do not name their offspring's father should be ashamed of themselves – sooner or later their children may want to know their heritage – it is their God-given right to know. TV programmes re Lost and Found and Who Do You Think You Are, are popular viewing. This whole scenario infuriates me.. Soon there will be more beneficiaries than workers what then. Some of these young mums have never earned a dollar – what a joke this whole business. Nobble the fathers – let them pay for their fun. | Fiona |
| You had the fun, now pay the price. | Mark |
| Both parents need to be involved in the upbringing of their children. | Craig |
| What a RORT this Report is – very clearly a racially driven bias in play . . . . | MervB |
| only a stupid person spending our money could think of it | barry |
| Personal responsibility. | Michael |
| I believe that the DNA test should be done if the father is not named so that he can be sought out and support the child he fathered.. The social welfare system in this country should be available according to need alone. | Bruce C |
| Labour has to have an underclass in society who are dependant on their taxpayer monetary benefits bestowed on them, and the dangerous Green party even more so. They display PEAK STUPIDITY at undermining responsible society and it is imperative we vote these Greens out forever at the next election so therefore eliminating MMP as well as grinding Labour into the dust so they never impose their communistic policies on us again. | Monica |
| No I do not support un-named fathers although I think there should be a provision for the Mother to make a un-named unknown statement to police and furnish a DNA so that where possible the father might be located and for welfare to garnish the fathers income. There is a case for fathers that have children by the same mother to have payment reduction and for the mother of multiple children to have reduced income but all liable fathers sharing equally. Where welfare is paid there should be no court ruled amount for any one child. Govt needs to cleanup these anomalies and make the system fair on all parties not making the system a gravy train for unintelligent breeders. We also need to address the matter of polygamous welfare recipients treating the welfare as a game. By any measure the welfare numbers should only be a few single digit percent of the workforce not fully a quarter of it. | Richard |
| And they should be pay to help with the upbringing. | Tim |
| When and who is capable of standing up and say this stupidity in the name of vote buying has got to stop before the country goes broke? Name one political party who would? The answer is; none of them! The country is in such bad condition with unrepayable national debt and reliant for the majority of our wealth creation on a communist, facist country-China! And the band plays on. This can only end badly. | Rex |
| many will become a baby factory , just for the money and let the state look after there off spring . I know someone who did it in the past | Buster |
| What planet is this arsehole government on? .. Yet another dumb decision by a group of dumb people who should never have been in power. What they are in fact saying is .. the working tax payers will keep paying you to keep getting pregnant for as long as you don't ever want to work,, and the fathers dont need to pay any more. Unbelievable!!! But then, what do you expect from a dumb tyat wants to legalise canabis? | Des |
| Children need to know who the father is. Then they need to know he cares enough to make a contribution, no matter how small, and to take an interest. This is an appalling bit of legislation .If he opts out this early there is grief ahead. We cannot base legislation on a negative assumption – that fathers are all dangerous. | Jennifer |
| So the tax payer picks of tab for any man sowing his seed where ever he likes. Men iu So the tax payer gets to pick up the tab for any man who sows his seed far and wide., Once a man had to pay maintenance, if they did not pay a warrant was issued for their arrest. This government, thanks to Peters. will be the most socially destructive ever elected this land. | Dene |
| Want to grow up not knowing who your father is? On your birth certificate "Father Unknown"… | Neil |
| No benefit at all should be the logical move. Good old Labour – keep them all dependent and under control at all the taxpayers expense. | Craig |
| is this government being bloody minded just because it can; reversing responsible welfare progress made under national. Clearly they are not concerned about the finances of the country or encouraging personal responsibility | Sam |
| I can't see why the fathers can't be held accountable to help support their children. Why does the government through a benefit, think the tax payers should pay.? Unless the father helps to pay, I suggest the Mother doesn't receive a benefit. There are far too many people ripping off the system. | Josephine |
| everybody is responsible for their own actions, fathers included | Gerard |
| If they know who the husband is he should definitely be named. | Clark |
| no , the ones who refuse most probably wont know anyway, | James |
| Another stupid decision. Fathers and Mothers should be responsible for their offspring, NOT the taxpayers of NZ, | Audrey |
| Definitely not. | JILL |
| It is another form of child abuse. All children have the right to have their father named on their birth certificate. This is a disgusting act by this Government, and I see a future grovelling apology from another Minister for their treatment. It will be all our fault of course, we who will end up paying. So much for the so called Children's Commissioner – what a joke he is. | Marc |
| If you want fun pay for it ,user pays these days | Gareth |
| This is ridiculous, probably as ridiculous as putting the child up for adoption if they don't disclose the fathers name. Hey, is that a possibility. I have met many couples who can't have children and resort to all sorts of methods to get one. With the pressure and incentives for the solo parent to keep the child there are very few available for adoption and Maori birth mothers are encouraged to have their children raised by the Whanau | Mike |
| It is so wrong to bring this in, when they should be more active in making the now policies stronger | Tony |
| Why should the taxpayers foot the bill for what is is a father's responsibility? | Duncan |
| A significant number of Government policies (including H&S) have done, still are, and will increase the basic human principle that THERE ARE ALWAYS CONSEQUENCES FOR OUR ACTIONS. What is its future ? | Maurice |
| Social welfare is a privilege kindly provided by the taxpayers of NZ, its only reasonable and fair that the recipient of such welfare have an obligation to disclose such information as the fathers name to receive such welfare. | John |
| Father's should be named and the have the duty to support their children. If they state categorically they are not the father then it should be proven with a DNA test. If women don't want to have children there is always Birth Control available. | Diana |
| And this is why I am voting for the New Conservative Party. Personal responsibility is better for everyone rather than handed money for doing nothing. Tragedy. Kiwis will never wake up because they are hypnotized by the global media | Jack |
| No. Completely unaffordable. The heavier and heavier burden on working tax payers is un sustainable. But hey, that's the socialist/progressive plan. Problem is that most people just try to live with these dumb ideas because "that's the way it is" or "what can I do about it" or any other apathetic excuse. So the answer is get off your arse and get politically active and get rid of this illegitimate government of non elected list amateurs. | Neil |
| Responsibility must be taken. At the very least she should present a short list of possible fathers. | Ann |
| Just another Labour vote catcher | Arthur |
| Time to abandon the wretched hateful politics of revenge and oppression of the poor. Time for positive encouragements and real directions. | Leo |
| The changes to the welfare system proposed by this government will increase welfare dependency and cost taxpayers unnecessary millions. I don't agree with much of what Shane Jones says but I do agree with his comments on young people getting off the couch and being prepared to contribute to society. There needs to be penalties and other consequences for beneficiaries who refuse to work when they are able to. | Kerry |
| Far easier to blame the myriad problems of welfare dependency on colonialism, rather than the nose-in-trough lifestyle adopted by what are in many cases dead-beat parents. | Lesley |
| Another mad PC decision from the Commie Coalition Govt. How much will this cost the NZ tax payer?? | Wayne |
| It would be hard for many of these mothers to name the father as sex is just another fun game to them, the more the merrier. | Tom |
| Many mothers who are sexually active cannot necessarily identify the specific male who is the physical father of the child. | John |
| Why should the fathers totally escape any responsibility and the taxpayer covers the cost? | Frank |
| If they know, he should be named. | Jan |
| If we want responsible citizens then there must be so me rules by which to live – otherwise we will end up back in the stoneage | Rob |
| Penalty provisions were well thought out before they were implemented. I see no reason to change them. | Dennis |
| Why should I pay for someone else's fun and games????? Takes two to tango and it takes two to provide for a baby, if the child should have a chance of negotiating the real world. | Elizabeth |
| Leave things as they are. | Bob |
| I have to vote no. I don't want to because it punishes the children. However, to not vote no is to allow parents of children to be irresponsible. Anyone who has children has to step up, be a parent and provide. | Robin |
| The Father of any child should have to contribute to the cost.Married couples have to do that why should irresponsibility and loose sexual behaviour be rewarded? | Murray |
| | |
| --- | --- |
| This requirement is surely a no-brainer. The Father has responsibilities for the upkeep of children he has fathered, and the Mother has no right to withhold this information. Why should the taxpayer be encumbered with further responsibilities of child support when the parent's have no responsibilities other than collecting the benefit, or legitimately avoid paying their fair share and abrogating all responsibility of their actions? Alexandria Ocasio-Cortez would be proud of this Advisory Group in the way they propose to distribute taxpayers moneys – apart from solo parents having no responsibility for the financial well-being of their off-spring, the unemployed would have no responsibility to seek employment and be free of drug and alcohol dependency (the taxpayer can support their habit). Is this the "caring" a socialist (Marxist) Government keeps harping about? Where does taking responsibility for one's actions enter the equation. Where does such policies encourage personal responsibility? They are certainly working hard to produce a multi-generational captive electorate! | Michael |
| So who picks up the TAB? They still get them in OZ to pay, Crazy Govt.. | IAN |
| No, and I don't support any other initiatives that make it easier to stay at home instead of going out to work and earning some self-esteem, as well as a valued place in our community. | Hilary |
| Problem is some of these women wouldn't know who the father is | Bev |
| Absolutely no. This b Government is going to turn NZ into a Zimbabwe type country with serious racial problems | Mike |
| Men and women are both as culpable as one another it takes 2 to create children | Laurel |
| Fathers must be compelled to pay support for children they have created. | Graham |
| Women already find bringing up self absorbed fatherless children a stressful task. Why give half of all those responsible for producing children off Scott Free when these mothers struggle alone or indeed are hampered by layabout boyfriends who may abuse the children? | Ray |
| Why does the government wish to encourage predatorial men to prey on vulnerable women? | Ken |
| This 'expert group's report is just another ruse( at a fat expense to the tax payer) to drive home this sinister pseudo socialist agenda. The purpose of this agenda is to force more people into dependency on the state welfare system and create willing voters for the red greens at the same time. None of these people are either capable or willing to contribute to society and they are kept in the doldrums on purpose. Single parents who are permitted not to name the father, people on all sorts of dole schemes, legalizing cannabis, a legal system that favours the offender and punishes the victims, gender and identity politics, the sustained tyranny of minorities ,surpressing free speech ,tearing the Bill of rights into shreds, turning our schools and universities into indoctrinating propaganda facilities, importing so called refugees and letting our own poor live in cars, denying our young families the chance to buy a affordable home but putting a cowboy into charge squandering 3,5 billion dollars on so called regional development funding without proper accounting, the entire left leaning MSM feeding opinion pieces instead of proper information , The Human Rights Commission in charge of a person with more than a questionable agenda from the UK. The list is becoming endless and we have not seen the bottom of this pit. One thing has become obvious. This Coalition can be compared with the riders of the ( political) apocalypse The rapid decay of our morals and ethical values are condoned by this deceitful Coalition . This will end badly for N Z and when people start to wake up and realize what they have subscribed for it will be too late. | Michael |
| I think if they genuinely know, they should have to name him. | Tom |
| A country that women women a lifestyle choice of having children to provide herself with an income should be ashamed of itself. And not necessarily with the same partner. Shame, shame, shame. Don't act surprised when the number of children being abused, and dying increase. Wake up New Zealand. | Grahame |
| Both parents should e expected to contribute to the welfare o their children. More effort in family planning and budgeting advice should help those who shouldn't have children if they can't afford to have one, or limit the amount of children they have. | Lulu |
| Certainly not. Fathers must be equally responsible and pay for the support of their children. They must also have access to their children. | Keith |
| It's simply a way of escaping paying their obligations. Suits Labour and the Greens who don't care what taxpayers have to pay. Disgusting! | Roger |
| Promoting irresponsibility and letting free the scum fathers. | Colin |
| This is a COP out they should be penalized for NOT giving the fathers name. | Carl |
| Really Labour? | Jo |
| In this modern society, where family & family values no longer seem to rule, anything seems to go. And largely destroyed by Labour & their cohorts. | David |
| Another Labour rort, looking for votes. What a pack of losers they all are. Of course now I had better watch what I say. Freedom of speech ha ha. | Fraser |
| The father(s) should be paying as all of us who brought up our children did. We had no anonymity to hide behind. It was our DUTY to bring up our own children so why the hell should not the fathers of these children be FORCED to pay for their upbringing. If the mother's don.t name the fathers then their benefits should be reduced until they do. Under this damn left wing government and their loony mates the Greens we will suffer further until we get rid of them. | Alan |
| Blatant vote catching from a cohort of ideologues with a total disregard for commonsense. | Ross |
| Unless of course the person doesn't know who the father is. | Steve |
| Absolutely incredible politicians could even consider the social and economic damage such a move could create for this small country | Joe |
| Absent fathers owe many millions of dollars to the tax payer. Compulsory naming will / could stop young women getting.pregnant So as to increase their benefit.payments. | Brian |
| Tax payers are left to "pick-up" the bill for another government decision. When do politicians wake up? | Dawson |
| it is vote catching. please don't throw me out at the next election. Fathers should pay and have their name published to warn their next lady friend. | Johan |
| But there make be mitigating circumstances from time to time when it is not in the best interests of Mother and Child to name the Father | Albert |
| what is wrong with these stupid people who are able to get on these advisory panels, do they ever wonder how these stupid ideas are going to be funded. | Bill |
| There are just to many ways to dodge this sort of thing it%u2019s well past time to put a stop to work dodgers and make people front up and do the right thing | Peter |
| Dear God … I didn't think it could get any worse. But how wrong was I!! | Maddi |
| Definitely not. We are supporting too many dead losses now through taxes taken off those who work for a living. | Tony |
| The parent's should pay for their kids, not the taxpayer. | John |
| Mothers should definitely name the father and he should contribute towards the maintenance of his child. If they don't know who the father is (it happens!) then they should receive a reduced benefit. I know this would penalise the child but it might make the prospective mothers more careful. In fact I personally don't think any benefit should be paid to anyone who has a child whilst on the benefit. That would stop the many who are using it as a lifestyle choice. | Helen |
| Most definitely not but you have a socialist government led by a champion socialist in Ardern so don%u2019t be surprised if it goes through.Welfare and welfare abuse is holding this country back | Don |
| | |
| --- | --- |
| I guess you can't expect anything more from Labour. You have to tinker with something that is working and stuff it up further. It is only money at the end of the day, and they are Labour's voters so why not. Yeah right! | Graeme |
| Fathers should be named so IRD can get reimbursed for solo mother benefit. The father should be made to pay rather than the tax payer | Steve |
| Another let off. Does anyone want to accept responsibility for anything under this present Government. God defend New Zealand, at least we got that right. | Geoff |
| Why should The farther not pay or help pay for the upbringing of the child. | Cherryl |
| Disgusting disrespect for the NZ Taxpayer. | Geoff |
| Every child has the right to know who their father is. | John |
| No. Why should randy careless young men avoid any responsibility for children they sire and why should careless irresponsible young women receive the full benefit for their children without naming the father?? Even if there are several potential fathers the actual father can be determined by DNA testing. | Alan |
| I can not see any benefit in this decision. The Govt needs to get a lot tougher on these people who have made a lifestyle from benefit stealing. I am so very disappointed in this Govt but will remedy that next year. They don't seem to have any sense among them | Barbara |
| All fathers should be responsible for child support but if some avoid it by putting pressure on or threatening the mother then it is not equitable for those who accept responsibility and do pay child support for children who are withheld from them. | Michael |
| Why would any woman name the father now? It is rank stupidity. | Laurie |
| I think they should double the penalty, not abolish it I also wonder how many don't even know who the father is !!!!! Rod | Rod |
| definitely not. | Kt |
| NO name. DNA Test then no benefit. Tough love | Frank |
| It's open to abuse. A couple can get pregnant and she can get the full benefit and live together with the father | Trevor |
| If you choose to have children /don't take steps to avoid unwanted pregnancy wether you are male or female you have to pay to support your children | Terry |
| An emphatic no. | Neil |
| It is all getting out of hand | Colin |
| Open to abuse. | Jo |
| I disagree with most of the proposed changes | Phil |
| A solo mother's first port of call for financial support is the bloke she got into bed with – not the taxpayer. Not naming the father just let's the father off to repeat the performance in someone else's bed with no repercussions at all. This decision is merely Labour's way of garnering more votes with our tax dollars. | Dave |
| Daft! | Mark |
| Where have all the responsible men gone? Surely a real man would want to take care of his child? | William |
| why should they not be named and be responsible for their actions | John |
| Total nonsense again from the idealogical watermelons in this coaltion government. Once again taxpayers to be fleeced by the lazy beings not prepared to get off their fat a**es and earn an honest income for themselves. Embedding state dependency into the next generation. All the hard reform work undertaken by National undone in the stroke of a pen. | Chris |
| There are enough men avoiding their obligations without increasing the total. If the WOMAN involved cannot name the father then it must be assumed that she is a prostitute & be liable for income tax also. UNLESS there is a Police report confirming (not just alleging) rape. | Nick |
| only if they get sterilised. | Chris |
| The recently announced drop in birth numbers to solo parents may in part have been due to the now historic introduction of the policy that the father was required to be named otherwise the penalty was imposed. It will be interesting to see if there is a reversal in the years to come after the penalty is lifted as proposed by this government. Would any one like to make a prediction? I am all in favour of these mothers and fathers having to take more responsibility for their actions. For the sake of the children they should know who their biological parents are and for this fact not to be hidden from them. I suspect that not naming the father is a ploy to exclude them from the child life. This then often leads onto some of societies other problems that desperately need addressing. Another shortsighted fix by this government who are only interested in picking up the easy votes to ensure reelection. | Gary |
| Jacinda and her labour cronies want people to become more dependent on the state as they can then promise them more money so they will vote fro them in perpetuity. I just wonder what Michael Joseph Savage, Walter Nash, Arnold Nordmeyer would think of the pack of labour Clowns and Green lunatics who are slowly but surely stuffing the Country | Colin |
| Both parents must share this responsibility. It isn't rocket science. | Chris |
| a retrograde move that enables more fathers to escape responsibility for the seeds they sow. Wrong | Jeff |
| Penalties on the benefit may not be the best way of dealing with this. In my opinion when mothers refuse to name fathers they should be investigated and often prosecuted for child abuse, being the abuse of depriving a child of a relationship with the child's father. We have plenty of research evidence showing this damages children's lives seriously on average. However, I vote 'no' to the current change because I object to its underlying philosophy and the consequences in the absence of protections for children's relationship with fathers. | Hans |
| The fact that Maori make up 59per-cent of solo mother statistics is proof enough that the free ride system is discouraging personal responsibility in that ethnic group. Now we have MORE benefits to be thrown into the ring, thus making sure that a now entrenched, irresponsible generation of all ethnic back-grounds will remain government dependant, & supportive, probably for the rest of their miserable lives.. An example of extreme SOCIALISM at its best… | A.G.R. |
| Empirical evidence is unequivocal . Welfare destroys its recipients. One need only look at the research conducted by Thomas Sowel on the effects on black Americans. The effect is taking over the rest of America. In NZ I predict within two generations 80% of New Zealand children will be raised by women married to the State without responsible father's or male role models in the education system. Testosterone has been identified as toxic by the radical left and it and it's expression outlawed and eliminated. In international sport testosterone levels not the existance of the X chromosome decides eligibility.. If you don't want to be a social outcast in the new world get your sex change treatment now. | Mervyn |
| NO I DO NOT ……if a mother wants the benefit to which she may be entitled in law, then it is up to the lawmakers to ensure that provisions exist to make this an equitable deal. Name the fathers, NOW. Interesting situation I came across a while ago – maybe about eight years past. – a young lass assisting me with a job told me all her unwed friends are having babies so they can get the allowance, stay home as much as they like, and put their names down for a State house. She seemed to think this was normal. Since when. ? Meanwhile, in order to pay for her help, I have to work extra time, pay my taxes, and then pay her. and I'd bet a pound to a peanut she didn't declare that income either. I may be Irish, BUT! that equation seems a tad lopsided to me, or am I just old fashioned? | Mabel |
| assuming responsibility is fundamental to being an inclusive member of society. Labour's aim is to capture the careless voter. | David |
| Long ago we called it using a carrot and stick. It is still relevant when training children and should be applied to anyone claiming a benefit. Society doesn't work by offering free rides. I wonder why the present Labour Government has changed its mind on something supported by Helen Clark's administration. Perhaps it is a step further to the Left and Socialism by the present nutters.. Give welfare to all possible candidates, raise tax on anyone who achieves success and bankrupt the country. | Chris |
| Except in cases of rape | Andi |
| Ironic that they wring their hands about child abuse and then introduce a measure that will inevitably increase it. | Peter |
| Why should the tax payer pick up the father's responsibility. | Graham |
| Incentives promote work. | Mal |
| I fail to see any reason for me to pay just because the female chooses to decide that the father shouldn't. | Vernon |
| Naming the father of the child is called parental responsibility. Also if you have a second illegitimate child, the benefit should not increase! | Sylvia |
| Being paid for a night out when will it cease, that is the hand outs | Warren |
| There are enough incentives to "Breed" as it is removing this penalty will give no financial recovery to the taxpayers of NZ for unprotected sex resulting in NZ "bastards" rate increasing | Tom |
| Socialism gone nuts. Where is the personal responsibility in NZ. It is only through the wonders of MMP that this Government gained Governance. | Norm |
| It will be abused. | Jan |
| The father has to shoulder his share, not the tax payer. | Andrew |
| All people who cause children to be born need to be held accountable to provide and care for them. | Allan |
| Absolutely not – we need a slower population growth and single women who produce more than one child without full male support should have their benefit reduced. | Gerry |
| Definitely not, as this effectively does away with any personal responsibility | Ted |
| If that's the way Labour want to build their voter base they are even lower than I thought. I also think it will lose them a whole lot of votes from others. | Terry |
| It has the unintended consequence of further children being born into a less than satisfactory environment | John |
| Plenty of money in the kitty, let's use it to buy some more votes | Peter |
| Too much leniency … | Kevin |
| | |
| --- | --- |
| This is a significant step that will materially damage New Zealand society in a number of ways. | Peter |
| Long term dependency when work is available corrodes the individual, community and society. | John |
| The fathers need to have some responsibility for their actions | Paul |
| What is our country coming to by abolishing the penalty for mothers who refuse to name the father of their child. The implications are we will have plenty of flat mates living of the benefit and increasing revenue every time a child is born. Knowing our father most of us are curious at some time in our life to find out our ancestry & it also allows us to find out any hereditary problems. labour has not thought this through it is obvious to me the only conclusion I can arrive at is vote catching. | Roydon |
| A great pity that so many government policy changes ignore human psychology – people tend to act in their own self interest. | Stan |
| The father has to be brought to account before public funds are made available to bring up his child. | Maureen |
| so we return to a system where mothers get paid to have multiple children so they never go to work again. | John |
| Why should the fathers get away with no contribution and the tax payer pay?? Crazy! | Sandra |
| No name should mean no Benefit Time to stop the gravy train from the taxpayers if you can't name the father | Kevi |
| Of course they should, how ridiculous | Graeme |
| There seems to be no individual responsibility anywhere. | Chris |
| why should the tax payer have to pick up the cost that the father is under no obligation to pay any thing stinks | Russell |
| Absolutely not! This is just another socialist ploy to give heaps more support to those who cant or don't want to respect family structure or personal responsibility – or if they do work they still want more and more from 'you' – for nothing – especially if it can be perceived 'you' have more than 'me.' Lets just play – and then play some more , cos welfare will support us! | Stuart |
| WHY should OUR TAX be spent on these LAZY people.Nationals benefit rules were well thought out & made people to take responsibility how they looked after children & they lived okay & OUR TAX money was spent responsible. | Cindy |
| The mothers should absolutely have to name the father of the child. If they want assistance from the Govt these costs need to be reimbursed by the father. | Toni |
| Where the hell is parental responsibility. As a society, why should we have to pick up the tab for someone else's fecundity!! | Tony |
| Not to name deatbeat dads for sleeping around and impregnating females enabling them to get pregant so they can bludge off the hard working NZ taxpayer is an abomination and an indictment of a country being run by a bunch of free loaders and losers.What a web has been weaved by Peters decision select the present regime. Can it be changed before NZ becomes the Socialist Republic of the South Pacific.The jury is still out on that one. | Tony |
| Why not just tax all unmarried men aged between 16 – 35 in case they've sired children? Might be easier! | Jenny |
| It takes two to make a baby. Why should the father escape responsibility for something he has helped create. | Richard |
| I fail to see the link between Red and Green unless the green part is a con. | Richard |
| What!! if they refuse to name the father, that is a choice that should directly waiver the financial support from the hard-working tax payer who are not responsible for the child. The REAL father is responsible, just like with any NORMAL parenting! | Alex |
| Just another piece of left wing rubbish . Truth be known in this promiscuous society most of them probably couldn't be sure who the father was . | Jock |
| As soon as a single mother knows she is pregnant, and is likely to be claiming a "benefit"from the public purse, she should be obliged to register with WINZ and reveal who the possible father/s is/are. | Anthony |
| | |
| --- | --- |
| No – none of the sanctions that are in place should be removed. The Government should be able to recoup some of the cost of the benefit for sole mothers from the fathers of the child. | Ray |
| Labour is soft on welfare. | Gerry |
| The rorts that are going on in the welfare system should be stopped. But removing sanctions is not the way to do it. | Mary |
| Dads should have to pay up. | Jason |
| The working group's report is a shocker. If their proposals were enacted, it would bankrupt the country! | Gordon |