November 13, 2016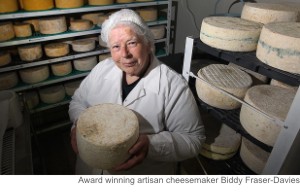 Bad laws are the worst sort of tyranny
– Edmund Burke, 1780
Imagine being an artisan cheese maker, so proud of your product and your whole organic farming operation that you agree to Country Calender featuring you on their show. One would think that should be a good news story – but not so for 74 year old Biddy Fraser-Davies of Cwmglyn Cheese. Within minutes of the programme airing, government bureaucrats started hounding this award winning cheese maker, over the years taking almost half of her businesses earnings in compliance costs and fees.
Biddy milks four dairy cows, Patsy, Dizzy, Lily and Isobel, on her small 4 hectare farmlet in Eketahuna. Her milking parlour and cheese-making room were purpose built to the specifications of the Tararua District Council's Environmental Health Officer. For the first five years of her operation she held a licence to manufacture cheese from the Council and operated with their oversight. There were no health and safety concerns – until that Country Calender feature screened in 2009 and she came to the attention of Wellington bureaucrats.
Biddy explains that she hand-makes the sort of hard Farmhouse Cheese, that was developed centuries ago as a peasant food to preserve the nutritional value of milk. Her cheese won a super gold award at the 2014 World Cheese Awards in London. It is sold by some of the country's finest restaurants, specialist cheesemongers, as well as from the farm gate.
Ever since the New Zealand Food Safety Authority became involved, Biddy has been trying to reduce her compliance costs, but unfortunately, the Ministry of Primary Industries (MPI), which is responsible for food safety, is not listening.
She explains, "The evaluation and verification of premises has to be regularly carried out by only one or two 'MPI recognised' auditor companies. The cost for a small 4 cow operation like Cwmglyn is over $4,000 annually. But if you want to make raw hard cheese, you hit a bigger barrier – as there are no raw cheese auditors in New Zealand, these operations have to be audited by MPI. Not only do MPI charge a substantial fee for 'Dairy monitoring' based on the annual milk solids total (the lowest level for charging is 15 times higher than Cwmglyn's annual production), but any MPI auditor services are charged at a rate of $173 an hour plus travel and accommodation costs – this is on top of any registration fees charged for your operation.
"Raw cheese making incurs additional costs: two milking shed inspections annually at around $300 a time, annual milking plant inspections are another $400, water testing, 2 veterinary herd inspections annually, TB testing annually – you have to be pretty stubborn or foolhardy to want to make raw cheese under these conditions."
On top of this is a 'validation' process, which cost Biddy $10,000 for 10 of her cheeses. This involves intensive microbiological testing, but is based on regulations that are up to 10 times more stringent than those in the UK and 100 times more stringent than those in the European Union – yet their cheeses are imported and freely sold in New Zealand.
Whilst the safety of food produced in New Zealand is clearly of paramount importance, the unreasonable compliance requirements for artisan cheese makers, with their extremely small batches, not only imposes a financial burden that is excessive, but it drives up the price of cheese.
Dr Paul Neaves, head of the Technical Committee of the UK Specialist Cheese Makers' Association, who is presently visiting New Zealand, believes that the levels of testing required by MPI is disproportionate to the risk.
He explains that the Hazard Analysis, Critical Control Point (HACCP) food safety management system, invented in the United States by NASA to ensure the safety of food for astronauts on space missions, is used in the European Union and increasingly in the UK. It assumes that if the food processes are known to be safe, and have been followed exactly, then the end product must also be safe. Thus, for artisan cheese making, the monitoring of acidity development during curd production, together with salt content, moisture content and the pH value of the maturing cheese, is all the evidence needed to demonstrate microbiological safety.
With a well-written and approved HACCP plan in place, he believes all that is required is an occasional spot check of end-product testing, rather than the present excessive sampling regime.
In fact, the HACCP system is also used in New Zealand, but instead of it being the primary method of ensuring food safety, it is used in addition to all other requirements.
Without a doubt, the food industry, with around 40,000 regulated businesses and 85,000 food premises, is extremely important in New Zealand, accounting for more than 10 percent of the country's gross domestic product and one in five jobs.
In the year to June 2014, food retail outlets and services turned over $27 billion, and food manufacturers, over $47 billion.
Food exports in that year accounted for over $29 billion out of the country's total exports of $51 billion. In comparison, New Zealand imported around $4 billion worth of food.
Since the food industry is also one of New Zealand's most innovative sectors, small operators need to be nurtured and encouraged, rather than punished by excessive regulation. In fact, many successful entrepreneurs, who have established leading food brands, started out on a very small scale in the family kitchen.
EasiYo Yogurt, now available in more than 20 countries, was developed at home by school teacher Len Light, as a way of making affordable yogurt for his family of eight children.
Lisa Er, used her time as a young mum on a benefit to experiment with chick peas, her food processor and kitchen stove, creating the well-known Lisa's Humus. When she eventually sold to Sanitarium, she was employing over 100 people.
This week's NZCPR Guest Commentator, food journalist Anna Tait-Jamieson, who herself established a successful food manufacturing business from the family kitchen, firmly believes that small operators need to be encouraged, not penalised:
"New Zealand is the world's leading dairy exporter. Milk, butter and cheese: it's how the world sees us, and yet our food safety laws make it nearly impossible for our artisan dairies to operate. I believe we are reaching a tipping point – by trying to eliminate risk, we risk losing the artisan sector.
"We need these small businesses to succeed because they do what the big companies don't. They innovate, they set trends, they test the market, and the big companies follow. You see it across all food categories – craft beer, artisan bread, coffee, ice cream, even butter.
"I speak from experience having introduced fresh pasta to New Zealand many years ago. We started small, built the business over several years (with no food safety issues) then sold it to a multi-national company who saw value in further developing the category. Fresh pasta is now mainstream.
"Could we have built that business under the current and proposed food safety regulations? Given the compliance costs, I don't think so. Neither, I suspect, would Kapiti Cheese who started at the same time. They're now owned by Fonterra. That's how it works in the food industry. Small companies innovate, big companies follow, or take over."
Anna says it's high time that MPI got together with the country's three specialist raw cheese makers to work out a sensible validation and testing regime that's appropriate to the small scale of their businesses. And as part of that process, it seems only sensible for MPI to train locals to carry out the inspections that they are imposing, in order to ensure their compliance costs are not crippling.
But it isn't just artisan cheese makers that are having difficulty with food safety laws – many others feel the regulatory burden is too great, especially low risk businesses that have never needed to be registered before.
The new legislation, which came into effect in March, imposes a wide range of costly bureaucratic requirements, including the need to be assessed and "verified" by a council Environmental Health Officer or independent food safety auditor, the need to be registered with the local council, and the need for on-going record keeping and inspections.
Food businesses deemed to be 'high risk', such as restaurants, are required to operate under a regulated "food control plan", which must be in place by June next year. Medium risk businesses, such as bakeries, are to be regulated under "national programmes", the year after, while low risk businesses, such as fruit and vegetable sellers, will need to register a "food plan" by February 2019.
While those selling home-grown produce at markets or gala days for fundraising purposes, will be exempt, they will nevertheless be required to ensure their produce is "safe and suitable" for consumers – that is, unless they sell their produce more than 20 times a year, in which case they will need to register with a food plan.
These law changes were introduced in response to what the Government claimed was the massive cost to New Zealand of foodborne illness. However, a closer scrutiny of the figures provided by the Government to justify the wholesale regulation of the sector indicated that they had been grossly inflated.
Essentially, while the economic impact of six foodborne illnesses was said to be $162 million, a breakdown of the costs showed only $6 million of that was directly attributed to medical care. The balance included the cost of regulation ($17 million), business compliance costs ($12 million), lost work output ($27 million), and the cost to individuals of being sick ($100 million)!
In other words, as a result of these questionable costings, overly stringent new requirements are now being imposed on the whole food industry.
So have the number of cases of foodborne illness gone down? Well, it's too early to tell, since the new regulations are being phased in over a three year period.
However, there is no doubt that early indications show many food businesses, like the raw cheese producers, are finding the regulations are far too bureaucratic and costly.
The horticultural industry, which already has a robust audit process in place, is concerned that the new requirements will double the regulatory costs on commercial fruit and vegetable growers, for no real benefits – driving up the price consumers will have to pay for essential fruit and vegetables.
Childcare centres have raised concerns about the onerous requirements they face, especially the council inspection services, which they were told would cost around $300 a visit, but in some centres are costing around $4,000. They say the new rules that cover centres are "a nonsense", since they were designed for manufacturers and restaurants.
Stall holders at local markets are also concerned – reports indicate that some stallholders in Northland, who are selling produce for only four hours a week, are facing bills of up to $2,000 for "authorisation" – the same fees that are being charged for full-time producers and food retailers. And with only one person in the region allegedly able to process these authorisations, the fees are being grossly inflated by travel and accommodation costs.
These debacles are no doubt being replicated all over the country.
The point is that if small food enterprises are faced with huge bureaucratic burdens and costs, many will simply give up – the food bill will end up driving them out of business.
It is clear that adverse publicity has now forced MPI to consult with the public over whether the new law is working as well as they expected.
So, if you have concerns, we would urge you to send in a submission before 5pm on December 5th – full details can be found on the Ministry for Primary Industries website HERE – or you can email your views directly to foodregulations@mpi.govt.nz
Please help spread the word, by sharing this information with others, so that those who are battling the new law become aware that they can have a say.
THIS WEEK'S POLL ASKS:
Do you believe the new food regulations are too bureaucratic?

*Poll comments are posted below.
*All NZCPR poll results can be seen in the Archive.

THIS WEEK'S POLL COMMENTS

| | |
| --- | --- |
| So nothing unusual bureaucratic rubbish. | Barry |
| What a lot of bureaucratic bullshit. | Harry |
| We need to preserve cottage industries, not drive them out of business. | Ross |
| Bureaucracies are killing this country. I thought National Governments were supposed to be pro-business? | Ronmac |
| The regulations seem to originate from anonymous ideologically influenced bureaucrats and are not evidenced based. what theoretically MIGHT happen is assumed to be an imminent risk. | Trevor |
| I recently started up a small drinks business which is showing great promise to be a full time business, but these new regs make me hesitant to invest too much just in case MPI control freaks decide to go for stupid fees etc. Sad that the beauracrats don't care that they destroys livelihoods. | David |
| Way over the top, who are these hand ringers who decide these bloody PC rules. | Keith |
| Big Brother is watching and prepared to jump and squash the little people. | Marc |
| Appalling regulations. Control by beaurocracy again, and the excuses given seem to be trying to justify the extreme costs. Totally unfair practice. | Jenny |
| Every week we get asked to comment on how and why we polled on different matters. I would like to ask if our comments actually change anything? | Bill |
| This sort of nonsense stymies people willing to have a go. Health and safety rules are crippling the country, along with the Resource management act. When are the beaurocrats going to wake up. | Bill |
| Surely a local council employee could be train to do spot checks at little cost. The fees outlined in this article are well over the top. | Graeme |
| Load of rubbish. | Richard |
| More of the same. Goes for all sectors of the Public Service. | David |
| Most certainly in cases such as this. | John |
| Wake up New Zealand look at Europe e.g.France. | Peter |
| These regulations are designed by people sitting in posh offices who are most concerned about creating one regulation after the other — utterly detached from what is going on out there in the real world with real people.They are not the slightest concerned or bothered by what these regulations do to creative small operators. All is based on one size fits all and these small operators are slapped with the same fees as the big companies in order to be permitted to operate.A bizarre situation where importers of the same products are not exposed to the same stringent controls. | Michael |
| Indeed they are, largely because there are far too many bureaucrats looking for things to regulate! | Shane |
| The statement "Made from New Zealand and imported components" should be outlawed. It makes a mockery of Country of Origin declarations and is shorthand for "Contains items made in china". | Tom |
| And its not only the food regs the whole system is ridiculous. | Peter |
| Everything is too bureaucratic in New Zealand, common sense and self responsibility is being eroded by self serving individuals, who when anything turns to custard are nowhere to be found. Take recent earthquake damage to government/public buildings in Wellington for example, leaky buildings, parole board decisions, a convoy of safety trucks and staff required to put out cones in order to change a light bulb on a street light. The list is endless. | Robert |
| As usual too much over-reach and bowing to left-wing bureaucracy. | Monica |
| It seems we need another bunch of bureaucrats to regulate the over the top functioning of the current bunch who continue to multiply. | Norm |
| $173.00 an hour plus??? | Jan |
| Hard on small businesses. | Moyra |
| It's probably the major food manufactures influencing the govt. | Nigel |
| | |
| --- | --- |
| Of course they are however one need only look to TPP etc for the United Nations answer, – they don't want any small backyard producer they want the food chain to be controlled by big business ONLY and how easy to get rid of the small producer by regulating them out of the industry. | Carolyn |
| Lunacy personified. | Rob |
| Just more bullshit from the government who does not care about the small blokes and blokessess. | Murray |
| Sensible and achievable guidelines instead of the crushing ball! | Jenny |
| If the egovernment is really about making food safe, then doing so should be inexpensive and simple. Food sellers and producers should be aiming at making the food safe instead they are focussing on meeting clip board regulations. | Kiwi Milk Bar |
| In Biddie's case, yes! And probably a number of other similar cases too. | Ron |
| Bureaucracy never achieves the idealism it stands for, it is nothing but 'glorified 'paper-shuffling' or 'make-work'? Bureaucracy will always kill the goose that lays that golden egg b/c of the ignorance of the politicians! | Ced |
| Charges should be relative to the size of the operation and should be low enough to encourage artisan developments cross all food lines. | Alan |
| Small producers should be exempt from all the BS that has been invented by bureaucrats for large producers or are the bureaucrats just trying to keep themselves in a job ??? | Ian |
| They are likely yo send small businesses to the wall. | Barry |
| Over the top and stifling many home grown business'. Ludicrous. | Chris |
| Stifles creativity and innovation. | Raye |
| It's time for NZit. | Roger |
| Yes, but we are a Nana state after all, that's why there are so many successful people go overseas to progress their businesses. | Audrey |
| It looks like bureaucrats and incompetent bullies have a lot in common. | Theodirus |
| There is grossly excessive beurocracy in NZ & this issue with Artisan Cheese making is a typical example of the throttling inonvation in which we will not succeed, even in the medium term. | Charles |
| Bureaucracy (Petty) gone mad again. Wouldn't happen to Fonterra. Why to small Artisan businesses? Because they are easy picking and better return per visit I suspect. | Laurel |
| Absolutely crazy requirements. Way over the top. | John |
| We all knew this would happen. Imagine a WOF inspection on a rental? | Sheena |
| Small producers should be charged comparable to their size. | JayJay |
| The political philosophy of the National Party is flawed when they believe one size fits all e.g. Auckland Super City. Ask those in the rural Auckland areas! This article shows how ridiculous this is and shows the stupidity of a system that results in an award winning artisan cheese maker being put in this position. | Di |
| Absolute nonsense. Where is Trump in NZ when you need him? | John |
| Bureaucracy gone mad | Murray |
| Excessively difficult and costly to start a business selling low risk produce at the markets. | Linda |
| GoVT. Killing the NZ ways. | Margaret |
| However they could enforce simple "Whats in my food" information instead of the current ingredients "BS". | Adrian |
| Just ridiculous to see how politicians cock the little guy up !, | Ian |
| Wellington based bureaucratics are driving many out of business. Not only in the food industry. They get paid without a care. | Jeff |
| Too many politicians in Parliament with time on their hands and no legitimate worthwhile work to do – what do they say about "idle hands"? We are way overdue for a reduction in the population of Parliament, so they will be forced to get a real job making real stuff not putting obstructions in everyone's way. | John |
| This is just so ridiculous that it defies any semblance of common sense. | Peter |
| Stupid. | Donal |
| Over the top. | June |
| Yet another example of bureaucracy gone totally mad and punitive money grabbing for no sound reason. Remember…election year coming up! | Glyn |
| Can be made a whole lot easier. | J Tomson |
| Unleash the power of innovation in business production by abolishing proscriptive laws and regulations – these are innovation and business killers. These laws require policing and policing requires policemen who must be paid. Needless to say, the 'justification" for these regulations and controls is taught in the appropriate departments of our tax-funded universities and yes, we are unwittingly financing our own economic life into destruction! | Don |
| | |
| --- | --- |
| Ridiculously so! It's a massive taxation system to employ more public "servants" who actually bear no accountability for their "work" and is counter productive. | Gordon |
| Money grabbing bureaucrats endeavoring to justify there salaries and allowances. | John |
| Farmers Markets and individuals producing excellent products should be given much more room and encouragement to pursue their own flare without being restricted at every turn by a bunch of bureaucrat mumbo jumbo and charges. Most bureaucrats would have achieved little in life except keep their bums on a seat. | Elizabeth |
| Beaucratic bullswool have exemptions for goodness sake. | Ray |
| I've voted National all my life but no more. Last weeks deal with the Maori Party and now this is enough. Get out of our lives with your bureaucratic b#^**#!t | Kevin |
| They're an absolute nonsense. How long will it be before every household with food preparation facilities will have to be inspected by a plethora of useless bureaucrats ( at vast expense) to ensure that the premises meet the imposed requirements? | Alan |
| Stifling. | Edward |
| We are drowning in over regulation. | Brett |
| Once upon a time we called total government control COMMUNISM. Now we call it the NATIONAL PARTY. It never fails to astound me how so many readers, when reading your poll comments, still cling to the delusion, that National still stand for free enterprise & admiration for achievers as it once did. The total government control that; she should lead the U.N. HELEN started, is stealthily being continued by this government. Yet people still believe that National & Labour sing from different song sheets. Gareth Morgan's Party is being set up to ensure that the status quo continues. | A.G.R. |
| Absolutely. | Terry |
| They are far too over regulated. That are ridiculous the demands on that Wairarapa cheesemaker. That Food Safety department is out of control. | Frank |
| NZ is over governed. | Jill |
| Murphy's Law. | John |
| Damn right they are, once again those in high places set out stupid rules and regulations and think they know better. How to cripple small business with onerous red tape, but will it ever end? | Fraser |
| The problems include 1. The bureaucrats don't really understand what they are doing, so they apply the rules, without the benefit of common sense. 2.They are terrified that if anyone does get sick, they, the bureaucrats, will get the blame, so they increase the minimum standards,. to protect their necks. 3. NZ has this crazy concept, that if anything anywhere goes wrong, SOMEONE must be penalised – aka 'heads out roll'. So of course people go to extremes to protect their heads, instead of being open about the circumstances, so they can be corrected. | Geoff |
| They have gone past INSANITY! | Dick |
| This smacks of over zealous bureaucrats taking the pendulum far too far, without putting a modicum of reason and reasonableness into the situation. — Just like we saw on the Kaikoura cost when volunteers were taking paua and crayfish stranded by the recent quakes upheaval and putting them back into the water so they could survive and maintain the stocks; – and who turns up to "make sure that they weren't taking more than their quota" than 3 fisheries inspectors! — The stuff was going to die if nothing was done for goodness sake, and yet the bureaucrats "had to do their job"! – without much reason in the situation (it would appear). | Ted |
| Yes- as are so many things today. | Dianne |
| I think national is out of touch with N.Z. people & HAVE been for YEARS.Since they were the govt. they,ve PANDERED TO IWI & LOST my vote. | Cindy |
| Have done some research on this matter. The Food Bill is an attempt by Agricultural Corporations to stifle business that they believe threatens their monopolies. In the past customers walked with their feet to the more desirable products and thus the threat looms large for big business. Food monopolies can be traced back to Nazi Germany and is still a ploy by big business to control food management and food production. Good on those people who look for the looholes and continue their business despite the setbacks. Oh for some rich sponsors who would take on this situation and bail out the small entrepreneur. It's in all of NZ's interest to see that people like Biddy prosper. She should refuse to pay such costs, build around her a security network and then then go public through social news media and TV media. Wonder what Fair Go would make of this situation? | Keith |
| Compliance costs and regulations have been killing innovation for the last 20 years and now if this goes ahead it will be a total disaster driving small sized innovators into the ground and also as a result increasing unemployment. I cannot see how imported dairy products from countries prone to foot and mouth disease and other such crippling scenarios are subject to less scrutiny than our own home produced products. We should be protecting our industries not exposing them to such risks. I say we don't buy products that are subject to less scrutiny than our own. That way we eliminate risk of deadly diseases and other food borne hazards. | Kevin |
| Just creating jobs for more bureaucrats. | Bryan |
| But we need all these bureaucrats and their regulations to prevent us from getting hurt – or poisoned – or thinking for ourselves. That's what gummints are for – producing more and more bureaucrats and regulations and look after you 24 x 7 year in year out. So be good and nice to them. | Nannie |
| Feilding council now screwing us for the privilege of having a drain connected to a sink! | Nicholas |
| Too big a hammer for a small tack. | Laurie |
| The big problem we have with the Government Bureaucratic Machine is the reality that most of the people in those positions have absolutely no idea of the effects of the ridiculous legislation they pass …. or maybe they are simply an army of vindictive overpaid a . . . holes or maybe they are just too stupid for words. Personally I am leaning towards a combination of the last two options. | Dianna |
| Not necessary. This govt is too top heavy with regulations killing the spirit of small outside the square thinking individuals. | Royce |
| Worse than Brussels. | Russ |
| It's the old story . . . . anyway they can to make another dollar from the masses. But the whole agenda is being driven by the well known " P.C. " Brigade. | John |
| | |
| --- | --- |
| Bureaucrats will rule every aspect of our lives given half a chance. Many of them believe that their purpose in life is to fabricate barriers, self perpetuate and expand their personal power whilst unfortunately not knowing their culo from their gomito! | John |
| Here we go again. Elite, academic, bureaucrats making more and more rules to keep themselves in work. Brexit here we come. Winston, want some more votes plus those who will vote for you re this governments racial divisive policies like water management under Nick Smith. | Morrie |
| How many people, especially children, are suffering a breakdown in their immune systems because everything is so germ-free, etc, etc? If a bit of home-made jam or cheese makes you seriously ill, it's likely that the problem is your own body's inability to deal with normal and every day gremlins. Sure, there must be food and hygiene regulations, and I've had REALLY bad gastro twice -this was not fun and almost killed me the second time around, but there are risks in everything about life. To be honest, I'd prefer to die from eating artisan-made cheese than wait for Donald Trump to piss North Korea or China or anyone else enough that someone "presses the button". Cheese good. Trump bad. Cheese not completely insane and dishonest. Trump not delicious. | Andy |
| Most of the so called 'inspectors' have probably never manufactured anything in their lives. Straight out of University with a meaningless degree, but snapped up by beaurocratic inspectorates. | Bob |
| The laws were over the top 10 years ago when I was preparing artisan food, now it is ridiculous. | Lorna |
| Yes. This has been the case for years especially since World War 11. One explanation is very obvious for all political parties; concerned as they are with the threat of the numbers of unemployed at election time. Therefore they listen to their spin doctors, who will emphasis the essential message of %u201Clowing these figures%u201D no matter what the cost; is a deal better than losing an election and (power). What better method is more available than to employ an ever increasing number of our population into the highly paid governmental world of bureaucracy?; In order to justify this blatant increase in government staff numbers, are instituted more and more regulations, oppressive rules that stifle business and ever increased costs on a gullible and complainant taxpayer. It will be interesting to see if the new Trump regime in America also recognizes the ever increasing costs associated with an expanding bureaucracy! | Brian |
| Absolutely – I believe the 'big boys' are lobbying government to protect their earnings. Where is the evidence of ill health because of artisan – small time products | Kim |
| More jobs for useless bureaucrats. | Gerhard |
| It's ridiculous, what will be next I wonder mums making school lunches for their children. Sounds far fetched? But not outside the bounds of possibility when considering the mindset of these bureaucrats. Shameful use of the powers they've been given. Maybe it's time we took those responsibilities from them. Who does employ them by the way? | Phyllis |
| Not only for small businesses, but also for lifestyle blocks and families selling jams, baking, pickles and relishes at local markets. If there were a heap of recorded incidences of food poisoning I could understand it, but that is no the case. We supplement ourmpension with a few sales at the market. Now pple are asking for licences. This negates the value. The downside is, us old ladies feel good about what we do, people enjoy. Fruits of our labour, and it maks us feel we are still productive members of society. Taking this away by making us get licensed and all that entails is soul destroying to put it mildly! | Vivienne |
| Its just revenue gathering and in fact the whole country has become too bureaucratic. | Arthur |
| For goodness sake spend our money wisely not like drunken sailors. The first principal of financial management is this. No one spends money as carefully as their own. John Key and cronies, this is not your money. | Dene |
| It is not only food regulations in NZ that are too bureaucratic it is everything look at health and safety it is costing the country millions to no avail we still have as many accidents and that is only one example. | John |
| Just more of the same over the top stuff. | Karl |
| Small business is being smothered by the big conglomerates and burocracies. the greed??? | Ian |
| Absolute nonsense. Nothing moe than justifying far too many people sitting in high rise buildings looking for something to do. | John |
| Over regulation driving small business and innovation out of business. Deplorable. Why would people even TRY?????? Knowing that regulations are there to cripple them. | Neil |
| It is abundantly clear where this Government's priorities lie. Opposition parties are also tainted (including the Greens) for supporting the new laws. The multi-national food producers and related businesses should not be entitled to such levels of market protection for any reason. It certainly should not put our own domestic food production capacity at such risk. | Anon |
| We continually encounter regulator's who stop us or someone with us handling food though at protecting us from perceived health risk that has no rational basis in our long & humble experience! | Cyril |
| Ridiculous! | Maddi |
| Ministers must be named in conjunction with bad law. Ministers are always ready to acknowledge responsibility for good law so should always be held resposable for bad. | Rex |
| Bureaucracy gone mad! | Jim |
| Not only too bureaucratic but they are stupid. It is time to get rid of those committies who's onlyare able to think about more rules to keep their bum on a seat in their overpaid job. | Johan |
| If we continue to live by rules based on the lowest common denominator, health and safety for one, we will end up being controled by ignorance – and idiots. | Maurie |
| Public Servants and their rules are the most seriosus enemy of NZ. | John |
| It is over the top for the cheese maker when import the same thing with out any checks and balances!! | Don |
| Every thing in this country is to bureaucratic. What about freedom & responsibility. | Ranald |
| MPI has become a monstrous bureacracy that needs to go on a diet. | Mark |
| It's the same for the small freerange egg producers. The pressure comes from the corporates who are actively assisting the government to formulate these policies with the age der to make life as difficult as possible for the small operater. The corporates manage through cost effectively with the scale of economies, it gets substantially exponentially cheaper to comply. | Wilf |
| MPI is looking for the easy targets. Why did they not prosecute the fishing boats that were dumping fish. Was it because the boats were contracted to Maori | Arthur |
| Like so many other examples in NZ we seem to believe that our regulation should be more stringent, and the bar set higher, here than elsewhere. Bad for people, bad for small business owners and bad for the economy as we steadily get less and less competitive. | Wayne |
| I'm part of kaitaia's market. We have food caravans and lots of fresh produce and cheap vegie seedlings. It is a great market but it will close if regulations come into being and then Kaitaia will die. | Hetty |
| | |
| --- | --- |
| Once again bureacratce gone mad again we did' not die before all these regulations so why has that poor lady got to support so many leaches justifying a job at others expence it stinks. | Russell |
| NZ needs more laws and more officials to enforce them. Yeh right! | DERRICK |
| We need D Trump to kick the government back to reality, the world needs business to innovate not stagnate with regulation. | Michael |
| As always bureaucrats will win. | Ian |
| Anything regulation that stifles innovation or manufacture needs to be tossed out. | Steve |
| Along with the RMA and Health and Safety in the workplace. | Dayal |
| Came into contact with this over zealous control about 8 years ago. Was asked to help a food manufacturer who was trying to boost export sales. Every visit from FSA came up with new demands! The owner eventually reached breaking point and gave up. Thankfully a few years later had the determination to push on and now does have a good international trade. Benefiting our country, created more new jobs etc. | Hugh |
| Home built airplanes display an "experimental" sticker for passengers to see. They fly at their own risk. Couldn't something similar be done? Opt out of the whole system but label it accordingly to warn consumers? | Russell |
| Authorities covering their backs should be able to cope with people like Biddy by learning to assess risk better. | Mart |
| These same beaurocrats can't give me decent food labelling. A packet of peanuts I looked at had made from imported and local ingredients. What could the local content be, salt? Everywhere these twerps are destroying this country while bigger twerps keep voting to have them carry on. | Peter |
| Over regulated, not thought out enough. The only people to get hurt through this is the end user. | Raewyn |
| No idea really. | David |
| It's like this in almost every sector of the economy if you open the lid. Clean air, building, motor vehicles, traffic enforcement, the list is endless…………………. | Brian |
| We have managed to survive for a very long time without these regulations … common sense is the best regulator. | Robbie |
| This is just another method the Govt uses to reduce unemployment and to justify their continued migration policies. | Rob |
| We buy raw milk locally because it is healthier than the white rubbish they sell in supermarkets. We now have to own a share of a cow in order to continue to purchase raw milk. There are many cake decorators who make the odd wedding or birthday cake and work from home; they need to have licensed commercial kitchens. Ridiculous!! There must be a balance between regulation and freedom – at present that is far too far towards regulation and bureaucracy. I guess that is to create work in the enforcement business. | Alan |
| All aspects of our lives are over ruled by parasitic bureaucrats. People who produce absolutely nothing and are grossly overpaid for it. | Steve |
| New Zealand used to be a very initiative country but that is being wiped out unjustified bureaucracy. there now many signs of this though new Zealand in other industries, because we are a long way from our markets we need to be very competitive we do not need more useless rules. | Les |
| Everything is SO PC here. You can't move for it. Small businesses need to be taken care of, nurtured otherwise they go out of business. Is that what we want to see? | Kerin |
| The more I hear and read about MPI the more I realize it's is the biggest Quango waste of money and time. | Brian |
| This ia a perfect example of why Brexit, Trump happened More Bureaucratic bullshit, what about the human spirit, does this no longer matter. | Bryan |
| You need small owners to get up and going. | Robert |
| Less government please. | Graeme |
| The nanna state again and just wait till these pressure groups begin an assault on fast food outlets. | Joseph |
| These ever-increasing bureaucratic demands are outrageous extortion, and for none is there the least need; this is oppression. The fault for allowing creating imposing such nazi-like calculating money-stealing bureaucracy lies squarely with successive governments. Time this distorting sort of regime is utterly refuted and ousted. | Leo |
| There are two real problems here. the first is the deep-pocketed large corporations (eg Fontera in NZ and the large phamasuiticlea) These deep pockets covertly fund situations which cause governments to formulate 'regulations' to 'protect' the the large corporation from the minute home based enterprize. This is such that 'officialdom' has deaf ears to the protests of the artisan manufctuer. The second problem is that beurocrats seem to think that they need to 'protect' their cozy seat so they embrace the requests from the large corporations and set about embelishing the regulations and thus remain in their seat. These embelishments are reviewed regularly and thus become more and more restrictive on the artisan manufacturer. It needs to be pointed out that we elect our government on the basis that they will 'protect' the citizans from all sorts of tyrany. However it seems that 'support' from large corporations (i.e. bribes) causes the mind of the politician to be blidsided in favour of keeping the bribe money coming in – and we thought NZ was not corupt. Haha sick joke! This is no better that the EU and how they are money grubbing from all those countries. Brexit was the best thing for GB. The UN is also doing this to the whole world. No wonder the Americans voted for D Trump – fantastic result – there is more to come. | Ian |
| The general population of N.Z should revolt against most of these stupid over the top regulations and cost of same. Bureaucrats are destroying the lives of so many people. | Mike |
| The biggest problem with desk jockeys is that they don't have enough work and have to produce something. | Peter |
| As usual the dead hand of government intervention is damaging ordinary people. | Roger |
| It would seem that in reality NO special regulation at all needs be applied to foods prepared on-site and sold exclusively on-site, where the preparation area meets council hygiene requirements and the whole operation can be observed by the food buyer. For operations under $3 million manu8factured from one site sold domestically then the short version that generally meets the public safety should be applied at a fixed annual rate so that small local operations are encouraged as this is the new jobs growth area of the future. Off shore sales are different in that any failure irrespective of the size of the operation can adversally effect the whole export market and may even incur general restrictions , so in that instance a higher standard applicable to export only manufacture should apply. Its up to the Cabinet to express through the Minister that onerous regulation are not impeding local growth. Farmers and traders should ensure that Ministers do not allow inflexible bureaucratic regulation and especially anything that limits local neighborly exchange of foodstuffs. The Citizens are not protected by regulations that are nothing more than the thin veil of UN agenda 2030 being implemented against the interests of the citizens. | Richard |
| Bureaucratic charges are excessive across all businesses. | Mark |
| The whole system has gone crazy with these new rules and regulations. Just recently I had to re roof a small commercial building which took four men one day to take off the old iron and replace it with new iron. The cost of the scaffolding alone was equivalent to one fifth of the total price of the job. | Ralph |
| | |
| --- | --- |
| Everything is SO PC here. You can't move for it. Small businesses need to be taken care of, nurtured otherwise they go out of business. Is that what we want to see? | Kerin |
| The more I hear and read about MPI the more I realize it's is the biggest Quango waste of money and time | Brian |
| This ia a perfect example of why Brexit, Trump happened. More Bureaucratic bullsh** – what about the human spirit, does this no longer matter? | Bryan |
| You need small owners to get up and going. | Robert |
| less government please | Graeme |
| The nanna state again and just wait till these pressure groups begin an assault on fast food outlets | Joseph |
| These ever-increasing bureaucratic demands are outrageous extortion, and for none is there the least need; this is oppression. The fault for allowing creating imposing such nazi-like calculating money-stealing bureaucracy lies squarely with successive governments. Time this distorting sort of regime is utterly refuted and ousted. | Leo |
| There are two real problems here. the first is the deep-pocketed large corporations (eg Fontera in NZ and the large phamasuiticlea) These deep pockets covertly fund situations which cause governments to formulate 'regulations' to 'protect' the the large corporation from the minute home based enterprize. This is such that 'officialdom' has deaf ears to the protests of the artisan manufctuer. The second problem is that beurocrats seem to think that they need to 'protect' their cozy seat so they embrace the requests from the large corporations and set about embelishing the regulations and thus remain in their seat. These embelishments are reviewed regularly and thus become more and more restrictive on the artisan manufacturer. It needs to be pointed out that we elect our government on the basis that they will 'protect' the citizens from all sorts of tyrany. However it seems that 'support' from large corporations (i.e. bribes) causes the mind of the politician to be blidsided in favour of keeping the bribe money coming in – and we thought NZ was not corupt. Haha sick joke! This is no better that the EU and how they are money grubbing from all those countries. Brexit was the best thing for GB. The UN is also doing this to the whole world. No wonder the Americans voted for D Trump – fantastic result – there is more to come. | Ian |
| The general population of N.Z should revolt against most of these stupid over the top regulations and cost of same. Bureaucrats are destroying the lives of so many people | Mike |
| The biggest problem with desk jockeys is that they don't have enough work and have to produce something | Peter |
| As usual the dead hand of government intervention is damaging ordinary people. | Roger |
| It would seem that in reality NO special regulation at all needs be applied to foods prepared on-site and sold exclusively on-site, where the preparation area meets council hygiene requirements and the whole operation can be observed by the food buyer. For operations under $3 million manufactured from one site sold domestically then the short version that generally meets the public safety should be applied at a fixed annual rate so that small local operations are encouraged as this is the new jobs growth area of the future. Off shore sales are different in that any failure irrespective of the size of the operation can adversally effect the whole export market and may even incur general restrictions, so in that instance a higher standard applicable to export only manufacture should apply. Its up to the Cabinet to express through the Minister that onerous regulation are not impeding local growth. Farmers and traders should ensure that Ministers do not allow inflexible bureaucratic regulation and especially anything that limits local neighborly exchange of foodstuffs. The Citizens are not protected by regulations that are nothing more than the thin veil of UN agenda 2030 being implemented against the interests of the citizens. | Richard |
| Bureaucratic charges are excessive across all businesses. | Mark |
| The whole system has gone crazy with these new rules and regulations. Just recently I had to re roof a small commercial building which took four men one day to take off the old iron and replace it with new iron . The cost of the scaffolding alone was equivalent to one fifth of the total price of the job. | Ralph |
| | |
| --- | --- |
| National campaigned on reducing compliance costs but all they have done is increase them. Its nanny state gone mad! | Jason |
| Yes, the new regulations are completely over the top. | Andrew |
| The old system worked well – I don't know why it all needed changing. | Larry |
| These new food safety rules are sooooo bureaucratic – it is truly appalling. I just hope that common sense can prevail! | Rachel |
| It sounds like the Food Safety Authority is completely out of control – they need to be reigned in and their stupid new rules and regulations repealed. | Matt |