January 14, 2018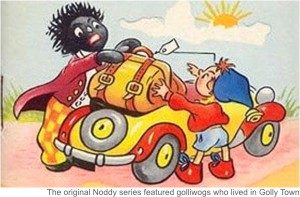 Earlier this month, a gift shop owner on Waiheke Island was called a racist, for selling golliwogs. The situation has been described as "Political correctness gone mad".
The owner of the store, Kat, says that she explains to customers that golliwogs are an English thing: "They started off as talismans in England. They were based off chimney sweeps and chimney sweeps were actually white people."
Kat believes there are "more important things for people to get offended about" than golliwogs, and says, "As far as I'm concerned society has just gotten far too PC".
Golliwogs are well and truly victims of the PC brigade.
These dolls, which had become enormously popular by the mid-20th century – second only to teddy bears – were declared a symbol of racism by activists in the sixties.
The British jam manufacturer James Robertson & Sons, which had adopted the golliwog as a company mascot in 1910 along with a slogan, 'Golly its Good', was eventually forced to drop its use in 2001. Over time, the company issued some 20 million golliwog badges as part of its marketing strategy – badges that are now highly sought after by collectors of memorabilia.
Children's author Enid Blyton wrote about gollywogs between 1949 and 1963 in her series of 24 Noddy books. The books were translated into 27 different languages, with more than 200 million copies sold. However, under pressure from militant campaigners, the publishers were forced to replace the golliwog characters in later editions of the books.
So while golliwogs were once regarded simply as much-loved and slightly mischievous dolls, they are now portrayed by activists as symbols of abuse that they say humiliate and intimidate black people.
That's also the view being taken by the Human Rights Commission, which has become a key driver of political correctness in New Zealand. In response to the fracas over the golliwogs in the Waiheke store, a spokeswoman claimed that they are "racist caricatures that dehumanise black people". She said that New Zealanders who think selling golliwogs is OK "need a wake-up call".
In spite of what she says, the sale or public display of golliwogs in New Zealand is not against the law. While the Human Rights Act does outlaw 'inciting racial disharmony', the threshold is high and selling golliwogs – or golly dolls, as some are now calling them – does not breach the threshold.
The golliwog debacle serves to demonstrate just how politicised and sensitive society has become. Nowadays it appears that everyone feels they have to be extremely careful about what they say or do, lest they offend the sensitivities of others, and are victimised by activists promoting a cause.
To most people, the prospect of attracting unwanted attention from the media or sharp-tongued radicals is so intimidating that what should be a fundamental right to free speech is now severely compromised.
This was a point made by this week's NZCPR Guest Commentator, Dr Don Brash in a speech to the Liberty Conference late last year. The former leader of the National Party said that in spite of free speech being protected in law, there is now a massive intolerance towards free expression in New Zealand:
"In New Zealand, freedom of speech is enshrined as one of our fundamental rights in the Bill of Rights Act of 1990. Section 14 of that law, headed 'Freedom of expression', notes that 'everyone has the right to freedom of expression, including the freedom to seek, receive, and impart information and opinions of any kind in any form'.
"But despite that, there are insidious pressures to discourage the expression of certain opinions…
"You dare not suggest that the Enlightenment civilization brought to New Zealand by the early British settlers was significantly more advanced than the Maori culture of the early nineteenth century, even though early nineteenth century Maori had no written language, had not yet invented the wheel, and were still practising cannibalism.
"It is regarded as racist to suggest that all New Zealanders should have equal political rights, despite that being the clear meaning of Article III of the Treaty of Waitangi and the only basis for a peaceful society in the long-term."
Dr Brash is right. There are now many issues that people will speak freely about with their family or close friends, but are now regarded as taboo with a wider audience.
It's even got to the point where some people are afraid to sign their names and addresses on petition forms – if they deem them to be too controversial – just in case there are 'repercussions'.
This is presently an issue for those living in areas where their local councils have voted unilaterally to create Maori wards. As the law now stands, such a decision can be challenged if 5 percent of residents and ratepayers sign a petition requesting that the matter be decided by the wider community through a binding public referendum. This is to reflect the fact that in a free democracy, convention provides that major constitutional change – such as introducing Maori wards – should involve the wider community in the decision-making through a public referendum process.
It now appears that in some local government areas, where the pro-Maori ward lobby has become very aggressive, many who oppose Maori wards feel intimidated and are now too afraid to sign the petitions for a referendum for fear of reprisal.
Maori Wards, which sit alongside general wards and cover the whole district, are provided for in the Local Electoral Act 2001. They are similar to the Maori seats in Parliament in that only those on the Maori roll can vote for the representatives.
Maori wards can be established through one of three ways.
Firstly, a council may resolve to establish Maori wards unilaterally through a council vote. If they do so, a poll on the issue must be held if 5 percent of electors in the area sign a petition requesting it.
Secondly, a council may decide that whether or not there should be Maori wards is a matter for the community at large through a public referendum process.
And thirdly, a public referendum on whether or not Maori wards should be established can be held at any time, if requested by a petition signed by 5 percent of electors.
If a referendum is held, the results are binding on the council for at least two elections.
Every six years, councils are required to review their representation arrangements. This includes whether or not there should be Maori wards, what voting system should be used, whether ward boundaries need to be changed, and whether community boards should be established.
If councils wanted to introduce Maori wards in time for the 2019 Local Body elections, they had to have made their decision by the 23rd of November 2017.
Five councils – Palmerston North, Kaikoura, Manawatu, Whakatane, and the Western Bay of Plenty – decided to establish separate Maori wards through a council vote. Some had asked locals for submissions on the matter, but none had resolved to allow their community to make the decision through a public referendum.
In Palmerston North, Councillors voted 11 to 4 in favour of Maori wards, despite two thirds of the submissions they had called for being opposed to the move. In Kaikoura, Councillors voted unanimously in favour of Maori wards. In the Manawatu, Councillors voted 6 to 4 in favour, with two abstentions. In Whakatane, Councillors voted 6 to 5 in favour, and in the Western Bay of Plenty, Councillors voted 9 to 3 in favour.
The decision to introduce Maori wards in each of the areas is now being challenged, with petitions underway to collect signatures from 5 percent of local electors to force the councils to hold referenda on the issue.
The Auckland Council also voted in favour of Maori wards – with nine councillors plus the Mayor in favour and five opposed (six were absent) – but only if the Government changes the law so they don't lose any existing seats. In other words, they want a Maori ward as long as none of the sitting members loses their seat!
When the super city was created in 2010, the government not only capped the number of councillors at 20, but it rejected Maori seats in favour of an Independent Maori Statutory Board to sit on committees and advise the council.
While the Auckland Council doesn't need government approval if it makes one of its existing 20 wards a Maori ward, it does need a law change to lift the 20-seat cap, if an additional Maori seat is to be created.
If approval for more seats is given to the council, and a decision is made to establish Maori wards, it could, of course be contested. A petition signed by 5 percent of residents – around 51,000 – could demand a referendum on the issue, which is likely to cost the council around $1 million if it was held separately, or $150,000 if it was held in conjunction with the local body elections.
Unfortunately, there are some in our community who want to remove the public's right of veto over the creation of Maori wards from the Electoral Act.
Leading this attack on local body democracy is the former Mayor of New Plymouth, Andrew Judd, who reacted badly when locals challenged his Council's decision to establish Maori wards in 2014. When the referendum was held, an overwhelming 83 percent of New Plymouth locals rejected the Maori ward proposal.
But rather than accepting that local democracy is about letting people have their say, and respecting their views, he arrogantly called his constituents 'racists', stated that half of all local authority councillors should be Maori, and demanded a law change to remove the right of locals to hold a poll.
With cooperation from the Maori Party, Andrew Judd presented a petition to Parliament calling for the House of Representatives to "consider a law change to make the establishment of Maori wards on district councils follow the same legal framework as establishing other wards on district councils".
In effect, by removing the public's right to call for a referendum, the petition was an attack on local government democracy that would result in Maori wards being introduced throughout the country.
The petition became the basis of the Local Electoral (Equitable Process for Establishing Maori Wards and Maori Constituencies) Amendment Bill – a Private Members Bill in the name of the Green Party MP Marama Davidson. The Bill was drawn from the ballot last year and a first reading debate was held in June. It was defeated by 71 votes to 48, with National, New Zealand First and ACT opposed, and Labour, the Greens, the Maori Party, and United Future in favour.
With Labour and the Greens now in Government, there remains an on-going concern that they might be planning another attempt to try to change the law, despite most New Zealanders not wanting to be defined by race – not even those of Maori descent.
The only people wanting to divide the country by race are a small but vocal minority of tribal activists and their supporters, who will stop at nothing less than Maori sovereignty at all levels of government. It is this racist agenda that we all need to stand against.
I will leave the final word to New Zealand First's Ron Mark, the former Mayor of Carterton, who said, in the debate about Maori wards:
"There are those of us in Maoridom who subscribe to a view that we attain and achieve on merit. We either succeed or we do not on our own abilities… Carterton is a conservative rural district… yet Carterton elected Georgina Beyer, who was not only Maori but a transsexual as well… I did not run on a banner that 'I am Ngāti Kahungunu' therefore, I have a right to have a reserved seat and to be the Mayor. I stood on the name of Ron Mark, and people judged me on my merits and elected me."
THIS WEEK'S POLL ASKS:
Should the right of the public to challenge council decisions to establish Maori wards through a referendum process be retained or removed?

*Poll comments are posted below.
*All NZCPR poll results can be seen in the Archive.

THIS WEEK'S POLL COMMENTS
| | |
| --- | --- |
| Nothing should be decided by race all should have equal rights and be defined by the ability of the person concerned having the ability to do the task in question | Pat |
| Most definitely | Christine |
| Democracy in New Zealand is in danger of further degradation if the Bill removing citizens, rights to force a referendum is passed. One nation, all equal under the Law, is supposedly the basis of the formation of our Country. Co-governance was never intended and the removal of the right of all citizens to vote on the abrogation of this concept is surely fundamental to our democratic rights. | Michael |
| | |
| One people on merit, not race. | Ross |
| All rights on matters such as this should definitely be retained to ensure continue if freedom of speech. | Audrey |
| Definitely | Russell |
| We must make a stand against those who want to enforce a racial divide in this country. We are all one ie New Zealanders, no matter what our colour, culture or background. | Gifford |
| One word for that. Democracy which we are fast losing. | Maggi |
| The public should be asked and should challenge councils right to make this decision with no consultation | Sue |
| This is what is left of the deminition of Democracy in Gods Own. | David |
| The racial division of our Country has to be stopped to halt the slide into apartheid | Jim |
| Don't give in to more racial activity. | Warren |
| Definitely retained. With MMP effectively cancelling our democracy at central government level we desperately need to retain some form of rein on our elected local politicians. It's looking like the councils who voted for Maori wards are going to end up with egg on their faces over the cost of being forced to hold referendums on the issue. Maybe they should have sought their constituents views in the first place! | Rex |
| These wards just encourage Maori to be LAZY as they do not have to do the leg work to be voted in by the community. It seems they just want to collect the salary without doing any work. | Monica |
| what I would like to say would not be printed, but I would take up arms to defend the democracy we now have and to protect my grand children and future generations. | Frank |
| The public should also have the right to sack any councilar who disagrees with the referendum because there is far too many who are sucking up to the bunch of half castes who want to control and bankrupt this country this also includes a lot of mp's | Richard |
| I would like the councils of New Zealand to poll ratepayers, only, when they call for a referendum on matters relating to their activities. In the end it is ratepayers who are lumped with extra costs of pie in the sky aspirations of council staff and elected councillors. I am unable to trust any or the elected councillors , or permanent staff who are highly overpaid and lack basic intelligence. | Allan |
| Should the right of the public to challenge council decisions to establish Maori wards through a referendum process be retained or removed? It becomes very obvious that a challenge to anything in the near future involving Maori will become taboo, and eventually a crime. We are fast becoming another casualty in the erosion of our democratic way of life. New Zealanders voted for an MMP system; which has opened the doors to ethnic appointments and domination by a viral socialistic left wing. This is well organised and funded in the practice of gaining absolute power. In a United Nations obsessed with a bias in favour of all indigenous cultures, speaking out against this in N.Z. invites the label of racism. Put with a general public apathy totally seduced by an ever increasing bureaucratic version of Sir Humphrey Appleby's Yes Minister. The result is bye bye democracy! As this country becomes more affluent; it has become indifferent to the dangers of dangerous minorities and ethnic groups; determined to undermine the very principles upon which our Western Civilisation stands. | Brian |
| We must protect the democracy of this country. | Janet |
| Councils are elected by the people who vote for them. It goes against democratic principles and practice to have people put there by a small unelected group whose agenda is to undermine our democratic processes for their own ends. | Laurence |
| Absolutely it should be retained! Dr Newman is right to focus on PC as the underlying problem. PC is evil: it muddies the waters of ethics which has always been based on the principle that all people are equal. This is not the case in PC NZ, where one group of people – maori – are given special privileges (the irony is that ordinary maori never seem to benefit from this process – so what happens to all that treaty money?!) The fact is that PC supports racism – this is an uncomfortable fact that PC people never even try to deal with. PC is similar to a religion in many aspects; both have truths that cant be questioned, illogical/paradoxical and ultimately nonsensical doctrines, etc. And both treat non-believers with extreme hatred. Religion is a classic example of in group/out group thinking – WHICH JUSTIFIES ANY EXTREME OF VIOLENCE AGAINST NON-BELIEVERS. So PC believers believe their anger against those who don't share their views is justified. it is not. In NZ all religions accept that other people have the right to free speech even if it criticises their religion – that is,all except Islam and PC! | a |
| P C B…………..t ! There should be no separatism in any facet of life. One people, one law for all, one Nation. | Andrew |
| On important issues like this the public should always have the finale say. But they are racist seats and so undemocratic I don't understand why they are even considered anyway? | Eric |
| With the present government we are heading for a Dictatorship not Democracy, of course we should have the right to challenge council decisions to establish Maori wards through a referendum. | Ross |
| | |
| --- | --- |
| Retain the referendum process. Remove Maori Wards and the Parliamentary seats as well. No more racism! | Scott |
| It Is time that we all became New Zealanders and not introduce race based democracy A referendum should be held to see if all of us want apartheid | Ian |
| We need to retain our freedom of speech. | Max |
| No question. Can't believe how easily the general public are duped.also am concerned at the racial bias on tvnz | Anthony |
| Voters decide representation. No vote's no representation. End of story. | Ross |
| One people One nation. Too much of this underhanded Maori PC Politics going on. | Wayne |
| absolutely | Colin |
| NO race-based, unelected publlic office. | Neville |
| The maori's can stand in the general seats if they want to get on council. Why give them one by right?? | John |
| Will we ever become one nation? Not as long as the Maori extremists and guttles councils force apertied on us we won't! | Paul |
| The nail in Democracy's coffin is being slowly, but surely hammered in by radical, tribal, elite maori. 42 years they have 'turned the wheel' of NZ's culture. | Maureen |
| This is just another bullshit move by our gutless politicians. This is simply aparthied by another name and will only get worse unless it is stopped. I am now a believer the French should have got to NZ first and there would not have been any Treaty at all let alone an obscene exaggeration of what was intended. | Alan |
| Absolutely! | Mark |
| Get voted in or buggar off and annoy someone else | Peter |
| We are supposed to be living in a democracy! | Colin |
| If we carry on giving in to reverse apartheid this wonderful country will end up being the example to the world as the worst run because of p**s poor poliiticians | Brianb |
| Enough of this racist crap. We're all EQUAL!!! | Tony |
| If the right challenge is removed, we are one step closer to racist anarchy | Neville |
| How stupid that we still pander to those that wish apartheid upon us | Derek |
| We are one people | Richard |
| This racist, we are all supposed to be NZers | Bob |
| This has to be common sense surely | Mark |
| It is all about preserving democracy. | Charles |
| It should be retained of course, or else we run the risk of becoming a Maori dictatorship. | Peter |
| We should go further: it ought not to be the prerogative of councils to establish Maori wards: if there is an expressed public desire for such, contrary to egalitarian democracy though that may be, then it must always be put to a binding referendum of ratepayers. Those who fund local council activities – and no-one else – should be those who say how their council should conduct itself in terms of representation. The Treaty of Waitangi has absolutely nothing to do with it. | Graham |
| They have just the same ability to get elected as any one else. There should be no free lunches! | Kim |
| ONE law for all | Jim |
| Easy, it's called Democracy. | Stevo |
| ….it's time to add the "PC garbage " to the dustbin of history…. | ChrisH |
| We are ALL supposed to be one people its the FEW maori iwi etc who want to be separate so WAKE up EVERYONE & DONT let themEMAIL ALL labour m.p.s | Cindy |
| Equality for All – if your qualified then you will get voted in to a normal ward | Wayne |
| It should be every citizens right to challenge council decisions. After all, council is supposed to represent the people and their views. | Colin |
| Of course the right of the public to challenge such unwise and "politically correct" council decisions should be retained. Only an undemocratic, short sighted fool would think otherwise. I'm sick to death of the small, attention seeking faction whose principal goal is to divide NZ along racist lines. No good will ever come of such dangerous nonsense. | Les |
| Better still amend the electoral act to remove this apartheid clause | Irvine |
| We are one people. The other implies racial arrogance and bitter disharmony. | Laurie |
| Basic democracy stands for rule 'by the people'. It is simply unacceptable to hijack this right for racist purposes. | Graham |
| How different N.Z. might have been ]for the better], if Dr Brash had led the National Party for the last 10 years, instead of the divisive racist, John Key. One law for all is not being racist. It generously considers us all to be equal.. This should appease the Socialists, not send them into a frenzy.. THANK-YOU MURIEL, & ALL WHO SUPPORT HER, HAPPY NEW-YEAR TO YOU ALL.. | A.G.R. |
| Definately! | John |
| We weee a democratic country. | John |
| The bloody disgraceful and Stroppy Maori claims for their own wards must be stopped and never allowed without everyone having their say in a referendum by every council that the sods try it in | Colin |
| Raced based appointments/selection at any level is racist. The freedom to challenge councils and hold binding referendum s must be retained. | Sam |
| We are all equal | Jeff |
| To abolish that right to referenda review is to remove the democratic traditions of NZ | John |
| Maori wards are racist and contrary to the principles of democracy. | Murray |
| Come on NZ, follow our New Plymouth example! | Bryan |
| We are all New Zealanders, if you are good enough and wise enough, you should stand for election!!! | Roy |
| | |
| --- | --- |
| English is –and should remain our main language | Jenny |
| Otherwise how can we call it a 'democracy' ? | Michael |
| Absolutely !! The looney left liberals in this country in their attempts to alter established and historical laws are revealing what resides in their tiny minds. If their demands are met the result is a further step in enhancing an already racist state. The maoris of course agree with this as it fits nicely in their agenda for erosion of democracy and domination by a minority whose language is utterly useless outside this country. The claim by politicians that we are all equal and a united country no matter what race or nationality, is a complete delusion, pronounced by inept and equaly deluded MP's. | David |
| We are gradually losing the battle as these part Maori claim everything . What I would like to know is what makes the part Maori point of view so different to the rest of NZ .Most of the people making all these claims have more other ethnicity than Maori so what gives them the right to speak on behalf of Maori ? We really need to expose these suede Maori for what they are up to which is purely around money and power at the expense of the rest of NZ . | Jock |
| Must uphold democracy at any cost. | Clark |
| Let a person who recognises themself as "maori", stand for any local council position, in the same way as any other New Zealanders are required to do to win selection. | Darryl |
| There really should be no right to establish separate race based wards. | Murray |
| Maoris have exactly the same right as others, to stand for election. Many do and win a seat. In many electorates Maoris already exceed their proportion of elected representatives so they do not need to receive seats by appointment. Thus the public must retain the right to challenge councils which appoint Maoris without approval. That is not democratic. | Chris. |
| I think people like Mr Judd are just having a laugh! | Erin |
| This fundamental democratic right to challenge Council decisions is — well– a basic human right in itself and everybody — like this ex Major Judd— who wants to see this right removed is a enemy of the people and our democratic system. We have to consider these people as being a threat to our values and have to do everything in our power to get rid of them. | Michael |
| This situation must require the vote of the public and not be forced on the people and with this new government comprising of a bunch of socialist I can see big problems looming. | Ken |
| Get race based legislation and governance out of this country. Enough is enough. | Kevin |
| Let's keep what little bit of democracy we still have! | Susan |
| Given that your racial descent appears to be a matter of personal choice, allowing one racial group advantages over the others will lead to disaster. If this trend continues everyone who wants political, and, it must be said, financial advantage will declare themselves to be a Maori. A recipe for racial strife and breakdown of society. | TOBY |
| There is no other way! | John |
| Logically, and in the best interests and well-being of the country, there should be NO legislation that separates Maori and non-Maori in voting rights. We are all supposed to be representing one sovereign nation, those with NZ citizenship by birth or appointment, including all qualifying immigrants and refugees. A better law would be one that criminalises separatists for the racist discontent they desire. | Vic |
| Sadly apathy reigns. | John |
| Goodness, what sort of country do we want. It is absolutely essential it is retained otherwise people will feel disenfranchised. | Barbara |
| Read Henry Hudson's letter to the editor of North & South February issue (page 15). It says it all. As N&S itself is increasingly turning PC I am surprised it got published. | David |
| Race based anything is just WRONG WRONG WRONG | John |
| How else are we to retain any sense of democracy | Bryan |
| We're supposed to be a democracy!! | Alan |
| It is very important that the general public have a means of expressing their view on how they want the local Council to run Council affairs rather than let a dozen or so Councillors dictate what the Council does. | Ernest |
| THE RIGHT OF OBJECTION TO ANYTHING, ANYONE, ANY LOCAL BODY, GOVERNMENT OR WHATEVER ELSE IS A PRIMARY REQUIREMENT OF FREEDOM. NEVER LET IT GO. | Maggie |
| In the name of Democracy the right of the public to challenge council decisions to establish Maori wards MUST be retained. | Rob |
| We are supposed to all that are born in New Zealand are New Zealanders from days long ago.. yet over the last few years we have become segregated, with 15% of the population wanting more and more (as they believe is their right …. Why don't they stand like all of us –no they are becoming greedy. There are NO full blooded Maoris left in N Z so it astounds me with all that is available in this wonderful land of ours, there are those few that want MORE (as of their so-called rights) what about those of us that have worked and made this Land as it is today is it not " Our rights?" as well — what also angers me is the fact that they have been given back land and money yet they are still greedy still expect to get more for us to give them….e.g. Welfare, houses etc Where has the money gone that they received? We that work hard remember there is a time soon when the Gravy Train ends… | Marylin |
| The general public will only allow themselves to pushed around for so long, sooner or later these separatist's will place one straw to many on the camels back. | Brent |
| Because we live in a Democracy, End Of: | Kevin |
| Retained absolutely – if we don't we become that awful autocracy – just like Hitler. or Stalin! Clear choice. | Stuart |
| The alternative is racism gone mad | Bruce |
| Separatists should be fined | Chris |
| Removed, they should stand like very other councilor on merit not on race. | Geoff |
| Local Government elected members are there to represent all of the people in their District, not any one group. PC nonsense yet again. | Di |
| | |
| --- | --- |
| Democracy by majority. | Anon |
| I believe this country is racist – not whites against other cultures, I include Maori here – but Maori against whites. I come from England, I love the gollywog – yes, I have said it, I had the badges. – I lived amongst all cultures and find the worst racism I have come across is living in NZ . We are so over the the top with PC, it is laughable. | Kerin |
| nzcpr should manage a petition to obtain enough signatures in Auckland to defeat it. Ill contribute. | Rex |
| We should not even have to debate this !. | John |
| Maori wards is a racist approach which cannot be tolerated and council members who think otherwise should be sacked | Tom |
| We have already seen the results of mucking around with democracy with the unproductive results of MMP. Maorification would similarly disempower the majority | Howard |
| What happened to the old saying: "I may not agree with you, but will defend to the death your rights to your opinion" | Bryan |
| Maori already fill up most of our prisons … and get there on their own merits … enough said? | Des |
| This is democracy. | Sheena |
| The lefties are bullying the rest of the world……So sad. | Jo |
| We are all equal. | Alan |
| …and go further in removing all separatist bs. No Maori seats anywhere. Let them stand on their own merits in general electorates like everybody else. | Kerry |
| Political correctness, and racist attitudes that destroys our democracy, must be stopped. New Zealand is turning into a different place and it will not be a nice place if these activists have their way | lloyd |
| Be retained | Ngaire |
| Part maori wards be damned, already have enough part maori brown tape now the long brown cloud is slowly closing in over nz,god help us all. | James |
| Good Lord how much worse can this pc racism crap get. Vote for the best person for the job, black, white or brindle. Appoint no one! | Bruce |
| All New Zealanders should not be held to ransom by a small group of radicals. Freedom of speech is still alive and well so leave it at that. | Dennis |
| It is our democratic right to express our view on these decisions being made by councils.. | Patricia |
| There should be NO them and us | William |
| I think that the option to create Maori Wards should be removed. The proposition that there should be representations based on race is the problem and this problem should be resolved by removing the "Maori Wards option" completely. I don't know who, in a balanced and fair consideration of such matters, could have voted in favour of such racist legislation in the first place. | Dianna |
| We are one country don't allow it to be divided | Andy |
| It must be retained. The public have the right to choose whether we have Maori wards. It is too important a step to be just left to elected councilors without the public having a say. | Frank |
| That's democracy. | Doug |
| No question. Democracy is our right | Pete |
| Everyone standing for council should stand on there own merits with nothing to do with race everyone has an equal opportunity | Peter |
| It should be retained in support of freedom of speech and thought. | Alan |
| It is time we stopped the radicals from eroding our rights. Councillors should all be elected by the ratepayers, not appointed because of their race | Kerry |
| If the people want you they vote for you | James |
| Who the hell do they really think they are anyway | Jim |
| Don't take away any of our right ever. | Robert |
| The public should not only retain the right to challenge these decisions, but should be consulted prior to these decisions made place. Also, would be nice if we got links to these petitions. | Pavel |
| The referendum must be binding, and the right to referendum must be sacrosanct.. | Jan |
| It's ridiculous even to have to ask. | Alister |
| Absolutely must be retained. Are we a democracy or not? | Barry |
| Long live democracy! | Mark |
| I do not want to live in an apartheid society. Therefore I support the right of all citizens to vote on constitutional changes at any level of government. | Frank |
| We are still supposed to be a democracy. | Dawn |
| What has happened to our country? | Alan |
| Don't let democracy be weakened. | Peter |
| It is vital for the future that the rights of the majority should hold sway Special rights for Maori above all others should NOT be tolerated. | William |
| Maori wards are just a further grab at control by race | Brian |
| Maori Wards are undemocratic racist nonsense – we must be 'one' people not divided by so called politically correct nonsense. Let is not forget that the Royal Commission on Electoral Reform recommended all that time ago the abolition of the Maori seats in our Parliament ! | Hylton |
| What the hell does any gov't been smoking when they promote this crap. Next election throw the bums out if National agree to quit this PC bullshit. | Sam |
| Absolutely. We should stand against any attempt to give one group advantage over any other. | Tony |
| It is the basic principle of a democratic country that there will be no special consideration for one race over another. That principle was written into the "so called" treaty of Waitangi. Time our country stood up and said enough is enough. One law for everyone. Equal representation for everyone. Be it on a persons merit that they are elected to a public office. time to put this madness to "sleep". | Neil |
| Otherwise it%u2019s blatant racism and I democratic | Greg |
| This is a basic democratic right of all New Zealanders to determine our future and just not for self greed or gain of a few decadents. A national referendum should be manditory. | Chris |
| The fecking councils shouldn't be moari-fixing anything. They need to get their heads out of their arses and start delivering some value for the EXORBITANT rates we pat – for what? Footpaths that break your ankle unless you are extremely careful, roads that may as well be dirt tracks they are so lumpy, water you can smell before it gets near your mouth, "free" events (WTF!) etc. Back to your core role as documented by Locke: The protection of life and property. Perhaps you should get that part right before waltzing off doing "free" movies, music, "cultural" events et al. I'm certain Lange went to great pains to tell us we live in a USER PAYS society so why the hell are my rates funding other peoples "Fun"???? | Mark |
| Why change established place names with re-written fake names dreamed up by contemporary Maori activists??????? History is history – fact – like it or not, comes into the same category as "fake news". Say it often enough and people will believe it. Sorry, I do not believe it, and as an historian I feel outraged that pressure groups are attempting to re-wrtie our history from primary school to univesity graduate – this includes changing place names. | amdrew |
| When will this Maori racist system be stopped. Now is a good start | John |
| Please keep democracy alive! | Chris |
| We are all New Zealanders, not two separate races. | Richard |
| Democracy means that they should be able to retain a referendum. | Roger |
| NZ needs more of this veto referenda as per Switzerland | Ian |
| Weare loosing our democratic way of life fast enough and ned to decide whether we live in New Zealand or New Zimbabwe | Arthur |
| | |
| --- | --- |
| Everyone who stands to be in public office should be elected on merit alone not on the basis of their race or ethnicity. | Max |
| Most "Maori" have a good dollop of pakeha in their ancestry which activists seem to deny at every turn. I would rather be able to vote for the best person for any public position, no matter their race or colour. New Zealanders 1st, race second! Keep the referenda. | Helen |
| Wairarapa Voice has recently achieved the defeat of the LGC's proposal for the amalgamation of the three Wairarapa Councils. Achieved by getting sufficient signatures to require a poll and that poll was successful. So it can be done if the community has the intestinal fortitude to stand up and be counted. | Ian |
| We need a change to binding referendums in NZ | Rick |
| Your question phrasing could be viewed ambiguously. A better phrasing would be: Should the right of the public to challenge council decisions, through a referendum process, to establish Maori wards be retained or removed? | Carl |
| Special privilage has to be stopped | Colin |
| God yes, we need all the democracy we can get in this country! | Graeme |
| ANY councillor must be elected by the community and NOT by any other way. No person can be a member of parliament unless they are voted to that position. Having to seek a vote in the current method of councils is faulty and should never be accepted. | William |
| Sick to death of these pc activists maori extremists | Dianne |
| It should be on any council decision. | Wayne |
| Thats democracy | Edward |
| No question Maori can be elected to Councils like all other Ne Zealanders. They ar eNZrs? | RICHard |
| How on earth have we come to such a point? The indifference or apathy of the good? People need reminding that the price for democracy is eternal vigilance. | John |
| Retain the referendum at all costs. Remove apartheid-based Maori seats. Giving Maori special government privilege at our expense will ultimately destroy them as a people. When will they realise this? | Don |
| As long as the vast majority of the NZ media and almost all politicians do everything in their power to prevent free speech , those who believe in facts as well as the right to offend others will have a hard uphill battle. | John |
| Duh | Simon |
| I mean Really ; I thought that this country was supposed to be a democracy , of course the public has the right to challenge councils on all situations not looked at through the eyes of a referendum,,,, um …they are employed by us. | Roy |
| We are one nation, they should stand for council on the same footing as any one else | Tony |
| It's called democracy. | Lewis |
| Democracy trumps racism | Ken |
| Absolutely no question the voting public need to be allowed this opportunity to overturn a clearly racist policy that serves to undermine our democracy. The fact that Councils can create Maori Wards without consulting their ratepayers is an abomination. | Peter |
| Extra rigts for Maori isn't right, and should be able to be challenged | Kevin |
| Democracy demands the public right to challenge council decisions regarding the the establishment of Maori wards. | Keith |
| | |
| Listen to the people who Must retain freedom of speech and choice without PC attitudes that impose imbalance to important issues. | Stan |
| Councils shouldn't even have that right. | Laurie |
| Democracy is being attacked daily by the 'progressives'. If only they would state what they really want. | Peter |
| Absolutely no need for Maori wards. If Maori want to be councilors let them be voted in. | Dave |
| Do they think that the "powers that be" know what's best for us and we shouldn't have a say in it ? | Andrew |
| No other option is democtratic | Murray |
| As Councils are not listening to the people in too many cases, it is imperative that the referendum process be retained. | Helen |
| | |
| --- | --- |
| Democracy should be strengthened not weakened – the poll provisions must be retained. | Frank |
| Maori seats are racist – the option to introduce them should be removed. The Parliamentary Maori seats should be removed as well. | Andrew |
| Absolutely the ability to challenge councils and hold a referendum must be retained. | Ian |
| No-one should take away our democratic rights. Leave the referendum option alone! | Paula |
| Andrew Judd and Maori sovereignty supporters are damaging New Zealand. The public must stand up to them. We must not allow democracy to be undermined. | Jason |