February 26, 2017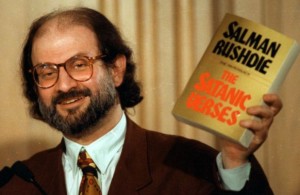 Sir Salman Rushdie understands the importance of free speech more than most.
In 1988, the British writer was accused of insulting Islam in his fourth novel, The Satanic Verses. A year later a fatwa calling for his death – and others involved in the publication – was issued by Iran's Supreme Leader, the Ayatollah Ruhollah Khomeini.
Salman Rushdie was put under police protection and went into hiding. Two years later, the book's Japanese translator was stabbed to death, and the Italian and Norwegian translators were seriously injured. Over the years there have been bombings, more killings, and mass protests. Just last year, the Iranian state media placed a US $600,000 bounty on his head – in addition to the US$3 million offered for his assassination in the original fatwa.
In an interview in 2012, Salman Rushdie said, "There is no right in the world not to be offended. That right simply doesn't exist. In a free society, an open society, people have strong opinions, and these opinions very often clash. In a democracy, we have to learn to deal with this."
The Human Rights Commission should take heed, and call off the Race Relations Commissioner's continuing attack on free speech in New Zealand. In this, her final year in office, Dame Susan Devoy is clearly trying to create a legacy for herself by targeting hate speech. She wants to strengthen the Commission's powers so there can be more prosecutions for 'insults' and 'threats', and she is pushing the Police 'to gather hate crime statistics'.
Police Commissioner Mike Bush, who says reports of hate crimes around the country are mostly anecdotal, has confirmed that Police are working with the Human Rights Commission on whether a specific hate crime offence should be written into the law: "We have crime categories at the moment … that do apply, but we are just working through the pros and cons of whether or not it would be the right thing."
However a recent incident that would no doubt have been categorised as a hate crime shows why this approach is so misguided.
The confrontation in question, occurred in Huntley a couple of weeks ago, when a drunken woman hurled abuse and a beer can at a group of Muslim women who had stopped at the public toilets. One of the group, Mehpara Khan, filmed the event on her cell phone and posted it on Twitter. It was picked up by mainstream media and widely reported in the news.
As a result of complaints being laid with the Police, 27-year old Megan Walton was arrested. She pleaded guilty to three charges – assault, assault using a can of alcohol as a weapon, and behaving in an insulting manner likely to cause violence.
The problem for those wanting to use this incident in their push for stronger hate crime laws, is that Megan Walton does not fit their stereotype. Megan is not anti-Muslim – in fact, her mother is Muslim – and her behaviour that day was exacerbated by her bipolar disorder.
Megan is mortified by her behaviour: "I'm really sorry that she got treated like that. It's disgusting and I'm sorry. But that isn't who I am. I just need someone to help. I've been asking for help for ages and I'm too embarrassed now."
Megan's family have been trying to get her help too. They feel the mental health system has let them down.
Meanwhile, Ms Khan, who released the video to the world, says Ms Walton is 'forgiven' and she hopes she receives all the help and support she needs.
This incident not only shows the danger of trying to pigeonhole so-called hate crime, but it also demonstrates that the law as it now stands is quite adequate.
Current legislation protects people from any form of violence – bullying, assaults, threats, insults, intimidation, harassment, defamation, slander, libel and other such harmful practices.
On-line laws have also been tightened, making it an offence to post harmful digital communications – including private messages and publicly shared posts – with a penalty of up to two years imprisonment or a fine of up to $50,000.
In addition, while Clause 14 of the New Zealand Bill of Rights Act protects our right to free speech – "Everyone has the right to freedom of expression, including the freedom to seek, receive and impart information and opinions of any kind and in any form" – the Human Rights Act makes 'hate speech' an offence. Sections 61 and 131 criminalise opinions that could be deemed 'threatening, abusive, or insulting' on the grounds of 'colour, race, ethnic or national origins' that could create racial disharmony. The penalty is imprisonment for up to 3 months or a fine of up to $7,000.
On top of that, the Sentencing Act specifically protects 'groups' from any hostility through Section 9, which outlines the aggravating factors that could contribute towards longer sentences – including if "the offender committed the offence partly or wholly because of hostility towards a group of persons who have an enduring common characteristic such as race, colour, nationality, religion, gender identity, sexual orientation, age, or disability".
In response to the calls for tougher laws, the Justice Minister Amy Adams said she does not believe that new hate crime legislation is warranted: "My take on it is we have a very low level of that sort of behaviour in New Zealand. And when it does come up, I haven't seen any indication that our offence framework fails to deal with it."
And the Police Minister Paula Bennett agrees: "I don't see the need for specific hate crime legislation at the moment. It's not something that's on our agenda."
In reality, Dame Susan is going too far with her call for stronger laws in this area. In fact, any attempt to strengthen hate speech laws would be highly subjective and open to abuse – especially by those wanting to close down debates to deny those with a contrary view their right to free speech.
As it stands, the current laws already give the Human Rights Commission too much power – as was evident in 2014, when they began monitoring the media to 'name and shame' those publishing viewpoints they considered to be negative to Maori.
While the Commission claimed that keeping an on-going tally of such negative reporting around the country would not to stifle media freedom – "Our aim is not to limit media freedom, we want to start an open conversation about balance, fairness, social responsibility and quality in reporting" – in reality they imposed a culture of censorship, that was designed to silence anyone criticising their radical separatist agenda.
The freedom of speech is at the very core of a democratic society, and attempts by a State agency to undermine balance in the media and in on-line debates – especially about issues as contentious as race relations – amount to an abuse of power.
Their bullying is not only reserved for the media – many individual New Zealanders have been hounded as well, as two high profile cases involving academics demonstrate.
Back in 2010, there was a storm of protest and calls for the resignation of Professor Paul Moon of the Auckland University of Technology when he published a book outlining how violent and widespread Maori cannibalism had been.
In an article for the NZCPR, he explained, "There is currently a growing body of literature being produced by scholars in many parts of the world which suggests that traditional cannibalism – of the sort practiced by Maori – either never occurred at all, or that if it did, it was done to perform for Europeans, and was not a part of the true culture of those 'performers'."
He wrote his book to denounce such "historical revisionism" and present the truth: "Among the main findings were that cannibalism was a widespread feature of traditional Maori society, and that contrary to the popular suggestion that it was practiced to consume the mana of the dead person, it was more frequently a product of hostility in which the dead were eaten as a means of inflicting further humiliation on them, culminating in them being turned into excrement".
The Human Rights Commission told Professor Moon they had received an anonymous complaint of racism and offered him mediation. But when he went public, they denied their offer and abandoned the investigation.
Massey University Economist, Dr Greg Clydesdale, was not so lucky. A press statement that year about a research paper he had prepared, showing that Polynesian immigration was creating an underclass, stirred up such a frenzy within the Commission that they undertook an investigation and wrote a 69 page review – without receiving a single complaint.
According to Dr Clydesdale, his paper used the government's own data to show, "that of all immigrant groups entering New Zealand, Pacific Islanders have less productivity and are less likely to contribute to economic growth…"
In both of these cases, the authors cited their right to academic freedom – a convention that bestows on academics the right to be the 'critic and conscience' of society through the open and free discussion of controversial issues – without retaliation by their universities or the government. By undertaking their investigations, the Human Rights Commission was breaching this convention.
The Human Rights Commission claims that the threshold for complaints under Sections 61 and 131 of the Act is too high. They say people can make highly controversial remarks, which may be regarded as offensive, but no action can be taken unless the remarks are likely to cause serious ethnic tension. They say, "Only where there is the potential for significant detriment to society can the right to freedom of expression be limited".
However, that doesn't stop them from 'regulating' commentary through the issuing of threats of an investigation and prosecution.
Without a doubt, human rights protectionism is increasingly trampling over free speech in New Zealand. All it takes is for one person to take lay a complaint for an investigation to be launched – but in fact, as the Clydesdale case showed, complaints are not even necessary for a witch hunt to occur.
Personal attacks – under the auspices of human rights breaches – have now become an accepted way of silencing critics, shredding reputations, and ruining careers. A climate of fear and intimidation is now preventing people from speaking their mind – and the Race Relations Commissioner is making the problem worse.
Last year Dame Susan created a website for 'victims' to share stories of racism – including the 'casual' or 'soft' variety. The aim was to demonstrate how racist our society has become.
Without a doubt, such measures are having a chilling effect on free speech. Speaking out is fraught with risk. Nowadays, whatever anyone says or does is not only judged, but can be broadcast on social media for all to see – and for activists like Dame Susan to feed upon.
This week's NZCPR Guest Commentator is well known broadcaster and passionate defender of free speech Lindsay Perigo, who warns:
"The legislative means by which Susan Devoy can don a Nazi uniform and shut down free speech, as she is clearly intent on doing, is already in place.
"If we are to reinstate and retain freedom of speech in the face of Devoy's upcoming onslaught, here's what must happen:
1. Salman Rushdie's famous dictum, "There is no such thing as a right not to be offended" must be emblazoned in the sky.
2. So too must "I disapprove of what you say but will defend to the death your right to say it."
3. Dame Susan must be abolished—i.e., the office of Race Relations Commissar.
4. Article 4 of the Bill of Rights, rendering it a sham, must be repealed.
5. The Human Rights Act must be repealed."
The reality is that people are getting sick and tired of being told what they can and cannot say. With the Human Rights Commission, forcing their politically correct agenda onto the country – and wanting more powers to prosecute people who say the wrong thing – they have now become a real threat to free speech and our open society. They should be abolished.
THIS WEEK'S POLL ASKS:
Do you agree with Dame Susan Devoy that 'hate speech' laws in New Zealand need to be strengthened?

*Poll comments are posted below.
*All NZCPR poll results can be seen in the Archive.

THIS WEEK'S POLL COMMENTS
| | |
| --- | --- |
| "Political correctness" is abhorrent & curbs freedom of expression. People in general these days are easily stirred to take offense at the slightest thing. The combination of the two shuts down most debate. Regrettably, I'm a believer in calling a spade a fornicating shovel. I was born & brought up that way. | David |
| An ignorant inane and arrogant proposal. | Rob |
| More than enough existing laws. | Sue |
| We Europeans in Rotorua are subject to hate speech from the local Maoris in our street, especially the kids. Is Susan going to take this into account? or just if it is the other way around? Get real. | Heather |
| The office of RRC and its little Hitler at the helm, Devoy, need to be sent packing for all the good reasons cited in your article. | Colin |
| It is total suppression of freedom of speech. Very much like when the Nazi's took over Germany. | Adrian |
| Get a life – the right to free speech must be retained. | Graham |
| The term 'hate speech' could mean any casual comment by any person that another person dislikes. Get over it and accept that ALL people have prejudices of one sort of another and should be able to voice them, as an emotional outlet, rather than to the more serious scenario of physical action to vent their feelings. | Vic |
| NO NO NO. | Constance |
| She needs replacing. | Barry |
| If you examine the present and past commissioners you will find that they have all been out of touch with mainstream New Zealand. I recall the furore created by Chris Laidlaw and in fact people like Susan and Joris et al have brought the position in to disrepute. The position needs to be scrapped as I can't think of a single instance where a common sense outcome has prevailed. The commissioners have been the extremists, not the population in general. | Mike |
| The nanny state and it's social engineers are at it again. Devoy and the HRC need to go ASAP. | Steve |
| FREE SPEECH MUST BE LEFT AS IT ALWAYS HAS BEEN. | Frances |
| Such laws are a blunt and biased weapon. | Neville |
| Definitely NOT!! Freedom of speech in a democratic society MUST always prevail. Devoy was totally unsuited and a poor choice as Race Relations Commissioner. | Tony |
| Although I wish I wouldn't keep getting offended by the very presence and racist script of Willy Jackson. | David |
| | |
| Scrap the commission also. | Stan |
| I hate Susan Devoy and all of the PC racist bullshyte she and her office spout. There ya go Susan, put that on your watch list and shove it where the sun don't shine. | Stevo |
| 'Speaking out is fraught with risk.' I agree. Dame Susan Devoy needs to be abolished along with her position. It is PC gone to extremes again. If you dare to make a comment, you are immediately labelled as racist or a red-neck, all of which is over the top. | Chris |
| Dame Susan should get a real job. | Terry |
| Definitely not! If we weren't so damned thin skinned, it would go over us like water off a duck's back. | Kevan |
| Naughty Susan has not even defined her terms. If she did she would realise she is attacking free speech. | Tom |
| Everyone should be treated as an equal. | Tom |
| Devoy's own level of understanding really has a long way to go. On top of that, her office is a complete and utter nonsense whose existence has only served to worsen what really wasn't a problem to begin with. | Jim |
| Susan Devoy was a great Squash player and deserves all the plaudits she receives but I cannot see how a sports player without any University degrees in Human relationships or such has the expertise or balance to make such calls. | Wayne |
| I am one of those who are becoming fed-up with being told what I am allowed to think or say. It is time the Human Rights Commission was abolished as we who want freedom of speach also have Human Rights. | Patricia |
| Susan Devoy has no background that makes her an ideal race relations councellor. Playing squash is only a game, and what she is now doing seems to be a well thought out attack on our rights to free speech. Her biased approach to her job has taken her 'game" to frightening dimensions. | Lloyd |
| Abolish the commission. | Neville |
| She has been a disaster in the job.. Perhaps she has has had too many bangs on the head with a squash racket. | Dernr |
| Of course. | David |
| Dame Susan 'Devoid' – of common sense that is – she is doing more harm than good to race relations in NZ. | Laurie |
| Devoy is the square peg in the round hole. Quite the wrong person for the position of Race Relations Commissioner. | Ernest |
| The dame should not be in the position she is in. She is very biased and bad tempered as she was when playing with her racquet and balls. | Max |
| Free speech opportunities that we have is a right the citizens of many countries can only envy. To muzzle this is simply removing a right. However inciting racial hatred is over stepping the mark. A balance must be maintained. | Dennis |
| Sorry Susan you are living in a dream. | Ray |
| | |
| --- | --- |
| This moron needs to go. Who employed her. | Joe |
| There is too much weight given to the odd protester, tell them to pull their head in and grow up. | Gareth |
| Worst Commissioner we have had in my opinion. | Colleen |
| The only legacy for Ms Devoy needs to be that she is the last Race Relations Commissioner. I have no respect for someone who has derangement syndrome and has obviously been captured by the left-wing Marxists and Maori radicals. | Monica |
| I've had enough of this political correctness. I will not accept being pushed into accepting the gay lesbesian movement as normal, it is against Gods laws. Marriage is legitimate only between and a man and a woman., it is the only acceptable form of marriage 'anywhere'. I do not acce pt the s tend that Devoy is suggestion, if she wants a legacy then she should consider turning to Jesus Christ and he and he alone will show her legacy, if any, he has for her. | Phyllis |
| Absolutely not. The sooner Susan Devoy and her office are disenfranchised the better for the future of NZ. | John |
| The office of the Race Relationship should be abolished. | Barry |
| Thought we all had freedom of speech? Funny ha ha, look at someone sideways now and get accused of being racisist same for speech,wots next from the do-gooders. | James |
| Ridiculous, the law has gone too far now. | Graeme |
| Absolutely NOT! PC gone mad. Free speech is a must! | Andrew |
| Political correctness views gone mad!! Wish I could double my NO vote> | Jim |
| In my opinion the Race Relations concilliator is perpetrating worsening race relations in NZ. Her view of the world is now controlled by tribal maori activists. | Maureen |
| This "hate speech" phenomenon is just another angle to the globalist pitch for globally centralised power and globally uniform suppression of personal responsibility and parental authority, ie submission of "natural rights" to do what one can to survive and prosper to control by central authorities. Dame Susan was a very good squash player, but does that qualify her (or indeed any fallible human) to tell me what I can think and say? | David |
| Susan Devoy is a grossly over paid, under performing Human Rights commissioner who was never qualified for the job. | Sarah |
| The whole concept of "hate speech" is flawed because it's such a subjective matter. People can, and often do, take exception to certain things that are said (about them, or others), but that doesn't automatically make it a matter of hatred. We already have tough laws about urging people to take action (incitement) or telling lies (slander, libel, and defamation), and that ought to be enough. Furthermore, Devoy has shown herself to be deplorably partisan in her judgement (arguably, the Race Relations Commissioner is herself racist), and so one can be sure that if this proposed strengthening of the law were to come to pass, it would be very selectively applied. This would be potentially disastrous for our democracy. | Graham |
| Absolutely not. She, along with the office of Race Relations Conciliator needs to be abolished. | Bruce |
| We need to get rid of this woman before she does any more damage. Her position should go as well. | Elizabeth |
| What a load of b*llocks! | Maddi |
| What a waste of police time and my tax $ | Barbara |
| Devoy's term of office is about to end. She is a one-eyed provocation as regards race relations. No reappointment please, and abolish this quango. National Govt, are you listening? | John |
| Susan Devoy should be dumped. Her enthusiasm for for maori entitlement is the basis of her warped logic which undermines the future of political stability in this country. | Kevin |
| I disagree with the concept of Human Rights. I believe that that Commissioners office should be abolished. It creates division and mischief. I believe in freedom of speech and reason. | Harvey |
| Absolutely support Perigo's stance. | Irvine |
| Just another attempt to shut down informed debate, like crying racism. | Kevin |
| Her idea is an inciting act itself. We have enough laws to cover this area. | Bridgette |
| I have never had confidence in her judgement. | Barbara |
| One law for all. | Ross |
| It's time she went. | Kevin |
| What we are seeing now here in New Zealand, is a complete replica of what the Trump & those who vote for him are experiencing in the USA. It matters not to those left wingers, that they have been beaten democratically in the election of a President and Congress they just will not accept the verdict. Dame Susan Devoy has, by her actions since taking up this post of Race Relations Commissioner shown very clearly that her primary concern is for the non-white section of our population in regard to racial discrimination at the same time showing that she considers the Europeans as racist colonials. By that action, which is not illegal, as this country has signed the 'U.N. Declaration on the Rights of Indigenous Peoples' example refer Articles 23-29. Dame Susan is following the mandate set by the National Government of PM John Key which was endorsed totally by our Parliament. It remains A Fundamental Constitutional Action taken without recourse to the wishes of the people of New Zealand. Absolutely nothing will be done by our political parties; especially in the absence of any meaningful right wing party in New Zealand. Or on Racial matters, Dame Susan Devoy or hate speech until the election is well and truly over. Unless we have we can remove the present Maori Danegeld political stranglehold in our Parliament, we will continue to see more of the same. | Brian |
| Definitely NO! Her goals have no place in a democracy. All legislation should be strengthening democracy, which encourages first of all respect for one another. | Cecelia |
| NZ is way too PC now and would not be helped in any way by her agenda. | Ian |
| Devoy makes a bigger contribution to the problem than anyone else with her stupid bias against anything european. | Alan |
| Let Kiwis of all ethnicities be able to have their say without big brother looking over their shoulder. | Peter |
| Freedom of speech needs to be available for all. | Bernard |
| Its bad enough now, without more legislation! | Simon |
| The sooner she is out of office, the better for all NZ. | Steve |
| They must be made more specific. | K |
| Current law is sufficient. I prefer a world where I can openly see and hear what others are thinking – no matter how it may differ from my own personal views. Better out in public than hidden. | Ayr |
| All of these commissions need to be closed down as a total waste of tax payers money. | Hugh |
| Get rid of Devoy and close down human rights commission. | Jack |
| The problem is this PC crap being forced down our throats by this minority, stops the use of some words. Thus rendering it impossible to discuss a point of interest, exactly what the PC minority want and are getting. | Sam |
| We need to protect the right to free speech with total determination and commitment as we strive to prevent an evil religion being inflicted on New Zealanders. | Paul |
| I say get rid of the Human Rights Commission and Susan Devoy and all the blotted bureaucrats that staff it. It will save the country mega dollars and let us say what we think even it offends someone with a thin skin or tolerance level. I agree with the Don Brash Hobson's Pledge that we have one law fro all and no Maori Seats in parliament. No busy body like Dame Susan Devoy is not going tell me I am saying something hateful | Colin |
| The prison'would be overflowing if every person was accused and convicted of saying or having say'd something critical of Donald Trump or our Parliamentarian's. | Theodorus |
| There's no need for increasing Pc-ness in our society. | Grace |
| "Dame" Devoy is devoid of common sense and yes it would be beneficial to all New Zealanders if her and her office were demolished….I mean "abolished" OOPS I can hear the Brown Shirts coming for me now. | Wayne |
| Do not agree. The laws as they are are now are suitable. This is just another ploy by the PC social justice warriors to increase their own sense of self-satisfaction. | TK |
| Dame Susan is a bigot unsuitable for her job. | Tom |
| Trying to define 'hate speech' is like trying to pick up mercury rolling across a lab bench. The response should be join a debating club or 'harden-up'. | Bruce |
| She is as dangerous to nz as Hitler was to the rest of the world so she should be sacked asap but with the government bending over to the bloody maori she will most likly get the Gov. Generals job next ,,lets bring Trump over to sort things out! | Richard |
| Free speech is paramount in an open society. | David |
| Only free speech can guarantee a free society. Suppression breeds rebellion. | John |
| Dame Susan should get a real job. We don't need no race relations whatever she Is. | Carole |
| These laws are a detriment and cancel free speech in NZ. they must be abandoned. | Brian |
| In the 70's British people in NZ were all called Pommie Bastards. When I complained that it was insulting I was told that it was a term of love!!! I had to get over it!!!!! | Jill |
| Susan, really? Before you leap to the defense of any muslims just go and read the passage of the sword from their unholy book. Then spend a couple of minutes figuring out who the infidel is in that passage. Do you really want the Earth washed with your blood? Didn't think so. Isn't that a bit hypocritical? | Mark |
| No. No. No and No. Wtf were you thinking? That's right – you weren't! Susan, I respected your sporting achievements and agreed with your stance on the discrimination against women in sport. But this? This belittles you and sullies all of your previous achievements. I truly hope our future memories of you will be as warm as the ones I had of your early career. Kia kaha! Be true! | Mark |
| Devoy is totally devoid of what we would call common sense .We do not need people like her adding another thing called 'hate speech' on to this fast growing political correctness trash heap .This so called race relations department is a joke and does only serve a privileged few to draw fat salaries at our expense. Have they ever delivered something tangible at all for their money. Most likely not — otherwise we would have heard about it!!! Time to shut this useless outfit down and allocate the freed up funds into something more useful. | Michael |
| Freedom of speech is important for a democracy to succeed. Constraint of free speech ensures freedom can be curtailed and draconian fascist style (extreme right or left wing) governments can gain totalitarian control. | Bryan |
| Eric Blair is alive and well. His prophesy "1984" has been well exceeded by the global thought police. How soon before all Catholic clergy, for example , are hanging from crosses? | Philip |
| Let's hope we never become a country of 'Yes Mam/Sir puppets. But be free to argue and be argued with. | Susan |
| It would set a very dangerous precedent! | Michael |
| A club @ Ak Uni was closed down this week by threats & hate speech because someone disliked the thought of a Europeans club. They branded it white Supremist with noting to go on but the fact they thought the starters were "sus" & used a font from old Germany. | Nick |
| Dame Susan Devoy has become one of the worst Race Conciliators ever. She takes HER side and we are supposed to agree This is the problem, True New Zealanders no longer are allowed FREE Speech and made to accept what she says —-what about our views and opinions –do they not count. New Zealand is becoming far too One sided over many matters and we are beginning to feel like we are to be controlled by a gestapo Freedom of Speech may soon be no longer allowed. | Marylin |
| Existing legislation covers it. | Don |
| Current legal protection and resolution of such speech and behaviour is adequate and does not need strengthening. | Bill |
| It's tome to get rid of Devoy, her office and the PC brigade. | Athol |
| We used to live in a country where people challenged other people but was not called hate speach I refuse to deal with a muslim woman with head covering it is not the person but what she represents so I am labled racist we have no need of A race commissioner. | Russell |
| Dear Dame Susan… may the fleas of a thousand (Muslim?) camels invade your armpits. And various other parts of your anatomy. Dear Nat Govt, who were the morons who deemed Dame Susan to have "any" qualification for her position? Oh, she was a squash player… so that qualifies her? Yeah Right! | Paul |
| Used to think the N.W.O. was a conspiracy theory. Every-thing happening around us in the 'free world' at present, is proving it to be a reality. Yet still the public will vote for the status-quo at the next election, & wonder why even more freedoms that we once enjoyed, become only memories. | A.G.R. |
| Free speech is basic democracy. | Albie |
| Those at Auckland University who created uproar over the formation of a 'Eropean" society obviously have not read the Bill of Rights. | Brian |
| She needs to be made accountable for her over the top reaction to what people say. | Arthur |
| I believe strongly in the ideology that we should be evolving from Equality to Inclusiveness in NZ society. To take away a fundamental right to express an opinion smacks of Fascism. | Penina |
| | |
| --- | --- |
| There is already too little freedom of speech. | Keith |
| Susan Devoy is a precious fool. | John |
| voltare | John |
| I would HATE to comment for fear of being victimised | John |
| I met Dame Susan once at Halberg sports for disabled children, and she was the most gentle kindest person one could ever come across. I don't know what's happened to her now, but she seems hell – bent on making an even bigger name for herself for all the wrong reasons. I'm just so sick and tired of the dribble that flows from her every time she opens her mouth. It was Christmas a while back. Next month we should make her Governor Gen of White Island ? | Ray |
| Freedom of speech is eroding at a faster rate each year. Soon, having a contrary view to those in control will be an indictable offence. Wake up NZ. This PC crap has to be fought against. Speak up and be dammed! | Jock |
| Harden up folks. | Peter |
| Lindsay Perigo got it exactly right quoting Rushdie 'There is no such thing as a right not to be offended' and 'I disapprove of what you say but will defend to the death your right to say it.' He is right that the office of Race Relations Commissar should be abolished, Article 4 of the Bill of Rights, must be repealed along with the The Human Rights Act. I always say that it is up to people to TAKE offence at anything that is said within their hearing. To TAKE something is a choice, so you can choose, or not choose to be offended, and it is IRRELIVENT what has been said. Look how the "population" turned the other cheek when Hone whatsisface made his white m—– f—- outburst? So he got locked up for that….NOT. Was I offended, no I just felt very sorry for him and I understood that that was the best he could do. It was OK for him because of the partly brown colour of his skin! So now we may see this lowlife in parliament? But my white skin does not allow me to reciprocate and get away with it! | Neil |
| Absolutely not! That woman [?] needs to be squashed. | Denis |
| She was a good squash player, that's all. | Philip |
| Sack this politically correct disgrace . | TOM |
| Think it's time to rid of her. | Paul |
| Dame Devoy's in her Waitangi Day speech compared her understanding of evets at Rangiowahia to "war crimes" . Did she check the veracity of this, or did she rely on hearsay evidence by a school girl ? All the info I have researched confirms that "word painting" has distorted the truth. Dame Susan's speech was uncalled for and very foolish as it would do nothing to improve race relations in NZ …. it must have incited anger in the simple minded and uneducated !! Does Dame Susan think she is above the law? | Julie |
| It's time to do away with all this PC nonsense. Your freedoms are being eroded away. We don't need more laws, just enforce correctly the laws we have. | John |
| Certainly not. This would be immediately misused. | Roy |
| This Devoy woman has been far removed from reality since the day she got the position, convincingly revealed by her deluded rantings on cases of complaint largely from people who have difficulty in identifying fact from fiction. These liberal lefties are unable to grasp the true issue and prefer to arrange protests if anyone disagrees with their view, The claim by Devoy over the students that she would be "Keeping a close on on them" This is a clear admission of her political leftie sympathies and secret police style of administration. It has no place in this country and to promote hardening of race Laws will promote the very thing to be avoided. Her tenure is coming to an end and will be remembered, if at all, as an obscure "pop up", mouths off, and then go's back to sleep. | David |
| Political correctness gone mad must be stopped | Bryan |
| Although I would hate being called names I believe firmly in the old ditty we knew as kids; 'Sticks & Stones may break my bones but names can never hurt me'. | Eric |
| Sticks and stones may break your bones but names will never hurt you. Hate speech laws are about shutting people up, making people afraid of speaking out against injustices, which allows tyranny to prevail. Those that lived in east Germany and many other dictatorships new that only too well as speaking out could lead to state sanctioned imprisonment or death.Power has gone to S Devoy's head it seems. | Don |
| She needs to go. | Shane |
| Free speech is the foundation of democracy and must be preserved at all times regardless of race or creed. | Catherine |
| The sooner Devoy moves on the better and obolish the Race relations comisson. N Z is becoming a divided nation due to such oginizations that are being promoted. | Ken |
| Satisfied with the present position. | JayJay |
| Freedom of Speech must not be contradicted or impeded. | Graham |
| Already one looks over one's shoulder before making any comment that might possibly offend someone. Get rid of the Human Rights Commission. | Ann |
| This lady is misguided in a dangerous way in fact she is totally bananas. | Lance |
| Dame Susan Devoy is a dangerous extremist who's views and opinions must be vigor ously opposed. | Trevor |
| It seems that Dame Susan is living in her own little world. free speech must remain or we will end up like Syria! | Liz |
| What a total waste of resources. Dame Susan and the role of Race Relations Commissioner need to have a firmly described mandate and terms of reference . In fact she and her predececcsors have achieved the opposite of what they should be achieving with their PC nonsense. | John |
| Devoy represents an unqualified political appointment who continually tries to justify her appointment with extreme grandstanding and this is another example. | Don |
| Hate speech laws would stop everyone saying anything about anyone that was not praise. Can't say i feel that way about everyone I know. | Peter |
| We need to protect our right to freedom of speech. Who decides exactly what "hate speech" is? | Patricia |
| The Dame should stick to that which she was once good at. | Anthony |
| She is an egotist. | Dave |
| We don't need more laws that restrict freedom of speech. | Bernard |
| We are over-regulated now. The Human Rights Act covers this sufficiently. Most abuse cases are fueled by alcohol, so it is the drunkenness which should be addressed not some extra "hate law". | Graeme |
| We don't need a race relations tribunal we never had one in the Sixty's and we don't need it now,. sure there will be the odd mouth out there but so what! the money would well spent on heath or education. | Les |
| Dame Susan should stick to squash! | Don |
| Defamation laws & the like are already in place. Susan Devoy obviously hasn't done her homework. Democracy world wide & within NZ is teetering on change at the detriment of the people! It is crucial that we retain a strong democratic society. Freedom of S speach is the cornerstone of a socially strong, healthy democratic system.. | Kathy |
| By whom? On whose recommendations? | Mabel |
| Certainly not. We have to protect free speach and existing laws have proved sufficient in the past. | Keith |
| Maori's are the worst offenders of racism and we aren't allowed to defend ourselves because along comes Devoy and reverses the racist remarks by Maori;s. Maori's are holding everyone back and keep bringing up the past and not a single one of them was alive way back then. They refuse to "move on". And Finlayson is forever "appologising" to them, and that I find, is embarrassing". | Phil |
| | |
| --- | --- |
| Dame Susan Devoy lost my confidence in her ability to do her job, when the criticized Sir Peter Leitch. | Greg |
| Every one in a free society is entitled to FREE SPEECH regardless of their views. | Gary |
| The right to free speech must be protected at all costs. | Graham |
| Freedom of speech is a vital plank in our society. Just because we don't like it doesn't mean we should shut people down. Society provides the balance.. | Stewart |
| Wrong woman, wrong job. We need to get rid of both. | Bruce |
| This stupid, irrevalent woman will have listening devices in our lounges next. Just look what is happening in Europe will the Muslim mix throughout societies and LEARN A LESSON from their mistakes. Shut down this irrevalent govt slush fund dept and tell her to get a job or go back to playing her silly game with a racquet. | Carolyn |
| Susan learn what the word free means. Lots of people gave their life for you to be free. Do yourself a big favour and resign today. | Johan |
| The problem is not with the law but the incorrect person being given powers that they do not have to intellect and education to use. | Leon |
| We must have the right to say what we think. Abolish the HRC office & fire Susan Devoy. I am offended by muslims attacking our rights to wish people "Merry Christmas" & insisting on meat being killed my the inhumane halal method. Don't I have the right to say so? | Kerry |
| She is a disgrace sucking up to people who constantly seek out ways to be offended or to live in the shoes of victims or otherwise be indignant or morally insulted. | Brian |
| Dame Susan Devoy is out of touch with reality and democracy. She should rather adopt Islam and then apply their strategy against free speech. I think she would look very nice in a Dharka !! | Pierre |
| She needs to be given the red card immediately. More PC crap. | Neville |
| Wake up National abolish The Race Commissioner as stated not long ago. It's passed it's use by date. Winston will step in and make it an issue prior to the election. | Suzanne |
| It's not broke don't fix it. | Bruce |
| Long live freedom of speech. | Pete |
| Devoid needs to resign and the department closed. | Chris |
| Law is adequate. | Nevkath |
| We need to preserve our free society. | Ross |
| Freedom of speech is (arguably) more important now than ever. | Kim |
| What's the old saying? Sticks and stones will break my bones but words will never hurt me. And we call this 'progress'??? | Alan |
| Devoy needs to go. | Mark |
| | |
| She commonly terms, truthful speeches as hate speeches, its a shame when one cannot say their mind any more, because of the childish pc attitude that many seemed to have adopted. | Roy |
| Susan Devoy needs to be fired. She should be the first to go if we get to drain the swamp of beauacrates spending their days in high paid jobs inventing more way to shut down free speech. Didn't Hitler and his henchmen do this also. | Morrie |
| Yet another PC adventure into the realms of ridiculousness. | Don |
| Sadly I think Dame Susan Devoy is totally out of her depth and should have stuck to sport which she knows something about. Her knowledge of what makes the real world tick is severely restricted. | Albyn |
| This is just another ruse by the liberal left attempting cunningly to block out free, balanced and rational opinions over our democratic society which is often claimed by 'the left' as hate speech. Beware of the present review of the Resource Management Act (RMA) before (the house) our Government which has potential to 'slip through' into legislation automatic un-elected appointments with full voting rights; these persons who could be called radical 'haters' given entitlement, manoeuvring and plotting to establish their racial dominance over New Zealand. | Stuart |
| It is the PC Definition of 'Hate' that is the worry. As is their 'Definition' of racism. Obviously 'Hate' anything, really means any other race bar ours.. | Gordon |
| I applaud Amy Adams for, so far, not allowing more laws to be introduced against free speech but she needs to do more and remove those that already exist. | Shelley |
| We already have many too laws, many of which are never used -so either enforce them or remove them from the books and lets start using some common sense! | Rob |
| Susan Devoy has been as useless as all the previous ones in her position to date. It's strange how we only seem to get pro anything else but ordinary (European) New Zealanders in that position. I wonder who appoints these people? | Lorraine |
| Let's hope the new government (in September) has the 'whatsits' to eliminate the likes of Devoy. Reddy (her inauguration speech on Treaty partnership was a complete lie) and their sort, together with non-democratically-created organisations such as Devoy's HRC. | Paul |
| Devoy is forever creating more division than help. It is time she was replaced and went back to play sport or comment on it on TV, she may be good at that | Tom |
| Dame Susan is struggling to justify her role. | David |
| The office of the RRC offends me, therefore by their warped standards, we should fine and jail SD. | Rod |
| Absolutely ridiculous.The woman is a menace to society. | Murray |
| Human rights commission should be abolished. Bill Of Rights is the document to go by. | Steve |
| Men and woman went to war to give us freedom and the right to have free speech. If we do this we are becoming more of a police state and we are losing our right of freedom. I think Susan Devoy needs to leave office and move on. We don't need more state control. New Zealand is not going down a good pathway with its Laws. Some people get better rights than others. | Robert |
| Definitely NOT. | Geoffrey |
| Susan Devoy is way off track & frankly out of her depth. | Michael |
| Freedom of speech is one of the foundation stones of any democracy | David |
| Lindsay said it all | Bruce |
| | |
| --- | --- |
| She was a good player of that funny game that I really hate. She is a very dangerous person and should be removed from the role which gives hercuch power. Personally, I really dislike her. | Derek |
| Dame Susan's appointment was a bad mistake. | Frank |
| Devoy's thinking is below par and always has been. She is most unsuitable for the position to which she had been appointed to. She should be replaced, now. | Charles |
| The present laws are perfectly adequate. | David |
| I think Susan needs to go back to playing squash. She is totally unsuited to the job she has and is more likely to cause problems than fix them. | Robbie |
| Dame Susan seems to be intent upon stifling everything except politically correct drivel. It is impossible to say anything without offending somebody who is just waiting to be offended. She was a superb squash player, so probably should have launched a new career coaching others in that game instead of becoming a separatist activist quoting from The Little Red Handbook of Political Correctness. | Mitch |
| Better still to tell her where to go and don't be PC. | Ralph |
| There should ALWAYS be Free Speech we as humans have OUR views & NO-ONE should EVER be allowed to stop us airing OUR opinion on ANYTHING. | Cindy |
| Hate speech Laws would only increase racial hate …. | Geoff |
| No – a thousand times no! I agree with very little that Dame Susan Devoy has to say and I most definitely do not agree with her recent comments on "hate speech". Just where the hell are we going as a "free country"? | Martin |
| The complexity of strengthening the current law would be absurd. It works well as it stands. | Vicki |
| Certainly not! PC has gone too far already. It needs to be stood on, and hard. | Robyn |
| As Maori are apparently exempt from prosecution, the majority of "hate speech" is not taken before the courts. | Tom |
| Every one is entitled to their opinion with being threatened by biggots. | Pete |
| One step further to make us all puppets on a string. Many are scared already and sing the song they are expected to sing. If not you could be in for nasty surprise. | Ido |
| I was never convinced about Susan Devoy's qualification to be our Race Relations Commissioner and this current idea of hers only goes to reinforce that opinion. | William |
| The book is right. | Owen |
| The only real hate speech in this country is coming from the race relations commissioner herself. | Dennis |
| Susan Devoy is completely out of her depth as race relations commissioner and should be relieved of her position immediately. She shows no common sense or fairness. | Mike |
| She is creating more racism by exaggerating her personal views. | Brian |
| She should do the country a favour and resign now! | Graham |
| Definitely not. | Campbell |
| As eruditely noted by Muriel above, 'hate speech' legislation is a device to silence dissenters. | Barend |
| But Maori radicals do need prosecuting for there anti euopean /pakeha reteric. | Terry |
| No I most emphatically do not as this type of reasoning carries the potential to remove free speech from the people as a whole and thus eventually promote a hate sufficient to create a greater and wider universal hate. Remember what happened in Germany. If we forget we are doomed to repeat history. | Joseph |
| Again why is it only mainly white people who are always accused of racial comments and never coloured people or Muslims, they seem to be able to get away with everything and are the only ones that can be offended. | Jock |
| Too many people who make factual comments that are then vilified by extremists who do not like that view are a detriment to our society. | Willy |
| I agree with the right of free speech and although no one has a right not to be offended, we all have the choice not to take offence. | Allan |
| All that will happen is that people will keep quiet anout their feelings and beliefs and this is how Trump was voted in, and brexit happened. You dont have to be an Einstein to work this out. The cork will blow off the bottle sooner or later. | Elizabeth |
| Susan Devoy should have stayed with squash.She's totally non-qualified to be Race Relations Commissioner or anything else where a modicum of common-sense is a necessity. | Alan |
| What has happened to common sense and compassion? Political correctness has gone too far and too often it is the "ordinary" New Zealander who is its victim. | Margaret |
| Why don't we just abolish all these useless commisioners? They are a total waste of space. | Michael |
| I disagree with Dame Susan on most topics, although this has merit. I believe that the position of Race Relations Conciliator should be abolished. | Andrew |
| Just another liberal excuse to shut down the truth. | Ross |
| It's all a bit sad. Susan Devoy is no doubt at well meaning and sincere person but her comments are whipping up a problem where none really exists. Let's try to remember her for her world beating efforts on the squash court and leave it at that. | Peter |
| I'm sick of the PC BS in this country, if people get offended by other peoples opinions and want to call it hate speech they better find their own safe places. | Graeme |
| Revisited rules may be a good idea but don't always need changing. | Ray |
| Vehemently NO. These two oppressive public service departments and their staff of PC deniers of free speech need to be abolished promptly as their salaries are dependent upon their continuation of this dangerous persecution of our personal freedoms. | Gordon |
| Susan Devoy is way out of her depth, she should have stuck with squash. | Christine |
| Free speech is to important to be restriicted by a person out for personal glory. | zjohn |
| | |
| Free speech is a principal on which democracy is founded. | Brian |
| It is my personal opinion to which others may concur that the Office of The Commissioner has been seriously corrupted by the limited ideology of the hard line socialist left to the point that from the news of events eminating from that office, that the office is being manipulated by some activist inclined persons to a complete abuse of natural process resulting in the denial of the right of freedom of speech and the expression of honestly held opinion. For this reason the Office should be abolished. | Richard |
| PC PC again. Hopefully when her term comes ends,the name Susan Devoy will be forgotten. | Peter |
| Dame Susan Devoy is as devoid of common sense as those clapping their hands with glee. believing that their issues are the fault of everyone else. | Di |
| A delicate subject but there are sufficient powers in law already to deal with the extreme issues. Freedom of speech must take priority in a democratic society. | Chris |
| | |
| --- | --- |
| Plenty of bull,,,, comes from that office. It should be abolished forthwith. | Carolyn |
| Her views are consistent with millions of shrill Democrats in the USA. | Alan |
| Dame Susan Devoy is a disgrace! Her speech on Waitangi Day that gave an historical lie as example of a supposed incident in the Land Wars is in itself enough of a reason for her to go. | Roger |
| I can't remember the last time our government repealed any contentious law, regulation or socialist department. | Rex |
| The silly woman should have stuck to sport! | Jim |
| Susan Devoy herself is to blame for stirring up racial discrimination. | Ruth |
| Susan Devoy is an utter totally biased commentator and like many of her ilk around the world an embarrassing disgrace – ok to criticize 'white' people every day – but allow outrageous comments from ' the other side' – this is unless she realizes Neo- Marxist reverse apartheid nonsense – her office exactly as they are crying out for in Australia should be abolished forthwith . Her coke Te divide our nation- not unity it as was proposed in the continually contemporaly modified 'Treaty' – as in the U.S. Let's re-adopt the principles of the very late Supreme Court Justice Anton Scalia – get real Dame Susan and give our nation some hope for a truly unbiased community – not this continuing & enbarassing PC nonsense . You do not like a European students group at Auckland University but are happy with Chinese & Maori Groups & you accept the lecturing of the Principal of Maori Studies at Auckland University when speaking to her students that Europeans are 'temporary' residents of this country . Tell her to stop or give up her car,TV, electricity , etc etc and go out in her canoe to try and catch fish with a hook made of bone . We have developed a total concept of outrageous double standard ks in NZ without too many realizing this! | Hylton |
| She is grandstanding – again!!! | Alastair |
| I have lived in NZ for 43 yrs now [UK born] and the only hate speech I have ever heard was from that obese blowhard, Tim Bickerstaff who, in 1973 was selling T shirts that read "Punch a Pom a Day" We don't need The Human Rights Commission or the Ministry of Women's Affairs. All the women I know are liberated. Having trained over 1000 auditors, over half of whom were female I can record that they outscored the men by about 10%. Amen…. | Rick |
| She is talking rubbish. | Richard |
| Use.the laws already in place. Disestablish the office of Race Relations Conciliator. | Peter? |
| The 'hate speech' racket, already implemented as unjust statute in Canada, is a very menacing aspect of the PC hypocrisy. 'Tolerance, diversity' intone the PC creeps; yet they fanatically try to pervert the legal system to suppress those values. | Robert |
| Dame Susan's response is emotive rather than rational. | Peter |
| Devoy is going far too far in trying to restrict personal freedom more and more! it would be seen to be more positive were she to emphasise personal responsibility for our speech and actions. I heartily agree with Lindsay Perigo that the Human Rights Act should be abolished, and along with it the position of Race Relations Conciliator – note the last word. | Laurence |
| I feel the Human Rights Commission has outlived its usefulness and should be abolished as with any government department that uses race in anything they do. | Rayward |
| Time NZ dumped Susan Devoy. The woman's dangerously mad. Trouble is, she finds herself in a position of some power. Get rid of her, before she can do any more damage. | John |
| It only works if you are dark skinned. When I complain of racists remarks made to me, it is ignored, because I'm white. | Mary |
| Devoy needs to be put out to pasture. | Kees |
| Absolutely not. In fact her position as Race Relations person– needs to be made redundant. | Deb |
| Usual one sided shit from her. | Ian |
| | |
| Susan Devoy and the Race Relations outfit should be rendered impotent and decommissioned. The whole Race Relations Commission is a tool of repression and oppression. The sooner it is eliminated the better. Who among our politicians who imagine themselves to be Leaders has the balls to get on with it. | Dianna |
| Her actions in support of her 'legacy' are unnecessary, stifling and dangerous. The latest AUESA is a case in point. | John |
| In absolutely no way should it be strengthened. | Joe |
| We all have the right to say what we believe.Freedom of speech, even if you don't like what I say. I still have the right to say it. | Don |
| She (the RR Commissioner) is the largest obstacle to harmonious race relations in NZ. How did such an obviously biased person ever get the job??? | Robert |
| | |
| --- | --- |
| Absolutely not. Get yourself sorted out or just out and find an unbiased replacement if you must. | Donald |
| This racism, hate speech nonsense is becoming ridiculous. | Raymond |
| We are seeing with the muslim menace in Europe just how far the state is willing to go in order to shut down all dissent.We do not need that kind of fascist control on free speech here. Devoy is devoid of any intellectual discipline and has been utterly irrelevant throughout her tenure in this tax payer money wasted pursuit. Shut it down for good. | Charles |
| We must keep repeating the two dicta that you have quoted – freedom is our most important privilege. | Jan |
| . | |
| Dear Dame Susan, Get stuffed. | Mick |
| Free speech is a basic human right. Forcing your beliefs on others is a babaric and bullying culture. | Margret |
| She is a misguided namby pampy liberal. | Jonathan |
| Racism in this country is not multicultural. | Leslie |
| Absolutely NOT. Hate speech laws are an abomination and a crime against freedom of expression. There should be no place for "hate speech laws" in a free and democratic country. | David |
| We must be able to express opinions. Simple as that. | Andrew |
| Everyone has rights except whatever males who pay for it all. | John |
| Has there ever been a Race Relations Commissioner who hasn't made a fool of themselves?. | John |
| Susan Devoy seems to be the racist one here. This week we had a student european group which was disbanded due to death threats (Are the Police investigating these death threats and going to lay charges against them?) and Susan Devoy commented "she will be keeping a close eye on them". Does she keep a close eye on the "Chinese or Indian or Maori" Student groups? I think not. Celtic is part of our European culture and if people take offence to it, they are the ones who are racist. I call for Susan Deyoy's resignation immediately. Two weeks ago the Huntly incident saw a Maori woman arrested the following day and in court. If the roles were reversed would the same occur? I think not. My sympathies are with the Maori woman and yes I did see the video, however, the recording has started midway, my guess is the Muslims started it then hit the record button. People need to take note of what is going on in Europe and Canada and be very afraid we end up like that. Unfortunately it has already started here and I have also been victim of a muslim's lies. I will never employ another muslim again. They are trouble and need to be kept out of our country. | Trish |
| Dame Susan is well past her use by date. | Ray |
| Talk about the creeping totalitarian state. Devoy is doing as she is instructed. | Richard |
| As a person of colour I was a victim of name calling while growing up. It was mean and nasty and hurtful but it showed them up for who they were, not me. And I prefer that to censorship and mind control. We should protect freedom of speech, even if its hateful. | Rebecca |
| Get rid of this law altogether. | Tim |
| What utter rubbish! Stupid woman should be told to harden up – we have all had to wear offensive remarks at some time in our lives without running to the thought police. The last thing we need in this Oh! Sooo politically correct age is for Devoy's totally unnecessary thought Gestapo to be given even more Draconian powers. Hate may be quantified in actions but not in words; not without intrusion into free speech. | David |
| No she's a racist PC hand wringing do Gooder who's position needs to be abolished Forthwith Problem is we have a spineless PC government. But Labour and the Greens would be worse. | Greg |
| Free speech is far more important than some individual or secular attempts to avoid being held to account. | Kelvin |
| Freedom of speech has been virtually eradicated in Europe and look at what's happening there. Some people need to get a life and stop being so sensitive. This is all part of the political correctness scenario and it has to stop otherwise NZ will be ruined even further and be ruled by so-called nazi styled speech police. I will continue to say what I think and if one doesn't like it I am willing to discuss the disagreement on the basis of facts. | Kevin |
| It leads to further restrictions – just look at Australia for very recent examples. | John |
| PC is killing this country. Dame Susan should really stick with squash. | Steve |
| Stop this slavish kowtowing to the Maori. | Kevin |
| It's about time she was replaced asap. | John |
| | |
| --- | --- |
| National should have had the guts to follow through with their plan to abolish the office of the Race Relations Commissioner a few years ago instead of caving in to Maori Party demands. The sovereignty movement has a perfect mouthpiece in Susan Devoy, who has abandoned any common sense and principle that she might have once had. What a dreadful disappointment she has been! | Geoff |
| The whole Human Rights edifice needs to be abolished in NZ as it is doing more harm than good. | Megan |
| In Australia Tony Abbott is calling for the abolition of the Human Rights Commission. If he was smart, Winston Peters should do the same in New Zealand. | Michael |
| Susan Devoy is dead wrong in trying to legislate the control of free speech. As Salmon Rushdie said, it is not possible to do that. Instead, the focus should be on removing special privileges that create resentment. With a level playing field, people are more likely to get on together. | David |
| No, No, No! Abolish the lot! | Keith |