November 11, 2018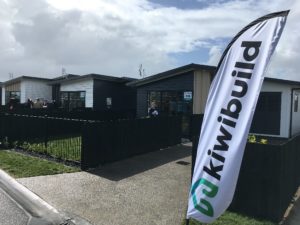 Who would have thought that Labour – a party that has expended a great deal of political capital over the years railing against the profits made by property traders – would introduce a housing policy that delivers significant capital gains to chosen recipients. Like the couples who have made an instant gain of around $70,000 after winning the KiwiBuild lottery .
KiwiBuild was originally introduced by former Labour Leader David Shearer at the Party's 2012 annual conference, when he was under siege from David Cunliffe and needed a "big idea" to galvanise support within the party.
The announcement, that a Labour Government would build 100,000 affordable homes over 10 years for low income earners who were locked out of the housing market, won widespread support and kept the attackers away – for a few months at least.
While the policy proved popular enough to be promoted at each election, the problem was that the details were never really updated.
If Labor had taken a reality check on KiwiBuild before launching it ahead of the 2017 General Election they would have realised that New Zealand's construction sector was already over-extended as a result of the Christchurch rebuild and record immigration. The capacity to build an additional 10,000 affordable homes a year was simply not there.
Once in government, however, even though the situation within the building industry was deteriorating, Labour was undeterred. The goal of 10,000 KiwiBuild homes a year – or 100,000 over ten years – was retained, but the value of the houses and the way they were procured had to be changed.
Instead of building new low-cost houses, to increase the overall availability of affordable housing in New Zealand – which was a key goal of the KiwiBuild policy – Housing Minister Phil Twyford began purchasing homes that were already being built from private sector developers.
When combined with the rising cost of construction, this strategy has now lifted the price of KiwiBuild homes beyond the reach of most low income New Zealanders.
Not only that, but the safeguards that were originally built into the policy, to prevent exploitation, have also been dropped.
When the former Labour leader Andrew Little promoted the KiwiBuild policy ahead of last year's election, he explained that first home buyers would have to keep the houses – that "won't be palaces" but will be "modern, warm and affordable" – for five years, or they would be required to return any capital gain to the Government.
That provision was changed by Prime Minister Jacinda Ardern – instead, buyers of KiwiBuild homes who sell them within three years will have to pay 30 percent of their capital gain to the government. That means that if they decide to sell them early, they will be able to keep 70 percent of any profit they make as a windfall gain.
In effect, Labour has introduced a capital gains tax penalty for the owners of any KiwiBuild homes, who sell them before the end of their agreed three-year holding period.
Labour's rationale for changing the penalty horizon from five years to three years was in recognition of the fact that people's circumstances change, and five years was seen as being too long a time-frame to lock people in.
It's therefore ironic, that Labour ignored that same reasoning for every other New Zealander, when they decided to extend the Brightline test – that treats any gain on the re-sale of a property as income for tax purposes – from two years to five years..
Essentially, since KiwiBuild purchasers secure their homes at below the market price, Labour is giving 'lucky' middle income earners an opportunity to buy a home at cost and sell it in 3 years-time at market rates, making an estimated $100,000 or so in capital gains.
However, since the policy is no longer delivering on the original promise of providing more affordable homes for low income New Zealanders, KiwiBuild is now attracting widespread criticism, with some former supporters, describing it as a 'community trainwreck'.
The price of KiwiBuild homes has been set far higher than originally proposed. The price cap in Auckland and Queenstown-Lakes for one bedroom studio apartments is $500,000, for two bedroom homes $600,000, and for homes with three or more bedrooms, $650,000. For homes outside of these two areas, the price cap is $500,000.
To qualify to enter the ballot for a KiwiBuild home, potential purchasers must have incomes of no more than $180,000 for a couple or $120,000 for a single person. They must say they intend to own the home for at least 3 years and live in it as their main place of residence. They must also be able to find the $50,000 to $65,000 needed for a deposit – if standard 10 percent bank lending rates apply – with sufficient income left over to service the pre-approved mortgage.
To mark the first KiwiBuild ballot, Labour held a street party at the McLennan development in Papakura. Of the 18 lucky "winners", twelve bought three-bedroom KiwiBuild homes for $579,000 and the winners of the six four-bedroom homes paid $649,000.
With other three bedroom homes in the development being marketed for $680,000, and four-bedroom homes for $749,000, the new owners of the KiwiBuild homes were understandably ecstatic over their good fortune.
The couple chosen to front the celebration with the Prime Minister and Minister of Housing were Derryn Jayne, who is set to graduate as a doctor and said "it feels like we have won Lotto", and Fletcher Ross, an online marketing expert who joked on Facebook that they had just made an immediate $70,000 or so capital gain.
Their comments highlight how absurd Labour's KiwiBuild has now become.
This week's NZCPR Guest Commentator, property analyst and former local body councillor Frank Newman is extremely critical of the Labour Government's approach to housing and believes that if affordable homes really are the goal, then it's reform that's needed, not politics:
"KiwiBuild will not make houses affordable for low income people. KiwiBuild is a political distraction. It's nonsense. The new Government has done nothing to address the regulatory issues and restrictive local council planning rules that have caused land and building costs to become the problem that they are. Until they do, housing costs will continue to remain ridiculously high and out of the reach of most people – except those lucky enough to have a KiwiBuild windfall and make a tidy $70k."
The reality is that New Zealand's housing problems will not be fixed until the number of affordable homes being built matches the growing demand. That means a properly functioning housing market – and for that to happen, councils and the Government need to get out of the way!
Some of the main factors that have contributed to New Zealand's housing shortage include a lack of suitable land for building – due largely to restrictive urban boundary council planning rules, a scarcity of skilled labour, impossibly slow council consenting processes, and excessive council costs – to name but a few.
In other words, to ensure more affordable homes are built in New Zealand, more land needs to be made available for housing, council consenting processes need to be streamlined, and the costly red tape that is tying up the whole building industry, needs to be cut.
As Frank explains, "In truth, the 'housing crisis' is really a land and building cost crisis. If it were described as such then the focus of attention could be directed at practical solutions rather than political ones."
He's right. To reduce land and building costs, the Government needs to tackle the issues that are driving the increases with a programme of proper reform.
One of the main problems is the over the years, an environmental ideology that favours housing intensification – to prevent 'urban sprawl' – has permeated council planning departments and is now embedded within planning regulations. The effect has been not only to constrain the supply of land suitable for housing, but also to choke up the processing of consents. Both factors drive up costs and prevent the free market from delivering affordable housing in most parts of the country.
Not only that, but intensification is something most Kiwis do not want. Families generally prefer a home with a decent back yard for a garden and a place for the kids to play, or a bit of land for an orchard, and a few animals.
Instead of forcing people into high rise, high density housing, the answer lies in relaxing metropolitan boundaries and freeing up land on the fringe to help meet the demand. This is the approach taken by Houston in Texas, a city renowned for its low cost of housing, which is largely attributed to the lack of zoning for land outside of the city. With regulations that are enabling, rather than disabling, private property owners are free to develop housing on the city's outskirts – provided they meet the environmental regulations. This has resulted in a plentiful supply of affordable housing.
To their credit, National did attempt to tackle the zoning issue when they were in government, and the Housing Minister Phil Twyford has also said he wants to sort the problem out. It remains to be seen whether his intention amounts to anything more than talk.
National also tried to improve council consenting timeframes, but the bureaucrats found creative ways around the new rules and that too failed. Consents that should take weeks to process, are typically tied up for months or even years, and those delays increase costs and add uncertainty – and therefore risk – to all projects. As a result, land and building prices continue to rise.
On top of this there are the development impact fees that are charged by councils to cover the construction cost of providing 'growth' infrastructure for new housing projects – namely roads, footpaths, sewerage and the like. These costs, which typically run into tens of thousands of dollars for an average home, also drew National's attention when it was in government. But their changes amounted to little more than tinkering and did not stop councils using the fees to create an additional revenue stream at huge cost to developers – and ultimately home buyers.
These fees, which require developers and new home owners to pay up front for the cost of infrastructure, should really be amortised over the lifetime of the asset and recovered as part of an annual operating charge – as it used to be.
If Labour was really committed to affordable housing, they would abolish development impact fees, and require infrastructure to be funded through general rates. They could readily do this by amending their Local Government (Community Well-being) Amendment Bill, which is presently being considered by a Select Committee, since, as it is drafted, that Bill will further drive up the price of new houses by enabling councils to expand development impact fees to levy developers, not only for the cost of the new infrastructure in their housing development, but also for community-wide amenities such as libraries and parks as well.
The Government should also look into why building costs are increasing at the rate they are. They've certainly talked tough about the rising price of petrol, even though that's largely driven by taxes, the exchange rate, and the international price of oil. Yet the rapidly rising cost of building materials, which appears to be far in excess of normal supply and demand, doesn't seem to be on their radar, even though it is significantly pushing up the price of new homes.
There are many other factors forcing up the cost of housing, of course, but if the land supply issue is addressed, and if councils are forced to process consents swiftly, with restrictions on what they can charge for, the housing market would have a far better chance of operating properly, and providing the "affordable" homes that people need.
The big question is whether Labour will tackle these housing affordability roadblocks through proper reform, or whether they will stick to PR and spin, by trying to convince the public that KiwiBuild will solve the problems. Based on the KiwiBuild experience to date, the latter is the more likely scenario.
THIS WEEK'S POLL ASKS:
Do you support Labour's KiwiBuild policy?

*Poll comments are posted below.
*All NZCPR poll results can be seen in the Archive.

THIS WEEK'S POLL COMMENTS

| | |
| --- | --- |
| You know…everybody complains but no-one gets out to protest and hassle these pathetic politicians. They know we are all talk and no do. Let's grow one and show them we won't stand for their lies any more! | Robert |
| I don't support any of Labour's, lying, pompous, groupthink Marxist policies. They are not interested in the low or middle income people or protecting New Zealand but only in their own elitist power. People like David Parker, Davis and Ardern act like disgraceful children. | Monica |
| Sort out RMA, reduce council wish lists, get rid of third party IWI entitlements and let the market work. Is there a leader anywhere strong enough to make decisions for NZ citizens. | Sam |
| They are building standard NZ Houses, which will come at the normal price for a house. There is No Original Initiative in the Design. Bureaucracy is the Death of all Original Thinking – Albert Einstein !! | Pierre |
| Somebody described Twyford as TWITFORD How apt and yet his boss Ardern continues to back him like she does with her other goons. Kiwibuild is a shambles.To expensive for those in need as it was always going to be because of land,consents and council costs.Red tape had to be changed to make the objectives practical but TWITFORD and Ardern don't have the balls to do this.What an absolute mess and our young people striving for a home are left just dreaming. | Don |
| What a shambles the regulations are. With the increase in the values of houses and land, the rateable value has also increased, giving councils huge monetary increases. | Peter |
| For goodness sake do they think we're dumb, what first home buyer can afford the cost of these homes. It's an out and out con job, but what else would you expect from this bunch of loonies | Carolyn |
| The building industry is pretty competitive- I do not believe material costs are any where near bureaucratic nonsense including H&S | Maurice |
| hopeless | Sonia |
| This bunch of idiots do not really know what they are doing and certainly should not be spending our money to prop up their broken promises. | Robbie |
| no with a but and that is , installing the poverty stricken in low cost housing would be another 100khomes to be ruined, just build 200k raupo huts and free grass skirts | James |
| How many low income people are able to save $65000 as a deposit on a home. | Andrew |
| Another prime example of brainless dabbling in what should be the task of experts capable of dealing with all the facts : Ie taking into account the realities of the CHCH rebuild , increased immigration and the general pressure of price rises in the real estate market. Instead we have socialist queen Jacinderella and Phil( the TWIT) Twyford mucking about spouting all these grand ideas how to deal with this and that and what we get is absolute chaos. Another pointless scheme like the One Billion Trees agenda. Useless like tits on a bull. | Michael |
| idiot policy | MAURICE |
| Government is the problem, not the solution. De-regulation of the building and development market would allow the free market to solve the supply problem in a short space of time. Foreign buyers and immigration should have been stopped five years ago. New Zealanders are suckers. | Bruce |
| It seems to be a vote catching ploy with little prospect o getting many people into a house. | Cyril |
| Kiwi build is not what they campaigned on. and is not likely to aid people living in cars and garages unless Labour hand them out for a dollar down and a dollar a week. The tax payer is being 'had' every which way possible, even by those who have instant gain by winning the Kiwibuild lottery. | Elizabeth |
| Any fool could see it could never work. There is no such thing as an affordable home. Not while we have the Resource Management Act etc delaying everything at every turn. | Graeme |
| The policy has little to do with people and homes, and much to do with politics. | Rick |
| No. It's simply not working. All froth and no beer. The Kiwibuild scheme is not providing help to those who really need it. There has to be a better approach. | Les |
| I support the reason and necessity but i do not support the whole way they have gone about it – it has been a a dog's breakfast from the very start ! | James |
| It just shows how most govts are out of touch with reality and the people that vote them in | David |
| The level of incompetence shown by this government ought to qualify as corruption. This vote-buying policy is so transparent as to be laughable, if it weren't for the fact that we taxpayers are funding it. | TOBY |
| The government is so out of touch, these are not affordable at all. | Jane |
| Having taken the opportunity this week to view the new KiwiBuilt housing complex in Papakura, I was lost for words at the so called architecturally designed houses that the Labour Government refer to as suitable "Low Cost" affordable housing. In a few years this area will look like any other state housing suburb in any other town or city in the county.. If this the end result of Government policy, they may as well purchase all the vacant warehouses and factories in the city and convert them into low cost rental housing for folk who will never be able to afford to buy into the ugliest housing complex that I've seen in may a year. | Barry |
| It won't work. | Clark |
| | |
| --- | --- |
| Governments are not looking at who really needs housing and why. Many of the homeless are not reliable tenants. They are homeless because of a bad /unproven reputation of looking after property. When you visit suburbs of Auckland you see the abuse of state housing. These people do no need front yards, they only provide the 'poverty ridden' a place to dump rubbish and park cars. Backyards are also not put to good use – vegetable gardens. Pacific Islanders have different housing styles. Why are we providing them with New Zealand state housing.? Time to be radical and look at what they need. Communal kitchens, dormitories for the unmarried , community gardens and meeting areas. When you walk along a street in Mangere you see vast areas of wasted space. Where there are 3 traditional state houses, there could be 5, or 6 more functional places. High time to rethink what is needed and where. | Peter |
| What a shambles. Why was it not left with original parameters. | Sue |
| Prices too high, not enough builders, Councils not in the loop over timing of consents etc. Infrastructures not set up in a timely manner. Too many Cowboys in the Industry | Laurel |
| Unfair. Discriminatory. Useless For families. | Dave |
| It%u2019s all a load of hot air and spin. | Alan |
| pipe dream and already they favor the well off in sales as we saw with that shocking PR exercise with Taxcinda and twitford | Norm |
| Affordable housing for low income families. That's a laugh. $600,000 is not affordable to low income families. This is simply vote chasing at election time. Words are cheap and keeping to those words impossible. | Vivienne |
| Costs too high, the prime minister cannot keep her promises | Gerard |
| The basic premises from which they are working are flawed and make no sense. Are you concerned 🙂 | Ian |
| They're dreamers. Pinch yourself and feel the reality. With the RMA and Resource Consents contributing to every step of the cycle – from subdivision to Code of Compliance at the end of the build – the costs of building are already set far above the ability for low income persons to repay. Hello! Kiwibuild is a poorly thought out DREAM. Not possible in NZ with the current compliance system. | Simon |
| No, not as it stands. The original concept was good, but it has all got out of hand. You are right with regards to the cost of building materials, the majority of which are only reasonably purchased through a few big companies that have cornered the supply market. Even so, a recent costing of a 2 bedroom (building only) cost of materials of less than $30,000, highlights the profits and other costs the developer does have. Another thing that is pushing the price of the land up, is the "land-banking" that is going on around Auckland of land that has been opened up with amended zoning. The Conservative party had (perhaps still has) a good idea on this, in limiting the time a developer could "sit" on any land before serious development started. The writer is aware of a number of farms in South Auckland that have been bought and are currently being grazed, waiting for prices to rise before development starts. | Ted |
| Seems like it is not working as the "average aspiring home owner" in New Zealand would want. It also seems the Govt is going to pull a portion of the existing State Houses and "give" them to Maori Iwi groups to "look after". Man is that going to cost. All it will do is reduce the overall housing availability for the average family that wants a home. These racist policies are to the detriment of the average hard working tax payer of New Zealand. | Neil |
| Where's the affordability and for whoooo. | Geoff |
| At $650000 plus minimum the houses are out of MOST NZ's affordability. OK in the smaller districts where costs are lower but $650000 for an Auckland/Tauranga/Hamilton house it's only a very average house. | Alan |
| In bygone years we had so called group builders who bought up land and built houses buyers could afford. Those days have long gone – the only thing left is KiwiBuild. | Ron |
| Definitely not. Streamline the councils and red tape. | Christine |
| At $600,000 these prices are not affordable for a lot of New Zealanders | Albert |
| It's not what was promised and is badly designed. The reality is being disguised by a series of good news announcement from the Minister. | Jacob |
| It's supposed to be houses for the poor not the rich. Time to reform a Ministry of Works to build cheap but good housing and also take control away from councils and rich developers | Terry |
| As you say the cost of Land & Council fees need to come down or paid off over a long length of time by adding it to the rates. | Geoff |
| If allowed to fully develop their current Kiwi build format they come into direct competition with the privet building industry. | Albyn |
| It does not add up! | Rob |
| While a commendable thought, the whole process is fatally flawed, as has been pointed out. However as well as that being unaffordable, so is the desire for all to have a house AND a spacious back yard. While freeing up long to meet the demand will help an immediate problem, it compounds and creates bigger problems further down the track. Unfortunately this dream is over and the Urban sprawl cannot continue forever. Land is finite. | Steve |
| A sick joke! | Lee |
| 600k is not an affordable home for the low income | Colin |
| Kiwibuild is not providing low cost housing. The govt is discounting the price before selling to end user. This is not a long term solution. Where is all this money going to come from? | Pillay |
| Labours kiwi build policy is an absolute shambles as can be seen by the lack of results and the ever changing rules . If you are rich enough and know the right people and get awarded a cheap kiwi built house and you sell it within five years you should not be able to make a profit otherwise it just becomes a racket to make money .There will be people who will work all the angles and will go from one kiwi built house to the other making a profit along the way . From what I have seen on TV the people getting the kiwi build houses aren%u2019t the ones they were intended for as they all seem to be well off double income couples not your hard up struggling families . Looks like a case of the rich getting richer . | Jock |
| Muppets | Cutty |
| Labours in over their head. One step at a time. All talk and wind | Trevor |
| Then let them eat steak. I misquote Marie-Antoinette. She said cake. We think the cake was perhaps some kind of fancy sponge, revealing how removed from reality she was. No, cake then was blocks of molasses and chaff etc fed to horses. Ignorant , no, she just didn't give a sh't. She deserved her head cut off. And thus to the proposed flats on the corner of Crinan and Conon Streets. 12 sausage flats aren't good enough for the homeless. 5 steak houses must be built. This is the problem when the people making decisions are not affected by the consequences of their actions. They insist on things that people cannot afford and deny people access to the essentials that they could afford . Removed from reality or just not giving a sh't? Either way Invercargill could do with a guillotine to remove the snotty brainless heads from the heartless body's of the people who made the rules. I recommend the investment to the citizens of Invercargill . We in Southland District would gladly rent it once you are through to get rid of the people who insist that $68,000 ratepayers money be spent to get the OK to cut down 28 nuisance trees in Manapouri. As it happens I have closely examined the guillotine in the Hotel Hilton Hanoi and I could knock one up cost price if you can get a people's court together and a tumbrel to operate down Esk St to Wachner Place. I sent this to the Southland Times, no harm in having a flight of fancy | Mervyn |
| | |
| --- | --- |
| Another fiasco | Catherine |
| Just a bunch kids playing as govt | Barry |
| When will we all learn – governments cannot solve problems, they merely make them worse and should stick to core business instead of vote catching, stupid policies with unintended consequences. | Geoff |
| Has the government actually got any policy, and moreover if it has, has it a policy that is realistic?? Kiwi build is a white elephant that will haunt the pockets NZ taxpayers for generations. Garbage. | Andrew |
| No policies should be presented until all the bugs have been removed. Councils have too much control over housing. One set of regulations should be used nation wide. | Dennis |
| Those politicians most have gone to school some time but they have learned how to use their brains. that is if they have any | Johan |
| The policy and pricing is aimed at the wrong segment of the market. Consents need to be streamlined and made cheaper for developers. | Mark |
| It has become a mantra, totally unreal. | Dick |
| Waste of public money. What is needed is less council and development fees. | Carl |
| It seems to be a nonsense | Claire |
| Not targeting the right area of need. | Graham |
| The Government knows exactly how to create affordable housing, it has had plenty of successful examples over the years. However none will work whilst this communist govt is wedded to the NWO ideology of RMA which restricts normal and orderly growth, Whilst it adheres to the false doctrines of ICLEI a disastrous UN program being implement by Town Planners throughout NZ without any informed public mandate, and whilst it is wedded to the UN Agenda2030 which actively Discriminates AGAINST any Private Property Ownership. This Govt being a socialist front for NWO ideology have created a kiwibuild to pander to the local market but with fundamentals so wrong it could never succeed, and put Twyford in charge. Perhaps Twyford was a political threat to the to the Red Circus, not now he is responsible for Kiwibuild failure. You can sense the evil hand of the UN manipulator all over this one. Too bad about the honest hardworking young families whobelieved they had a future in NZ just like the one their grandparents gave lives for and remembered on Armistice day, Red hyprocracy has well and truly killed that dream. | Richard |
| These issues should be sent to Jacinda,Winston,Phy,Andrew ETC so they MAY SEE SENSE.It,s a shamble & HARDLEY ANY STATE homes Being built. | Cindy |
| An expensive lottery funded by the taxpayers | Sarah |
| far to expensive,only available to the top end of wage earners | Allan |
| It has been an unmitigated disaster, well at least for low income earners trying to get their first home. But this seems to go hand in hand for the current administration. | Chris |
| How does the allowable income of up to $180000 help the poorer people in the country buy a house when 2 people on the minimum wages of $34200 each per year for a 40 Hour week only earn $68400 per year. They would be lucky to save the minimum 10% of $50000 on a $500000 house especially with rents being sky high. With the loopy Greens in power the reform on the restrictive RMA being really reformed is only a pipe dream | Colin |
| | |
| --- | --- |
| We have been fighting for 18 months to get our new house on the go but council rules are just dragging it out | Allan |
| Just another example of incompetence from an incompetent coalition of losers. | Richard |
| It's not even a policy. The whole thing has clearly not been thought through; but, rather, it's been thrown together as an ad hoc, feelgood stunt. 0/10. | Graham |
| Targets the wrong people and is a PR fiasco. Let councils set realistic standards for building, but keep the politicians far away. To house the unhoused very basic housing could be built. These houses with land should be sub$200k. | Willy |
| It is the best of three guesses and it won't work | Warren |
| It is doing nothing to help those on low incomes. The government is way out of touch again penalising the hard workers who are on a lower income | Raewyn |
| What about the low income people they can hardly afford to rent so how can they buy. It would be better to organise a realistic loan for the low income so they can buy existing homes | Cherryl |
| Couldn't agree more about the continual rising of support costs (council fees), over the actual cost of the house. | Graeme |
| For low income earners, the houses are completely unaffordable – they need to be something like the group houses in the 1950s-60s – basic! You cannot build more houses without trained and experienced builders, and these have been in short supply due to govt abolishing the apprenticeship scheme decades ago. | Alan |
| Will not work, but at least Labour have tried | Kevin |
| Typical Twitford fantasy! Not thought through and he's ignoring his own ministerial staff and building sector specialists | Martin |
| Not addressing the need for low cost housing | Maurice |
| Free up more land get rid of the huge fees council charges start streamlining the whole operation and why are building materials so expensive | Peter |
| …the Divide between the "rich and the poor" of New Zealand will be forever established….a destiny of inequality is the road New Zealand is now travelling…. | CHowes |
| Its just another con. | John |
| No, it's ridiculous. Those houses are not affordable! | Jane |
| A complete waste of time | Jim |
| | |
| --- | --- |
| Absolutely not! KiwiBuild is a crock! | Hugh |
| What a disaster the policy has ended up becoming. What's worse is that Labour will con people that its a great policy and that will ebnable them to avoid having to introduce proper reform. | Andrew |
| The concept of picking winners is abhorrent. NO! | Suzy |
| Labour goes from bad to worse, but at least they haven't ruined the economy yet. | Greg |
| Reigning in councils is not easy as National found. If Labour got serious about it at least they would probably have better luck. But no, the KiwiBuild policy should be ditched. | Francis |