November 1, 2015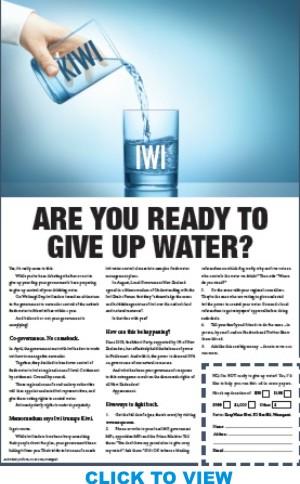 Congratulations to the All Blacks for a wonderfully successful Rugby World Cup campaign – they did us proud! But now the Webb Ellis trophy is safely back home, it's time to turn our attention to domestic affairs – in particular, the control of fresh water.
To recap – the debate over the ownership of New Zealand's fresh water re-emerged in 2012, when the Maori Council lodged a claim for a proprietary right to water with the Waitangi Tribunal, ahead of the government's partial privatisation of state-owned power companies.
While the Tribunal had no authority to take on any new historic Treaty claims (due to a 2008 law change prohibit them) they did so anyway.
Unsurprisingly, they found in favour of the Council: "Maori had rights and interests in their water bodies for which the closest English equivalent in 1840 was ownership rights… we say that the nature and extent of the proprietary right was the exclusive right to control access to and use of the water while it was in their rohe".
This finding led to a gathering at Ngaruawahia where the Maori King Tuheitia Paki claimed, "We have always owned the water". He stated that their ultimate goal was for Maori to control fresh water, instead of regional councils.
Fast forward to 2015, and it is now clear that the National Party is advancing their cause.
During the annual meeting between Cabinet and Iwi Leaders ahead of Waitangi Day in February, they agreed on a plan to advance Maori water rights:  Iwi wanted them in place within a year; the Prime Minister said two years was more realistic.
Iwi wanted to make money off their water right allocations, but the Prime Minister ruled that out saying, "They won't be able to do anything different to any other New Zealander".
While John Key confirmed that no one owns fresh water, he acknowledged the government's position is that Maori have some rights and interests in water: "In the Supreme Court, we said … we think there are legitimate rights and interests. We think there might be quite a gap between what some groups think those rights and interests are, but there are by catchment, in certain places, rights and interests."
But by giving an inch, the Prime Minister is conceding a mile and that's not only morally wrong, it's also wrong in law. Iwi have no rights and interests in freshwater. Irrespective of who owns the land over which water flows, under common law, water is owned by no-one. This was confirmed by statute in 1967, as this week's NZCPR Guest Commentator, Canterbury University Law Lecturer David Round, explains:
"There is absolutely no legal, moral or common sense justification for any Maori claim to fresh water. The legal situation is that no-one owns water, and no-one ever has. This was the situation at common law, and the Water and Soil Conservation Act 1967 and now the Resource Management Act 1991 starts off from the same assumption. With some very minor and inevitable practical exceptions, anyone wanting to use water has to obtain a resource consent ~ a 'water permit' ~ to do so from the local regional council."
Former Law Lecturer, Judge Anthony Willy, agrees: "Water was never regarded by the common law as a commodity. In the cases of Mason v Hill decided in 1833 and Ballard v Tomlinson decided in 1885 the Courts held that a land owner had no right to the ownership of water which either flows through, or percolates within that land. In this way the courts recognised that water like air is not only vital to the survival of all species on the planet but is something in which humanity has no hand in creating. It therefore, like air occupies a unique status in the eyes of the common law – it cannot be owned by anybody."
In other words, in spite of the rhetoric, it is political expediency that is driving this issue. Iwi leaders want control of water, so that's what the Maori Party is pushing for – and although they gained only one percent of the party vote at the last election, they effectively hold the balance of power in Parliament. As a result, National appears intent on giving them whatever they want.
This has led to the outrageous situation whereby, as far as the National Party is concerned, the established public policy position – that water is a national resource owned by nobody and controlled by democratically elected officials at a Regional Council level – counts for nothing.
The strategy National has agreed with iwi involves passing the responsibility for establishing Maori control of fresh water onto Regional Councils and Unitary Authorities – no doubt in the hope that the public will remain unaware of what's going on. As the Sunday Star Times reported, "In a Cabinet paper, Nick Smith points to possible 'catchment by catchment' deals at a regional government level. The Crown has acknowledged Maori interests and rights in freshwater but their extent and nature is at issue. The Government may set criteria by which local iwi can get preferential access to water, catchment by catchment."
Iwi Leaders are very ambitious – you can read their demands on their website. They want priority rights to water – in perpetuity. They want those rights to be transferable – for commercial gain. They want possession of all unallocated water in a catchment. They want ownership of all Crown-owned river and lake beds and the water column, as well as title in freshwater. They want full control over the allocation of water rights in catchments. And they want $1 billion in government funding for 'capacity building'.
While iwi leaders have been busy informing tribal groups around the country about their deal, National has been keeping the public in the dark. The last thing they want is for a political backlash to derail their plan.
They have signalled a public discussion document on water reform may be produced next year, but by then not only will their plan to devolve control to iwi be well advanced at Regional Council level, but it's also likely that the contentious issue of race-based rights to water would be buried deep within extremely complex reform proposals.
Meanwhile, the passing of control of New Zealand's fresh water to tribal groups through local authorities is progressing rapidly. The mechanisms being used are varied: appointing iwi representatives to control Council resource consenting committees; transferring powers under section 33 and 36 of the Resource Management Act; granting Maori advisory boards consenting rights; authorising Rohe Protection Areas covering all freshwater – managed exclusively by iwi with no involvement of council or DOC.
In Gisborne the council has already established a Joint Management Agreement under section 36B of the RMA, which authorises Ngati Porou to jointly exercise the local authority's consenting duties to all fresh water and land within the Waiapu catchment. This agreement has been described as a model for the recognition of iwi rights and interests in fresh water.
But surely a council divesting its powers to a tribal group is a step too far?  Isn't the democratic election of councillors – to represent all residents and ratepayers in a region – crucial in avoiding the corruption that can potentially arise when official governance roles are taken over by those with a vested self-interest? Shouldn't ensuring the protection of the public interest be an absolute priority in any democratic society?
And why aren't such proposals by councils – that alter the balance of regional democratic decision-making – subjected to approval by electors through a local referendum process? After all, that's the democratic safeguard that's available when vested-interest Maori seats are being proposed.
Ngati Porou claims, "true democracy isn't just about 14 people sitting around a council table making decisions, true democracy is when you involve the people that are directly affected by those decisions in the decision-making process".
But isn't that the point – true democracy is when all locals are involved in the decision-making process, through elected representatives who have a duty to act in the best interests of the whole district. True democracy does not operate when those with a vested interest control the process.
That is certainly the view of the public. In a recent Herald poll, 69 percent of voters were opposed to the Council's agreement.
And Ngati Porou's power-sharing is just a start – they want the full transfer of Council powers under Section 33 of the RMA by 2020.
When it came to council voting only Councillor Roger Haisman opposed the deal. He said passing off the statutory duties of a councillor to unelected private people was an abdication of the elected councillor's responsibilities. Councillors had all taken an oath with their hand on the Bible to faithfully and honestly execute their powers and duties in the best interests of the council.
He believed landowners in the district were very upset with developments, and made the point that if any other vested interest group such as Federated Farmers or the Chamber of Commerce had wanted to appoint commissioners, they would have been refused.
In Ngati Porou's case, water management rights had been included in their 2012 Treaty settlement, but Councillor Haisman believes the council was under no legal obligation to have the Government's settlements finalised at the ratepayers' expense.
In Tauranga, the Bay of Plenty Regional Council is now consulting over a new water management plan. They say they want to "acknowledge the important role of iwi and co-governance partners in contributing to setting water quantity and quality limits in the Regional Water and Land Plan". Is this the first step of a process aimed at putting iwi in control of regional water rights?
Under National's plan, that's exactly how control of New Zealand's freshwater will be passed to iwi – catchment by catchment, council by council, using a variety of mechanisms … all nice and quietly…
But is keeping the public in the dark OK?
David Round doesn't think so. He thinks National is betraying New Zealanders by putting "the interests of a handful of big corporations run by and for rich part-Maori ahead of their duty to us".
And he is scathing of their plan to quietly slip control of water to iwi: "All this is happening right now. It is no good for the government to say 'Oh, there's no final commitment yet ~ no law changes have been introduced to Parliament ~ there'll be time for public input when that happens.'  The promises are already being made, and some very rich and greedy Maori are going to be very angry if they are not honoured. Whenever a controversial Treaty settlement comes before parliament we are told that the Crown has already committed itself, and it would be improper for parliament to do anything but ignore the public and apply a compliant rubber stamp. We will be fed the same line here."
If you are as concerned as we are, what can you do?
Firstly, you can take action – phone or email MPs and the Prime Minister and ask them: "If it's OK to have a binding referendum on which flag we fly, why can't we vote on who controls the water we drink?" Then ask: "Where do you stand on giving away control of water to iwi?"
Do the same with your regional councillors. They're the ones who are voting to give unelected iwi the power to control your water. Demand a local referendum to get ratepayers' approval before any such deals are done.
Tell your family and friends to do the same – in person, by email and on Facebook and Twitter. Show them this newsletter.
But most of all – please help us to fund a public information newspaper campaign to alert New Zealanders about what is going on. We believe the public has a right to know – before it's too late. Remember, newspaper advertising is very expensive and we want to make as big an impact as we can – for more information about the campaign and how you can help, please click HERE.
THIS WEEK'S POLL ASKS:
Is National justified in passing control of New Zealand's fresh water to iwi?

 *Poll comments are posted below.
*All NZCPR poll results can be seen in the Archive.

THIS WEEK'S POLL COMMENTS

| | |
| --- | --- |
| Unacceptable nonsense. | Pamela |
| Hell No it falls from the sky who do they think they are. | Peter |
| When will this madness stop?! Who in National actually supports this? | Roger |
| Racist insanity. I'm going to vote with my feet and emigrate this 3rd world apartheid madhouse. This country could do with a government instead of the travesty of gravy train morons. I think Democracy could be a good idea in NZ but total enviable. There is a lot to be said for a Dictatorship instead of this total distant joke of a governance. The CROWN is UK and nothing to do with NZ today. let us start governing for the peopel and not racist minority thugs. | John |
| Water belongs to everyone. There is no way that "ownership" was conferred to Maori in the Treaty despite what they think and translate. The Crown in the Treaty did not give Maori any special rights. About time they were reined in!! | Andrea |
| What is it that gives Iwi power over our elected government that continues to override the rights of those who elected the government into power? It just is not on! | Walter |
| Maori racism is an absurd movement,divisive and reprehensible..We are one nation, not two or more. | Max |
| You are kidding me. | Brian |
| There is no democratic or legal mandate to do this!!! | Dennis |
| Iwi have no right to a natural resource and such should remain the ownership of the crown. The crown should be dismissed should they dishonour the rights of New Zealanders. I cannot understand how one New Zealander can be so selfish to take a resource from the masses. | Allan |
| What justification after saying nobody owns the water. Just another sellout to bullying iwi. | Craig |
| Water, like air, unlike ground, cannot be identified hence cannot be owned. | David |
| This whole Maori-speak is a load of bunkum and trickery. That Bill English & Nick Smith along with John Key condone this treachery is outrageous and the voting public need to find out now; also demand the removal of Maori parliamentary seats before the next election. Besides the Maori Party won't even be voted in the next election so beware of your treachery National. | Monica |
| Stuff bloody maori's. Want, want, want is their catchcry. Nobody owns water. | Jim |
| More treaty gravy train rubbish. | Kevin |
| Maori did not create water God did so no ethnic group has any right to dictate to all others how water is controlled. | John |
| If iwi continue to push their case for control of the nation's freshwater (a prime strategic and national asset), we have a case where a minority group is plotting to gain a position of power and privilege over and above the wider community. Especially because their negotiations are going on behind closed doors, we can justifiably view their activities as subversive. Ipso facto, those who are sympathetically aiding and abetting this subversive activity (our very own elected government) may justifiably be labelled as traitors. Bring on the publicity campaign to expose this before it is too late. This disgraceful episode of pandering and grovelling to a completely undeserving and conniving minority needs to be closed down immediately – and never to be re-visited. | Peter |
| | |
| --- | --- |
| Where has common sense gone. Are we getting sold out by a political party that has lost all reasoning. NO ONE OWNS THE WATER. | Wayne |
| Nobody owns water, as it moves all over the world in the atmosphere. | Andy |
| Corruption pure and simple. | Garry |
| John Key is not a statesman, he is a politician who will do anything if he believes it will bring him votes. Morals and integrity are not important to our prime minister. | Tony |
| Water in any form should not be owned by a race based group {Maori). | David |
| Water is for all New Zealanders not just a few. | Eira |
| Better them than the polluters who control it at the moment. | Barry |
| Hell no most of it comes from the sky, by way of rain and snow! | Peter |
| No one has the right to claim fresh water as their own exclusive resource to the detriment of all New Zealanders. | Rex |
| Secret talks going on in my area at present between Council and Iwi. Ratepayers committee not permitted to know where they are at. Scandalous! Wish more NZ'ers would write to their MP's. All this is so John Key keeps in power! | Lesley |
| Iwis are scheming pack of self-seeking people who only seek to benefit themselves no one else. | Rodney |
| Are you kidding me, on what basis is this possible, based on a treaty which a small minority has changed to suit themselves . There is a diagram in the latest E Local Mag, which illustrates just how little if any Maori blood Maoris (14.9%) actually have. Sanctioned racism at its worst! | Anna |
| WHY IS THIS ALL HIDDEN. | Trevor |
| This is not Rhodesia! | Kerry |
| Dear John Key, As a strong National Party supporter over 50 years I am appalled by National's move to negotiate Water Rights with Maori who are increasingly demanding racial separatism in New Zealand. Maori need to be told 'No'. Why? because air and water are legally protected for everyone %u2013 currently, unless you and your government make a huge mistake and don't say No to Maori demands. You and the National Party may seem to enjoy popularity in the polls at present, but a wrong move over water will divide the country and probably be the catalyst for the next 'Maori Wars' which are getting closer. Time to listen to non-Maori John! Sincerely, | Gary |
| There is no justification whatsoever in passing control of this vital national resource to a minority rabble. I'm absolutely sick and tired of this 'Treaty of Waitangi' based nonsense. Scrap the Tribunal and all its ramifications and return NZ to a country for all. | John |
| How dare Key do this. I am so sick of this damn maori thing, it just keeps on keeping on.Key has this time lost my vote. | Gordon |
| Never, never, never…. | Peter |
| No!! So wrong on so many levels.. | Toni |
| It should be kept publicly available. | Ed |
| A resource necessary for all life should be freely available to ALL New Zealanders! | Sue |
| Unbelievable!!! Democracy has gone out the window — this move by the Govt. MUST be stopped. | Alan |
| Damned iwi are getting control of this country. The working people of New Zealand are working to pay taxes that are just handed to maori. It's a slippery slope we're on. | Neville |
| Water belongs to no one. This is absolutely wrong and another of the many betrayals of the NZ Public by John Key and his government. | Brenda |
| No way. We must halt this theft by a minority who I do not know how they can possibly justify their outrageous claim. Water is for everyone. Next is will be air we breathe if they get away with water? Halt this action immediately. | Frank |
| I can't understand the Government's weakness, not to say gullibility. Control of resources should be by the rightful owners or, in the case of public assets, by Elected officials. | Neville |
| Water belongs to everyone. It moves from land to sky to various parts of the world…can never be owned… | Tarryn |
| Definitely not … | Don |
| Absolutely Bloody NO!! We have to stop this ludicrous nonsense of constantly pandering to these outrageous demands made by the elitist Maori. | Tony |
| Not a good move , and not a democratic decision , this will open an ongoing costly can of worms. | Roy |
| The water belongs to all of, white or brown. | Peter |
| Fresh water is owned by every New Zealander. Next it could be the air we breath. National get real! | Phil |
| It shows how weak and biased this National Government is, to even allow the Waitangi Tribunal to publish a "finding" on a matter well after they were supposed to cease accepting any new claims! | Ted |
| This is the last straw. When will our Government govern for the best interests of the Nation and ALL of the people? | Alan |
| Water has NO owner. | Phillip |
| Definitely NO. | Ron |
| No, it belongs to all NZ'rs, if it belongs to anyone. | Steve |
| Unfortunately the politically motivated one-per-cent of Maori or those claiming to be Maori, are destroying the image or valued perspective of every member of that race. The likes of ken mair should be sent back to Britain to protest about the way his Scottish ancestors were ripped off by the English. But no. Only in N.Z. where weak, desperate for power governments who are prepared to re-write history for example, do you find apartheid being implemented, just to appease the one-per-cent that is needed to pass all other, usually corrupt legislation. | A.G.R. |
| Iwi control is so outlandish the public cannot comprehend the implications. Shame on the National Party! | John |
| WHEN IS THIS ROT GOING TO STOP.? | Audrey |
| If the National Party, or any council, gives any power to Maori in any way over water, NZ voters will dump them at the next election, and they will never ever get back in power, and John Key will be remembered for treason. | Athol |
| Borrowing from a thoughtful NZCPR columnist: treachery. Deeply disappointed at this "government". | Phil |
| | |
| --- | --- |
| Absolutely not. There is no justification for this whatsoever. | William |
| Why is our Government seriously considering such an outrageous suggestion? Maori do not "own" water and let's hope that they're never given cause to think that they do. This crazy process must be stopped dead in its tracks! Write to MPs, councillors and newspapers. Make as much noise as possible in support of stopping this nonsense. | Les |
| The legal situation is that no-one owns water, and no-one ever has. Final! | Graeme |
| No way. | Yvonne |
| A supply of fresh water is vital to life itself. How could anyone, any government, be stupid enough to give ownership of ALL of this country's fresh water to money-grubbing cartels of so called "maori" iwi? What right has any politician to do this without reference to the very people who elected him? | Robin |
| No – never! | Steve |
| In the words of the Prime Minister, "No one owns the water". | Phil |
| The Nats now have a history of treachery starting with the Foreshore and Seabed – they do absolutely anything to stay in power. It's scandalous. And this from a long-time Nat supporter. | Graeme |
| Water is essential for life to give control of this to Iwi to control is outrageously wrong. NATIONAL, WHAT ARE YOU THINKING HERE? Water tomorrow's gold, it will become big business for anyone who controls it outside of government. Bad, bad decision Mr Key. | Steve |
| This is an absolutely stupid proposition. | Lee |
| If the rain that dropped the water come from a storm that started above Samoa does that give Samoans the right to claim ownership of the water as well? | John |
| An outrageous move by Maori. An outrage by National to even listen to it. | Jim |
| Definitely not they are after more money and its not their water. | Marian |
| Water is not negotiable. Enough! | Philip |
| I am amazed at the cunning and dishonest actions of the National Party and Finlayson and Qey time after time in regard to Maori aspirations.The country is no longer a Democracy. | Lance |
| "Lunacy" doesn't even BEGIN to cover it. | Liz |
| Of course New Zealand water belongs to all New Zealanders, not a few unchosen few. It can never be in the hands of a minority unelected group. | Carol |
| Their logic is if I had a water tank that was filled from the rain they would own that to, what crap. John Key you lose my vote. This is just crap!!!!!!!!!!!!!!!!!!!!! | Pat |
| No bloody way! It is time to stop crawling to one race we are allegedly all eqal are we not? | Jim |
| Iwi (I Want It) greed rearing its ugly head again and again and again. Nothing new in that.The shame lies with Key's Govt.for allowing this bullshit to continue.Shame,shame and thrice shame. | Neil |
| No. This is gimme gimme gimme all over again. Maoris have in the last five years been firmly told, ' no one owns water.' They have gone away and started another campaign to get what they want and need to be told no again, more forcefully. Their ultimate wish is to close off all access to beaches, rivers and lakes, unless Europeans pay their admission fee. National Parks will be included as one already is. Then it will be a water charge for each litre of water, each time it goes through a generating station. Imagine the power bill then. Every city water supply will be charged royalty fees, again to be paid to Maoris and irrigation well that one will be a bonanza and the costs will be added to the cereals, crops and vegetables.. There will be no end to the list of ways to gimme gimme gimme. | Chris |
| Special privileges for any particular interest group is a travesty of justice. | Rex |
| No one owns water, it's a natural resourse free for all in this wonderland called New Zealand, if the geeedy eweeze want to own water try Taiwan where they were made. | James |
| Leave it the way it was. | Ray |
| This has nothing to do with history, it's purely about modern power and money. | Julian |
| Water is a natural national resource for the health and well-being of all New Zealanders young and old regardless of the colour of their skin! | Theodorus |
| What justifies such a ridiculous idea?They may as well pass control of the sun over to them as well. | Richard |
| | |
| --- | --- |
| They do not have any more rights, historically or otherwise, than any other group in new Zealand. The proposal is utterly preposterous and contemptible. | Brian |
| ~Part maori is going to make misuse of this by charging exorbitant prices for water. | Peter |
| No-one owns the air or water. | Sheena |
| God no! | John |
| Why do they have to pass our fresh water over to iwi. Just leave thing as they are. There will be problems. | Robert |
| NO NO NO NO NO | John |
| Absolutely NO! | Murray |
| Sneaky sods. Anything to keep power with support of the Morsi party. Despicable and must be stopped. | Carolyn |
| To quote a phrase which once started a Revolution. NOT WITHOUT THE CONSENT OF THE GOVERNED. If control of freshwater slips silently away without a national referendum then we can safety assume that apartheid is more than alive and well. It is not a viable excuse to use it as an excuse merely for the retention of power by the Governing Party in our Parliament. Just where is the Open Government idea so actively preached that was instrumental in the installation our present M.M.P. electoral system? 'Words like clouds alter their shapes in seconds, as does loyalty in the mind of our Politicians'. The test facing the National Party is clear and is one of character first, and of moral courage. As Montaigne stated so clearly 'Resolution and valor, not that which is sharpened by ambition but that which wisdom and reason may implant in a well-ordered soul'. If the National Party are to have any credibility at all they must enforce our strength as a nation by ruling that we are one people and one people only, under one law that binds us all together. This is not enhanced by a Government appointed Race Relations Conciliator making comments on a very everyday remark made by an Member of Parliament that is in universal use. How many times have moaning Poms been told to 'If you don't like it here, then go back to Britain'.? Quite obviously there seems to be a double standard which this Conciliator applies to Europeans, but not seems to non Europeans. We might well judge her remark as hollow as the rubber ball she once struck with such remarkable success. | Brian |
| This is so so wrong. This will a very a lot of division and anger in New Zealand. No one owns the water and no single ethnic group in 21st century New Zealand should have control over this vital resource. | Robert |
| Definitely not. The water does not belong to anyone. | Fay |
| This is unreal, this is the 21st century, not a tribal issue. One country.. Not Maori N.Z | edward |
| Over my dead body!! | Norm |
| Key has betrayed his electorate and is like some reincarnated Dr Hendrik Verwoerd. | Tom |
| Is National out of their mind. Forget all this we use to own the water..This is just a scam to make $$$ . | JACK |
| This is madness. But unsurprising as NZ is hell bent on maintaining it's system of APARTHEID with separate Maori seats in Parliament. | Geoff |
| Why do National keep co-towing to Maori on a subject they know isn't right in the eyes of the law. | Barry |
| Are there no limits to maori greed and trickery? | G |
| Not at all. Water is a necessity of life and should not be bandied about with or put into any hands who could hold it up for ransom. | Elizabeth |
| How can they, if in fact it is illegal. | Warren |
| Absolutely NOT!! | Maurice |
| Are there no people in parliament with any backbone, this maori/iwi thing has gone too far. | Murray |
| No government has the right to confer special privilege onto any one group at the detriment of everyone else. | Kevin |
| I can't believe the clandestine way that the govt and media are allowing such a denigration of our democratic right to choose the future of our nation.I am a NAT supporter but if this action comes to being they have lost my vote!! | Tony |
| I do not believe Maori rights should carry any weight over the rights of all New Zealanders! | Cyril |
| The rights to water should be the same for all citizens of NZ. | Norm |
| ENOUGH HAS BEEN DONE FOR IWI- THIS IS A STEP TOO FAR. | IAN |
| Absolutely not. | Bruce |
| Every person and living organism on this planet requires water to survive. There is absolutely no humane justification in passing control of such a basic natural resource to any race who have migrated this country. Maori by their own fable or belief migrated here from the pacific islands and were known to be cannibals until well after colonisation by the British. As of today there are no pure Maori left as there is no such thing as a pure Iwi or tribe. Maori customs, beliefs and culture are only an historic preserve of the way one of New Zealand's early immigrant races lived. There is no where in modern society for any group of mixed race immigrants living with all the benefits of a modern mixed race society to lay claim to any such natural resource as water or air. Why should their non-Maori ancestry be give any precedence over the non-Maori ancestry of all other New Zealanders. I would see it as a purely racist and undemicratic move. | Colin |
| He who controls the water controls the land and everyone and everything in it. Once again. greedy Maori are demanding benefits for themselves. Where are the objections from the poor grassroots Maori who get nothing? | Judith |
| Solution? Lets get rid of MMP. | Albie |
| Just give Maori the whole country to run. Why waste money on paying for Parliament and Politicians. Key is a traitor to the NZ people. | Raewyn |
| It appears John Keys wants to go out on controversy. First the flag…. now our water. Leave well enough alone. If it ain't broke don't fix it. Who do you think you are? | Kath |
| | |
| --- | --- |
| This is the very last thing National should do. It is certainly without doubt not in the country's best interest. Maori have no rights, same as anybody else, to own water rights. It is morally wrong. We, the people, are angry that National is keeping everyone in the dark about this. True democracy is when the whole country is are involved in the decision-making process. | Kerin |
| No way! | John |
| What a stupid move the water is not theirs no anyone, it is for all. I will never give my vote to National ever again. The silly buggers have gone mad, they have no mandate even to consider such.grr. | Robert |
| NO WAY!! | Pete |
| This sort of thing is soooo frustrating it's almost unbelievable, how can any Govt even contemplate such stupidity, we all know if maori get control of water they'll be going for the air we breath next and these half witted politicians will give it to them. I've already written to John Key and my advise is we should all do it before it's too late,. If it's not already too late. | Stevo |
| NO NO NO! What the hell is wrong with this country. We are ONE PEOPLE!! Grrrrrrrr….. | Maddi |
| I am disappointed in John Key's expediency. I thought he had higher standards. | Keith |
| What is happening to democracy? | Laurie |
| This should not happen why is the main stream Meadia not pickiing up on all this, are they being feed the Info. | Geoff |
| But John Key doesn't care about New Zealanders anyway -he does as he pleases and his top advisers follow along like sheep. | John |
| They have no mandate to either pass control or to legislate rights to iwi either at a national or regional, catchment by catchment or any other basis. | John |
| No; most definitely NO. | Eric |
| Absolutely NO. The greedy IWI will screw us for every possible dollar they can get. Once this legislation is passed it will be too late. Get Rid of MMP which will let a government make some tough decisions for the long term benefit of the country. not just to pander to the likes of the Maori Party. | Colin |
| And then we will have to pay for our roof run-off tank water!!! What a weak government we have – political vote chasers at any short or long term social cost. | Stuart |
| Sadly, there are few pure "Maori" left (and the water they did control is long gone – similar logic to their claim to the trout?) | Michael |
| IWI have no justifiable claim to this public resource. It simply drops out of the sky all over the place for all to benefit from. | John |
| Many of us have realized for a long time that waters the new Gold. | John |
| This madness has got to stop – or the prospect of civil war becomes more than a faint possibility – people are already angry at the outrageous demands, this goes beyond any rational comprehension. | Andrew |
| Racism again from Shonkey. | Greg |
| Absolutely NO! | Mark |
| Water belongs to everybody. Would I be able to charge Maori for any water running over my land, and if not insist that they prevent it | Kabe |
| No. Not now: not ever. I think David Round has established a foundational position from which this remorseless acquisition of our national treasures by a few elite finally can be halted. | Geoffrey |
| No one owns the water, as no one owns the sea water , which is the source of the rain . Mr Key had best be careful as to how he handles this problem. If he can have a referendum on the flag . them one on a problem of this nature should be a necessary. | john |
| No one "owns" the water just as no one "owns" the air that we breathe. | Steve |
| What are you thinking? That's just crazy to put the control of water into private hands | Carolyn |
| When is all this nonsense going to stop? If Republicanism means an end to 'treaty demands', I would vote for it. | Frank |
| Absolutely not, NZ courts and the governments of the day have said nobody owns water, it was not created by humanity. The transfer by stealth must be stopped, NOW. | Donald |
| This a just another scam by IWI to attempt illegally control what is and should remain, the property of all NZ'ers. They have no legal rights to their claim. | Robyn |
| Water first then all that live in it – depend on it use it – No way – then it will be the Air we breathe. | John |
| All natural resources eg water belong to "all the people all the time"Rise up white fellas oppose the Maori takeover of natural resources. | Ian |
| It must be Govt controlled as water is for everybody with no interference in Quality ie natural undulated and pure water is best. | Ray |
| They never had control of water prior to 1840, so why should they have it now? | Peter |
| The last straw. If this goes through National will never get my vote again. …former Nat Party Electorate chair. | Tony |
| Who are these people called Maori. Are they the people that stole the land from the tangata whenua in the 14 century? Are they the same people that begged Britain to protect them in 1831? Are they the people that were on the brink of becoming extinct because of their love of human flesh? Are they the people that Britain gave the same rights as the people of England without lifting a finger? Are they the same people that intermarried of their own free will with people from other lands until they are only Maori in legislation? And finally, are they the people that Council's believe are a special group that should have a say in how our country is run when their Maori ancestors couldn't run it in 1831? I arrest my case! | ONZF |
| This is a good example of control – not divide and conquer, but divide and concur. It is another step down the ladder of democracy – from the heights of ethics for the majority to the depths of depravity for the greedy and selfish at all levels of society. | Barry |
| | |
| --- | --- |
| Absolutely NO. | David |
| Definitely not. Water is a common resource and is owned by all NZers not just a small select group who currently make up 14.9% of the population. Plus the majority of these have far less than 50% "Maori" blood so physically are not Maori although due to legislation legally they are. . | Rog |
| Will the air then the sunshine be the next as they are also essential to sustaining life! Why don't the politicians just walk away and hand everything over to Maori as little by little that seems to be where we are headed. | Peter |
| Hell no! | Richard |
| We must defend democracy and also bring Mt Eden back under democratic control. | K |
| Absolutely NOT! Unless Maori want to pay the Government back for all the money spent on infrastructure and dispersal they can take a running jump. We must end the separatism that is developing so much in this country. | Chris |
| No No when will these ever increasing demands end never if we do not stand up. | Richard |
| Is this a democracy??? | Dave |
| If DjonKey and his National Member co-horts had ANY spine they would say NO, NO, NO to these insistent illfounded iwi demands and, if necessary, step down from government. Hopefully (although possibly not under the stupid MMP system we have) there would be fresh elections which National could fight on the basis of protecting our democracy by refusing iwi demands. they might be surprised by the result. Wishful thinking??? | Alan |
| These are Maori givers, we have a number in Canada (Indian givers) who would do as John Key is proposing to do with water rights. | NC |
| Here we go again, come on National when is enough, enough!!!!!! | Chris |
| Water means life and if all New Zealanders want life in NZ the water should be for everyone not just a few who would control it. | Cherryl |
| There is no common justification for Maori or anyone else to own water. | Robin |
| Crazy people. | Andy |
| Racism at its best. | Allan |
| My comment is not printable. | Leonie |
| Control by iwi means de facto ownership by iwi. This is utterly wrong: what can Key be thinking? | Graham |
| This is so ridiculous it is beyond comment, Seems rather ironic a person with a miniscule amount of ethnic blood can then be recognised as a oerson of 100% genetic make up, beats the hell out of me! | Sam |
| No one group can have special privilege to manage allocation of the countries natural resources. | Willy |
| Once again National is treating us like idiots iwi have the Govt by the throat and we ordinary NZs pay up as usual how do we stop this rote polititians do not listen to us unless we have a tinge of brown when will it stop. | Russell |
| Regional Council control of water is bad enough. Iwi contro; will be much much worse. | Ian |
| Absolutely NOT. Why would John Key even think about discussing this issue. | Whking |
| No one has the power to control the water that runs around our country it was here before iwi were here. | Graham |
| If National keep this up maybe we will end up with a labour government next time. | Michael |
| No one can own fresh Water, it belongs to every one. | Colin |
| ABSOLUTELY NOT. No government would be daft enough to do this, surely? There is absolutely no justification for such an idea, let alone a definite action. Soon, sometime soon, all the Iwi dreams will be laid in the dust – but WHEN will this madness really end.? How many Maori can claim sufficient descent to keep this nonsense alive? You tell me? | Maggie |
| A National disgrace.. | Don |
| Water is a natural resource and belongs to EVERYONE! | Pam |
| Never. Water belongs to all of us. | Graeme |
| This Government is doing its best to turn us into an apartheid state. Nothing short of a nationwide referendum will suffice. Let democracy prevail over hypocrisy! We are having a referendum over such a farce as a flag. This is much more important. | Kevan |
| What is happening to NZ ? We are losing control of too much of our heritage to Financially interested parties! | BillyO |
| National, why not just handover the keys to our Government to iwi instead of this mindless dribble of giving up all our rights? I have never in my entire 50 eligible years of voting life voted for any other party except National but that will definitely change at the next election. National – you are a total disgrace to the entire population of New Zealand. | Diana |
| So maybe iwi should own all rain, passing cloud, and volcanic emission? | Richard |
| We as a nation own the water. It's hard enough keeping control with council management, let alone allowing private ownership. | Brooke |
| If National continue with this line of action they lose my vote. | Margaret |
| All hell will break loose if they try ! | William |
| Illegal, and undemocratic, the government needs to be held to account. | Cliff |
| Absolutely not on!! What a cheek to even contemplate such an outrageous idea. | Tim |
| When are they going to wake up and realise they are being used as a cash cow and the rights of the man in the street are being totally ignred. The National Government needs to get real. | Laurel |
| All life needs water and Maori certainly didn't make it, develop it or pipe it anywhere. | Mark |
| Maori by whatever group – tribe- association have absolutely NO specific property rights to WATER or AIR which are the common staples of life for all humans and shared universally without division. Any Political person or party who deems otherwise should be Impeached and removed from office. | Vern |
| Absolutely not..more taxation without representation. | James |
| No, No, No! Has no one in Parliament the guts to cross the floor and vote NO to this latest "Maori land, sea air and now water grabbing" bunch of Stirrers. | Elayne |
| This policy is just another rort by iwi organisations to get rights to and resources that are part of the assets held in common for all New Zealanders – of which Maori (of whatever mix of blood lineage they have) are part as well as all other persons from whatever ethnicity they belong to living in New Zealand. Just because the Waitangi Tribunal makes a ruling using their own particular bias does not make it right nor cannot it be taken as a true right established under the 3 clauses in the Treaty dating to the 1840 contract. | Neil |
| Absolutely not! | Albert |
| As usual the people are the last to know when these deals are made and why is there no widespread publicity to these deals. | Joe |
| Absolutely not. This is just a joke – are you telling me that Iwi send messages up above saying we need more water? – a load of bunkum. What gives Iwi the right to decide how water is distributed? | Fiona |
| Surely control of a compound as fundamental to life as water is cannot be simply ceded to a discrete racial group within our society without reference to the electorate at large. I simply cannot accept another step towards separatism and dual rule in my country. Where are all the protesters that were so prominent and active when apartheid in SA in dispute? | Michael |
| | |
| --- | --- |
| Absolutely not! It should be one law for all in this country -no pandering to racial groups. National should be ashamed of themselves for going down this path. | Dave |
| I think what National is doing is despicable. I will not vote for them ever again if they go through with this, | Graeme |
| There is now justification at all for National's actions. | Phillip |
| I feel betrayed by John Key. I thought he meant it when he said that water is owned by on-one. | Colleen |
| No. Water is not a resource to be offered to the highest bidder. It should be managed by the government (local) on behalf of us all. | Brian |