April 5, 2015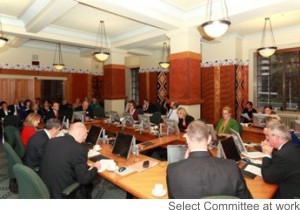 One of the roles of the New Zealand Centre for Political Research public policy think tank is to keep an eye on the government's legislative agenda and to remind readers of their opportunity to contribute to the law-making process. At the present time Parliament has calls for public submissions from Select Committees on seven bills and inquiries. They are:
Inquiry into Parliament's legislative response to future national emergencies: The inquiry will examine legislative models for enabling and facilitating response to and recovery from national emergencies once a state of emergency has been lifted – submissions are due by 1 June 2015.
Taxation (Annual Rates for 2015-16, Research and Development, and Remedial Matters) Bill: This omnibus bill sets the annual tax rates for 2015-16, and amends a number of Acts, with the aim of improving current tax settings within a broad-base, low cost framework – 30 April 2015
International treaty examination of the Free Trade Agreement between New Zealand and the Republic of Korea: Public submissions are invited on this international treaty – 24 April 2015
New Zealand Flag Referendums Bill: This bill establishes a process for the holding of two postal referendums on the New Zealand Flag – 23 April 2015
Drug and Alcohol Testing of Community-based Offenders and Bailees Legislation Bill: The bill enables Corrections and the Police to require community-based offenders and bailees, if they are subject to conditions prohibiting the use of drugs and alcohol, to undergo drug and alcohol testing to ensure compliance – 23 April 2015
Radiation Safety Bill: The bill replaces the Radiation Protection Act 1965 and provides a legislative framework for radiation safety that responds to the range of technological, scientific, and organisational changes that have occurred over the last five decades – 22 April 2015
Weathertight Homes Resolution Services Amendment Bill: This bill amends the Weathertight Homes Resolution Services Act 2006 to address concerns about the criteria for financial assistance, the definition of qualifying claimants, and to deem eligible certain claims previously determined as ineligible – 16 April 2015
The Weathertight Homes Resolution Services Amendment Bill is one of those pieces of legislation that serves to remind us how badly governments can get things wrong. This bill is part of an on-going attempt to sort out the leaky homes saga.
According to the Minister Nick Smith there are 1,147 claims, representing 3,528 homes that can qualify for the government's contribution of 25 percent towards the repair costs. The total future cost to the government has been estimated at around $115 million.
Problems with leaky homes began to emerge in the late 1990s. By 2009, a government report assessed the number of homes affected by the crisis at between 22,000 and 89,000, with an estimated repair cost of up to $11 billion. Others claimed over 110,000 homes could be affected costing $30 billion.
When discussing leaky homes it is important to note that all houses leak. Under normal circumstances, while the exterior cladding keeps most of the weather out, under high pressure some moisture will always find a way in. But once it hits the water resistant building paper that protects the framing timber, it drains and evaporates away within the building's air cavities. If any moisture does penetrate through to the framing timber, the boric treatment prevents fungal growth.
Essentially, the leaky buildings catastrophe arose because of regulatory failure by the government agencies responsible for appraising and accrediting building products and processes – the Building Industry Association (BIA) and the Building Research Association of NZ (BRANZ). They failed to recognise the serious risks associated with two new building products that they approved – untreated structural framing timber, and fibre-cement cladding.
Of course, as with most public policy matters, things are never simple. In this case, it was environmental and health concerns that led to the product changes.
In the case of framing timber, the claims by environmental groups that the chemicals used in treatment processes were toxic and could have an adverse affect on health, paved the way for the production of cheaper untreated kiln dried structural framing timber. This timber, however, was only suitable for use in situations where the moisture content of the wood would not exceed 18 to 20 percent, since if it was allowed to get wet and stay damp, without a fungal inhibitor, it would rot.
The other major change affected the use of a popular low cost, durable, fire-resistant cladding system, which used silicon-based asbestos and cement. Once the dangers associated with asbestos were recognised, manufacturers used wood fibre instead. The problem was that unlike its predecessor, which was extremely hardy in all weather conditions, this new fibre-cement cladding needed a waterproof coating, since when moist, the wood fibre in the board was susceptible to toxic mould and rot.
Add to those changes in construction materials the design trend towards Mediterranean-styled buildings, with no protective eaves to keep out the rain, and cladding right down to the ground – leaving no air cavities for moisture to escape – and the conditions were set for the leaky homes crisis. Once moisture accumulated on the fibre-board's inside cellulose-based wall, mould started growing, destroying the building paper and entering and rotting the untreated dry timber framing.
The green movement's crusade for home insulation made matters worse, since wall insulation restricted air movement even further, providing a warm moist environment within which to incubate fungal growth, accelerating a building's degradation.
Opponents of free enterprise have blamed the deregulation of the building industry in the early nineties for the leaky homes controversy. But the real problem was primarily that government-funded agencies approved construction materials and building systems that were essentially unsuitable for New Zealand conditions.
When reports of leaky homes began to emerge, Helen Clark's government ordered reviews. They then proceeded to disestablish the BIA, a Crown entity created by the 1991 Building Act to "oversee and manage the overall operation of the building control system", and to be responsible for "granting accreditations of building products and processes". Instead of laying the blame at the feet of the government's own regulatory agencies, Labour claimed that building industry 'cowboys' were responsible for the problem. They said the solution was the wholesale regulation of the building industry even though most of New Zealand's 1.7 million buildings were not affected.
It is in the nature of government to demonstrate decisiveness by over-regulating, and the effect of Labour's 2004 Building Act was to substantially push up the cost of building and labour, exacerbating the problems faced by low income families aspiring to build their own homes.
As well as dealing with issues relating to leaky building and tightening industry regulations, the 2004 Act also strengthened earthquake provisions. Prior to the 1931 Hawke's Bay earthquake there were no specific earthquake design standards for buildings in New Zealand. From that time, codes were progressively introduced to increase the structural performance criteria for buildings. The 2004 Act required higher standards than under previous legislation.
However, the Christchurch earthquakes, which killed 183 people including 133 in the CTV and PGC buildings, have led to new legislation. The Building (Earthquake-prone Buildings) Amendment Bill, which is presently being considered by the Local Government and Environment  Select Committee and is due to be reported back to the House by 30 June 2015, encompasses recommendations of the Canterbury Earthquakes Royal Commission and a review carried out by the Ministry of Business, Innovation and Employment. Both were concerned at the lack of nationwide information about the safety of buildings and they urged the government to ensure all buildings had at least one third of the strength of new buildings to help protect them from earthquakes. As a result, the government has given building owners and councils five years to assess all buildings – excluding single and double storey houses – plus another 15 years to complete any necessary strengthening work. Owners of heritage buildings can apply for a 10-year extension.
In reporting on this the Herald explained that almost 200,000 buildings are likely to need assessment as a result of the bill. An estimated 15,000 to 25,000 building will need strengthening. The cost has been estimated by officials to be in the region of $1.7 billion, but some critics say it will escalate to $10 billion, once heritage costs are taken into account. This is similar in scale to the total estimated cost of leaky homes.
However, while regulatory failure was responsible for the leaky homes crisis, what is destined to become an earthquake strengthening catastrophe will have been knowingly created by the government.
Critics of the Bill – including councils, businesses, engineers, and property owners – have described it as being a huge overreaction to the Christchurch earthquakes. They claim it will impose excessive costs on the owners of the properties, turning assets into liabilities and forcing the unnecessary closure of many old buildings in areas of low earthquake risk.
The impact on communities and townships around the country will be devastating as main street property owners, with rental returns that are too low to justify the high costs of strengthening their buildings, abandon them or leave them vacant. In Dannevirke, it is estimated that three-quarters of the town's buildings will fail to comply – one case involves a building that would cost $100,000 to buy but another $350,000 to strengthen. Real estate agents in New Plymouth have said the Bill will leave their city in ruins. In Waimate, it is predicted that the Bill will have "catastrophic" results as 50 Edwardian buildings in and around the main street will need to be demolished. Oamaru fears it will lose most of its historic stone buildings. Wanganui, which has 11 per cent of the country's at-risk buildings, is already losing commercial tenants.
This week's NZCPR Guest Commentator, Ian Harrison of Tailrisk Economics, who has a background in risk analysis and has worked with the Reserve Bank, the World Bank, and the International Monetary Fund, is a major critic of the proposed law. He makes the following points:
"The policy will cost over $10 billion, will negatively affect tens of thousands of people and have a potentially devastating impact on heritage buildings.
"It is critically important that the analysis backing the framework is soundly based. It is obvious that it is not. The benefits will be less than $100 million. The policy can be expected to save just seven lives over the next 75 years. If $10 billion were spent improving road safety and health, thousands of lives could be saved.
"No other country applies across-the-board national earthquake strengthening standards to existing buildings, because generally it does not make sense.
And in Auckland, "Compliance with the minimum standard could cost over three billion dollars in Auckland, but is expected to take 4,000 years save a single life. Three to eight Aucklanders are expected to die as a result of financial stress caused by the policy. Aucklanders will be forbidden to attend church in earthquake prone buildings when this is tens of thousands of times safer than alternative activities such as riding a bike."
You can read Ian's summary of Error Prone Bureaucracy and the full paper on our NZCPR.com website.
Governments are acutely aware of their role in protecting society from risk. But since risk cannot be legislated away, good judgement is needed when deciding whether or not heavy-handed legislation, which comes at a huge cost to liberty and economic wellbeing, can be justified. The government's earthquake bill is one of those cases where they have got their judgement wrong. They should go back to the drawing board and look for a more sensible approach.
THIS WEEK'S POLL ASKS:
Does the government need to give greater consideration to the potential effects of their proposed earthquake legislation?
*Poll comments are posted below.
*All NZCPR poll results can be seen in the Archive.

THIS WEEK'S POLL COMMENTS
| | |
| --- | --- |
| Madness National need to back to their founding principles and get away from this Neo socialism. | Greg |
| This is the OSH mentality taking control, and trying to eliminate all risk, which just doesn't work. | Ted |
| | |
| --- | --- |
| Any body who thinks governments are good acting sensibly over anything. Think again. They will probably be inundated with submissions to keep all the old buildings that no body really wants instead of counting the cost of what it would cost to demolish them and replace them with ultra safe modern buildings. | Colin |
| Key, once again proving he is the 3rd arm of Helen Clarke, ie government should control everything. Common sense & personal responsibility are the last things on this governments mind. | Allan |
| They must take careful look at just what effects passing legislation such as this will have on NZ towns and cities. We can never live in a total risk free situation. | Bryan |
| As usual, unqualified do-gooders and interfering politicians will generate unintended consequences from supposed well meaning legislation. | Geoff |
| Waste of money. | David |
| They should take a good look at this. | Robert |
| The excessive costs of earthquake strengthening produces no corresponding productive revenue. It is an exercise in futility and will save very few lives. | Ron |
| | |
| --- | --- |
| The whole legislation is a nonsense, the money would be better spent on health, education, less taxes etc. | Les |
| Absolutely..we have got to be practically NZ will, end up, a, 4 th world country. | Derek |
| Do politicians not read these Bills? Or do they not turn up to vote? Otherwise, can they all be so stupid? | Paddy |
| Too many chiefs with not enough to do! | Mark |
| Yes they do as its impossible to predict where when and how strong a quake will be nothing is quake proof if its strong enough. | Peter |
| There is no problem to deal with. | Warren |
| It is clearly a knee jerk reaction to basically a single poorly constructed public building in Christchurch. eg the CTV Building which was not built to the standard of the building code of the time and where the majority of deaths occurred. Apart from that, a lot of old brick buildings fell down, which is what brick buildings do in an unstable environment. As far as I am concerned it is another piece of costly over regulation by people who have no idea what they are doing. The same thing applies to the stupid OSH legislation and equally stupid interpretations of the RMA. The less legislation, the better. The costs associated with OSH and the RMA create unproductive armies of clip board hitlers who create economic mayhem. It is no wonder New Zealand struggles to make any economic progress. | Dianna |
| One "earthquake risk" building I know of has stood a much more reliable test than an engineers report – a major shake without damage. Enough said. | Roy |
| The term "greater consideration" must be the understatement of the decade. Our politicians have become totally "legislation happy" without any apparent awareness of the major negative effect their ill considered legislation has on the economy and living standards in NZ. We should not be surprised by the cost of housing in the main centres. | John |
| Because the whole of NZ isn't in the earthquake zones. | Francess |
| I have a 125-year-old country hotel in good nick but running marginally. This Legislation could force it's closure. | Edgar |
| The impossible cost of the upgrades, on the owners of buildings in dozens of towns and cities, will result in many of the buildings being abandoned. Owners will lose their equity, landlords will also lose their tenants, and Councils will lose rates. In rural New Zealand, the harm done will just add another nail in the coffin of towns already reeling under the effects of reduced populations in endless small towns. | Lorraine |
| I can't ride a bike but I'm willing to take the risk to attend church. I would love to learn hang gliding but my life is valuable. | Mary |
| Govt have to be fair with the legislation But not over ride or penalize folk who have already taken extra care to help their circumstances should a problem arise. | Elizabeth |
| Whats is proposed is total over reaction. | Allen |
| One size does not fit all – leave this issue to local authorities who are already well ahead of the Government. | Nick |
| Have you lost the plot ? | Malcolm |
| Ill thought through legislation, time to amend! | Ron |
| | |
| --- | --- |
| Our house is over 100 years old now – I think it has stood the test of time. What about volcano cover – no don't start them. | Chris |
| Do a cost / benefit analysis and stop politicising this issue. | John |
| Legislative over-reaction is unnecessary and must be re-thought before it's too late. | John |
| Absolutely…!! If a reasonably sensible organoisation (Government) looks at the issue at hand correctly, then only one conclusion can be drawn. This has to stop.! New Zealand does not need a one-fits-all policy. Some risk should be carried by the average New Zealander….not all carried by the property owner. It's an Insurers dream come true. It's a citizens nightmare. | David |
| It is lunacy, and without any sound rationale or science backing it. | Laurie |
| Socialism is tax and control and this legislation is the classic example of academic beauracrats creating work for themselves.another is osh regulations for scaffolding around single story homes.what rubbish in the name of safety. | Morrie |
| It's probably fair to say that any building which has stood for the last 100 years is reasonably safe. Anything that survived the Napier earthquake ditto. | Mark |
| The proposed legislation is a knee-jerk reaction by a risk-averse government that cannot or will not accept that the potential benefits are hugely outweighed by the actual costs. | Graham |
| Over reaction; let the owners have longer periods to repair/rebuild. | William |
| The Community has to look at the economic effect on affordability to the community. For example to change an historic church to full compliance may cost more than the size of the congregation can afford. To impose such a cost requirement is unacceptable to the values of the community. However a safe haven of say a steel enclosure within the building may be all that is required to provide adequate safety for the few parishioners that attend for a few hours a week. Some specific external Noticing may be required in such circumstances so that people have an opportunity to make their own decisions. On the other hand all government, and public buildings need comply. Commercial buildings under three stories should be allowed marked safe zones. and given a 15 year replacement option. You have also to wonder why New Zealand is front running the world on this sort of legislation when other countries have far more seismic activity. it is a result of having too many university graduates in the social sciences looking for make work schemes and life job maintenance programs, or is it because the socialist UN fostered ICLEI administration adopted by most councils see the takeover by the administration of much private property into the Council ownership following the global currency consolidation and are pre-empting that event by making the current freehold owners upgrade to a low risk standard before the event. Given that the UN-IMF security relates to national resources, what part of IMF Conditionalities is being played out in this overkill adoption. | Richard |
| Sounds like another typical Goverment over kill policy. I remember the leaking house period as I was building at the time and we kept telling the local building inspectors that the then new accepted wrapping material being used would come back and haunt them and we got poo hooed and was told we did not know what we were talking about. When do any of the political parties or their numbers know anything about common sense outside of their CRYSTAL PALACES. | Wayne |
| Living is an on-going risk. We all risk illness, accident or death at any time. Statistically this is absolutely unavoidable and no amount of legislation will make any significant difference. The trouble is our politicians believe they can walk on water and by a few strokes of a pen remove perceived risks from our society. Laws beget laws and evermore functionaries to administer them!! | Alan |
| They cant hold the whole country to ransome for an earthquake to happen in the next 100years that will devistate the whole country. | Jim |
| Does the government need to give greater consideration to the potential effects of their proposed earthquake legislation? Of course it does. But answer this question 'Why did our Parliamentarians not see the huge pitfalls and expense that will occur to ordinary citizens, if this proposed legislation becomes Law?' Is the answer 'The power of the Safety lobby,? Coupled with the Media Fear inspired journalism!! There is no doubt that our Media anxious daily for banner headlines and a policy of first with the news brigade of journalists; use the emotion of Fear to their advantage. Yes earthquakes are a feature of living in NZ, we can insulate ourselves as much as we like; but the final factor is, that when the large quake arrives there is very little we can do except help each other. This it is a price we must all pay for living in one of the world's last paradise, which most sensible New Zealanders do accept. Governments and politicians come and go like the fleeting clouds, so we have to accept the Sun with the Rain, but not to the extent that our leaders are consumed with a over protection at any price, just to retain their popularity! | Brian |
| ..big bucks for the the greedy "….. | Chris |
| As usual, little consideration has been given to repercussions. When oh when will we get a government that has common sense! | Judith |
| | |
| --- | --- |
| The earthquake bill should be scrapped. it will ruin towns up and down the country for almost no benefit at all. | Andrew |
| The government should look at buildings in high risk areas and that is all. | Roger |
| The legislation should be put on hold until a proper cost-benefit analysis has been done. | Michael |
| Governments always over-regulate to show how good they are. National is just as bad as Labour. | Ken |
| Insurance companies and banks are already treating investors as if the law has been passed. It will ruin people and destroy their livelihoods. It needs to be withdrawn and an alternative approach taken. | Chris |
| There should be a balance – laws to strengthen buildings in high risk areas but not all buildings. | Wendy |