June 11, 2017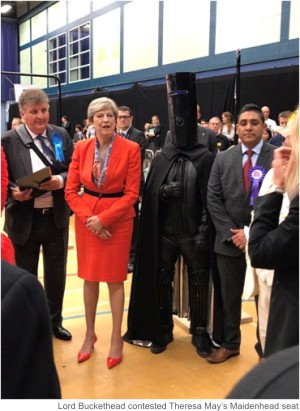 The country that gave the world Monty Pythons Flying Circus, Mr Bean, and The Goon Show, has just held a General Election. In true comic form, standing alongside the British Prime Minister Theresa May as results were read out for her Maidenhead constituency, were Lord Buckethead, Howling "Laud" Hope, and Elmo.
Unsurprisingly, Mrs May won with 37,718 votes. Lord Buckethead, who described himself as an "intergalactic space lord" and stood on a platform of strong but "not entirely stable leadership", won 249 votes. Howling "Laud" Hope of the Monster Raving Loony Party gained 119 votes. And Elmo, who clearly doesn't have a wide circle of friends and family to draw upon for electoral support, won three votes!
However, there was no trace of humour in the overall result for the Conservative Party. Coming from a commanding 24 point lead in the polls six weeks before Election Day – with an expectation of winning almost 100 extra seats – the Conservatives lost their majority in Parliament after what has been described as the worst election campaign in living memory.
With New Zealand's General Election less than 100 days away, our politicians will no doubt be dissecting the UK's shock result for clues as to why the Tories did so poorly, while the UK Labour Party did so well – despite having a leader who'd been described as 'unelectable'.
The poor result has largely been attributed to the fact that the electorate wasn't convinced that an election – three years earlier than scheduled – was necessary.
When told of the snap election, Brenda from Bristol became an instant celebrity by capturing the mood of the nation: "You're joking, not another one? Oh for God's sake, I can't stand this. Why does she need to do it?"
Voters, sceptical about the Government's claim of needing a stronger mandate for Brexit negotiations, saw instead political opportunism to take advantage of a weak and divided Labour Party. As a result, they punished the Tories at the Ballot Box for putting their Party interests ahead of the good of the country.
Instead of increasing their numbers in the 650 seat Parliament, the Conservatives fell from 331 seats to 318 – well short of the 326 seats needed for an outright majority. Against all predictions, Labour gained 30 seats, rising to 262. The Scottish National Party (SNP) – pushing for independence – fell 21 seats to 35. The pro-Europe Liberal Democrats Party (Lib Dems), increased by 4 seats to 12. The Northern Irish Democratic Unionist Party (DUP) – opposing independence – increased 2 seats to 10. And the UK Independence Party (UKIP), which successfully campaigned for Britain to leave the EU, lost its single seat and most of its support, going from 3,881,000 votes to 595,000.
With the election delivering a hung Parliament, Theresa May lost no time in negotiating a 'confidence and supply' agreement with the DUP, for a working majority of 2 seats in the new Parliament. This is a far cry from the Conservatives' direct majority of 6 seats before the election, and – with the support of allies – an effective majority of 17.
I asked this week's NZCPR Guest Commentator Lord Richard Balfe of Dulwich, a Member of the British House of Lords, to share some observations about the UK election:
"I can say without hesitation that this was the worst election I have known in my sixty years of election watching. A seemingly insuperable lead of over 20 percent disappeared as blunder after blunder was made by our supposed team of brilliant strategists.
"Many conclusions can be drawn but let me just mention two.
"Negative campaigning just does not work. Constantly denigrating the Labour Leader, when his answer was 'I do not do personal politics', lost votes. Attacking every expenditure plan however reasonable just made the Conservatives look like people without a plan.
"The impact of social media is much more significant than was expected. But any Party that looked at how Trump and Sanders – and for that matter Macron in France – campaigned, should have seen this coming.
"So where do we go from here? The current Government seems to have patched up some sort of deal with the Ulster based Democratic Unionist Party. These are probably the most illiberal group of politicians in the House of Commons. It is hard to see this Government lasting its full term and already people are looking round for a new Conservative leader. Meanwhile Jeremy is closer to number 10 than many ostriches imagine."
So what lessons can we in New Zealand learn from the UK election?
Firstly, opinion polls can no longer be trusted as reliable predictors of election outcomes.
In retrospect, the British Prime Minister's biggest mistake was to call an election on the basis of poll results – especially in light of the UK pollsters' poor track record.
In the lead up to the 2015 General Election, while the polls predicted a hung Parliament, the Conservatives gained a majority for the first time since 1992. The resulting calls for state regulation of the polling industry, led to an independent inquiry by the British Polling Council and the Market Research Society.
Their investigation revealed that not only had poll samples been unbalanced – with Tory voters under-represented and Labour voters over-represented – but the difference in turnout rates between age groups had not been properly accounted for, with young voters overestimated.
UK pollsters were also wrong about the Brexit referendum, predicting the 'remain' vote would win by a comfortable margin, when the 'leave' vote won by 52 to 48 percent.
Last week's election became the third in a trifecta of shock results, delivering a hung Parliament instead of the Conservative majority the polls had predicted.
Part of the problem was that UK pollsters miscalculated where the collapsing UKIP vote would go, by predicting it would mainly benefit the Conservatives, since they were taking the UK out of the EU. But that underestimated Labour's promise to follow through with the EU exit, since, with both main parties pledging to honour Brexit, UKIP supporters were free to vote on other policies. As a result, their 3.2 million votes were split between the two main parties.
An over-reliance on polling also contributed to the Tory campaign disaster.
When Theresa May announced the election in April, she was polling at 54 percent in the preferred Prime Minister stakes – well ahead of Labour's Jeremy Corbyn on 15 percent.
This led party strategists to design a presidential style campaign focussed on Theresa May. But in a country that cares more about issues than personalities, a campaign focussing on the leader – instead of the party – was a major blunder.
To make matters worse, Theresa May is no campaigner – she even refused to take part in televised leaders' debates. When she did appear in public, she was described as wooden, repeating her 'strong and stable leadership' mantra like a cracked record.
The lesson that polls can't be trusted is not, of course, unique to Britain. Last year's polls in the US, indicating Hillary Clinton would win the Presidency, were also wrong.
It's a lesson that needs to be taken to heart here as well, especially since inflated polling can lead to complacency – whereby parties think they can sleepwalk to victory.
An analysis of New Zealand's election polling between 1999 and 2011 by Gavin White, the Research Director of UMR, found that our polling companies have a tendency to overstate the votes for National and the Greens, and to understate the vote for NZ First: "One way of looking at this is to take the average error for these four parties across the 19 final polls included in this dataset. That shows that the average error is: National 2.7 percent too high, Labour 0.7 percent too high, Greens 1 percent too high, and NZ First 1.5 percent too low."
Applying these adjustments to the average of the two latest political polls – a Colmar Brunton poll published on June 7 and a Newshub Reid Research poll published on June 15 – would give National 45.5 percent, Labour 27.5 percent, the Green 9.7 percent, and NZ First 10.7 percent – with the Maori Party on 0.8 percent, United Future on 0.1 percent, and ACT on 0.9 percent. These results show that National will need NZ First to govern.
The second lesson from the UK election is that voters cannot be taken for granted.
To most British voters, the election felt unnecessary. They believed their only purpose was to give Theresa May a landslide she didn't deserve – and they rebelled!
The importance of not taking electors for granted is a lesson that all political parties in New Zealand should have already learnt from the Northland by-election in 2015, when voters, in what had been a very safe seat for National, voted for Winston Peters.
A third – and related lesson – is that voter loyalty can no longer be relied on.
These days, voters are less likely to blindly follow their traditional voting patterns – if their preferred Party is not doing enough to address what they consider to be key issues. Instead, they are now far more prepared than they ever were, to shift their allegiance and their vote.
This may well be a feature of our September election. In particular, there is a groundswell of discontent regarding National's handling of Maori issues, and unless the Party addresses this in their Manifesto, there is every likelihood that their vote will decline further than they might expect.
This brings us to the next lesson from the UK election – parties must produce well designed policy manifestos to win the support of voters.
In that regard, the Conservatives failed badly. Their manifesto, which was the antithesis of an inspiring vision for the future, was likened to "three spoonfuls of arsenic" – with callous cost-cutting policies that placed an enormous financial burden on vulnerable elderly people needing care. Forced to backtrack on the policy, Theresa May insisted that nothing had changed, reinforcing perceptions that she didn't care and couldn't be trusted.
In comparison, Labour's manifesto was bright and appealing to voters with its slogan 'for the many, not the few'. The policy prescription for a fairer Britain was aimed directly at Labour's heartland voter base, with promises that resonated including nationalising the railways, introducing a living wage, and eliminating interest on student loans.
This leads to the fourth lesson – good campaigning counts.
While establishment candidate Theresa May hid away in 10 Downing Street, Jeremy Corbyn – like Donald Trump – positioned himself as an anti-establishment outsider. In doing so, he successfully tapped into a genuine vein of anger and fear amongst millions of voters, concerned about the quality of their healthcare, education and public services.
Jeremy Corbyn's old style campaigning drew massive crowds in up-beat rallies. Using the campaign style of Bernie Sanders in the US Democratic primaries, he surrounded himself with crowds of young fans, using social media to boost his surging popularity.
His messages resonated: Labour's campaign had "changed the debate and given people hope. Hope that it doesn't have to be like this; that inequality can be tackled; that austerity can be ended; that you can stand up to the elites and the cynics. This is the new centre ground."
A final lesson from the UK is that how well politicians respond to the unexpected during an election campaign can make all the difference. While the Conservatives overestimated the importance of Brexit to voters, they underestimated growing concerns over security. The Manchester bombings and London Bridge attacks created a powerful concern that Theresa May had not done enough to combat terrorism. Jeremy Corbyn capitalised on this by pledging to do whatever it would take to make the UK safe.
The impact of this disastrous election campaign on the UK will be significant. Not only is Theresa May's leadership now threatened, but Britain's negotiating position with the European Union is inexorably weakened.
THIS WEEK'S POLL ASKS:
Which parties do you think will make up New Zealand's next Government?
– National, Labour, Greens, NZ First, Maori Party, United Future, ACT, other

*Poll comments are posted below.
*All NZCPR poll results can be seen in the Archive.

THIS WEEK'S POLL COMMENTS
| | |
| --- | --- |
| If National and N.Z first do not make up the governing party in N.Z this election we are in big trouble, just like the rest of the Western World which is being invaded,, especially through the young, who don't know, or have never been taught history, with democratic socialism, that has never worked anywhere in the worlds history, Saying every one is the same you will agree with what we say and as elite group will make all the decisions for your lives. Wake up N.Z!!!!!!. | Dene |
| We just have to cut back drastically on immigration. The politicians have made drastic changes without a mandate from the people. Be warned National. | Alan |
| One has to ask the question 'Is any change going effect the relationship between Maori, whatever Party holds the Government benches?' Would a Labour/Green confederation stop Maori greed, or finely put an end to Maori demands and more importantly the never ending 'Top Ups' which contribute significant amounts of money into Iwi treasure chests? The moot point being can we expect the NZ First Party to control and discontinue these Maori handouts without first withdrawing from the agreement signed by the Key Government to the United Nations Declaration on the Rights of Indigenous Peoples adopted by U.N. General Assembly Resolution 61/295 on 13 September 2007? This is a binding international legal document and the ramifications might be too severe and too costly, for a small Party such as NZ First to challenge. The only way would be by way of a referendum, which would be rigorously opposed by Maori Iwi, and probably end in violence. On the other hand, it would place the major political parties into having to actually have to confront an issue which at present divides us all; by confirming Maori as senior citizens, and the rest of us as second class ones. | Brian |
| Although I detest party politics (82 Independents would be better) I hope that National or Labour (?) win outright so there is no need to jump into bed with any other party – then we might see some common sense – won't hold my breath though. | Russell |
| National might win however for disgruntled former National voters the only way to punish National is to give "Party" vote to Winston. Sick of race based legislation and treachery to Israel. National have lost faith with their base. | John |
| Our only hope for some decent change in the future is to have NZ First as a collation partner for a national government. A vote for NZ First will be a vote for the better. | Ralph |
| We've had enough of the others. | Ross |
| Thought that more than one party could be voted for believe that National will need Maori Party and Act to Govern. | Murray |
| National/nz first. | Brian |
| God only knows, they're all incompetent. I have voted National all my liife but not any more, Key's duplicity put paid to that. That said, I still want to see National there in part but in association with Winstone, and definitely no more cosying up to the Maori Party, or Dunne Deal for that matter. The rest are history too. | Brian |
| Winston Peters, Ron Marks and NZ First will dictate the next Government. Most New Zealand citizens have had enough of been treated like second hand folk in their own country. Racism has to stop as does the favoritism of Maori. The treaty needs to be abolished as it is seen as gravy train for the Maori elitists and Immigration need to be curtailed. You want to buy a house in New Zealand then all immigrants have to get a house built. 1080 has to also be stopped before its to late. It is poisoning our native bush and everything that lives inside the confines of the bush including all, native birds that it is meant to be saving.. The National Party cannot be trusted to govern on their own anymore. | Wayne |
| You ask which parties but allow only ONE selection ?? | David |
| With the help of the Maori party & N.Z First. | Tom |
| I hope | Jim |
| Please, please let this be the result! National ,Act, NZ First. Winston with Maori affairs portfolio | David |
| Too difficult to answer with only one option available | Jim |
| National would probably need and be helped by support from NZ First. | Allan |
| I certainly hope that National wake up and team up with NZ First, and ACT. Drop the Maori party and United Future, National would be well rid of both. | Brent |
| Dunne-nothing? Feck off…the guy's just an oxygen thief. | Mark |
| MMP has created a political environment that compels Government by diverse committee. Such governance leads to apathy and hopelessness as the various factions scramble to hold their positions, not in the interests of the electorate, but in the interests of their own personal comfort zones. i.e. maintaining "power" at all costs. Power = position, salary and perks. Purpose lost. What we currently have is not a Conservative Government, but a mish mash of people who used to be Conservative, but are now compelled by UN Declarations and Treaties that cripple our Sovereignty and make New Zealand part of the left wing public policy domination. My personal opinion is that things will get much worse before they get better. The one single beacon of hope in the Western World is Donald Trump. Unfortunately, Teresa May is not demonstrating the strength and political acuity and financial backing that is necessary under the current world order. Lil ol' New Zealand is sinking under the burden of institutional racism and a massive lumbering bureaucracy that is choc a block full of stupidity and incompetence. | Dianna |
| All of them will be participating in the next Govt. But some will have a reduced majority and need to co-operate with other Parties. I still feel that National will prevail in spite of Maori and Global warming issues. None of the other Parties have said anything to the contrary. | Geoff |
| Sadly, I think, it is very hard if not impossible to trust any of them. | Stuart |
| With a bit of luck the Maori party vote with be down considerably | Mike |
| I hope NZ First can make National more honest and get rid of their racism. | Paul |
| Just keep those Labour Party idiots away from yhr benches. They would be even more dangerous than National is (with its Maori masters) | Derek |
| Hopefully they will achieve putting the K back in IWI. | Kim |
| Unfortunately National will still be there but will be forced to join with NZ First who will hold the trump card. People are sick of English an Finlayson pandering to the fascists Maori, and we need a leader with the guts to deny the cosiness they have with the corrupt greedy brown (tho mainly white) people.end all rascist legislation and start working for middle NZ. | Carolyn |
| It is a tough one to call but I think that the torries are becoming a little smug | Jeff |
| Unfortunately Nat will no doubt drag the less-than-1% Maori Party into coalition when they will no doubt be able to govern without them. They already have far too much influence in this government for their insignificant numbers. | colin |
| Is there any kind of conservative party anymore?? | Janie |
| I predicted Trump last July, and in Nov last year predicted something similar here – NZ First getting a huge vote and possibly being the Kings rather than the Kingmakers. | Claire |
| Nat 42pc NZ Forst 15 pc Maori P 3 seats | John |
| From current polls and newspaper articles it is obvious that National have got the majority vote. However they have not got the numbers to govern outright. If they only require two or three seats from other parties we will end up with the same coalition partners as at present. Hence nothing changes. What needs to happen is that National loses sufficient seats that they will have to call on NZ First to become a coalition partner. Of course I can see Winston saying he will not contemplate such a coalition if the Maori party is involved. Therefore we must tactically vote to ensure this is the outcome. | Dennis |
| I do not believe that ACT or United Future will be elected. | Leon |
| At least I hope so because it he rest would be untenable in running the Country. Mind you in do not want the collusion between National and the Maori party because they make too many demands and ALWAYS get what they want whether it's for the good of NZ or not, and mostly not just a greedy grasping attitude. | Audrey |
| Phew | Nevkath |
| This Election is not about the Best over the Less Best, nor is it the Good over the Bad, undeniably this is an election of the Worst over the very Despicable. Never in Memory has National arrived at an Election with so much negative baggage as to be reasonably un-electable, (Israeli damage, and apartheid maori Issues, inept housing reform and idiot Auckland transport issues heading the long list), only to confront the even more idiotic leaderless Labour offering of an angry unionist and an inexperienced toothfairy. Winston the lone oratory opportunist has plenty to say, but his team is devoid of experience and administrative depth. The single member parties are conspicuous by their ineffectiveness, So the intelligent voter is confronted with an experienced and steady hand dragging a portfolio of immoral and unsupportable baggage. This is not Hobson's Choice, this is Dante's Choice. None are deserving of the Honest Voter's support and National should take very strong Notice of that. | Richard |
| This is more like a wish list– but anyway. I took the time to read all the party manifestos / programs and compared the contents of these with each other. I realized that to some degree the programs of Act United Future , NZ First and( to some degree )even the Conservatives could work together. If they wanted that is. As far a The Nats are concerned: They are a pack of profiteering, self centered career politicians well greased by the tribal elite– that lot has lost all real substance. Greens: A subsidiary of the Maori Party– nothing more– driven by politically correctness — and therefore not to be trusted. Maori Party — self centered not interested in anything but their own narrow agendas. | Michael |
| The usual Winston | Ron |
| | |
| --- | --- |
| I'm not confident of this result but despair of our country ever being run by a Labour Green coalition! | Cyril |
| I think that the Maori IWI Elite are very greedy. | David |
| I am not over-thrilled about it (In particular because of the National Government's undemocratic espousal of Maori supremacists' outrageous claims; coastal rights, unelected voting representation on local bodies) but in reality National is still likely to return to power, with a reduced majority. ACT would be with them and they might have to bite the bullet and accept NZ First as a partner because the Maori Party would not provide sufficient numbers. My personal wish-list would include a National Government dropping the Maori Party, which is bringing such divisive decisions as that relating to unelected Maori into local body power. | Rob |
| That should be all they need. | Terry |
| I am a National Voter from way way back but NOT this time because of their pandering to the Maori Elite and the BS of a partnership under the Treaty Unfortunately Winnie is the likely winner and although he is right in this matter he is TOO dangerous in lost others. It would in my opinion be better if ACT got enough seats to enable the Nats to eliminate all other options. | Robin |
| Hopefully only these three will be needed. | Roger |
| National must stop its pro Maori attitude. | John |
| I Hope | Colin |
| | |
| | |
| --- | --- |
| NZ first will increase vote. | Norman |
| Its all up to Winston to decide. | David |
| A difficult alliance. | Ian |
| Time we were all one people. | Richard |
| Looking forward to seeing the Maori Party accorded the voice it earns on election night. | Tim |
| I can not see NZ First and Maori Party working together. So National may have to pick NZ First over its long term partner the Maori Party. | Lachlan |
| There will be a backlash against tow towering to the Maori elite. | Bryan |
| NZ 1st does not need to align with any party rather they should vote for each issue depending on its merit & compatibility with NZ 1st policies. | Jennifer |
| I DON'T trust National & their giving OUR freedoms to UNELECTED IWI is a DISGRACE so I hope most N.Z. wakes up to English & national. | Cindy |
| Campaigning having hardly begun and current racist policies yet to become a major issue, it is difficult to make a good forecast, – particularly since recent elections have made pollsters poor predictors. | John |
| It's time for a change , to get back to basics and to remember PEOPLE are more important than the Dollar. | Bryan |
| National will loose seat due to its racist policies of appeasing Maori. | Arthur |
| Need to cut immigration by 50% and watch the housing crisis evaporate. | Ivan |
| Nobody else has any idea. | Barry |
| This is the right mix to ensure the voters;' get a parliament of the PEOPLE | Rob |
| Winston will be the king maker. | Andrew |
| It is time that National stopped sucking up to Maori. They have to swallow the dead rat that is NZ First and get onside with them before they give all of our country away as bribes. | Graeme |
| National need to get their act together!! | Albert |
| … the only way to stop the separatist lunacy. | Mark |
| Well for starters as any half decent strategist will tell you, never ever give the opposition a even break, Bill the cow cockey did exactly that, he has given the loony left 6 bloody months notice to get their outfit organised , bloody idiot. | Sam |
| We have to get rid of the negative aspects of the current mob, who are running an agenda contrary to most kiwi's belief of good administration. | Allan |
| This is probably wishful thinking but it would be an interesting government. It probably overstates the pragmatism of the Greens but they have shown signs of wanting to govern. | Tim |
| A government that will change the law so it is one law for all not pandering to maori. | John |
| For NZ to progress we need Natoinal for economic stability and NZFirst to protect peoples rights and reverse raceism which National to stay in power have promoted with the Maori party who have no place in Parliment. | Ken |
| A large dose of healthy disruption is needed right now ! National Sovereignty, conditional immigration and an immediate cessation of communist-controlled Chinese businessmen buying into our country at an alarming pace. Refer: In The Jaws Of The Dragon: How China Is Taking Over New Zealand (and Australia) – Ron Asher. The June 2017 edition has 44 extra pages. WAKE UP New Zealanders. Our swamp needs draining as well ! N.Z. FIRST ! | Don |
| NZ First numbers can't be denied. They will force equal opportunity for all & eliminate Maori preference. Hobsons Pledge is appealing. | Doug |
| This is what I would like; to see! Time the Maori Party & Un. Future disappeared. Labour/Greens deserve each other in opposition. | Frank |
| What a total miscalculation by the PM to have to drag together a disparate group in order to survive. She won't be PM for long. | John |
| NSF seems to be moving up in the polls at the expense of Labour and the Greens. | Graham |
| For the hopes and aspirations of our young people we need NZ First to bring back some fair and REAL democracy and rid us of this current arrogant corrupt Maori pampering National Government. | Don |
| By their traitorous actions with Iwi, Natinal have opened the door to Winston and NZ First. Dunne is a brainless pratt and will finally get the DCM. Labour Greens are so pathetic they need to be kept well away from the Treasury Benches. We can only hope that Winston will keep his word to have all racial aspects deleted from NZ law. | Ronmac |
| Hope I am right not interested in the Left Wing Little and Co. | Ian |
| | |
| --- | --- |
| Let us prey that the race based seats will be retired from the scene and all citizens have equal representation. Perhaps some of the racist Acts recently passed my be repealed and democracy can once more gain the ascendancy. National and NZ Firtst need to find accord real soon. | Michael |
| 'Other' doesn't mean 'don't know' | John |
| We need a government that has the balls to stop giving millions of dollars and special rights to maoris and put in place "one law for all". That will never happen under the current lineup, in fact it will get much worse if the maori party get anywhere near a seat in govt. NZ First is probably our only hope of getting any coalition to make better decisions that the majority of nz,s feel feel strongly about. (ie) appointing maoris to local govt seats unelected, water rights, seabed rights, maori seats of any kind simply because they are maori. The list is endless and im totally sickened by it. | Des |
| Whatever it takes to stop bending to separatist Maori interests! | Peter |
| National's priority severely dented but Labour not strong enough to succeed. Likelihood is another shared option with you know who. | Graham |
| God help us if Labour and the Greens get in! | x |
| God help us if we get a Labour/Greens administration!!! | Andrew |
| National have lost their way and have made a sharp left turn. Winston is the only one that looks like the National Party was | Greg |
| Labour and the Greens have not got electable policies and both have poor leaders. | Frank |
| National need to think again on their water and immigration policy and listen to the people. | Margaret |
| More like hope than "Think" | Tracy |
| NZ First is what it says "Putting New Zelanders First". National has become arrogant and is not listening to the voice of the people who put them in power. Although NZ First can not govern alone it is hoped that they will reign in National. | Derrick |
| When Winston is serious,i like what he has to say. Especially over the greedy Maori demands connected with their blackmail of the Govt. with the racist Maori party 2 votes 60 and 61. | David |
| We do not what NZ First there, or Labour or the Greens you have to have ACT to have a good balanced government. | Geoff |
| National will get a thrashing. If Bill English dumps at least Nathan Guy and Nick Smith, he might resurrect a chance; otherwise he is dog tucker. Peters will run with the hares and the hounds for his own ends, nothing new in that. Labour's policy of restricting immigration will gain them many votes. | Peter |
| National need the more down to earth thinking of NZ First, to look after the low and mid earning people who National largely overlook. | Graeme |
| NZ first will lead the way and help NZ become one people and stop the racist nonsense. | IAN |
| It is past time for the National Party to part company with the Maori party. and move away from their demands for more power. Our Gov, needs to be for all people. | Robert |
| If it comes to stability and the steady as she goes view National should romp into power however as time gets nearer they shall have to convince the people that they are not drifting along. People want to see and meet a politian to judge for themselves and ask the "what is in it for me" question. | Elizabeth |
| The Kingmaker Winston..no other real valid choice of ethics? | Ian |
| I totally agree,Nationals efforts to appease greedy Maori claims will cost them dearly. Wake up Nats. | Ray |
| | |
| --- | --- |
| I would love to see NZ First whip National.. | Deb |
| With this combination this new government combination MIGHT withdraw our already widespread and divisive racial legislation. | Stuart |
| New Zealand cannot afford to have Labour and Greens in power. Would prefer for there to be no Maori involvement, and that Winston has the gonads to insist on the removal of all racist legislation and preference from our statute books. Even if some legislation is "enshrined in law" there is always a way to get it removed. Just have to offer the greedy maoris enough money to fold, as per normal! | Neil |
| We must get rid of National before they bankrupt nz with all the sweet heart/corrupt deals they are doing with the maori party and dunn, and get Winston to goveren NZ for ALL New Zealanders, pity he will have to share with either labour or the greens but thats better than national being in charge. | Richard |
| A pity we can't abolish party politics and do what's best for the country and everyone in it. Surely having one group of supposedly intelligent people opposing everything proposed by a similar group of supposedly intelligent people must be the most farcical way to run a bring and buy sale, let alone a country. | Alan |
| National need to wake up to issues. | John |
| I also fear further damage that will be done to New Zealand by Nationals pandering to ludicrous and power hungry Maori demands. National must be reigned in by NZ First. Democratic checks and balances must be restored. | Donald |
| Nationals apartheid policies, have already changed New Zealand Their policies have also created the biggest divide in New Zealand's history We are now a very racist country. | Bryan |
| NZ first will stop all the current bullshirt. | Patricia |
| Who could possibly trust National to follow through on any of its manifesto policies relating to maori?? Experience shows that they have absolutely no backbone when they think they need the maori party as a coalition ally – they simply agree to all demands. They terms of coalition agreements under MMP should have to be published so we all know what dirty dealing has been done. | Alan |
| I hope | Chris |
| Unfortunately Bill English will court the Maori Party yet again and bribe them despite his erstwhile declaration that it is time to dump the Maori seats. APARTHEID rules supreme in NZ. | Geoff |
| Never, ever, underestimate the support for NZ First; the polls consistently rate the party lower than it performs at the election. Bill English will try his hardest to avoid having to deal with Winston Peters, and, hopefully, it will take a change of National's leadership to bring the coalition about | Graham |
| National arrogant, Maori Party in La La Land. Time for a big change. | Peter |
| This is more hope than what may actually happen. I sincerely hope the Maori party get trashed in the election but unfortunately their supporters will be attracted to them like children to a lolly scramble. | Colin |
| | |
| --- | --- |
| …the name says it all….NZ FIRST…ONE NATION…all the false free loaders in the political garbage can should be removed ….!!! | ChrisH |
| NZ First to keep National's arrogance and smugness in line and to deal with the issues which are currently in the too hard basket. | kevin |
| This is a vote of hope that the Labour Party will not get on the bandwagon of giving the country to the Maori Party, and that NZ First (without the Greens) will lead NZ down the path of democracy and one law for all (Maoris and Muslims included). | Liz |
| Why do people only let the two main parties get in all the time. We need a big change in thinking from these main parties. Stop looking after big companies and think of the middles income works and stop handing out money to the Maori's that National and Labour have been doing. Need new ideas. | Robert |
| Although National is leaning too much towards "corporatisation" and compliance legislation, forcing up prices by "stealth". | Ray |
| Just a feeling that Nats are in denial and a lot of disillusioned Nat voters. | Graeme |
| God help us otherwise. | Brian |
| I have decided to let Peter Dunne go. He's just a nuisance. The polls are not representing the 12 to 15% undecided votes, which will lift NZ First. A continuation with a Maori Co-Governance and Maori supremacist Nat Government would be a disaster. | paul |
| NZ First for sanities sake. | Alan |
| | |
| --- | --- |
| National will need NZ First and I hope all race-based laws will be abolished. | Paula |
| As long as the racist Maori Party and Green Party are nowhere near Government, I don't really care who governs. | Jeremy |
| What a disaster for the UK the Conservative's opportunism has turned out to be. It makes things in NZ seem not quite so bad! | Graeme |
| Good comments by Lord Balfe. Observing the election must have been like watching a train wreck. | Andy |
| I used to vote National but not any more because of their racist policies. NZ First will get my vote this time around. | Mark |