October 15, 2017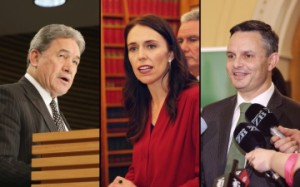 "NZ Shock: Losers take power" was the headline in The Australian newspaper on Friday.
They are not wrong.
It is a shock to many that the party with substantially more votes than any other party is now in opposition. More so because that party has delivered low inflation, low interest rates, low unemployment, and one of the fastest growing economies in the OECD.
New Zealand First has invited into government the most radical left wing alliance in this country's history. While all previous governments have been responsible enough not to allow the deeply socialist Greens anywhere near ministerial power, Labour's new Prime Minister in waiting has given them three Cabinet posts.
One of the Green's demands agreed to by our new Prime Minister is a nationwide binding referendum on legalising marijuana for personal use. This is what Mr Peters has signed the country up to by supporting a Labour-Green Government.
What Winston Peters has not signed the country up to is a binding referendum on the future of the Maori seats – despite that being 'a bottom line' New Zealand First commitment in any new government.
At the Party's campaign launch on 17 July, Mr Peters said: "I am therefore announcing today that the next government we belong to will offer a binding referendum mid-term to… Retain or Abolish the Maori seats."
But he has now reneged on that commitment and the promises he gave to attract support for his party.
According to the Herald, the Maori seats "Will remain, despite NZ First's policy to hold a binding referendum on whether to abolish them. Peters said his party had not been delivered enough support to demand such a measure."
So there you have it. Winston Peters has said that not enough people supported him to warrant honouring his promise.
What utter nonsense: Voters delivered enough support to New Zealand First to enable Mr Peters to dictate the terms of a new government – which is exactly the position that he wanted to be in.
If holding a referendum on the Maori seats was truly a bottom line, he could have delivered it during this Parliamentary term.
Not only has Winston Peters put radical socialists into power, but during the announcement of the new Government, he made the astonishing move of talking down the economy: "Our negotiations have taken place against a backdrop of changing international and internal economic circumstances which we cannot ignore. We in New Zealand First believe that an economic correction, or a slowdown, is looming, and that the first signs are already here."
He then went on to say that he was foreshadowing the downturn so as not to get blamed for it when it arrives. Not only is the statement extraordinary but his position of trying to distance himself from any future economic decline is even more bizarre, considering that he will be a key player in the new Government.
In effect, Winston Peters is trying to excuse himself from having any responsibility to keep the economy strong – surely a core duty of government.
Given his gloomy economic forecast, it is even more inexplicable that he would turn his back on National as a coalition partner. Despite National's shortcomings, the Party has proven itself to be very competent at managing the economy during tough times – including economic recession, the global financial crisis, the Christchurch earthquakes, and commodity slumps.
Despite that record, Winston Peters has decided that Labour's totally inexperienced Grant Robertson will be a better economic manager for New Zealand.
Mr Peters may well be right in his prediction of gloomy economic times ahead, but if that's the case it is likely to be exacerbated by the policies of the new coalition government.
While full details of what was agreed in the coalition talks, remains a closely guarded secret, there have been leaks. According to the media what will not proceed is Winston Peters' commitment to hold a binding referendum on the Maori seats, nor Labour's water tax on agriculture. But what will go ahead includes:
• Cancelling the tax cuts.
• Reducing immigration by 20,000 to 30,000 a year.
• KiwiBuild: building 10,000 affordable homes a year for 10 years – half in Auckland.
• Restricting land sales to foreigners.
• Re-negotiating the Trans-Pacific Partnership to ban foreigners from buying New Zealand land.
• Requiring the Reserve Bank to give greater weight to full employment when setting interest rates.
• Scrapping charter schools and National Standards.
• Re-entering the Pike River mine.
• Considering moving Auckland's container operations to Whangarei.
• Including farming in the Emissions Trading Scheme
So while Winston Peters campaigned on abolishing the Emissions Trading Scheme, he is now propping up a government that wants to expand it by adding agriculture.
National has not included farming in the ETS because there is no way of reducing greenhouse gas emissions from livestock – except by reducing livestock numbers or forcing farmers to pay financial penalties.
That means the end result of this decision to bring agriculture into the ETS will be to force up the price of food – and reduce the viability of agricultural exports. This is in spite of the fact that during the election campaign, New Zealand First promised to reduce the price of food and improve the prospects for exporters… yet more broken promises from New Zealand First.
In addition, Jacinda Ardern has said that Labour's 100 day plan will largely go ahead. This includes:
• Making the first year of tertiary education or training fees free.
• Increasing student allowances and living cost loans by $50 a week.
• Introducing a Healthy Homes Guarantee to require all rentals to be warm and dry.
• Stopping the state house sell-off.
• Establishing an Affordable Housing Authority.
• Introducing the Families Package: Winter Fuel Payment, Best Start, Paid Parental Leave.
• Establishing a Ministerial Inquiry into mental health.
• Making medicinal cannabis available.
• Resuming contributions to the New Zealand Superannuation Fund.
• Establishing a child poverty reduction target.
• Increasing the minimum wage to $16.50 an hour.
• Substantially increasing the power of the unions.
• Establishing a Tax Working Group to investigate a Capital Gains Tax.
• Establishing an inquiry into the abuse of children in state care.
• Holding a Clean Waters Summit.
• Establishing an independent Climate Commission.
Once the impact of this policy mix – cancelling the tax cuts, cutting immigration, strengthening the unions, increasing the cost of the ETS, penalising farmers, lifting the minimum wage, and implementing an extremely expensive social policy agenda – starts to bite, it won't take long for the economy to struggle. By choosing parties to be New Zealand's new government that will increase spending in this way, Winston Peters is virtually ensuring his predictions of a negative economic outlook will come to pass.
So what will be the shape of the new Government?
The Prime Minister has announced that there will be 28 Ministers in the new Cabinet – the same number as previous governments. Of those, Labour will have 16 Ministers inside Cabinet and 5 outside. New Zealand First will have four Ministers inside Cabinet and one under-secretary, and the Greens will have three Ministers outside of Cabinet and one under-secretary.
Labour has negotiated a full coalition agreement with New Zealand First, while the Greens have a confidence and supply agreement. The distinction between these two arrangements is important.
With a coalition agreement, New Zealand First will be part of the Government and will be bound by Cabinet collective responsibility. That will preclude them from criticising any decisions made by the Labour-led Government. In contrast, being a support party outside of Government means that the Green Party will be bound by Cabinet collective responsibility only in the areas in which they have ministerial positions. They will be free to attack any other policy decisions that they disagree with.
So there we have it – the 7 percent party with 100 percent of the power, which was free to form a government with either the winner of the election, National, or the loser, Labour, has chosen the losing coalition to form New Zealand's new Government. In addition, Winston Peters has reneged on his promise to hold a referendum on the Maori seats, even though he knows that he has many New Zealanders concerned about the growth of race-based privilege to thank for making it back into Parliament and giving him the privilege of being MMP's 2017 kingmaker. Those people will now be regretting they believed he would honour his promise.
This week's NZCPR Guest Commentator, financial analyst Frank Newman, has this to say about the new Government:
"The big question mark overhanging the three headed coalition is stability. Of the three, New Zealand First has the most riding on the success of the new government. Unlike the Greens who see Labour as its natural coalition partner, New Zealand First supporters were not committed one way or another. Many voted for New Zealand First on the expectation that it would side with National and deal with issues like race relations. Those supporters will feel betrayed and cheated and will now become critics rather than supporters.
"The new government will have to do well for New Zealand First to hold its support base, and without the luxury of a seat, and no obvious sweetheart seat deal in prospect, it may well find itself out of Parliament in three years time – assuming the coalition goes full term."
This is an interesting point. After the 1996 election, New Zealand First entered into a coalition with National – but it did not last. At the 1999 election, their party vote plummeted from 13 percent to just 4 percent, and they only survived because Winston Peters held onto his Tauranga electorate seat.
In 2005, they entered into a confidence and supply agreement with Labour, but Winston Peters was forced to stand down from Cabinet and their party vote fell to just 4 percent at the 2008 election. Without an electorate seat, they were ousted from Parliament.
All in all, New Zealand First does not have a strong record of bringing stability to governments in which they hold Ministerial portfolios. And with Jacinda Ardern giving four Cabinet posts and one under-secretary's position to New Zealand First's nine MPs, the future could be a challenge.
This is especially the case given that the National Party – as Parliament's largest party by 10 seats – will be unlike any previous opposition. In Question Time, since oral questions are allocated according to the proportion of non-executive members in a party, National will be entitled to around eight questions out of 12 each day, leaving Labour with three, and the other parties sharing one.
That means the Opposition's ability to hold the Government to account will be greater than in any previous Parliaments – and the Government's opportunity to promote their agenda will be substantially less. The newbie Ministers and Prime Minister will come under intense scrutiny and pressure, and they will need to perform exceptionally well if they are to hold the three party coalition together.
While Winston Peters' decision to choose the losing parties to form the new Government is in itself a shock, many are now saying it's also a failure of MMP. Under Germany's MMP system, the party or bloc that takes the most seats has a mandate to form a government. If none has a majority, talks on forming a coalition ensue.
In other words, their system has a safeguard that makes a coalition of the losers unlikely, as it's the most popular party that takes the lead, not the party that holds the balance of power. This is less likely to result in the horse trading that New Zealand First engaged in, and it is therefore more likely that the government will include the party with the most public support. Clearly there is something wrong with our MMP system that needs to be fixed.
THIS WEEK'S POLL ASKS:
Do you believe that under New Zealand's MMP system, the party with the most votes should be given the first opportunity to form a government?


*Poll comments are posted below.
*All NZCPR poll results can be seen in the Archive.

THIS WEEK'S POLL COMMENTS
| | |
| --- | --- |
| Of course they should. I voted for MMP based on this premise. NZ voters were duped into believing this is what MMP stood for. Our current system is frankly intolerable. | Sharen |
| I do not consider that a system that delivers a government without the party with the most votes is democracy. | Kevin |
| Its wrong that Winston Peters who was not even voted in by his own electorate has controlled all negotiations. | Anon |
| MMP is not working for most of us! | Jim |
| The recent election has proved MMP to be a farcical & undemocratic system. | Heather |
| Definitely .. I'm hoping to win – or – a portion of Lotto, asap, so I can leave NZ for the next 3 years !! .. Just cannot believe that many of our Lady voters cast their lot with Labour – because the leader was a Woman !! and so many did not bother to read the Party Promises made.. | Elayne |
| Absolutely not | Robert |
| As it stands MMP is an abomination of a system and should be dumped ASAP. | Tony |
| The outcome of this election is proof that the system is wrong and there needs to be safeguards for the highest polling party to negotiate a coalition | Janet |
| It would be ideal for a number of changes to take place under MMP (aside from getting rid of MMP): No policy flipflops, new policy or major changes one day out from election day. No early voting unless it is a special vote. | Bill |
| Sorry to disappoint, Bolger did it in the first, with only 33% | Pat |
| So obvious | David |
| Democracy in New Zealand is now dead! Why not save the immense cost of elections and appoint Winston Peters to select future Governments. | Jim |
| Didn't Germany devolve MMP to avoid another Peter Hitler from gaining power? | David |
| The only logical answer to this perceived shambles is to ditch MMP and have a system where all MP's are voted in, STV | Phil |
| This is an outrage, just like the Bolger Government agreeing to an MMP vote where not only as a 'constitutional ' change should it have demanded a 75% voting majority , it not only agreed to a 50% majority , but worse only 50% OF THOSE THAT ACTUALLY VOTED. Fancy a man whose party has only 7.5% of the vote, who lost his own seat , whose party as only 9 seats , whose bottom line was removal of the Maori race based seats which he now reneges on, and who lied in saying that the NZ economy was in trouble – determines the Government – we must be crazy to allow this | Hylton |
| Lost for words. We will be Socialised to Insolvency. | David |
| Winston's final term.. He has let us down badly.. | Donald |
| Clearly under the present MMP system we have been held to ransome by Winston Peters. No one person should be able to decide the future government in this way especially as Winston does not even have enough support in his own electorate. | Elaine |
| Not without another referendum and besides, National is the party of the petrol-head. It has been bought off by the AA, the Road Transport Forum and the Bus and Coach Association while our railway system is left to whither and die as the country embraces Third World transport futures. | David |
| Yes. The option for losers to do so, is completely irrational and undemocratic | Bruce |
| Absolutely. Democracy is about majority rules. The current system has been broken since inception. | John |
| It is a nonsense that a political party which attracted less than 10% of the party vote and does not hold a constituency seat, can hold the balance of power. | Michael |
| How could anyone expect Winston Peters to honour his election stance? | Ann |
| We should not have MMP as the elections have just shown us that the most powerful and stable government has no power or say under MMP.. | Dick |
| Definitely. That would stop this ludicrous election happening again. | Christine |
| Absolutely! The party with the majority vote must form part of a government to reflect the majority of voters. | Kris |
| There are a few other changes to MMP that should also be made. Better still, ditch MMP altogether and introduce a method that stops minority parties holding undue power. | Gary |
| I thought that this is why make a point of going out and voting, i would have believed Winston was bigger than that! | Bill |
| MMP is a disaster needing correction. | Rob |
| The present system is not democracy. The majority voters have no say in how their country is run. They are the losers !!! No logical reasoning !! | Pierre |
| Although National got the most votes more than half voted for change, that is how MMP works, Don't you understand that. | Jessie |
| Patently obvious | Jock |
| W.Peters appears to be a self serving persona non gratia treating the NZ voters with contempt. | Brian |
| No Question about it of course they should | Aileen |
| Obviously – it's what the majority voted for | Philip |
| Without a doubt! | Elizabeth |
| Logical | Bob |
| Absolutely!!!! YES! YES! YES!!! | Ruth |
| MMP's a complete failure, A failure that those in parliament are the first on their party lists, thus having two votes and then a third vote at the polls – A con job. and Peters has lost his way completely ignoring those whom gave NZ 1st party their vote.. | Robert |
| I believe in first past the post anyway in NZ. There is too much power for those in a minority under the present system. | Robert |
| Fed up with "rule by minority"!!! | DAVID |
| Really – is this not logical. How on earth did we end up with such a MMP shambles? | Jim |
| It's the ONLY way democracy can be upheld. In permitting the nonsense we've now witnessed, demonstrably MMP is NOT a democratic system. | Jim |
| MMP is the TRUE democratic way of voting. EVERYONE'S vote counts | Anon |
| MMP in NZ has always been a bad deal. It is like the tail wagging the dog!!! | John |
| Democracy in action. | Paul |
| When we are told that the majority of the country voted for change, this one change that I'm sure will never get the support of the coalition, for obvious reasons. | Barry |
| What a shambles, I will never vote again a complete waste of time. | Lionel |
| Because we have a democracy! | Karen |
| Absolutely | Kristene |
| This does seem fair. | Ross |
| Logical. | Dave |
| The loser bloc with have a good chance of self destructing | Arnold |
| I didnt want MMP, along with many other NZers, but now that we have it, this is how it plays out, luckily for me, as I voted NZ1st | Kelly |
| The government we have now is most unfair. Hopefully it will fall over quickly! | Barbara |
| Yes I do | Eric |
| National had the opportunity to form a Government! MMP is a pretend democracy – when politicians entrench themselves in the parliament – unable to be removed by the Voter? THe Voter waits for them to be shamed enough to resign!!! | Frederick |
| There are actually four parties with their own separate agendas.Labour ,Maori Greens NZ Last | Michael |
| MMP as we have it is not good | Laurel |
| Nothing else makes sense. | Tony |
| Most Definitely | John |
| It was!. This doesn't mean that the deciding Party must be coerced into forming that kind of government when there are other democratic options are available.. I, for one, will be glad to see the power of objectionable characters like Stephen Joyce, Judith Collins, Simon Power, Paula Bennett thoroughly reduced.. | Rochelle |
| What we have now is a farce. we need to change the rules (Law) | Brian |
| This is so bad it may be worth campaigning to switch to STV | John |
| Present situation is not what was voted for | Dan |
| For sure! The result we have somehow been landed with, is the exact opposite of what most people thought they were voting for! I'm utterly dumbfounded! | Paul |
| Surely that would be the principle in every other democracy? Why did English just give up? Why doesn't the governor general veto the NZ 1/Labour coalition as a hopelessly unstable minority? And just where are these policy matches between NZ1 and Labour? What? How? None of this makes sense. Everyone was lying. ALL they want, is to be in power. They would sell their own mothers. Everything they have said was bullshit, wasn't it? All they want to do is rule, stuff everything and everyone else. Just like Trump: everything they have said so far was simply BULLSHIT. WUNZ! | J |
| Of course not, because in the case of this lthis last election the majority of people did not vote for National – they wanted a change. Once all the country's silver has been sold, what is left to either give away, or sold to to foreign buyers. What did National do about the dreadful statement of unaffordable housing in Auckland and elsewhere, or what compassion did they show for the beveaved families The Pike River. Sad that see some many pessimists who only wanted to go with the status quo of National, on the "I'm all right Jack" bandwagon. | Fiona |
| Very definite yes | Alan |
| The Winston Peters saga has been a travesty and the poor uninformed minority will finally see what they have coursed to happen. | Max |
| The tail should not wag the dog. | Graeme |
| A no brainer! To tick no you must have zero understanding of the meaning of democracy. | John |
| Clearly because they had the most support from the public and that is what I believe democracy means. | P. Pillay |
| Sorry Winston, but you have sold out your supporters. I would predict the almost total demise of the NZ First Party in the next general election. Our last hope for "one New Zealand" has gone down the tubes. Quoth the raven, "Nevermore." | Mitch |
| Absolutely, by the (mia) governor general, to the dominant elected party to form either full coalition majority gov't or minor parties on confidence and supply and if that fails then invite the second elected part to do likewise. This notion we voted for this is rubbish, we never had a say in the detail, did we!! | Hugh |
| What specifically do the rules say about the lowest performer deciding the outcome? why is this not being explained? | Ron |
| Isn't it iogical | Richard |
| Our MMP system is a joke without a punchline. | Steve |
| What we have elected for ourselves promises to be an unadulterated mess. All because so many of the voters led by a largely gullible and ideologically driven media fell for a fresh face! Something poor Bill English couldn't change! | Tim |
| Scrapping this MMP nonsense altogether would be even better | Peter |
| Winston has betrayed his supporters. I voted for him on the understanding he would rid NZ of all the Maori crap – gravy train, Maori seats, legislation re the ToW included, all the Maori rip offs. Silly me. H e should've gone with National. Thought we would be able to stop Nationals pandering to the Maori. | Carolyn |
| MMP has clearly exposed the lack of forsight and inteeligence of those who proposed such a flawed system of government in the first place | Frank |
| Why not, those that get the most votes should hold the balance of power. | Ian |
| Absolutely. It's a travesty how our new government has been formed. | Robyn |
| We no longer operate under a truly democratic system in NZ | Graham |
| Absolutely, it is common sense | Campbell |
| Unless this coalition of Losers does exceptionally well, there will be a real backlash against New Zealand First come next election! Most New Zealanders are pretty much over Winston Peters deciding who will govern our nation each election! | Frances |
| How can you not?……however our MMP system has proven the majority will be contolled by the minority | Rick |
| One nation one party ahead at the polls…if we must have map we need to have clear leaders, not people or parties who lost ruling over those who won. | Brenda |
| Has anyone else noticed that Adhurn always talks in the "I"tense being of the me, myself and I generation holding true | Carolyn |
| MMP must go. Bring back FPP so we don't have tree-huggers and canoe-paddlers holding our once wonderful country to ransom. | Mark |
| Of course it should be. The party with the most votes should have the most power in a democracy otherwise it is not a democracy. | Lyn |
| With the current coalition of 'losers' NZ is in for a rough ride! | Graham |
| Why should winners end up as losers? No democracy here | Sandy |
| Changing the basis of MMP won't correct anything. FPP was voted out because of disillusionment with the perceived abuse of the power in the hands of the MPs. The quality of the MPs is the key influence. | Edgar |
| Makes a lot more sense and a lot more democratic. | Andrew |
| The election results are a farce. The sooner the MMP system is reformed, the better. | Ron |
| 100% agree party with most votes MUST be part of government | Caren |
| Unbelievable that we have a system that allows the losers to win! Majority should rule. | Colleen |
| Yes but National were not dealing with race relations and the resulting separatism, it was getting rapidly worse with no sign of an end let alone the huge cost to New Zealand. National fouled their own nest and it came back to bite them in the butt. | Donald |
| That surely can be seen clearly by all voters after what has happened in this election. If we retain the MMP voting system the rules must be changed to prevent such an undemocratic result. | Rob |
| Yes, but unless ALL Parties agree it will never happen, and the likely hood of an efficient system of MMP being created is 'Pie in the Political Sky'. The only chance for stable government to inhabit the Government benches is a return to FPP, and just to many people would lose face over this. The minor parties would in any case, in a final emotive message cry foul and use the equality message The Green Party would also try to invoke an intervention by the United Nations; in a desperate attempt to retain and keep their power. Already Peters has broken the promises he made before and during the election, regarding Emission reductions, Maori seats, with no doubt on others to come. Face up %u201CWe have been conned%u201D! From the first promises made by this new administration, New Zealand indebtedness will increase dramatically; as truly left wing socialism idealism gains popularity with all the expected goodies. | Brian |
| Most certainly | Jim |
| Clearly the National Party had the opportunity to form a government with N Z First and blew it. | Peter |
| Yes of course its the only sane and sensible way to go. what a shambles we now have with all the dead heads at the helm, hopefully not for long, givem hell bill and co | James |
| This has to be one of the modern day dissasters how can we have a country run by three losers Winston has probaly made one of the biggest mistakes of his life | Russell |
| Because it is the party for whom most voted to be the government – its not FPP its just the first to be given the option to form a coalition government. | Stan |
| I never voted for MMP and still believe in the 'First past the post' system. | Reg |
| Absolutely. The recent coalition formation which sees us being governed by parties and MPs that secured the smallest proportion of votes I think undermines the wishes of the majority and I left feeling my vote counted for nothing. | Carol |
| This latest shambles sure shows the need for it. We must prevent an outcome like this from ever happening again. I, like many others, held my nose and voted for NZ first because of Winston's bottom line of holding a referendum on the Maori seats. He has completely sold us all out on this. When you look at what Taxcinda was saying, "we would not consider having a referedum on the Maori seats" then that should have meant that there was no way that Winston would go with Labour/Greens because of his bottom line. At least Winston has been consistent throughout his career, he is a lying, twisting, grand standing piece of excrement and I can't believe that I thought this time might be different. | Ronmac |
| Unbelievable 92.8% didn't vote for NZ First and this is democracy? | Phil |
| Our system has to be the worst in the western world with the person with nearly the least number of votes and no seats calling the shots. It's a travesty. | Mary |
| It is only Democracy in NZ if the party with the most votes gets first opportunity to form a government. The current situation is not. | Howard |
| This is essential | Mary |
| I feel cheated to the maximum possible because I believed Winston Peter's party would go into coalition with the party that clearly gained most votes in this election! I fear to the ultimate level what damage this coalition of the losers will do to every aspect of the character of NZ. I dread any of Jacinta's policies, as a sworn Socialist, committed anti-capitalist as she drives us towards a totalitarian state as in Cuba & Venezuela. I blame the corruption of of our education system & especially our universities & press gallery & UN Agenda 2030! I feel we have been cheated out of our better prospects for NZ in general. | Cyril |
| Absolutely | Paul |
| This MMP system has several anomalies and you will know what they are ? Fancy the "losers" winning power and FAR too much power in the hands of a man who can't even hold his own electoral seat ! The MEDIA also need your scrutiny because they are directly responsible for their left wing views and opinions. Totally biased against the Nats. | Andrew |
| If the greens had gone with national it would have been the end of NZ First but as it is it still may be the end of them since Winston has renegged on the ref for getting rid of the maori seats. | Richard |
| This election has been a croc. We've been deceived by Mr Peters. I fear for my children and grandchildren! | Steve |
| Most New Zealanders mistakenly thought that was the case because it is obviously the fair way. Once again we learn the hard way. | Bruce |
| This type of outcome I doubt would have been published at the time of voting for our system. Of course the parties that have been chosen have convinced themselves that the country wanted change. They did not otherwise why did National get the highest vote by far. I wonder how many people who gave NZ First their party vote to supposedly keep National honest are wondering what they have done. | Laraine |
| I feel betrayed by NZ First and the broken promises | John |
| The system we have is a disgrace to ever throught it up, This country will go back wards now watch House prices drop, Lote of apartment blocks not selling if the Dollar drops whaich all imported goods go up eg Petrol, cars, white goods, etc & who will be the loser the people that voted for change. | Geoff |
| Most votes means have the strongest say. | Gerard |
| | |
| --- | --- |
| Would be a much better idea if the Supplementary Member option was introduced. This is what most people, those who actually understood the original referendum details anyway, thought that they were voting for. | Bob |
| This system is a travesty. Democratic principles are ignored and subverted by power hungry minorities. | Stewart |
| Absolutely. It should always have been part of the process. I have never and never will vote for a system where individuals are not directly accountable to the electorate. | Martin |
| Only idiots like we NZers could have anything different. | Frank |
| They (National) were given that opportunity< but refused to take it. They could have negotiated with Labour but didn't. We should not be blaming Winston for what happened, he is a lot more astute a politician than all the rest of them put together and this proves it. | Innes |
| This current result should never have happened. | Diana |
| Obvious | Monty |
| It only makes sense to do this, according to the majority of voters. | Jill |
| A basic expectation | Peter |
| I did not like the way so many of you believed in Peters. I am so worried for NZ | Meg |
| The MMP system should change to that at the least, or be scrapped at best. | Dayal |
| What has happened is an insult to common sense.. The insult is that our National Party Members allowd such a proceedure to continue !! However "Time will tell !!! | Graeme |
| Terms of reference regarding the make up of a government should have been formalised as part of the introduction of MMP. Just goes to show that all the "T's" were not crossed and the (I's) not dotted before it's introduction. Makes you wonder whether our leaders really know what they are doing. | Dennis |
| Thanks Winston – for what? | Ted |
| Absolutely, that is how it should be. This now, is the most appalling and undemocratic situation, and it needs to change. | Gail |
| Why should we vote when the party with the most votes looses. There needs to be changes to MMP or abolish the system as unfair. | Roydon |
| Winston Peters is a weak gutless liar. | Donald |
| Its so wrong that a minor party chooses the government. | Barbara |
| Lets do this soon as we can. | Barry |
| The present form of MMP is farcical | David |
| Get rid of MMP and lets have STV | Phil |
| It is the most logical thing to do. | Wai |
| Yes, under the Westminster system the Governor General should have the power to call all elected MPs of the largest party elected on the night to Government House and set down a reasonable period for negotiations. The GG should also demand that negotiations be primarily with that "winning party" and that other parties wait their turn to negotiate and alternative government arrangement. Parties than reach 5% of the vote on the night should be advised that they cannot screw the election result by making deals, promises, private threats or any other negotiations outside the parameters the GG sets down. The GG as the sovereign's representative has such power what did happen was because the GG did nothing. | Ray |
| I agree the German MMP system is what NZ should have & it MUST be changed by the next election. | Cindy |
| Both the outcome and the means of getting there have been a slap in the face to most NZers. Shame on you too Winston. Reneging on promises reflects beyond doubt your and NZ First's dishonesty. | Fred |
| The current situation where the losers take power makes a complete farce of NZ's voting system … the voters showed their preference by giving the majority of votes to National who have done a superb job of putting NZ in a very good economic situation. | Louanne |
| The only system that makes sense. | Brian |
| Absolutely | Clyde |
| Winston Peters might well find to his cost that his supporters believed far more in a referendum on Maori seats than on one for the legalising of cannabis | John |
| Common sense says that of course they should. No Demigod losing part balance-poeres little hitler should be in the position to hold the country to ransom as NZ First has done. Peters' action is "ME FIRST" and to hell with the rest of you. I"ve got the power again. | Ian |
| 93% of kiwi's disliked the NZ First party and yet they decide our Government,that's bullshit,system has to be changed before the next election. | Malcolm |
| Yes fix MMP to prevent another terrible outcome like this again. | Sam |
| So says 'common sense." | Jim |
| Anything else is not democracy. | Michael |
| I suggest most of us did NOT realise that the German system of the most votes party gets to choose their coalition partners. This must be THE amendment in our NZ MMP. Otherwise back to First Past the Post system. | Colin |
| Yes, but did National want to stay in power? They know that the MMP system ensures that no 'Party' is likely to gain sufficient majority to be able too govern alone. Yet they [1] Put maximum effort in winning back the Northland seat, yet still gifted the Epson seat to 'Seymour'. [2] National was the 'Party' that signed the UN 'indigenous' peoples agreement, so the Maori Seats must remain. [3]Nationals answer to the financial crises was too increase our national debt by TEN-FOLD, so Winston is quite right in predicting a shaky financial future. Was joining the Loopy Left, a better alternative? Of course it wasn't. He should have sat on the cross-benches & let legislation that he could live with go through, while opposing that which the majority of the public would oppose. Interesting that minor 'Parties' not in government were allowed no TV time at all. Had the 'Conservative Party' been given any time at all, their 4per-cent from last time, could have become 5per-cent this time, & National could have formed a Government without NZ First… | A.G.R. |
| Would you buy a business or a property without reading the agreement first? Seems the Greens have done just that. Taken the labour Party at face value. Never ever met a Unionist that knew what the truth is and who didn't tell lies. Must have been a stink feeling finding out that the Nga Puhi's had shafted them over the Kermadec's. | Robert |
| Our concern is that this ludicrous situation may deter people from voting at the next elections ; so if you vote and your party wins , but does not get in ; …well what's the point in voting ; now the country can look forward to being totally in the red financially , with – in the next four years , ie all of the good National work undone , and opening the doors , to cashed up buyers ,when NZ entities start going broke , they will buy cheap , and we know who these buyers will be !And where will the monies come from to remedy a broke country , well the same place it came from when Clark sent us broke; rates, fuel, registrations, etc, etc,and all of the stealth taxes as well . | Roy |
| Anything other than the party with the most votes is patently ridiculous. The electoral system has been turned on its head. This is NOT MPP. It is LPP – Last Past the Post. Apply this to the Bledisloe Cup – and the Wallabies are the current holders! | Auntie Podes |
| Or do away with MMP altogether and go back to first past the post. | David |
| Tis is the only democratic way. | John |
| Of course by allowing the minority (and fringe) parties to cobble together a Government the system is flouting the very principals of 'Democracy' which is (as I was taught at High School back in the early sixties) majority rules, minority rights. Here we have the minority ruling with an intention to ride roughshod over majority rights. | Trevor |
| and get a winners bonus | Peter |
| No Brainer | Michael |
| The current MMP system is, quite simply, undemocratic in my view. | Les |
| I am a classic liberal. But the 2(or 3) parties now in power all have a left-wing economic view of the world. So in some ways, they are NOT the losers. We must suck it up for 3 years. Just like the Democrats and Remainers have to. That's life. The alternative is not voting… | Peter |
| Such a shame. Can't believe that Winnie could let the majority of New Zealanders down so badly. As for back tracking on the Maori seats, I can't believe he would do that. Disgraceful. MMP (Mickey Mouse Parliament) | Graeme |
| I am just sick of political promises to gain support, just to find that the parties renege on their promises. | Gary |
| We do not have a democracy if the Party gaining the most votes is denied the the opportunity to form a Government | Nev |
| It would be far more democratic than the present arrangement | Donald |
| Fair is fair, the Party with the popular vote should have the power to form a Government with the also-rans. | George |
| That would reflect democratic principle. The majority are made the losers in this present situation. | Harvey |
| I was under the impression that the party with most votes was given first opportunity to form a government.This is totally unexpected. Dr. Newman's excellent summary of the election disaster will need to form the basis of our protests over the next 3 years. Most people vote for the party they want. Winston Peters is totally wrong that the majority voting for change is a valid vote or reason for aligning with Labour Green Parties. People don't vote against something, they vote to support. MMP is not a democratic system of electing a government. Our government has been chosen by one man, Winston Peters. That's a dictatorship. We must work to get the system changed to FPP. | Chris |
| Winston Peters has betrayed a large proportion of his followers and will be gone from politics by the next election if he lives that long. No country can reach its full potential when it has racist policies at its core. The most important issue for me at this election was to see the maori seats gone. Peters is a liar and a traitor. | Mike |
| MMP needs work. The party with the most votes should form the cabinet. Coalitions should be forbidden. It might be good if all votes in Parliament were by a secret ballot. The present situation must not continue. The losers won and we now have the Tooth Fairy as the Prime Misery and the green commies as Ministers. But never fear, it is only three years till the next election. | K |
| How can a party with only 7% of public support dictate to get into govt and then change their mind on so many of there "no compromise" promises. We have got huge problems coming. | Graeme |
| However given the choices I doubt that would help. | Mark |
| Absolutely. If the National party was given the opportunity to from a government without other negotiations going on with the Labour Greens then I am sure they could have would have negotiated a deal with Winston. Now the lunatics are running the asylum | Colin |
| Of course, but as usual we operate the horse before the cart theory. Germany has the MMP system and is definitely operated more fairly. | Margaret |
| Why did we change from First Past The Past to MMP? To hold politicians accountable for the promises they make. It hasn%u2019t worked! Peters has shown just how low a politician he is willing to go for the burbles of office. Many of his supports backed him on his bottom lines. Peters is well aware the harm the country and its middle class will suffer under a far left government, hence the reason for excusing himself from responsibility when this occurs. Disgraceful! | Fred |
| If we are going to have MMP then let the idiots who voted for it suffer. We need to get rid of MMP forever, not modify it. | Larry |
| Definitely Yes. | Lyn |
| Without a constitution or state / federal government checks and balances as in other MMP countries, the NZ system is fatally flawed as this outcome has shown. | Paul |
| Yes – absolutely! – better still scrap the whole rotten system altogether! I feel thoroughly screwed over – we gave NZ First our List votes on the basis of the firm commitment he gave regarding the Maori Seat referendum. Never in my wildest dreams could I have envisaged them aligning itself with any party other than National, should a coalition have become necessary – yet here we are! I would like to see Bill English go to the Governor-General, bang his fist on the table and DEMAND that National, as the majority party get first crack at forming a Government, along the lines of the German system. I would also like to see Winston Peters tarred, feathered and run out of Parliament on a rail for the damage he is going to cause! My apologies for the outburst, but I really feel done in the eye over this whole sorry mess and I'm sure there are many who feel the same. All that remains is for National to reform itself into a strong opposition, come back hard next Election (may be less than three years!) and hope there is not too large a mess to clean up. One thing for sure – Winston has really cooked his goose – at least as far a I am concerned! | Scott |
| Makes sense otherwise MMP is a waste of time. Lets go back to first past the post. | Graham |
| Definitely. ..! Stops the minor rabble holding us all to ransom as has just happened. Winstons legacy will not be the one he wanted..!! | Peter |
| | |
| --- | --- |
| I've always believed that it was already. | Terry |
| For those who agree with the question my comment is that you do not understand MMP! We may not like the result but that is MMP operating how it is supposed told. | Maureen |
| As someone who also assumed he would go with National, that is not the reason I voted for him. I feel, knowing his Policies that this article is very naive when presuming the outcome. I have actually laughed at the interviewers not getting what is being carefully said by Jacinda. Definitely not comfortable with some of their Policies but definitely agree it is time for our country to shift from the business only focus. | Di |
| We be back in debt soon | Grant |
| Naturally | David |
| It would have made no difference if we had that rule. National had the opportunity, but could not reach an agreement with NF and had no other support partners. So the end result would be the same and the best negotiators got to form the government. The losers are in opposition as they failed to play the game! | Charles |
| As it is we just have a mess. | Wayne |
| Without a doubt as the majority of voters have voted for that party | Tom |
| The German example speaks for itself | JayJay |
| No, this would essentially force parties who wouldn't otherwise work together to do so and would make for even more of a slow moving government. Under our current system, negotiations show which parties will work best together to create a stable and strong government. | Annie |
| As a logical understanding | Christina |
| No Democracy in the current system. The German model is the solution. | Roy |
| Now we're even more like the old South Africa with effectively a minority government AND Apartheid to boot. | Geoff |
| Change the first line of the National Anthem to " God Help New Zealand" | Derek |
| Astonishing outcome | Claire |
| MMP has FAILED the NZ voters, or been manipulated by those who we thought were trustworthy. | Carl |
| Utterly and definitely yes. How come the Governor General didn't appear to invite National to form a government? | Paul |
| Very definitely!!! | Sandra |
| It is ridiculous the way it is now set up. They can do a lot of damage in 3 years. | Sonia |
| If we copied the German System of MMP then that's the one clause we didn't have. The Party with the most Votes forms the Government. So, referring to the present three Party setup, The 'Titanic' has just left Port. !! | Geoff |
| If we had opted for STV (Single Transferable Vote) instead of MMP we would have avoided all the nonsense that ensued from the last election and secured a more representative Parliament. | John |
| I think this will be the end of NZ First. I doubt they will feature in any future election after such a ludicrous decision. | Arthur |
| The voters have been mislead by Winston, again! | Al |
| But dont think it would make much difference, it was an intiative opportunity NAT didnt take, the response around the canvassed minors would have been "no" anyway. Then the GG would have handed the chalice to LAB……. This was an election based on personalities, imagine what the outcome would have been if instead of English, Ardern, Peters, Shaw, we had Key, Little, Jones, Turei…. to choose from. | John |
| Present system is not logical and works against the majority wish. | PETER |
| The party with the most votes should IMMEDIATELY take the initiative and start trying to form a government through either coalition or confidence and supply agreements, and NOT wait for a smaller party to initiate proceedings | Alan |
| Gutted! The only good thing in this is a strong opposition. God help NZ if they stay full term | Elizabeth |
| MMP is delivering unwanted permutations to NZ. Why should a bunch of losers get power after Winston Peters acted like a peacock kingmaker? | Kevin |
| Oh yes, most definitely. In our case (NZ's) we could well see the demise of NZ First come the next election. You cannot treat the electorate in such a cavalier manner and expect it to be overlooked. The system needs an urgent review. | Chris |
| I have little doubt that the NZ first voters did not give a mandate to go with Labour. Many will feel betrayed and the turnaround either soon or at next election will be massive. | Gerard |
| The party with the most votes has the mandate to govern. | Alastair |
| WINSTON is a lying mongrel no more ticks for him | Owen |
| THis election is a disaster. I am a returning KIWI and life will be difficult | NIGEL |
| It is the only thing that makes sense. Germany got it right | Lloyd |
| There can be nothing worse than being governed by a coalition overpopulated with unelected list mps. | Lee |
| What happened was farcical. | Kel |
| Of course. If we are concerned about democracy it is vital. | Terry |
| Why would a minor party be in control to form the next government when it is logical that the party with the most seats should call the shots when forming the next government .Im am pissed off that having voted for nz first on the promise regarding the Maoti seats will not hapen.Therfore as my late father said never trust a Maoti in a suit.This new government will not last 3 years and Bill English and his team will ensure that it happens. | Ken |
| Absolutely YES | Peter |
| I think there is something very wrong with MNP when three minor parties can be the government and the party with the most votes is not part of the government. | Penelope |
| Absolutely Our system has proven to be a complete failure bring back FPP | Sharon |
| Clearly it should be so | Keith |
| It's a downhill run to destruction, thanks for nothing Winston,no more support from here,where's the benefits to the retired? | Ian |
| I find that absolutely normal. | Alastair |
| Yes of course. Common sense isn't it? | Steve |
| I fully support this statement being the most logical process to form a Government. We now have a Dictatorship. | Charles |
| The government should represent the most voters, not the party with the most votes. | Simon |
| I supporte4d NZ Firtst for the first time in my life in the belief that one of Mr. Peter's bottom lines was a binding referendum on the future of the Maori seats. What a joke and never again!! | Murray |
| The votes of the majority of citizens must take preference! | Don |
| System "MUST" be modified | Percival |
| The designers of our MMP system should be held accountable for their failure to include this provision. | Allan |
| What we have now to govern the country is a pupet! I don't believe Jacinda has the ability to represent the whole of NZ but with Winston pulling the strings anything is possible. | Robin |
| Get first past the post out of your system for god's sake, or bring it back, otherwise embrace MMP. | Bryon |
| MMP is a farce and this will become more evident as the new POWER gets hold. I cringe with concern over our Country's future in the next 3 years in the hands of the new "Powers that Be" that got in by foul means, and is hell bent on destroying the Country. | Marylin |
| We have 2 referendems to get rid of MMP it should be first past the post. This last election has been a debacle. And one person has been holding the country to ransom thank goodness he is 72 and it can not go on for to much longer | Rita |
| Pure logic! | Bryan |
| What happened with NZFirst was totally undemocratic. One man shouldn't have that amount of power, particularly when his party only got 7% of the votes | Kerry |
| Hope this goverment is booted out | Simon |
| We have the ludicrous situation where the Leader of a Party loses his elected seat in Parliament, with 7% 0f the vote, deciding the County's future. | David |
| Definitely. | Stan |
| This should be the last time Winston or any minor party can dictate who our government should be. He can promise to earth and get in and do nothing. | Tim |
| I did not vote for MMP like a very LARGE number of NZers. It has finally shot itself in the foot and Mr Peters is just the right spanner for the job | Maurice |
| For stability Yes, I doubt the government we have we go the full term. | Les |
| Simply makes sense. | Colin |
| Only dictators see it any other way. They see a democratic common sense system ,somthing to be exploited. | Tony |
| The current government is illegitimate and Ardern is the first unelected Prime Minister of any country outside 3rd world dictatorships. | Mark |
| It's a no brainer | Jane |
| Yes, but how can they if there is no other WILLING party? | Michael |
| In one of the recent polls I wrote – If Winston gravitated to Labour his decision was for Winston. If he went with National he was honestly pro New Zealand. Now that we have this untenable losers take all situation MMP must become a subject of profound discussion and if not changed radically, thrown out. I have been following politics for some 50 years and this losers treaty is the greatest injustice I have witnessed. | Elizabeth |
| Absolutely, there needs to be a change to our MMP rules on this | Philip |
| Yes I do believe the party which won the most votes, and by such a large margin should automatically be the next Govt. Plus the fact that the leader of a party which won only 7.2% of votes was able to announce. the new govt is also untenable. This last election process has shown the farce that map is. | Jenny |
| I don't think I am alone in believing that this was the case. Now everyone knows for certain that it is not the case. It seems any old mish mash can form a government in NZ. The current situation is utterly bizarre and will be disastrous for New Zealand. Winstone is exactly what I reluctantly believed him to be. A deceptive charlatan. He doesn't believe in New Zealand First and has essentially thrown NZ under the bus and into the arms of galloping socialism. | Dianna |
| Winston's new capitalism will be interesting – " dont blame me if the economy turns to custard" his flippant statement that the dollar is overpriced may come home to haunt him. The globalist money power elite will make NZ pay if this govt does not toe their line – time will tell National have and Labour before them have capitulated to the New World Order globalist agenda What will this Govt do? Neoliberalism is the enemy it appears – but Marxism is the other side of the same globalist coin. | Ross |
| Absolutely | Arna |
| Surely it's Majority Rule. Our MMP system needs changing. I'm very disappointed that NZ First hasn't honoured its promise to review the Maori Seats. How can we believe any promise? | Sheila |
| It stands to reason that party who got the most votes and seats should be able to ask others parties to just in them to make a government | Raewyn |
| True democracy puts those with the majority vote in power. | Keith |
| It shows that the MMP case was put together to quick. To be honest National is still a first past the post party | Willy |
| List MPS are nothing more than party flunkies with no responsibility to an electoral voters. Our version of MMM is a Joke. I think Winstons decision has A bit to do with a well disguised payback. | Alan |
| Natural justice | Tony |
| This election has been a total farce. I, and many others, are wondering why we bothered to vote at all when the obvious wishes of the people have been ignored. | Maria |
| The present system is and always has been a dog. | Lex |
| MMP by its very nature takes power from the majority and gives it to minorities. FPP had its problems, but they were nothing compared to what we have now, or to other ways of mucking around with your vote. | Howard |
| ABSOLUTELY… There should be no question about that at all. Numerically or any other way. I do believe the Nats should have put this question to the Gov. General early in the piece, It would have given them the upper hand in dealings with the Negotiator and cut some ground from under his feet. Instead we now have one massive unelected tail wagging at the whims one half dead dog. This is not the New Zealand in which I grew up and while MMP is theoretically more equitable it can also be manipulated in the hands of a Master Manipulator. Our result is unquestionably a COUP and must be seen as such. It is not a a viable elected majority in any sense of the word.. It is merely opportunistic thieving by the unelected in search of a job? Or jobs?? This weeks result is not the New Zealand in which we have raised our family, and furthermore it is not a philosophy in which I choose to see my grandchildren raised. " If you want it, just go and grab it?" I don't think so! Do you? What suits the populations of countries in Europe (who seem not to mind delays in decision making) is not at all compatible with the small size of New Zealand nor the style of government to which we have become accustomed. Snatch and grab is the new way? I don't believe this will last …let's hope I am right on this one. | Mabel |
| Next three years will ensure that Labour NZ first and socialist greens are thrown out and National get time to take breath – re group and come back for a extended period. Current MMP system not working needs to be altered. | Mark |
| Surely it makes the most sense, as opposed to giving a very minor polling party with no electorate seats power over the parties who gained the most votes and seats. Critics of this view state that we don't yet understand MMP. It could be said that Winston is not just the tail wagging the dog, but the flea that wags the tail that wags the dog. | Laurence |
| As stated in this article, most voters that voted for Peters, did so in the firm belief that he would HONOR HIS PROMISES AND PRE ELECTION BULLSHIT … he has clearly thrown all off it to one side, in making the decision to go with Labour and the Welfare benificiary fraudster party that supports theft and legalising drug taking. In doing so, he has thrown all and anyone who gave him their vote, under the bus. He and his party will never be elected again, but in the meantime, NZ will have three years of hell to endure .. ie, A party of losers propping up all other losers in NZ, and kicking the hell out of all those who have worked so hard all of our lives to get ahead. And, thanks to Winston .. the Maori gravy train continues to flourish. Thanks for the lies winston .. I should have smelled the rat when you invited Shane "porno" Jones into your ranks. | Des |
| We now have the unwilling led by the unqualified. | Peter |
| Beggars belief that add ons in the shape of the Green Party have been gifted an all expenses with no experience. | Douglas |
| We got a watered down version of the MMP recomended by the original Royal Commission. | John |
| As is is in the German MMP "system" – best of all scrap MMP and introduced an STV system with no "list" seats and a Parliament of 100 seats – 80 in the Lower House and 20 (elected on a regional basis) in the Upper House. | Andrew |
| Definitely | Pam |
| It's going to be interesting to watch how the coalition operates ,shame that their policies are going to harm alot of lower and middle new zealander. It is going to a bumpy ride and I wouldn't be surprised if this will be the end of NZ First | Dennis |
| Most folk that read your columns will vote 'Yes'. Most of those that don't would vote 'No'. | John |
| Mickey Mouse Politic's! | Michael |
| Absolutely! It has become blatantly obvious that with the existing system the majority can be held hostage by a minority. Truly an utter distortion of what democracy is all about. I personally am totally disappointed in WP. I have given NZ First my vote hoping that WP will form a strong alliance with National and now this.!!!!!! What the hell has driven him to betray his supporters. It is a shame and shame on him. . | Michael |
| We now have looses in power and the winners in opposition. So much for our system of MMP.Bloody Hell | John |
| What a shambles, we could be in for a backward step as things work out! | Murray |
| Under that system a minority party would not be able to betray its voters. | Graeme |
| I voted for Winnie based on his pledge re the Maori seats – what a let down. | Neil |
| The motivation behind MMP was to limit extreme ideologies and to allow minor parties and their voting bloc a bit of influence on government. Allowing a minor party to choose the governing party goes far beyond this. | Hans |
| Hopefully the coalition will come apart at the seams sooner rather than later and the country will have another opportunity to vote on Winstons behaviour. | Geoff |
| Scrap MMP. Bring in STV | Russ |
| The Majority of NZ people voted against The National Party and now we have a Majority Government | Bryan |
| If you believe in democracy then its a no brainer | Rob |
| | |
| --- | --- |
| God defend New Zealand never been a truer call. | Kelvin |
| Anything else is madness, as we have seen. | Mike |
| No way should a minor party with such a low percentage be able to rule the decision making. | Vivienne |
| Some electoral reform, including immediate abolition of race-based seats, should become National's top priority and will overwhelmingly win the next election. | John |
| As Richard Prebble said, we are now being governed by a dictatorship where one person chooses the leader of the country. | Kate |
| MMP needs to be gone. What has happened in this election is an absolute disgrace for a man who lost his seat, had only 7% of the vote to be able to have such power is hardly democratic. Worrying times ahead I fear | Claire |
| yes but in this case the result would have been uncertain as Winstone would have still wanted to do his trading. the parties before the election should be required to state their preference as to whicch major party they are most likely to support in government. this gives the voters clear outcomes to vote for. | Ray |
| …Basic premise of democracy's concept…! Corruption again and again amongst the political mafia"…legalised crime against the people. A sad day for NZ…. | Chris |
| Surely that would reflect the wishes of the majority. | Kevin |
| Every few years Winston Peters manages to offer something that people want and they convince themselves that he is trustworthy. He always lets them down. He is a liar. | Bob |
| What a mess, how long before the in fighting begins or every thing turns to custard. Labour & CO have often been referred to as the no hopers Government and the no hopers have voted them in !! | Ross |
| If we follow the German model, then YES, they should be given the first option. | Tony |
| I am one of those who voted for NZ First only because it promised a binding referendum on abolishing apartheid Maori seats. So Winston Peters has lived up to his reputation – that you cannot believe a word he says. | John |
| Of course it should be the party with the largest percentage of seats that forms the government and selects a coalition partner, or a supply and confidence agreement to form that government. What we have got, with a loser based government, is a joke. Time for MMP to be dumped and some common sense to come into play. | Neil |
| The current fiasco is a dog's breakfast. The only saving grace is that the unholy coalition won't last. Let's look on the bright side though: this government will be in office long enough for the voters of New Zealand to discover just how bad a Labour-Greens dictatorship can be. New Zealand First will disappear at the next election, and National will by then have a reinvigorated, new leadership which will take over the reins of power. | Graham |
| What we have now is an abomination and should never have been condoned. NZ is headed for destruction and ruin. Third World Country status is where we are headed. What a waste of years of hard economic strategy to put us where we were established as an economic leader in the OCED! | Robyn |
| To have a government formed on losers is wrong and this will probably lead to another new party being formed and NZ First disapearing at the next election What a shameful calamity we have allowed to be created | Don |
| It's an absolute no-brainer! I voted NZF on the party ticket, but I am now bloody well regretting it. | Carl |
| The system we have now is a joke. It is a slur on democracy. | Gifford |
| After reading the commentary it is clear this "ne" government is most likely to fail. | Ben |
| Of course they should well that's how I thought worked | Peter |
| Yes, makes sense. | Sue |
| We wouldn't have wound up with the fiasco we've been delivered had this requirement been in place. | Barry |
| Absolutely! | Elizabeth |
| Amazing that no electorate seats can vote a Government into power. The current MMP farce must be modified! | Peter |
| Losers are losers | Graeme |
| You still have your FPP hat on, get over it. | Peter |
| But stay with MMP | Bruce |
| Frank and Muriel have said it all. | Dick |
| MMP should allow the political Party with the most votes to select its coalition partners otherwise it is not representative of the majority. National has let NZ down by not listening to the concerns of the electorate. Winston has betrayed his supporters and signed the death warrant of NZ First. Voters have long memories. | Judith |
| No. Why would you do that if they had fewer than 50% of the people voting for them? | Jay |
| I have always thought MMP was a stupid system and have always voted against it | Wah |
| The current system is absurd. | Mike |
| The current system is a train-wreck voted in by the the average voter's naive belief in "time for a change". From memory, only 5% of those who voted for MMP understood what it meant! | Dave |
| This is just and reasonable. | Ken |
| I also believe that when promised to have a vote to review MMP after the initial "trial," we should have had that promise kept! | Susan |
| It is more representative of the electorate's wishes | Ian |
| Totally sensible | David |
| Current MMP system is broken. Since when does gaining 7% of the vote give anybody the right to determine the future direction of 93% of the voters? | Chris |
| Most definitely. The form of MMP that NZ has cannot be called democracy. | Shelley |
| That's democracy | Doug |
| Of course they should. | John |
| Our current system is a farce. We will now be paying [as a country] for getting this wrong. | Simon |
| The system we have is not democracy | Cutty |
| Let us learn from this crazy event. | Peter |
| When could you ever trust a maori. now they will be greedier than ever. devious Peters. blah | Dona |
| | |
| --- | --- |
| It seems self-evident – how can anything else be democratic? | Natalie |
| National had the opportunity but they were unable, as NZ First wanted to talk to others. Thats fair enough. The country is divided, so quite reasonable that we give smaller parties the power to decide. MMP is working well. | James |
| Very scary for the next three years for anyone who is working! | Rayward |
| Its logical! | Ron |
| At Thames 14th July, Winston was asked in Ref to their Press Release of 4th April -re Repeal of RMA Amendment Bill was he genuine–he attacked the questioner for inferring he was a LIAR–see the parallels with his bottom line Referendum, who is the Liar now?? | Jack |
| What's mmp for then | Dave |
| Winston's post-election Government Selection process has made a mockery of our so called democracy. With his past track record the poor deluded souls who voted for NZF should not really be surprised.What a farce. | DAVE |
| And that that party should lead the discussions with smaller parties to form the next government. | Graeme |
| There should have been rules made endure this at the out set . We were sold a half baked pup that a lot of people didnt really understand and now that the flawed system has shown up what can happen everyone is shocked. | Max |
| This process is called "democracy" as clearly distinct from the tyranny of the minority we now have, all for the left's cynical "desire to have greater representation in Parliament". | Michael |
| Of course they should. This set up is just a joke | Laurie |
| We are seeing the tail wag the dog. It is typical of our politicians that what they promise during an election is quickly forgotten in an effort to gain power. Prevarication is the essence of their existence. They cannot be trusted nor can the electorate have any respect for the politician of any colour! | Tony |
| Winston will go down in history as the ultimate charlatan of NZ politics. The coalition of losers will not last. | John |
| Absolutely! | Terry |
| MMP should be changed to the way Germany have it. | Peg |
| But I think our whole MMP system needs to be fIXED | Frank |
| Most definitely. It is absolutely ludicrous that under the current MMP rules, we have minor parties (and low-life snakes like Peters) wielding such disproportionate power. This isn't democracy …. it's complete LUNACY. | Steve |
| How this new government was put together is a disgrace. Can't see it lasting long | Mike |
| In addition, Double dipping should be excluded: if a constituency electorate throws out a person, they should NOT be allowed back in on the List. | Bryden |
| This outcome is a farce | John |
| That would be the democratic thing to do. Definitely not let a minor party have the power to decide the government . | Gloria |
| Only the manority should be permitted governing. Clearly the electirate voted Winston to deal with the apartheid issue so ignored by all parties. To renage on his mandate is despicable and in three years we will see NZF dissapear for good. | Zoran |
| We have the downfall of democracy in its full glory. Of course the party with the most votes should call the tune. I feel absolutely let down and add I never ever voted MMP in, it was always doomed to fail. But it's not pallitable to say I said so. Very disappointed and worried at where we as a country are now heading taking so many many steps backwards. | Audrey |
| I will NEVER trust NZ first again | James |
| | |
| --- | --- |
| Absolutely – having the coalition of losers elevated to become our government is a disgrace. | Bruce |
| It is a dreadful outcome for the election and the people of New Zealand. Shame on Winston Peters! | Roger |
| Yes, the German system sounds exactly like what we need. How do we go about getting it??? | Peter |
| New Zealand First has been a huge disappointment. I feel gutted that he hasn't kept his promise on the Maori seats. Betrayed is probably a better word. | Gail |
| What a mess. This government will be the worst in our history. And Winston Peters is to blame. | Matthew |