October 18, 2015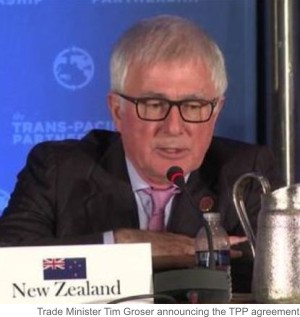 The announcement earlier this month that the biggest free-trade deal in history – the 12 nation Trans-Pacific Partnership agreement – has finally been concluded, is a remarkable accomplishment and very good news for New Zealand. The TPP will establish our first free trade agreement with five of the countries – the US, Japan, Canada, Mexico and Peru – and will remove almost all tariffs on New Zealand exports to some of the world's largest economies, representing 40 percent of global trade and 800 million consumers.
The benefits to New Zealand from the lower costs of doing business in the Asia-Pacific region will significantly increase economic growth and raise living standards. The Ministry of Foreign Affairs and Trade has estimated that the tariff reductions on exports will save around $260 million a year, once fully implemented. Apart from some tariffs remaining on dairy and beef products to Japan and the US, which will be offset by increased quotas, most will be fully removed over time.
By 2030 the gains to the New Zealand economy from the TPP, are expected to be in the region of $2.3 billion a year, as the country boosts its output into the Asian-Pacific region.
While concerns remain about the detail, the bigger question is whether New Zealand could afford to be left out of the deal. The answer has to be an emphatic "No"!
That is certainly the view of former Prime Minister Helen Clark, who last month said, "What always haunts a Prime Minister is: Will there be a series of trade blocs develop that you are not part of? Because that is unthinkable for New Zealand as an export-oriented, small trading nation. So of course New Zealand has to be in on the action with the TPP and go for the very best deal it can."
It was Helen Clark, of course, who initiated the TPP. It arose out of the 2005 Trans-Pacific Strategic Economic Partnership agreement the Labour Government had negotiated with Brunei, Chile, and Singapore. A key objective of that agreement was to create a model that could be used to attract new Asia Pacific members. After a successful meeting with then President George W Bush, Helen Clark drew the United States into TPP negotiations in 2008, followed by Australia, Peru, and Vietnam, with Malaysia joining in 2010, Canada and Mexico in 2012, and Japan in 2013.
While the main focus on the TPP has been on the 'dynamic gains of trade', for member countries, there are significant geopolitical advantages as well.
In particular, the TPP provided an opportunity for the US to counter the economic expansion of China in the Asia Pacific region. President Bush had recognised that the region's surging growth was shifting the balance of power and that China was capitalising on the opportunity by expanding its influence in the area. Following the US Presidential election, President Obama also saw the need for the US to reinforce its presence in the region through the TPP.
However, the deal has also raised serious concerns about its impact on domestic laws. Trade is no longer simply about moving exports from one border to another, but is instead a multilateral process that links producers, service providers, and investors from different nations into complex international value chains.
That means an export item produced by a New Zealand business – that might be jointly owned by a US investor – could be using machinery imported from Germany, IT from Taiwan, and be transported into markets by Danish-owned ships insured in London.
This requires modern trade deals to consider a far wider range of policies than ever before, including laws around labour markets, consumer safety, intellectual property, digital trade, foreign investment, dispute resolution, and a multitude of other areas that were once considered the exclusive domain of domestic politics. This, along with the secrecy that has traditionally shrouded free trade deals, enabled powerful anti-free trade TPP campaigns to develop in New Zealand and some of the other countries.
While there will always be citizens who claim free trade is bad, despite the obvious benefits it brings to modern life, the question for New Zealand is whether things are really that different now, than when Labour signed our free trade deal with China and welcomed the US and others into the TPP?
Or is the opposition to the TPP purely political – it was OK under Labour, but now that National is running the show, it needs to be opposed.
The reality is that the public have been subjected to a prolonged propaganda campaign driven by ardent socialists who recognised that the confidentiality surrounding the deal meant their allegations could not be countered until the negotiations came to an end – a process that was destined to take years.
As a result many New Zealanders who intrinsically understand that free trade is the only way our country can grow have been persuaded by scaremongerers that being part of the world's greatest free trade deal in history is not the country's best interest!
Absurd as it sounds, the initiator of the TPP, the Labour Party, has been campaigning against it. In particular, they have focussed on the need to restrict sales of farmland and housing to non-resident foreign buyers. But if the fine print of the TPP is similar to that in the recently signed Korea Free Trade Agreement – which Labour supported – future governments will not only be able to maintain restrictions under the Overseas Investment Act, but they will also have the right to adopt new criteria.
The reality for Labour is that they have backed themselves into a corner over the TPP. They will spend the next few weeks sounding like they oppose it, but then end up supporting it. It's a foolish position for them to take, and it will cause many of their own more moderate supporters to question their capacity to govern our trade-driven nation responsibly.
One of the concerns raised about TPP was the inability of negotiators to gain a better deal for milk powder. But perhaps that will become the catalyst Fonterra needs to shift away from commodity dairying towards higher-value products and industries. The $102 million worth of tariff savings for processed dairy products like cheese should surely signal to Fonterra that adding value is the way of the future.
New Zealand's strategic goal is to diversify the economy and our export base, and the TPP looks set to ensure that businesses that successfully add value to their raw materials and market them creatively will be well rewarded.
Looking at the bigger picture, the TPP will undoubtedly be good for world trade. The global economy desperately needs a boost, and with the US economy still recovering, and China's growth slowing, real wealth creation in TPP countries, generating real growth on a major scale, is exactly what the world needs.
The point is that while there are many ways that mankind can create wealth, few in history have been as successful as trade. And on a per capita basis few nations have been as successful at trading as New Zealand.
So while opponents continue to argue about whether the TPP will deliver sufficient gains, the biggest risk is that member countries won't approve it – especially the US.
This week's NZCPR Guest Commentator, Daniel Ikenson, the Washington-based Cato Institute's Director of Trade Policy Studies, shares his views on the TPP and the approval process in the US:
"First, congratulations are in order for the TPP negotiators, who worked extremely hard over the past several years in an environment of profound public skepticism – much of it driven by pervasive scaremongering – to arrive at this moment. Reaching accord on a broad array of subjects between 12 countries at different levels of economic development with disparate policy objectives is not a task for the faint of heart.
"Second, there is still quite a bit of work to be done on the domestic front. Even with the deal 'concluded', the president cannot sign the agreement until 90 days after he officially announces his intention to do so.  During that period, there will be intensive consultations between the administration and Congress over the details; the legal text of the agreement will be made available to the public on the internet; the United States Trade Representative advisory committees will submit their assessments of the deal to Congress; and there will be ample opportunity for informed, robust domestic debate about the deal's pros and cons."
Daniel goes on to describe a convoluted process that should result in a vote in mid 2016.
Looking to the future, the success of the TPP means that New Zealand is now regarded by many nations as a leading global trade facilitator.  This has led the European Union to consider a new free trade deal with us.
Just last week, European Commissioner for Trade Cecilia Malmstrom announced she would seek approval from the European Union's 28 member states to launch trade negotiations with New Zealand.
The reality is that while inter-regional trade in Asia has tripled among the 12 TPP countries since 2000, Europe's trade with TPP countries in many export areas has halved. Given their export orientation, the EU is looking for parallel negotiations with current and future members of the TPP. Since New Zealand is ranked as a world leader in terms of market openness and the rule of law, and already has the support of Germany and the UK, we are seen as the best place to start.
While agriculture and dairy would of course be high priorities for New Zealand in any future trade deal with the EU, it is important to retain some perspective. While we export more milk than the US, the EU and Argentina combined, by 2021, the global demand for dairy is expected to be around 400 billion litres, and with New Zealand producing around 20 billion litres in 2012 – roughly 3 percent of the global supply – there is a limit to how much more milk we can produce. In fact our real opportunities would come from value-added exports, services including tourism, and investment.
For the EU, negotiating with a liberal economy like New Zealand would allow it to create a free-trade model that is at least on the par with TPP, but which avoids some of the pitfalls. Such a deal would seek to improve the process in three ways: by ensuring significant economic benefits flow to member countries, by conducting negotiations in an open and transparent manner, and by making sure not only Europe's interests are taken into account, but also its values.
Delivering economic benefits means focussing on the right partners – bringing the world's largest single market, the EU, closer to the world's most economically dynamic region, the Asia Pacific, with New Zealand as the lead partner.
With trade policy now encroaching on domestic policy areas, citizens need continual reassurance that trade agreements are being carried out in their best interests. That's why any EU deal would be open and transparent – draft texts would be posted on-line during negotiations, civil society would be properly consulted, and agreements would be published on conclusion.
And while trade policy is primarily about economic interests, it is also clear that citizens are very concerned about values – ensuring the safety and environmental sustainability of the products they buy, as well as the protection of human rights at all stages of a production chain.
These principles would play a central role in any free trade negotiations between the EU and New Zealand.
What has been particularly disappointing about the TPP debate is the extent to which socialist inspired naysayers have been able to influence public opinion. One should not forget free trade is fundamental to personal freedom and democracy – but then, freedom and democracy do not rank highly with socialists.
THIS WEEK'S POLL ASKS:
Would you support New Zealand engaging in a new free trade deal with the European Union?

 *Poll comments are posted below.
*All NZCPR poll results can be seen in the Archive.

THIS WEEK'S POLL COMMENTS

| | |
| --- | --- |
| NZ needs global trade arrangements for it to improve wealth and a better standard of living for all Kiwis. | Ken |
| Only if the terms of the agreement are transparent to that our sovereignty and independence are not compromised. | Colin |
| Better the European Union than the United States. | Peter |
| Yep, bring it on the more the better. | Athol |
| A no brainer. Can only be good. | Michael |
| | |
| --- | --- |
| Might as well deal directly with Germany. | Monica |
| Most certainly. Our economy is vitally dependent on trade with the world. | Jim |
| Objectively this is in favour of NZ and its citizens. | Konrad |
| NZ being a first world nation would be advantaged by trading with other first world nations, this philosophy would enable us to keep our factories open and allow us to retain a skilled workforce. 3rd World cheap labour is not only closing our factories but costing us the skills of NZ personnel that lost their positions. | George |
| Removal of protectionism and trade barriers is a laudable objective for the world economy. | Michael |
| | |
| --- | --- |
| No one gets left out then. | Ron |
| Definitely – and let me say, this week's newsletter is one of your best!! | Bruce |
| This is in the realms of fantasy surely….The E.U. reducing its farming subsidies to accommodate little N.Z.!!! No not in my lifetime. The only hope we have of entry into Europe is for a breakup of the E.U. and its giant ever increasing bureaucracy. Cost and division are our main allies with this lot, although eruptions from within due to the unparalleled open door policy of letting in vast hordes of refugees might more than tip the balance. In any case the ruler of the E.U. is Germany, it has the power, the money, and the organisation. Hitler should have waited a few years and avoided any sort of war in favour of Frau Merkel political skills. The rest of countries within the E.U. are merely its servants hanging on to a vibrant Germany almost Bismarck/ Prussian like in its business domination. As for TPP the jury is still out, perhaps there never was an alternative to staying outside, we are too small, and a very tiny export market for overseas countries. Sure we can beat the hell out of most countries in economic agricultural production AT PRESENT. Give the Greens a few more years, and that will very quickly disappear under a cloud of costly environmental reforms; long overdue we will be told and in the best interests of us all!!! Mr Key should have aligned us tooth and nail with Australia, even if we might lose a portion of our sovereignty. However politically it might have upset some ethnic groups, but it might just have saved us all this rubbish on changing a flag! | Brian |
| | |
| --- | --- |
| The TPP is a load of bullshit as only the rich will get richer & the rest can go too hell..Corp Take Over. | James |
| Nafta cost 60000 factories in the us. | David |
| Don't forget that NZ's primary export market up to the learly 70's was Great Britain. When they joined the Common Market, some countries, notably France, demonstrated against our trading, forcing NZ at great cost to seek other markets. Our negotiators need to remember that and insist the EU get them into line first, or we will be wasting our time. | Vic |
| The more the better for NZ's future. | Brian |
| Unequivocally Yes. | Peter |
| We need more trade with Europe for quality instead of junk from Asia. But the TPPA is more about the USA and corporate political interference and control in NZs domestic affairs than trade. Helen Clark's China Free trade has been a disater for NZ because of the flood of Asian investment and immigrants changing the local demographic scene. Basically a peaceful invasion and takeover by default. Concoccted figures on a Government balance sheet doesn't show what NZrs think of this. Besides the word 'Free' in 'Free-trade' is a misnomer as the cost of trade overheads have been inexhorably increasing due to internal red tape. It is just as expensive, or moreso, to import items from overseas. GST and electronic processing fees and extra charges by freight forwarding agents negate the benefits of lowered tarrifs, so basically the term "Free" is a blatant lie regardless of which party is in government. | Bryan |
| No Brainer for NZ. The more Free Trade the better. | Geoff |
| The more customers we have the better. | Graeme |
| A genuine free trade deal would be great – we need as many outlets for our products as possible. | Stuart |
| We have to be at the table, there is nothing worth eating on the floor. | Lisa |
| NZ can only benefit from such a free trade deal. | Carol |
| Providing that the "closed door"s' debarcle as with the water rights fiasco are fully opened, otherwise NO. | Laurence |
| As everone of the best articles on this topic, a great read as always. | Jim |
| Not sure that now is the right time. Europe is very unstable at the moment. Better to wait and see what developes there before we jump in and regret later I'm all for working together but safery must come first. | Johan |
| We need to take care that such a deal doesn't in some way embroil us in the Refugee problems. | Bryan |
| Most definitely. | David |
| Have to be there like our other Trade Agreements | Hylton |
| Why not ? | Andrew |
| Great for NZ! | John |
| Did not like the last one. If other can join later why not try on our own then join later if required. On the last TPP what allowance has been done in sepertism with the Waitangi treaty? | A |
| Break down the barriers! | Emmet |
| NZ needs as many fair trade deals they can get. Remember to diversify the portfolio? | Hilary |
| New Zealand is a very small unnown part of the world and with any publicity among all other world nations must be to our advantage in what we have to offer! | Theodorus |
| There is a huge negative to this we will be at the mercy of the huge industrialists and not in control of our deals we will have to except what we are told like the restrictions of say natural medicine. | Peter |
| I am sure that it would be of great benefit if a fair deal can be agreed. | Anthony |
| This will open the gates for our exporters, about time. | Tony |
| | |
| --- | --- |
| Definitely. | Graeme |
| A very qualified and Limited YES. On to enable the open door of honest negotiation, Yes only to free exchange of trade and trade only. If any agreement involved the corruption of our Nation State Justice, impinged upon Local Government legislation, sacrificed natural Sovereignty, impacted on the rights of Citizens, or drew the country into a defacto banking or political hegemony or a monopoly legal arrangement, as the TPP appears to have done, then the answer is decidedly NO. We can usefully trade half a world away but England having dropped us for her own entry into the EU, We dont need the EU business enough to sacrifice any part of our own rights and we certainly dont need the likes of Merkles failed brand of management, currency failure or immigration failure to crush this community. | Richard |
| Be mad not to. | John |
| Spread the risk, because there will be risks, not maybe as bad as the current AUAS/NZ agreement. | Dave |
| The free trade agreement with the EU would be good for all. | David |
| Support free trade. | Roger |
| Great idea go for it, Tell the Media not to publish what nay says, say, they talk rubbish.they hate progress. | Geoff |
| Absolutely! But my reservation with your guest this week is the lack of comment re the pharmaceutical industry's apparent stranglehold over patents, generics etc. Milk producers also MUST diversify into new products, like gourmet cheeses and healthy yogurts, but at a fair retail price to local consumers who feel ripped off at present. | Carolyn |
| It's a dying empire and we do not and cannot afford to lose with their economy and current imigration policies. | IAN |
| Most definitely. NZ business mentality s better aligned to that of Europe rather than Asia where back room deals are the order of the day!! | Mike |
| Again, we don't want to miss out. | Andrew |
| Would the free trade deal help support jobs here in New Zealand and would there be more jobs for New Zealanders ??. | Robert |
| We must take every opportunity that exists to expand our trading opportunities. | Willy |
| Absolutely | John |
| As long as we aren't flooded by refugees. | Colin |
| | |
| --- | --- |
| Absolutely – it would be a huge benefit to NZ. | David |
| If the new deal encompasses the three principles mentioned, it should be very worthwhile. | Kathleen |
| Free trade is the only answer for New Zealand's future prosperity. Once businesses understand the huge opportunities that are there for them, there will be no stopping Kiwi entrepreneurs. | John |
| This sounds like it would be a great deal for NZ. | Geoff |
| Free trade has had a bad run in the media and I cannot understand why. Nothing in life is perfect. It is about creating better opportunities in the future than in the past and if there has to be compromise, isn't that just life? | Phil |