June 27, 2021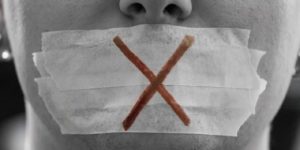 Last Friday the Minister of Justice Kris Faafoi announced that the next step in the Government's plan to introduce hate speech laws would be two public consultation processes – the first seeking feedback on their legislative proposals, and the second asking how to build a more cohesive society.
When Prime Minister Jacinda Ardern was interviewed by Duncan Garner on The AM Show on Monday about her plan to criminalise free speech, it was all too evident that she didn't understand the law changes she is intending to impose.
Whether arrogance or ignorance, she was wrong with virtually all of her answers.
The PM claimed the hate speech law changes were being introduced because of recommendations made by the Royal Commission of Inquiry into the Christchurch shootings: "The reason we are having this debate is that the Royal Commission said to the New Zealand Government you need to include religion".
She is clearly trying to blame the law change on the Royal Commission. But the Royal Commission did not report back until November 2020, while Labour announced they intended to introduce hate speech laws back in March 2019.
During the interview, the Prime Minister categorically denied that under their law change proposals political opinion could become a 'protected' category alongside race and religion.
But she is wrong. The Cabinet paper that outlined the proposed law changes recommended: "Extend legal protections to all groups listed under the prohibited grounds of discrimination in section 21 of the Act", where section 21 of the Human Rights Act identifies 13 protected grounds – race, colour, ethnic origin, religion, sex, marital status, ethical belief, disability, age, employment status, family status, sexual orientation and 'political opinion'.
The wording in the discussion document ensures all 13 protected grounds – including 'political opinion' – are included: "Under this proposal, more groups would be protected by the law if hatred was incited against them due to a characteristic that they have. This may include some or all of the other grounds in the Human Rights Act."
In other words, contrary to the Prime Minister's claim, 'political opinion' has not been ruled out.
The Prime Minister argued that the threshold for prosecution in her proposed hate speech law is set very high, to prevent the 'inciting of violence' against groups of people.
But the threshold for criminal prosecution is not high at all. If the PM had looked into the detail of what is actually being proposed, she would have realised the new law could criminalise and potentially jail someone for insulting a 'protected' group.
Does Jacinda Ardern really want to create a society that would have criminalised the humour of Billy T James or the writings of Barry Crump because someone somewhere felt insulted and took offence?
When the PM was asked to clarify some examples, such as whether millennials expressing hatred towards baby boomers could potentially be found liable for hate speech, instead of answering the questions, she accused journalists of trivialising the need for the law change.
And that appears to be the PM's PR strategy: anyone asking awkward questions about the detail of her proposed hate speech law changes will be accused of wanting to deny protection to the victims of March 15th. That's how questions that really need to be answered are being avoided.
Fortunately, some in the media are attempting to hold the PM – and her Minister of Justice – to account.
Newshub's political editor Tova O'Brien wrote: "Jacinda Ardern is wrong about her own hate speech law. Completely and utterly wrong. Not only is the Prime Minister wrong about the basic facts of the proposal, she was wrong to shut down debate on hate speech on The AM Show with her glib, inaccurate dismissals. The Prime Minister and Ministers develop policy and set policy directions for law. If they don't understand the policy direction and intent of the law, how can they expect the judiciary to interpret and apply the law?"
The Herald's Audrey Young was equally critical: "Ardern does not understand the extent of what is proposed, as was evident by her comments on the AM show. In the five days since the Government outlined changes to 'hate speech' law, it has become obvious from comments by the Prime Minister, Jacinda Ardern, that she does not understand them. She and the minister in charge of the process, Kris Faafoi, need to up their game considerably if they want a fair debate."
Under the current laws, New Zealanders' right to free speech is enshrined in section 14 of the 1990 Bill of Rights Act: "Everyone has the right to freedom of expression, including the freedom to seek, receive, and impart information and opinions of any kind in any form."
That freedom is limited by the 1993 Human Rights Act. Section 61 makes it a civil offence to express "threatening, abusive, or insulting" opinions that are likely "to excite hostility against or bring into contempt any group of persons… on the ground of colour, race, or ethnic or national origins."
Under Section 131 using words which are 'threatening, abusive, or insulting' to intentionally incite hostility against a protected group is a criminal offence that can result in imprisonment of up to three months or a fine of up to $7,000.
However, as a public safeguard, criminal prosecutions need the approval of the Attorney-General. Setting the threshold for criminal prosecution so high means that the right to free expression can only be limited when there is the potential for significant detriment to society. That's why there has only ever been one prosecution under the law. This fact, more than any other, shows why the proposed hate speech laws are so totally unnecessary in New Zealand.
Many other constraints on free speech also exist.
Complaints about published material are dealt with by the Broadcasting Standards Authority, the Advertising Standards Authority, and the New Zealand Media Council.
The Harmful Digital Communications Act covers complaints about texts, emails, social media, and website content, with offenders facing up to two years in prison or fines of up to $50,000.
Threats of physical violence or harm are covered by the Crimes Act. Section 307A stipulates that threats made against people or property that cause "significant disruption of the activities of the civilian population" are an offence with a penalty of up to seven years in prison.
While the Royal Commission recommended hate speech laws should be introduced to criminalise anyone deliberately inciting or stirring up 'hatred' against a group of people based on 'protected' characteristics such as race and religion, they also explained that such laws would not have prevented the terrorist attack. This directly contradicts the PM's assertion that a law change is required because of the attack.
As political commentator Chris Trotter observed, the laws on our statute books are powerless against the meticulous planning and murderous intent of someone like Brenton Tarrant: "The state can punish Lone Wolves, but it cannot stop them. In attempting to minimise the terrorist threat, however, the state can eliminate our freedoms."
And that's precisely what Jacinda Ardern's proposed hate speech laws will do.
The freedom of expression is the lifeblood of democracy and the cornerstone of a free and liberal society. It is also the bulwark against tyranny.
The Government's plan to criminalise free speech will not make New Zealand a safer and more tolerant society. Instead, it will rob New Zealanders of the ability to engage in robust debate and say what they think.
According to the consultation document, it is proposed to transfer section 131 of the Human Rights Act into the Crimes Act. This will make it a criminal offence to use words which are 'threatening, abusive, or insulting' to intentionally 'stir up' 'hatred' towards a 'protected' group based on those 13 characteristics listed in the Human Rights Act – including 'political opinion'.
The penalties for this new crime will be increased from the present $7,000 fine to $50,000, and from a maximum of three months in prison to three years – a harsher sentence than for assault, including against a child.
The wording of the section 61 civil offence in the Human Rights Act will be updated to match that of the new hate crime law, and a new civil offense will be created: in addition to the 'incitement of hatred', there will be a whole new offense – 'incitement to discriminate'. This would make it unlawful to incite others to discriminate against members of protected groups.
In other words, by insinuating that the new hate speech laws would prevent tragedies such as the Christchurch shooting, a whole range of new and vindictive restrictions on our freedom of speech are being proposed for a country that has only ever had one criminal conviction for hate speech in almost 30 years.
This week's Guest Commentator, freelance journalist Karl du Fresne, believes these hate speech law changes are totally unnecessary and could become a key defining issue for Labour:
"The people who risk being silenced under tougher 'hate speech' laws are not those who advocate violence and mayhem (which is a crime already), but those whose opinions and ideas are merely unfashionable or unpopular with the arbiters of ideological correctness. In other words, this proposed law change is not so much about preventing another atrocity as it is about controlling public debate and confining it within parameters that government ideologues regard as acceptable.
"So where do we go from here? It was always on the cards that 'hate speech' would be the defining issue of the Ardern government's second term, and that could well turn out to be the case…
"It may be wishful thinking, but I suspect that faint tapping I keep hearing is the sound of nails being hammered into Labour's coffin – and it seems to be getting louder."
Instead of embracing liberty and tolerance, Labour plans to achieve a more socially cohesive society by stifling dissent through heavy-handed regulation that is reminiscent of regimes like North Korea.
What the Prime Minister doesn't seem to understand is that threatening people so they are afraid to speak up will not create the socialist utopia she is planning for New Zealand. Instead, by imposing State control over free speech she is practicing totalitarianism.
In his prophetic novel Nineteen Eighty-Four, George Orwell warned, 'If you control the language, you control the mind'. The very last thing New Zealand needs is the chilling effect of hate speech police stifling our thoughts and monitoring our every utterance.
Yet, if the law changes go ahead, the result will be that fewer Kiwis will openly speak their mind for fear the Police will come knocking on their door. It will indeed be an ominous day for New Zealand if the Police become the enforcement unit of ruling politicians and their activist allies against free citizens expressing contrary opinions.
If speech doesn't encompass the right to say something that may be offensive, then it is not free. With so many constraints already existing to restrict speech which is deemed to be objectionable, there is no reasonable justification at all for introducing more punitive law changes. This unavoidably leads one to conclude that perhaps the real reason for doing so is to muzzle political dissent.
Please help spread the message about Labour's plan to criminalise free speech and encourage everyone concerned to send in submissions. Governments regard silence from the public as support. If those who oppose these hate speech measures do not speak out, then the Government will be emboldened to press ahead with all they have planned.
But if the public speak out strongly enough against their draconian restrictions, Labour is likely to think twice before rushing into law changes that could risk alienating New Zealanders from all sides of the political spectrum.
The Government's public consultation runs until August 6.
Full details of the hate speech law changes can be found in the discussion document HERE – submissions can be emailed to: humanrights@justice.govt.nz
And details of the Ministry of Social Development's discussion document on building a more cohesive society can be found HERE – submissions can be emailed to: social_cohesion@msd.govt.nz

Please note: To email this article, please use the PRINT button on the top right. And to register for the NZCPR's free weekly newsletter, please click HERE.
THIS WEEK'S POLL ASKS:
*Do you believe the proposed hate speech laws are needed?
*Poll comments are posted below.
*All NZCPR poll results can be seen in the Archive.

THIS WEEK'S POLL COMMENTS
| | |
| --- | --- |
| Just more unnecessary Labour crap | Craig |
| Hard to believe this is happening in our country. | Gary |
| Dear leader has lost the plot | Tim |
| These hate speech laws proposed from the ChCh massacre are a result of a failure of police and the gun registration procedures, The police were given a heads up on the gunman by rifle club members and they failed in their duty. This proposed legislation is the result. | Murray |
| Absolutely not. Ardern's government bubble and its totalitarian schemes should not be tolerated in New Zealand. How have we let it get to such a place!! There's no more room for the 'she's right' attitude. | Marilyn |
| Just another move to control us. | Cheryl |
| Ardern is accumulating quite a list of sinister events. Remember when police were calling at the homes of Trump supporters for "a little chat" until people started filming them. Also a good reason not to participate in public submissions is when they had one for the arms buyback scheme under Stuart Nash they were taking names of those who disagreed with them. Afterward they decided an example needed to be made of someone so they were chosen from the list. They received the armed police raid with Black helmets, masks, guns in a house containing preschool infants looking for a prohibited magazine which was written about in his submission. They found nada and were a complete embarrassment to themselves. Submissions are bad for your family health and they have already made up their minds anyway. So much for democracy in this country. | Terry |
| It is my right to be able to speak my mind even if others don't agree with me. It is also my right to respect others and them to respect me. | Sara |
| These proposed changes are draconian and would be a disaster for the nation. | Graeme |
| Just further evidence of Ardern and her cronies intent to silence any / all who oppose her socialist / totalitarian designs. | dave |
| This is so dangerous, and they're going to get away with it. | Diana |
| Human rights & libel legislation provides sufficient to deterrents to slanderous speech | tony |
| Yesterday I resigned as Chairman of an advisory group for the largest ITO. Reason was the increasing Maorisation of the organisation through language, Maori powhiri and prayers etc all pushed at highly experienced and professional people giving free time . It is obvious that funding is tagged to being Maori compliant. Other resignations have followed and texts to me in agreement have been encouraging. Maybe people are now seeing that this sleazy Emperoress ain't got no clothes. | Creed |
| Just another subterfuge by this anything but transparent government, working only for a much smaller team than one of 5 million. Oh, and one other much smaller team, who the rest of us may end up not being able to comment about at all!! | Dennis |
| It's covered already | Anon |
| Hate speech is already covered in existing law, but without stifling free speech generally. | Glyn |
| just another law to control the public at large and to silence those who criticise the the Government and the people in power .The sooner this Government and the current Prime minister is removed the better. If you look at what is happening with the proposed nurses strike and other issues being exposed by the Media this Government and the Prime minister are in deep Do DUs. | Ken |
| My Father fought for the freedom of speech by going to the 2nd World War | Susan |
| Absolutely not. There are adequate laws against bodily harm and property damage. That they may not be rigorously applied is down to the same elements who advocate for so called hate crimes. | David |
| Proposing laws such as this are a totally against the concept of a free democracy. I am totally against this proposal. | Brian |
| why cant we petition for a a vote of no confidence and force an election. Im not sure the NZ is going to survive 2 more years of this. I am worried about my children's future. | jess |
| I t seems the 15% can say what they like about the 85% over the past ,but the 85% cannot say any thing about the future | keith |
| The current law is entirely adequate as is and I actually believe this attempt to introduce new law is about ardern being able to frighten dissenters into silence under fear of severe penalties | Phillip |
| These laws are all about NOT criticizing Ardern's and the Maori tribal elites power, also a nod to the Muslim religion and nothing to do with the needs or prosperity of this country – New Zealand. | Monica |
| Under a democracy I have a right to be offended by what someone says. | Lachlan |
| These laws sound like Germany in the 1930's. Why do you suppose history is a rare subject in our schools? But look what happened to Hitler in the end, my Father fought for free speech in that war, and we really need to fight now! Many Germans could see what was happening in their country, but had been made powerless to do anything about it, by laws and regulations just like this. | Heather |
| No way. The law is adequate as it stands. I think she is trying to appease the Muslim community to what unfortunately happened at Christchurch. | FRank |
| If they were then it would have been introduced years ago | Warren |
| I would hate it. | Trevor |
| Absolutely NOT. | JOHN |
| With Freedom comes Responsibility. Failure to act responsibly encourages government to impose laws which, in fact, take away our Freedom. It is not possible to legislate culture. We only lose our Liberty in the process. | Gary |
| we have laws that already work so why bring in dictator ideas like Hitler, Stalin pol-pot and sadam hussan and our latest called cadhern. will it mean the half wits that slag off in parliament will now be able to be taken to court and not have the privilege of not being prosecuted? I think not. the sooner the decent and hopefully intelligent population of NEW ZEALAND rise up and get rid of cadhern the better we will be and the next generation will have a safe and decent country to live in. | Richard |
| It would seem Jacinda often does not know what she is speaking about e.g. hate speech interview, and electric cars etc. All part of the agenda to divide and break down New Zealand society – so much akin the USA where they are adopting the same tactics. The word racism is thrown about if one disagrees on almost any subject opposing government philosophy when it seems to be thrown out in a racist context. Interesting! | Stuart |
| There are existing provisions in the law. However, this proposed law is just another plank in the socialist platform that Ardern is ushering in and the majority of the public's oblivious of her long game. There are already moves towards a centralised controlling regime – health, water, climate change. Wake up New Zealand! | Kerry |
| Sadly like so many false statements and actions, the payment of $55 mill to the press to advance Jacinda government race law land now oppressive agenda she is using the divide and rule, her change of the name of NEW ZEALAND to a story book name , that never existed in Maori folk lore as Maori had no written language, her and her looney left Government are anti European ancestry pro Mari could that be in breach of her race law? | Hargen |
| Freedom of expression is at the heart of our democracy. This is one of the worst proposals of this socialist, govt designed to shut down any opposition to her strategies to impose State control over every aspect of our lives. | Mary |
| They are not needed in our society and are just there to help secure a dictatorship. | Lance |
| The first steps to a Marxist dictatorship. | Malcolm |
| No, emphatic NO! The law as it stands provides sound protection against offences such as threats, intimidation, abuse, etc. If there is a concern there may be escalation of same, then increase the penalties. But lets remember New Zealanders, it is the intention of this PM and this Government to sell this country down the drain, and become a country similar to North Korea. By controlling our thoughts, removing our freedom of opinion, speech, to gather, discuss, argue, etc. we will become a nation of mice. Timid, cowering little people who need to seek permission to draw breath. That is not how I want New Zealand to be, and I am sure many of you share in that. There must be change, soon. | Grahame |
| Opens the door to state control of everything | Mark |
| The left are so hypocritical. What about the constant hate Trump rhetoric reprinted in NZ Herald articles and on TVNZ – even when he is no longer president. Stephen Colbert, champion Trump hater, was given a tax payer funded holiday to NZ by our PM. | Bruce |
| Sick of Maori racist behaviour. Had enough of Maori shit. | Anon |
| Certainly not the arrogance of ardern and. Gang know no boundaries ruining no with socialist policies | Sidwell |
| what a load of rubbish | Rex |
| I hate Jacinda. Now lock me up! | Murray |
| our soldiers fought and died for our freedom | Nev |
| Laws regarding threatening, insulting and other behaviours are already in place and nothing further need be added. | Colin |
| Absolutely NOT – you can hide it anyway you like; Socialism, Progressivism, Separatism, but in reality it is straight out Communism which the Prime Minister adheres to. You only need to hear her speech in 2009 to Communist Forum in Hungary – Comrade Ardern | Richard |
| Transparently devised to stifle debate regarding Labour and a handful of 'Maori' elite's aggressive separatist racist agenda. Such stifling of speech mirroring go-to policies of the likes of Lenin, Stalin, Mao, Pol Pot, and the whole parade of communist despots preceding vermon Adern.. | Tony |
| We should be free to voice an opinion. The current climate already makes it hard enough to have a different viewpoint. | Ruth |
| Under a Hate Speech Law we would & will be descending to the 1st stages of what we have seen under Nazi Rule. | Roy |
| They are speech laws. And I hate them. Do I have to go to jail for 3 years for saying so? | Mark |
| Absolutely NOT | Mark |
| Absolutely NOT. These new proposed Laws are only to block any adverse feedback to the current Government's Agenda. we are way past Socialism now. | Geoff |
| Do we want to remain a democratic society or not ? It's just another of Labour's ideas to shut us up and have no opinion whatsoever. | Bruce |
| We do not need Marxism in New Zealand. Ardern is sending NZ in a perilous direction | Rex |
| There is adequate law that exists. Agree with Chris trotter, don't do Ms Ardern. You and your Govt. have already driven a death arrow through the heart of New Zealand society dividing us by race. How could you. | Sam |
| Anything necessary is already being done. | Dorothy |
| Definitely not, more idiocy from a failing socialist / communist govt. It's a pity that most Kiwis seem apathetic to such matters, about time to pay attention!! | Shane |
| Does Jacinda Ardern have a brain? | Pat |
| Inciting violence is already illegal, therefore a new hate speech law with the risks associated with it is not required or wanted. | Ian |
| We cannot have the govt controlling any of our speech or opinion | Gregar |
| Current legislation is perfectly adequate. | Patricia |
| Labours endgame is to quell political dissidents. | Chris |
| A slow but sure takeover of New Zealanders freedom in more ways than one. | Bernie |
| So obviously protecting themselves from criticism. Is this because they fear the tide is turning? | Dell H |
| Hate speech laws are needed about as much as this dopey government | Peter |
| our fathers went to war over freedoms | brian |
| More control by communist puppet regime | Chris |
| I worked in the security industry if a law change for hate speech means that I and my fellow workers can be protected and subsequent prosecutions carried out by the Police every time we have been spat on and called white F****ing C***s and get out of my country by Maori. Then yes think the law should change.. I have thousands of these threats in 20 years in Auckland city Security and death threats and never once have the Police pursued the matter even though I made formal complaints via the phone.. | KT |
| Comrade Ardern and her partners in subversion need to be sent to re-education camp and there learn the error of their ways. | Igor |
| No easy for a corrupt, or straight out traitorous government, such as our current one to use this sort of thing to silence their political opponents. | Kerry |
| Freedom of speech is healthy. It is good to hear all angles of a subject, be it good or bad. Didn't we have debating groups at school. | Sandra |
| Sticks and stones may break my bones but words will never hurt me. This is still relevant If everyone feels they cannot speak openly we risk society becoming afraid to engage | Jo |
| We should be able to speak our minds in an open but non threatening way without worrying about the Commissars knocking on our doors. | Tony |
| Just another needless law from socialist who believe the solution to regulatory failure is more regulation. | jd |
| No comment the word police may know who I am. | Sven |
| Even the word 'hate' has a hundred different meanings. | Peter |
| Not at all, as we have enough law covering speech, actions and terrorism already | Ray |
| they lost the plot | les |
| the stupidity of this government is unbelievable | Cliff |
| Unbelievable | Graham |
| PM following Nazi playbook. What about bombarding local MPs with email campaign? how to go about it. Found you on Leighton Smith podcast. | coral |
| This Govt needs to be recalled and fresh elections organised. Baffles me how they got voted in. Did they have Dominion voting machines like America has, to manipulate votes? What is taking place in NZ is sinister, and it's another step on the road to Comrade Arderns communist utopia. She has started, under our noses, by gun confiscation, organised poverty, homelessness and subsequently more people dependent on state handouts, reeducation get our children with sanitised history, after hate speech she will clamp down on businesses with more and more requirements and red tape. She's gotta go., before she succeeds with her plan. Wake up NZ. | Carolyn |
| we have enough laws in place to cover this already | annette |
| We have the necessary legislation already. this new law is to serve for future control and manipulation of the people | Al |
| We must not accept this – another control and power move – division by race and generation has already been established and shutting down debate is almost complete. Demand a referendum on all these issues. NK | Natalie |
| we already have adequate safeguards | Bob |
| If NZ had the Swiss law which supports Citizen Initiated Referendum with mandatory result compulsion, this attack on democratic free speech would be stopped in its tracks. Whichever political party runs with the promise of inserting this democratic law will win control of The NZ Parliament. | Rex |
| Agree totally with your article | Brent |
| Just another step towards a totalitarian regime in which some are more equal than others – Wokes are more equal than conservatives. | Barend |
| Left wing governments world wide are using hate speech laws as a weapon to exclude criticism of themselves and to muzzle opponents to their policies. | Richard |
| "I might disagree with what you say but I'll defend to the death your right to say it." Not sure who said this, but freedom of speech is essential. It also seems strange that the government is trying to tell us what is hateful when it has just decriminalised the most hateful action of all – murder of the unborn. | Janice |
| Much like Putin banning comparison of Stalin to nazis | Alan |
| I cam just see it now. Make a judgement or comment on the policies or demands of favoured activist groups and they will go whining to some Commission or Body acting all offended and insisting that the comments are racist and inspired by hate. Australian citizens have already experienced this – being dragged before a Human Rights Body and sometimes having to hire a lawyer to protect their reputation. It goes without saying that the whining activists pay nothing. In any case I don't trust this government at all. It could set up bodies of sympathetic and left leaning bureaucrats and activist judges who concept of what is fair and reasonable comment differs markedly from those of most New Zealand citizens. Leave it alone Labour – but I don't think they will despite glib talk about consultation. | Denis |
| This new law is going over the top. NZ already has laws to protect groups, people, etc., etc. I believe it is ostensibly to stiffle controversy re: Labour and its current actions, against the population of NZ | Michele |
| absolutely not! The term 'hate speech' is too subjective. We already have laws to protect people from the worst of these issues. Losing free speech is a much greater risk than the need to protect some over sensitive people who can't handle constructive criticism | Patricia |
| Definitely Not | Don |
| I am thankful for the courage finally being displayed by some journalists in bringing this unnecessary piece of what can only be perceived as state control out into the open. What will it take for people to remove the blinkers to see this PM and her government for what they really are. | Heather |
| It's ridiculus | Carl |
| This would be the most useless but the most dangerous Govt that NZ have ever had.I had high hopes for Kris Faafoi as an intelligent go getter but he has been cut down by our leader for being honest.The rest of the labour Govt are well below the average as far as intelligence goes.If they were intelligent they would see through the devisive tactics being fed to them by the back room communists.This government has to be removed if their is to be any future for NZ | Steve |
| WAKE UP people and connect the dots!!! Hate speech laws introduced before we 'debate' state sponsored separatism as encapsulated in the He Paupau report… there would be so much self-censorship due to a potential fine of up to $50k and/or a stint in jail; it would tilt the decking favour of massive changes to our constitution. We must remain a liberal democracy where we all have the same rights in a multi-cultural society.. | Peter |
| Here comes communism | Keith |
| We are already well covered by sensible law. | Graeme |
| Speech is a safety valve, why send it underground to then explode into violence? | Barry |
| Totalitarianism here we come!! Not if I can help it. I would push the limit if it became law BUT I don't want to do jail time. It seems it would be muzzling Judges as well. Lets hope people rise up, so that sanity can prevail. | DICK |
| I served in the NZ Armed Forces for 25 years. I did not serve, nor do I believe that the thousands of personnel who lost their lives in service to the country served, for this or any Govt, to destroy our freedom of free speech and our democracy. | Graham |
| The concern for me is the ambiguity of the law. | Margaret |
| Dictatorship | Jeff |
| They are being changed to make it easier for the Govt. to threaten anyone who speaks out against anything. Suppress questioning of Govt. narrative. Designed to cut down tall poppies. | Bruce C |
| This PM is a marketing socialist and what you see is what you do not get. Winston Churchill said; "There is only two places where socialism works. One is in heaven where they don't need it and the other is in Hell where they already have it." Hate is a human emotion and a democracy permits people to hate as it permits them to a whole range of other emotions some good some bad. If laws are made to arrest people because they hate other people or the government then you need to catch them thinking about hate and expressing that emotion. So does this mean that the era of the "Thought Police" is with us? As has been said by wise broadcasters, now and in the past, when you have free speech a lot of "Crap" is written and will always be written. The difference between this fact and the suppression of free speech is the difference between democracy and socialism. Socialism is an insidious form of dictatorship. Socialism has never been successful throughout history and has always been defeated %u2013 mostly by revolution. As we know there are four boxes that drive democracy. The first is the Ballot box, the second is the Law box, the third is the Justice box, provided by the Courts and the fourth is the Cartridge box. I put it that the Cartridge box is now full! Advice to Politicians is to get a Bullet Proof Vest as a tolerant society can only cope with so much and despite the massive cover up of the plight of the NZ economy. Including company failures and shut-downs causing unpublished hardship, the country is hurting and no private sector wealth creating policy is being developed by the socialists. But redistribution of the wealth yet to be produced by your children continues – unabated! Final Note: Guess the Greens will not be buying the bullet proof vests because much of the vest is made from oil and its by-products!!! | Frederick |
| Absolutely not. This is Tyranny, we already have laws in place | Sue |
| Will critical race theory be classed as hate speech under this law? It certainly seems to incite hatred of one section of the New Zealand population based on their characteristics. | Elaine |
| The fundamental principle of democracy is free speech. Without it democracy is doomed. | Sheila |
| Come on Kiwis we must all stand against this draconian new law. I worry that we have been so numbed by all the other forced socialist political agendas that we can't see what's going on before our eyes. This is not the Labour Govt of old, this is the new Socialist Party of New Zealand. Socialism is the vehicle to communism and if anyone in this country thinks a good thing, do some research. It is my opinion that most Kiwis over the age of 40 will understand that this is a step too far but I worry that all those Kiwis younger than that will have been completely brainwashed by our radical left-wing education system, especially our universities. It's up to us older folks to tell the younger ones what freedom is and how so many of us have died to protect what this ideologically driven government is trying to destroy. The way things are going, It want be long before we will not be able to express our opinions in this manner because someone, even the govt or politicians, who should be open to criticism, might be offended. What worries me is what is hate speech and who decide this? Stand up Kiwis and stop this political nonsense. | Peter |
| Ardern has no bloody clue what she is doing. We need her and her ilk out of NZ politics. | Barbara |
| Present legislation adequately covers all areas of hate speech. We do not need to be under constant threat of arrest for speaking out. | Beety |
| Will eventually lead to total civil unrest then a Police state type system will be imposed. | Beau |
| Absolutely not as the great Jordan Peterson adds "who would regulate speech, exactly the people who should not regulate it" | Jeffrey |
| Another one eyed government policy not thought out properly | Gareth |
| We already have litigation law etc in place. This additional law undermines the intelligence of New Zealanders. Again this new law is to place more control on NZ citizens, typical communist socialism. | Owen |
| As they say, just another nail in Labours coffin if this goes through. It makes me wonder that there is hardly a week goes by, that there is some new announcement by this government which is affecting our lives of ordinarily NZers | Lawrie |
| We have controls already in place, so it is therefore unnecessary to have further constraints on our freedom to comment. Keep banging in the coffin nails, it's time that this Government was told by the people, that we don't need their dictatorial ways. | Heather |
| Socialism (Communism) at its finest. | Adrian |
| Ardern has not been dissuaded that NZ does not embrace her totalitarian aspirations | Bob |
| If anything is needed it is to have a huge improvement in literacy and communication in our society. | susan |
| A thousand times NO!!! As reason and freedom fly out the window, time is fast approaching where New Zealanders must make a choice: to die on their feet fighting for freedom or live on their knees in total submission. | Don |
| Idiots at work… | Richard |
| I value the right to speak my mind grew up going to uni with the like of Tim Shadbolt and bullshit and jellybeans. Uni was a place of debate and free speech | Erica |
| | |
| --- | --- |
| Control is the objective of the LP. | Prue |
| Shows the sheer lack of understanding about the people of the country by this labour government | Janet |
| A step too far I feel | Laurel |
| We already have sufficient laws to protect the public. If you introduce these new laws you will cause potential offender to remain deadly silent and strike when they are ready and unannounced. | Wayne |
| The people would be better served by government making access to its decision making processes and accountability. | Bryan |
| No – after reading Effie Lincolns' excellent article I have a clearer understanding of where this whole sorry process is heading. The so-called"need"for the proposed hate speech laws is a red herring – it merely serves to draw attention away from what is really going on behind the scenes – the gradual morphing of a once-free nation into a totalitarian state. We need to act now and oppose this downward trend with all our might – we cannot afford to wait until 2023! If we simply "sit on the fence," we risk our whole way of life being lost forever. | Scott |
| We do not need an updated version of the speech law to suit this inept government who want to muffle our freedom of speech | Carol |
| Definitely not. | Judith |
| Current law provides adequate protection. | Allan |
| Jacinderella has got it wrong again. Due to her staggering incompetence, she has invoked the 'Law of Unintended Consequences' and will find that the consequence of pushing this through – and she obviously is not going to heed any opinions to the contrary – will be the utter destruction of the labour party at the next election, probably for ever. Hurray, say I. Bring it on! | TOBY |
| I just want more roads and bridges. The police should be directed control the sale and track the use of all ammunition, its the bullets that kill not the guns. | Richard |
| The Communist dictatorship that these dangerous politicians are seeking is further evidenced by this "Hate Speech" nonsense which will be seized upon by dissident groups to strengthen their grip on our well-ordered existing society. | Edgar W. |
| No doubt maori will be exempt from these laws to be allowed to practice tikanga | Mark |
| Hate speech is not something 99.999% of New Zealanders engage in. The lunatic behind the Christ Church shootings was not known for hate speech prior to the event. | Mark |
| One way for Labour to muzzle NZCPR | Wayne |
| If it goes ahead, Maoris, women, educators and Muslims will be on the protected side and everybody else (read white males) on the 'fair game' side. | Gerard |
| There are already enough well defined rules that cover this topic, there's no need to go down the totalitarian route that other people/countries have tried in the past. It hasn't for the most part worked anywhere else and will just cause resentment and a public backlash here. | Trevor |
| A shocking decision if this goes ahead | Gail |
| No, they're just another tool to assist the communist takeover. And another huge waste of money as to be expected from this govt. | Simon |
| …otherwise as a Nation "we are all going to hell in a handbasket…." Wisdom of the past applies to the our future…! | Chris |
| Definitely not. We have adequate laws now. We don't want Marxist laws. What a pack of no-hopers our government are. | Peter |
| It is not necessary | Peter |
| Absolutely not | Gwenda |
| More draconian arrogant restrictions | Bev |
| Dangerous laws being made – and was not this the PM who said we want to make fewer people have a criminal record. | Maurice |
| just another nail in Labour's coffin | dave |
| Hate speech passed into law would mean NO free speech in NZ Ardern has gone too far. | Ian |
| not at all | gerard |
| There is already adequate provision for hate speech in exiting law. | Priscilla |
| There is no clarity. I don't know how much I can or can't say. This is a can of worms that I hope will lead to the downfall of this inept government | Andrew |
| Ridiculous law if it comes to pass | Ted |
| This is the socialist Labour Party trying to make all opposition to them illegal, pretty much the same as Communist China. | ray |
| Free speech has been a cornerstone of democracy for over 400 yrs so why change it now? | Garry |
| They are, however, a means of preventing anyone from expressing disapproval. The door is open for Jacinda (Labour) to do away with voting altogether – voting suggests disagreement. We are heading towards a dictatorship and no-one sees it coming!! The new Hate Speech laws are merely another cog in the fast turning wheel. | Martin |
| It is obvious Ardern wants to control NZ like a dictator. Free speech is exactly that, free speech. Victims of the Christchurch attack have my sympathy but letting them dictate to NZ that we should not allow free speech is quite worrying. Where else in the world would they get this treatment that they are receiving and they still want more. This was a publicity moment for our leader and is still continuing. It's amazing what this woman will do to grab headlines. | dianne |
| This is about communist control of destruction of everything we as New Zealands love about our country. We all need march on the beehive with pitch forms raised. This Govt is worse than everyones worst nightmare. They must be booted out of office. Now. | Richard |
| Comrade arderns plans are straight out of the marxist playbook. Central control and repress dissent,North Korea you have a friend.l | Sidney |
| There is plenty of control in place within existing law to prevent the dishonorable from causing problems for our society. | Robin |
| our govt is the most radical Marxist mob in the western World, closely following the USA Democrats | david |
| This is not a hate speech law but a Marxist suppression of free speech. Just what our extreme left wing Government wants . When will the World face up to what these disgusting politicians are doing. (Just look at USA and the democrats — they have some really nasty politicians and media) | Alan |
| This will stop free speech | Tim |
| The old saying we said as kids always holds good. "Sticks & Stones may break my bones but names will never hurt me". | Eric |
| Not necessary. Freedom of speech also includes that which we may not like. There are other ways of dealing with "hate" speech etc. Education is one. | Sheila |
| We already have laws about hate speech, and no law could stop people from carrying out Lone Wolf attacks, as happened at the CHCH Mosque. | Rosemary |
| Next election I will vote ABL- anyone but labour and I will sleep better. | ALISTER |
| No, the Labour party and Jacinda are going down the wrong path. | William |
| No, no, no! One word against the opposition, Jacinda, and you must prepare yourself for a spell in prison %u2026 Is that not how it works? | Rob |
| I hate the thought of being muzzled | Basil |
| Definitely not | Ken |
| Just another curbing of our democratic freedoms. We need to ask the opposition parties what their policies are regarding this as well as the changing of our countries name, preference for all things Maori and scrapping of democratic referendums. I have already emailed Judith Collins and David Seymour as the issue is now whether they are going to repeal these dreadful measures imposed by this Labour government. | Janine |
| We have laws already that cover all eventualities. | Dennis |
| We are a democracy first & foremost and definitely do not need totalitarian tactics by the government in NZ. | Theodora |
| Not at all! It is simply another step down the appalling path of totalitarianism that Jacinda seems to be set on. Divide a d conquer is part of that, as we are seeing almost every week with Maori separatism. That government tenders must now show evidence of the bidder being a Maori entity, is the latest of these. | Hugh |
| the socialist govt is trying to destroy this country | owen |
| More bull from Ardern & her lousy government. | david |
| Hate speech is perfectly well covered by existing laws. | Cherry |
| We do not need any more laws than what we have already. | Fred |
| These changes are based on politically correct ideology, not real need. | Owen |
| look out NZ our Communist Leader is on the war path of democracy.. | Claire |
| This government wants more and more control. | Maureen |
| I believe in free speech…proposed hate speech laws will cause more division in our society and inhibit free speech | Yvonne |
| NO! What is needed is a SANE anti-apartheid Government. NOT the pro- separatist left wing loonies we have now. Where it would come from I do not know. The so called opposition parties we have now are self-serving and completely "not up to the task". I told ya! … "the country is stuffed". | Bruce |
| The right to free speech is sacrosanct The current laws are totally adequate | Bill |
| NO – existing laws are adequate for legitimate control. What our Commissar is trying to impose (but herself fails to understand) is the tyranny of the majority – where she decides what we are allowed to think and/or say. | Ron B |
| These proposed laws would be another step to destroy our democracy: draconian, narcissistic idealism to further empower our socialist leader!!! | Gary |
| Typical labour crap | Allan |
| Most certainly not ! | Ron |
| This is just another controlling legislation. Just as covid has us all under government control this is a further step towards outright control. | Laraine |
| Miss Ardern and her sycophants continue with their moves to create an environment within New Zealand in which to establish her Marxist totalitarian regime. Her proposed Free Speech restrictions are yet another track-pin to be used to tie the nation into her Government's unquestioned centralised control of our Country's citizens and residents. She and Mr Faafoi claim that their proposed legislative changes were dictated by the Royal Commission of Inquiry into the Christchurch Mosque shooting and are designed to produce a greater level of unity within the Nation. Both such statements are a falsehood (as if anything else could emanate from her mouth) As pointed out by Dr Newman and commentator, Karl du Frense, Miss Ardern had declared her intention to change free-speech legislation some months before the Royal Commission had completed their investigations and reported back to Parliament. Although the "manifesto" issued by Brenton Tarrant has been sequestered by the Government and its censorship Agency so as to avoid its public review, the proposed "Hate Speech" legislation would almost certainly not have stopped or detected Mr Tarrant's intentions. It is also difficult to see how the identification of groups that could be offended by "Free Speech" leads to a greater unity of our Nation! So why do we need any more legislation that will further divide and segregate our Nation if not to impose further controls and restrictions over the general population of our Country (not Aotearoa or Aotearoa New Zealand), New Zealand? There is certainly NO justification for the draconian penalties accompanying the proposed legislation and reclassification of Free Speech Law. Whilst the Labour/Green coalition may unfathomably have been granted a major parliamentary majority, one which allows them to drive through any legislation they desire irrespective of the desires of the taxpayer (a good example being the Local Government Act amendment which removed the ratepayer's ability to influence any Local Body legislation including race-based local body governance], for them to continue with the proposed "Hate-Speech" (Free Speech restrictions) legislation is surely against the majority opinion of our Nation. The proposed legislation should be removed from any further consideration by Parliament now and forever! | Michael |
| | |
| --- | --- |
| Jacinda is out to protect her muslim friends and her political career if March 15 had not happened she would not be coming up with all her como ideas now | Russell |
| No! What is needed is for New Zealanders to wake up and get rid of this anti democratic government, | Vic |
| Just another controlling aspect of socialism | John |
| Roll on the end of 2023 and the next election – if we can survive that long!!! | Roy |
| Current law is more than adequate | John |
| Who defines what is hate? Jacinda and her woke comrades?anybody can choose to be offended by anything some one says | Laurie |
| NZ must get rid of this idiotic government | Patrick |
| NO! I worked in Angola in 1960/70 when the Dictator Salazar had the same laws. Those who spoke out against his government disappeared. American's who worked with me criticised Salazar and we reported by the dreaded PIDE secret police and were sent home. I would NOT want that sort of stupidity here. Very little of what this govt. does is democratic. Farfoi was a journalist and should know better than introduce such a Facist law. | Graeme |
| Where's it written any gov't needs to abide the recommendations of any Royal commission?. If recommendations were framed in a way the gov't didn't like, they'd be in file 13 before you could "bah humbug". | Bart |
| More control by a useless govt | David |
| NO NO. Everybody must let this mad government and insane leader know that the moment they accuse a person for hurting their pathetic feelings everybody should go on record as repeating what that person says. Are they going to jail the whole country ?? INSANE | Bob |
| First how many prosecutions have there been under the old law One So what is the problem that needs solving There isn't one so why do it Only to stifle debate that you don't like Once again socialism is being promoted by the back door Until it is possible to clearly define what is hate speech this law will be subject to the whims of political interference and is therefore BAD LAW | Robin |
| Beyond belief | Shaun |
| communist bullshit. | norman |
| They are already adequately covered under the Bill of Rights. These extra demands are being pushed by the Islamic community where they wish to relegate and punish all New Zealanders right to free speech for the sake of ONE. Of course if that means this Govt can also use it to stifle free speech which may go against their draconian push for separatism then all well and good in their thinking- Democracy = free speech -end of | Carolyn |
| New Zealand laws at present don't protect free speech. Any further meddling by Jacinda's academic communists, is extremely dangerous. They believe the UN human rights protection of free speech needs adjusting. Pure arrogance to suggest that a handful of people from NZ are intellectually better placed to critique the UN. Lee Williams story should be a huge warning and an example of where an extreme level of punishment has been delivered to a man who should be protected under the existing laws, but he lost his job, had his YouTube account permanently closed, had a go fund me account forcibly shut down and finally his bank shut his account down. He merely questioned the governments stance on Maori sovereignty and He Puapua and Unteach Racism. Lee Williams should be an example to all that think we have free speech. Sadly he's the example of what happens to people try to point out the reality. | Lee |
| Jacinda Jong Un wants to control every aspect of our lives | Peter |
| A field day for extremists of whatever stripe. Political muzzling. Left or right leaning judges/juries will make the law – impossible to draft legislation which removes doubt & is fair & reasonable | Peter |
| They should have never been passed as law in the first place. Your being offended by someone else's speech shows that you are the intolerant one who will hide behind your group to keep you "safe". How free are you when your speech is censored and you can no longer speak your mind? How's that currently working out for the Uighur Muslims in Xinxiang Province in China? | CJ |
| Muriel has said it all | June |
| Current laws are adequate. | Maurice |
| Empty the jails of gangs to fill them with people who won%u2019t be controlled by Jacinda. Brilliant. | Megan |
| I have submitted my disagreement. Others should as well. Might be the last chance we have? | Charlie |
| We are all covered under laws that are currently in place | Lyn |
| The mere fact that the Prime Minister and the Minister of Justice cannot produce one example of what would be considered hate speech under the proposed law, shows just how dangerous this law would be. | Jim |
| there is a certain political party that I hate | David |
| Any amount of legislation will never stop a Tennant or any of his like. We are being confronted with law making only seen in dictatorships and socialist regimes | David |
| A direct attack on free speech, and thus another tool for Cindy to exert Marxist control, further destroying Democracy. Meanwhile, the true hate speech goes underground and will therefore be much, much more dangerous. Not that this Government cares about. All they care about is trying to stay in control and erode the rights of 98% of the people. | Folkert |
| Utterly ridiculous. She is turning NZ into a racist society and making, even children, aware which will only make it worse. No wonder I keep hearing young couples talking about moving out of the country to Australia. | Valerie |
| DEFINITELY NOT!!! We want and NEED NEW ZEALAND to remain an open and free society – with no totalarianism favouring any group. | CTM |
| At present NZ under Jacinda we are following down the same foot steps as the Nazi ruling German Government using the T4 program 1933-1945. | Don |
| This is happening all over the World at a time of the rise of the WOKE in an attempt to shut people down who express dissent. It also comes at a time of the controversial He Puapua document being imposed without choice, and the loss of democracy. | Darrel |
| The definition of hate speech is so vague, it will potentially include any comment that someone or some group finds hurtful. The real bad word is "insulting". This is a totally subjective personal reaction which actually means "hurt feelings" So hate speech will become any words written or spoken that someone says they find insulting. | Doug |
| Yet another total control mechanism from a government that wants to have total control over its citizens – another Myanmar in the making ? | Peter |
| Absolutely not needed. | Valerie |
| Just calling the proposed laws "Hate Speech" laws is wrong, these are speech control laws which, of course, means behaviour control laws. Fairly typical of left-wing dictatorships. | Phil |
| Absolutely not. Getting more like North Korea every day. Hopefully enough of this will get out and all the sheeple that voted this Commo in will realize their mistake. | Graeme |
| We have too many laws restricting free speech already. | Wah |
| The "Cheshire Cat's" proposal will muzzle those who oppose in any form the introduction of apartheid into NZ's governance. | john |
| Absolutely not. We have laws in place already to cover so called "hate speech". This is another way to control the population of New Zealand. Our esteemed government needs to butt out of our lives! | Ann |
| Unnecessary and further evidence that this Labour government is completely out of it's depth; all part of their dastardly plan to gain complete control of the populace. This along with their Maorification agenda will be their downfall – the sooner the better! | Tony |
| It's a political nonsense. This is not the way to govern a country | Margaret |
| Current Law is quite adequate to protect the rights of the individual from hate speech | Ray |
| a very sad day for all new zealanders if his ever came in and yes the end of the labour govt in the next election. | stephanie |
| Bad governance by Ardern and Co | Chris |
| Absolutely not. Just trust Act and National will put into their policy that they will abolish any such legislation. | John |
| Freedom of speech is our fundamental right | sheryl |
| 1 of the joys of living in nz is the ability to express personal views without fear of prosecution | Paddi |
| THis is more of COMMISAR ADERNS ideology to obtain TOTAL control of the general populace–what is next ? a permit to Fart ????????????? | Les W |
| Control! control! control! that is what this is about. Labour is using parts of Mien Kamf . | Les |
| Absolutely not! We are heading towards communism on the fast train driven by ignorance. | Cecilie |
| Our present laws are totally adequate!!! | Wolf |
| Just another Fascist nail in the coffin of free speech and Democracy | Henry |
| Again I will say this will lead to public unrest and could eventually lead to civil war and I will be the first one to volunteer. | John |
| Absolutely totally 120% NO!!!! | Joe |
| It is all about control when it should be about ideas. | Catherine |
| It may not be "nice" to hate something or someone, but there must never be laws to make me nice. I may try not to hate but if I do hate then let me hate in peace. My opinions may differ from another's but voicing differences lifted us from ignorance. | Murray |
| REMEMBER STALIN AND HITLER | richard |
| Absolutely NOT! A licence for all the 'easily offended' to stop free speech! | Sylvia |
| Once again, as with the new gun laws, ordinary Kiwis are being punished because of something a foreigner did. Unfair. | Jenny |
| If they bring in the hate speech laws we wouldn't be able to tell the stupid communist women to bugger off before she does more damage to our lovely country.Go to North Korea if you like them so much. | Ross |
| Jacinda and this Labour Government are on a course to Stop any discussion that does NOT fit their agenda or political teaching's or Laws. Time this Labour Government was dispatched to oblivion. | Carl |
| This can not be allowed to continue they are trying to control every bloody thing we do even to what we think so vote the commo barstards out | eric |
| Free speech is the only choice. Deliberately inciting violence is another matter, but the line may seem thin at times. For example , telling people something about another when you know it will incite them to rage and possible reprisal is free speech but bringing about a deliberate consequence is unwise., perhaps unfair, or seen as justified in some eyes. Where do you draw the line? As long as you are telling the truth, can you be forgiven for knowing the inevitable consequences of a hot-head acting? It needs careful examination. Only a jury panel could begin to decide. Therefore I would err on the side of free speech to avoid more likely injustice. | Harvey |
| Totally unnecessary | John |
| the sooner we get rid of her the better, do it before the election comes to save all the undoing of all the socialistic crap that this govt is bringing in | graeme |
| They haven't been needed for the last 100 years and we do not need them now! | william |
| There are no bounds to the brazen totalitarian ambitions of this Labour Government. They are indeed in the business of destroying the freedom of New Zealand citizens and destroying free enterprise and personal responsibility. Their ideal for New Zealand is a communist regime with every individual under the jackboot of Government oppression. | Dianna |
| We already have enough laws in place to stop real threats.. This is a politically motivated law to stop criticism of the government. | Pauline |
| The proposed Hate Speech laws are a breach of the fundamental social contract of allowing freedom of speech and expression . | Mark |
| Legislation is already in place. | Cherry |
| Control – that sums up this dangerous bunch. Wake up New Zealand (or is it Aotearoa now?) This is only the beginning… | Marilyn |
| This violates our democracy, bill of rights and our for freedom of speech as part of the globalisation agenda. | Richard |
| Truly the last nail in the coffin for free speech | Keith |
| | |
| --- | --- |
| This is just shutting down opposition and stopping the telling of the truth | Colin |
| This is how all dictators start out. Look at North Korea, China, Nazi Germany, etc. You speak out against the ruling party and your imprisoned, fined or murdered. This is part of her plan to cancel elections and become supreme ruler. She will go down in history along side Mao, Stalin, Hitler, Pol pot, Castro, etc. | Bazza |
| Whatever happened to the schoolyard chant: 'Sticks and stones might break my bones but names will never hurt me'? These days the chant might be 'Sticks and stones might break my bones but names will bring the law.' These laws will also criminalise school and speech club debates. | Sherrin |
| Taxcinda (Cindy) just doesn't stop with her far ken communist laws, guess this will be classed as hate speech | Alexc |
| Just another muzzle for the politicians benefit to control | Bruce |
| Pity Jacinda has no idea about how to govern according to reason, executorship and law | Kevin |
| I don't want to be jailed because I complain about my neighbours foul language. | Sharron |
| Legislation already exists for these crimes | Wendy |
| The simple answer is no. There is already sufficient legislation in place to deter or deal with perpetrators. For the PM to blame the Christchurch attack for the necessity for the introduction of this bill is a complete nonsense. She is muscling free speech and every citizens democratic right to express a personal opinion. The most worrying aspect is the ability to include political opinion in the bill. It has all the ingredients of a communist state control. Wake up New Zealand!! | chris |
| We are heading for state control.Think Nazi Germany, Comunist countries etc | Raymond |
| Ridiculous, Non- Democratic and Dangerous | Rozanne |
| Completely unnecessary. There is already adequate legislation available to cover this subject. The only possible reason for this move is an attempt to stifle political opinions opposed to this totalitarian government. It appears that a few narcissitic individuals have the need to constantly put forward their views on topics about which they have little or no knowledge. What we need is for someone to demand a commitment from the PM that this Government will retain a Democracy in this country because at the present it aint looking too bloody promising. Labour Party Election Manifesto Election 2020 Justice Corrections and Police states; Labour will continue to protect the integrity of New Zealand elections. Yeah RIGHT! | Terry |
| No, Existing laws and statutes already cover this off. This subtle push to communism must be stopped. | Mark |
| To introduce new hate speech laws is just more of this sick government trying to impose even more control over New Zealanders. It would also be very one-sided, as it would not apply to Maori radicals who are verbally abusing anyone who is not on side with their race … and inciting violence. I have even had one angry maori actually msg me, just to call me a Pakea C–t! …… but i guess thats ok! Im offended every time Ardern opens her mouth … but, her law, her rules! | Des |
| Taking away our right to free speech has already gone well beyond just hate speech. The doctors and health professionals who have spoken out against the Govt's vaccine campaign, giving their reasoned and professional concerns, are now being reviewed by the Medical Council for their views and may lose their licence to practice medicine. Free Speech is already gone | John |
| No. Just another form of this socialist government trying to control everything in our daily lives. An attempt to shutdown freedom of speech against their underhanded method of allowing maori 50% of everything in New Zealand. | Darryl |
| An amendment to the current law should be suffice to cover religion. | Alison |
| George Orwell is right. | Don |
| -powergrab | John |
| Typical for a socialist totalitarian government to pass such laws, mainly to use against anyone who disagrees with them. | Johan |
| There are already laws to adequately deal with inciting violence. You may try to control what people say or write but you can never control what they think, so these laws will just drive hate speech underground. Far better for the Police and Security agencies to be able to track these people without this proposed law. | Peter |
| While voting no I believe that a yes vote is more inline. Jacinda with her government officials are inciting a racial hatred against the Maori with their condescending and submissive laws and handouts to the Maori population. Their condescending handouts are insinuating that Maori are an inferior race whereas they are equal and a lot of cases superior to the majority of cases when they take the opportunities open to all. If they are held bake it is only because of the attitudes of their parents and peers telling them that they are inferior. | Robert |
| Once the govt has control of peoples minds, the next step in a Communist state is to remove the right of political assembly unless specifically legislated for. The speed at which this 'hate speech' legislation is being introduced indicates to me that by the 2023 election NZ will be a ONE PARTY state; with electors being require to tick their approval of the present govt. | Bob |
| Freedom – and free speech is an inalienable God given human right. Politicians cannot "grant" us freedom, nor can they deny us out freedom. | Colin |
| All of this and what she is trying to do is a load of s–t, if she keeps it up she will pay the price at the next election, come on National know is your chance to get going and make a stand. | COLIN |
| This is not the New Zealand way. This is the way of a Totalitarian state. Is this what you want? I do not want this. | Paloma |
| Absolutely not! This Government has a hidden agenda and it's time the people rose up and opposed this dispensing with our democracy. They are Communists and are rapidly ruining our once beautiful country. Wake up people!! | Helen |
| Our current laws work well and do not need to be changed. | Lynne |
| Correct comment that Totalitarianism is ardern's way of the future. Evil and unwarranted. May the nails n the coffin tapping increase in volume and quantity | Martyn |
| All power, all control. | Carol |
| Absolute nonsense | Murray |
| Let us be clear about this 'hate speech 'issue. Ardern is just following a sinister UN agenda . Her performance on this 'show' is nothing but weaseling about and pussyfooting to evade annoying questions. ( By the way — her hallmark as a 'politician') This law is meant to supress any further critisism as well as foster division in NZ's population. And the courts will be swamped with a myriad of cases of ' hate speech' impossible to process in due course and so divert our justice system ( or what's left of it) from the real job they ought to do. This whole thing is clearly set up to drive us into a socialist / communist / apartheid regime. from which there is only one escape: the inevitable collapse of such a system as we have seen: i e USSR, East Germany, Venezuela South Africa, Namibia and a plethora of other South American and African countries over time. The ordinary people will foot the bill– BUT– on the other hand – the majority of these ordinary people did happily go along with these political rat catchers at the time- forced or not. | Michael |
| We have enough laws on this subject on this aspect of our lives already | Ted |
| the current law is adequate. The problem with the proposal is: who decides what is/is not hate speech? | Nick |
| When it comes to speaking there is no such thing as right or wrong, there is only different opinions. We MUST have the right to express our own opinions. | Rod |
| Thats it we are all shagged. The Govt full on with twisted lies. Where's the sticks and stones age?? just wet wimps. There are more important tasks being neglected wasting time on this rubbish. cinds has to go. be gone. | mike |
| Based on ignorance (and political imperatives !) the proposed laws will, inter alia, stifle intelligent discussion ! | michael |
| Absolutely not. The communist approach yet again. She must be stopped | Tom |
| Jacinda and her cult followers are trying to suppress political dissent of their totalitarian ideology. The feeble excuse for this hate speech stupidity is that it would have prevented the mosque shootings, which is absurd. Tarrant would never have got his weapons if the Police had done their job by actually interviewing his referees when he applied for his firearms licence. Ardern is on the record saying that she hasn't changed her communist views since she was the president of the IUSY 25 years ago. | John |
| This site has numerous views expressed which I find quite extreme and unpleasant, but I would not want them criminalised. People are also very easily "insulted". Greenies are decried; doctors against the present narrative re Covid and Vaccines. get threatened with deregistration. All crazy. Individuals who do actual wrong, or literally initiate a group bound on terrorism can already he convicted of criminal activity. The proposed new Law is not only not needed, but dangerous. . | Rochelle |
| We must preserve our right to freedom of speech. The present laws are adequate. | jill |
| Absolutely Ridiculous | John |
| No way we already have human right laws. It is only for Labour own gain so we cannot speak against the govt and their ideologies | Denise |
| NO. The right for freedom of speech is the basis of our democracy. This needs to be STOPPED in its tracks now. | Vivienne |
| I think most of us have had our fill of this woke government and their repressive legislation. | Bill |
| The existing laws are perfectly acceptable | robert |
| Freedom of speech is a basic constitutional right. | Oliver |
| Government should stop making payments to the media. Funding that supports their existence. Just let them fail if they cannot do a good job. | RICHard |
| This is NOT about the shooting that occurred on March 15th but another chance for the New Zealand Prime Minister to stand on the world stage that she created shortly after the shooting and tell all those followers at the meeting she convened in France that she and she alone is the world leader that will get the accolades she seeks. Pity that she and her Government don't admit that their actions contributed the the events in Christchurch closely followed by the inaction of our police. . | Barry |
| Introduction of hate speech laws is merely a prelude to enacting all the recommendations in He Puapua. Shut down any opposition by enforcing a draconian law will make life a bit easier for Govt. | Ray S |
| New Zealand has laws already in place. Ardern and her coalition Govt are already promoting racism with their absurd Maori partnership folly. Our Grandfathers, Parents all fought World Wars so we all could live a life of choice and that included Freedom of Speech and Democracy. Not a controlled Communism Totalitarianism State that Ardern has in mind for New Zealand. | Wayne |
| Certainly not. Why legislate to catch a small minority of disaffected society. | David |
| Definitely not | Neville |
| Communism stops free speech, is Ardern sticking to what she advocated while president of Junior communism party? | Anne |
| This would prevent debate on any topic as somebody is bound to be offended at some point. | Mark |
| This is another political move by a socialist PM, who does not understand how risky such actions are to the Labour Party's hold on power. They will not get elected again in the near future, that's for sure. | Carl |
| They seem designed to control free speech and much of what they term as criminal are definitely covered under existing law. | Brian |
| Most definitely not! All New Zealanders must have the right to freedom of speech. To do otherwise would cause further separatism in an already divided society | Joan |
| For the sake of our FREE future: NO, none of that. | jo |
| It's already biased as Conservatives are roasted when commenting about the rainbow community but never vice versa. | Howard |
| But Labour does if it is to achieve its quasi-apartheid state of 'Aotearoa'. He Puapua outlines that public opinion needs to be 'informed (p. ix) and 'shaped' (p. 79) and a 'strong public education programme needs to take place' before engaging the public in the Vision 2040 debate (pp. 34-35). One of the ways to shape the debate is to limit what can be said, who can say it and whose view carries more weight. This is the true reason for the so-called hate speech laws. Hopefully this is the spike through the heart of this Government. | Brenton |
| Already provided in existing law | Peter |
| Ardern is a liar and traitor to this country backed by a traitorous Helen Clark and a greedy apartheid driven maori supremacist elite. | Rod |
| Definitely not | Graeme |
| Imagine not being able to criticise the government !!! | Faye |
| Tarrant was not radicalised in NZ therefore any legislation enacted in NZ would not have affected this massacre. Labour are attempting to convince us this legislation will remedy a problem NZ does not appear to have | Robert |
| We should all be allowed our own thoughts and words. I do not want to live in a country where we are all controlled, not allowed to say how we feel, what we do, how we think. That's communism | Kerin |
| I don't think I should vote on this issue because I mite inspire someone to strongly speak out and get arrested | Erwin |
| Our present laws are entirely adequate this government just has their own sinister motives for wanting to curtain free speech. They must be stopped. | Roger |
| This government is determined to control most aspects of human interaction. | John |
| Intentionally totalitarian | Gill |
| We already have adequate safeguards in existing laws | John |
| It seems that the word is finally getting out. Both Cnn and the Daily Mail newspaper has run with and article about this. The DM has the facility for people to write in with comments, and there have been quite a few, the vast majority critical of Jacinda and her hate speech legislation. Significant in these comments is that nearly half come from the U.K. and USA. Yes it seems that people abroad are beginning to realise what is going on behind that empathetic smile. | geoff. |
| Freedom of speech is a vital element of a free society. The current laws are adequate. Labour continues to destroy the fabric of NZ society by stealth, half truths, deception and spin. Our nation is under extreme threat of becoming lost in totally hamstrung repressive socialist control, knee-jerk, self effacing policy divorced from reality. The media has been hijacked and our news censored by omission. Each day me despair grows and my anger builds. This is probably going to be classified as hate speech! | James |
| | |
| --- | --- |
| Just more rubbish from a last term Labour government – or at least so we fervently hope | Rob |
| This is the thin edge of the wedge | Heather |
| Gagging is the first step to Totalitarism. Our PM must go! | Liz |
| They're doing it for greater State control, which is the goal for Labour. | Andrew |
| I think that Jacinda is just trying to follow her heroes, Hitler, Stalin, Mao, etc. The day free speech is gone will be the end of our democracy. | Charlie |
| These proposed laws are a direct result of the Christchurch shootings and the protests by a group of very privileged refugees. Totally agree with Chris Trotter. | Bruce |
| Just another way for Ardern & Co to muzxle and gain more control over anyone not conforming to their dictatorship- don't let this happen New Zealand- stop it. R Before it's too late! | Carol |
| Any such law in itself would be divisive and racist and cause more problems than it solved. It is our right to hold an opinion about a person or an idea and bluntly call it what it is. | Robbie |
| Adern is pushing through WITH GREAT HASTE everything that she has openly declared as her ambitions (all communistic outcomes) for her time in politics. Elections are looming and she wants this stuff done and dusted before there's a chance to give her and her party the Heave-Ho, unfortunately, writing and moaning will never solve the problem , planned, lawful,, decisive action is urgently required. | Tony |
| The current laws are adequate. This socialist government is trying to be more controlling everyday with policies never disclosed at election time last year. They are the most dishonest and closed government hiding their agendas. Adhern looked stupid on the AM show. | Steve |
| This law will stop anyone from expressing their opinion. We live in a democracy not a socialist/communist society | Brenda |
| If you can't stand the heat get out of the kitchen | Terry |
| We already have adequate laws covering speech. | Bryan |
| No no no not in any instance. Leave the laws as they are. | Kristene |
| Many people are subject to speech they may not like so best just to ignore anything that is hurtful | Jim |
| Here we go again, auntie Helen and the nanny state. Ardern does not have the intelligence to understand what she is proposing in the new "Hate Speech" legislation. This was very obvious from her hapeless answers to forthright questions by Duncan Garner on the am show. Hopefully the beginning of the end for this most insidious Government. | Chris |
| communist government at work | david |
| NZ is feeling more and more like Nth Korea every day. | Louise |
| We already have sufficient laws in place | Dave |
| As proposed, the new Law represents Ardern's boot on the throats of New Zealanders, silencing any dissent so she can continue her increasingly short march to making this a country ruled by totalitarianism. | Pamela |
| What the hell are these people snorting? Idiots! | Kevin |
| We have laws now that cover these issues. This is part of a bigger plan to subvert society as we know it, and the country is mindlessly following and going along with it. | Willy |
| There is no doubt that the real intent of these changes are to stifle the opinion of anyone expressing a view not in line with the liberal left narrative. One can argue that the whole concept of "White Privilege" will have to be punishable due to it being offensive, insulting and discriminatory on the basis of race. | fernguy |
| NZ is advancing at an alarming rate toward a totatiltarian, communist, separatist, state while we, the sheeple stand bye and bleat meekly. | Geoff |
| Why do we need a speech law change when no-one that i know heard any hate speech prior to and about the Christchurch March 15 terrible incident? | Raymond |
| Absolutely not! Ardern's condescending response to questions from Duncan Garner were a disgrace. We deserve better from our prime minister but we'll never get any improvement from this communist . Only those who believe the propaganda her & the paid off media spout think she's good at her job. To any hard working thinking New Zealander she's not a leader. Hopefully, the number of people who regard her this way is growing – otherwise we are doomed! | Rex |
| communism 101 ,these communist filth need to be removed from society | john |
| Ardern is a totalitarian. As Lenin said, the goal of Socialism is Communism. | Trevor |
| Very very wrong left commo stuff | Ray |
| Offence is taken not given | Kevin |
| The Prime Minister needs to specify exactly why she thinks current laws are insufficient a and need to be changed. So far she has been unable to do so. She should be concentrating on far more important, practical issues. | Graham |
| Our laws are adequate now, we need to be able to discuss everything freely | Suzanne |
| It's because they don't want to hear the truth. (If they could recognize it in the first place). | Christine |
| we already have hate speech laws no need for more | nigel |
| 1984 seems way too close but the sheeple will follow whatever bull has been made look humanitarian. | Leonard |
| We need to change the government!!!!! | Raewyn |
| Not only are they not needed, or wanted, they are likely to cause even more resentment as people bottle up their feelings and are forced to go along with rules and restrictions they do not agree with. | Brenda |
| The "thought police" are already "at it"! Public Servants are REQUIRED to open and close correspondence in Maori and MUST append their name. | Vic |
| When is our once wonderful country going to wake up and realize what is happening. | alan |
| Anti democratic Unnecessary Labour trying to block criticism | Geoff |
| Totally unnecessary. | Michael |
| we have enough laws now…… | Graeme |
| absolutely not | Peter |
| Labour needs to change their name to "Totalitarian Party" | Bruce |
| I agree with Doctor Muriel Newman | Michael |
| | |
| --- | --- |
| There are adequate laws already | Derek |
| I'm all for free speech I feel we are being muzzled as it is if you disagree you get accused of verbal abuse | Peter |
| Ardern is not needed. | chris |
| Great newsletter Muriel. Either Jacinda & Co really think this new draconian law is going to make NZ a fairer and better country to live in, but that would expose the utter naivety and detachment from the real world of our current government. Much more likely is that they want to shut down free speech to give their divisive and racist plans a much easier passage. When left-wing woke journos like Andrea Vance and Tova O'Brien, up to now devotees of the Jacinda cult, start throwing their toys out the pram you know something isn't right. Let's hope the NZ public show some interest for once and get off their bums and make their opposition felt. If Jacinda is forced to back down this could be the crack in the dam we've been waiting for. | Derek |
| NO, NO, NO. Welcome to FASCISM. Arrest the Labour MP's for treason. | Rossco |
| We have become too PC. We already have laws now like slander that are being ignored. People are just on social media for something to do, They are the one that should be held accountable.. Politicians should practice what they preach./ This Country should concentrate on its real problems | Frank |
| This government have already stepped way over the mark and need to be stopped. If they want a more cohesive society, race based policies is not the way to go about it. | Dale |
| Just more of Labours hidden agenda of taking more control over NZers. | James |
| Why separate NZers. This crap will create only hate. | LGF |
| The hate speech laws are themselves full of hate! | Bruce |
| From your article it would appear that current laws currently give the authority to seek out and prosecute those who incite violence. | Barrington |
| No bloody way – Cindy (like usual) has no idea about what's really happening and is slowly but surely tightening her communist grip on us all! | Matt |
| Everything is covered sufficiently now | Peter |
| This is scary – very scary indeed. | claire |
| No,not ever !!! | Mark |
| Communist control | Greg |
| does this stupid idea include all languages used in NZ? Maybe its lucky I can speak German and a smattering of Arabic. | chris |
| No, but they have the majority in parliament so it is a foregone conclusion that the proposal will come into law whether or not they understand what the outcome of this ridiculous proposal will be — a nation of people afraid to express their opinion in case someone is offended and reports them to the speech police | Tony |
| Another knee jerk reaction from the Labour party. | Robyn |
| Of course not. Just more virtue signaling for no good reason by an incompetent but ambitious woman with her own agenda. | Charles |
| Absolutely not. | John |
| The comment has been made that the PM doesn't understand the law changes she is proposing. That's a facade, she understands only too well the totalitarian state that she wants New Zealand to become. | Rod |
| The current law is quite adequate. | Tony |
| Just Labour-type, unthought but very damaging stupidity. | Jim |
| It is a thinly disguised beginning to thought control by stealth. Who are the faceless bureaucrats who decide what is or isn%u2019t hate or inflammatory speech in the context of any thing anybody says for any given set of circumstances? | Max |
| Shades of North Korea is correct – this dictator needs to be stopped. | Clive |
| This whole concept is just wrong | Phil |
| looks like a dictatorship to me | mark |
| It seems to me that one of the worst examples of hate speech was performed by the Speaker of the House yet the hypocrite Ardern refused to sack him. Article 19 of the United Nations Universal Declaration of Human Rights states "Everyone has the right to freedom of opinion and expression; this right includes freedom to hold opinions without interference and to seek, receive and impart information and ideas through any media and regardless of frontiers.". We can see that this is already compromised in New Zealand and will seem to be further eroded by Ardern "targeting" those who disagree with Government policy of diversity. If they start arresting people for their opinions surely it follows that they are political prisoners. And finally a quote from Frederick Douglass "THE RIGHT TO FREE SPEECH IS THE DREAD OF TYRANTS" and who then proceeded to say "Right to free speech 'is the dread of tyrants" | Terry |
| NO – This a threat to NZ's democracy and peoples freedom to enter lively debate. | Dion |
| Ye gawds, NO!!! Jacinta Ardern is fast getting out of control. Even some of her own caucus colleagues must be increasingly concerned, at her PR abuse of the sleeping giant of (1) Kiwi apathy, and (2) the majority of public opinion. (Unless current moves toward a totalitarian, socialist state are truly a shared agenda.) These are best illustrated by the example of the End of Life Choice Bill. Pre-referendum opinion polls indicated something like 60%-plus support for the Bill. Public Submissions were over 90% *against* (this is where apathy kicks in .. only those of the minority were motivated .. or more correctly, orchestrated .. to put in a Submission). The eventual Referendum result (with the Silent Majority included in the 2,908,071 eligible people who voted) was 65.1% in favour of the Bill. Rarely do we see how differently Silent Majority public opinion can be .. from an orchestrated minority. And thus, how the Tail can Wag the Dog. | Stewart |
| Aiming in the direction of communist party of China and Russia . | Simon |
| It is clearly designed to stop criticism of He Puapua and Maori activists | Peter |
| Never! | Norman |
| laws stop nothing. We have laws against murder but it still happens. Laws against rape but it still happens. Our present laws are adequate. | Russell |
| One word. Socialism | Trevor |
| Legislation can suppress hatred; but it does nothing to eliminate it. Suppressed hatred caused the massacre. When hatred is suppressed it blows out monstrously. | Peter |
| if allowed what is the next step | Reg |
| | |
| --- | --- |
| Absolutely not! This is a blatant attempt to prevent political opponents from being able to speak freely. It represents a serious threat to democracy. | Andrew |
| The public must rise up and say no to Labour's censorship. | George |
| Labour is trying to prevent anyone criticising their support base. They will goad and vilify their opponents until they criticise unwisely and then they will complain to the Police. It will be a nightmare. | Murray |
| No, no, no! We already have hate speech laws. We do not need any more. | Paula |
| Everybody who cares about this country must tell everyone else what Labour is planning. Our freedom and democracy is under serious threat from this dangerous government. | Rod |