October 26, 2014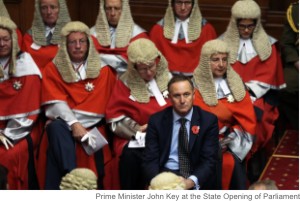 New Zealand's 51st Parliament was officially opened last week. Members were sworn in, Select Committees were formed, and the Governor General gave the Speech from the Throne. Then the wrangling began – and it was business as usual for our new Parliament!
The final election result has given us a Parliament of 121 members representing seven political parties, with 64 general electorate members, 7 Maori electorate members, and 50 list members:
National gained a total of 1,131,501 party votes (47.04 percent) to win 60 seats – 41 electorate seats and 19 list seats
Labour gained 604,535 party votes (25.13 percent) to win 32 seats – 27 electorate & 5 list
Greens gained 257,359 party votes (10.70 percent) to win 14 list seats
New Zealand First gained 208,300 party votes (8.66 percent) to win 11 list seats
Maori Party gained 31,849 party votes (1.32 percent) to win 2 seats – I electorate & 1 list
ACT gained 16,689 party votes (0.69 percent) and won 1 electorate seat
United Future gained 5,286 party votes (0.22 percent) and won 1 electorate seat
Parliament's "overhang" of one seat was essentially created by United Future winning an electorate but not enough party votes to gain party representation.
Constitutionally, New Zealand's Parliament consists of the Sovereign and the House of Representatives. The Governor-General, who represents the Queen, has a range of responsibilities including the opening and dissolving of Parliament – as well as giving the Royal assent to bills passed by the House.
The State Opening of Parliament, which is based on British Westminster tradition, took place last Monday. The Governor General must summon Parliament to meet within six weeks of a general election to test if the new Government has the confidence of the House. Three Royal Commissioners – the Chief Justice and two other senior judges – enter the Chamber of the House on the Governor-General's behalf to read a proclamation summoning Parliament.
All elected members are required to take an oath of allegiance to the Crown before they can sit or vote in the House. The Clerk of the House, duly authorised by the Governor-General, administers the oath. Members are called in alphabetical order, and must swear an oath or make an affirmation in English or Maori using the words in the Oaths and Declarations Act 1957.
Once the newly elected members are sworn in and a Speaker elected, the membership of the Select Committees can be finalised. Since our Parliament is unicameral with only a single House (the Upper House was dissolved in 1951), select committees – which operate under the authority of the House and are required to report to the House – play a vital role. They enable Members of Parliament to carry out public scrutiny of the Government's spending plans and the performance of Government departments, Crown entities, and State enterprises. They also provide the all-important opportunity for public involvement in the law-making process.
There are 13 subject-area select committees, with parties broadly represented in proportion to party membership in the House: Commerce; Education and Science; Finance and Expenditure; Foreign Affairs, Defence and Trade; Government Administration; Health; Justice and Electoral; Law and Order; Local Government and Environment; Maori Affairs; Primary Production; Social Services; Transport and Industrial Relations.
There are also five specialist committees: Business, Officers of Parliament, Privileges, Regulations Review, and Standing Orders, as well as ad hoc committees that can be appointed for a specific purpose such as a bill or an inquiry.
The Speech from the Throne is delivered by the Governor General – on behalf of the new government – in the Legislative Council Chamber, where the former Upper House used to meet. The Governor-General's messenger, the Usher of the Black Rod, is sent to the House of Representatives to summon members to attend. The speech sets out the government's agenda for the next three years.
Once the speech is over, members return to the debating chamber for the 19-hour 'Address in Reply' debate, during which new members deliver their maiden statements. While a Government has already been formed, 'confidence' in the new Government must be tested in the House through the vote that takes place at the end of this debate – if the Government survives the vote, its right to govern is confirmed until that support is withdrawn or until the electoral cycle again comes to an end.
The Speech from the Throne confirmed National's focus on returning the country to a surplus, and reducing net core Crown debt to 20 per cent of GDP by 2020. Additional spending of $1 billion will be allocated in each budget, and funding will be set aside for future tax reductions and further debt repayment.
The government's aim is to build a more productive and competitive economy to generate more jobs and higher incomes. To this end, 350 individual initiatives have been identified in the Business Growth Agenda, including further labour market reform, more overseas trade deals, and an increase in research and development funding – rising to 1 percent of GDP by 2018.
Investment in infrastructure is a high priority for the government. In particular, the Roads of National Significance and Ultra-Fast Broadband are seen as playing a crucial role in improving the opportunity for economic growth, particularly in the regions.
Well-signalled changes to the Resource Management Act will be progressed to balance economic development with environmental protection. Petroleum and mineral exploration will continue to be encouraged to further increase the opportunity for jobs and growth.
The government remains committed to the on-going reform of social welfare, with an emphasis on child poverty and housing.
In the health sector, free doctors' visits and prescriptions will be extended to all children under 13, there will be improvements to cancer treatment, and an expansion of hospice services.
In education, major initiatives will be introduced to improve teaching quality and school leadership, more support will be provided for special needs students, the Partnership School trial will be expanded, and early childhood education participation rates will be increased.
In law and order, the reduction of family violence and crime will be prioritised, with a strong focus on gangs and gang lifestyles. Every publicly managed prison will become a working prison by 2017.
When it comes to security issues, the Governor General explained:
"Starting next year, New Zealand will take its place on the United Nations Security Council for a two-year term. This will be a challenging time for the Security Council and New Zealand is determined to make a positive contribution and in particular to represent the perspective of small states.
"The Government is committed to a strong security and intelligence community which operates within a clear legal framework and with the security of New Zealanders at its heart. Under legislation passed last year, a review of the intelligence and security agencies, their legislation, and their oversight, will commence by 30 June 2015.
"The Government has already commenced work on a review of settings in relation to foreign terrorist fighters taking part in, or returning from, conflict zones. The rapid rise of the Islamic State of Iraq and Levant poses international, regional and local risks which the Government will respond to in a responsible way."
Of all the important matters raised in the Governor General's speech, international events have created a greater urgency around issues of national security. The recent terrorist threats and violence in Canada and Australia, serve as a grim reminder that we too are at risk from radicalised citizens who want to do us harm.
I asked this week's NZCPR Guest Commentator, Dr Ron Smith, the former Director of International Relations and Security Studies at the University of Waikato, to share his views on the terrorist threat faced by New Zealand. Dr Smith's excellent article highlights some of the many different international protocols and conventions that guide action in these areas and outlines issues that should be considered in relation to the reform of New Zealand's security laws:
"There can be few New Zealanders who have been following the news over the last few months, who do not know that there are persons out there, beyond our borders, who mean us ill. They have been variously described as 'Islamic extremists', 'jihadists', terrorists, ISIS militants, and, in the Middle East, they have been responsible for a positive tsunami of atrocity. Not only have they massacred captives on a large scale and engaged in public beheading of selected western journalists and humanitarian workers, they have made abundantly clear who their enemies are – and it is a long list. As we have seen, it includes (in the region) ethnic and religious groups who do not share their world view:  ancient Christian communities, Turkmen, Kurds, Shiites, Jews, moderate Sunnis. For them, the offer is conform or die.
"We may think we have some obligation to the protection of these persons. We are, after all, members of the United Nations (newly elected to the Security Council, indeed) and we are signatory to the 1948 Genocide Convention and to the statutes of the International Criminal Court. Even if we think we have no obligation of this kind, we need to notice that war has been declared on us anyway. We are infidels and as such we are an obstruction to their plan for a strict universal caliphate. Numerous spokespersons have made this plain. And they have made it quite clear what they intend to do in the furtherance of that aim. As they consolidate their local gains, they plan a world-wide campaign of terrorist atrocity. Substantial evidence of this appeared in Australia a few weeks ago, about the time of our election.
"In New Zealand, Prime Minister Key has announced a modest increase in the threat level in this context from 'very low' to 'low'. This assessment is clearly based on what is known from the public domain, together with intelligence inputs from the same resources and methods as are available to the Australians. We are, after all, in the same 'five-eyes' cooperation agreement.  Indeed, it is plausible to suggest that this underlines the value of that long-standing arrangement."
In his article, Dr Smith points out that to keep New Zealanders safe, a number of law changes will be necessary, including to the Terrorism Suppression Act, to enable the enhanced surveillance of potential perpetrators of atrocities to take place lawfully. There is also the problem of New Zealand citizens wanting to join Islamic extremist causes, who may want to return 'radicalised' and intent on committing terrorist acts here. This, of course, occurred in London last year when a British soldier, returning to his barracks from leave, was attacked and hacked to death by returning jihadists.
Without a doubt, these are complex issues – but we know from past problems with our surveillance legislation that urgent changes are needed if our law enforcement authorities are to have the capability to keep New Zealanders safe. Since the Prime Minister has already warned that the number of Kiwis wanting to fight for the Islamic State is greater than we might expect, ensuring robust laws are in place to deal, not only with external terrorist threats, but with internal ones as well, must surely be a key priority for us all.
THIS WEEK'S POLL ASKS:

In principle, do you support New Zealand joining the international effort against the Islamic State?
*This week's poll comments are posted below.
*All NZCPR poll results can be seen in the Archive.
THIS WEEK'S POLL COMMENTS
| | |
| --- | --- |
| On moral grounds – absolutely, with the proviso that any support we may offer be geared towards starving the IS of the resources which enable them to continue their depredations. Unfortunately, given the weaponry and funding they have at their disposal (supplied by those with an ulterior motive) – this would only be a token effort at best. In short – ISIS is a construct – once it serves its purpose it will diminish but the Islamic fanaticism it has birthed will grow and spread worldwide. No-one will be safe as we are all infidels and worthy of death – this includes the so-called "moderate" Muslims – (no such thing really) – these are classed as apostates and will meet the same fate, as they are guilty of not adhering to the explicit commands of the Koran. Winston Churchill summed them up accurately when he stated that "Islam is to a man as rabies is to a dog" Pursuant to this I feel that we need to tighten up on our security, intelligence and immigration policies to ensure that none of these throat-cutters and baby-killers get anywhere near these shores. Mark those that wish to go overseas to fight with ISIS and make damn sure that they stay there – if they hate our way of life that much, then we do not want them back! Any who wish to come and live peaceably and adopt our ways – fine, but let them leave any barbaric practices behind them! We are blessed to live where we do – let us jealously guard and preserve our way of life as a fitting heritage to pass on to our children. | Scott |
| It is too easy to sit on the side and not get involved. | Tony |
| It's not our conflict. Following the USA and GB in this action is an unwinnable situation. Part responsibility for this can be directed at the GB and US governments self interests in the middle east that created this so called war on terrorism. | John |
| Terrorists, of whatever nationality, have only one action, that they are driven to achieve, and that is to destroy any opposition, to their extremely dangerous, religious bigotry by any atrocious way possible. We must unite, to immediately halt, their continuing extremist actions! | Michael |
| We must bring a stop to these animals who have no respect for human life | John |
| We ignore this barbaric, backward religious concept at ours and the world's peril. It does not respect human rights especially women's rights. | Monica |
| We are forced into it by the Islamic State's declarations. | Lloyd |
| Let the Islamists have their state; but keep them out of the rest of the world. See how long they last. | Peter |
| Islamic extremism is NOT confined to the Middle East. Attempting to isolate ourselves from the conflict will Not protect us from extremism, and indeed may even give encouragement to bolder moves on the extremists' part. Appeasement NEVER wins out. We are supposedly a Nation of Principles and as such we should be responsible neighbours and citizens of the world. Membership of a collective security system is not gained by sitting on the side-lines and sniping or carping. | Michael |
| We do not need people like them in the world. | Peter |
| It is another case of Japan at the end of WW2. A couple big bombs sorted that out real quick. I know a few innocent people will go, but sadly for the sake of the world they need stopping smartly. | Graeme |
| History proves that when the fanatics of any Religious or Political movement are given their head, there is trouble and potential for war. | Neil |
| | |
| --- | --- |
| We should learn from Japan and not allow mosques or Muslims into the country so our young people wont be brain washed with kill yourself and others and meet 12 virgins, they are mentally sick and power crazy. | Richard |
| YES – and not just Islamic State. Islam is comparable to Germany in the 30's – a menace to the world which will, sooner or later, have to be faced up to and dealt with. | Auntie Podes |
| What is the second most spoken language in Marseille France.? No you are wrong. It is in fact French. The most widely spoken language there is ………Arabic. If you look now at our racial make up in NZ, Muslims are far more represented than they have ever been. So, if by being in support of the above proposition, sometime in the future, what do you think the obvious outcome will be?? There has already been a call for jihad here in Kiwi. Believe it or not, that was between two factions of that belief. Bombs and bombers seem to have the same affect on those in the area…..or in a country. Otherwise, I would go for it!!!! | Wiremu |
| This is not an issue that we can ignore. The world must unite and stop this problem in the interest of all mankind before it gets totally out of control. | Robert |
| We cannot 'do nothing'. Terrorism must be stamped out. | Penny |
| Unfortunately there is no alternative. | David |
| Absolutely. New Zealand must be part of the fight against these IS animals. When push comes to shove, New Zealand must stand on the right side of the line where IS is concerned. There is no "tolerance" or "acceptance" of any part of what they stand for. We must be "ALL IN" or we have already lost!!! Some of New Zealand's Islamic residents wish to be part is IS?? Best they are out of our country, and send every other member of their community with them. Am I prepared to take up arms against IS? You bet your life I am, and that needs to be New Zealand's stance. | Neil |
| There is strength in unity. | Noel |
| Anything to stop these terrorists spreading their murderous reign any further. | urban |
| No, because our Armed Forces are not well enough equipped thanks to disastrous decisions made by governments past! | Steve |
| The militant arm of the Muslim religion is brutal and violent to those who do not agree with them. As peaceful and violent can't be separated we don't want them here. | Wendy& Richard |
| Should be a police action or a psychiatric one IS are mental. | Christopher |
| Our future is at stake. We must always be prepared to enjoy the freedom we have become used to. | Tom |
| We must put these mad dogs down sooner rather than later. | David |
| Definitely! IS lives by the sword. But where is the outcry from the 'moderate' Islamic leaders and organisations. Their credibility is eroded by their silence. | bruce |
| With some regret I have to say yes. | Jim |
| We have no choice and the sooner Islam is destroyed the better Muslim is a religion with evil intent you had better be prepared to defend at all cost. | Ken |
| For many countryies the march of Islam is too far advanced to stop, but at this time this does not include us. A stand has to be made NOW! | Alan |
| | Antony |
| We cannot bury our heads in the sand. Militant Islam is the biggest threat to peace in the world today. | Martin |
| As long as NZ does not have to send ground troops. | David |
| Society should not support extremists in any way shape or form! | Dave |
| Islam is a threat the world, how about deporting every Muslim from every country to Iraq and keep them there, and that would include any would be terrorist as well. Wishful thinking I know, but wouldn't the world be a nicer place. | Ahol |
| I believe they will take over the world in time particularly if you look at many European countries where the number of Islamist live and it is growing fast. IF YOU AR NOT ONE OF THEM YOU WILL BE BEHEADED. | Peter |
| Those that go to fight should not be allowed back into NZ. | Richard |
| We will then be retalliated against by Isis, in our own country, as they have done to other countries. | Homegrown |
| All the western world and more importantly Europe, UK, USA, Canada, Australia and NZ governments should have a complete ban on immigration, refugees, asylum seeekers etc for 10 years and letting the world know that they will be immediately returned, and that any country , shipping, airways etc allowing or bringing them is will be subject to confiscation of ship, aeroplane etc and fined etc., no human rights, no courts cases etc. | Robert |
| I would rather see the government provide free breakfasts in schools and help the under-privileged finance their own homes. Ownership of homes solves many of the country's social problems at the same time. | Stuart |
| Fully support any efforts to rid the world of these madmen and their supporters. My fear is that my grandchildren will be the ones that will have to eventually face this threat head on. | Murray |
| They are evil. | Raewyn |
| Isis members are religious fanatics on a par with some Christian authorities prior to and during the early renaissance. Isis policy includes state sanctioned murder, forced conversion thereto and similar activities. If spokespeople can be believed its ultimate aim is world domination for its brand of Islam.. What other choice does it offer other than capitulation or opposition? | Peter |
| To join or not to join…That is the question. It is also a question of to whom our loyalties lie? In recent decades we have seen the spectre of national independence from all and sundry enter into New Zealand politics. Further whipped up by a Green coalition of the left; whose anti American bias would do credit to the Cold War at its height. Our Allies are the Western Countries, despite the rhetoric of trade with Asian etc. In the final analysis if our civilisation is to survive it must be defended at all costs. The alternative is basically oblivion. Australia has seen the problem of Islamic domination clearly, but then they have the largest Muslim country on their doorstep. Somehow people in this country must realise that distance is no longer a viable defence, and we are in military terms, as close as our enemies want. Unless this Islamic drive for World domination is stopped, and stopped soon this tidal wave will beat upon our shores. Therefore we must this threat overseas on OUR terms and alongside our allies, otherwise we will face defending %u201CGod Own%u201D with a military capacity well below the 1939 level. A case of a Dunkirk in reverse. | Brian |
| Islam wants to take over the world and their extremists aim to do so by terrorism. They should be destroyed before they destroy us. | Peter |
| New Zealand has always been there when needed and always punched above our weight. | Stewart |
| American wars always go wrong. | Vincent |
| We are not exempt or isolated enough not to. | Murray |
| Yes, New Zealand is not immune from terrorist attacks. | Brian |
| If we don't stop them were they are now. They will get a hold and then look out for the rest of the world. Good men only have to sit back and Islamic evil will take over. | Robert |
| Sticking our heads in the sand and saying we have nothing to do with it will not stop a fanatic choosing NZ as an easier target than US or OZ. | David |
| It's about power blocks and allies – not necessarily about principles. Like it or not we have to decide which arena NZ wants to play in and who our closest allies are to be. On the other hand, if we do nothing ISIS will continue to grow like a cancer. | Geoff |
| We don't have a nuke. Just keep these scum out of our country. | Russ |
| We must help to keep a free world. | George |
| All countries should join the effort to fight against the Islamic State. Because in time it will be a global problem. | Ross |
| To do nothing in the face of increasing international evidence about the threat of militant Muslim activity is akin to hiding one's head in the sand. We must prepare ourselves as far as possible and reasonable to protect ourselves from those who would seek to harm us. | Laurence |
| But I am not sure if I was playing golf with Obama and he whispered in your ear and said we save you from the Japs? | Peter |
| Western governments cannot and should not attempt negotiation with ISIS. Radical Muslims must be refused entry to NZ and any others attempting hate speech etc. I have just returned from both the UK and France and witnessed both sides of the divide. France has deported several radical Muslims and NZ/UK must do the same. NZ/UK Governments are too wimpy in their management of external threats and "dodgy refugees". All Kiwis I know want a more assertive approach to controlling the quality of immigration to maintain the Kiwi way of life. | David |
| They've apparently declared war on us. We should not therefore stand aside and wait. | John |
| Their believes are a threat to humanity and peace. | Theodorus |
| At this stage I do not think NZ should get involved with military action with ISIS in the Middle East. However we must be very alert to any ISIS action within New Zealand and take immediate action to stop it. This would include people who want to travel to the Middle East to fight with ISIS. Without doubt ISIS militants will come to New Zealand in the future to place pressure on the Government. They must be made aware that this country will take immediate armed action to stop their cause. | Ernest |
| The sooner ISIS goes the way of the other tyrants down the centuries the better. Good riddance to them. They do a huge disservice to all the decent Muslims all over the world. And, anyone who wants to go and fight for them should be given a free one-way ticket and have their passport confiscated after they get on the plane. | Gary |
| United we stand. But more important let us clean up New Zealand. Every imported person of doubtful Background to be send back where they came from. No excuses. I did life through one war in Europe after that I spend 10 years in the Dutch army and nor I am expected to be nice to bludgers. | Johan |
| I would not normally support our military involvement but I have come to believe that IS is a threat to everyone every where. A threat that can only be controlled by combined international effort. | Mark |
| Certainly! These people want nothing less than total world domination, and will stop at nothing to get it. They are totally brainwashed. Any sportsman will tell you that the best method of defence is attack. Do it in their half of the field, not ours! And make it swift. | Kevan |
| they will only fire their weapons supplied by their supporters at us as soon as things go wrong for them and it will be the Americans fault according to them. | Jim |
| Yes , they are out of control. | Murray |
| It might be them now, but we are on the waiting list. | Mitch |
| Nuke them! | Robert |
| Anyone paying attention knows that the terrorist threat has been massively exaggerated and exploited for political traction and to scare the public to pave the way for the usurping of further civil liberties as has happened in the USA. We are simply following suit and it is sad that most folk are taken in by the charade. | Ian |
| If we do nothing now, it would be similar to the events occurring in Germany prior to the 2nd world war. Appeasement led to disaster for Europe. | Brian |
| Better there than here. | Graeme |
| The extremists are all over the world. We have to be aware that they will be in NZ as well and will eventually commit offences against our people. | Elizabeth |
| By not supporting this cause you are showing the world that NZ does not have the fortitude to stand up to the criminals of world society!! | Tony |
| Here I fear we may reap precisely what we sow. By all means protect our own borders and our own people's freedom (including freedom of speech and movement) but the fight in the middle east is not our fight, nor should we seek to make it so. We don't, and I think we should not, assume any young person going overseas is going to make war….but we need to be assured that the security of this nation on this soil is unimpaired. Which begs the question – HOW? | Maggie |
| ISIL is a cancer that will only grow if not stopped see 1930s Germany for the same effect. The whole world is affected. | Edward |
| NZ traditionally depends on freedom of the individual and all that entails, including free speech, religious freedom, freedom to associate, right to vote without obligation or compulsion, equal rights for women and so on. NZ is rightly proud of this situation and has stoutly defended freedom in the past. ISIS on the other hand is against all of these things so NZ must support all efforts to defeat and rid the world of the twisted ideology that motivates IS. | Martin |
| Absolutely. Just go in and wipe out the lot of them. So what if a few women and kids get caught up in it, they are quite likely to be recruits any way. As the Daleks said. ELIMINATE. | Graham |
| It is best to confront these fanatical extremists on their own turf than have to defend our way of life at home .With 46000 Muslims already entrenched here the probability of terrorist reprisals and the accompanying blood shed to follow both ours and theirs is certainty. | Noel |
| United we stand. | Ralph |
| We have become very aware of world events because of modern media technology. We have also become very vulnerable because of P C indoctrination that has lead the majority of the population to believe that we are all equal & there are only friends & no such things as enemies. The Islamic threat is extremely real, & we should act accordingly. | Allan |
| Yes absolutely, they are evil religious fanatics and must be stopped! | Rhys |
| We have to play our part in stopping IS. | Colin |
| The Islamic religion is the greatest threat to the world and all countries should give careful thought to immigration to ensure that Islam is not allowed and to hell with the bleeding heart and constitutional rights. If you come to NZ you should conform to our way of life and stop bringing your obscene way of life with you. | David |
| My grandfather and father plus my uncles all fought the first and second world wars and I fought Vietnam so all of the generations to come had freedom of choice. | Wayne |
| This cancer must be eradicated. Anyone known to be travelling to those countries to join a terrorist group must never be allowed to return to this country no matter what. | Clark |
| Proponents of intervention need to read a little history. The West, Britain, France, and now the US have churned the ME for a century with predicable consequences — keep out! | Graham |
| A case of United we Stand or Divided we fall. It is obvious with the infiltration of Islam to our western world is alarming in what may happen to our future and our children and their children. | Tom |
| Yes to supporting the international effort in principle; however I wonder whether direct military intervention is the best option. The Islamic State proponents are after all, fanatics from my perspective and will likely fight on to the "last man" as it were. That said, to do nothing as a nation would condone the actions of these extremists. The real question should perhaps be, as a nation, what form should our action take? | Peter |
| Humanity has no room for the likes of these terrorists. Act now or repent at our leisure. | Paul |
| Excellent article. Cleared my thinking. | Dick |
| Its essential and sensible! | David |
| Absolutely!! We are part of the international community and should do what we can. Any NZers going overseas to fight with any of these groups such as ISIS should not be allowed to return. | Gill |
| It will protect many and save us all from worse problems later. | Ian |
| There is no point ignoring these people as sooner or later they will come to us, it's just a matter of time. | Cyril |
| In order to allow evil to flourish good men must stay silent and do nothing. NZ needs to be a part of the fight to eliminate terrorism at every level. | Don |
| We must support our allies USA.AU, GB They would be the first we would call on if we need help. | Greg |
| We will probably be under threat whether we join or not, we are infidels who need to be killed or converted. | Tony |
| Why not put more effort into stopping the extraordinary number of lightning strikes in NZ that pose a considerable risk to innocent people? | Ron |
| Not our conflict. | Jon |
| Being political correct( trying to hide under obligation) is not going to safe guard NZ citizens. That's possible only by taking firm public stand against the Islamic Sate- a world wide threat to all people, NZ also. | Anna |
| Since we have allowed Islamics into our country we will always be under threat of the radical attack so those who thing Islamic groups are peaceful have their heads in the sand. | Russell |
| A: It makes us a target; and B: This is all based on the US and it's ongoing campaign of misinformation- remember WMD and the "Axis of Evil", etc? Never happened…; and C: A lot of what is going on around the world appears to be a direct result of the USA's previous actions. Yep, there ARE Muslim extremists, and they aren't to be tolerated, but as usual, "collateral damage" will outweigh any results in any efforts to deal with them. The solution? I don't know, but demolishing the lives of the innocent doesn't seem the way to go about solving the extremist issue. And – just because "they did it first" doesn't cut it for me. Aren't we meant to be civilised? | Andy |
| Our allies would look after us, we should also back our allies. | Chris |
| Doing nothing is to acquiesce. That simply emboldens the terrorist to push harder – ergo, there will inevitably come a time when the options will be to surrender or to fight an infinitely stronger evil. | Geoffrey |
| Yes we don't want to be intimidated by fear of reprisal as this is what they want and thrive on. | David |
| Just so long as we don't have to wear red crosses as they did in the Crusades. | Dave |
| Islam is a threat to my family. | Tim |
| We cannot expect the rest of the "civilised" world to do the hard bits – we need to contribute if we are to be credible both as a nation state and member of the UN Security Council. | Andrew |
| We need to expose the US role in perpetrating these problems in the first place and condemning and distancing our selves from the US administration. | Peter |
| ..just another distraction from the political Crims running NZ …. | Chris |
| We need to stop being PC and stress that this is a democratic Christian country. | Mark |
| ISIS, was reportedly created with CIA support by Prince Bandar bin Sultan, ex-head of Saudi Arabia's intelligence services. Let them clean it up. http://thesovereigninvestor.com/asset-protection/isis-threat-convenient-cover-up/ | Dave |
| For the very small contribution a country of just over 4 million people can make it is not viable to put the whole population under threat. However, the government should, along with looking at the current threat note that it is second generation migrant children who tend to be the ones taking up with ISIS. It is a warning to be very careful with our immigration policies. There is a naivety with New Zealand politicians that future generations will not thank us for. | Gail |
| We have to provide some help in proportion to our size and not leave others to do it alone. | Andrew |
| At this stage the atrocities associated to the Militant Islamic movement appear to be concentrated in the mid east and revolve around a militant muslim expansion on the one hand verses a determined oil resource grab on the other and with a strong Zionist manipulation thrown in. There is No evidence at this time that any New Zealand Territory, NZ Trade, NZ Shipping, or NZ Investment is attacked or threatened by this militant response. It would seem the honest diplomatically appropriate thing to do is remaining firmly "ARMED NEUTRAL" and uninvolved at this time. We need to be vigilantly aware of any false flag or misdirected efforts from either side to involve this country. On the other hand we should voluntarily and immediately STOP all NZ origin trade into that area, as trade food and materials may inadvertently support the very activity we condemn. We should actively divest from the area, possibly with internal tax break assistance to remove all our investment interest and we should immediately STOP all immigration and restrict any of our citizens travelling into the area. We should actively seek alternative oil resource sources and even develop our own. This armed Neutrality and preventative traffic should be reviewed constantly and upgraded if in fact any material change should occur. We do NOT, as a Nuclear Free Nation, need to denigrate ourselves by standing alongside any malevolent Nuclear power, to prop up their sabre rattling politics of dubious integrity and disingenuous intent. If we are to become involved, it should be as part of a whole agreed and pact authorised Pacific Rim and East Asian Contingent, not as an isolated Obama lapdog. No more sacrifice to Colonial Wars. | Richard |
| it was the west who screwed over the middle east in 1919. Their national borders imposed by the west have no relationship to religious or tribal groups. | Steven |
| Yes but to my mind we already have the enemy within, to be dealt with first, eh? | James |
| We must send troops in, if we don't it shows the terrorists that as a country we are soft, anyone going from here to join terrorist groups need to be denied re entry to New Zealand. | Nigel |
| Yes. And we need to start by putting every Click-Boom and TIT (Terrorist In Training) in an internment camp just like the USA did to Japanese people during WW-II. There is no such thing as a "peace-loving muslim", because their UN-holy book directs them to cleanse the Earth of the infidel – that's you and me. Don't believe it? Read the "Passage of the Sword" and be very afraid. | Mark |
| Leave it to the yanks and richer countries. | Peter |
| It has to be stopped now while it can be stopped – otherwise … | Jim |