February 10, 2022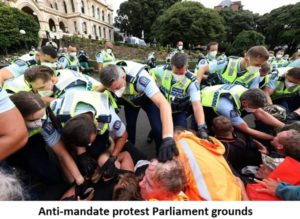 "I support the protest 100 percent. I don't agree with you that my rights to life, liberty and the pursuit of happiness are extinguished by a government declaring a pandemic. To me those rights are absolute. If anything, I would wish the protest be more intense given the damage Parliament has inflicted on the people I love and the community of which I am a part."
– Rodney Hide's letter to the ACT Leader.
On January 27, Prime Minister Jacinda Ardern warned New Zealand that Covid modelling predicted an explosion of Omicron cases: "The range of modelling meant that we've undertaken scenario planning for as little as 1000 a day to over 50,000 a day. We do not know whether or not we would reach such high numbers, but we must be prepared for that based on the international evidence. The best thing we can do is act preventatively so that means get your booster…"
With Waitangi Day case numbers of 208, the forecasts of up to 50,000 cases a day by Waitangi weekend, peaking at about 80,000 each day a few weeks later, produced by the US-based Institute for Health Metrics and Evaluation have been shown to be wildly inaccurate.
Quite why Jacinda Ardern was quoting their figures, when her Government has already paid Auckland University's Te Punaha Matatini $6 million for local Covid modelling, is not clear – unless, of course, the PM wanted exaggerated modelling to scare New Zealanders into getting their boosters.
As the American journalist H.L. Mencken famously noted, the use of fear tactics by Governments is commonplace: "The whole aim of practical politics is to keep the populace alarmed – and hence clamorous to be led to safety – by an endless series of hobgoblins, most of them imaginary."
Fearmongering has certainly been a hallmark of the Ardern administration. Coupled with punitive constraints never before seen in our democratic society, exaggerated predictions of tens of thousands of Covid deaths have been regularly used to justify lockdowns and other draconian restrictions that has allowed the State to intrude into the lives of New Zealanders in an unprecedented way.
The flow of information has also been tightly regulated, not only through 'gagging orders' issued to Government ministers, and obstruction from the public service, but through $55 million in public funding to 'bribe' the media. Controlling the narrative has been the Prime Minister's obsession: "I want to send a clear message to the New Zealand public. You can trust us as a source of information… Remember that unless you hear it from us it is not the truth."
When questioned about the inaccuracy of the Waitangi weekend modelling, Covid-19 Response Minister Chris Hipkins admitted: "I've always been pretty sceptical about the models. They are useful. It's better to have some modelling than no modelling. It's a little bit like the weather forecast. Some nights they say it's going to rain tomorrow and it turns out being a nice sunny day."
Health Minister Andrew Little also admitted scepticism: "It's helpful to a degree – how accurate it is? I don't know."
Such concerns about the accuracy of modelling raises an obvious question: Why are they spending so much money on modelling if they don't believe the results will be accurate? The answer, of course, is that the predictions can be used to justify their agenda.
While it's easy to observe the inaccuracy of the exaggerated Covid modelling being used by Jacinda Ardern to justify authoritarian rule, it's not so easy to see just how wildly inaccurate the climate change modelling is that she is using to justify her dangerous zero-carbon policy agenda, since those models predict outcomes decades into the future.
Yet, on the basis of exaggerated and chronically inaccurate modelling, she has declared a climate emergency and is forcing New Zealanders to sacrifice our economic wellbeing and living standards.
As a result of changes she's made to the Emissions Trading Scheme, the price of carbon has rocketed up over 400 percent, from under $19 a tonne when she took office in 2017, to $77 today.
With the carbon tax now forcing up the price of electricity and petrol – adding an extra 17 cents a litre at the pump – the flow-on inflationary impact on all goods and services throughout the economy cannot be ignored.
When the Emissions Trading Scheme was first introduced, Westpac warned the inflationary impact of a carbon tax would become a major headache for the Reserve Bank: "Westpac suggested higher electricity and petrol prices will add between 0.3 and 1 percentage point per annum to the consumer price index over the next three years… A carbon price of $15/tonne would lift petrol prices by 10 percent and residential power bills by 7 percent, while $50/tonne would make petrol prices jump 16 percent and electricity by 20 percent."
As well as higher power and petrol prices putting pressure on inflation, Westpac noted other risks include higher oil prices, greater fiscal stimulus, a tighter labour market, and persistently high food prices. We are now experiencing all of these, with the fiscal stimulus associated with the Ardern Government's reckless $70 billion in Covid spending resulting in a massive blowout of debt from $55.7 billion at the end of June 2019, to a peak of $165.5 billion in 2024.
Inflation has now increased to 5.9 percent, and interest rates are on the rise.
It is in this climate of spiralling costs and rising interest rates that our socialist Prime Minister is planning even more severe emissions restrictions as she moves New Zealand ever closer to a State-controlled economy. Stressing the importance of New Zealand doing its "fair share", late last year she announced our United Nations emissions reduction targets would be increased from 30 percent below 2005 levels by 2030 to 50 percent. This will require a brutal "reset" of our economy, even though New Zealand's contribution to global emissions is an infinitesimal 0.17 percent.
In contrast, the world's three largest producers of man-made greenhouse gases have all extended their target dates for reductions, from 2050 to 2060 for China and Russia, and 2070 for India.
In other words, at the behest of a Prime Minister who claims climate change is so dire that unless we start making reductions right now, we will be responsible for some sort of planetary collapse, New Zealanders are expected to sacrifice our economy and living standards.
Meanwhile, the three big emitters are making promises they will never need to keep, because they know that in the intervening 40 years, the public around the world will finally wake up to the fact that they are being conned by their political leaders, and this zero-carbon madness will finally be dropped.
The British Government is now in the throes of being held to account for their climate policies as they are forced to face up to the damage they are causing.
Last week the Times of London ran the headline, 'Britons facing biggest drop in living standards', stating, "In a bleak assessment of the year ahead, the Bank of England warned people that take-home pay would fall by five times the amount it did during the financial crisis of 2008. It will be the worst hit to real incomes since comparable records began in 1990."
The Daily Mail did not mince words as it described the "self-inflicted misery" of energy policy: "Successive governments ignored warnings about the insanity of having no long-term strategy to safeguard energy security. Now the chickens have come home to roost. How unnecessary this is. For Britain sits on an energy goldmine. We have vast unexploited reserves of oil, gas and shale. But hypnotised by the apocalyptic alarmism of eco-activists, our politicians have pursued an aggressive green agenda, shunning these abundant power sources. It means we are left at the mercy of unreliable renewables and importing high-priced energy to stop the lights going out."
And the Daily Telegraph asked a question that should be asked in New Zealand: "The big political question is whether the country is prepared to pay for net zero now that people can see the implications of a policy that will do nothing to combat global climate change for as long as the world's biggest CO2 producers refuse to change their own practices."
This week's NZCPR Guest Commentator Richard Reaney, an Otago University graduate who has studied Climate and Paleoclimatology for over 40 years including being awarded a Cambridge University Visiting Scholarship to Scott Polar Research Institute in 2005, puts all of this into perspective, in his excellent analysis of the reality of climate change, when he says:
"The eruption of the Tongan volcano in the Pacific on 14th January was likely the biggest recorded anywhere on the planet in more than 30 years, according to expert volcanologist, Shane Cronin. It is said to have put up over 3.2 million tons of CO2 in the 10 days since the eruption began. This equates to over 116.0 million tons per annum if emissions continue at the same level.
"This by way of comparison is more than New Zealand has ever put up. This level totally makes farcical any measures by NZ to control or reduce emissions. In fact it highlights that it is Nature and Natural Processes that control climate, not Mankind."
And that is the point. With 97 percent of all greenhouse gases produced by natural processes, and only 3 percent by mankind, those political leaders who are trying to claim that driving your car, cooking on a gas barbeque, or using a coal-fired boiler will tip the planet into some sort of global warming apocalypse, are delusional. Carbon dioxide is necessary for life on earth. It's if carbon dioxide levels get too low to sustain plant photosynthesis that we all need to panic!
A new reality is now emerging for our Prime Minister. The polls are turning as she becomes an increasingly polarising figure. While the recent 1News-Kantar poll put her well ahead as preferred Prime Minister, when her negative rating is taken into account, her net approval rating fell below that of National's Christopher Luxon.
It's not just within New Zealand that she's losing support. Her Government's recent decision to refuse an emergency space in MIQ to a pregnant Kiwi journalist so she could return home to have her baby, has exposed the heartlessness of Jacinda Ardern's regime to the world.
After reporting on the fall of Afghanistan last year, Charlotte Bellis had returned to Qatar, only to discover she was pregnant – and living in a country where it is illegal for unmarried women to be pregnant. As a result, she began urgently applying to return to New Zealand, but failed every time to secure an MIQ spot. So, in desperation, she contacted the Taliban to see if she and her New York Times photographer partner could move to Kabul. Ironically, the Taliban have been kinder to her than our Prime Minister.
Outlining her plight in the Herald, her case highlights the cruelty of an administration that has turned away thousands of New Zealanders desperate to get home – including dozens of pregnant women – while granting priority status to DJs, sports stars, and other celebrities.
The international news coverage of the scandal shows the PM is now being mocked around the world, for showing less compassion than the Taliban!
And, as a result of the controversy, a timetable has now been set for opening up the borders and phasing out MIQ. With Omicron seen the world over as being not much worse than the annual flu, and many countries now abolishing all Covid restrictions, the time has surely come for our Prime Minister to follow suit.
In an interview with the PM last month, Herald Political Editor Claire Trevett wrote: "The collateral damage of Covid-19 is everywhere: inflation, house prices, her goal of fixing inequality and child poverty are all things she will now face being blamed for. Asked if it has felt like she has been on a war footing for the last two years, she says 'yes, it does'. And now? 'Like I'm still on it'…"
But it's not just the Prime Minister who feels she's been on a war footing. New Zealanders are under siege as Jacinda Ardern's authoritarianism and deceit threatens our freedom and liberty, divides our families, imposes cruel and unnecessary mandates, and through her obsessive promotion of Maori supremacy – to appease greedy rent-seekers – she is now undermining the Rule of Law and Democracy itself.
Please note: To register for the NZCPR's free weekly newsletter, please click HERE.
THIS WEEK'S POLL ASKS:
*How much reliance should we place on the modelling used by this Government to develop policy on Covid and climate change?

*Poll comments are posted below.
*All NZCPR poll results can be seen in the Archive.

THIS WEEK'S POLL COMMENTS
| | |
| --- | --- |
| The modelling seems to be all about the worst case scenario. The worst case rarely eventuates. It is part of this government's drive rule by fear, and to make everyone believe it (and only it) has all the answers. | Gavin |
| Modelling is used for spin and does not provide information that enables the population to understand the situation | Peter |
| No reliance is not a strong enough term. Zilch, zero, minus % | jeanette |
| It's total spin | Chris N |
| It would seem a lot of scare-mongering is going on with the modeller's that are being used by the government. Nothing they've predicted has turned into a factual event | Josephine |
| Am sure those that do the modelling have no clue they may as well just throw a dart at the board and pray they don't continue to look as stupid as they are. They are just overpaid lackeys used to spread the fear | Carolyn |
| How much evidence is needed abt gov't dictatorial aspirations? | David |
| No reliance at all for covid, , climate ,or even clay modelling ! I didn't believe anything politicians said years ago and even less now. Most are weak, wet and windy. All of this bullshit is becoming a total disaster. Just a couple of days ago the Deputy P.M. was very upset by some remarks made by the protestors at Parliament. Well diddums,what the hell do they expect if they rough up the nation. Interesting times ahead when the tomatoes, eggs and cow pats get thrown ! Wake up you dim wits, the world is becoming insane ! | John |
| This is a joke and has been right from the start. The Labour strategies are exactly those of communism in pre revolutionary Romania, Bulgaria, Poland, East Germany and the like during the 60's 70's & 80's | T |
| Failed methodology time and time again… They should be embarrassed by this poor science. | Jock |
| none whatsoever. this is a repeat of the Goons show. Tinkerbelle & Peter Pan ( Grant Robertson) and the pirate crew are floundering from pillar to post, making ad-hoc laws as they go, none that are enforced. | Ray |
| If climate modellers were correct, the world's beaches would have been swamped more than a decade ago. Most Pacific Islands would be submerged | Glyn |
| it is all totally unrealistic fabrications and has been from the very beginning | Robyn |
| After voting for more than 60 years I am shocked we have a government under Adern that has no conscience. This govt. should be objecting to outrageous Maori demands. These demands focus on total supremacy for a small percentage of NZ citizens who did nothing to establish this nation as a hard working, dedicated country to become a thriving trading nation. I admire all Maori who do not agree with this attempt to demolish democracy. | CM |
| When the modelling used is based on flawed inputs and fraudulent data, it has only mischievious value to those who have a spurious agenda to pursue. If there is anything to be really afraid of it is that very agenda that promotes the interests of the word Economic Forum and it's groomed and chosen "young leaders". Covid and the so called climate emergency are the excuses to promote this destructive agenda to the detriment of everyone except the "elite few" as power and wealth are concentrated there, and taken away from most of us who contribute every day to the maintenance and improvement of civilization and human wellbeing, hard won over countless generations of human effort and cost. | Jim |
| As we have seen no matter where it comes from it is wildly inaccurate | Ray |
| They should be indicative only, and not be a substitute for critical thinking or the justification for policy. | Frank |
| Totally corrupt Govt Not happy with the stance of other major parties either | Maureen |
| Get Covid away from Political agenda | Ken |
| I believe modelling and the take over of science by corporates are designed to enslave us all. It's not the climate we need to be afraid of https://www.daragrennie.com/climate/ | Darag |
| I don't trust this communist govts policies on anything. | Donna-Maree |
| Ms Ardern is an evil propagandist who will do anything to maintain her toxic, woke power including computer modelling with false, outlandish predictions. | Monica |
| after watching a vid on Tonga, that was a nuclear explosion not volcanic….the camera was placed right above dead centre, perfect timing..watch the cloud, did it remind you of those 50's testing films in the desert.. | Wayne |
| The figures become more ludicrous with each publication – and these insane predictions are costing the country dearly! | Sylvia |
| NZ is so small and is mostly covered in bush and large green farms we have no climate change problem until all the big players emission problems are complied with the small ones can be looked at | leo |
| The government are hell bent on their own agenda, totally ignoring science, common sense and the truth. The government's response to covid19 has been farcical, with the science showing that the vaccine is ineffective for immunity and long terms effects have not been researched, the lockdowns produced more harm than good, mask wearing is ineffective, 99 % of those who get covid19 recover and therefore have natural immunity etc. Why the general public believe the government (when previously politicians were rated the least trustworthy) is a mystery. Go here for a summary of the flaws of governmental policies: https://youtu.be/t6kmm70ji5c | Paul |
| The models are designed to give the pre determined answer the govt is looking for. | Trevor |
| They take the worst scenario to scaremonger the public into compliance with their wishes. | David |
| SFA ITS RUBBISH THE OTAGO AND AUCKLAND UNI AIRFIX CLUBS NEED DISBANDED | JACK |
| Our current govt does not rely on modeling but pays for the model it wants. | peter |
| Disgusted with everything this labour govt does. | Marie |
| I could do better. | Elizabeth |
| The whole Govt are liars & thickheads | Ron |
| The modelists are bought and paid for by Gates and Pfizer | Kevin |
| Cindarellas covid mandates are illegal, in fact everything these communists have carried out have been illegal, when does civil war break out? | David |
| Modelling is total Bu#$$hit. | Martin |
| None reliance, and to make if worse, JA is following NWO policies at our COST. The protests/protesters are a start, and we should support them anyway how. National are no better and ACT…well I'm disappointed in them as well. so what to do….disillusioned. We need a new party for the people by the people. | anita |
| Jacinda Ardern has lost any respect we had in the world with her draconian policies regarding climate and Covid management. I expect to see a mass migration to Australia of our top talents when the borders open up | Brian & Trish |
| Very little reliance in my view. At best, the modelling can be used as a starting point for discussion. | Peter |
| I don't even understand why climate change is pursued as it is. We should all do our bit to be decent clean living citizens – but really – cows pollute less than humans in this country!!!! The whole thing is totally lopsided and beyond belief. | Lyn |
| Just a form of scaremongering. | Douwe |
| We have never experienced so much lies, deceit and falsehood in NZ since WWII. The current government is simply playing to the demands of the New World Order leading to ever more destruction | Gwyneth |
| co founder of Greenpeace – Dr. Patrick Moore resigned from Greenpeace over their climate Lies. refer to website: Conversations that matter. Dr. Patrick Moore. ions that matter – Dr. Patrick Moore | aubrey |
| Modeling is based on assumptions and as you know assume make an as out of you and me. Enough said. | John |
| its another money scam | Robin |
| Idiots all. The worst government and opposition ever in New Zealand's history. Don't they ever look outside of the Beehive and listen to others than the marxist greens. | Neville |
| Those who do the modelling are paid from the same pocket as the Media who take the money and do as they are told to fit the government agenda. Cobblers. | Mike |
| Modelling is absolute rubbish. | Murray |
| There are 3 types of lies as postulated by Mark Twain: "Lies, damned Lies and statistics." Our Socialist Prime Minister certainly knows this and uses it to the fullest. What is unforgivable is her payment of $55million to "buy off" the media to report only "kind" things about her Government, its policies and the handing of Covid-19. Even worse is that we have been totally deceived about climate change and her plans to turn NZ into a country run by and dictated to by Maori supremacy. This Government has to be voted out at the next general election before we tip over the precipice and can't claw our way back. | Colin |
| Money money | John |
| NZers have lost confidence in Ardern and her government. Never has her socialist authoritarian rule been more obvious. NZ must be rid of her and her buddies!!! | Marilyn |
| Climate change is a United Nations SCAM, to raise funds. If Jacinda pays the UN NZ $4.5 Billion , she must first provide information to prove to the NZ Taxpayers that climate change has indeed occurred !! NOT UN REPORTS !! | Pierre |
| Any conclusions drawn from incorrect data are by nature, false. Ask any engineer if they work on guesses or facts | Michael Charles John |
| Climate change and Covid is all part of the left plan to control the world through the World Economic Forum and UN | Neil |
| Completely embellished. You can make a report look anyway you want to. | Barbara |
| Jacinda Ardern and her government are full of spin and they have ceased to be credible over dealing with Covid. Far too much unfairness and injustice in how it's being handled especially MIQ which is cruel, callous and indifferent to the plight of Kiwis trying to get home. There are too many things going on under the radar such as giving Maori more rights while people are pre-occupied with the daily implications of Omicron. The government response to climate change is pathetic and mere greenwashing especially when they don't strongly oppose the destruction of urban trees essential to keep cities cool and oxygenate and refresh the environment. | Virginia |
| They're like PCR tests. They provide the results that fit the narrative. Waste of time. Waste of money. They should be dumped, at least until people using them have been trained properly to be able to differentiate between truth and fiction – ie, know that what they're inputting is accurate. | Robin |
| Climate Change has been a HOAX for many years, but some meddling scientists happen to find a way to make a living out of Govt Grants by promoting FEAR, similar to those on the NZ Govt Payroll for COVID BS….! | Bruza |
| It is all scientific bunkum | Derek |
| Common sense should prevail | Naomi |
| Past performances give little confidence in its accuracy. | Peter |
| By their very nature most if not all model creating fail.More so if a condition is chaotic,and proven non linear as the climate is.Only clowns and the poorly informed think otherwise. | gale |
| Communists and socialists, together with other limited thinkers, are prone to wasting money on such tripe. But not their money, ours!!! | Shane |
| Because its computer modelling created by those most interested in getting the answer they want Where a Geologist has to deal with the past in the form of historical samples | nigel |
| but only some | Wiremu |
| The 'so called truth' is not the real truth and we are discovering this daily. | Marg |
| Proof is in the pudding! Alarmists | Felicity |
| This Government is turning us to a communistic Maori republic as quickly as they can using their majority in parliament.. | Shaun |
| If senior MP's don't have any real trust in Modelling then we shouldn't have any faith in it. | Mike |
| Jacinda and her mates need to go and go now,traitors should be locked up | Paul |
| they are so full of bullshit | paul |
| No reliance whatsover should be placed on our Government!!!! | Jude |
| To date all the experts have proved – insanity exists in modelling!!! | tony |
| it has been proven time and again that modelling is only as good as the information put in. rubbish in rubbish out | john |
| They have not been right once over the last 2 years so why keep on using them? As Einstein said ' PEOPLE WHO DO THE SAME THING OVER AND OVER AGAIN AND EXPECT A DIFFERENT RESULT ARE IDIOTS" | ARRYG |
| Agree with your commentator….its a total con !! Nature will destroy and heal . | Bev |
| This modelling should be seen by all New Zealanders for what it is- a farce and designed to continue the scaremongering that is the hallmark of this control driven PM and her socialist government | Heather |
| Making decisions with certainty on modelling that is never certain, is complete foolishness. Modelling outcomes offer caution about possibilities and likelihood's but do not reflect the real world. Modelling outcome should not buttress political movements or deceptive narratives. | Michael |
| They are marcist nutters. Shes gotta go!!@ | Nic |
| the whole thing is as you say a total con,a scare mongering ploy to keep most people scared and racing to get there boosters, we will all have to face this virus sometime in our future, and if this omicron is not as severe, and you will gain a natural immunity then that's the way i would rather go. They have to drop these mandates and let us take our chances, she is destroying peoples livelihood's, through fear. | rodger |
| All skewed to suit our Marxist Labour Govt. | Richard |
| Not sure why they pay so much. Ridiculous. Could use another country's modelling. | Susan |
| Lies lies lies week in week out I've never been so dismayed with a government | Ewan |
| Absolutely no reliance on any of their modeling or should that be muddling. They've been wrong, very wrong everytime. One can only think it just aligns with their narrative Keep the population in fear and difficult circumstances and they'll rely on govt to be their salvation. Be very suspicious when someone says " I'm from the govt and I'm here to help. | Flip |
| This Government, Greens and Labour, claim they follow the lead of "science". Such claims are supported in the supposed Climate Change/Global Warming findings, predictions and recommendations of the IPCC. The IPCC bases its claims on models that have shown to be grossly inaccurate from the day they were created some 35 years ago. The distortion of facts and lies told by prominent subscribers to this body such as Mr Mann (I hesitate to recognise his PhD given his distortion and manipulation of data to produce the result desired by Global-Warmists and the likes of Albert Gore and jacinda Ardern) who operated in concert with the the University of East Anglia and Professor Phil Jones (both major contributors to the IPCC with Professor Jones resigning after the facts of Climategate became common knowledge.) However despite the fact that there are many well qualified climatologists that refute the IPCC claims, and clearly the willingness of supposed IPCC "scientists" to lie and distort data in order to obtain their desired outcomes, our two party Leaders Miss Ardern and Mr Shaw and their sycophants and government appointed and selected committees continue to blindly accept and follow the IPCC recommendations (Indeed go even further than the IPCC require. The next piece of empirical data I find that supports anthropogenic produced GHG {Greenhouse Gasses) will be the first. Surely even Miss Ardern and Mr Shaw should recognise that life without CO2 is extinct, but clearly they do not Then along came COVID-19 and our Government based its actions on a forecast that indicated there would be 80,000 COVID related deaths in New Zealand (they talk about Ao Tea Roa but that is a fictional nation, so I have substituted a real country, New Zealand) These politicised, communist friendly, modellers, classed by Government as experts and superior forecasters, Souxsie Wiles and Shaun Hendry, whose predictions using their models, continue to drive Government Policy. Despite US studies showing that lockdowns and facemask are a waste of time, we have lockdowns occurring upon the presence of two cases. Further despite a promise that those persons electing to opt out of vaccination would not be penalised, Government, supported by a politicised Ministry of Health, introduce a 'vaccination passport' restricting those who do not hold one to limited commercial and personal interaction. Clearly a means to force those opting out to comply with Government edicts – nothing to do with the protection of human rights. The provisions of the Bill of Rights Act in prohibiting the administering of any medicine without the specific agreement of the proposed recipient, and the illegality of ostracising any member of society provided by the Bill of Human Rights Act seem to have bypassed recognition and adherence by this Government and its politicised Departments/Ministries and Public Servants. It is of interest to note that the same technique of telling the nations citizenry one thing that is generally democratic, but if the end results are not what the Government wants, then change tack and introduce legislation that compels adherence. This is again shown in the manner they are managing the Three Waters campaign. Reliance on the Government's modelling and their implementation of same, rings as true as Herr Joseph Goebbels would require. The Revolution is coming!!! | Michael |
| The government is driven by the Green Taliban fundamentalism, Shaw won't accept the IPCC AR6 SSP2-4.5. He is so determined to screw the farmers, offset 2/3rds. of NZ's emissions by buying carbon offset credits offshore and the rest of NZ muddles along on the new apartheid state. wtf | Mike |
| Covid is a smoke screen for their more evil political agenda's | Trish |
| Lies, dammed lies and statistics | bruce |
| Figures don't lie but you can lie with figures! | Warren |
| I am 86 I have seen governments come and go I sincerely hope this lot will be out very soon. NZ is now not what many of us had worked for. What a disgrace placing Maori names first on the many doors of parliament | Ross |
| Both have proved to be Totally unreliable | Paul |
| "modelling" has NEVER been accurate. It has been designed to keep the world in constant fear. I know that the whole lot of it is a scam by criminals. Yes the same ones that occupy parasite palace in wellington. The whole system is broken and must be pulled down. All the criminals in wellington are being directed by outside actors and it has to be pulled down. New Zealanders must now "not consent" to all the criminal mandates and reject any policies relating to the stupidity called "climate change". The most absurd claim that we humans on the plant are the cause is becoming more of a joke every day. This lot must go, via the gallows preferrably!!!! | Neil |
| The modelling on climate change is a joke. Covid cases are now taking off – so who knows…! | Lyn |
| The figures do not match the facts | Arthur |
| They're out there with Don Quixote, "Tilting ast Windmills'. The 'Donkey' is Jacinda! | Michael |
| Maybe talking to other countries to understand different view points! | Deidre |
| Scientists have been so unreliable that Jacinda should make future modeling a crime. Fine all alarmists and cancel the emission targets | RICHard |
| The modeling is fraudulent and created by deeply corrupt organizations that have repeatedly grossly exaggerated outcomes for their own agendas | Amanda |
| Nil at any time | Rodney |
| As you said – all just scare tactics to frighten the population. Climate change especially so. I think Cindy's reign of terror will go down as one of our darkest periods as a nation (worldwide too with all the wokeism destroying economies.) | Dave |
| some reliance should be given, provided the inputs to the modelling are correct and based on NNZ conditions. Recent models were simply from overseas and 'dropped' on the NZ Public. They were hopelessly inaccurate. | Peter |
| Modelling is only one persons opinion | Bev |
| A lot of modeling is just hopeful guesswork . | Michael |
| ABSOLUTELY NONE, in fact the whole lot of them should be had up for treason. | Athol |
| It"s all been guesswork. Our Government hasn't graduated from pre-school yet, so inexperienced!! | Judith |
| I have always believed that the co2 emissions are a natural part of our world, and nothing that humans do will change that. | Doreen |
| To me this seems all part of the massive One World Governance program to impose socialism everywhere, aided and abetted by United Nations and others. Reviews of the diverse propaganda from 30 years ago, up to today indicate how mush of the Wuhan Covid 'pandemic' and climate change has flooded the media – until the multiple truck conveys began alerting many more to the contrived modelling. Why wont governments openly debate the issues? WHY? Volcanos above and below the sea drive climate and sea levels, while Fauci and Wuhan think they control Covid all with the same end goal – total control. | Stuart |
| This is merely a vehicle to give money to favourites. | Kenneth |
| Zero trust or reliance on the government and the modellers. Oh that someone or something would free us from this lying incompetent government. | Carole |
| the last two years have shown me the our governmental , tertiary educational and medical institutions have been captured by non state bodies . this government has no mandate to outsource our sovereignty | Robert |
| Of course-stupid. | David |
| I have heard the scientific evidence to show that 'climate change' is completely false . I cannot believe that the PM or government does not have access to at least the same amount or more information than I have. I am forced to conclude that their policy has nothing to do with truth and their motives are not in our best interests. New world order socialism seems to be driving them, regardless of what the people of New Zealand would want. | Harvey |
| Any credibility in these figures was lost when those at the beginning of the pandemic were so far off. They've only got more far-fetched. | Paddi |
| Bit like the weather forecasts- rarely right. | Adrian |
| Zero, there has been a complete lack of balance when it comes to reporting on estimates including "dying with or from". NSW very briefly hit that number & only because of RA Test catch ups… | Richard |
| Carbon Zero based on nonsense modelling also | Michael |
| Why pay these modelers all this money like 6Million to a local crowd and to overseas modelers is just pure stupidity when that monies could be spent to treat those who are infected. All those models have help to ad fear and the public at large have been tucked in to this to keep Jacinda in power. So just wait when the world is back to normal which is taking place now and watch the wheels fall off and Labour start running for cover and the public start to show their anger like the protest in Wellington .Kiwis at large have had a gutsfull . | ken |
| Common sense should prevail. | Josie |
| The PM has too devious with plans for governance of NZ which would essentially be the end of democracy in our country | Michael |
| It's cruel, scar-mungering, creating more fear and I don't know to what depths the mental health levels will be. | Janet |
| Govt is out of their dept. hasn't ever considered other kiwis who live in NZ . Sick of hearing her pushing co governance and flashing the cash for maori. The millions spent on marae's is disgusting money should have been used more wisely for much needed maintenance. | Dianne |
| The computer 'Modeling' is absolute B S. You can basically put into the Computer what result you really want, as seen on previous occasions. It's definitely nearing a time and place where these Political Criminals were held to account for their fraudulent racketeering behaviour !! | Geoff |
| Total scaremongering | Andrew |
| As with all bought and paid for loyalists to this shambolic govt., (is that a correct description,, govt., that is?), fear mongering and a fat silencer payday. Come clean and give us the facts, Ardern & co.. The next election is coming faster than you think. You have been warned. | martyn |
| It – carbon zero – is a Marxist plan for destroying society as we know it. | Allan |
| The track record of the computer models is one of total failure. The predicted catastrophes simply never eventuate. Just useful to keep the populace in a "State of Fear" | doug |
| A load of complete scaremongering BS as usual. | Richard |
| Overall this woman is dangerous to everyone of us | Kath |
| Very impressed by the resolute and discerning NZCPR readership but very concerned about the Government's stifling of media and public servants' duplicity in preventing 'open and transparent' reporting of facts. | Peter |
| None whatsoever. Their 'models' have invariably been far out, whether it has been about the climate or predictions of how many deaths NZ will have if we don't bend to the WEF in the Covid vaccine scandal. | Julia |
| it is all fabricated to give PM control. Must stop | Rod |
| All our evidence shows the modellers produce absolutely idiotic numbers which have never come to pass. What do they use to get their basis for this nonsense? | Mary |
| They are putting up statics to suit their agenda. Not the truth | Joan |
| Not one forecast of the IPCC since its inception has been accurate. Doesn't that say it all. 99% of the mass in the Solar system is the sun. Guess what has the most effect on the climate | Mark |
| Climate change is a scam set up by that septic Gore and the corrupt UN that our dictator is brown nosing to and with her paying these so called modelers means they do what she says and what figures she needs to cause fear so she can control and hence destroy NEW ZEALAND. she and her lapdogs all need to be sent to the Tower of London asap. | Richard |
| no trust at all | Noel |
| I am disgusted with this government and Jacinda Ardern for what she is doing to our country | Kerin |
| Modelling is even more unpredictable than trying to predict the weather. I've never believed in it. And as for paying $6m for it!!! Total waste of our money. | Sheila |
| Its a con | Russell |
| It is as plain as the nose on your face what Jacinda is doing, but people just don't want to see. | Anne |
| Modelling can be a useful tool when assessing possible outcomes. The accuracy of modelling is dependant on a number of factors of which the local dynamics play the largest part and should therefore be the basis for any modelling criteria. Reliance on modelling is absurd due to the number of contributing variables that provide a vast range of possibilities focusing of the subject at hand. Use it wisely as a guide for the specific topic but not to base general decisions on. Decisions should include a multitude of other factors such as effects on populations mental and physical health, economy, environment, etc. | Martin |
| Modellers should publish the criteria on which they base their assumptions. | David |
| Blatant scare-mongering to keep the sheeple under her cruel and lying control! The terms of the Paris Accord particularly stated, Partner Climate Control measures should not be forced under any service or commodity that concerned,Food, Health, or matters relating to the Welfare of the people of their country. As usual Liecinder has her own agenda and will stick to it with The Greens to hold her presumed control of this country. | Robyn |
| We don't have a government … we have a Dictatorship that is very quickly destroying New Zealand. | Des |
| Anitgr complete waste if time and money. | Valerie |
| Adern the Marxist, pays her government advisers to promote alarmist rhetoric. If you need the truth you have to listen to offshore data because NZ data is contaminated, just as in all authoritarian states. | Rex |
| The climate will change from day to day, year to year and so on. All the scare mongering so far (including film's etc.) has been proven over time to be grossly exaggerated. We as the population of the world can drive our fossil fuel vehicles all year and not emit anywhere near as much Co2 as nature can in one day from a mountain erupting. We all know mountain eruption has nothing to do with population. An over populated world? This statement is absolute bullshit!!! There are enough provisions and commodities in this beautiful world to go around. Providing no one gets greedy which is exactly what has been happening for far too long. After all if you stood the entire population of the world on a metre each, in New Zealand, they would take up no more room than the Wellington province. We are a very small corner of this world, and are basically carbon neutral! Our biggest industry Agriculture, because the powers that be use modelling from other systems in other countries they make our farming systems look very BAD! The reality is we are the cleanest greenest you can possibly be. I can back that up, not hear it would take too long. | Robin |
| Vote No Confidence | Linda |
| people like so called covid modeller Sean Hendy are nothing more than paid puppets of the Ardern propaganda campaign & totalitarian regime – paid heaps by Arderns muppets with our tax funds. Hendys so called expert statistical modelling is a pile of crap and been so far off the mark it laughable. This is all designed to maintain the fear tactics amongst the populus – wake up Romneys, this is all BS. Climate change modelling is no different. I'm heartened by the recent increased awakening of the public & fully support the public and fully support the protest actions of the protesters in Wellington. This is the worst ever govt NZ has ever had, with big cracks now starting to show through their BS facade exposing the lies and hypocracy. Watch for the lying evil Ardern to fall on her sword over the next month – I will have a big party (with no masks or BS s distancing) when that inevitably happens. | Mark |
| If politicians will not address these issues based on reality rather propaganda then I say the time has come to elect Independent MPs who will actually represent the people. | Denis |
| Government should study the science on climate change and wake up to the false information being put out by so called climate scientists fraudulency. | David |
| The modelling needs to be improved. It is after all only information that needs to be considered along with all the other information available to make an informed decision. | John |
| Absolutely NONE. | William |
| Can anyone point me to an example of modelling which has turned out to be correct? Enough said. | Rod |
| It's all a sham | Lindsay |
| The IPCC were seen to be manipulating data…. and that has not stopped. | Lionel |
| to be on the safe side…and after all of their work has been ; learn as you go , experience , funded by us , then I would say , absolutely NO reliance . | Roy |
| Absolute waste of money and no doubt used to scare the wits of the vulnerable NZers | Alan |
| Just contrived spin to sell their policy. The end game is to control the masses and control food production, people are much easier to control once you have them queuing for food stamps. | Stu |
| Like everything Labour does, it will be a circus act | Matt |
| | |
| --- | --- |
| After the first failure it should have pay by results. | Ian |
| Both sets of modeling are driven by an expected outcome of doom. Neither represent reality, which is far more moderate. They seem programmed to create doom mongering. | Robin |
| Totally bullshit. China produces more pollution in 1 day than NZ does in a year. | Alan |
| The models, from day one have been proved to be wildly wrong. They exist only to justify the draconian controls | Danny |
| Instead we should ask the Danish modeler, Dr Camilla Holten-Moller, who based on her modelling ended ALL covid laws in Denmark. | Susan |
| Reluctantly selected "some reliance" as surely the modelers will start getting it more right than wrong one day. | Peter |
| It's all political hype | Clive |
| Do not trust the Government for anything. | Andrew |
| Absolutely no confidence this lot can make anything work. | Kaye |
| So called climate change by UN paid Greenies was based on false modelling, leaving out info.to get the answers they wanted .And obviously something amiss wit( this Governments modelling, obviously they don%u2019t possess an ounce of logic amongst them. Sooner they go the better for all New Zealand, Our biggest hope is that the ICC do not take to long over the papers relating to Covid they received in December to make a decision on whether they will proceed further. Finger crossed it%u2019s soon. | Gwenda |
| Labour have ruled by fear fed by their grossly exaggerated death forecasts. One day they will be gone and we can start rebuilding. | Chris |
| She has proven to us that she only knows how to lie to us. To late Jacinda, people are waking up. | Diana |
| All the modellers, without exception, have been shown to be inept in their ability to forecast any of the actual data of the pandemic. | Brian |
| Modelling has never been accurate. | Bruce |
| They are deceitful scaremongerers | Carolyn |
| My congratulations to Anthony Willy on his guest post on Ardern's Marxist government. Very precise and lucid. If the voters of NZ want to see what is facing them they may well improve their knowledge by reading this post. As I have previously said This Labour government is jam packed full of Marxists and commies who have been practicing these deceits for a long time. If you value your freedoms we must rid ourselves of their poison and lies and never let them back. Is your freedom worth a couple of bucks rise in the minimum wage? because they will come hunting for it back later. | Terry |
| Ha!!! Anyone who did a bit of research would see what a load of bullshite this climate change crisis is. One active volcano wipes out anything we do to avoid adding to the warming of the planet. These models on the virus have proved to be way off target,just like the climate models. They are propaganda material used to scare people. What a disaster she has been for the country. God help us when she gets into the UN. That's her goal to follow Helen. | Peter |
| I've said it before and I'll say it again. who had Jesus crucified on the cross..? A politician, and yet 2022 years later you still believe politicians? | John |
| Modelling seems to just be another justification of policy,and so far appears to just another part of the litany of lies and psychological assault on our citizens | Sue |
| Its all just total bull-shit and lying. | Don |
| Modellers have caused so much fear from the start of the virus | Ruth |
| I am sick to death of so called "Experts" in the world today. What many of them are lacking is rational common sense and an analytical ability to present balanced views without scaremongering. Unfortunately we live in a society where the "Experts" are more interested in pursuit of fame rather than facts. | Martin |
| The covid models have proved to be about as hopelessly inaccurate as the climate change models | Terry |
| It has all been proven wrong too many times. Mostly produced by academics looking for their moment of fame and temporary relevance | Frank |
| any government that claims to be the only source of truth … already has lost sight of the truth… | alex |
| The modelling seems to be political motivated and does not represent the true scientific facts. | John |
| This govt under Ardern have almost destroyed New Zealand But they have under estimated the strength of the convoys. | Dianne |
| moderate for COVID as there is some evidence that we need to be prudent and vaccinate as much of the population as wants to be vaccinated – the more the better. But none for anthropogenic climate change | Francis |
| The modelling could be used as an "indicator", but to make policy decisions on something where there are so many assumptions is crazy. | Ted |
| A great summary re the farcical nature of computer modelling. The inability to input accurate information makes the modelling of both Covid and Climate an absurdity. We need to remember also our basic science on the carbon cycle – " zero – carbon" makes NO sense at all! Mankind can make NO difference to global climate. | Rosalie |
| Ardern needs to go – fast! That's all there is to it! She has her own evil agendas as part of the whole global re-set, her personal wealth has skyrocketed – how has that happened one might ask??? (Not rocket science) She sure as hell isn't doing what's best for us kiwis or NZ's long term future, that's for sure! | Lazza |
| None, because modelling can be manipulated | Liz |
| Absolutely do not believe anything they say | Shirley |
| The current and past modelling is now being ignored by the Government as it has proven unreliable | Rex |
| it appears the modelling is fabricated to meet another agenda | noel |
| ZERO | wally |
| Every day I read the news and all I can think is FFS! | Brenda |
| Ever since Hendy claimed we would have 80,000 dead in NZ at the start of Covid., we can see it is just a fraud. | Howard |
| Results speak for themselves. | Willy |
| ITS ALL SHITE | BRUCE |
| Like climate change models formulated by IPCC these are flawed and have failed.polititians should have no input regarding climate matters,they by and large lack the credentials to do so. | gale |
| Models are always wrong but are sometimes useful. On a whiteboard at the University of Auckland. Unknown author. | Dane |
| Garbage in garbage out. Nature doesn't have a social media account. | Coral |
| I no longer believe anything the sitting politicians say – in fact Is ee them all as members of a Corporation looking after itself, not a democracy. | Claire |
| I now don't trust anything they say, there have been so many lies | Gail |
| The whole modelling thing is no more than soothsaying! | Kingsley |
| Lies, damn lies and statistics. To which we might add: self-serving statistics. | Mark |
| All models principally reflect the beliefs of the models developer, most of which are beholden to the State for research grants – and are thus subject to the political will of politicians and bureaucrats. Exactly what Eisenhower warned of 60 years ago. | David |
| They have proved there self to be useless | Mike |
| $60,000,000 worth of useless information. Money would be better spent on the issues that they talk about but do nothing to solve. | David |
| "0.00" The worst is yet to come!!! | Frederick |
| This climate change scaremongering is a big fat scam! So many other factors affect climate, not man. A few elite will get very wealthy from this. | Janine |
| A big fat Zero. | Andrew |
| I just don't trust them, full stop! Their policies make little sense. | Jane |
| Absolutely none as they are a confused ignorant bunch of liars only interested on their agenda to destroy NZ and leave it open for the chinese to take over financially. They dont realise that once the chinese have control they themselves will be imprisoned also with others who are not needed. Mission accomplished chines rule | David |
| Modelling is being used to create fear as this government moves towards a totalitarian state. It has also proved to be a waste of time and money | John |
| Never in my living memory has a computer modeler been within striking distance of an accurate result. GIGO as the computer acronym goes. | Mark |
| Two words to beware of are "modelling" and "reset" both in relation to Covid and the bullshit promotion of "anthropogenic climate change" Also be wary of any global organisation with the word "World" in it. Check out the World Economic Forum and a guy called Klaus Schwab — you will learn where people like Jacinda want us to head !!!!!!! | Alan |
| I have felt all along, covid is just an excuse for the world agenda of Satan. | Paul |
| What happens overseas does not mean it will be same for N.Z. Most people here are compliant in taking precautions and should benefit from double vaccinated and boosters | Chris |
| Modelers for this sort of stuff are notoriously out by huge numbers. Take UK's Ferguson for example | Barry |
| Tricky question,. But the answer is we cannot rely on the government to be unbiased when their agenda is so obvious so they will choose the modelling that suits. | pamela mary |
| They are stupid little nerds with no experience in the real world. | mike |
| You have got to be joking ..' reliance' … lol. About as much as relying on governments. " We are here to help you ".. Run. run , run. | Alan |
| What a shame she didnt get Covid & die, to put all New Zealanders out of her misery. | david |
| Politician's pipe dream led by Shaw | robin |
| They may be slightly more a accurate than reading chicken entrails but only Marginally | Peter |
| It is patently obvious that we should use modelling to rely on policy-making to the same extent we use astrology or gazing into a crystal ball. They would all be as effective as each other. The govt used "modelling" to lock us in our homes, in our country and steal away our rights and duties by making the more gullible of us fearful and wanting their 'protection'. I suggest we go back to the tried and true method of making an educated guess based on experience and history, and keeping the channels of communication open, holding leaders to account so they are able to change tack if circumstances change. It would be for the politician's own protection as much as our people and our country. | Jenny |
| All the 'models' about COVID and climate change have been extremely inaccurate, if not totally WRONG!! | Dennis |
| Instead use common sense and learn from what has happened previously. The slow roll out of the vaccine indicates clearly total incompetence with an inability to act appropriately This P.M and others are beyond hopeless and must be got rid off | Tom |
| Hipkin's has already stated the data and advice from modelling are unreliable. Why continue to develop policy on potentially false claims? | Lindsay |
| Science Modeling is the pseudo science of the 21st century. In decades to come historians will look back on this era as we look back on the Medieval history. | Andy |
| Shawn Hendy should apply to the Imperial College for a position. He would fit in well there (they LOVE looney predictions/modelling !!!) | Laurie |
| They are misinformed and do not know or seem to care what they are causing. | Fritz |
| Current modelling is rubbish & of no use at all. ?? | Andrew |
| These modelers have lost all credibility. Even the misguided weather forecasters do a better job of predicting….and they're bad!! | Tony |
| Just another tool Jacinda is using in her campaign for complete control of all New Zealanders. Is it just a coincidence that Delta and Omricon isa conundrum for Media Control ??? | Urban |
| Not all fore casting can be accurate. WQe must take the best available at the time and plan on that basis – plus a bit of a safety factor | Paul |
| The Labour coalition governing our Country has replaced Democratic procedure with biased Autocratic rule . | matt |
| They have been hopelessly inadequate and have always seriously overstated the potential outcomes. It has suited the government agenda to scare people into compliance | Trevor |
| As per the Tooth Fairies past record her logic and basic knowledge is badly flawed . Being a highly skilled wrapper of fish and chips she and the rest of the muppets in Govt are well out of their depth and we can only hope the people who voted for her can now say what a waste of space ,sadly this is going to take a lot of repair work for the next non Labour Govt . Excellent opening account of her disasterous lack of ability Muriel . Thankyou . | Ray |
| Why are Labour so blind ? Are the Labour MPs too dumb to see the issues or too scared to speak? | Malcolm |
| They make it up as it goes along. The people should speak and will speak. Every day another right is extinguished. | Carol |
| The polls are made up to keep everyone fearful | Kristene |
| Absolutely none! As outlined in your newsletter it surely is part of the agenda to oppress and control the nation and lead us into dependancy o the State. | Christine |
| Discreditable bunch – will only design models to suit themselves and mislead us | Edgar W. |
| All covid predictions around the world for 2 years have been grossly inflated. | Paul |
| commo related | brian |
| Pathetic scare mungering and all taxpayers money | Neil |
| its all about FEAR | john |
| DO WE BELIEVE DO WE BELIEVE IN CRYSTAL BALLS | KEITH |
| The same level of reliance I would place on this Cabinet's ability to tell the truth, and on any promise it made not to resort to bludgeoning all opposition into a pulp. | Phil |
| I've used mechanistic and Stochastic models for over 20 years without accounting for all possible confounding variables and real time validation they can be wildly inaccurate as we have seen. The Danish group though have got it right. | Bryan |
| The government thinks of a big number and tells us that is the truth. And we will protect you. I don't accept that (a Helen Clark quote) | Andrew |
| More spin | John |
| When they get it wrong there is no apology. | Warwick |
| The fact that this government chooses to ignore the facts and picks the option which suits their agenda shows them for what they are, manipulative, ignorant and totalitarian | yeverley |
| With Natural Sources accounting for 97% how can any Human activity influence the long term outcome. | Mark |
| Modelling for the govt is simply the orders of politicians given some dubious scientific authority by those benefiting from govt handouts. It is very different from modelling for research or engineering design. | Alan |
| None whatsoever, it has proven time and time again that its modelling for COID has been well off the mark | Kevin |
| These so called experts are full of BS just like our government | Laurence |
| The Labour Party keep changing things all the time. What am I to believe? | William |
| The Covid modelling is completely bogus .. and to justify policy. Also when the horrors do not occur, to say .. yes but that is because of our Policy: . without it the modelling may have been correct. Absolutely corrupt. Re Climate Change: this dire threat to our agriculture, natural areas, our life is becoming more real every year/month/week. But the government reaction has been feeble, muted, This is because it would affect everyone negatively in the here and now. Short term interests have always trumped long term measures however important. | Rochelle |
| Have never had any faith in anything this government proposes. Dr Newman's article doesn't pose a very rosy future for us and protests such as the one in Wellington will become more commonplace. | Lawrie |
| Question motive of the modellors | Bill |
| Cult-like madness! | Brian |
| They're hopeless.. Wake up Kiwis. | Donald |
| utter rubbish. pay it no truck at all | pete |
| Carbon Tax – has anyone tried to establish what we are getting for our 'sacrifices' tax payments? Any actual "tangible effect" at all? Yeah right ! | Michael |
| We should place absolutely not credence to anything this government says. They have absolutely no idea!!! | Jillian |
| are you kidding????? | Erin |
| Hopeless | Jeff |
| Its as about as accurate as throwing a dart at a dart board – just a wild guess | Errol |
| It's amazing how Jaspinder is addicted to poles and has used them time and time again to try and prove her correctness. The COVID predictions have been vastly overstated. Her scare tactics have run small businesses into the ground as people are too frightened to go out. Get rid of her. | Laura |
| I would give zero reliance to the governments attempts to have a sound policy for climate change, especially when the major emittors do little or nothing to reduce the problem | Brian |
| I have constructed models during my career, but always based on solid data. Theoretical models are valueless. They are merely paper exercises, like a child's drawing. | kelvin |
| Absolute proof of total failure in calculations has no defence. Yet they carry on doing it. Spectacular arrogance. | Jennifer |
| I would have been able to do a better job for $100,000 !!! | sheryl |
| The whole Ardern project is a scam | Lloyd |
| I did some modelling when I started work. My modelling showed me I would have millions in the bank by age 40. Wrong. Shows the uselessness of modelling. If Jacinda could not maintain the fear factor among the populace, she would have no control at all. There is real fear out there as a direct result of her actions, particularly among women. Fear is apparent with climate change as well, particularly with younger people who in many cases see no future for anybody. It has to stop NOW. | Ray s |
| None. | Jim |
| The facts are there and always have been. The late David Kear exposed the lies that started this nonsense. | Doug |
| Control freaks. Al Gore's hypothesis on climate change was proven fraudulent. But the lies kept coming and turned into the truth. Trumps book on 'tell a lie many times and it becomes the truth. So many are being conditioned by this radical government into believing a lie that they are starting to think its all true. Bottom line is that this is all Politics at its extreme aka. Starlin. Covid-19 does exist but, extremism has latched onto control of the masses. That is what we are seeing here in New Zealand. | David |
| ALL previous predictions have been proved grossly over=inflated. | Heather |
| Typical labour | Allan |
| They exaggerate all information to make their agendas seem more urgent an scary | william |
| Absolutely agree with Mr Reaney. The climate scam is just that a scam. My fear is our current Govt. and the lack of any opposition to the PM and the madness she is imposing on the people of New Zealand. | Sam |
| so fake .. all to fulfil an ideological agenda | helen |
| Wildly inaccurate – a joke. | John |
| It hasn't been right to date and its projections for this month hare been the stuff of comic books | John |
| They should not rely on the models if they continually prove inaccurate. | Ken |
| The notion of climate change is a farce. | Jill |
| It has been proven wrong again and again, it is used to instill fear in the population | Eduard |
| Its is the first up best dressed policy commonly know as no idea. | Garth |
| It's all alarmist not based on any factual or reliable evidence. Lies lies lies. | Dianne |
| This govt. believes whatever suits their own narrative regardless of the social and economic consequences. | Bryan |
| These Marxists seek just one thing, theft and ruination of all that is good and true. They despise humanity and despoil the Earth.Their fake Covid and climate narratives reveal their hideous plans for all the world to see. To Hell with them. | Robert |
| Climate change control? See the new energy sources coming on stream: https://brilliantlightpower.com/ Scientists have been busy. This coy is probably the most advanced. Engineers, scientists, practical people.We will have power created directed in our homes. Cars won't need batteries. Even Aerobus has got patents. | Kevin |
| Modelling is simply forecasting based on a series of assumptions, Who is debating and agreeing the assumptions, as none of these are made transparent to us. So I am sure the experts are good at modelling but it is the assumptions that are the problem | Mike |
| We just need to apply our collective common sense without all getting hysterical by over reacting to the political shenanigans of this current incompetent Government. In the case of Covid – 19 and the omicron version. Surely we can take the opportunity for omicron to add to our natural resistance to the overall Covid – 19 virus, which could still possibly evolve into a far more disastrous version with a 1917 Spanish flue type catastrophe to cope with. On the subject of global warming we as a country need to take on a more pragmatic attitude and to work on an effort to be more scientific for future results. New Zealand's CO2 emissions are barely enough to keep our greenery well fed for it's consumption of CO2 necessary for photosynthesis. We need to stop being an immature chest beating population feeding the egos of all those of the Green Party. We New Zealanders' need to put our efforts into working out what we need to do to repair as best we can all the damage done so far over the last decade to enable our country to be as before, i.e., to live in peace and prosperity with an equal opportunity for all to get on with their lives to follow their legitimate interests as far as they want to without causing any stress to others. | Garry |
| The government has paid stooges coming up with models that suit their agenda. | Dave |
| computor modelling ???? garbage in equals garbage out.!!!!!!! There has been no measurable changes to sea levels at all.There has been no "overwhelming" of the health system by omicron at all !!!!!!! | Brian |
| They are making irrelevant assumptions They are making greatly inflated assumptions, which only induces fear into the most vulnerable. | Heather |
| modelling results so far expose modelling for what it is namely a wild arse exagerated guess | Phil |
| The PM has to go. | Ian |
| This government is a farce, they are just using the modelling to create fear and entice people to get the booster. They are creating fear because fear is the currency of tyranny and without an emergency, they cannot continue to issue the Pfizer jab since the Pfizer jab is only authorized for EUA e.g Emergency Use Authorisation | Mary |
| No reliance whatever – until the predictions in the peer reviewed for honesty and validity of methodology models begin to show demonstrably that they have a very clear degree of accuracy. Until proper and accurate reviews are undertaken ALL results should be taken with a very large grain of salt and mistrust. Those who say "the science is settled" are charlatans trying to force through their agenda. . | Ron |
| No truth in any Government policies. | Ann |
| It's all bull | Richard |
| None at all If past results are to be considered they have all proved wrong and just used to scare the population | Cookie |
| Absurd. Even at the outset. | Tony |
| | |
| --- | --- |
| Jacinda Ardern"s socialist/ communist direction for New Zealand, and her total lack of respect for the rights of New Zealanders is beyond belief . Wake up New Zealand before it's too late. You cannot put a price on freedom. | Dan |
| I have seen a quote by an American Professor who said that all models are wrong but some are useful. It is safe to say that all models are wrong. | Michael |
| They have consistently been well wrong. | Stephen |
| it is based on fraudulent science | mike |
| I have said for years, that if you could take a knife and scrape NZ off the planet, it would make no difference to the production of carbon. We have been hoodwinked into feeling guilty for carbon that will have no affect on the outcome. Another scam to get money from hard working kiwis! | Peter |
| You have to base decisions on some sort of research but not the garbage we have putting up with. | antoni |
| The first models produced in 2020 by Hendy were based on inaccurate assumptions and projected 10,000 deaths. What did we get? 50!!!! This was a tactic to keep NZers under control by using fear tactics. Ardern has done that consistently through 2020 and 2021 and still persists through keeping the whole country in Red. She pushed 80,000 cases by Feb 6 and we ended up with around 1000. She needs to keep all those woke supporters scared so they will vote for her next year. | Kerry |
| in my previous position i was responsible for building a company performance model spanning forward ten years. This model, as you would expect had numerous variable parameters which could be altered to show negative, stable, and positive outcomes. Shortly before I retired, this task was handed to one of the company's general managers. in discussions with the CEO the new model was created with their over optimistic view of the future included. The model showed major growth and they proceeded accordingly. The result was huge increase in inventories, disposal sales at below cost, and unhappy shareholders. The point being, models are only as good as the information presented and generally that information will be conditioned by the views at the top of the organisation, which are often conditioned by those to whom they report. | Joseph |
| Obviously the modellers used are not from a broader spectrum of intel available. | Sharron |
| It's leftist manipulated philosophy | Graeme |
| Guessperts in action !! NOT experts , a classic case of GINGO | Peter |
| When did a Labour/Greens government ever get anything right | Robbie |
| The use of relevant models should be incorporated into the decision making process, but not used as the sole criteria. | Gavin |
| Climate modelling has demonstrated time and time again that it is faulty by virtue of fact that it's predicted outcomes have not come to pass. Models of various kinds cannot always be relied upon since the input data is either limited or incorrect. It is often the case of "junk in" resulting in "junk out". In the case of the covid models, the public has no information whatsoever about what the input data is, so how can they expect to believe any predicted outcome? | Ronnie |
| It is all just a joke by a communist PM to scare the hell out of folk. | Murray |
| Never believed in climate change, its code for more tax | Tim |
| Do we pay for a model to predict how many woman will die of breast cancer; how many NZers will die of colon cancer and not to mention cancers that affect the men in our society. No; then why are we modeling the outcome of a flu. | Sue |
| It's all bullshit | Chris |
| It's all total rubbish! | Mike |
| Can't vote any other than ,no reliance, every prediction from these muppets has been wrong. | JOHN |
| Omicron morphing into an annual type flu get real and remove all restrictions and jolly well live with it!! | Karen |
| Every prediction has been way over the top either through error—- incompetence— or deliberately, which is something much more devisive. If this is Jacindas idea of a transparent government………. | Geoff. |
| The modellers may be okay with plasticine but they wouldn't know shit from clay. They pontificate on what will happen with Omicron and climate change but wouldn't know when the next bus is due. Charlatans! | Philip |
| It amazes me how little common-sense prevails, until you realise there is a shadow agenda! The so called fog of war???… | don |
| Why can't we force the Governor general to disband the govt like they did in Australia in 1979? | mike |
| Hogwash! | Bryan |
| None whatsoever. | Fraser |
| Made up gobbledegook to entrench fear and so take a booster for a virus that doesn't respond to it! | Lindy |
| stupidity | gill |
| You can create the answer you want by altering the input numbers. | Sven |
| Sooner they go the better. Why isnt the right stating what they will ditch when they get in? | Dennis |
| Total bullshit. Scare mongering by this socialist government and the Communist Arden. | Darryl |
| like all modelling including IPCC climate modeling it is only as good as the assumptions/parameters that will determine the outcomes which will have a high probability of being way off the mark | bruce |
| You need a baseline of some kind. | Tony |
| I despair at the downhill trend of the well being of all New Zealanders. Why? simply that a rapidly development of our despotic leader believes that she is above the law – just like all the current protestors who think that the rule of law no longer applies to protestors. Anarachy is not far away. | Paul |
| The modelling is bunkum and is purely used to instill fear and allow authoritarian control. | Gordon |
| A lot of our money is spent on these so called modelling but I dont think they are working. This stupid Govt relies too much on people who dont know anything and the sensible Educated people dont get listened to instead get shut down then it is too late. Maori are mentioned too much by this Govt why? | Barbara |
| If Covid modelling hasn't proven the modelling is total BS .. I'm not sure what is going to. Good grief please can we have a government with at least one brain cell?!! | Maddi |
| These modelers should be ashamed of themselves & held to account by the NZ population for reckless attention seeking antics, name & shame them all ! | mike |
| My usual reply, Muriel has said it all. | June |
| Both are not-so-secret manifestos of the World Economic Forum and the Rome group wanting to create climate change as a scare tactic. Neither should be believed in fact, it's high time any political leader examine their moral conscience as to the hurt they are doing to Humanity in general. Medical Practitioners have a duty to "Do no harm" but ignore that for the sake of continuing funds. What hope do we have of politcians ever realising they once had a Conscience, let alone exercise it. RIP Humanity and Freedom; welcome Total Control | RobTGA |
| It is all staged | Colin |
| No reliance whatsoever! It is more than time to face this "the emperor has no clothes" farce with realism. China, Russia and India are not going to shut down their huge output of CO2 for 40 years. They will be laughing all the way to the bank while stupid western countries kowtow to a farcical delusion that by docking their own production of CO2 they are going to "save the world!" Yeah, right! | Rob |
| Could have saved the money! | Marianne |
| This government has been deceiving the New Zealand public since the 2017 election. | Vonne |
| The covid modeliing has always been wildly exaggerated to seemingly promote fear and compliance from the people of nz, I see that fear and compliance numerous times every single day – the truth is 99.97% of people world wide survive covid and the average age of death from covid in the US is 84, well above the average age of all deaths. Selected modelling used by this government creates fear porn and all other opinions are suppressed and dismissed. Its just so sad to see. | rhonda |
| Its the old story, rubbish in rubbish out ,very little better than reading the tea leaves. Gordon | Gordon |
| Modelling can be rigged to give outcomes to suit your purposes. You don't have to be a rocket scientist to work that out. I do believe it is time to open up the country and get everybody back to work and the economy moving again. | Dennis |
| According to distinguished Professor Ian Plimer, Climate Change nonsense is the largest confidence trick ever inflicted on mankind – and as the Marxists want will inflict economic tragedies on Australia and Z | Hylton |
| Look how accurate it has been so far! Like the climate change 'models', they predict the past before the model was built very well. Not so hot on the past AFTER the model was built, so why the heck are we expecting them to predict the actual future? Building policy based on known-to-be-inaccurate models is simply madness. | Gail |
| I'm reminded of ancient soothsayers examining the bowels of sacrificed animals – the modellers appear to be a modern version, and of similar use. | Barry |
| She is a proven liar! | Roger |
| There have been so many lies, deceit, false promises and ineptitude displayed by this government, how on earth could you possibly believe anything they say. The whole scenario is a complete debacle. | chris |
| They've lied about everything else and this data is from the UN which is even more corrupt if that is possible than our government | John |
| Govts predictions are used to fuel fear, not for true outcomes | Mike |
| Political bulls dropping | Wayne |
| A load of scare mongering | Margaret |
| modelling used to keep New Zealander's in a perpetual state of fear. | simon |
| It is total scare tactics | Tony |
| You won't find Jacinda criticising China. Russia or India as she is in love with them all. There are more Chinese and Indians in New Zealand than there are Maori. | Denis |
| Absolutely none, where in the World has a Covid modeller got anywhere near to anything that has actually happened. | Julia |
| I remember when covid came around and we were to have 10000 minimum deaths unless we went into lockdown. that was 2 years ago.!!!! | Barry |
| These poll results are so far wide of the mark they are a complete waste of time and money. Only good to scare people time and time again | john |
| It is time "modelling" is called out for what it is, namely, the modern version of the haruspicy of the ancients. Sorting through the entrails of animals to predict the future never gives a useful answer | Ian |
| Take it "with a grain of salt" | Jacky |
| Waste of time to read the unbelievable waffle the government is forcing upon the population of NEW ZEALAND | Cyril |
| ALL HAVE BEEN PROVEN ALARMIST, i COULD DO BETTER PREDICTING THE WINNER OF THE AUCKLAND CUP | Ray |
| This can't possibly get worse!!!! | Raewyn |
| The Ardern Government has one policy. Total control of the population of NZ.The revised covid rules are proof of this.Climate change has been debunked by experts but is being used by the Labour Party to introduce more taxes and control our already extremely low emissions. | Steve |
| Its all Pie in the Sky, Designed to create fear in those who cannot see in is only designed to control those who blindly follow. | Don |
| Quacks the lot of them! | Trevor |
| The days of 'Crystal Ball Gazing ' need to relegated to the dysfunctional gatherings of the Green Party and their ilk ! Their musings are actually less accurate than waving ones hand out the window to determine if it is raining ! | wayne |
| bullshit in , bullshit out. these people have totally invested interest. | jason |
| Their modelling on climate change is a complete waste of time and money. | Trevor |
| Its the same story with covid modelling as climate modelling. – Rubbish in, means rubbish out! | Ron |
| The free press of the world are holding governments to account. By blocking our press and media from at a minimum of questioning government actions, the are promoting Ardern's socialistic policies. Wake up New Zealand and demand media freedom | Mike |
| It is all a load of BS. | Tim |
| These modelers are like the man made climate change proponents – a fraud. Unfortunately we tax payers are paying them. | gerry |
| Lunacy. Who could believe anything from those politically motivated and biased idiots Hendry and Wiles. Lord help us if that is the best Auckland University can produce as mathematicians. I pity the poor students who are trying to learn under the tutilage of these two morons. | Chris |
| They find modellers to suit their political ambitions | Dorothy |
| They are designed to support the narrative, and so inaccurate as to be exceedingly dangerous | Roger |
| Anyone needing reliable, factual and comprehensive information on 'climate change' should read 'Green Murder' by Ian Plimer.Best price from Connour Publishing. You will wonder how people could be so naive and easily conned. | Judith |
| Ridiculous waste of taxpayers money | Susie |
| Both pandemic and climate emergencies are hoaxes designed to ruin the economy, livelihoods and to make NZers obey ie communist. | Catherine |
| and stop paying the bastards with my money | Graeme |
| None! It is fixed and meant to garner fear | Elaine |
| Just another scam to keep us all in the paddock of 5 million where she and her bar coded cohorts can control us at will. Sick | John |
| This govt will twist all figures to suit themselves | Gordon |
| No reliance by this government on anything, not just modelling! | Murray |
| For the first time in many years of reading Dr Muriel's column I absolutely disagree with her comments about Covid modellers. What if the model numbers turn out to be correct but the timing 2 or 3 weeks out. | Jon |
| The modellers are just hand picked govt .stool pidgeons. | Stephen |
| | |
| --- | --- |
| Since their first prediction of 30,000 deaths pa subsequent predictions have been just as far off the mark. $6m that could have been better used elsewhere, what a joke. | Kate |
| Appalling Id Adern and her crew | Ronny |
| To much going on behind our back to trust this government | Jimmy |
| The very best indicator of the future is the past, but that is ignored by the climate change models. As to the COVOD models – what a joke. These "experts" should be exposed for the tricksters and con artists they are. | JD |
| NONE | norman |
| The present Government of NZ is loaded with truly evil bureaucrats and politicians who just cannot resist being petty tyrants and abuse their power. Democracy has been destroyed…and we now have a bunch of sociopaths at the helm…New Zealand is lost in cloud and rain . | Chris |
| The definitive scientific study has been done by Wijngaarden & Happer and by Coe et al. Effect of doubling CO2 is minimal. less than 1 degree. methane has no effect, it is irrelevant. | Peter |
| The covid con is just a rehearsal for the climate con. | Will |
| It is a wildly inaccurate activity designed solely to support vaccine mandates done by people who clearly have no clue but have become Empliile Emperors in our state. What price is paid by us for the glory of the few? | Chistina |
| Words fail me | Albert |
| I am medical Scientist and mathematician | Tony |
| The modelling of both scenarios, covid and climate change, are completely unreliable. It is obvious that one can set the modelling program to say what you want it to say. Any pregnant goldfish with an active functioning brain cell can work that out. The accurate information coming out from the modelling scenario is less accurate than what is contained in the khaki coloured semi solid matter that comes out of a bull's anal sphincter. Time to remove the use of any information from so-called "experts" (modellers) – in fact ban the modellers altogether as they are just part of the narrative. | Kevin |
| Laughably inaccurate. Contrived and fraudulent. | John |
| Mad made climate change is almost non existent. Biggest scam bestowed on mankind since the fractional banking system. | Darren |
| The incompetence of ministers is astounding. In private sector they would be OUT | Phil |
| It's all a load of shit. No one really knows what is going to happen. | Graham |
| The congenitally stupid and cruel scatty third form class monitor from Morrinsville has destroyed all that was decent and good about NZ with her relentless and infantile squealing of "here be dragons" and her audience of the brain dead have lapped it all up while supping on the forced largess of the hard working wage earners. I utterly detest her and her party of drongos. | Bob |
| Modelling is NOT science! At best it might be a small part of it but that is all. Climate change remains a theory and to bet our way of life on that is plain stupidity. | Roger |
| It is an obvious scam.examine the records of the early promoters and who now rides the AGW gravy train! | Henry |
| Garbage in, garbage out | Andi |
| If some of the Govt. dont believe it why should we. Time to get rid of the most useless and corrupt Govt. we have ever had. | Peter |
| We seem to be (mis)governed by a pack of incompetent muppets!! | Henry |
| Zero. Modelling is only as good as the figures you put in! | C. Thompson |
| Its a lottery that is used by the fish and chip wrapper to further her goals and smoke screen her Maori agenda. Sick of being talked down to as if we are a bunch of little kids. Notice how she loves the lime light. Dont know what she would do without Covid! | alan |
| Is only a very wild guess | Ray |
| It is all to exagerate yhe "need to be fearfull" | keith |
| Overpaid Muppets | Tony |
| Get real. | neville |
| Pay me $1 million and I will come up with a better guess. At least people will know it's a guess and taxpayers will be $5 million better off.It will be difficult to get rid of Labour as too many idiots think she is marvelous. | Peter |
| I cant believe the Govt is paying serious money to people who come up with figures that are so wide of the mark and wide ranging like between 6,000 and 18,000…no credibility whatsoever. | salve |
| It has never been more important for New Zealanders to expose Labours ridiculous delusional policies for being the sham that they are. | Jacquetta |
| Small point. I watch a Dunedin professor talking "masks,masks," and have never seen him wearing. It riles me. I buy my daily coffee from a 20ft container out in the open, and they can no longer serve me unless I wear a mask ! | Dick |
| Neil Ferguson and Imperial College London have been catastrophically wrong three times before. If this was baseball he would not be batting and we would not have been listening or we would have been listening with a crystal clear head and a discerning eye. | Darag |
| This communist government is just going from bad to worse and wont get any better until jacinda is gone forever | eric |
| Computer modelling is subject to the parameters decided by the modeller. A choice fraught with error/bias. | Vic |
| No question, she must be gone and as soon as possible before we are renamed SOCIALIST DEMOCRATIC REPUBLIC of AOTEROA. | Chris |
| I feel sick to my soul with everything this dreadful Government is doing. | Jacque |
| Her government officials are doing their bureaucratic thing of constantly fearing the worst and over compensating for the extreme scenario. Her ministers are following their lead with verbose statements and no true facts. Oh dear! | Robin |
| They are just making it up as they go along to keep the population scared, docile and compliant. | Mike |
| The ones to fear are the irrational zealots at the extremes of both sides. Hoping the silent majority will vote in a good government for all NZers next time. | Richard |
| Models are an indicator of what might happen in the future, given certain parameters that are factored in the model, and these can add or subtract anything. This Government however has always gone for the worst modelled case to justify its actions when it is more obvious that a more moderate range is more probable, and to claim they are are 'following the science'. This Government is in fact been discredited in large part by the modellers they favour and the advice they follow. | Brenton |
| Computer modelling will always produce the results that the modeller or the payer of the modeller wants. | Alan |
| Modelling is guess work. | John |
| Complete fear tactics | Norm |
| History has shown the fallacy of their modelling time and again. | Gareth |
| They are clearly a geeks best guess, and no ability to modify the calcs when the facts give a different result. Once again, the more you charge, the greater the buy in, regardless of if any value. | steve |
| They seem tragically behind the curve of what is being learned overseas. They really seem to be noddies when it comes to strategic thinking and planning. | David |
| Hendy, Wiles, Jackson and Baker are scaremongers at best and probably lining their pockets at taxpayers expense to no value to anyone. | pdm |
| Its like sticking a finger into the wind and wondering which way the wind will blow | Audrey |
| Modelling has been shown time and time again to be totally erroneous. In the U.K. it's been admitted that it was done purely to shore up the government's scare tactics. | Terry |
| I believe it's about dominance and control. We are losing sight of the importance of our children's futures. Fear is not the way to live | sharon |
| Modelling has become an international farce. | grant |
| modelling is like looking into a crystel ball and saying what will happen and asking you to believe it. Is that how our government works. Looks like it Yes the more bullshit the better | John Raat |
| Substitute the "o" in modelling with any other vowel and it it helps ease the pain. Madling, Meddling, Midling, Muddling. Seriously however; anyone who was good at modelling and had access to supercomputers would be making billions on world financial markets. The rest (who by definition therefore are not good at modelling) are all 'tools' used in pursuit of nefarious political agendas. Garbage in, garbage out, on demand. | Tony |
| It HAS all been shown to be ridiculously inaccurate. | Geoff |
| They only use modelling when is suits their ideology political outlook. Tough love Kiwis just grin and bear it Suck it up mate we know what is best for NEW ZEALAND | frank |
| used to create fear | Craig |
| its for all to see…they don't know what they are doing.. | murray |
| There are lies, dammed lies and statistics. Modelling is the worst form of statistics. Used to cause us fear and compliance. | Avril |
| So out of touch with reality it is unbelievable. The algorithms used in the modelling areaway out of whack. | John |
| Obviously another propaganda method to show 'legitimacy' to Govt, controls | Peter |
| The geographic makeup and population spread of NZ is very different from other countries. Anyone can see this …. right? | David |
| Hopelessly flawed as we now know. | Colin |
| Not been remotely close to date. | John |
| I can't get over the fact that during the Xmas holidays, when all the bureaucrats and Pollys were on holiday, the C19 numbers flatlined for 2-3 weeks, max 20 daily and only 1 in ICU. When these people came back to 'work' in mid-January, figures sky rocketed again and Jacinda was back in her favourite role, fronting a TV camera beseeching us to get our booster shot or we'll all die. The best thing she can is crank up her booster and skyrocket out of the NZ politics. | Brian |
| As they always said: Garbage in garbage out. I 'd say that sums it up in that department. As far as the other topics in Muriel's article are concerned: another 2 years of this and we are in serious trouble. The economy is already collapsing. Inflation, High prices , high interest rates supply problems, The number of serious health problems caused by this gene mod vax are under reported and will come out in the open as more and more people will become seriously ill. We are in a hell of a pickle and people still do not get it. | Michael |
| climate change is a tool used by the UN to take energy reliance away from OPEC. Covid predictions have been untested as we closed down to keep it out, not hard you would think seems we an island nation, but the govt will listen to modling but not follow studies already done overseas RAT is a perfect example | Nigel |
| Climate – It is arrogant to assume humans know better than Mother Nature. The Tonga eruption observation is a perfect example. Modelling – prudent guidance would have been acceptable, not scaremongering as we have been subjected to. | Robert |
| Common sense must also be taken into account | Bruce |
| To anyone who imagines we have already witnessed the worst damage Miss J. Ardern can do to this nation – just wait and see the results of her giving the governance of the nation (co-governance is merely phase one) to the stone-age minority who happened to live here before we did. | TOBY |
| Get back to common sense and real science. | Jenny |
| None whatsoever – it is yet another gigantic scam by Globalists whose ultimate goal is ownership and control of everything! | Scott |
| An atrocious state of affairs, Who can help us. | Hendy |
| I listened originally but now aM 'OVER IT ' | Bronwyn |
| Climate change is total madness, promoted by those who can gain economic benefits, or political control. | Bryce |
| Significantly wrong with Delta | kenn |
| All modelling is based on ASSUMPTIONS not FACTS, hence all models must be treated with caution. | john |
| Don't put too much reliance on it as it has been quite inaccurate lately. | Kim |
| It's never been right to date! | Grant |
| I have been involved with science/ scientists all my working life and I have seen many Models. Some times they work. But something as complex as climate change is impossible to model. There are far too many factors over too many disiplines. | mike |
| I have little to no confidence in information produced by this government or mainstream media outlets bought off by government grants. | Lorraine |
| The modelling has been proven to be hopelessly in accurate. Its only value is to the control freak as a scare tactic to control the sheeple | Peter |
| All manipulation it seems | Beryl |
| Mostly scaremongering to support govt mishandling | Graham |
| Reliance 0n Covid and Climate Change modelling are hoplessly useless and should be scrapped. The old adage in Computer usage was and still is,"Feed shit in and you get shit out.' | Ian |
| Safety first, which I still support. Regards the Climate , not nearly enough being done on the plastic. | Barbara |
| The woman who supposedly Leads our country is totally out of control and needs to be removed. gow is this for an example. NZ Herald ( This week Not sure of date) "Leaked Emails expose government's underhand Vaccination plan". emails between gov officials & local councils appear to discuss possibility of introducing the covid vaccine into city water supplies in ares where vaccination rates havent reached 90%. | Kath |
| It is purely scare tactics, by arderns government, to ensure the public conform to to the archaic draconian rules of a dictator that she is. The modeller particularly shaun hendy has been so far away from reality it is ridiculous. And he got paid 6M for it, what a joke. | Peter |
| | |
| --- | --- |
| Directing our lives on the reading of a crystal ball? Nah | Richard |
| Too much of the decision making has later been shown as driven by political factors rather than reality! This has to stop! Environmental taxes dropped, covering productive farmland with pine trees which will never be harvested, must stop! | Hugh |
| This is a GIGO situation garbage in garbage out but why rely on rubbish | Gareth |
| TOTAL INSANITY | JULZ |
| Modelling only correct if data entry correct. Our govt paid modellers are very suspect. | Lesley |
| NO FAITH IN SCIENTISTS CONTRACTED AND PAID BY THIS GOVT WHATSOEVER THEY SUPPORT ARDERN & LABOUR GOVERNMENT AGENDAS THAT ARE DETRIMENTAL TO NEW ZEALAND, AND ITS CITIZENS. | JULZ |
| Sack these mongrels throw them out of office NZ | Marc |
| The modeling has never been correct from the very start of the Covid 19 outbreak. It is used to instill fear in the population. | Margie |
| Who in their right mind trusts incompetents like this government !! | Bruce |
| not an exact science | bryan |
| NONE of the modelling is based on true scientific research. It in once again, creating fear to gain political control! | Marion |
| "Some reliance" on it being so outrageously wrong! The eruption of the Tongan volcano in the Pacific on 14th January was likely the biggest recorded anywhere on the planet in more than 30 years, according to expert volcanologist, Shane Cronin. It is said to have put up over 3.2 million tons of CO2 in the 10 days since the eruption began. This equates to over 116.0 million tons per annum if emissions continue at the same level. This by way of comparison is more than New Zealand has ever put up. This level totally makes farcical any measures by NZ to control or reduce emissions. In fact it highlights that it is Nature and Natural Processes that control climate, not Mankind. And that is the point. With 97 percent of all greenhouse gases produced by natural processes, and only 3 percent by mankind, those political leaders who are trying to claim that driving your car, cooking on a gas barbeque, or using a coal-fired boiler will tip the planet into some sort of global warming apocalypse, are delusional. Carbon dioxide is necessary for life on earth. It's if carbon dioxide levels get too low to sustain plant photosynthesis that we all need to panic! | Stan |
| Fearmongering as lapdogs of the Govt. | Terry |
| For both climate change and a viral pandemic the ultimate mathematical models are horrendously complex and will always be partial answers capable of being politicised and weaponised to suit the agendas of the powerful elite. The current groupthink has trapped all NZ's political parties to a greater or lesser extent. A new social paradigm is required and will only emerge from adaptive political thinking that is scarce in NZ today. | Victor |
| Climate change is all bulls..t as in the past we have had ice ages droughts, floods, tidal waves and volcanic eruptions as proved by archeologists. These events produce 97% of climate warming along with the abundant huge herds of wildlife years ago. | Peter |
| This Government is an absolute disgrace | Graeme |
| The Government & Jacinda will only listen to, and approve the modelling that best suits their dictatorial aims | Bob |
| It's been over-hyped since the beginning. Total nonsense. | Coral |
| The who man-made climate change is a farce. Let's just concentrate on keeping the planet as clean as we can- clean water, recycling ALL plastic, banning dirty polluters etc | Anne |
| Nil faith in Maori lead labour government. Deceit rules with 97% climate warming caused by natural processes-the government must know this. A bankrupt country is much easier for Maori elite/Iwi to complete their bloodless coup. | Brenda |
| The couldn't pick a winner in a one horse race . | Hamilton |
| Modelling can be good but if you get to pick the models to suit your agenda then it is BS | John |
| Purely a propaganda scare tactic by the most dishonest govt this country has ever had. A disgrace to the term "government" | ross |
| This has always been a no brainer for me. I have never trusted the actions of academics in their influence over polititions of all ilks. | Terry |
| It's all BS! | Peter |
| Modelling financed by the government will reflect the wishes of the client viz. the Government. That's business! | charles |
| The sea levels have been rising for 20 years – where. All the water at our beaches is right where it used to be. 16,000 covid cases a day by February – where ? 200 a day. And millions spent for this "misinformation". | S |
| Some modelling should be done but based on reliable science not fear mongering. | Vaughan |
| Only as a rough guide, however as soon as actual figures leave the model then adjust to the reality. | Alex |
| The climate (average weather) models are 97% wrong (only control models of reduced human CO2 levels predicted current observations), 97% of the Greenhouse effect is not CO2 (most all is due to water vapour/clouds that are too hard to include in the models) and 97% of CO2 emissions are not from human activity so NZ is 0.17% of 3% of 3% being 0.00015% or 1/654,000th of the contribution. Net-Net if we grow trees & kill all animal life or if we burn to forest to the ground & live off meat & burn coal, it will make carbon zero difference to the natural cycles that have existed for millions of years. We are very arrogant fools to think we can control this . . . bust suppose that is Adern and her band of converted ideologists all over | Wayne |
| Modelling has been an abject failure. From the impending ice age of the 60s and 70s to pandemics and climate change. Just a useful political tool to use against a gullible public. | Lee |
| Their predictions are even more outrageous than weather forecasts. From my point of view – zero credibility. Unless the whole reason is to instill fear in the population. who may still actually believe her. | Michele |
| If only these modelers were setting the odds at the TAB. Seriously, climate change and covid will go down as the greatest scams the world ha ever seen. Why do we still align ourselves with the UN? Remember the days when our independent principles defined us as a nation? | Ian |
| Its all about keeping the fear going. Total exaggerated Propaganda. | Lyn |
| They have proved to be totally inaccurate | Ian |
| If we trusted the science as a result of JA there is no trust in her numbers. | john |
| It is a total mess. They say on TV about thousands getting covid scaring people. So far they have been so wrong | Jan |
| It is a scam and New Zealanders should wake up. | moyra |
| This racist divisive government are a bunch of morons. They have lost the plot completely. They use fearmongering to try and control the population. Time to remove them from office. | Bruce |
| Hasn't worked out has it?! | Kate |
| they are third-rate publicity seekers using obsolete methods. The press is complicit in always posting worst case scenarios. | John |
| The extreme and so far inaccurate forecasts are being used to justify extreme and undemocratic political action taken by Adern and her mob | Mike |
| No mention of the sun in climate change predictions. Apparently every heatwave has been preceded by higher sun output | Graeme |
| It seems that it's impossible for this government to get anything right I'm surprised there hasn't been a massive uprising in NZ | Peter |
| 'Most models are wrong; some are useful' – Steven Koonin, author of 'Unsettled – what climate tells us, what it doesn't and why it matter. | Gary |
| Modeling has been wrong everytime | Ian |
| Zero due to GIGO | Collin |
| Modelling has a history of being wildly incorrect. It's time to ditch all modelling, including the farcical Climate Change modelling! | Sheila |
| Modeling on computers is a sick joke. | Charles |
| It has to be balanced. | John |
| This government lead by the insane Ardern has to go. | Alan |
| Absolutely NONE | David |
| Its part of the New World Order as described by UN on its website. | Don |
| No reliance whatever because they have nearly always proved to be about as predictive of the future as Greta Thunberg. | RAY |
| These models have been shown to be worse than throwing a dart at a spinning dart board and expecting to hit the desired result. | Derek |
| total waste of money that should be spent on health | stephen |
| They have been wrong by considerable margins every time. They are nothing more than propaganda pieces for a tyrannical government | Alastair |
| I would like to say none but to make a forecast you have to have history. The history is misleading by way of interpretation. | Lionel |
| We should drop all Covid restrictions and Climate Change is total bullshit. | NEIL |
| I wouldn't trust this government to sit the right way on the toilet. | Jim |
| WEF driven policy with the end goal of "You will have nothing and be happy". | neil |
| I would say that the whole of government and opposition were a joke if it were not so bloody serious. The decisions, mandates, and controlling legislation being introduced by this disgusting socialist cult are unbelievable. The maoris occupy Ihumatao for months on end, the government buys it for them. The maori occupy Shelley Bay and are still doing so and the government sits on their fat arses and allows it. When the people of the country become tired of being bullied by government and have a legitimate protest the power-crazy PM and bullying speaker of the house decide they are going to end it by force. Have no doubt that this was planned otherwise there would not have been a build-up of police personnel prior to the arrests. I have absolutely no problems believing that there were shills of the government planted to stir up trouble. That is what a cult like labour are capable of. What I have trouble with is that the hierarchy of the police allowing the government to include them in what is an obvious move to try to cower those who do not agree with the government's agenda. Surely there are people with influence that can see through the labour cults plan to completely divide the population, introduce apartheid, and cause maximum disruption and fear, to embed the UN ideology in this once great country. If this present government is not committing treason, it surely is introducing communism. AS for climate change, that is just another corrupt UN fear campaign and money grab. Any government that gives away billions of dollars to remedy a problem that does not exist has to be from another planet. Fifty-one years ago, I, proud to be a regular force soldier in the NZ Army, was coming to the end of my attachment to an Australian unit in Vietnam supporting troops which were engaged in actions that were intended to prevent the spread of communism. Now, fifty-one years later I am disgusted to see that NZ Army, along with the Navy, Airforce, and Police Service, supporting a demented communist dictator as head of our government. Helping to remove freedom, impose mandates, taking away employment from even some of their own members, vaccinate young people with an experimental drug with known harmful, and even fatal, side effects, pass legislation which introduces apartheid and removes democracy, and sets our country on the slippery slope to becoming another Zimabwe. NZ DO NOT LET THEM WIN> | Terry |
| Richard Raney should challenge James Shaw to a debate, that would be interesting. Regarding the protesters: we need to support them whether we agree with everything they are protesting or not. We do not have a Pierre Poilievre in New Zealand. The difference between New Zealand and The UK, Canada and The US is they have alternative media sites and effective opposition parties. We do not. We are in a very difficult position in this respect. As I keep saying a new political party is needed they would get a huge amount of support. I say, thank-you to our protesters and may their numbers grow. They give people the hope that our politicians don't. Disruption is necessary for democracy to survive. | Janine |
| Models are only as good as the assumptions they are based on and all need to be validated….modelling 101! | Sally |
| | |
| --- | --- |
| Their modelling is a joke. Their policies are a dangerous. This government needs to GO! | Walter |
| Scaremongering is all Ardern does. That's why she loves computer modelling – it can churn out anything she wants! The public must realise the models cannot be trusted. | Adrian |
| What a disaster this government is. Ardern should go! | Gordon |
| Modelling has been politicised and can't be trusted. | Jenifer |
| The sooner we get rid of Ardern and her incompetent government the better! | Harry |