February 3, 2013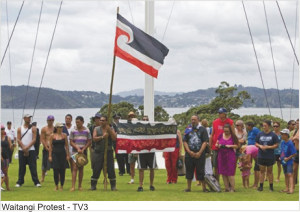 As expected, the Waitangi Day conflicts have already begun. This year there is tribal warfare over who will escort the Prime Minister onto the lower marae. Titewhai Harawira, the mother of Mana Party leader Hone Harawira, wants to keep the job, in spite of repeated attempts to replace her. Her advancing years are not an impediment to her fighting for the role either. By all accounts in 2009, when the organising committee decided to give Nellie Rata a turn in honour of her late husband Matiu Rata – a former Labour Minister and leader of the Mana Mutuhake Party – Titewhai Harawira elbowed her out of contention!
Last year the protest action of a group of radical sovereignty activists so marred official proceedings that the Prime Minister was prevented from making his planned address on Waitangi's lower marae. As a result, the late Sir Paul Holmes – who had a wonderful way with words – wrote the following:
"Waitangi Day produced its usual hatred, rudeness, and violence against a clearly elected Prime Minister from a group of hateful, hate-fuelled weirdos who seem to exist in a perfect world of benefit provision. This enables them to blissfully continue to believe that New Zealand is the centre of the world, no one has to have a job and the Treaty is all that matters.
"I'm over Waitangi Day. It is repugnant. It's a ghastly affair. As I lie in bed on Waitangi morning, I know that later that evening, the news will show us irrational Maori ghastliness with spitting, smugness, self-righteousness and the usual neurotic Maori politics, in which some bizarre new wrong we've never thought about will be lying on the table.
"This, we will have to address and somehow apply these never-defined principles of the Treaty of Waitangi because it is, apparently, the next big resentment. There'll be lengthy discussion, we'll end up paying the usual millions into the hands of the Maori aristocracy and God knows where it'll go from there.
"Well, it's a bullshit day, Waitangi. It's a day of lies. It is loony Maori fringe self-denial day… No, if Maori want Waitangi Day for themselves, let them have it."1
Sir Paul expressed what many New Zealanders were thinking, and probably will be thinking this Wednesday also. Instead of it being a day to celebrate being a New Zealander, it has become a day that the radicals within bask in the media attention they need to deliver their racially divisive cause into the living rooms of ordinary New Zealanders.
A year ago at Waitangi Day, the Maori Party was threatening to pull out of the government's coalition – unless a Treaty of Waitangi clause was inserted into the asset sales legislation. They got what they wanted with a clause that reads: "Nothing in this Part shall permit the Crown to act in a manner that is inconsistent with the principles of the Treaty of Waitangi. For the avoidance of doubt, (this) does not apply to persons other than the Crown."
A year ago, the Maori Council were about to launch an urgent claim to the Waitangi Tribunal for the ownership of New Zealand's fresh water. As expected, the interim report found in their favour, but as the government is not bound by Waitangi Tribunal decisions, the Maori Council appealed to the High Court in an attempt to delay the partial privatisation of Mighty River Power and obtain shares, rights and other forms of appeasement. By November, their actions had already cost $1.24 million, with most of that falling on taxpayers: Waitangi Tribunal costs of $190,897, legal aid for the claimants $323,341, Crown lawyers $670,686, and consultation over the "Shares Plus", $55,000.
With the High Court finding against the Maori Council, an appeal was then lodged in the Supreme Court. Colin Carruthers QC (husband of Deborah Coddington who is a member of the National and Maori party's Constitutional Advisory Panel) presented the Maori Council case last week, and a decision is expected soon.
The comments made during that hearing by Chief Justice Dame Sian Elias show the dangers of New Zealand having a new written constitution that would give un-elected judges supreme power over our elected Members of Parliament. The effect would be that when the Chief Justice said, "a protective mechanism could be that the Crown will only divest 25 per cent until there's some resolution", in response to concerns over a compensation framework, she would be dictating to Parliament.
We should not forget that while judges may be experts in law, they remain individuals with an individual "world-view" and political persuasion. In a democracy it's the collective view – as represented in the House Representatives – that should remain the highest authority, not individuals, even if that individual happens to be a judge.
Having a written constitution that elevates the judiciary as a supreme authority, would be disastrous for governance and for democracy. It is a stark reminder of the importance of New Zealanders becoming properly informed about the constitutional review and the need to speak out against a new written constitution for New Zealand.
Professor Martin Devlin, a member of the Independent Constitutional Review Panel, is this week's NZCPR Guest Commentator. In an article entitled, Why 'celebrate' Waitangi Day?, he asks the question, "What is there for New Zealanders to celebrate on Waitangi Day 2013?"
He explains that over the years there has been "A significant erosion of our democratic structures in favour of bicultural separatism, the very antithesis of the one nation which the treaty was intended to deliver. Add to that a treaty which no longer means what it says, but what the treaty evangelists tell us it means. And finally a requirement that New Zealanders accept without protest, an endless list of undefined, unagreed-to, opportunistic "principles",  the new Ten Commandments,  which they have never had the chance to discuss, but which in a new constitution, will dictate their legal rights for generations to come. How democratic is that?"
Professor Devlin concludes his article by saying "I, for one, will not be 'celebrating' Waitangi Day and I urge other New Zealanders not to do so, either."
Recent controversies over Waitangi Day, have given rise to a misconception that there are strong historic traditions associated with the event. That is not the case. Celebrating the signing of the Treaty of Waitangi is a modern-day development. Annual commemorations did not begin until 1947. It was not until 1974 that Waitangi Day became a public holiday – but as New Zealand Day. However, the name was changed back to Waitangi Day two years later.
The modern-day 'reverence' of the Treaty of Waitangi is also a relatively recent phenomenon. In fact, Sir James Prendergast, who was New Zealand's Chief Justice from 1875 to 1899, described the Treaty as 'worthless' and a 'simple nullity'. This was said to be the prevailing attitude until the 1970s, when the Labour government passed the Treaty of Waitangi Act to establish the Waitangi Tribunal as a permanent commission of inquiry into contemporary Treaty breaches. But it was Labour's 1985 extension of jurisdiction back to 1840 to revisit historic claims that gave rise to the Treaty of Waitangi grievance industry.
NZCPR Research Associate Mike Butler, a member of the Independent Constitutional Review Panel, is the author of the Treaty Transparency Report, which provides full details of past and present claims. The latest updated report is now available on the NZCPR website under Research Reports on our Topic Index. In his accompanying article National's $1 billion treaty spend-up, Mike explains that, "John Key's government has signed up and mostly transferred a total amount $1.07-billion since 2008. The National-led government's Treaty Negotiations Minister Chris Finlayson has completed 16 settlements, while 17 are awaiting legislation. By contrast, the Helen Clark-led Labour government completed 12 for a total amount of $411.9-million."
These days, Treaty of Waitangi politics is driven largely by the Maori Party on behalf of the elite iwi leaders group. Their agenda promotes a series of misrepresentations as fact. Just last week, Dr Paul Moon, a Professor of History at AUT, debunked the myth that the Treaty is the foundation of our system of government, in a Herald article in which he states, "This surprising gem was proposed by some members of the Maori Party a few years ago. It is, of course, demonstrably wrong. The system of government ushered in by the Treaty was characterised by there being no elections, no political parties, with most of the government's activities, policies and funding controlled by London, and with the Governor exercising near-dictatorial powers in the colony. The foundation for our current system of government was established with the passage of the 1852 New Zealand Constitution Act, which almost ignored the Treaty altogether."2
Auckland University Associate Professor Dr Elizabeth Rata, a member of the Independent Constitutional Review Panel, also points to the 1852 New Zealand Constitution Act as the foundation of representative government in New Zealand, in an article in the Herald in which she discredits the comments by government's Constitutional Advisory Panel member Deborah Coddington, that the Treaty is "New Zealand's founding document".
Dr Rata explains, "I was surprised to read in Deborah Coddington's recent Herald column that the Treaty of Waitangi is New Zealand's founding document. Of course some New Zealanders mistakenly believe that is the case. Where the belief becomes a problem is when a member of the Government appointed and funded Constitutional Advisory Panel such as Deborah Coddington states that this is so. In describing the Treaty as our founding document she has jumped the gun somewhat in anticipating the panel's recommendations about the status of the Treaty."
Dr Rata concludes her excellent article – which we have republished HERE – with the following comments: "To simply assert that the Treaty is our founding document, as Deborah Coddington has done, is not good enough. Not only are there other contenders for the status of founding document (if we want one); the 1852 Constitutional Act springs to mind, but the strategic use of the Treaty in iwi politics to undermine democracy at all levels of our political system means that the Treaty is tainted as a symbol of national unity."
Not only is the Treaty tainted as a symbol of national unity, so is Waitangi Day. It is time that our political leaders realise what most of the country already knows, that the only way forward is as a nation united as New Zealanders, not divided by the politics of race.