February 5, 2017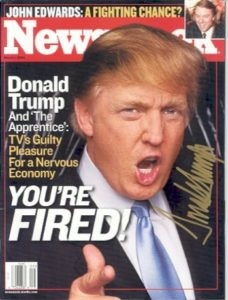 If US President Donald Trump was the Prime Minister of New Zealand and heard what the Ministry for Primary Industries (MPI) is doing to Biddy Fraser-Davies of Cwmglyn Cheese in Ekatahuna, he would undoubtedly call the head of that agency and say "You're fired".
"You're fired" was Mr Trump's signature line from the reality TV show, "The Apprentice".
It's a line attributed to him when he sacked his country's top law enforcement official, acting US attorney general Sally Yates, for refusing to enforce a Presidential order "designed to protect the citizens of the United States".
In light of President Trump's recognition of the vital contribution that small business makes to a nation's economic wellbeing – and the urgency with which he is acting to reduce compliance costs in the US – he would most certainly step in to help Biddy, the 74 year-old artisan cheese maker, who says she is being forced out of business by the crippling compliance costs that MPI are making her pay.
Biddy, who is this week's NZCPR Guest Commentator with a letter she has written asking MPI officials and politicians for help, explains how she is required to pay the same compliance costs as Fonterra, even though she only milks four cows:
"I write in some distress as it appears the MPI is determined to close me down with their excessive demands for repeat testing of raw milk, immature cheese curd and final product testing of Cwmglyn mature raw hard cheese.
"My validation protocol has been complied with and all cheese was acceptable and way, way below their tolerance limits and released for public sale. As the cost of testing for this validation study was in excess of $15,000, (for 10 cheese truckles) I had thought that on-going routine testing would be at a level that would be sensible (in terms of the food safety risk), cost effective and affordable for me. But no, apparently the dairy team at MPI want to test me into extinction.
"My laboratory testing costs in December 2016 were $4,053.39. I sold $5,290.43 worth of cheese and had no more to sell. Lest you think the difference was enough for a geriatric cheesemaker, the wages we pay our excellent part-time worker (who prior to working for me for the last 7 years was 15 years on a benefit) was $1,549.76. She looks after our customers while I am busy in the cheeseroom. Hardly a sustainable business for us as we still have to fund dairy cleaning products, feed for the cows, power, rates insurance etc.
"My results are consistently stunningly good. I am retailing my cheese at $80 a kilo, which seems to me excessive for what is actually a simple peasant food, but even at this level, I can't make any sort of profit and am forced to try and sell my remaining assets to pay for this huge compliance cost. Fonterra's batch sizes consists of thousands of cheeses, my batch is usually a single cheese, yet I have to pay the same compliance cost."
In the US, within days of becoming President, Mr Trump had signed an executive order to "dramatically reduce federal regulations" on business: "We'll be reducing regulations big league and their damaging effects on our small businesses, our economy and our entrepreneurial spirit. The American dream is back, and we're going to create an environment for small business like we haven't had in many, many decades."
As a result of the directive, federal agencies wanting to introduce a new regulation will have to identify two to be repealed based on their estimate of the cost of those regulations to the economy and the private sector – although the final decision will be made by the White House: "Any new incremental costs associated with new regulations shall, to the extent permitted by law, be offset by the elimination of existing costs associated with at least two prior regulations. Total incremental cost of all new regulations, including repealed regulations, to be finalized this year shall be no greater than zero."
The reality is that the viability of the small business sector in the US and many parts of the world, including New Zealand, is being threatened by the rampant growth of government regulation. In some areas, it's killing businesses and killing jobs.
Under the guise of health and safety, environmental protection, equity, and other social justice objectives, government bureaucrats are relentlessly imposing their politically correct restrictions onto businesses. These rules and regulations, which are forcing up the prices of goods and services – as the resulting compliance costs are passed onto consumers – are being justified through claims that business owners cannot be trusted to do the right thing. The problem is that many of the new rules are completely ridiculous and out of all proportion to the risk.
Imagine being in the construction industry and having to have safety officers carry out warrant of fitness checks on all of the power cords used by the business – not only those on power tools, but those on computers, printers, even desk lamps – and not once every five years or even every year, but every three months.
And what about the escalating number of people, who are now being forced to wear reflective gear at work, even though their risk of being run over is virtually zero.
Or how about the employees, who wear walk shorts to work – and have done so for thirty or forty years – who are now being told that they have to wear trousers because shorts expose the wearer to a risk of skin cancer! And how long will it be before the anti-shorts brigade turn their attention to schools and school uniforms?
These are just some of the more visible acts of stupidity that government bureaucrats and politicians are imposing onto the business sector. But more insidious are the hidden regulatory controls, such as the ones that Biddy is fighting.
In a speech in 1997, in which he asked, "If socialism is dead, why won't it lie down?" media magnate Rupert Murdoch gave a chilling insight into the forces driving the incessant encroachment of government regulation:
"Socialism is not dead, but alive and well and living in the regulatory agencies. The classical definition of socialism, of course, is that contained in clause four of the old British Labour Party's constitution: public ownership of the means of production, distribution, and exchange. No one talks about nationalizing industries any more. But then no one has to nationalize industries – because the extraordinary growth of regulation has given effective control of them to the government without its having to assume the hassle of ownership. Socialism has effectively reinvented itself. And it's right here."
During the 2008 general election campaign, one of National's key pledges was to free up small business from the mountain of red tape and bureaucracy introduced during the nine years that Helen Clark's Labour Government was in power. Once elected, National introduced their small business agenda, which eventually became part of a 120-Point Action Plan of initiatives aimed at creating a business environment that fosters entrepreneurialism and enterprise – and rids small businesses of unnecessary bureaucracy and compliance costs.
One of their main proposals was to address out-of-control government spending and the rampant growth of the public service bureaucracy – which had blown out from 29,000 in 2000, when Labour was first elected to government, to 45,000 in 2008, when they left office. But given the country was in a recession and facing the Global Financial Crisis, rather than slashing and burning public service positions, National opted to introduce a cap on administrators – to be overseen by the State Services Commissioner.
The new cap of 38,000 public servants excluded front line services departments like Corrections, Child, Youth & Family, and Work & Income, but included five Crown entities – Housing New Zealand, the New Zealand Qualifications Authority, the New Zealand Transport Agency, New Zealand Trade & Enterprise, and the Tertiary Education Commission.
All other Crown entities were excluded from the cap, as were non Public Service departments including Defence, Police, the Security Intelligence Service, Parliamentary Services, the Office of the Clerk, and the Parliamentary Counsel Office.
In 2011, the cap was readjusted down to 36,000 positions.
What National didn't do when they became the Government in 2008, however, was to undo some of the other changes Labour had made, such as the creation of a raft of specialist government agencies that intended to create a plethora of new laws and rules to justify their existence.
One such agency was the Food Safety Authority, which Labour had set up in 2007 with a staff of 488 to keep our food safe. While National later merged the agency into the Ministry of Primary Industries, their regulators now have such a stranglehold on the food sector that their power and reach has grown out of all proportion to the actual risk. As a result, small business owners like Biddy are in danger of being forced to close their doors.
In 2010, the Food Safety Authority commissioned some modelling to justify their planned wholesale regulation of the food industry. While their report alleged that the cost of food borne illnesses to the New Zealand economy was a massive $162 million a year – demonstrating that that more controls were clearly needed in the food sector – closer scrutiny reveals that only $6 million of that figure was attributed to healthcare costs. The balance was made up of overblown guesstimates of the wider economic costs of illness – essentially dubious figures designed to justify the need for their new laws.
Instead of carefully analysing these new costings, to ensure they were evidence based, a gullible National government accepted the report and proceeded to regulate the industry. What this means is that many small operators, including those producing food items from home – where many leading food brands including Lisa's Humus and EasiYo Yogurt started out – are in effect, being regulated out of existence by the Food Safety Authority.
New Zealand is a nation of small businesses. Those with fewer than twenty staff represent 97 percent of all businesses in the country, employing 30 percent of the working population, and producing 27 percent of our Gross Domestic Product. Of the half a million businesses in the country, more than 350,000 have no staff, 100,000 have 1 to 5 staff, 40,000 have 6 to 19 staff, and only 15,000 have 20 or more staff.
While the government can pat itself on the back for the fact that the World Bank's latest Doing Business 2017 report shows that New Zealand has overtaken Singapore to rank first in the world for the ease of doing business, the reality is that when stories like Biddy's emerge, and no-one in Government does anything to put it right, then they risk damaging their credibility – and New Zealand's reputation as a business friendly country.
Politicians have a responsibility to protect the public from unfair treatment by the State. That's why we pay Ministers – so they can step in and fix mistakes. Just this week, the new Energy Minister, Judith Collins, has instigated a government inquiry into whether petrol prices are fair. An inquiry into whether government charges being imposed on the business sector are fair, should be next, since it is clear that in the case of artisan cheese makers, the rules and regulations are seriously out of kilter.
Biddy has written to senior MPI officials, Ministers, and every member of the National Party. We hope that someone has the character to sort this out, because when a Government that purports to be batting for small business allows their regulators to charge a tiny enterprise the same as one of the country's biggest businesses, then you have to conclude that something is seriously wrong.
THIS WEEK'S POLL ASKS:
Do you believe that regulations in New Zealand are out of control? If so, please feel free to share any examples you might have – and to encourage others to share them too…

*Poll comments are posted below.
*All NZCPR poll results can be seen in the Archive.

THIS WEEK'S POLL COMMENTS
| | |
| --- | --- |
| Fresh water. | Barry |
| Non objective controls and regulations kill innovation and shut down the human mind until people eventually give up out of frustration as potential business growth is curtailed. The other cost is increase of rates or taxes to pay people to implement and police these laws. Politically it's called the fascist regulatory state – the other arm to total state dictatorship. Also, do research on AGENDA 21 and its most recent amendment 2030 AGENDA – effectively, global slavery in fifteen years. The ideological architect of Agenda 21 is the late Canadian socialist, big oil businessman and U.N. bureaucrat Maurice Strong who spent his later years in communist China advising them of course. When your contributor Julie said that every New Zealander should read, IN THE JAWS OF THE DRAGON, How China Is Taking Over New Zealand, I definitely concur – it's a shocker! | Don |
| The cost of restricting silt runoff from residential land development, including for land setasides and associated landscapings and structures, is of the order of $60,000 per section. This is just one of the great many ways in which government and local government actions interventions and regulations add to land development costs, so that sections which cost half a blue collar worker's annual income in 1970 now costs ten times that income – or 20 times what it used to cost in terms of income. Such cost-pushes now blow section prices from a basic $40,000 if 1970 practices prevailed today, to anything from $400k to $600k for a third the area. No wonder the housing market for low income people has long been destroyed, meaning the only houses built today are to specifications only the rich (or already propertied) can afford. Roll on la Revolution! | David |
| If you think it is bad enough now, wait until we have a Labour/Greens Government! | Kevan |
| I used to laugh at the tv show YES MINISTER. Not now. | Max |
| This is the greatest issue besetting the country currently. Far too many examples to list from the property industry. God help the next generation. | Leigh |
| We were forced to put electronic key locks on all our warehouse entry points because we distribute ammunition. | Wayne |
| How Stupid can you get over these cheese regulations for small producers? | David |
| Forget Waitangi and put the "treaty"Back where it belongs, in the Past. | Don |
| Agenda 21 or 2030 as is now the goal. | Peter |
| I have lived in a small North Island country town for many years and have used the same garage for car work and WOF inspections for a very long time. The garage area has a space four cars wide which has two hoists. In the past if I arrived and a space was empty I drove my car in and the mechanic set to work. I would wait in the garage office if the job was an inspection. When finished I would get into my car and drive it out. Today I took the car in for a WOF and found that the work space is now fenced off with a bright yellow chain fence and warning signs tell me to keep out. To get a car into the hoist the fence is unlatched, the car driven in by a mechanic, and then the fence is latched back into place. At the side of the work area is an entry path for the car owner and waiting is in a room with a door entry from the path. The door has a door handle on the workshop side, but the waiting room side has no handle at all. To get out one has to use a second door which opens onto the garage forecourt. So far as I can ascertain there has never been an accident with a customer in the small workshop. Yet the Government safety idiots have now made the owners fence the work area off from the public who deliver their cars there every day. I also spoke to a tradesman who was working on the roof of a low single storey home. The building was surrounded with scaffolding and the man told me that he had been a roofer for 30 years and had never had an accident. He said there was no need for the scaffolding but he now had to use it and and this small job was costing the customer $2,000.00 of needless expense. One wonders if we will ever have a Government in power who have the brains to cut out so many needless regulations and expense. | Ernest |
| As if all the previous comments weren't enough, I note tonight's news telling us that Iwi want the deceased pilot whales removed from the beach. Get a grip NZ before the situation goes from bad to worse. At the rate things are going, we are going to wake up one day and say "how did that happen". I trust PM English will remember his earlier stance in that respect, though don't count on it after his rollicking enthusiasm about his Gay Day outing outing. | Brian |
| Absolutely. Clearly one size does not fit all, and cases like Biddy's should be addressed as fully justified exceptions! | Laurie |
| And getting worse. | Bill |
| As a farmstay we have to have monthly fire tests from a qualified person PLUS a different person to do an annual check. This is excessive. We are not allowed to do the checks ourselves. | Christine |
| They have been out of control for decades. The more bureaucrats the more politicians can hide away from the general public. Regulations are simply a method of communism in controlling the masses. New Zealand is well down the line in this respect. A nineteenth century method of destroying authority was formulated under the name of an Irish landowner. His name was Captain Boycott. Guess what his tenants won against the Captain; and the might of the British Empire. | Brian |
| Yes, in case you have forgotten that we are a nanny state, totally over regulated, just look at Occuptional health and Safety regs, loss of democracy etc etc..one could go on.. | Audrey |
| Hopefully Trump may start a change in the western world, and stop the freeloaders cliping the ticket at every opportunity, and this will flow on to NZ. | Geoff |
| Government and Local Government are killing small business by over regulation. Small business people can no longer work in their business because they have to spend all their time complying with beurocratic, socialistic policies. | Maureen |
| Absolutely! | Fraser |
| Removing playground equipment from schools and kindergartens so kids don't hurt themselves – that's how I learned about gravity and consequences… | Andrew |
| Of course they've gone overboard on bureaucratic officiousness, Politically Correct diktats and ass-covering measures, the rationale being "rather too much regulation than too little". Besides, look at all the jobsworth jobs it creates……. | Colin |
| Compliance companies are popping up all over the place – the people running then know nothing about anything, love putting x on their clipboard so that you can be charged for another visit yet again. The costs are exorbitant, the time wasted exorbitant & the stress related to all these stupid things are enough to make you cry. We pay for fire alarm monitoring – because the council will close us down if we don't have it. It is connected to the phone line – but when spark lost our phone lines for 10 days, the monitoring service didn't even notice it!!! | Anne |
| Voluntary orgs who feed the hungry are in danger of going out of business because food regulations impose massive training costs on workers who, in many case, have done food work for longer than many government ogfficials have been alive. | Rod |
| Regulations, the politics of identity and political correctness are out of control. | Tom |
| Totally out of control in all industries, particularly Auckland council who charges excessive fees for the smallest of consents. | Grant |
| This case of cheese testing is horrifying. The testing regime needs urgent change. My case of over regulation is for Warrants of Fitness changes to cars in NZ which is related to the age of the vehicle. New cars require a WoF every 12 months for their first years of use. During that time they could travel hundreds of thousands of Ks. I own two 40 year old classic cars which travel around 3,000 ks annually and are very carefully looked after with all maintenance completed as needed. I am aware of any change in performance and investigate immediately if I suspect anything is amiss. Two WoF per car per year cost me over $200 almost double the cost of registering them. Testing of older cars cannot be done on or is unnecessary for many of the testing stations equipment eg emission testing and all the electronic aids in modern cars. In UK their equivalent testing exempts all older cars. The Federation of Motoring Clubs, which represents thousands of enthusiasts, supports the change to annual WoF for older cars but the Government won't consider it. It is a huge cost to us owners and all to achieve virtually nothing. | Chris |
| Example, fencing off our natural mountain fed streams and creeks in hill country environment, to preserve water quality. Urban based PC gone mad! | Stewart |
| Try sub-dividing your family property in Auckland. The RMA is a total farce & expensive time-waster. It took 6 months to get approval for the most simple project you could imagine. | David |
| Health and safety has gone mad just a self regulating monster. | Richard |
| Regulations are out of control, I have been a systems auditor since 1998 and business compliance has become more complex, causing much anxiety for business owners. I have had dealings with many government departments, MPs and ministers, whilst running a management consultancy, for over 20 years and also being part time CEO of the NZ Safety Council [NZSC]. The Wellington bureaucrats wield too much power and many of our politician are too weak, lacking in business knowledge and self serving. We have far too many career politicians. We need a 4 term and you are out rule to get more fresh blood into our parliament. | David |
| Small businesses do so much for the economy stop punishing them to lose them would be like losing all the people who do Voluntary work. The Government needs to get their priorities right. | Laurel |
| And with the present nopposed leadership and people like Susan Devon, nothing will change. Wish we had someone here to drain the swamp. | Carolyn |
| I am a 1 man Security Business. Latest regs to keep my license alive (& every other guard's licence) I have, "to ensure we are on the same level playing field" to re-sit 6 exams. At $6k per course that's ridiculous. I have commendments from the Dpt of defence & 15 yrs. experience that are now no longer valid. An 18 yr old graduate now has the status with no experience. | Nick |
| Controls are out of control. | Arthur |
| | |
| --- | --- |
| It makes me so angry. Let's hope Donald trump can turn it around in the USA and hopefully the rest of the world will follow. | Steve |
| What we need here is a Fox TV channel to tell the truth about all the lies, regulations and rubbish running this country. | Monica |
| Unfortunately over regulation is endemic in government at all levels – local regional & national. If many of these agencies had to operate in a competitive environment they'd be out of business very quickly! Many of their staff suffer from lack of "real world" experience. | Rex |
| NZ Small business rowing eight = 1 rowing and eight coxes!!!! | Colin |
| Have been for some time. National is weak and just did not do what they promised. | Murray |
| Rich person/police state. | Paul |
| You are very correct when you suggest the bureaucrats pass rules/regulations without any thought as to side effects. Unfortunately many bureaucrats either have unbalanced opinions or are ill-informed about their subject. | Mike |
| Regulations have been out of control for at least 25 years. During this time there has always been a culture within the Government that treats small business as easy prey with a total disregard for financial limitations. I too, was one that nearly went to the wall due to exorbitant and un proportional financial licensing fees. | Alex |
| Given Biddy Fraser-Davies example – no doubt about it, they should all be fired. | Ron |
| MPI needs to be reined in. They have gone out of control in the Fishing industry, and are openly targetting small independent fisherman. Even going as far as saying in public meetings, that if they so wish, they will regulate us out of business. | Matthew |
| Far too many public servants running around with clipboards but adding nothing to productivity! | Mark |
| You put it perfectly…its simply nuts and its flown through to the building industry, made worse by Auckland City Councils self introduced rules of building consents…its just the tip of an iceberg. TODAY in the motorhome magazine is an article advising retired members they cannot pan for gold (that's if they can in fact bend over at all) and risk a 400.000 fine if caught…I kid you not. | Rob |
| Many bureaucrats in government departments and councils and much of their bureaucratic nonsense should be thrown out. | Ian |
| This whole country is being buggered by so much government regulation just to keep incompetent people in jobs and that includes these so called advisers that the mp's have. | Richard |
| Here is a beauty – unbelievable! Before Xmas, an emerging company decided to undertake a soft email marketing campaign revolving around Xmas Greetings! The mail out was 2,000 in the Wellington region and about 5,000 on the east coast of Australia at a cost of some $5,500. The focussed databases were purchased from reputable marketing business providers in NZ and AUS. Directors of the emerging company were requested to appear before the NZ Department of Internal Affairs (DIA) and challenged on the fact that they did not have 'Consent' to undertake such a campaign! The emerging company was advised that it had broken the law as consent could only be given if they phoned each recipient in advance!!! Most in business would appreciate that some 15,000 phone calls would eventuate as recipients were at a high level and the first phone call would not actually get to the CEO or Director of the particular company targeted. Turns out that the email campaign targeted a senior person in the DIA! The NZ database provider makes no apology because they believe that 'Deemed Consent' was achieved! The emerging company is still under investigation and is being lined up for the levelling of a fine or legal action against it by the DIA!!! The analogy is that NZ does not have a democracy it now has a socialist bureaucracy that is protected by senior politicians who cannot be removed by the Voter. These bureaucrats, acting as Politicians, sit on an MMP List and simply change to a different chair on the same Deck if they are thrown out of government! Take the current PM for example. | Frederick |
| It is like a creeping paralysis with no known cure or control. | Bryan |
| Out of control for eons. | Ivan |
| Overloaded with petty rules. | Tony |
| This safety bureaucracy kills business. | Dave |
| We have just spent a year living in a few different parts of the world. When I came back to New Zealand to check in with WINZ I had to provide identification before being allowed into the office. The WINZ office I visited was a small one. There was one visible staff member, 2 people waiting to be seen and 3 security staff. One security man checked id on the outside, he then tapped on the door to signal the inner man to open it. Number three had disappeared. I have no numbers to support this but I suspect that people on pension business are not in the highest risk group for attacking staff. As requested I showed them my driving licence, but having no id with her my wife was not allowed in. She was not wearing a hoodie, a helmet, a burka, a gang patch, sports no tattoos and was not even carrying a handbag. It is a sad reflection on a society that has a worldwide reputation for being friendly that this level of security is thought necessary after one rogue attack on the Ashburton office. As well as suffering from the oppressive over regulation that is killing Biddy Fraser-Davies%u2019s business we seem to have lost any grip of reality in our understanding of probability. This of course is highlighted by the tsunami of earthquake related regulation that came out after the Christchurch quakes. Surely the probability of an earthquake in Wanganui is the same as it has been for the last 50 years or so. | James |
| If another Govt Dept can find that only an annual audit of security systems to protect the public is necessary, and the interval is lengthened or reduced according to historical performance and compliance of the audited entity, then that principle should be extended to all business; with an emphasis on small business. Small businesses are a mainstay of our economy and should, in the case of foodstuff manufacture should not be more highly regulated than similar imported foods are at their point of origin. | Alan |
| Government regulations in ALL areas is killing business, driving up prices, and driving people to "potential" suicide. All those that bag President Trump for his "radical" decisions should take a lead from him and get their heads out of the sand. This country needs to weed out the "socialists" from the bureaucracy and tell them "You're Fired!!!! | Neil |
| For sure out of control. | NevKath |
| Yes absolutely out of control .We nned to drain the swamp and bring back democarcy to NZ. Overtaxed and over administratred ramped up by a spineless left wing nanny state NATIONAL led Government . Keith Holyoake would turn in his grave if he saw what had happened to the National Party. | Greg |
| Parasitism, funds, many areas of government, by introducing more regulations than necessary, so by law; it provides continual employment for the parasites, at the expense of tax payers and progress, ultimately destroying the economy. | Roy |
| I am one of those contractors that sometimes has to do the 3 monthly testing of ALL appliances owned by a given business. Give me a break! I've got real work to do! | Linc |
| | |
| --- | --- |
| Some penpushers on the loose again! | Theodorus |
| Whilst having little knowledge of cheese making and the controls being exerted upon this poor lady, I have certainly seen the waste of time and money on compliance costs with the testing and tagging of electrical leads in the Construction Industry. It has spawned a whole new moneymaking branch of the Electrical Industry. Seems like the tail now wags the dog in most examples of safety testing, including the mandatory wearing of red or yellow safety vests as described. | Ian |
| Unquestionably. What is needed now is a political party with one clear policy – for every new law enacted, three will be taken off the bbooks! | Graeme |
| I do believe foodstuffs have to be product tested. However, common sense must prevail when costs are worked out. | Dennis |
| Just like the rest of our wastrel and spendthrift government. | Mark |
| I totally agree that that the dealings of Biddy with bloated bureaucrats. is an assault on all in this country. The trouble is an epidemic in many areas. The building Industry and especially Residential is a major one where owners are forced to have costly scaffolding for even small jobs. The bureaucrats have bloated incomes and always seek opportunities to increase them. – It must stop. | Brian |
| I know personally of a young dairy-farming couple in Marlborough who had been supplying raw milk off the farm to consumers and, due to the draconian regulations, closed down their raw milk supply business. | Brenda |
| Too much yes minister. | Willy |
| Companies still paying out thousands to comply with all the new health and safety regs; have observed it first hand…much of it completely unnecessary…someone will pay, probably the poor old consumer. | Brian |
| It is impossible to legislate against ever thing that can go wrong in all situations. Some of the blame can be laid at the feet of coroners, who often make stupid recommendations!! | Allan |
| PC, OSH, Worksafe are all out of control and utter BS. They need to be reined in | Chris |
| NAIT regulations are burgeoning as are the 21 salaried worker in that section that earn over $100k. My TB testing ferquency (despite being clear for over 20 years), is twice that of the rest of the country, despite there being NO TB in this area. NAIT's (flawed) tagging system seems is changing all the time (out cost) and tags plus TB testing is costing me around $1000/a. for a herd of about 35–40 animals. Fuck wits in control making a bigger web of sub worker so their salaries are increased. NAIT aren't even in the phone book as aren't "Ospri" (or whoever they fucking call themselves nowdays). I found a spider in (imported) grapes in the supermarket and my call took 5 days to be answered and the fuckwit on the end of the phone wanted ME to pull the web apart, to see if it could be identified. The lunatics are running the asylum! | Greg |
| Way over the 'Top' and out of control. | Geoff |
| Sneaky spies from Waikato Reg. Council spotted the pest "tree privet" on my section, which must be gone in 3 weeks. no dialogue, nothing. I'm not impressed. | Pete |
| Yes – and their main problem is that they DON'T have to go through parliament or undergo any sort of public vetting | Geoffrey |
| And you wonder why I call this government the NATIONAL BRANCH OF THE LABOUR PARTY. The global government agenda must be coming obvious to even the staunchest National voter. TPP, A disgusting way of putting all of the production & distribution power in the hands of a few massive corporates. A whole generation who now tolerate being told how to live their daily lives, because they have been brain-washed into believing granny state knows best. This country is so desperate for a Donald Trump, & the majority don't even realise it yet. | A.G.R. |
| We are surrounded by "officials" who are desperately seeking to justify their existence, this will cost the country millions of dollars in compliance and lost productivity and its only just beginning. It would be great if the police were as diligent in tackling red light runners and cell phone users when driving. | Robert |
| My sympathies are wholly with Biddy and those like her who are attempting to operate functional business which have already stood the test of time, and times of tests….without being put out of business. I feel that some clerical (not a hands-on) person has simply made the decision that "this person must go" and that's really what she is up against Is that so,? in fact? | Mabel |
| Bureaucratic power is the "invisible government" which controls and coerces us; it has become a law unto itself, and we, the public, are largely powerless to do anything about it – even via the ballot box. | Graham |
| Where are these safety morons when there is a genuine safety issue with regards to the dangerous hours being done by the doctors? | Ken |
| Building industry is unbelievable now. Houses cost thousands more because of stupid rules. | Norman |
| Regulations made by mindless morons who have to justify their high salaries with no thought as to the result it has on business. | Edward |
| Yes regulations are way out of control. | Robert |
| I feel for this women just plain stupid is all I can say. | Paul |
| Like the lady with the cheese Govt regulations are out of control we pay to many shiny pants sitting in offices to dream up ideas to justify there jobs food regulations have just gone over the top that they cause a generation of sick people by not haveing some substance in there food any more so no resistance any more to resist disease. | Russell |
| Virtually every regulation that affects farming is unnecessary. How about Worksafe requirements not just to report every accident, but to report every "near miss"? How many people report when they ALMOST have an accident? | Esther |
| I am ex public service, (so called,) I know that it is a crazy situation in this country. | Ronald |
| The worst of the lot allow Maori Trusts to make millions of $ they do not have to pay any tax on despite only using a small proportion of their profits for charitable purposes.. | Mark |
| Definitely. Get rid of OSH for a start. | Clark |
| I used to own/run a small mixed grocery/hardware/ petrol shop in Mercury Bay. It wasn't too bad then, but the bureaucratic thieves, came in the guise of the MPI & the man I sold to, went broke because of it, and the turnover was $530k the last year I owned it, 1991. | Denis |
| Let's get common sense back in the market place. The regulators are acting like little Hitlers and need reining in. Some of their decisions are plain petty. | Graeme |
| Too many jobs for the boys. | Stewart |
| These regulations need examining – they are completely unreasonable. | David |
| Compliance costs and over-regulation generally are crippling NZ economy and innovation. The RMA essentially crippled the small player when it came to developing new compounds not previously seen in NZ. That was about 20 years ago and little has changed. 20 years ago compliance costs were costing small businesses $26K per annum – enough to employ another staff member and so lessen the unemployment rate. Has that changed – I don't think it has – if anything it's got worse. Time to rethink. | Kevin |
| Totally with your analysis. | Alan |
| NZ is too over-regulated in nearly every area. | Michelle |
| Over governed, over regulated PC Bull S–T I am sick & tired of this total socialist HAND BRAKE on small business. This refers to local & state governments. | Allen |
| The largest church in Mangawhai has for many years held three carol services on Christmas Eve. Last Christmas this very popular event was cancelled because of draconian health and safety regulations. This result typically represents the out of control bureaucracy we have in NZ. What the cost to small businesses such as Biddy's will be far greater than most would guess. | John |
| The word bureaucrat has evolved into a particularly nasty swear word. They are like convolvulus……..once you have got it it multiplies and becomes almost impossible to get rid of. Here in Christchurch you just have to watch the antics of the road cone directors to realise just how out of control all this has become. How much cost has this stupidity added to the cost of earthquake recovery? | Ronmac |
| Yes and part of the problem is that the regulators take the easy option for themselves. In the transport industry a truckie could choose his own weight for road user charges but some were cheating and picking a lower weight than actually was the case. If in the unlikely case they were caught they were slapped with a wet bus ticket so the risk was worth taking. Now all heavy vehicles have to buy RUC at their maximum weight. A simple solution for the regulators but it punishes those truckies that carry loads of varying weights. What should have happened was those caught cheating the system should have been severely punished so discouraging law breaking and not punishing all road users. | Robin |
| Lock all those committee rooms to stop those chairwarmers who do nothing else but think off ways to make their position secure and find more ways to rob the working people. We do have to have rules and regulations but they must help to built up, not to be used to break down. | Johan |
| | |
| --- | --- |
| To upgrade our bathroom we noted 7 different sections within the council that had to sign off on the code compliance, with the power to add. | Wayne |
| There's a current AKL city attempt to force ratepayers that have swings outside their properties above the berm to remove these due to 'the risk' of injury. | Roger |
| I see these regulations have followed liberal self serving negative requirements adversely inhibiting this country's positive progress – mostly through ignorance. Example: Recent house build; Original requirement: large 3500 lt underground water detention tank. Revised after 'discussion': Reduced to 1000 lt above ground tank. Third decision: NO detention tank required for this build. Signed off. Amazing!! Waste of everyone's time – and money. Incompetent! | Stuart |
| Bureaucracy gone mad in every sector of NZ life – control and barriers instead of assistance – especially Local Councils. | Hylton |
| I am fed up with the current climate of regulations, health & safety etc. which have nothing to do with common sense practicality and everything to do with central and local government control just for the sake of it. If I knew how bad this would be I would not have started my present project – 60 jobs!!. It means that I am just a figurehead carrying all the responsibility, and other bureaucrats running things badly and way over budget. I've had it with compliance rubbish. | Don |
| I blame the National Party, John Key and Bill English for allowing this to happen and being weak. | Rex |
| You like to read In the Jaws of the Dragon by Ron Asher. I think every NZdr should read it. It talks of the Chinese Govt takeover of NZ and how they are doing it. time to wake up NZ. Also everyone needs to read Agenda 21 overview to understand why we are being forced into politically correct cultures.. | Julie |
| Holding my business back and stifling growth which results in a deterrent to getting into export. | Brett |
| Three cheers for Biddy for standing up to the fat cats | John |
| Health and safety regs seem to want to turn us into a nation of 'Can't do's' instead of 'Can do's'. Reports appear to be designed to justify provision of bureaucratic jobs, most of which achieve nothing. | Graham |
| We need a major shake up in this country but most of us are too lethargic it seems to do what the people did in UK and USA. | Trevor |
| It's way TIME for kiwi's to take back OUR country from EGO LIying POLITICIANS who WORK for us & OUR TAX MONEY pays their wages. | Cindy |
| The MPI aggressive and destructive attitude to the Bushman Centre on the West Coas has been most destructive from 14 tour buses a day to none. This is all because of MPI their attitude towards the proprietors is disgusting.. | Dave |
| The raft of out of control bureaucratic regulation is in need of serious overhaul if businesses are to grow and flourish. Much talk has been heard from government representatives, its a pity it is not matched by corresponding action. | Chris |
| I believe engineers are making decisions to condemn perfectly good buildings due to fear of earthquakes.They make unnecessary decisions because they are PAID to do so. | David |
| The law requiring cyclists to wear helmets is an example. This law inhibits cycle use by reducing the convenience and pleasure of riding. Increased cycle use would help NZ to reduce fossil fuel consumption and thereby improve the trade balance, and it would improve the nation's health. The helmet law acts as a convenient alternative to establishing infrastructure for safe cycling. Sure, encourage the use of helmets and provide the research evidence for this, but don't make it mandatory. Children's car seats are another example. Now we have to drill holes in a car for 'anchor points', and we need a range of car seats to cater for our children as their ages change. Parents can no longer comfort a baby on their lap while traveling or take a sleeping child on the journey without disturbing him/her be by sitting and strapping into a car seat. The cumulative health damage from the stress and hassle caused to parents every time they take children in a car far outweighs the protection provided against the minute risk of injury during each journey. The emotional harm to babies who are not comforted and in fact have to lie in seats facing inward rather than being able to see their primary attachment figure will also be significant and cumulatively will be disproportionate to the risk of injury. Other costs such as to our privacy and self-responsibility are also disproportionate. Sure, promote the use of car seats but keep it simple and inexpensive, and allow some leeway for parents to exercise judgement and choice. | Empathic |
| Many of the government and local authority regulations are more to ensure the employees of these organisations have job security instead of promoting organisations providing productive employment. | Keith |
| Having a part onership of a service station I can verify that under a National Government that regulations are on the increase and some of those rules are created by lunatics. | Ken |
| Yes. There are regulations are certainly out of control. It keeps council officers in a job and off the street and they more money for councils. In a walking 10km charity event the route had to cross a not busy inner city road. A detailed plan was required and the cost $150 and all was needed common sense where the organiser would place people and orange cones at the crossover. In another event I understand it costs the organisers a six figure sum to run the Christchurch Marathon each year in a route management fee to the CHCC. | Frank |
| These stringent (and ridiculous) regulations are being driven by big business (under the guise of protecting the public's health) who want to force their competition out of business and so increase their profits. It amounts to legitimized anti-competitive behaviour. | John |
| Bureaucrats and politicians doing what they do best, they have to justify their out of control salaries. | Ian |
| The hoops that my friend had to jump through to get a bar manager's license to help out at his local Bowling Green. Education, test, compliance check, police vetting, etc. | Chris |
| Certainly small businesses like Biddy's and those who make chutneys and jams and raw products [cheese,, yoghurts etc] for Farmers Markets and school fairs etc should not have stringent FSA rules put on them. And there should be no Health Department rules re herbal supplements or cannabis products either [at least not non or low THC producing varieties]. These rules favour commercial food industry and pharmaceutical companies, and is why they have come into being.. | Rochelle |
| We are becoming a Country of killing the Golden Goose's" to those that are keen to provide us with home grown goods from those that need to make ends meet. We are continually told we cannot do this or that, we are governed by stuffed pompous people that are still wet behind the ears, that have never known what it is to be poor These same Beaurarats keeps getting more and more in pay and bonuses yet do not listen to those that need HELP Come on wake up N Z is no longer the Golden Country Time we had a DONALD TRUMP that is prepared to listen to our woes and get N Z back to OUR COUNTRY one that was great to live in, There is far too many LAWS coming out that hits normal New Zealanders in the pocket with no hope of making a honest living like a few years back, We keep sending our Cattle and Sheep to other Countries another Golden Goose gone It is the Farming products that has kept our heads above water but that will soon be gone like the Kiwifruit and other horticulture produce and if you think it won;t happen you are stupid onve these Countries get all in order they will no longer care about us we can rot in hell and what have we got left NOTHING. | MARYLIN |
| Yes! The inmates have been running our particular asylum for far too long now. All fair minded New Zealanders should support Biddy in every way possible. | Martin |
| Sale of raw milk in NZ has been virtually regulated out of existence. The only people who benefit are the lawyers who help small business owners to keep one step ahead of the regulations. Put Biddy's plight onto the news media and bring it to the attention of the viewing public. | Keith |
| This question really deserved a middle answer and not a categoric yes or no because regulations may be necessary in some areas. | Jim |
| To many tree climbers trying to impress the "boss" and bigger the rest of us small business companies. | Kevin |
| Impossibly over-regulated. And with such petty unnecessary burdens. Over years some of the silliest have been revoked or otherwise are no longer imposed even if remaining on the books. Have been inclined to think that NZ must surely and sadly be among the world's most over-regulated nations. | Leo |
| Even the rules on amateur beekeeping is becoming strangled in red tape with new levels. Forget to pay your registration fee and you get a Dun and Bradstreet threat and a fine and other penalties amounting to another $15 on your $49 registration. An Inspector has entered my property and pulled my beehives apart and looked inside. | Roger |
| It is no wonder small businesses are tempted to give up in despair. | Paul |
| My daughter is in the same position. Milking goats – MPI makes it impossible. After 3 years of trying to meet all the requirements they are giving up. Spent heaps but every time an inspector comes they find more rules to comply with. Different inspectors say different things. They are giving up before they go broke although lots of people want the goats milk and are disappointed. Stupidity. | Pam |
| Perhaps NZers should be like the French. In France the laws are so restrictive that they are generally ignored by all concerned. | Alan |
| | |
| --- | --- |
| When the rates paid to remove mangroves are pretty much all spent on the litigation process and the Resouce Consent requirement. Little is left to spend on removal action. | Norm |
| The objective of Socialism is to remove responsibility for self and place all the power in the hands of bureaucrats. | Geoff |
| We are being regulated to death…. | Ross |
| It's all Bull shit | Jamie |
| Most notable is the infamous Resource Management Act! | Peter |
| Absolutely. On more than one occasion through my work as an experienced exporter of food products from NZ have I come up against high prices for suppposedly "overseeing" and "ensuring our product is safe" when we have been doing it safely, before all the overbearing regulators came along. In fact we have been doing it for over 100 years and all it has done in my experience is to make us less competitive with our competitors from other countries! | Joe |
| Yes they are over the top everywhere. If the letter of the law was followed nothing will ever get done. Some people use these rules to bully others to make thenselve feel great. Got a 150$ fine &10 demerit points against my license for not filling in & end date on a log book from 3 years before! Just stupid. | Nigel |
| Trumpism needed desperately in this country. | Kevin |
| Particularly in the food and building industries. We use raw milk so have to take out shares in a cow to be able to do that. On numerous occasions local councils have done everything in their power to prevent the building of perfectly satisfactory dwellings, including requiring ridiculous stormwater designs to cope with water off an extra 4sqm of roof when the rain had been falling on the ground beneath the proposed roof forever. Just the latest in a long string of issues due to over-regulation. | Alan |
| Too many control freaks in Government Services. | Frank |
| You only have to look at the race to stymie and impose costs and stupid regulations on home baked cooking sales at markets etc. I don't know anyone who had become seriously ill or died from this. And yes I know restaurants have these regulations but they are cooking large amounts regularly and the odd cake and pot of jam hardly compares. Besides, having worked in restaurants, believe me, some dodgy practices happen there which no self respecting granny would allow in her home kitchen. | Dale |
| You make the comment of the number of small business in NZ as you point out they are the back bone of the country, Yes the government must step up to help small business, Start & Small Businees Politic Party, & get all small business people to vote & there staff & we would not have to put up with the parties we have today. | Geoff |
| The rules and legislation needs a good overhaul with some dropping out but not all as public safety must remain high on the agenda The old storey one rotten apple spoils the barrel hence legislation requirement. | Ray |
| …regulate…. regulate.. all you do is strangulate…the whole system grinds to a halt…..complete waste of everyone's time and MONEY….just GET the SHOW on the Road….. | ChrisH |
| Yes!! Outrageous bureaucracy. Biddy has my full support plus all other small businesses being weighed down by sheer unnecessary administrative lunacy!! | Tony |
| Out of control regulation by an out of control government! | Collin |
| In that media hyped casual conversation on Waiheke, the media concentrated on calling the mad butcher a racist for a casual remark about driving. They totally ignored the female's racist remark that as she was a Maori she could do anything she wants. Does this mean then that it is a stated fact of life in New Zealand that Maori people can do what they like while anyone else is bound by the law? That seems to be the message the media and the government is sending – can we ever remedy this situation or has it become NZ's "norm"? We certainly tolerate a NZ Maori All Blacks team – wasn't it not long ago we were not associating with South Africa until it chose its teams on a non-racist basis and here we have a team chosen on a racist basis for all to see – and suddenly it is okay because it is us, not them, showing our racism. | Liz |
| Absolutely. Try multi-paged repoting standards for clubs that don't even have a one page summary or even a one line result. Ridiculous! | Doug |
| Government regulations in conjunction with Territorial Authorities are the main reason for driving house prices up. We are having to wait up to 3 months for building consents, instesd of the supposed 20 days. | Hugh |
| There would be lots of examples, but the latest annoyance is the continuous testing of raw milk. I have been consuming raw milk for years. We all know that cleanliness is important, but I believe we are a million times more likely to catch some bacteria in a hospital than from raw milk. | Martha |
| Bureaucrats who sit in offices trying to justify their jobs. Time to Drain the SWAMP. | kevin |
| It would appear most regulation is now being created to secure some a job or jobs for those who lack the initiate to get off their butts and make a positive contribution to our society. Are we now ruled by the bean counters, the you owe me brigade and those box tickers who simply turn up to collect a cheque? | Kelvin |
| It is just creating jobs for little hitlers. | Colin |
| We want to move a door in a concrete wall of our house. Cost to date approximately $5000 before we even get a builders quote!!!!!!! | Andy |
| Who can believe in a government like this. | Michael |
| Some control is necessary but we need small business that can operate successfully and stop closing down little hobby and local businesses. | Roberta |
| We have gone past stupid to the ridiculous. Get back to reality. | Jim |
| The extent of regulation in this country is ridiculous. Why can't politicians see it? | Michael |
| Ah the smug bureaucrats safe in their petty lairs creating tangles of unnecessary hoops for us all to jump through. Leave us alone and go and get a real job. | Sue |
| Ever wondered how this country ever got built. Pioneer families had no ambulance down at the gate, They relied on plain common sense. what is the logic of pool fences when the Council has open drains, un-fenced rivers. What logic putting a scaffold around your roof just to paint a roof when your 10 yr old kid can go off rock climbing in the bush on any weekend or more risky, trailriding with motorcycles. or kayaking down rapids. Even riding a cycle on the open road is more risky than a sensibly placed ladder. The socialist driven snoflake police are busy justifying their University garnered we know better than you ideology and hooray they are mitigating some miniscule percentage of ACC risk, while dumbing down and castrating a nation. Don't need it, dont want it and certainly dont want any of my confiscated Tax paying for it. | Richard |
| | |
| --- | --- |
| Absolutely regulation is out of control – the Health and Safety laws especially have gone mad and need to be abolished. | Geoff |
| A government inquiry into over-regulation in NZ is a great idea. But I bet National is too scared to do it! | Andrew |
| Yes Yes Yes – regulation is totally out of control. | Jenny |
| The new food laws are nuts. The socialists who proposed them should be fired! | Roger |
| It is ridiculous that a small country like New Zealand is so over-burdened with regulation. The problem we have is that Labour would be worse than National. It's all quite depressing. | Dave |