March 7, 2021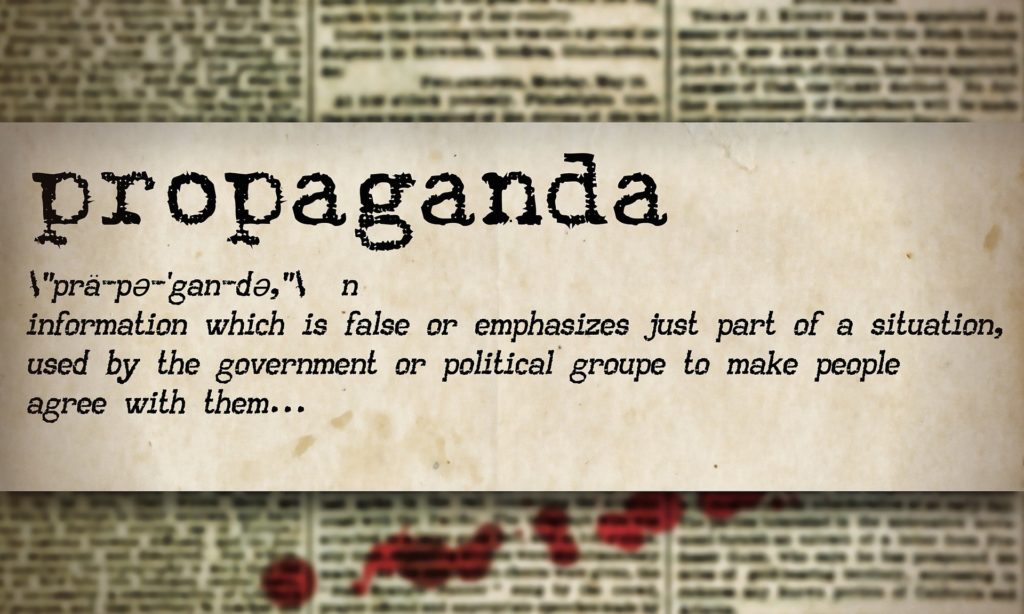 We all know politicians engage in propaganda. But most don't admit it.
Not so Prime Minister Jacinda Ardern. Desperate to avoid allegations of mismanagement over Auckland's bungled lockdowns, she began lashing out, claiming individuals have been knowingly spreading the virus – including a young man who'd spent time in Managed Isolation:
"We drum in that messaging around the dangers of Covid pretty diligently for a full two-week period of sustained propaganda."
As Stuff's Political Editor Luke Malpass pointed out, with those remarks the Prime Minister has now put on record that "the Government has been propagandising Kiwis". He says however, no-one should be surprised: "the Ardern Government has been delivering a masterclass in propaganda since the pandemic began" – ultimately delivering Labour a crushing election victory.
In fact it was Radio NZ last March, that revealed the Government had spent tens of millions of dollars building a formidable propaganda machine: "The government contracted 28 individuals or businesses to aid the response to the pandemic, the bulk of which were for advertising, marketing and communications. As at 31 May, the government had paid out $16,393,391 to contractors.
"The majority was to two firms who are listed as communications directors by the Department of the Prime Minister and Cabinet. Clemenger BBDO was paid $3m for its role, which involved the clear and concise messaging such as 'stay home, save lives'. But the biggest earner OMD, a multinational advertising firm… was paid $12m for its role in the response."
It turns out that everything from "the team of 5 million" to the "be kind to each other" messaging was carefully planned, tested and executed.
At the time, Newstalk ZB's Mike Hosking was scathing that so much money was being spent on 'spin': "Extraordinary, isn't it? It shows just how much we got played by a government that was as desperate to score points as it was to actually address a health crisis. Is communication important? Of course. But do you need to pay $16 million for it? No. This wasn't simple instruction that any government can come up with, this was clearly a highly planned, seriously worked over piece of strategy designed for maximum political impact.
"And the irony is, from the advertising agencies point of view, it worked. We got sucked in, followed orders and came out hailing the Prime Minister with a 59 percent share in a poll. Value for money then? Or a master piece of fantastically expensive spin? Again, we were played like a fiddle."
And we are still being played.
While the latest South Auckland community outbreak of Covid-19 was clearly the result of a failure of Government border security, the Prime Minister is attempting to shift the blame onto the public.
The actual cause of the February 14 infection of a Papatoetoe High School student and her parents, has not been identified, although it seems possible that it could have been associated with the mother's employment at LSG Sky Chefs in Mangere, which provides laundry and catering services to airlines from around the world.
With a large number of potential contacts associated with the outbreak, including 1,500 students and 150 staff at Papatoetoe High School, along with 450 Sky Chef workers, Auckland was ordered into a 3-day lockdown.
On the 17th, the day the lockdown was lifted, a second family with three cases linked to the school was identified. At that stage, negative tests had only been received from 59 percent of 'close contacts' at the school, and 76 percent of 'casual contacts', with many students and staff still waiting to be contacted by health authorities.
A week later, when a third household with an infected student (Case I) and two sisters joined the cluster, the Prime Minister lashed out, accusing a family member of going to work at a Botany KFC instead of isolating at home. She even threatened section 70 orders, which enable the medical officer of health to require people to isolate: "We have some legal footing for that … and so there are repercussions."
The Prime Minister's attacks incited such savage criticism of the KFC worker, that she was forced to defend herself – and her sister, who worked at Kmart – explaining they hadn't been told to self-isolate! She demanded an apology from the PM.
The Ministry of Health backed the family. On their 'Unite Against Covid' Facebook page, they explained the sisters had done nothing wrong: "Case J (Kmart worker) and Case L (KFC worker) were not required to isolate at the time. The advice for all staff and students of Papatoetoe High School to isolate was updated on 23 February, after the two had attended their shifts at the workplaces. Initially, casual contacts were advised to get a test and self-isolate but their household members were not required to do so. The family complied with the advice they were given at the time… COVID-19 remains the problem, not the people who have it."
Despite the damage caused by the PM's accusations, she has not shown the kindness she asks of others – she has not retracted her criticism nor apologised for the distress she caused the family.
By Friday February 26, the cluster had grown to 12 people, and on the Saturday, the discovery of two new cases from the household of a Papatoetoe High School student who had tested negative three times, led to a late-night press conference and the shock announcement of another Auckland lockdown, this time for seven days.
The Prime Minister justified her decision by explaining that while the new cases involving a young man and his mother couldn't be directly linked to the existing cluster, she was confident a connection would be found.
The link was indeed established the very next day – the mother had earlier been in contact with one of the other infected families – raising an important question: why was the announcement of the second Auckland lockdown made in haste late at night, when holding off for one more day would have shown it was unnecessary?
To deflect such criticism, the Prime Minister attacked the young man, blaming him for the lockdown, alleging that he'd knowingly defied instructions from health professionals to stay at home after receiving a Covid test – although it turns out there was no evidence to back up such claims.
Clearly concerned the public would begin to question the need for the second lockdown, the Prime Minister dialled up her scaremongering. She reminded everyone that "Covid kills" and called for "the team of 5 million" to "be kind" to each other while dobbing in their family and friends.
At her post-Cabinet press conference on Monday March 1st, the PM reiterated, "even with the full understanding of human fallibility, it is not appropriate and it is not OK for members of the team of 5 million to let the rest of us down. I think we appreciate this virus can mean life or death; it is a virus that kills. Our plan is for short and sharp restrictions in order to break the chain of transmission, but rule breaking can prolong that plan. So that is why I'm asking everyone to continue to back and support one another, and if that means calling a family member or work colleague out for not following the rules, then we should do that. Do it with kindness, but do it."
Using the well-known propaganda technique of deflection, Jacinda Ardern is blaming the infected to ensure the focus stays away from the real cause of the outbreak – government mismanagement of the border.
The Simpson-Roache report, commissioned by the Minister of Health after last year's 3-month Auckland lockdown, had produced a damning indictment of border management, claiming it was not "fit for purpose". Their concerns included inadequate contact tracing and testing, unacceptable gaps in border security, and a failure to properly take into account the social and economic consequences of public health decisions.
With the Government clearly not on top of these problems, a blame-game strategy is now being used to shift attention away from the eye-watering cost of Auckland lockdowns – estimated to be in the region of $500 million a week, with the loss of over 1,000 jobs.
If the real cost of public health decisions was taken into account, Auckland's seven-day lockdown, with zero new community cases reported daily, would either have not gone ahead, or would have been cancelled once the link to the existing cluster had been established.
This week's NZCPR Guest Commentator, Dr Bronwyn Howell, a Director of the School of Management at Victoria University, believes far greater scrutiny of the Government's Covid policies is needed. Accordingly, she has used a risk-management approach to examine the decision to impose compulsory mask-wearing on public transport even when there is no threat of community transfer of the virus:
"Mask-wearing on public transport was made mandatory at Level 2 on August 30 2020. From November 19 it was mandated for Auckland under Level 1, presumably due to the higher population density and larger population in that area meaning transmission risk, if the virus was present, was higher there than elsewhere in the country.
"Under a risk-based management system, the introduction of a new constraint would be justified under two circumstances: new information coming to light that the proposed constraint would lead to a demonstrable reduction in risk in the specific area in which it was applied; and a demonstrated increase in risk in the relevant area that could be effectively mitigated with the measure.
"The question is raised therefore, why the requirement for mandatory mask wearing on public transport across the whole country was implemented, when it was. It does not appear to meet either of the above rational justifications… As there has been no demonstrated community transmission of Covid-19 over most of the country since June 2020, then not only is the relative risk unchanged by the recent events in Auckland, but the absolute risk too is extremely low. So following the science leads to the conclusion that there was no justification."
Dr Howell's analysis raises important concerns: if there is no risk of infection, is the requirement for compulsory mask-wearing on public transport simply an overt demonstration of political power? Or is there some other rational explanation?
Jacinda Ardern is coming under increasing pressure for the way she is now handling the pandemic. Concerns are being raised about the Government's chronic lack of openness about the future, including details of the vaccine rollout. In comparison, the Australian Government published its vaccine strategy in early January to ensure the public is kept well informed.
Through their open letter to the Prime Minister, business leaders too are calling for more clarity over the Government's plans for New Zealand in a 'Covid normal' world.
In reality the Government is clearly struggling to keep us safe. They must know their propaganda will only work for so long, and that even with the press in their pocket, the finger of blame will eventually turn onto them.
But the irony is, they seem blind to measures that are being used successfully overseas to deal with community outbreaks, such as in Vietnam where community cases "prompt a swift response, usually in the form of a hyper-local lockdown — of a single street, village or suburb — to contain the outbreak."
Couldn't the latest community outbreak have been effectively dealt with through a similar 'hyper-local' response, rather than shutting down the whole of Auckland – including Great Barrier Island?
I will leave the last word to the British actuary Nick Hudson, who, in attempting to bring some balance into the debate about pandemic responses, reminds us about the danger of widespread lockdowns: "History will thus record lockdowns as the product of ideology, unprecedented mass hysteria and drummed-up fear. They will stand as reminders that we must always defend vital freedoms against panicking and power-drunk politicians, even if we find ourselves in the sorry position of lacking journalists who are up to the task."
Please note – you can register for our free weekly newsletter by clicking HERE.
THIS WEEK'S POLL ASKS:
*Do you support the call for an independent inquiry into this latest Covid outbreak?
Note: Please feel free to use the poll comments to share your views on any of the issues raised in this week's newsletter.
*Poll comments are posted below.
*All NZCPR poll results can be seen in the Archive.

THIS WEEK'S POLL COMMENTS
| | |
| --- | --- |
| Bring it ON a.s.a.p…!!! WE need much more exposure than that! The PCR Tests are massively fraudulent as the designer stated that that the Tests were designed for Research only and NOT for DIAGNOSTICS, with 94% found to be False Positives…..False Flags that Govt's chose to ignore even with the WHO now admitting it…..we have all been PLAYED, starting with the Fake PCR Tests, which the whole Plandemic hangs it;s hat on with all these so called cases. We don't have people dying in hospitals or dropping dead in the streets, so what is this COVID-19 crap all about and when will all this BS STOP as we have "Lunatics are running the Asylum", so the Pfizer mRNA Vaccine Roll Out must STOP immediately as the Vaccine Trials won't be completed until 2023…!!! | Bruza |
| I never agreed with lockdowns, even before the first was implemented, they are social control only. Once the crises is over Cindy Ardern knows her power is curbed but as the true Marxist she is, she will keep moving us down the road of Socialism. | Monica |
| Yes but the terms of reference must be scrutinized closely | David |
| The PM IS OUT OF CONTROL. | Bruce |
| Covid outbreak my arse | Elaine |
| So long as the members are TRULY independent of the government machine | tony |
| And the other balls ups! All of them | Warren |
| More incompetence – enquire so we can learn from our mistakes. | Henry |
| I don't believe there have been times/issues in past decades n NZ, such as we face now. Perhaps the single, most challenging factor, is that so many NZers have supported this dangerous and power-struck, socialist labour party ; this is compounded all the more by a biased and selective media system. The question shouts with urgency–can we, the mainline, moderate Kiwis, most of whom strive for realism and balance, access a pathway to slow and stop this political beheamouth in it's tracks? Is Awatere right, that white NZers, won't take the Maori drive for sovereignty seriously? Or can/will we collectively, start a deluge of letters, emails, phone call etc to our MPs, other politicians and Gov. departments, administrative bodies and in fact any person/ group, who would prefer not to confront such a challenge? This platform would likely work–sustained hammering, questioning and total rejection of these radical, illogical and selfish notions, will become tiresome and frustrating to these self-blinded puppets. Remember people: rock is much harder than water, but water eventually wears the rock away, by often falling on the harder substance. | Alan |
| I think that an inquiry would be waste of time and public money. If an inquiry were to be held, its members would be appointed by the government. What good would come of that? | Peter |
| More specifically into the Government handling of it. | Mark |
| Yes – but it actually needs to be independent- not organised by Ardern and her associates and limited to investigations which avoid putting any responsibility on the government. All too often we get so called independent enquiries which are biased in favour of this woeful government. | Roy |
| Money well spent. Time the gloss came off 'Smiling Noddy' and accountability takes its place. That she is now refusing media slots such as Mike Hoskings Monday interview is indicative of her reluctance to be open and transparent on the nation's terms and not just her own spin. | Carol |
| Simply too much cost to the people in all forms not to have one – does need to be independent, as determination of the political role is all part of.. | Maurice |
| Lets not waste anymore resources. Lets separate North and South Islands and let the vaxxers manage the North and the antivaxxers the south. And while we are at it let all the South residents compulsory Kiwi saver be invested exclusively in south island enterprises. South may have to continue travel restrictions including the north. | Richard |
| Given the results of supposed independent inquiries into a. Arms Control Bill/Act; b. the initial inquiry into the Government's management of Covid-19, and c. the inquiry into the sexual assault charges against a member of the PM's Department, whilst I would support a TRULY INDEPENDENT inquiry into the latest COVID-19 lockdowns in Auckland, I cannot believe the electorate would hear or read anything that did not support the Government's policy and edicts. A good example of this is Nanaia Mahutu and he amendment to the local Government Amendment act which had 76% OF SUBMISSIONS TO THE MAORI SELECT COMMITTEE calling for the retraction of the Bill but was still driven through because the Labour/Green Coalition and Maori complicity holds a 12 seat majority in the House. It is hard to imagine that any further inquiries would result in any different treatment – SO MUCH FOR GOVERNING FOR ALL New Zealanders. | Michael |
| False accusations are being made concerning the people involved | Arthur |
| Controlling and scare mungrouring at best | Anita |
| It would be another waste of money as is everything that this useless government does.If the "independent" inquiry was held they would change the outcome to the public. They are a democratic government no more. | Steve |
| No confidence in this controlling Govt. An inquiry costs money we can ill afford and will be buried. Any smart person can see clearly this Govt's only interest is themselves and their dangerous ideology.My fear is this Govt. not the virus. | Sam |
| Think how much the cost of this propaganda could have been put to a better use than making the already failing govt look good ,Hollow promises | Francis |
| There is such a large percentage of the population that have been dumb-down, through unbalanced reporting in the Left Wing Media, that Jacindas Marxist Mob have paid for. So now she is assured of retaining power forever & a day. Well that is the plan. THANK-YOU Dr Newman for being one of the brighter lights of hope, that this nation desperately needs. I urge all who subscribe to your valuable NZCPR newsletter, to donate at least a small amount to ensure the truth is not silenced… | A.G.R. |
| The PM is out of control. She is a thoroughly nasty piece of work. | Allan |
| Hurry! | Randall |
| Don't worry if the report is not publicly available. Secret stuff is always leaked so we will see it anyway. | Mike |
| About time! | J J |
| A truly independent inquiry would probably find Ardern's lies and deceit to be a step too far. I doubt we'll get one. | Cherry |
| I say " yes" because the last report wasn't sanitised. If we get the real story without redaction it will make interesting reading but probably another few millions spent trying to explain to us why the report is not factual. We could waste our money on other stuff but let's first of all go for the independent enquiry | Mike |
| There needs some real scrutiny | Bryan |
| Sooner the better !! | Ross |
| More cost | Warren |
| this govt is a total lost cause | allan |
| The review should include the justification of the costs of the draconian measures effected by Govt, when the risks were very very minor. | Jock |
| The government is clearly not up to the task, has no plan, has lied about the bubble with Australia, and is suppressing any questions about accountability. Journalists are too woke to do the job that the public expects. | Kerry |
| only than will the truth come out | John |
| article articulates what we are all thinking | Gregory |
| This Government is incompetent to get any thing right. They have no business acumen at all. They are hell bent on turning us into a communist regime. They do not understand the dynamics of the earth's atmosphere and what improves life and Ardern herself – the ultimate JacAss – is only looking after herself – not the "team of 5 million" and lies about everything and keeps on repeating the same ones as if that makes them true. | Garry |
| what will it achieve ? Another lucrative job for the girls | bill |
| The tide seems to be turning — too many reports of people supposedly dying of Covid when they haven't. So far 8 supposed Covid death certificates have been overturned in Britain and it appears there will be more. They die WITH Covid and not OF Covid It appears if you have Covid and get run over by a bus and killed you died of Covid. Do not trust them (Whoever they are) and don't trust any global organisation with the word :WORLD"in it. Check out the Global Economic Forum. | Alan |
| Something as big as this must be inquired into to improve future outbreaks and identify the mistakes of the past. | Willy |
| Is a truely independent inquiry possible in New Zealand? | Deborah |
| we need some one to be accountable | Russell |
| While I support the call it is tragic that once again we have to waste money for an inquiry that should not be necessary. This government has wasted enough of our money which demonstrates clearly their incompetence and accordingly they have to be replaced sooner than later. We cannot wait for the next election. | Tom |
| Its time this government propaganda machine was examined by people other than those involved to expose the real agenda of controlling the population | Laurie |
| From very early on the data showed the death rate was low but the over reaction to the virus had to be continued rather than admit the mistake. | Dennis |
| If there was an enquiry into the latest Chinese / Wuhan flu outbreak / lockdown, the results would most likely be months away and released at 4:30pm on the Friday of a long weekend. | Bill |
| | |
| --- | --- |
| But we all know it will be a whitewash with the report made public just before a public holiday. | Lee |
| Hell YES. Its time this bullshit propaganda this commie govt is spinning was exposed. | Peter |
| It would be an utter waste of time. | Chris |
| Whats another million or so, but all they will find is a shiny ring above and around her backside due to all the saliva thrown around cindy for the last year or so by the media. | Richard |
| Much as I agree that this crappy Labour/Green government is trying to hoodwink us all with their endless propaganda and spin, I do not think yet another taxpayer funded inquiry will achieve anything. New Zealand has so many apathetic voter who take no notice of the facts and would not see this inquiry as vote changing even if it exposed their dirty tricks. This is why we are in the mess with a Jacinda Ardern lead government in the first place. | Mike |
| And the investigations should include the bank accounts of the bureaucrats who hired the companies to ensure there wasn't any corruption. | Rex |
| Of course, everyone in their right mind would… But … will it really be an "independent inquiry" or just another … deflection? | Matt |
| BUT who is independent NOW ? who can anyone trust, | sheryl |
| Will never happen, the P.M. is terrified at the thought | Hugh |
| The UN & Cretins will block it regardless. Corruption rules currently. | Bryan |
| The lockdown is a farce due to safe effective drugs available that are able to treat the Covid Virus effectively like Ivermectin | Jim |
| Not sure there is any point. Jacinda Ardern "Dear Leader" is now starting to display her true Communist routes. She knows best and everyone else must fall in behind. | albyn |
| The lockdown rules are too severe in regard to having a loved one in care, and not being able to get access to for long periods of time. | Richard |
| sorely needed | John |
| Absolutely! We were stuck in traffic for over 7hrs getting back from Cambridge that weekend. For what?! Nowhere to go for refreshments, drinks, or toilets. People were going off into the brush to relieve themselves. It's quite unforgiveable. We got fuel in Hamilton at 10 to 4 Sunday night and got home to Te Atatu Sth about 1am! | Robin |
| Yes – but it needs to have enough firepower to ensure that their findings are sufficient to stop this power drunk collection of crazies in their tracks before the NZ economy crumbles into oblivion. | Scott |
| Absolutely If the good people of NZ don%u2019t stand up to this nonsense the lockdowns will continue at every sneeze. | Caroline |
| Provided it isn't just another whitewash to waste taxpayers' money. | Alan |
| Yes, the result of a One Track Mind government. No matter what the circumstances , there is no logical reasoning applied to consider Alternatives ! | Pierre |
| Yes there should be an inquiry, but the same spin doctors will be tasked at great expense to deliver the inquiry findings? | Rob |
| The inq will open the doors to all sorts of experts. who hold an expert opinion. Remember we are dealing with a killer death by any means is permanent. | mike |
| Cost more money down the drain | Warren |
| Ever since Covid popped it's head in this country no firm strategy has been implemented. The government has been winging it for far too long. It is time that an enquiry takes place and firm guide lines be established to cover any further outbreaks. | Dennis |
| We do not need to waste more money on a non vital activity. | Paloma |
| Yes, there is an urgent need for this inquiry, but in this unreal world we are trapped in , the truth is only a word in the dictionary and holds no meaning or value for Cindy the Covid Queen. And as it goes for all totalitarian regimes in history, this regime here ( one cannot call this Government anymore — too democratic !! ) has learned the lesson from Stalin Goebbels ,Mao Pol Pot Kim Il Yong and have once again implemented state propaganda at its best. | Michael |
| This lockdown was un necessary. The monetary harm out weighs any harm from this pocket of the virus. This government certainly has a well oiled expensive propaganda machine in place. | Gwenda |
| The Government has retained power by using Covid-19 as 'the Election Issue' with so many equally important policies that needed discussion, debate , and voted upon.As highlighted in the Government Report by Heather Simpson ex chief of staff to PM Helen Clark – the Covid -19border controls are a shambles. | Hylton |
| It turned out to be a near non event to such an extent that the lock-down was too severe. | garry |
| Not another bloody enquiry. Fat lot of good it would do. It will generally just line the pocket of some out of work lawyer or judge. What we need is a good strong captain at the helm. | Gary |
| Government mismanagement | Nick |
| This govt is unskilled in properly dealing with this outbreak. The military should have had more control with only minimal political interference. The PM has proved to be a NZ version of Goebbels.. | Graeme |
| democracy and good leadership demands it. | norman |
| Providing independent inquiry does not mean socialist stooges | Kevin |
| There needs to be an inquiry into media bias. Tova O'Brian, for instance. | Martin |
| The Government and the civil servants have clearly demonstrated that they are not in total control of this situation. | Shaun |
| why waste more money than the government are currently , nothing will come of it other than some one lining their pockets, fix the health system with that money | michael |
| Government should always be open to investigation… to improve in future. | Clive |
| of course ,what could govt have to hide. | barry |
| YES-It,s about time the TRUTH came out.Where are the opposition MP,s who get a GOOD tax payers salarie.WHY are they silent. | Cindy |
| Its laughable. Independent, give us a break. Simply another propaganda weapon to whitewash continuing govt incompetence. | Richard |
| But until Jo Public wakes up and starts to recognise what this govt is doing, nothing will change. Labour will simply use its voting numbers to over ride any thing not in accordance with their intentions. | Maurice |
| I see the lockdowns purely as a method of control of the population, this article about propaganda has agreed with my thinking of the situation since it began last year – when will the rest of NZ wake up to having the wool pulled over their eyes and start to say No More! Thank you for your time in researching this article with facts rather than hysteria. | Deanne |
| I think it is disgusting that Jacinda did not apologize to the families | David |
| We need to know What and WHY this Labour Government WONT tell the full story. | Carl |
| Is there ANY reason NOT to have an Inquiry on such an important issue? | Michael |
| If there is to be a Nuremburg tribunal to root out those who have committed the biggest lie against humanity, then let's hope Ardern is one of the accused. No independent Commission here in NZ will be allowed to publish their work under our increasingly Marxist regime. | Jenny |
| It would have to be really totally independent. It would still not make any difference to her in Wellington. | Wayne |
| Brian Roach is sound but he is not independent. He is Arderns appointee | jeff |
| I wonder if this will do any good as this communist inspired Government is playing us like a fiddle and her propaganda machine is running at full speed and being paid for by us | Eric |
| Govt is not managing correctly | Tom |
| Snap election please. | Tim |
| after more than a year and having more and more insight in what is really happening, it would make sense that the government also gets to the point where they dare to say that there is no pandemic at all. Just a plan in line with agenda 2030 | joep |
| We need some proper leadership not just the propaganda machine working in overdrive. | Chris |
| Anyone who follows news worldwide knows exactly what Comrade Ardern is up to, under our noses. She, like a lot of socialist countries, is being trained to follow UN dictates, which are aimed at bringing the free world under communist control, called the great reset, the New World Order. Look around you, Macron, Trudeau, Ardern, all youngish and socialists. All into Covid, immigration, welfare dependency, indoctrination of children, the list goes on. Australia is standing firm on issues and our PM does not stand with their PM. She is a very deceitful person, was president of the worldwide Union of Socialist Youth, which to me says it all about her character and her intentions from her position of power, which she is exerting with these unnecessary lockdowns. Watch her crawling around the Muslims in ChCh later this month on their second anniversary of the shootings. Wake up NZ. | Carolyn |
| It might just reveal the gross incompetence at the 'Top'. | geoff |
| Absolutely! JA and her government have no idea of where they're going in response to Covid, so they have to keep us in the dark about how vaccines will be dispensed to the whole population. Power has gone to her head! The sooner she's gone the better! | Laurence |
| The Covid response has been, and still is, the most 'manipulated propaganda' exercise that NZ has ever been subjected to. | Bob |
| very concerned about the governments hoodwinking the team of 5 mill???????? | anthony |
| Get rid of Sandi | Mike |
| In saying yes, it will be difficult to get an independent inquiry as governments always stack the inquiry in there favour. | Martyn |
| When are our OPPOSITION LEADERS going to get up in the house and be seen to be doing something to curtail this sham. | William |
| Absolutely, the governments mishandling or maybe I should say exploitation of this novel flu is nothing short of criminal imho | John |
| But will the mob on the hill listen & act. A more important issue is the apartheid agenda being pushed via the media.I want to live in New Zealand. | doug |
| As long as the enquiry is truly independent and not overseen by the government's propaganda machine. Jacinda is looking quite stressed these days over Covid, which is strange since the vaccine is being rolled out so the worst should be over. I suspect the real reason she is getting cranky is that she has all her money riding on one horse and it's starting to stumble on the home strait. It would be a disaster if it fell and broke its leg just short of the finish line. | Derek |
| And it's about time the border control is not managed very well so many holes with air crews wandering in and out people form very risky countries wandering in people supposed to be isolating in hotels that can never work we should have set up a proper isolation facility As far as NZers returning they have had a year to return home the virus is either a huge risk and danger or it's not | Peter |
| waste of time and it will be covered up the mistakes, that is….. | Graeme |
| Any leader must be questioned about their decisions of major significance so we can establish what went well, what didn't go so well and identify improvements. Hence the need for an enquiry. | Kristene |
| Socialism is running rife in this country aided and abetted by our journalists . It needs to be stopped or curtailed before more serious damage is perpetuated by an propaganda PM. | Robyn |
| I have voted no because such an enquiry costs and in the end nothing will change. It seems that we are stymied in getting the truth out to the general public. | roger |
| And into the state of the PM's mind. | Kev |
| A truly independent inquiry is needed. The spin, hype and incompetence shown throughout this sorry affair will expose Adern to the sanitary air of sunlight. She is a fraud. Always was and always will be. It amazes me just how gullible people are. | Charles |
| It's time Labour and their lying leader were held to public account over their handling of this! | Ron |
| But the government must not be allowed to 'manage' the terms of the inquiry | Gareth |
| Seems a bit too sus | Sharon |
| Events that are deemed to require lockdown of a large city for 7 days need to be objectively reviewed | Stan |
| It must be independent – I suggest Tony Ryall to lead the inquiry. | pdm |
| For goodness sake, there is not time for a long winded enquiry. Yes the PM screwed up. We have to remember Judith Collins did when she trotted off to China and promoted her husband's product. We have Chris Bishop dominating National's criticism. Would he be a better PM – I don't think so. | Peter |
| Somehow we must break the spell that is being woven by this government and for the good of the country understand what a self centred political response we have seen. Far from the image preached of working for the people! | stewart |
| Sheer stupidity | Valerie |
| | |
| --- | --- |
| I have been told that if you want a negative Covid test in Kenya you just pay the money and it's yours. I think that tests in India could be like that too. | K |
| I support the call for an enquiry, but I know there will not be one. Jacinderella has too much to hide to take a chance on her incompetence being revealed by an enquiry she has agreed to. | TOBY |
| The behaviour of Arden/her minions has become more bizarre and unjustifiable each day. I think fewer and fewer people trust this lot each day. | Dave |
| No evidence of virulence, pcf tests are suspect, how long can we go before we bankrupt the country, which is worse a vaccine that is not as virulent as we were told or a depression caused by lack of business/jpbs from lockdown | Craig |
| Why waste that money on an inquiry that will not mean much at all as it will be explained away by our PM. Her propaganda machine is working 24/7 as she has already told us. | Liz |
| It is impossible to stop a virus with lockdowns and face masks. The pores in a face mask are 100 times larger than the virus and on top of that, a virus is usually transmitted by close contact AK kissing and sharing bodily fluids. SO, who are those "Experts" anyway that they don't know this? | peter |
| And then to think that REAL virologists call it all a hoax. This virus is even less deadly than the Bird and Swine flu. Why all the panic? Just to keep us people scared and stay in power. Hell Jacinda, this virus can be called Coronazie virus, with Gestapo and the East-German " dob your neighbour in attitude." Sorry, I never sign in, never wear a mask ( highly dangerous to wear one) | peter |
| Waste of time and money – just more jobs for the lefties. How about some Ministry of Health people responsible for all of the MIQ botch ups get saved instead? | Mark |
| It is all about control & people are starting to wake up to it. I think it should have been named the plandemic,! Climate change seemed to have fallen of the radar another BS con. You need to read the United Nations Charter Agenda 21/30 to find out what it is all about, it is total socialist marxism, & Socialist Cindy is all part of the plan.If you look around the whole world is leaning to the radical left. | Allen |
| While being supportive of an enquiry into the discrepancies of the Papatoetoe outbreak, I feel we have a far more serious problem ahead of us with an experimental so called Vaccine roll-out. In Europe, 3 healthy individuals died with cardiac arrest shortly after being injected with the Pfizer so-called vaccine which is effectively still in the "trial phase" using all those who have it as human Guinea pigs. What is even more concerning, is the fact that these big Pharmaceutical companies have been cleared of any responsibility should there be any adverse reaction to their product! All previous attempts to create a true vaccine for the Corona strain of viruses have left humans with lung problems. All this, while a 65 year old malaria drug has been proven by more than Donald Trump to knock it out in about 5 days or less! — Who is making the big bucks out of all this? Go figure! | Ted |
| Yes, but I can't help thinking, like so much propaganda today, this will end up as another great load of political hog wash. Does anybody really think Jacinda would allow negative reports to surface. Four new outbreaks recently. "Beware – highly infectious" yet not one person outside bubble contact was infected! Imposed Level 3 and Level 2 purely on a whim!! The social and fiscal damage within New Zealand has been immense. You made the decision Jacinda – how much have you suffered? How about you give your annual salary to some of those you have 'destroyed'. | Stuart |
| We don't need to spend even more. The cost of the government's propaganda machine and the profligate spending on all manner of things under the excuse of COVID, such as motel units for destructive, irresponsible tenants, was in addition to this government's pre-COVID $12 billion borrowing to splash around in election year for obvious reason. | John |
| Quarantine, with a history reaching back to the 13 – 1400's is NOT new to people. And with an 1100Km moat, 62 countries examples, and the information from half the world , BEFORE the first case in NZ. It is INEXCUSABLE for even one case to get in. | Lionel |
| But not an inquiry where Comrade Jacinda chooses the members from her obedient slaves. | Graeme |
| The propaganda has been the govts plan right from the beginning. They have done nothing but blow their own trumpet since the beginning. A massacre, an eruption and a pandemic – this govt must be delighted. Team of 5. Illini makes me cringe | Prue |
| The whole lockdown was politically motivated to win an election | Chris |
| Of course the report will be kept quiet if it is not flattering to Jacinda. Facebook Facebook | Mark |
| As soon as the PM opens her mouth you know it's going to be a lie, this young woman can lie without batting an eyelid. The sooner that she is gone from our lives the better the country will be once again, but it's going to take a few more years of pain to get us back to even some semblance of order. | Merryl |
| It's just a globalist attack upon all civilisation which is not yet under their control. It's the last stage before mass vaccination. Colin | Colin |
| The horse has the press,in her pocket and National has no answer to it | Allan |
| Waste of money | Garth |
| But really .. what in the hell is it going to prove. A scam is a scam and who are the enquirers to judge ? | Alan |
| There is absolutely no good reason for an enquiry The Socialist Government that we are lumbered with will do all it can to keep us under their control as they know how we must live our lives. We are just the unintelligent and ignorant plebs who can not be trusted with any decision. Also we have been told that this UK version (Ok to call it that just not the Chinese virus) is highly infectious and we must be controled for our own good. Just some numbers to confirm just how infectious 4 people travelled for several days to New Plymouth in a car 2 infected 2 NOT The latest lockdown was caused when some 15 to 20 cases were found Close/Casual contacts numbered 1500 students 150 staff and 450 border workers FEW if ANY infected OH SO VERY INFECTIOUS The Government must take responsibility (they won't of course) as ALL traces of this virus MUST COME THROUGH THE VERY LEAKY BORDER | Robin |
| Time to pull the plug on this nonsense | Bev |
| jacinda is hopelessly out of her depth but keen on power and well skilled in the dark art of deception so typical of those who share her ideology. | gale |
| Lockdown Cindy is drunk with power and needs to be called to account. She makes H1 seem like a moderate. Too bad so many sheep have voted this dopey control freak into power thanks mostly to feckless media toadies masquerading as journalists. Wake up NZ, this little Marxist harpy is subjugating our god-given rights. | John |
| sure dont trust ardern or puppet broomfield | Collin |
| yes the whole convitis thing is a hoax on a world wide scale sounds like 666 is about to happen, god help us all beware of the wolf in sheeps clothing ashern | james |
| However…it will a total botched and doctored load of garbage. Honesty is a very" lonely word " in New Zealand. | Chris |
| Saying yes to this question almost conveys an acceptance that covid is a real virus! It is not! Change my mind! " I think we appreciate this virus can mean life or death; it is a virus that kills." Pretty strong and "propegandised" words from the PM that are clearly a lie. Come on New Zealand, don't you see it yet? The conspiracy to take away our God given freedom to move about as we choose, our freedom to say and do what we choose as individuals in the world. Life is about taking risks and it is clearly being shown that the government's remedy to "save us" is proving far more dangerous to all aspects of our lives than the risk of dying from an "unconfirmed and unidentified" virus. The plandemic is falling apart before the conspirator's eyes and desperation is taking hold. Meanwhile more and more New Zealanders are "waking up" to the fact that we have been conned, on a global scale!!!! So will you be part of the World Wide Rally for Freedom" to give the message to the globalists that we are individuals and citizens of this planet will no longer be. This is on March the 20th, world wide. p.s. Don't accept this fake vaccine. there is an almost 100% chance it will harm you, either now, or in the near future. There have been thousands killed by it already. We only get told what "they" want us to hear!! | Neil |
| I am increasingly worried about the diminishing freedoms as a hard working NZer. The lack of questioningly journalists although rather the lack of questioning by every day kiwis is concerning me no end. | Richard |
| What is the point? Yet more cost to us, and Supreme Commander will come out smiling yet again | tony |
| It is starting to show the cracks in the current Labour/Greens government that they are not on top of things and are keeping us in the dark. We used to have a saying in the forces: we are mushrooms, kept in the dark and fed on shit. That is how I see the current government and a useless Prime Minister. | Fraser |
| I believe the Govt have a hidden agenda and this needs exposed. I feel democracy is slipping away and we need to be asking the right questions in order to put the brakes on. | Geoff |
| An inquiry MUST be independent otherwise it is destined to be buried like the Simpson-Roche report from last year that was scathing of the govt. | Robert |
| I really am sick of "inquiries". They seem to be ignored or become a form of buck-passing. | DICK |
| From day one government has been a bumbling mess in regards how it is handling covid19. A year on and haven't learned anything. | Mary-Ann |
| If there is someone independent. | Andrew |
| An inquiry is necessary for New Zealand | Liz |
| How the hang can individuals ever be heard!! We need to have people United (I'm not sure how) but Muriel Newman's page our best bet | Karen |
| But the enquiry should cover all aspects of this plandemic | peter |
| There needs to be transparency and accountability. | Wayne |
| I'm voting no on this one as it on balance will lead nowhere as this government above all others we have had thus far are able to make bad news go away! | Ray |
| Communist control by Comrade Ardern | Greg |
| Its time the hapless Ja-Cinder was held to account for hers and Labour's incompetence | Trevor |
| My reason is this, I think the lab testing has made an error. We were told that the UK variant was highly contagious and yet nothing really happened(how so!!!!) | Les |
| Needs to be in the open | Garet |
| About time, but who will oversee the inquiry? | Max |
| Yes, and I also support an inquiry into why National is so ineffective as an opposition! | jd |
| | |
| --- | --- |
| Yes, an inquiry should be undertaken. The Government needs to be held to account for putting the county into a week-long lockdown that was not needed. | Andrew |
| The actions of the Prime Minister in blaming people who have the virus is despicable. They should take the blame for the mismanagement of our borders. | Bob |
| Absolutely there should be an inquiry – the whole thing has been a stuff up. | Terry |
| Their Covid management is following the pattern of KiwiBuild! Need I say anymore! | Karen |
| I can't get over the incompetence of putting the country into a second lockdown – for SEVEN days – when the cluster was essentially under control. What was all that about??? | Roger |