November 19, 2017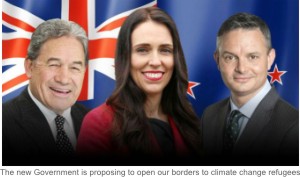 Over recent weeks the plight of Manus Island refugees and the Prime Minister's offer to take 150 of them has been dominating the news. The media's obsession with the refugee issue is reminiscent of their incessant promotion of Jacinda Ardern's Labour Party in the run up to the election.
It has only been since the Australian media released details from the Papua New Guinea authorities outlining how the Manus Island detainees regularly travel into town to allegedly have sex with underage girls – some as young as 10 – and buy and sell drugs, that some balance has finally entered the news coverage.
Given the interest of the New Zealand media in this issue, quite why they didn't find and publish this information – which was reported to the Australian Government in mid-October – is not clear. The 161 offences the detainees are alleged to have committed include sexual assault, assault and aggressive behaviour.
If our media had been doing their job, they would have provided New Zealanders with balanced reporting from the outset. That would have indicated there are serious problems in taking these men.
What was also not reported by our media was the fact that under normal circumstances, every asylum seeker has access to accommodation, utilities, food, and a fortnightly allowance. They are free to visit nearby villages to shop, to go to the beach and to mix with locals. In addition, they are able to apply for permanent resettlement in PNG at any time.
Australia's position on this matter in understandable. The Australian Government has always refused New Zealand's offers to take boat refugees for the very good reason that we could be used as a backdoor route into that country – unless visas are re-introduced for Trans-Tasman travel. The concern is that if any of the refugees did end up in Australia, it could trigger a resumption of the disastrous people smuggling trade that led to the deaths of over 1,200 asylum seekers before the hard-line approach was adopted.
Australia now has a strict policy of turning back asylum seekers' boats in order to discourage them from even trying to reach Australia. Not only that, but any asylum seekers, who do manage to arrive by boat, are banned from ever being settled in Australia. Instead they are held in detention camps on Nauru and Papua New Guinea, from where any genuine refugees are given the option of being resettled, but not in Australia. Alternatively, they can opt to be returned to their home country.
Our Prime Minister should stop meddling in Australian affairs. An offer has been made and that's where it should lie. And the media should provide balanced reporting, not try to exert influence through PR campaigns masquerading as news.
Biased media reporting is also a concern of this week's NZCPR Guest Commentator, Barry Brill, a former Cabinet Minister and the Chairman of the New Zealand Climate Science Coalition, who has raised concerns about the recent escalation of global warming propaganda by the media:
"In November every year, most of our mainstream media subject us all to saturation coverage of the evils of 'climate change' (by which they mean dangerous anthropogenic global warming).
"This is no coincidence. At this time of year, the United Nations Framework Convention on Climate Change holds its annual 'Conference of the Parties', which is attended by large delegations from every government in the world, along with tens of thousands of acolytes. This year, COP 23 was hosted and chaired by Fiji, but was held in Bonn, Germany.
"But the annual media splurge is not about the COP itself. It comes before-hand, and is a softening-up-the-public process meant to assure the delegates that we are all cheering them on. It's quite like sending an army battalion off to a popular war."
Barry speculates at the origins of this global PR campaign: "It is obviously choreographed. All media know when and how to begin campaigning, and all sing from the same hymn sheets. Somebody – Fenton Communications in New York (?) – wields the conductor's baton and the world's media devotees reliably deliver the goods. Rampant 'noble cause corruption' is in the driver's seat, and tribal solidarity rules. Media boards/owners know better that to get in the way."
The climate series on TV One's news bulletins earlier this month was so unbalanced in the opinion of the New Zealand Climate Science Coalition that they have lodged a formal complaint to the Broadcasting Standards Authority.
In particular, the first program claimed that a village in Fiji had to be relocated because of rising sea levels due to man-made global warming. What the story didn't explain was that the first calls to move that small coastal settlement had come 70 years ago, well before the socialists had found environmentalism and invented man-made global warming.
At the time, the village elders had become concerned at the continual erosion of the foreshore, the widening of the river's mouth, and the salinisation of the soil as surges swept seawater through their fields during king tides. The problems became so acute that they began discussing the relocation of the village to another site, but back then no money was available for such a project.
A detailed scientific analysis of sea level rise in Fiji has recently been published by Professor Nils-Axel Mörner of Stockholm University – the Leader of the Fiji New Sea Level Project. He found that the sea level has remained virtually the same over the last 200 years, and perfectly stable over the last 50-70 years.
He explains that the critical depth for coral growth is 40 cm below the low-tide-level. If sea levels are not rising, corals are forced to grow laterally. Radiocarbon dating studies at several different sites in Fiji show that the corals have stopped growing vertically, and have been forced to grow laterally in the micro-atolls, indicating that the sea levels have not been rising.
It's a similar story in Tuvalu, where claims about rising tides caused by global warming inundating the islands have been discredited. In 2008, Professor Chris de Freitas of Auckland University explained that historical records show no acceleration in sea level rise in the 20th and 21st centuries.
He outlined how instrumentation was installed in 1993 on Tuvalu's main island Funafuti, and that the sea level had shown no discernible trend. While some inundation was evident on the islands, the cause was found to be erosion, sand mining and construction projects that had caused an inflow of sea water – not global warming.
Other factors that were contributing to the problem included the excessive use of freshwater for irrigation, which was causing the destruction of underground freshwater reservoirs leading to seawater encroachment into vegetable growing pits. The excessive paving of roads and the airport runway had exacerbated the problem. With around a quarter of the island now paved, rainwater is increasingly unable to soak into the ground to replenish groundwater supplies, and instead runs off in such a way that when combined with high tides, the flooding along the coast looks like sea levels are rising.
Over the years, overstayers from Tuvalu and other Pacific Islands have used climate change to plead to New Zealand authorities for refugee status in order to avoid deportation.
The problem is that to qualify for refugee status, an asylum-seeker must be able to point to persecution on one of five grounds – race, religion, nationality, membership of a particular social group, or political opinion – and the Courts have generally determined that climate change is unlikely to cause harm.
However, all that might be about to change as our new Government considers promoting New Zealand as the world's first safe haven for "climate refugees".
The Minister of Climate Change, Green Party leader James Shaw, says that because refugee conventions don't recognise climate change 'victims', he's looking at a possible new visa category for people displaced by climate change: "There might be a new, an experimental humanitarian visa category for people from the Pacific who are displaced by rising seas stemming from climate change, and it is a piece of work that we intend to do in partnership with the Pacific Islands."
Prime Minister Jacinda Ardern confirmed the new direction, saying that New Zealand should be prepared to take in "climate change refugees" from surrounding island nations: "We're looking to ways to build in the responsibility we have on climate change and the way that we approach, potentially, climate change refuges in the future amongst our neighbours".
New Zealand already has long-established migration arrangements with many Pacific Islands. Cook Islanders and Niueans have enjoyed freedom of entry since 1901, and Tokelauans from 1916. Since 2002, the Samoan quota for residence has been set at 1,100 a year, and each year a further 650 Pacific Islanders will be accepted for residence – 75 from Kiribati, 75 from Tuvalu, 250 from Tonga, and 250 from Fiji.
New Zealand is also one of 26 countries that take part in the United Nations High Commissioner for Refugees (UNHCR) resettlement programme, taking 750 refugees a year. Over the years more than 33,000 refugees have been resettled in New Zealand. In 2015 the Government announced 750 refugees from Syria would also be accepted, with 600 as a special intake above the quota, and 150 within the quota.
Refugees who arrive in New Zealand have been carefully screened, including for credibility, security, immigration risk, and health status. Their first six weeks are spent at the Mangere Refugee Resettlement Centre, where they undertake an orientation programme. They are then settled in six regions throughout the country – Auckland, Waikato, Manawatu, Wellington, Nelson and Dunedin – where furnished housing is provided along with intensive community support.
As well as outlining his plan for climate refugees at the COP23 conference in Germany, the Minister of Climate Change delivered New Zealand's national statement. Explaining that we had led the world in giving women the vote and becoming nuclear-free, he then told the conference that we are now becoming a world leader on climate change.
Certainly, with cows and sheep responsible for almost half of all of the country's greenhouse gas emissions, once agriculture is brought into the Emissions Trading Scheme, New Zealand will indeed lead the world as the only country with a Government that is foolish enough to penalise the food production sector.
The Greens' coalition agreement with Labour includes a Zero Carbon Act to enshrine their ludicrous goal of zero net carbon emissions by 2050 into law, a requirement for a climate impact analysis to accompany all new legislation, and the establishment of a Climate Commission to determine how New Zealand will meet its Paris climate change commitments.
In part, the zero emissions target will be met through the "carbon sink" created by the Government's plan to plant 100 million trees a year for ten years.
This was a policy that New Zealand First campaigned on, albeit from a regional development perspective. It is part of their coalition agreement with Labour: "Planting 100 million trees per year in a Billion Trees Planting Programme".
However, just weeks into the new term of the Government, Labour is now back-tracking on that commitment.
Prime Minister Jacinda Ardern now claims it was always going to be in partnership with the private sector!
She says, "The 1 billion goal is not something that is going to be pursued in isolation from the industry. If we work together, if they continue with their 50 million a year over 10 years and we continue with 50 million a year over 10 years, you get to a billion… We've always been really clear. Overall our goal is a billion trees being planted. It would be splitting hairs trying to decipher whether or not that tree was solely Government or solely private sector… this is a collaborative approach."
What is very clear is that the Government is reneging on its promise to plant 100 million trees a year. How many other campaign promises are going to be broken? And why is the media turning a blind eye?
THIS WEEK'S POLL ASKS:
Should New Zealand open its doors to "climate change" refugees?

*Poll comments are posted below.
*All NZCPR poll results can be seen in the Archive.

THIS WEEK'S POLL COMMENTS
| | |
| --- | --- |
| It's a load of bollocks! Typical Green, Labour jet setting around the world claiming to save the planet. | Laurie |
| The entire notion of so called Climate change refugees is a myth. Sadly our Politicians spend much of their time creating myths that their whole time and efforts become sadly befuddled. | Peter |
| No – the whole climate change thing is based on flawed data. As for the refugee situation – there is more than enough for her to do here – she has no business making a nuisance of herself by interfering in the affairs of another country. Next, I suppose, will be the trendy lefties clamouring to let more so-called "refugees" come to NZ, on the basis of a misplaced sense of "obligation" to the UN or some other Globalist entity – much like the dumb clucks in European countries, who are welcoming the barbaric Islamic invaders with open arms. When will we ever learn? | Scott |
| NO! NO! NO! Climate change is a fallacy dreamt up by fascist Marxists like Helen Clark to "redistribute wealth" from countries who work hard to those who sit back with there hands out. QED if there's no such thing as AGW (or climate change) there can be no refugees. So, NO! | Mark |
| Keep NZ free from trouble makers | Gerard |
| There is one set of rules for the admittance of immigrants to New Zealand. Pacific Islanders can join the queue just like everybody else. | Dennis |
| These young men are not true refugees. They should be helping their own country. | Peter |
| Countries should develop their own means of dealing with these problems. It is very easy to push them off on someone else. New Zealand has enough to concern itself with in Climate Change. | Peter |
| There is no rise in sea level that warrants it | Andrew |
| Absolutely not. The whole "Climate change" scam and non rising seas is no justification for taking economic refugees. | Mike |
| And deny legitimate refugees who've been waithing sometimes up to 25 years? | Ian |
| Under normal circumstances I'm sure we will be empathetic but I can see this excuse being used as a backdoor in | Rick |
| No bloody way. If Ardern allows any of them in, she takes full, personal responsibility for their future conduct. Any NZer hurt or killed by any of these "imports" will therefore become her full and personal liability. Will she accept that? | Jim |
| As per your article there are adequate avenues for pacific Island nations to move into New Zealand. Nor should we take the so called Manus Island lot. Labour is grandstanding. | Sam |
| Absolutely not. What a nonsense. | Peter |
| Because climate change causes are a political nonsense | Robert |
| Absolutely not. We have done enough to assist the Pacific Islands. This climate change nonsense is a giant rort. Too many people have also inhabited unsuitable places. The sea is not rising and surely no-one thinks we are clever enough to actually change the weather!!?? | Helen |
| Our junior PM has no genuine interest in these "refugees". Her interests lie in the areas of favourable publicity and self promotion. Thank you Winston for the dirty, underhanded back-room deals, masquerading as statesmanship. What a favour you have done for NZ! We won't miss you after the next election, when you achieve the obscurity you so richly deserve. | TOBY |
| There is no such thing as a climate change refugee, so we can't then open our doors. Mentioned that Mr Brill is chairman of NZ Climate Science Coalition. I would recommend their web site nzclimatescience.net/index.php. Very useful and easy to read is a 2nd November PowerPoint presentation "Why alarmist claims of "global warming" are a misleading fraud" {Currently 5th item down}. The current latest article 23/11 "Core of climate science is in real-word data" by Dr Ian Flanigan, is a worthwhile read. Another site I like to read, and would recommend, is climatism.wordpress.com Australian Jamie Spry aggregates interesting stuff from other blogs | Peter |
| The incumbent govt has little care for climate truth. It is also fraught with lunacy. | Bruce |
| No "climate change", no need. | Lionel |
| What climate change? This whole Question is bull s— , so let us get on with some thing that is meaning full. | John |
| What a lot of balderdash Ms Ardern and her Climate Change Minister are yet again spinning. Our own ex-Director of NIWA gave evidence that there was no evidence of rising waters around NZ's coast. With supporting evidence from Fiji can our new Govt come clean with all the facts and explain why a party that 93% of voters voted against can be dictating the progress of policies that will move our Country closer to the stone age . If the refugees on Manus Island really had something to offer a nation, then I am sure Australia would have found ways to accomodate them – NZ does not need them and as for creating a new category – "CLIMATE CHANGE REFUGEES" – what a farce. Based upon the rhetoric, the only persons driven to seek refugee status will be New Zealanders trying to escape the impositions and restrictions of the policies that are are about to be inflicted on our Nation. Who was it that said "the bigger the lie the easier it is to beguile the gullible public"! | Michael |
| For our size in the international community we are already doing enough. Terrorism dictates we should exercise extreme caution in whom we allow in. We have enough trouble with some of our own people as it is. | |
| There is no such thing as climate change refugees. More infantile nonsense from the Coalition of Losers! To be honest, I'm not in favour of welcoming the World's human flotsam in any form. The only immigrant category we should have is one that brings in skilled immigrants who are of benefit to our country. End of story. We are a small country with a relatively small population. If we continue to deluge New Zealand with every Tom Dick and Harriet who wants to come here, we will shortly be overwhelmed. After all, humans are the cause of pollution and it is an affront to blame our animals. Last time I checked our animals were not creating landfill or particulate emissions and methane and carbon dioxide are a natural part of all animal (including human) existence. Too many people is the problem. Sad to remind everyone, that people have no useful purpose in the cycle of life on earth. | Dianna |
| Climate change is just an excuse for Governments to make more money and introduce more policies and to employ more people Trump saw thruogh and withdrew knowing that such a policy would hinder growth and reduce peoples living standards due to over regulating. Thi mob are to thick to see this. Where is Winston hope he has gone to North Korea. | Ken |
| These are commercial opportunists, exploited by dishonest populist Politicians, usually of a Socialist bias. | Bob |
| Many pacific islands are coral which collapse or break down over time . So much dodgy science. | Iain |
| Climate change refugees? Have never heard of so much crap? The Socialists are completely out of touch with reality. Plight of the Manus Island "refugees" is an oxymoron. We don't want criminals disguised as refugees here. They will be provided with fully furnished accommodation and a lifestyle they could only dream of. Where do you think the "boat people" will be aiming for next. New Zealand, the gateway to Australia. But it is OK because we will pay for that to happen. The NZ economy is on the way down the toilet already. | Neil |
| Global warning is the biggest scam of this century | Alan |
| Climate Change attributed to human pollution only, are heavily disputed by many scientist. One volcano will contribute more CO2 than all cars in the world. The Refugees is a misnomer, call them what they are – Islamic population spread to western countries . Hope the threesome in the present government will be held accountable to ensure christian faith in NZ is maintained. | Pierre |
| It is a stupid policy because it comes from a dogma that sees everything productive or manufactured as the source of evil gases. The Greens are the ones emitting smelly gasses. | Ray |
| Prior to this week's newsletter I would have ticked "yes" even though I have personl doubts about the whole climate change thing anyway. However, having read that a lot of what the media is saying is "spin" I have ticked "No", though I have no problem with those who are genuinely persecuted. | Ted |
| Read the report on Figi's so called sea level rise. There is no such thing. Likewise in crazy claims from other Pacific Islands. When is the media going to stop twisting these situations. It's all a giant con. Taxcinda and the green water melons are just showing their complete naivete and demonstrate loudly and clearly that they do not have the real knowledge to run the country. God help us folks and all that in conjunction with lying Winston. | Ronmac |
| For a small country we are already doing well in taking in genuine refugees. Lets not get silly by taking in non genuine refugees | Tom |
| Let Mr Shaw and other man-made-global-warming nutters first prove that and not actions of the islanders themselves are the cause of flooding, making the islanders genuine refugees. | Rob |
| Unlimited immigration for whatever reason is only going to turn NZ into an overcrowded mess. We are an attractive place to go because we are not overcrowded but how long is it going to be that way! | Nicholas |
| Because there is no evidence of rising seas in the pacific (due to climate change or any other phenomenon). | Francis |
| There seems to be a mind set that the World is doomed to a Climate Change – due to mankind – this totally incorrect – there is a Climate Change that is currently going on, but it a Natural Phenomenon, and you cannot do anything about stopping that – but where it hits the Worlds Population – you can give assistance – but currently that is not required under any circumstances!!! | Roy |
| Absolutely not. We are being made fools of by Jacinda and her bunch on most controversial subjects anyway, but this is just too much. | Lloyd |
| This promotion is just more BS ! | Rosemary |
| There is simply no evidence that the rate of sea level rise has increased since records began | John |
| The planet's climate has been changing, for better or worse for millions of years.Human beings might be contributing to the general pollution and degradation of the planet. For island nations to claim refugee status based on what is clear misinformation at best and mostly imagination to suit their wishes at worst is just a 'scam' tactic underwritten by left-wing dreamers of the UN | Ced |
| Absolutely NO perhaps we could deport our Prime Minister | Eddie |
| Ideology continues to rain on the ignorant and most MPs – but then, I repeat myself. | Peter |
| Media hype has blown this out of proportion. Fake news?!? | Mary |
| If there's one thing that Jacinda Ardern's supremely good at, it's "virtue signalling". So of course she'll take in so-called "climate change" refugees, regardless of whether or not the whole idea is a big con. Like all left wing trendies, she puts image before reality; and, in this, she's encouraged by the media who, in this country, are almost exclusively biased in favour of "liberal" idealism: they'll never let the facts get in the way of a good story, The next government – which will be a National one – will have a hell of a mess to clear up, after this lot have finished. | Graham |
| Any excuse to get a heap more labour voters. | Wayne |
| Absolutely NOT we have enough problems here with the many homeless people,. The government should concentrate on sorting that out. immediately. | Lynn |
| The climate is and will always be changing with or without mans help | Barry |
| Just another hair brain idea to get world attention. Absolutely not. | Graeme |
| The nz media are a disgrace. all PC brainwashed cretins | Derejk |
| Definitely not. Climate change refugees! Such an abstract name with no proof. | Lyn |
| | |
| Too many bogus refugees already settling here. We don't need more | Steve |
| We need to look after the ones we have already got. That will be quite enough | Liz |
| For all the reasons outlined in your article | Karen |
| No we are already fed a diet of fake news every day by the trade union infested so called Mainstream Media. Just check out the recent appointment for Vernon Small ex doom Post "FAKE NEWS "Journalist". | Tony |
| no | Mrs J |
| No keep these people out, they have wreaked from whence they came via crime and war and now their aim is to repeat same here. | James |
| Only in extreme and verified circumstances. | Ron |
| We are unable to look after our own people in poverty | Ross |
| not "wholesale". Limits wil need to be set. | Peter |
| Definitely NOT. Not our problem although our new Prime Minister seems to think that it is. Stop refugee immigration and start looking after our own population except Maoris. | Graham |
| New Zealand has enough problems looking after our own.These refugees would have to be HOUSED, EDUCATED and Found Jobs as well as filling up Hospital Beds all to the detriment of NZ Citizens. | John |
| We don't want refrugees N.Z. has ENOUGH problems ALREADY.Send an email to Jacinda to focus on N.Z. & keep out of Australia,s business. | Cindy |
| Just adding to the homeless and other social problems that we cannot manage at present | Warren |
| No refugees period unless they are fleeing stupidity | Chris |
| Climate change refugees are non existent!! | Ian |
| NO…Ive known since watching the AL GORE DOCO that it was a natural phenomenon that happens evey 20,000 yrs or so, as he proved, then tried to say it was "man made" | Michael |
| What a load of childish rubbish. It would seem the Labour Party will be as stupid as the Greens if they go through with this ridiculous proposal. And all the while Peters will let it happen as long as gets what "HE" wants | Neville |
| The is no sea level rise as promoted by the climate change industry and it is likely their other "truths" are false. | David |
| This UN Virtue signaling by Jacinda Adern and the MSM political party must stop. Being selected by a 7% list party does not give this coalition a mandate. A flaw in the NZ MMP system legislation needs to be remedied. | Max |
| | |
| --- | --- |
| We should look after Pacific Islanders firstly ASAP. | John |
| It apears our government has lost any form of common sense. They apear oblivious to the notion that scientific knowledge would seriously challenge the claims of rising sea levels. I suppose there is nothing like placing your head in the sand and ignoring the facts. THe government cannot look after its own people adequately without importing further dependants unnecessarily. | Chris |
| 'Climate change refugees ' are simply a figment of the left's imagination. Anything at all to show their own perceived 'superiority' to everyone else. | Roger |
| This is nonsense. It is time we insist the media do their job and publish proven fact to educate the sheep that just swallow every fabricated lie they are fed. | Gail |
| There is no such thing as climate change refugees . The level of the sea has not changed for centuries if ever , what is going on is wave erosion and natural submersion , which is an on going process . In the past the people on these low lying islands would just move to another island .This is just another example of fake news and Jacinda grandstanding without consultation with the NZ public . We have enough poverty and homelessness in NZ without Jacinda adding to the problem .Fix up our own problems first .Ask the simple question how can we house and feed them ? | Jock |
| It is a nonsense. It seems that NZ is prostrating itself in front of all other countries to try to prove how humane we are. The govt needs to think more about the needs of it's own people and the social and economic effects on present NZers of an open refugee programme. | Richard |
| Another trumped up ideological lefty obsession. | Al |
| These are an invention of those "climate change believers" to reinforce their belief, and enforce it on those who dare to question their "right thinking" analysis. | Andrew |
| What climate change? Look at the science folks! | Mark |
| Man-made global warming/cooling is- a-lie ! "Climate refugees" is-a-lie ! On that basis do NOT let them in. | Don |
| No refugees based on false arguments either from the islands or PNG | Jenny |
| Ridiculous | Wayne |
| Daft and dangerous | David |
| Holy Trolly Gwok a Molley ! This direction the new Government proposes is a real worry. Think I'll repeat a Russell Crowe comment when he won an academy award, God Bless Oz,Thank God for USA & "God Defend New Zealand" adding my bit and "all who sink in her" | Kate |
| Who's going to find the finance and from non employed or employable refugees? Won't be them nor will they contribute to our social and moral levels, another Govt. drag on NZ tax payers. | Ian |
| Climate change has been going on for millions of years and nothing we humans do will change or alter that | Dave |
| Winston where are you? Put a stop to all this nonsense! | Tim |
| It is far too early to open our doors as it has yet to be proved that there is a rise in sea levels. | Keith |
| No way otherwise you will have others using that excuse. | Ian |
| Let's look after own own "poor" KiIWI'S first before spending Government funds on this | Ian |
| Since there is no rising of sea levels around Pacific Islands, there are no climate change refugees. | Kerry |
| There are no such animals. | Shelley |
| These people are NOT refugees but BOAT people who left their families in an attempt to get into Australia illegally. WE DON'T WANT them | Carl |
| Absolutely not! Those proposing it are 'barking' mad. There has been no global warming for the past eighteen years! | Ron |
| We must choose new citizens wisely. | Frank |
| All based on absolute climate change nonsense – certainly not | Hylton |
| The whole global warming is a scam. Gore said the Artic would be ice free in 2015. Still ice there. This modern warming is the other side of the little ice age. The scam is a computer projection. Fake science. | Warwick |
| Too much ill informed and unbalanced comment on the subject. by the media and other so call expert's. | Norm |
| Not necessary yet | David |
| Climate change like homeless numbers in New Zealand is another left wing political stunt that pulls many heart strings of those that 'cannot see' – or read this good earth's ice age history! Much of NZ is going through and into a prolonged dry spell following a very wet late winter. That's called weather! I recall this is a very similar weather pattern to sixty years ago! That was called 'weather' then too! | Stuart |
| Absolutely NOT! The word refugee has become a political one, and no longer one that truthfully describes a persons true circumstances. Let's not allow ourselves to be conned in the same way that Merkel has been conning the German people! | Charles |
| No! Another idiot policy which is to become one of many we are going to be the victims of throughout the next three years. We cant control the immigrants that are already here now … just look at the Tongans who thought that fighting night after night and behaving like savages in the streets in South Auckland, all over a game of rugby just because they could was ok. They should have all have been rounded up and immediately deported,but a government with no balls and a "Greens" idiot like James Shaw in the mix that think that arresting a couple and releasing them in the morning with a warning is sufficient…. Not to mention Andrew Littles move to dump the 3 strikes rule and allow serious criminals back on the streets after serving one third of their sentence. Little is a complete Dickhead and the prospect of the next 3 years with this government in this country is worrying the hell out of me. | Des |
| Just another ploy to get into a welfare society that they have not contributed to. | Owen |
| We already have more than enough uneducated, low-grade citizens in NZ. We don't need to turn this land into a 3rd World dumping ground. There are ample other land-masses where the so-called refugees can move to. | colin |
| It is just too early to take "climate refugees". We need to get our "own house in order" first. | Darryl |
| Climate Change is a manufactured B/S money grab and NZ should stand up against those pushing it just as we did when we stood against Nuclear powered vessels entering our waters. We ALL need to stand together against this obsession to take in refugees who will be a drain on our own resources and a threat to our people. Here's a novel idea … Let's just look after our own people first. | Diana |
| No way should people enter NZ as refugees under "climate change". It is another hair brain idea from the "sandal Brigade". | Frank |
| Socialist muppets | Cutty |
| It's just too ludicrous to comment on. Definitely no. This socialist Government will only cause a stampede from all sorts of people promoting their own reasons they are refugees causing a deluge of people and causing even greater problems that already exist here. | Audrey |
| NZ needs to carefully MANAGE it's agreed quota of refugees which will be of benefit to NZ. and not get distracted by politically expedient side issues like contentious "climate change" refugees. | Geoff |
| People are blinded by the words climate change. Most people do not look into their matter.and the media feed us what they want us to believe. Shame on them | Yvonne |
| There is no reason to believe that the reports of lawlessness are not true therefore we do not need any more people for whom the law is a joke and made to be broken by them. | Rob |
| James Shaw is so embedded in his promotion of climate change that he is unable to retract the nonsense. Interesting that comments on social media are rapidly turning against the propaganda. Great. | Di |
| Because there is no such thing! Having visited many of those islands regularly over many years I know from talking with the locals, the so called rising sea levels are not real. Low lying coral athols have always been swept over by king tides, major storms. Plus in the case of a few, records indicate the athols is subsiding downwards through geological movements! | Hugh |
| They are no longer refugees. | Rob |
| | |
| --- | --- |
| If we have an open door policy like Merkel in Germany we will end up being inundated and inherit same insurmountable problems as Europe. | Chris |
| Its all Fake News. | Henry |
| No such creature exists | Vernon |
| No way! | Simon |
| Climate change refugees do not exist…..end of story. | Mike |
| Local governments, eg Vanuatu, are already providing financial and practical support for residents affected by "climate change" | Jill |
| Definitely not. | Brian |
| And certainly NOT to the troublemakers who refused to move to new quarters. | Geoffrey |
| …let them swim in their own rubbish" and low life activities….some of the Human race are total garbage. | ChrisH |
| Its a fraud | Kevin |
| Not until such time that sea level rises can conclusively be proven scientifically, by real science, not junk science. | Willy |
| Since they don't exist, there's no point! | Hilary |
| No climate change is natural and there will not be any sudden rise in sea levels, so the people need to adapt. It is scaremongering on a massive scale | Colin |
| Definitely not. | Alan |
| Enough of this crap. Refugees come in the UN way or no way at all. | Graeme |
| Oh dear – our new government has taken on-board the media-Greenies hype on behalf of imaginary "climate refugees". This is a sign that they are not a logical source of bold thinking and fast action as we hoped, but rather one of gullible mindless following of the Greenies agenda and any other idea that pops up in the "new causes" basket. I have a bad feeling about this – it seems our new government has a nose ring and is being led around by any new cause that the media chooses to make into headlines. Sad for New Zealand. | Liz |
| The 'Tooth Fairy' is an embarrassment as a PM and James Shaw & his mad Greens are off the planet. | Monica |
| These people have left their homeland hoping that some other "sucker"nation will allow them residence. Having achieved that residency they will then bring their families (real or imaginary) into their new country and accept all the benefits of their new country without having made ,or probably making any meaningful contribution. In my opinion New Zealand is seen as a "soft touch" for these so-called refugees and we do not need them. This is a statement of generalisations and, for that, I apologize to "genuine" refugees but you are, unfortunately, tarred with the same brush | Tony |
| As pointed out in the article – there is no such thing. | Chris |
| Just another example of Parliamentary Hot Air stupidity | Collin |
| We do not need or want those refugees and our prime minister should not inviting them We have enough trouble with what we have | Russell |
| No -Because the Criteria for establishing a Refugee under this category is another One World Govt/UN Hoax. | Jack |
| From experience in Kiribati, sand mining is the major contributor there. | Chris |
| We are over populated for our infrastructure now. No such thing as climate change as it is simply called "normal weather". | Peter |
| Govt can't look after kids born here so locals should have priority. | JR |
| A Trojan horse if ever I heard one. | John |
| No, there are no such refugees in reality and the whole thing is a hoax! | Paul |
| What else do you expect from a foreign owned mass media. Of course they do not have New Zealand's interests at heart. | Peter |
| | |
| --- | --- |
| Absolutely not! NZ does enough to help the Pacific already. The problems there are not due to climate change but to do with poor decision-making by those Pacific Island governments in the past. Remedial action should be prioritised to get on top of the problems. | Dennis |
| NZ should not even consider such bogus grounds for new refugees. What a crazy idea! | Nevil |
| Climate change is just a socialist rort. Why doesn't Winston Peters speak out against these stupid ideas? | Graham |
| The Government's new leaders are like Helen Clark – all wanting to become famous on the world stage. Well they should pull their heads in and start governing for New Zealanders. We do not want nor need climate refugees. We have enough problems here without adding more. | Larry |
| What a stupid idea! | Karen |