August 9, 2015
Two companies have been in the spotlight recently, dairy giant Fonterra and Serco, the UK-based company that manages Auckland's Mt Eden Prison.
Fonterra's issues have been well and truly canvassed but there has been limited analysis of Serco.
As Serco is hoping to expand its operations in New Zealand it is important to ascertain whether its problems at the Mt Eden Corrections Facility are a one-off or whether it has a history of contract problems.
Serco was established in the United Kingdom in 1929 to provide support to the country's growing cinema industry. It was originally called RCA Services because it was a fully owned subsidiary of Radio Corporation of America (RCA).
RCA was one of the hot stocks on Wall St during the 1920s when its share price soared from an IPO price of just US$1.50 in 1921 to US$570 eight years later. It plunged more than 90 per cent after the October 1929 crash.
The UK subsidiary diversified between 1960 and 1990 by obtaining maintenance contracts for the UK Ballistic Missile Early Warning System and European Space Agency as well as maintenance contracts for London's traffic signals.
It changed its name to Serco following a management buyout in 1986 and a year later obtained a full London Stock Exchange listing.
Throughout the 1980s and 1990s Serco won a number of contracts following the privatisation of UK government services and in the early 2000s it made numerous acquisitions, including some in the US.
It now has a sharemarket value of 1.39 billion ($3.3 billion) and is a component company of the FTSE 250 Index.
Serco describes itself as a company that "serves governments and other bodies who serve the public or protect their nation's interests". In other words, it supplies services that were originally supplied internally by government departments and other public agencies.
Serco's new chief executive Rupert Soames – who is Sir Winston Churchill's grandson – wrote the following comments in the company's December 2014 year annual report: "Governments need to continuously improve the quality and efficiency of service delivery."
"We believe that public sector monopolies are, by their nature, less well-equipped to manage continuous innovation and improvement in service delivery than the private sector."
He went on to argue that "the best route to delivering improving quality and reducing the cost of public service" is through a contestable tender process involving private companies.
Serco, which has 119,000 employees worldwide, has five core activities as outlined in the accompanying table.
These are:
Justice & immigration
This includes the management of prisoners, asylum seekers and illegal immigrants. Serco has the day-to-day management contract of the Mt Eden Corrections Facility and the Auckland South Corrections Facility at Wiri which opened in May.
These are Serco's only New Zealand operations but it manages all of Australia's onshore immigration detention facilities, including Christmas Island, and provides prison escort services in Western Australia.
Defence
Serco provides a large range of support services to this sector in the UK, the US, the Middle East and Australia. These include base and operational support, engineering and informational services and maritime services.
Transport
Serco operates rail systems in the UK, Middle East and Australia, air traffic control services in the US and the Middle East, ferry services in the UK and road traffic management services in the US.
Citizen services
This includes middle and back office services for the management of social welfare benefits and pensions.
Healthcare
Serco provides non-clinical support services such as facilities management and patient administration to hospitals in the UK, Middle East and Australia. The latter includes the operation of the non-clinical support services for the Fiona Stanley Hospital in Perth.
Serco revenue; Focusing on prisoner and immigration facilities in Australasia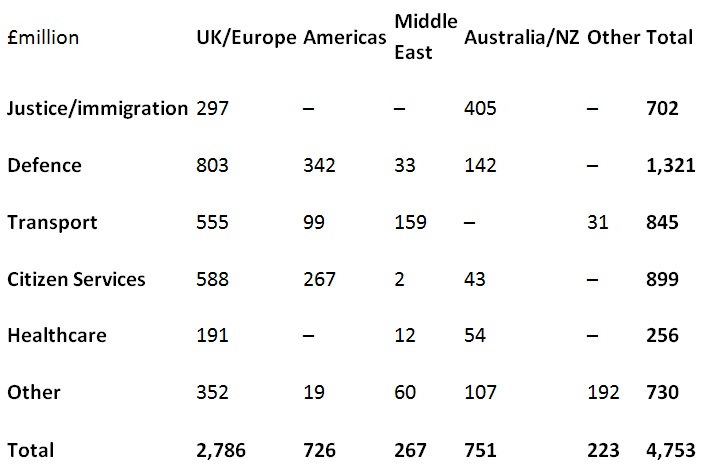 Serco is no stranger to controversy, particularly in justice and immigration services.
In August 2013 the UK Ministry of Justice made a request to the City of London Police to investigate Serco's contract to provide prisoner escort and custody services in London and East Anglia.
This investigation concluded with no evidence of any wrongdoing.
In November 2013 the UK Serious Fraud Office opened an investigation into Serco's contract with the UK Government to provide electronic monitoring services to people subject to bail or other court orders.
This is a topical issue in New Zealand in light of this week's revelation that Tony Robertson was subject to electronic monitoring, which is the responsibility of the Department of Corrections, when he murdered Blessie Gotingco.
Serco reached a settlement with the UK Ministry of Justice to make a payment of 64.3 million in relation to the electronic monitoring services contract after allegations that it was billing the Ministry of Justice when no active monitoring of prisoners was taking place. It also agreed to make a payment of 2 million in past profits received in respect of the prisoner escort and custody services contract and to forgo future profits on this contract.
These investigations caused substantial damage to Serco's reputation, within UK Government circles and the wider private sector market in the UK.
There has also been significant media criticism of Australia's Christmas Island Detention Centre, which is run by Serco. The decision to close this centre will have an impact on Serco's earnings.
Chief executive Chris Hyman resigned in October 2013 and approximately 25 per cent of the group's UK management team left the business.
The highly regarded Rupert Soames, who was previously chief executive of the FTSE 100 power hire group Aggreko, was appointed Serco CEO in May 2014. He initiated a strategic review of Serco which concluded that the company needed to win more high-quality contracts, improve its efficiencies, close non-core operations and mitigate the impact of loss-making contracts.
In addition, the company recently completed a substantial capital raising at 1.01 a share compared with Thursday's closing price of 1.27 a share.
The problem facing Serco is that the initial privatisation contracts had high profit margins but governments are negotiating tougher contracts and, as a consequence, Serco's margins have declined. Budgetary constraints, which have been one of the main reasons behind the closure of Australia's Christmas Island Detention Centre, have also put pressure on private sector contractors.
In addition, many of Serco's contracts are high-profile and trade unions have been very quick to criticise the performance of private sector workers who have replaced their government-employed members.
Serco has had full responsibility for the Mt Eden jail since August 1, 2011 and the Department of Correction's assessment of its performance has been extremely positive. This assessment is based on core security (breakout escapes, escapes from escort, riots and unnatural deaths) and internal procedures (safety and security).
Ironically, in the 12 months ended March 2015 Mt Eden was rated the best New Zealand facility by a wide margin with a score of 96.75 per cent compared with 83.75 per cent for the next best facility.
Three years ago Mt Eden was ranked 11th of 17 correction facilities by the Department of Corrections with the comment "needs improvement", compared with an "exceptional" classification in the latest report.
The renewal of Serco under the leadership of Rupert Soames still has a long way to go and the outcome of its problems at Mt Eden jail will give a strong indication of whether Soames will be successful or not.
Disclosure of interest: Milford Funds Ltd. holds Serco Group shares on behalf of clients.