January 20, 2019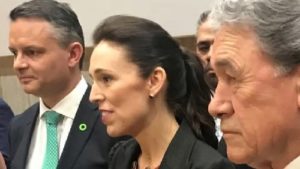 On the face of it, the Labour-led Government would have finished last year well pleased with their progress. Their coalition was holding together strongly and the minor parties had each achieved some big policy wins.
The Greens in particular, had substantial gains – not only securing the demise of the oil and gas industry and the end of large-scale irrigation, but their radical agenda to de-carbonise New Zealand's economy is now on track to become law.
While Conservation Minister Eugenie Sage remains committed to pushing ahead with an irresponsible plan to ban new mining on conservation land – in spite of it being standard practice in regions like the West Coast where 81 percent of their area is conservation land – the Associate Minister of Transport Julie-Ann Genter appears to have backed off her foolhardy 'zero road death by 2020' policy, which could have only been achieved through zero car movements!
The Green Party's plan to decriminalise marijuana received a major boost late last year when Labour passed a law to not only allow end of life patients in need of palliative care to smoke cannabis in public places, but also an estimated 25,000 other people who say they suffer from chronic pain. These changes are expected to smooth the way for a yes vote in the binding referendum on legalising cannabis for personal use that will be held at the 2020 general election.
For New Zealand First, their wins have been aimed at fortifying their voting base. Shane Jones' billion dollar regional development slush fund is designed to build support in the regions – especially in the Northland electorate where he is likely to stand. Their plan to include provisions for a nationwide referendum on the future of the Maori seats in a Private Members Bill to entrench the seats, is aimed at winning the support of those who oppose race-based privilege.
Their goal of increasing the minimum wage to $20 an hour by 2020, is no doubt intended to grow support amongst low income workers. However, the policy is having a far wider impact by making it uneconomic for many small businesses to hire extra staff. In addition, the knock-on effect, whereby the wages of other employees have to increase to preserve parity, is resulting in consumer price rises as businesses struggle to maintain profitability.
Against that backdrop, Winston Peters no doubt felt his stint as acting Prime Minister would have won him some long term support, but his decision to secretly sign the UN global migration compact, which is designed to open borders to illegal immigrants, was seen by many New Zealand First supporters as a betrayal that undermines national sovereignty.
As far as the Labour Party is concerned, they seem unable to put a foot wrong in the eyes of the media and their supporters. As a result, their honeymoon continues and they remain immune from almost any form of criticism or responsibility – including for reported increases in homelessness and poverty. Even the Kiwibuild housing debacle, which is predicted to continue this year as the number of houses being built remains well below the levels promised, is not creating a storm of protest.
Labour would have been relieved to have secured bipartisan support from National (which will effectively constrain their opposition) for their child poverty legislation and, unbelievably, their climate change plans, even though a radical socialist agenda clearly underpins this programme.
The final poll of the year put Labour on 43 percent, well ahead of their election night result of 36.9 percent. The Greens on 5 percent would have been relieved not to have slipped further from the 6.3 percent they won at the election. New Zealand First fared the worst, falling from 7.2 percent at the election to 4 percent.
Even with New Zealand First out of Parliament, on those numbers, Labour and the Greens would have a majority of 61 seats in the House compared to National and Act on 59.
Although National has maintained public support, polling at 46 percent – a few points ahead of their election night result of 44.4 percent – it was a difficult year for the Party as they adjusted to life in opposition and coped with the Jamie-Lee Ross affair.
Unfortunately for leader Simon Bridges, the leaks he blamed on the errant MP are still occurring. In addition, while Jacinda Ardern is attracting 39 percent in the preferred Prime Minister stakes, his 7 percent, remains stubbornly low, fuelling the inevitable rumours of a leadership change.
Such speculation, which is now being driven relentlessly by National's opponents, can be destabilising for a party, especially if other MPs rise above their leader in the polls.
In this week's NZCPR Guest Commentary, political scientist and Victoria University lecturer Dr Bryce Edwards, provides a review of the forecasts for 2019 that have been made by a range of leading journalists and commentators – including veteran broadcaster Bill Ralston:
"Bill Ralston's more interesting prediction and analysis is about Judith Collins taking over National's leadership: National will have to drop several percentage points in the polls before a coup can happen, but I'm picking that Collins has in mind a timeline that could give her the leadership shortly before next Christmas. The plotters, I understand, also have links to Winston Peters and New Zealand First. A Collins leadership would work to the benefit of both National and Peters who, it is believed, could work with her. It would give the Nats a potential partner in a future government, and be a valuable bargaining chip for Peters in any post-election negotiations with Labour."
Looking ahead, dozens of the working groups that Labour have set up will be delivering their policy recommendations this year.
One of the first to report back – and one that is likely to dominate the agenda right through to the next election – is the Tax Working Group, which is expected to recommend one of the highest capital gains taxes in the world. Set at an individual's top marginal income tax rate of up to 33 percent, it would be more than double the 15 percent rate proposed by Labour before the election.
With his 'rich-prick' philosophy, group chairman Sir Michael Cullen, is apparently planning to tax all profits made from the sale of assets and investments – including boats, baches, rental properties, businesses, and shares – at a person's full marginal tax rate.
But would such a harsh regime be fair, when most other countries either tax only a portion of such gains, or the full gain at a lower rate? And is it wise to tax capital at such a high rate in New Zealand, when, as a country, we consistently underperform economically because of a chronic shortage of capital?
With the Minister of Finance cunningly asking for any tax proposals to be revenue neutral, a tax-free threshold of $7,000, or a lowering of the bottom tax rate to 5.25 percent from 10.5, are two options being proposed as an equivalent $2 billion tax cut trade-off.
While this will be used as a bribe to sell the policy, the Minister knows full well, that although the initial return from a capital gains tax may be as low at $2b, over time it would rise to more than $10b a year, amounting to a significant tax increase for New Zealanders.
In May, Finance Minister Grant Robertson is planning to introduce his 'Well-Being' Budget. Based on Treasury's Living Standards Framework, it will measure government success, not only in terms of economic growth, but also such things as happiness, well-being, and life fulfilment. To progress this change, State Services Minister Chris Hipkins is planning a radical overhaul of the State Sector to make it easier for Government agencies to work together to solve the kind of problems the Living Standards Framework will identify.
This year the Minister for the Environment David Parker will push ahead with his controversial plan to make rivers swimmable by 2020. He wants agreement between iwi leaders, local authorities, and farmers for new National Environmental Standards. While the changes to the Resource Management Act that will be necessary are expected to lead to wider reforms, it seems unlikely that the Minister would undertake the complete overhaul of the Act that is now needed.
The reality is that the RMA has become a significant regulatory burden on the country, holding up progress, forcing up costs, and preventing New Zealanders from being able to undertake projects in a timely fashion. It is also largely responsible for New Zealand's seriously unaffordable housing.
National, of course, understood this when in government, yet many of their RMA changes, such as the requirement of local authorities to empower iwi and establish multiple participation agreements, have made the situation worse.
A case in point is the Craggy Range debacle, whereby a Hawke's Bay winery built a walking track to Te Mata Peak on their own land and with the full approval of the Hastings District Council, only to find that a local iwi eventually objected and launched a vendetta against the winery.
To get them off their back, the winery – at considerable cost – has not only agreed to join the iwi in purchasing land for a new walking track, but they will also try to remove the old one, highlighting the absurdity of a situation where an iwi has been allowed to impose its cultural and financial interests on a consent applicant.
In opposition, Winston Peters committed to removing all references to race from the RMA. Now that he's in a position to do so, he needs take a lead in bringing about proper reform.
On the social front, a combination of proposed policy changes will have a disastrous impact on New Zealand, by entrenching an underclass of benefit dependent families and significantly increasing the risk to their children.
While the Government likes to gloat that raising the minimum wage to $20 an hour benefits low income workers, what they don't acknowledge is the damage this policy is causing to those tens of thousands of vulnerable New Zealanders, who already face substantial barriers to employment and who will no longer be able to find a job because it's uneconomic for businesses to hire them.
Furthermore, if the welfare working group reports back with recommendations along the lines of those proposed by Metiria Turei, before she resigned as Green Party co-leader, to remove the sanctions that presently require able-bodied beneficiaries take jobs, the result will be a permanent dependency trap.
When a lack of jobs is combined with the hopelessness of intergenerational benefit dependency, the impact of the Government's plan to legalise cannabis will have a devastating impact on families – especially children.
This year we can expect increasing pressure on the Government from Iwi Leaders not only for more race-based privilege, but also for further acknowledging that they are in 'partnership' with the Crown – a charade that is clearly the forerunner of Maori co-governance. Through their powerful new Office for Maori-Crown Relations – which has already taken over responsibility for Treaty Settlements and for Marine and Coastal Area Act claims – they will no doubt demand veto rights over all new government legislation.
Meanwhile, the coastal claims process will continue on throughout the year, as High Court hearings are scheduled and direct negotiations with Treaty Minister Andrew Little begin.
This second year of a government's three-year term is when controversial policies are rushed through Parliament, ahead of election year. With many radical changes being proposed by this Labour-led coalition, it is going to be a very busy and challenging year!
Please don't forget to support the NZCPR HERE to ensure that we can speak out strongly and fight hard for your interests in the year ahead…
THIS WEEK'S POLL ASKS:
Do you believe the Labour-led Government is taking New Zealand in the right or the wrong direction?

*Poll comments are posted below.
*All NZCPR poll results can be seen in the Archive.

THIS WEEK'S POLL COMMENTS

| | |
| --- | --- |
| Labour is going to RUIN N.Z.WHY in a country crying out for workers are LAZY people NOT having to CONTRIBUTE for TAX PAYING benefits. | Cindy |
| We are stealthily being taken down the road to communism. Brain washing is being successful in many little ways | Anne |
| definitely wrong direction | Rex |
| Total sham and bending over backwards to Maori. | Fraser |
| Bunch of ideological halfwits. Seem to work on the theory "just because it doesn't work in practice, doesn't mean it won't work in theory" – if they had to make their way in the real world they'd all be lining up for the handouts their supporters get! | Rex |
| Signing the UN migration pact a dangerous move, Free 1st year Uni fees should have been delayed until the students are clearly going to finish the course. A very firm stance on immigrants following New Zealand law and equally firm stance against Sharia laws being demanded and established in New Zealand. NO WAY do we want to end up with the immigrant and extremist problems plaguing Europe. If our way of life isn't to their liking then go home. | Donald |
| Everything is set up for the down and outs. While hand outs are the vogue there has to be a day when the piper has to be paid. | Dennis |
| Neither National nor Labour, Greens or NZ 1st have honoured their commitments to New Zealand people but are blatantly falling over backwards to honour United Nations policy and trying to get them committed into law. We need to be rid of any politicians or local body representative that advocates any commitment to Global Governance and the U.N. We need to look after NZ before committing money to fictitious Global events. We need to remove ourselves from the U.N. and recind any agreements already made! | Bruce |
| Worst fears coming true | Bryan |
| Far too socialistic and anti carbon. People need to be taught to stand up for themselves a lot more and reduce all these handouts. New Zealand does not produce enough carbon emissions to tip everything upside down to fix it. | Graeme |
| Until the Waitangi Tribunal is disbanded and all race based governance is removed, this country is doomed to separatism on a grand scale ultimately leading to widespread violence | Peter |
| This government thinks that if they pay high wages to kids who don't want to work, build houses for the so called poor ( whom are not buying them anyway ( thanks to idiot Twyford ), bend over and give more power to Maoris … etc etc etc, it will give them more votes. Wrong .. wrong .. wrong! All they are doing is feeding the generations of welfare dependent losers that ever increasing in this country. | Des |
| legalizing marijuana will increase crime, increase dependancy ruin young peoples chances of escaping the poverty trap, there vote buying with maoris is causing increased racial dissharmony | Stan |
| The wrong direction most definitely. In general, most of us voters unwittingly vote for politicians who promise and deliver more regulation and we end up economically with a fascist regulatory state. This radical left wing coalition should be opposed with alternative radical right wing policies. If you want to see this country take off economically, 1. Abolish minimum wage laws, 2. Abolish the RMA, 3. Defund state education!!! – last but not least. In the meantime, take time off to read "FABIAN FREEWAY, How Socialism Came To America." 1966 [and I add, to New Zealand and the West in general.] (Available free on line. Some chapters have up to 31 e-book pages of footnotes.) One could say, socialism via osmosis through the institutions. Its antidote – Fabian Capitalism! | Don |
| It has to end | Donal |
| Too many race based decisions being made which advantage Maori and tax policies that favour lower income families taking up welfare lifestyle.Too many children by those unable to afford them a decent life | Al |
| What can we say, effectively killing off industries, immigration, housing and tribal coastal claims the list goes on. | Chris |
| Taking us in the wrong direction, through banning any future oil exploration, banning plastic super market bags, building homes that first time folk can't afford, wasting millions on re-entering the Pike coal mine, and the possible introduction of Capital Gains Tax. | Frank |
| Extreme socialism is a disastrous route for any country that requires its people to work in order to make ends meet. | Robbie |
| NZ has to Get Real and see what damage the Labour led Govt is doing to our economy !! | Graeme |
| It's disgusting what the tooth fairy is doing in every way. She a Racist, communist | Cutty |
| The Nanny State has taken over completely | Peter |
| Lunatics running the asylum | Bernie |
| I have said it before and will say it again. This Government hasn't a clue how to run NZ and it will destroy it both economically and socially. | Mike |
| There is not a successful country on the planet that has been built by socialists. Having Cullen in charge of tax reform is analogous to asking a barman whether you should have another drink. Despite the oft touted view that there are no free lunches, a disturbingly high percentage of New Zealanders cannot see Labour's policies for what they are; spend someone else's money and hope for a reelection outcome. | Peter |
| This motley crew is a disaster for NZ. | Ronmac |
| Never the right way. | Clark |
| | |
| --- | --- |
| A mish-mash of contradictory cliques that will collapse when Winston goes. | Peter |
| Led by a political pygmy PM who is really a smiling dictator with her ridiculous green,,global warming rubbish. We must get vote out the dangerous, Green party as soon as possible, then the racist Maori seats and the treacherous NZF. National needs to change their leader to J. Collins pronto and get Trump-like policies into place. | Monica |
| | |
| Labour proceeds by conflating propaganda with truth and by confusing reality with fantasy. | Ron |
| The Greens influence is not in the country's best interests. Disappointingly, NZ First have not fulfilled any of their pre-election promises. | Tony |
| Too many wild promises taking lots of funds with no financial return. A coalition trying to placate all it's parties. National needs to wake up; clean up its leadership. Get rid of the dead wood which has become the pathetic face of it. Youth earned Labour the last election – National needs to shake off the stodge and find its feet before the next round. | Peter |
| Result of agenda driven shallow socialist policies | Shane |
| Too many race based policies , no wonder I now live in Vietnam . I am now retired and beginning to dislike NZ very much . The RMA is bolics , national should never have into ducted it | Maurice |
| Wrong !! Wrong !! Too many loony ideas multiplied by green nutters !! | Alan |
| We will be constantly bowing to the UN and that is a massive financial burden and loss of sovereignty. | Dave |
| I'M picking the labour government will be booted out for at least the next 12 years as will the idiot Greenies. | Athol |
| If the politicians don't see this is wrong they should live elsewhere. Who votes for these self serving clowns? | Rex |
| Tax and more Tax and give to the poor has never worked and never will | Chris |
| | |
| --- | --- |
| All I can say is : HOLD ON TO YOUR PANTS EVERYBODY!!! The agenda is clear to see for all who are not totally asleep; Jacinderella's poverty agenda is good for one thing– to secure votes among the lower social economic base in our society and – at the same time reduce these masses to carry on accepting utter dependency on our social system. Cannabis laws are clearly a part to systematically ruin any sense of responsibility and create a new generation of mallable 'citizens'.As far as this co governance of them Maori bosses is concerned.—- They and their ilk want to take over this whole lot and squeeze the last drop out of this fat lemon. And they have a vested interest to support the free drugs industry since the associated maori gangs make billions every year from that. Ordinary folks out there have not got a clue due to either a total lack of interest or being totally brain washed by this crap disseminated every day by the MSM. To add to this comment I would like to say that I have some serious doubts re National and their current leadership. It is only too obvious that( for quite some time now) they have moved somewhat to the left and have betrayed their once more conservative line. SB has to go— he is utterly useless ( a kind of a New Zealand version of Justin Trudeau) That would be a good start to change a few things around by putting J Collins into charge. NZ First has totally lost the plot at this point in time and the Greens are a bunch of dangerous closet communists which we have to get rid of asap. | Michael |
| In line with denying us our true founding document, the Royal Charter of 16-11-1840 that separated us from New South Wales, giving us our own Government and English law only (language), this Labour Gvt seems intent on preserving apartheid law by use of the "Principles of the unauthorised Treaty translation of Prof. Hugh Kawharu and not the genuine article, which is benign. | George |
| Sick and tired of all these left-leaning, liberal, sociocommunist agendas intended to F**K New Zealand over before bringing a Global Marxist State (a "borderless world") under the "control" of the UN. Sound like a Police State under Stalin? Because it will be… | Mark |
| Many shades from Rogernomics era coming thru' | Christina |
| Going down some dangerous paths, not listening to the mainstream opinions, will affect our Economy for the future! | Steve |
| amateurs | Jon |
| out of sight in wrong direction | Barry |
| lobsided policies | Gerard |
| They appear to be trying to get rid of the Farmers, farmers have been the backbone of this country. History will more than likely repeat its self Labour will go out with a bang, National will then be left with a huge debt again. !!!!!! | Ross |
| Higher Taxes, benefit dependancy. Racial divide | Don |
| Cullen's capital Gains tax proposal is uneconomic, punitive on those who have/do/did work hard, and another tax on tax | Bob |
| Unfortunately right direction only for it%u2019s base core supporters, beneficiaries, students and low income income earners | Trevor |
| Definitely the wrong direction. This is further exacerbated by the lack of a viable political alternative – national do not cut it at present | David |
| We need to toss out this coalition before it does more damage. Legalise cannabis, a leader with zero skills, whats next – legalise crime? | Steve |
| We URGENTLY need; Revision on the UN Immigration pact Revision on Capital Gains Revision of the RMA Revision on all energy production Revision on the List threshold to 10% Revision on Education and Health Administration Revision on Police remuneration and administration. Revision on assylum Refugees to ensure only integration. Revision on the status of Islam Revision of the role of TOW Revision of common property held in trust ie Air, Water,Sea, Seabed, Rivers, Lakes. to Single Government control. Revision of the Banking System Revision of the privacy of Personal Data. | Richard |
| I am a medium sized landlord, mainly residential and if has been a struggle at times to make my properties work, major headaches with tenants. Any profit has gone to supporting my very talented children – eg physic phd student, nyso violinist, so feel i have re contributed to the social good more than most. This socialist govt seems determined to make it harder for small time landlords and business owners in any way possible. Cant wait to see them gone next election. | Mathew |
| We are going to be a basket case country | Robert |
| Totally wrong!! | Sandra |
| Venezuela here we come | Catherine |
| National had a lot to answer for with their pandering to the Maori, but Labour will be so much worse. The general populace is kept in the dark. I can see the chicken coming home to roost this year and it won't be for the better. | Graeme |
| Our tax is being frittered away on worthless waste. Their promise of thousands of new homes has turned out to be only hundreds and is a complete failure, like the changes to the RMA. The waste of millions on areas like Northland are simply designed to curry election wins in marginal seats. The unemployable are able to get extra benefits with no penalty for not bothering to turn up to appointments. Our fruit crop is likely to be sacrificed as picking fruit is just too tiring for the young looking for a job that pays well and requires no effort. Those of us who have worked and saved are to be targeted by Cullen's Capital Gains Tax unless we get rid of this Labour Government next year. Peters and NZ First are a useless bunch of yes men and the Greens are a miserable lot of misguided wingers. | Chris. |
| Spending all the funds in the wrong direction, seems to be the order of the day. The recent trip to UK for the purposes of signing an agreement for trade, is only recorded as a "may" enter into a trade agreement according to the news report…good one! | Audrey |
| Head in the sand mentality will lead us to ruin! | John |
| They are about all one can expect from a socialist/racist/greenie bunch with no business experience,,,,,poor NZ ! | Peter |
| These clowns are bankrupting the economy. | Mark |
| They are are obviously supporting the UN and One World Government instructions. the USA is not the only country with a Fake Media either. We should all join the Yellow Vest movement! | Elizabeth |
| Take the Greens out of the picture and it is not too bad. The Greens now have an edge and their political agenda will bankrupt the country because they pander to unproven data and myths. | David |
| All the good things being achieved will be negated when policy resulting in separatism are firmly entrenched. | Phil |
| They are a pack of PC idiots just listen to Andrew Little's speech to the UN. Don't need to say any more. | RM |
| The term "Revenue neutral" is quoted in this article. While I think I understand what it means, I have no idea how it is measured, is there more than one way, do different ways bias the result? Would total take take as a percentage of GDP provide a valid indication of how heavily we are being taxed? If so it would be interesting to compare the two figures for the start and end of this term of government. | Geoff. |
| Wrong on almost every issue. | Graeme |
| We need trump style changes | Barry |
| Combined with iwi they will wreck this country! | Donald |
| | |
| --- | --- |
| Actually, the Labour-led government is directionless: It makes up policy on the hoof, and appears to have no idea of long-term strategy. The ship of state has no captain. | Graham |
| They have far to many members that do not have a clue about what they are doing. | John |
| Maybe. Time will tell. But by then it may be too late., I have an uneasy feeling. There might be some hope however which there certainly was not with the last national government. | Gary |
| Just take a look at the articles in your news letter that says it all We are considering leaving this. Country after 7 generations as it's going to be impossible to survive here in a few years | Peter |
| wrong is correct ; words fail me ; the ramifications of all Labours poor decisions ; are too many to put in to words in one twelve hour period ,we are still suffering from Clarks vote purchasing politics , and this dumb ass is going down the same track. I think to the future , and when the complete economy is shattered , again our only hope to rectify the multitude of failures , is for another National govt ,[ hopefully there is a strong Nat team by then. | Roy |
| Capital gains tax, Maori claims for entire coastal NZ, decrim or legalisation of marijuana, blind observance to all UN decress etc, Iwi leaders push for more race based privilege, demise of oil industry or mining on reserves or irrigation, plus plus plus. Need i go on? | Terry |
| There are not enough horses left in New Zealand for the population to ride to and from normal business; maybe electric bikes are the answer as they could use windmill power to recharge as long as the wind blows! On a calm day they can be pushed! Think of the energy being wasted building all these new houses – their new power and gas mains etc … oh, and airplanes that don't use fuel! How do the greenies buzz to and fro around their Beehive! and New Zealand? | Stuart |
| Definitely the wrong direction. I too thought National was hopeless but they weren't half as bad as this lot. What a huge disappointment Winston Peters is. One would have thought he would have pulled Labour in the right direction but no, he is just interested in feathering his own nest. | Helen |
| Heading downhill. Fast. So many issues have been visited upon the country that our democracy is under threat like never before. I hate to think where it might all lead. The gulags? | John |
| Capital Gains taxes are to brutal, We need mining on the West Coast and Oil exploration is a must for the health of the nations finances. The Treaty of Waitangi has gone past been ridiculous, It is now a cash cow for Maori Iwi and needs to be abolished. | Wayne |
| NZ is moving in the wrong direction and has been put in a very dangerous position by the Govt signing up to the corrupt UN migration compact. NZ must be made to understand the implications of this act, and demand the Govt withdraw from such a destructive globalist policy from the UN designed to bring about world collapse to 3rd world status. Maybe we could borrow Trump for a term as leader, because I see neither of these lot doing what is best for New Zealand. | Neil |
| Thos Lot have achieved nothing only talk and fund gobbling thins tanks. FAIL | Carl |
| | |
| While the current coalition are doing it's best to stuff the country, what is just as frightening is the lack of voice from the national opposition benches. I wonder if they are sitting back hoping that at some point the left foot will be so far in their mouths that they will choke. | Barry |
| The signing of the UN Global Migration Pact is the ruination of our sovereignty and way of life | Christina |
| Watch AlJazeera – In search of Putin%u2019s Russia !! | Maureen |
| This coalition government is at best incompetent.Winston Peters is running the show in that he gets just what he wants and says what he likes. Ardern a naive amateur ,add Twyford,Hopkins,Little and Clark and their performances to date and you have sheer inept irresponsible Government.Sadly , so far at least we let these idiots carry on virtually unchallenged.FOR GODS SAKE KIWIS START REBELLING | Don |
| Inept in almost every way, this government is a disaster that will do real damage to our country. Resist!! | Roger |
| What the "coalition" has conclusively demonstrated is that no three-steering-wheeled vehicle can ever be a practical reality. | Jim |
| This Coalition of Losers is rapidly driving the country down the gurgler thus proving how disastrous MMP is as an electoral model. It must be replaced and soon. | Richard |
| Watch what happens when a boatload of migrants arrive on the beach with the support of NZ First, Greens and the Labor parties agreement with the UN for open borders, this will be the first of many seeking a better financial life at the NZ taxpayers expense. Note also that the National party never repeals bad law. | Rex |
| If were not before we are screwed now under this Gvmt | Norm |
| | |
| --- | --- |
| Not taking us anywhere as this group of social engineers have no policies other than that they are "right thinking". | Andrew |
| quit the UN | Chris |
| Get out of the UN,IT LEADS TO A SITUATION OF SELF DESTRUCT although with Clarks assistance we are well on the way. | IAN |
| We must stop the racism based policies before it destroy our free democracy and creates a Marxist society | Brianb |
| All the way to a socialist society, if we are not already there. No accountability , nothing will change. | Garry |
| We are now going to see the full extent of the treachery of Winston Peters in opening the pathway for Marxist Socialist ideology to destroy whole fabric of New Zealand society just to satisfy his desire to take naked revenge on those who he thinks have blocked his pathway to glory. | James |
| They are taking further responsibility from the individual which will only end badly. Marijuana legalization is the last thing NZ needs. | Chris |
| Spending too much of our hard earned tax money on trivia. | David |
| the end of mining oil and gas is very short sighted | allan |
| Words fail me. This government has to go. Time for fickle kiwi voters to actually seriously think about these issues. Pigs can fly?? | Allan |
| Giving NZ coastline to the Maoris is absolutely unbelievable!! | Graeme |
| But stop giving to much of our right to maori and also need control on China control with in New Zealand. Dose every thing have to be given to Maori. The Maori have drawn a line in the sand between them and white people of New Zealand. Are we to be one people in this country and one law for all ??. | Robert |
| This Government is taking all of us into an expensive alternative that can not possibly work based on bad Scientific advice and failed ideals. God help us. | Geoff |
| The RMA really needs sorting before we have a system where very little works. | Ian |
| If housing or lack of affordable housing is NZ's biggest problem, this government needs to address the RMA to fix if not it is taking country in wrong direction | Donald |
| | |
| Labour see themselves as robin hood. Taking from those who have worked hard to be "rich" & give to the poor. | Brian |
| Socialism always ends in tears. If only National would show some spine, their ratings would climb. | Willy |
| | |
| Pandering to the lowest common denominator is not ecomically practical. | gerry |
| They couldn't run a party in a brewery.. | Donald |
| Continuing to lock large numbers of our people to permanent dependance on welfare is simply wicked..! | Grahame |
| Tax and spend – surprise, surprise. And the spend is all on completely unproductive stuff, like free tertiary, wasted trees, etc. Just crazy. Suicidal stuff. Disgraceful. | Geoff |
| The way previous governments, and especially this one now, have gone down the path toward outright racism in our country is a travesty. We are dividing our people for a cause based on a re-written history. I am appalled at our leaders' gullibility..or graft. | Joyce |
| Comrade Jacinda is destroying our economy and our society with her government's Socialist agenda. This government is frighteningly dangerous! | Allan |
| ….Trust has lost it's value in the free 'Western' cultures and our economic and political systems promote deception… This Labour based outfit is leading NZ down a path to Poverty and divide. They are all talk and no walk…… | CHowes |
| | |
| This Govt with the greens at the helm is the most destructive time NZ has ever been in hate to think what our country will be like if this Govt is there to long they have tto go | Russell |
| "Progressive" cynical and dangerous government is pressing us all hard so as to fulfill a socialist agenda. | Ray |
| | |
| --- | --- |
| Yes – my heart sinks when I see what is in store. New Zealand is a great little country but it is being ruined by know-it-all politicians trying to force their socialist values and ideologies onto us all. | Sue |
| The damage a government can do in three years is enormous. | Brian |
| Labour is taking us entirely in the wrong direction and Winston Peters is doing nothing to stop them. | Terry |
| National was a hopeless government but Labour is proving to be so much worse. It makes me think we'd be better off without a government at all! | Graham |
| The wrong direction. There should be NO capital gains tax, No removal of welfare sanctions, NO minimum wage, NO decriminalisation of dope smoking, NO stopping of mining on conservation land – the list goes on and on! | Rodney |