January 31, 2016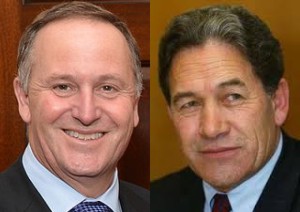 Last week, Prime Minister John Key reminded New Zealanders that governing the country in an MMP environment is all about numbers. Or, to be more precise, the number 61 – the number of votes the government needs to pass laws in this 51st Parliament.
This reminder of the reality of MMP government was expressed by Mr Key during media questions about the future of Resource Management Act reform and Winston Peters' offer of support their reform bill – as long as all race-based provisions are dropped. Mr Key explained that since the Maori Party had only guaranteed to support their bill as far as a select committee, they needed partners to pass it through Parliament: "what we need is 61-plus votes to get that out of select committee. We are happy to work with any political party to make that happen".
National paid a heavy price to get the bill to a select committee. The Maori Party not only forced them to drop many of the changes they considered crucial to their reform programme, but they also had to include the radical race-based concessions demanded by tribal leaders to fast-track iwi control of fresh water.
When asked if he would be prepared to deal with Winston Peters, John Key said, "If he wants to support the National Government, come with his own set of proposals for the RMA and vote for it we're more than happy to sit down with him and do that".
To date, opposition parties haven't really embraced the reality of MMP government. Most appear entrenched in First Past the Post thinking – opposing almost everything the incumbent government does in order to show that they alone can be trusted to govern.
If instead, opposition parties realised that our Prime Minister is a pragmatist who can count to 61 and understands that agreements are about give-and-take, they would not only achieve some policy gains, but they would show the public they can work co-operatively. Those are realties of MMP that most New Zealanders understand.
Dealing with the government on a case by case basis, is not without its challenges. But such is the nature of politics. The main difficulty is working collaboratively without being tainted – or being regarded as a lap dog of government.
For Labour, with their new leader, the former union boss Andrew Little, moving the party to the far left and into the realm of trade union style politics, any cooperation with National would be difficult. They can't even bring themselves to support the Trans Pacific Partnership Agreement, even though it was the Labour Party that instigated the deal when they were last in government.
While former Foreign Minister, Phil Goff, has been given permission to cross the floor and vote in favour of the TPP, other Labour caucus members who also support the deal have been refused. It seems a rather tragic turn of events for a party with a long history of responsible support for free trade – including securing New Zealand's landmark free trade deal with China – to now have a leader who is ideologically opposed. Andrew Little's stance demonstrates just how dominant the union influence has become within Labour, since the union movement is one of the country's strongest opponents of free trade.
So while Labour may be stuck in the past, in oppositional mode, and unable to count to 61, the Greens and New Zealand First are not.
In fact, in their State of the Nation address last week, the Green Party co-leader Metiria Turei indicated that they are trying to throw off their radical label to become more appealing to National. But pragmatism is something that may not sit well with the Green's ideological fan base.
New Zealand First, however, with its track record of moving to the left and to the right, is in a prime position to work with National to reach 61 – without damaging their party's brand. With their 11 MPs, they would not only give National 70 votes in Parliament, but they could cement New Zealand First as a centrist party for the long term.
The RMA changes that Winston Peters has signalled are based on the fact that he believes Maori should be treated like everyone else and that there should be no special privileges based on race. If New Zealand First is able to orchestrate the removal of race-based provisions from the RMA, this has the potential to not only become a catalyst to changing the country's course from separatism to equality, but a real legacy issue for Winston Peters.
As a pragmatist, John Key knows his relationship with the Maori Party is alienating his supporters, especially as their requirements become more divisive and extreme. But until now, supporting separatism has been his only option to retain the Treasury benches.
This week's NZCPR Guest Commentator, political commentator and former councillor Frank Newman, has examined New Zealand First's State of the Nation address and outlines what Winston Peters says he plans to do:
"New Zealand First will, in the committee stage of the RMA Bill, move amendments to cut red tape and bring common sense to the RMA. We will do so on one condition, that National will drop ALL provisions in the bill that provide separate rights based on race."
Frank believes the parties should work together on RMA reform: "Both parties have a great deal to gain by co-operating, as do all New Zealanders. National will avoid the fall-out of having to 'be bent over a barrel' by the Maori Party, a Party that barely has a political mandate at all. And NZ First will show that it can be responsible and constructive, cementing its place as a party of the centre."
Whether National can successfully negotiate a deal over RMA reform with Winston Peters, or any other opposition party, remains to be seen, but at least the door to such a possibility appears to have been opened.
In his State of the Nation address last week, the Prime Minister spelled out some of the main challenges facing his government – so let's look at what lies ahead.
Mr Key firmly believes that building a strong economy that attracts new investment and creates more jobs must remain at the forefront of the Government's agenda.
He makes the point that we cannot get rich by selling to ourselves, and that if we want to lift our living standards, we must continue to expand our global supply chains into new markets. The TPP, which is being signed this week, will give our exporters preferential access to more than 800 million customers in 11 countries across the Asia and Pacific region. This deal will eliminate tariffs on 93 percent of New Zealand exports to five new trading partners – the world's largest economy the United States, the world's third largest economy Japan, Canada, Mexico and Peru.
The Prime Minister pointed out that the TPP is the result of 25 years of work by successive governments, that understood only too well, that diversifying and growing our economy through free trade is the only way to build a decent future for a small country like New Zealand.
Mr Key believes it is the government's role to create the environment for business investment and growth, and he'd like to see a real focus on improving competitiveness – both in business and in government – by controlling spending and demanding better results.
He notes that global challenges are a fact of life and while international dairy prices are low, over time, they will recover and the industry will be better placed to take advantage of the growing numbers of middle-class customers in our key markets.
He says that at present tourism, construction, international education, information technology, high-tech manufacturing, services and a number of our primary industries are all underpinning a solid outlook for the economy, with Treasury's latest forecasts showing annual growth averaging just under 3 percent over the next five years.
While unemployment at six percent is higher than the government would like, Mr Key reminds us that New Zealand has the third highest employment rate in the developed world, with our businesses employing a higher proportion of the working age population than almost any other developed country.
Mr Key says the Government remains committed to upgrading New Zealand's infrastructure, through investment in roads of national significance, local roads, rail, broadband, schools, hospitals, and housing – not to mention the $17 billion being spent on the Canterbury rebuild.
He pointed out that the success of Auckland, where a third of our population lives, is central to our country's success. Recognising the importance of mass rapid transit to major cities, he announced the government is fast-tracking their $2.5 billion commitment to Auckland's City Rail Link, allowing the venture to start two years earlier than planned. With 3.4 kilometres of underground line, it will be one of the country's largest ever transport projects.
Auckland's housing shortage has been a major headache for the government. It's an issue that should not have needed central government intervention. But, with many council planning departments captured by environmentalists seeking to restrict greenfield housing developments to reduce 'urban sprawl', insufficient land has been released in Auckland to meet the city's growing need for new housing.
Measures introduced to lift the supply of new houses, include the Auckland Housing Accord to fast-track the consenting process and over 100 Special Housing Areas. The Government's National Construction Pipeline Report predicts an extra 80,000 new homes will be built in Auckland in the six years to 2020 – more than double the rate of the preceding six years.
Financial changes targeting residential property investors and foreign buyers have also helped to cool the Auckland housing market, with the Real Estate Institute reporting the number of Auckland homes sold in November falling to the lowest level since 2011 and the rate of price growth easing.
Mr Key highlighted a range of other challenges facing the government in 2016, including the overhaul of Child, Youth and Family, a major review of security and intelligence agencies, an evaluation of the Emissions Trading Scheme, and the continuation of social housing reform.
John Key ended his speech by saying "I sought election as Prime Minister because I believed New Zealand could do better as a country – much better. I wanted us to become a more prosperous, more ambitious and more confident nation; a successful country comfortable in its own skin. I also believed that if we set a course of considered and sensible reform year after year, we could again be one of the world's best places to live and work. We're making good progress in a world full of challenges. Our households and businesses are more resilient and more outward looking. We're grasping the many opportunities opening up on our doorstep in Asia and the Pacific. And we're providing more of our young people with opportunities to raise their families here instead of heading overseas.
"Our challenge over the next few years is to stay on course and build on the good momentum we're now seeing. My Government is motivated to continue working hard for all New Zealanders. Providing we stick with a plan that's working, I know we can deliver the opportunities New Zealanders and their families deserve."
How successful Mr Key will be and whether 2016 will set him up to become a fourth term Prime Minister at next year's general election, remains to be seen. But what we know is that as a pragmatist, the PM is prepared to change his mind.
So as the 2016 political year gets underway, please don't forget that your voice matters. While sharing your concerns with the Prime Minister and others, might sometimes feel like a futile exercise, in a democracy each such action is an important step towards change.
THIS WEEK'S POLL ASKS:
Do you think New Zealand First and National should co-operate on reform of the RMA?
*Poll comments are posted below.
*All NZCPR poll results can be seen in the Archive.

THIS WEEK'S POLL COMMENTS

| | |
| --- | --- |
| Only if Winney remains sensible. Can he be trusted? | Laurie |
| I agree with Winston Peters there is no room for separatism in our society based on race. | Ron |
| Its important for the Nation that we have a RMA that is for one and all. | S |
| The national government is landlocked with the MMP system. We should get rid of it and back to FPP system. | Pierre |
| Definitely.  Although Winston can be difficult at times, he does have much common sense. | David |
| Good idea. | Martin |
| But only if they are thinking along the same lines. Otherwise there is always the usual in fighting which gets no one anywhere. | Steven |
| Maori have to much power & are very greedy. We are all NEW ZEALANDERS & treated as such. 1967 I worked with Maori & supported 100 percent but everything has changed. | Tony |
| It's time for the PM to move on and except Winston Peter's offer and to show the Maori Party they can no longer dictate to the PM for their own personal greed. I believe National and NZ First would make a fantastic team if they could work together. | John |
| The only 'catch' might be that such cooperation on one Bill may make it challenging for National to continue governing as the Maori Party will be offended (no doubt) and could petulantly refuse ongoing 'supply' arrangements. Who knows? | John |
| Absolutely. | Graeme |
| After the idiot Maoris pooped in their own nest at Waitangi this week, it gives John Key a really good excuse to have a chat with NZ First and then tell the Maoris to stick it where the sun don't shine, and would make 99% of Kiwis very happy, | Athol |
| Finally Winston Peters might be able to actually earn his exhorbitant salary and vote for good RMA reform and get rid of the requirement of the Maori Party's support. The Government could then get rid of all of the racist conditions and reuirements that the Maori Party have demanded be included in the RMA. in order to gain their support. We will just have to wait and see if Peters will do the right thing. Fingers crossed anyway. | Allan |
| I feel that Winston Peters is one of the few people who could speak out on racial issues and I totally endorse this arrangement. | Janet |
| Principles over politics is how we can move forward…. | Tim |
| Winston has seen the light and his support for llong overdue sensible reform of the RMA will hopefully Herald further reforms which will win middle NZ voters fed up with the ridiculous demands we have been subjected by a party that simply doesn't rate numericl. Watch Winston's stock soar if he pulls this off. | Terry |
| | |
| --- | --- |
| Provided that Winston can be trusted to keep his word and remove Race Based laws. | Don |
| Absolutely! Especially if it would drive a move from race based politics. | JC |
| Definitely!! If only John Key could see this it would get National in with a landslide. It beggars belief why National hasn't been working with NZ First instead of the racist Maori Party. As he has said, he is losing votes because of the separatism that is creeping into this country courtesy of the Maori Party. National and NZ First would be ideal for this country. | Helen |
| Good idea. | Pam |
| I fully agree with Winston Peters Comments that nothing should be " Race Based ". | Bruce |
| Anything to get it reformed! Much needed! | Bryan |
| I would actually like to see them go further, together, by making the repeal of the Maori parliamentary seats an election issue. Maori are now so biologicaly integrated with older races and cultures,, their separatism demands are irrelevant. | Vic |
| There is a need to abolish race based legislation that perpetuates land fragmentation and the Maori land Court. | Laurie |
| It is high time that JK is starting to wake up to the fact that pandering to the needs of the Maori Party is getting us a nowhere. Trying to make politically sensible decisions are by now constantly undermined by the endless interference of selfish Maori Party bosses. They are only interested to further their own agenda at the expense of all non Maori NZlanders. And stopping to cooperate with the Maori Party( which is –after all –representing only an absolute minority and has no interest whatsoever in everybody else in this country)) is absolutely necessary not only to get ahead, but also to recreate a practical and politically sustainable enviroment. And this means that ultimately abolishing the politically unsustainable influence of the ToW in NZ politics. That treaty belongs into the history books and has no place in the real world. If JK wants to survive as a politician ,he cannot waste any more time and start seriously to look for a different political partner to make decisions which benefit all of us and not a small minority only..And this -out of sheer necessity– cannot be a politician or a party which is bending over backwards to accomodate everthing Maori at the expense of the rest of us. | Michael |
| As long as Winston sticks by his word and there is no racial element to the end product. | Fiona |
| For whatever works in favour of the country! But not in favour of the greedy maoris getting to "own" water rights in my country. I own those rights along with every other New Zealander. | Neil |
| Key needs reminding that he is employed by the NZ voters to work in the best interests of everyone, not to appease 1.3percent of those idiots in parliament. If this means working with NZ First, then get over it and get on with them. Appeasing the greedy Maori just to get support to pass legislation is stupid and traitorous to the 85 percent of non-Maori NZers. | Carolyn |
| Mr Key, please listen to Mr Peters. His position on racial equality is how most New Zealanders think. Remember the power of and the response to the Don Brash Orewa speech. Mr Key please do NOT listen or work with radical, tribal extremists bent on separate development. We do not want NZ to go through what South Africa has gone through. | Murray |
| For the first time ever, I actually agree with Winston Peters. He and New Zealand First are the only politicians around that seem to have the strength to stand up to Iwi. | Ronmac |
| Good common sense! | Jenny |
| Of course they CAN – but will they, is the question!! | John |
| Surely this is what MMP is supposed to do. | John |
| For the good of our nations future. | Mark |
| The hope is that Winston Peters can make a valuable input into the reform process. | Russell |
| I certainly do! We need to stop the continual trend towards separatism and, ultimately APATHEID!! | Jim |
| It is my choice to vote NO.. | James |
| Get on with it. | Barry |
| If John Key is not prepared to get on side with Winston Peters he will loose the next election , because people are fed up with these Maori benefits, which create a them and us society. When we should all be one nation. | John |
| I'd love to provide the answer to the question below as VI | Nelson |
| As long as Winston achieves what he would like to achieve. Get Maori/race-based privaliges out of governance. | Peter |
| Absolutely. | Sheena |
| Before it is too late for all the true NewZealanders leave the Coumtry they USED to believe had common sense. What constitutes Maori? | Barbara |
| It's time someone did something about this. | Haze |
| We are all New Zealanders and one nation not two separate identities, (races). | Peter |
| Yes, so long as the Maori preference rights are eliminated! | Cyril |
| It would be a most logical combination. | Jim |
| It,s a no brainer. At last we have someone willing to stand up for democracy. | Ross |
| Fair enough. This is how MMP should work. | Peter |
| If cooperation between NZ First and National provides the means of removing race based parliamentary electorates; the removal of Maori advisory/consultative bodies that are required to review all local authority by-laws and regulations to ensure Maori rights are protected; stops the trend to separatism and joint governance, then please bring it to front of the queue. | Michael |
| Provided Winston is able to be consistent and not change his mind. | Murray |
| Yes it should get the results needed to speed up the laws to achieve one nation one set of laws for all us New Zealanders. | Margaret |
| Why hang in with the water issue. Not a smart option to gain Maori party support' I think Winston's offer the better. | John |
| No reform needed. A stake should be driven through its heart! | Don |
| Winston has always been constant on his non racial politics. The longer the gravy train continues the more we will be held to ransom by the Waitangi brigade so it has to stop. I vote National but agree with Winston on this. | Alan |
| Inequality must be removed. | Peter |
| It would benefit al New Zealanders if NZ first could get National to remove ALL race based provisions. | Rex |
| Just common sense to reform the damaging RMA. | Brian |
| | |
| --- | --- |
| If Peters wants to exclude all race based provisions within the Bill the PM should go for it! I think if he doesn't he can say goodbye to a 4th term. Unfortunately the alternative is frightening. | Albie |
| Keep the divisive maori party out. | Steve |
| The removal of 'Race' related content is essential for New Zealand's future, so yes they should work together as a responsible government. | Bryan |
| Perhaps Winston could do something useful for once. | Jeff |
| Making deals with other parties is the essence of MMP. One does not have to trade away fundamental principles to reach an accord with other parties. | Peter |
| The current draft RMA bill is totally unacceptable. | Jenny |
| The first breath of sense for a long time. | John |
| Only way to guarantee a positive outcome anjd prevent the maori party from more extreme legislation. | Murray |
| Anything that will rid us of racism. | Clark |
| I do not trust National or Winston Peters. | Kay |
| Definitely yes, have thought so for some time. Makes perfect sense. | Mark |
| Yes we need Winston to bring a balanced over view on this Maori thing that keeps plaguing us. | Russell |
| Certainly the only way to establish some sanity into this act and close the door on the minor Maori Party's unashamed greed which harbours from Ewi elite.Let's not be governed by racism!! | Neil |
| Only if National agree to REMOVE all racial favouritism from the bill. | Paul |
| Nationals continued giving into the Maori party will be nationals down fall. I for one are sick of it. Is ACT a viable alternative? | Michael |
| MMP has never worked and is a failure. | Carl |
| Separatism is a dead horse and needs someone like Win Peters to sort it or we are doomed. | Dr Ian |
| It is something good at last! | Theodorus |
| Level heads are best for the future of New Zealand. Ideology has no place in this Nation. | Dave |
| No brainer given the divisive road the Maori Party is driving down. Interesting I have not seen mentioned that Winston (appears to me) has as much claim to "tangata whenua" status in NZ as any. | Richard |
| About time. – for both. | Neville |
| Lets get back to being one people. | Bruce |
| Yes. we can't have one race of people owning the water that makes our power, or keeps us alive. People have forgotten the 1981 protests about aparteid. NZ has fallen into that very same rut. | Ray |
| Why not. I am fed up with Maori thinking they are an elitist group and superior to the rest of us mere mortals. | Fiona |
| Every party should like to support the things it believes in and oppose those it does not. That is the point of being in Parliament. | Ray |
| Winston is a maverick but perhaps this time he will stick to his guns and insist that preferences for maori will be deleted from the RMA. | Wah |
| Racial separatism has no place in a democracy. Maori must acknowledge this when rationally considering the RMA or any other New Zealand issues. | Bruce |
| The fact Key is looking around at other options instead of caving in to Maori Party demands may suggest NZCPR's newspaper adds may have dealt him serious political damage! | Rex |
| Winston Peters must keep pushing John Key to accept his offer of co-operation to reform the RMA on the basis of removing any and all racist content. If New Zealand is to ever become a thriving country we MUST work as a single entity where every person is equal in all respects. The problems of racist greed for money, created by the Maori tribal elite, has pushed NZ into serious debt and must be stopped. | Ernest |
| There is no other choice, it stops all this Maori rubbish. | Mike |
| ONLY if Winston's conditions are met. | Lesley |
| Equal right for all NZders. | Neil |
| Lets have a end to race based laws. | Peter |
| Definitely! | Wally |
| Winston is right about separatism. | Huria |
| NZ first has proven to be a solid centrist party espousing much common sense and reflecting views of younger people;e. With their 11 MPs and non racial outlook they are the best option and ally for National now. The Maori party are full of radicals and dreamers and proven to be unstable. Cant see much of a future for them. | Tom |
| Peters is more in touch with the average nzer than the goferment especially regarding the water issue. | Margaret |
| Any one who is prepared to stand up and break the race based privilege and rights gets may vote. To divide the country by race hat is maori and the rest will get my vote. Winston peters ( a maori) is able to do this If nation has not the back bone to see it done. Winstan Peter says what most people are afraid to say Yes, let national not cower for fair of losing the next election. Let then win it with NZ first and break the strangle hold that the Part maori hold over the over the national government. | Kelvyn |
| Absolutely if they can get rid of all the references to the racist Treaty of Waitangi. Maori should be reminded over and over that they are NOT in partnership with the Crown but subjects to it like every other New Zealander. | Mike |
| If it will bring in sensible conditions which do not favour one ethnic minority and give them special priveleges over everyone else. | Rog |
| If Winston can pull this off, we might see some decent cooperation at last. | Ted |
| Make MMP work. | Doug |
| The sooner the better. | Alexander |
| This is the way politics should operate. | Dennis |
| Hi can't believe this could happen in my time.ever since don brashs orewa speech,of one country one people,when %75 of people agreed,all I've seen and heard is a small minority holding the elected govt to ransom demanding separate development for this small minority' of elitest elders. If Winton is true to his word and John key ,this could be best outcome for all New Zealanders.please do it.cheers | Morrie |
| I feel it is about time we as a Country locked at all race based policies there fore I back more cooperation between the govt & NZ First we as a country have cow towed to the Moari voter far to much The way forward is a unified approach not a confrontational one let it be by votes counted not by racial demand What was in the past should stay in the past | Tony |
| | |
| --- | --- |
| What other race of people measuring 15% of a countries population be given control in their country of the most valuable commodity the world has. I and many of my friends have never voted anything but National all our lives, that will change forever should Mr. Key's govt cave in to this minority of racist people who don't know the meaning of the phrase "THANK YOU". | Mark |
| One country, one set of rules for us all. | Graeme |
| Stop the Maori blackmail, they make up 30% of the population but expect us all to kowtow to them. | Ian |
| For the benefit of the country all parties should co-operate with the National party. | Joan |
| Yes they should and sort it out the right way. | Robert |
| Best news for some time! | William |
| It's an appalling-written, divisive piece of legislation that needs substantial remedial work. Maori interests are favoured far beyond anything ever imagined by the Treaty. | Jim |
| It's time to push back on never ending selfish demands from iwi. | John |
| This is a Winston initiative that deserves support. Let's hope National will be brave enough to seize the chance to push for real equality. | Mo |
| The RMA needs urgent review and I agree with N First that there should be NO race based privileges given. | Keith |
| If possible. | Colin |
| At least Winston Peters (NZ First Leader) is on the right track. | David |
| We have got to stop Maori from their opportunistic greed re their blackmailing of the government under MMP a system we must also ge rid of. | William |
| Winstone's principles on race based controls is the most sensible way to go. | Ron |
| National's future is dependent on Winston Peters NZ First saving it from its coming disaster with the greedy Iwi over water. | Forbes |
| Yes,Yes and Yes Anything to change the act to remove the Maori content. | John |
| Definitely!!! And get rid of race based everything in law.No place for separatism. | Peter |
| It makes sense particularly on the provision of removing all race based clauses. This would mean a change of direction for the government from its regrettable neo apartheid actions of its three terms so far. | Tom |
| Property rights are a cornerstone of Capitalism. The RMA puts a serious dent in those rights. The RMA carries a serious dead weight cost – in dollars and time wasted. Anything that gets rid of it is worthwhile. There were sufficient laws available to cover any problems with property rights. And we most certainly don't need different laws and treatment for Maori. So a double win if proceed with NZ First and get through all stages. | Peter |
| Most definitely. | Lyn |
| Definitely yes. The Government needs to cast the Maori Party adrift, along with its race-based policies which favour Maori over everyone else. Good for Winston, offering to join with National to get RMA changes through. Good for him to say no to separatist policies that will not help us as a nation. I hope that National listens to Winston, and that race-based legislation comes to an end. I have been unhappy with National for some time because of its "cosiness" with the Maori Party. The tail has been wagging the dog for too long. Kia kaha, Winston! | Laurence |
| Say no to separatism. | Mick |
| But whether Winston's will allow it remains to be seen. | Lee |
| Anything for the benefit of the country as a whole. They should go further and co-operate to destroy the APARTHEID that exists in NZ. Only NZ First and ACT seem prepared to acknowledge that APARTHEID exists in NZ by virtue of the separate Maori seats. | Geoff |
| Winston is bringing a breath of sanity into our current apartheid system. Laws favouring one small group of people because of their racial connections are a return to the dark ages. Take note, Mr Key, we are repulsed by your succumbing to a minor party's blackmail and the majority of Kiwis would like to see a return to democracy. | Mitch |
| | |
| --- | --- |
| So long as these reforms abolish once and for all any notion of race based privilege. | Kevin |
| | |
| When I emigrated here from England in 1970 I was most impressed by the young, handsome, smartly-dressed, well-spoken Maori chap – Winston Peters. I saw in him a future Prime Minister of New Zealand. Sadly he rather lost his way – perhaps he was impatient – who knows. Whatever, his star faded a little and he went out on his own – the rest is history. But, is it time for a comeback for Winston? I think it is! He's older, greyer and, arguably, wiser. In particular, I believe his ethnicity and his vision for a unified country are just what we need. Not for him, nor me, this divisive separatism which is being foolishly fostered by Finlayson and Key. So -yes – I'm all for Winston making a comeback. | Auntie Podes |
| ALL parliamentarians should be co-operating to achieve a modernized RMA, without sacrificing the democratic right to equality before the law of 85% of our citizens.. | Joyce |
| Especially if they can drop all race related provisions. also get the Maori roll dropped as well. | Richard |
| Yes anything to stop the Maori trying to take over the country, & the water ways we are one people, we do not need one Race getting more than any other races in NZ. | Geoff |
| Far better NZ First than the Maori Party and increased separatism!!! | Mark |
| I certainaly would like one rule for all no race should have more priviages than others. | Cherryl |
| Without question National and New Zealand First should co-operate. For Gods sake what is the matter with these men. We must eliminate this maori-isation of everything before it is too late. When I look at the Ngapuhi radicals, I am appalled at their lack of industry and intelligence. They are such rubbish people and to think I would have to go cap in hand to them regarding resource consent matters is absolutely fundamentally ridiculous and would be likely to cause difficulties. Difficulties that the average Joe Bloggs is not currently anticipating … there again maybe average Joe Bloggs knows what will inevitably happen, it is just the Ivory tower elites who have no idea what is simmering at ground level. | Dianna |
| We need this for our country – in unity, not one group above others, which has been appearing to be the case as the way forward. Let's hope this new situation is successful. | Christine |
| National have been screwed by Maori Party for too long. There is no reason for Maori to have any special rights with regard to water rights. | Les |
| Winstone won't take any nonsense from national either and it is NZ's only hope of making progress with the RMA. He will also help stop the division that is happening between Maori and Pakeha. | Bob |
| ABSOLUTLY NO RACE BASED POLICIES OF ANY DESCRIPTION.REMEMBER SA.???? | CHRIS |
| Get things done! | John |
| Makes sense as it would serve both parties well. | Brian |
| I absolutely believe that this co-operation would be advantageous to both Parties. I believe that the NZ Labour Party will do and say anything to try to gain power, and neither they or the Maori Party members have any integrity whatsoever nor care for what is best for New Zealand as a country or its people. | MervynB |
| If NZ First is opposed to race based legislation then they will continue to get my vote. | Owen |
| Absolutely seeing that Winston Peters wants all the special privileges in the RMA taken out. The racist Maori party can then be told to go to hell. | Colin |
| It is a 'no brainer,' and must happen with sensibility prevailing on both sides – so much progress could then be achieved – get to it PM | Hylton |
| Yes – sign them in immediately. | IAN |
| Equality. | Geoff |
| It would be the very best thing for the future of NZ if by working with NZ First all the race backed issues can be eliminated from the RMA as they should be. | Bryan |
| Agree that the RMA should be based on race issues. | Tom |
| Yes, but the reform needs to be the complete removal of the legislation. It has not achieved its purpose, and its direct and indirect costs have been extraordinary. RMA is a primary cause of increasing housing costs. | Kenneth |
| Yes. The two parties must get together to reform the RMA to benefit ALL New Zealanders. | Steve |
| Definitely would be good to see the Maori Party out of the picture. If NZ First had worked with National earlier we would not have had to concede so much to the Maori Party. | Deb |
| It appears to me that the Nats are only dealing with the maori party because they have to and as such must bend to the will of less than 2% of the population. Winston has given them an opportunity to get rid of race based polities. Why not take it all else being equal. | Robin |
| Yes, provided Peter's requirements are met… | Graham |
| Makes good sense to us. | Nev Kath |
| I agree with Winston that NZ policies should be based on one for all not on race what the Maori party desire. Why can we not go back to First party across the post wins. This would stop all this niggling. | Wayne |
| As long as Winston Peters stays firm in his belief that race based concessions have no part in the RMA and especially the supply of fresh water and non elected councilors, then a co-operative deal would be a good plan. It is National that needs to change its ideas and remove all references to bowing to the Maoris gimme, gimme, gimme. On another tack the PM should NOT go to Waitangi. Let the Maoris stew in their own hangi. Any official party just encourages the Harawira family and others of their ilk to continue their grand standing and demands. Remove the publicity they so desire as we don't wish to hear their yelling and shouting. | Chris |
| Winston needs to DO something – not just talk about it! | Roger |
| | |
| --- | --- |
| For better or worse, Winston Peters has done some good thinking here. Let us all get back to being ONE people, not Iwi and everyone else. | Carl |
| What are we waiting for? The race privilege rort has gone on too long already. | Robin |
| But having bent over backwards thus far in his time as PM to accommodate the racist Maori Party, Key has never been been overly encouraging to NZ First. It is well past time he made serious attempts to do so now. Winston is consistently the only leader who ever stands up to Maori and the country urgently needs politicians who will do this. | Frank |
| Cooperation is the new game in politics, NOT confrontation! | William |
| Working together for the benefit of NZ will take some humility on the part of the leaders but they can do it. | Jill |
| Yes. Yes.Yes We need a decent majority in the house, which in turn will demolish the Moari Party influence and regain some form of Independence away from the present Racial discrimination prevailing | John |
| Absolutely they must co-operate and not have separatist gains for Maori. it would give Winston a bit of mana. | Frank |
| Absolutely. For the first time ever next election I will not be voting National I will be voting NZ First. | Ken |
| No decisions should be based on racial preference. | John |
| But can the parties work together??? | Elizabeth |
| Its about time , if ever there was a partner for the national goverment this it winstone could get us back on track for equality, lets hope. | Shane |
| Makes sense to me and will stop all the racial problems proceeding further. | Neil |
| Hell yes. Good one Winston. | Richard |
| Winston is tricky but probably the most likely to cooperate with national point of view. | Peter |
| If Winston cared about NZ he would work with the NP to make NZ a better place where we are one country and not two. | Leon |
| Fabulous!! I have been waiting for years for Maori to be treated like hard working KIWI. Hurray for Winston.I might even vote for him!!? | Willem |
| Most definitely … and Key should get rid of Finlayson and replace him with Winston. | Steve |
| Take out treaty references in RMA reform and then go to the country to get a mandate to cease race based politic. | Willy |
| That would be great – but then Winston would probably want to be deputy PM as a trade off!! Probably a good thing as he would then also want a ONE NEW ZEALAND policy included in National's manifesto – which (nearly) every NZ'er dreams of. | Stuart |
| At least it would be one piece of legislation with no devisive racial advantages if done as Winston Peters wants. | Brian |
| Cooperation would help. | Claire |
| Between then they have the votes to not need Maori Party support. It was foolish of National and NZF not to have formed a coalition government without the Maori Party after the last election. | Kerry |
| Winston for all his faults is still the best bet to rid us of the maori party influence and move forward again. | Tim |
| And about time too!!!! | Mike |
| YES, ABSOLUTLY YES!!! | Brian |
| OF COURSE THIS IS HOW MMP IS SUPPOSED TO WORK | PHIL |
| RMA reform and water ownership with all NZ are both sorely needed. A good idea to work with NZ first as long as they don't expect other concessions (e.g. TPP). | Gordon |
| There should not be any radical race-based concessions in NZ. Our laws should be based on equality. | Lyn |
| Yes. We Desperately need to get the selfish attitude of some Maori who are only interested in rowing their own waka out of the mix. Even if this means putting up with PETERS soapbox style of politics. | Gary |
| Yes the Nat Govt has pandered to the Maori party far too much. The more you give the more they take and in return all we get is the example of Waitangi Day. What used to be a celebration for all the country now is just a platform for greedy maori to protest. | David |
| NZ First's principles should also be those of the National Party but reliance on the Maori MP to support the Govt has prevented it. Mr Peters, part Maori, is well placed to restore the national party's integrity. | Bernard |
| Both Key and Peters need to put aside their mutual animus, for the sake of the country. This co-operation would be the single most important development in this country's governance in a generation. Bring it on! | Graham |
| We have been going down the separatist road for too long with 'racism' creeping in. It's time for all New Zealanders to stop looking back and to move forward in unison. | Mike |
| If anyone can help sort our "divided " public and govt. officials on the racist way NZ has been developing, Winston Peters is the Man to do so. I just hope John Key and his `tribe' can see this would be a good way to go. It would also see him win the next election. | Elayne |
| | |
| --- | --- |
| As we are stuck with MMP government should apply it appropriately. NZ First have similar points of view to the RMA so, of course, they should work together to make the RMA work properly. Without race-based preferences. | John |
| As long as the government accepts Winston's proviso to drop race-based legislation. | Barry |
| If it helps. | Graeme |
| Looks like it's under way already anyway. | Raiford |
| Working with NZ First is better than giving everything to Maori with the idea that they will be fair to the rest of us. One race in NZ is how it should be not ruled by a minority. | Murray |
| I don't trust NZ First. They will do anything "underhand" to achieve their own ends. | Dawson |
| It's time Key stopped pandering to the racist Maori Party and looked for others in Parliament who are like minded, in this case NZ First. Of course that wouldn't suit Chris Finlayson, and all to the better. Key has no idea how upset his voters are with the appeasement he and Findlayson are giving to maori. | Lorraine |
| The entire process should be through a bipartisan approach, this is too important an issue to play politics with. Could we really trust New Zealand First to do what is best for the country and for the parties political gain? | Robert |
| Anything to remove all race based legislation. | Dave |
| Common sense must prevail !!! | John |
| I definitely would like to live in one NZ, with no with no divisions because of race, all Kiwis working together. | Barbara |
| NZ First is prepared to put its money where its mouth is. NZ to grow must become more multi-cultural not bi-cultural. Let us support this iniative | Don |
| I was reading the comment in today's paper about the TPPA and the ToW and it just reminded me how far in the 4 years I have lived in NZ that "things" related to Maori rights have progressed or slipped (depending on where you stand). I am a migrant (as were the Maori) and am getting very frustrated on behalf on my kids re the constant chipping away at our sovereignty and personal rights. Please can JK and The Nats get the required majority to stem this flow once and for all. | Phil |
| Absolutely, we can't let the Maori party run rampant over every other Kiwi's rights. National now has a real alternative. | Brent |
| Absolutely! | Mark |
| MMP requires all political parties to work together to create laws that are just, that resolve problems that can limit the benefits to all New Zealanders regardless of the ethnicity of individuals in our society, and have applicability to all New Zealanders without restriction. That's what Parliament is for. | Neil |
| Makes sound economic sense IF Winston can deliver. | MEL |
| The FIRST real common sense move in politics to starting a force of REAL Democracy. | Lance |
| Its is time to work together, however National needs to move away from the race-based conditions set down by Maori Iwi, and govern New Zealand for ALL New Zealanders. | Lorna |
| Absolutely TheRacist Part Maori party must be made irrelevant. Just look at the rubbish about Waitangi Day. | Greg |
| Of course, almost anything has to be preferable to the deals they are doing with the racist Maori party. Get rid of the Maori seats in parliament and the problem will go away. | John |
| Resounding YES, NZF has got it right when it comes to equality for ALL people who are New Zealanders, or Kiwis, good one Winston, go for it, get this country back on track for us all and remove race based thinking from our country for good. But I don't think Key will listen, and if he doesn't then we could be Labour led Union country next, ugh! | Audrey |
| It would definitely sort out the Maori water rights demand. I'm all for Winston working for us rather than against us. | Chris |
| It makes sense and why should these descendants of Maoris be able to dictate how the rest of us should live and why should we have to pay for their demands. | Arthur |
| Dealing with Winston Peters will however be a real challenge! | IAN |
| We need to get it over the line and removal of race based stuff in the RMA is a huge bonus. Thanks Winny for a "Win-Win" option. | Andrew |
| | |
| --- | --- |
| It's time for National to stop demonising Winston Peters and to start working with him to keep the racist Maori Party out of government. | John |
| Yes – if both are prepared to work together, it will be to the advantage of New Zealand. | David |
| Absolutely. Separatism should be rejected in our laws and throughout the whole of government. | Graeme |
| The two parties should put their differences aside for the good of the country. | Wendy |
| Racism has no place in law making. I hope the two parties can cooperate and remove what has become a scourge on our society. | Stuart |