June 23, 2019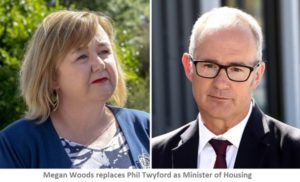 KiwiBuild has been a disaster for the government. Today's Cabinet reshuffle confirms that. Essentially it was a 'face saving' exercise for the Government.
In her press conference, Prime Minister Jacinda Ardern claimed the job was too big for one Minister: "It has become clear to me that the range of challenges in fixing the housing crisis are too great for one Minister. Therefore I am putting in place a team of senior ministers to deliver the full breadth of our housing plan, from KiwiBuild right through to tackling homelessness."
Five Ministers are now involved in housing – Megan Woods has become the new Minister of Housing, Phil Twyford has been shifted sideways to focus on urban development, and Kris Faafoi will handle public housing. In addition, Nanaia Mahuta is the Minister of Maori Housing, and Jenny Salesa the Minister for Building and Construction,.
While the Prime Minister has acknowledged the difficult challenges in the housing sector, the real question is whether she intends to tackle the underlying problems that created the housing affordability crisis, because to date, there has been no indication that she plans to do so.
In fact the Government's solution to KiwiBuild's failure to deliver the homes it promised, is to give it a new Minister and then bury it inside a new housing agency that has the power to sidestep the problems – but more on that later.
Before KiwiBuild disappears into the restructuring blender, here's a review of its chequered history.
The Labour Party promoted KiwiBuild as a cure-all to fix New Zealand's housing crisis by providing a flood of affordable houses for first home buyers.
But the policy was unrealistic from the start – lacking in detail and being overly ambitious.
KiwiBuild had emerged in 2012, when then Labour Leader David Shearer was searching for a popular policy he could announce at his Party's annual conference.
His original concept was for the government to build 50,000 homes over a 10 year period at an average cost across the country of $300,000. But just before the policy was launched, the target was increased to 100,000 homes – presumably to create a bigger impact.
The plan proved popular and KiwiBuild became a flagship Labour Party policy.
Once elected to Government the new Housing Minister Phil Twyford moved quickly to introduce KiwiBuild. He promised 1,000 homes in the first year, 5,000 in the second, 10,000 in the third, and 100,000 by year 10.
But then the problems emerged. The Minister was warned that there was not enough Crown-owned land available in Auckland to build 100,000 homes – the equivalent of two cities the size of Hamilton. This was due to a sizeable proportion of the land being subject to a right-of-first-refusal agreement with local iwi under their Treaty of Waitangi land settlements.
There were concerns about labour – with an estimated 17,000 construction workers required to build just 5,000 houses in Auckland, the potential shortage of manpower for such an ambitious project was also seen as a major constraint.
Then there was the escalating cost of KiwiBuild homes. From an original price estimate of $300,000 when the policy was first launched, the price cap for larger homes in Auckland and Queenstown is now $650,000 – and $500,000 for the rest of the country. This is in spite of a survey carried out in 2015 that indicated only 25,000 renters in Auckland could afford even a $500,000 home.
When it came to eligibility for the scheme, only first home-buyers and an asset-tested group of 'second-chancers' were able to sign up. Because applicants needed to find $50,000 to $65,000 for a deposit, income thresholds had to be extended to couples earning up to $180,000 a year, and individuals earning up to $120,000 – a far cry from the struggling first home buyers the policy had been designed for.
The original requirement that KiwiBuild buyers should live in their new homes as their main residence for five years or return any capital gain to the Government if they sold – was changed. Now buyers who sell within three years are required to pay 30 percent of their capital gain to the government – the other 70 percent is their windfall gain.
Because KiwiBuild purchasers effectively buy their homes at cost, Labour's scheme gives 'lucky' middle income earners the opportunity to make a lucrative capital gain. That was certainly the case with the first 18 homes balloted – each was secured at around $100,000 below the market price of similar houses in the development.
At the start of 2019 the first-year KiwiBuild target of 1,000 homes was downgraded to 300. Subsequently, all targets have been removed as the scheme undergoes a "recalibration". At this stage it looks like only 122 homes will be completed by the end of the first year, instead of 1,000.
The simple fact is that KiwiBuild has failed to deliver on its much flaunted promise of providing affordable homes to the needy. This is largely because it faced the very same planning and consenting difficulties that have prevented the private sector from delivering affordable homes to the market.
If the Government was to become serious about addressing problems that are constraining house building in New Zealand, they would primarily need to rein in local authorities and replace or significantly reform the Resource Management Act.
The problem is that planning rules, mandated by the RMA, have been hijacked by council planners and environmental activists, creating significant delays and costs to projects that common sense would otherwise permit.
This has restricted the availability of land for development and created excessive holding costs while development proposals work their way through a consenting process encumbered with compensation payments and needless expert reports.
The self-serving propensity of councils to undermine private property rights by progressively restricting permitted activities and forcing landowners to obtain resource consents, adds further costs and delays.
The RMA has now become an industry built around a complex web of rules and regulations that are being perpetuated by those who profit from it: councils, planners, commissioners, lawyers, judges, iwi, environmentalists – each is in there advancing their cause at the expense of those brave or foolhardy enough to propose a development.
Consent delays in particular add significantly to the upfront costs of a development – as in the case of the Long Bay residential project in Auckland, which began in 1998 but was not able to commence until 2011.
Such delays are often caused by environmentalists trying to block developments, but multiple iwi are also responsible as each wants to extract payments for producing cultural assessment reports – even if sites are of no real significance to Maori.
Then there are building sector regulations, which increased dramatically as a result of the leaky homes disaster, adding significantly to the cost of building. Labour costs have also increased substantially, especially since the Licensed Building Practitioners regulations effectively created a restricted trade. New Health and Safety requirements, which introduced the need for more stringent work place safety regimes, also add to the cost of construction.
These and many other such factors have now made housing increasingly unaffordable for those on low incomes.
Surely it is incumbent on central government to address such difficulties and find solutions – rather than exempting themselves from the problems – as they are planning to do through their new housing bill.
The Kainga Ora – Homes and Communities Bill will merge three housing agencies – Housing New Zealand, its development arm HLC, and KiwiBuild – into an Urban Development Authority to fast-track urban infrastructure and housing development.
Housing New Zealand is, of course, the country's largest social housing provider, with 64,000 properties and 185,000 tenants nationwide.
HLC was established by the Labour Government as the Hobsonville Land Company in 2006, to develop housing on the former Air Force Base. Now called Housing Land Community, the agency is working with Housing NZ on urban regeneration projects on 1,000 hectares of state-owned land across Auckland.
The super agency that will be formed by the merger will have draconian new powers that will enable it to not only override council plans and consenting laws, but to also compulsorily acquire private land for its developments and impose new taxes on landowners.
This week's NZCPR Guest Commentator is Auckland-based communications consultant Fiona Mackenzie, who has examined the Bill and is extremely concerned about the disproportionately powerful role that iwi will play in the new Urban Development Authority:
"In the way of apartheid governments, 'Maori' seem to be centre and foremost in everything Kainga Ora will do, from the make-up of the Board to its projects. Yet the Bill doesn't actually define who constitutes 'Maori' so we must assume it will be the tribal elite who'll have the say-so and enjoy the advantageous business opportunities to come.
"Successive governments have created such a bureaucratic and legislative quagmire that a Housing and Urban Development Authority does look to be the solution. Much of this Bill could be good if it can eliminate the obstacles and bottlenecks to deliver cost-effective, well-built, liveable housing near jobs, services and amenities.
"But the thought of a super-powerful and unfettered, 'race-based' Authority rearranging our towns and cities, answerable only to the tribal elite, with yet unspecified and possibly extensive powers, while providing risk-free investments for tribal businesses first and foremost, is most disturbing. Especially as the rest of us appear to have no rights under this legislation, yet when undertaking our own developments, we will still be subjected to the nightmares imposed by the RMA, iwi 'consultation' and local body bureaucracies."
The new Urban Development Authority is expected to be established in October. But the Bill has been so rushed – no doubt to prevent KiwiBuild from further embarrassing the Government – that the Authority's special powers will not be conferred until a second Bill is passed, later in the year.
Many of the serious concerns about the Bill are outlined in a regulatory impact statement prepared by the Ministry of Housing and Urban Development.
With a lack of policy detail contributing to KiwiBuild's failure, it's extremely disturbing to find there is such a lack of detail in this new Bill that it's impossible to reliably estimate the cost, impact, and risks associated with the new law: "…we are unable to make a reliable estimate of the impact that the proposals would have on enabling development projects generally".
Serious concerns are raised about the potential for political interference, since the Bill gives the Minister 'unfettered' influence over decision-making – with no rights of appeal. This creates serious risks "around the use of this legislation for different political pressures and ideological values".
There's also a real cause for alarm over the extraordinary powers being proposed for the new agency that would allow it to compulsorily acquire private land for its developments. While safeguards are available for the owners of sensitive Maori land – to ensure it can only be acquired by agreement, or by partnering with Maori land owners – there are no such protections for other landowners, who would be forced to sell.
It's also proposed that the new agency should have the ability to levy taxes on property owners living near to new developments, who, they claim, would also benefit from the improved infrastructure and services that the project would bring to the neighbourhood.
Other revenue-raising mechanisms have also been suggested including stamp duties, sales taxes, land taxes, and other forms of capital gains taxes.
The reality is that the Government's housing policies are presently in a state of flux. If you have concerns about the direction that they are taking, there's still time to share your views – public submissions on the Housing and Communities Bill close on 11 July 2019. Full details can be found here.
THIS WEEK'S POLL ASKS:
Do you believe that the new Urban Development Authority should have the power to compulsorily acquire private land for its developments?
*Poll comments are posted below.
*All NZCPR poll results can be seen in the Archive.

THIS WEEK'S POLL COMMENTS
| | |
| --- | --- |
| Words fail me! | Juliet |
| i suggest that a bill to ascertain the amount of maori heritage a person has that enables them to say they are maori be sorted out as most are more european that maori. other countries have this qualification like canada for the eskimo and i realise this can nevER hapPEMn in New ZeALAND due to a poorly advised government and the iwi elite racist agitaters WHAT A CHAME | David |
| The speeches by the democrat presidential wannabe's in the U.S. were described as "a clown filled train wreck". This seems an apt description for the labour party housing initiatives here in NZ | Bruces |
| Reverse Apartheid is in full motion once again….!!! | Bruza |
| Introduction of such a law will produce a revolution against the current government and reduce honest NZ ers to protect their property rights by force. | Allan |
| About the best solution if it could go ahead, but iwi self-interest will shackle any attempt to do so, resulting in the Government looking at the easier option of applying it to 'pakeha' owners only. More racial disharmony again! | Vic |
| 2 DROPS OF MAORI BLOOD DON'T MAKE A MAORI. | LORRAINE |
| when are we going to stop race based authority | barry |
| As proposed it is unjustly unfair to non Maori NZers. This ability is already available in principle so does not need to be strengthened. | Nick |
| In most cases no, such as the case in Cromwell. They can build around him. | Jane |
| God defend NZ. An appalling proposal. | Lawrie |
| Most definitely | John |
| Absolutely "no"! This sweeps away any rights that landowners may have to own land and to sell at a fair market price. Further, the racial bias in the new Authority is simply pandering to the "partnership" theory in the Treaty. Won't the iwi (= "I want it") be rubbing their hands in glee at the huge potential profit, not to mention more power to them at the expense of a majority of New Zealanders! We are NOT "one people"! | Laurence |
| Definitely not ! This coalition Govt is totally out of control. We are fast becoming a communist state. | Wayne |
| civil wars have stared over less | Hugh |
| No. There appear to be so many new regulations which will add to the delay and increase costs of building, it is almost unbelievable. We saw the beginning of this with the arguments over the RMA several years ago. Since then the whole sorry story has ballooned out of proportion. It would appear that much of this is the result of pure greed. Very little of it seems necessary. It so different from 60 years ago when I got a permit, had a builder put in the foundations, frame and roof and I continued to close in, lay flooring and line the inside. It gave me a great deal of satisfaction and saved thousands. The good old days when life was so much simpler. | Chris |
| No, unless the person's property is right in the middle of an important development such as a hospital or airport extension. | Kelly |
| I am an old man now and this is the most inept bunch of politicians I have ever seen. | Don |
| Fix the problems. Don't add to them. racial based solutions will detonate sooner or later. Don't go there. | Doug |
| Never allow this sort of communism , to over take our individuality ! | Roy |
| In the Totalitarian Dictatorship they do just that as there are no rights for citizens. The best story is that of an elderly women who stood in front of developers who were going to demolish her home. She refused to allow them to start. They dug a hole with a backhoe and buried her alive. That is the next step for NZ as it move from Democracy to Socialism. | Frederick |
| Just to make themselves look good the Labour government are going steamroll over innocent people and force them to sell their land for cheap housing. I hope the National party watches this like a hawk. | Andrew |
| Absolutely not!!! Looking at this situation shows us another facet of this 'government's confused perception of reality. On top of that we have more of these divisive race based rules and regulations . At the end of the day this whole affair will come crashing down on us . NZ society can be compared with a patient riddled with cancer who can only be saved by radical surgery. The best thing would be to get rid of this mess and all these parasitic bureaucrats whose only activity seems to consist of creating more regulations every day.. But unfortunately we as a country are so bogged down in this morass and there seems to be no way out. anymore. | Michael |
| I am heartily sick of everything government, having a Maori name. This is an English speaking country and English only should be used in the public square. I do not like the sound of the backward- looking M. language and I and most other people will never use it. Giving power to tribal elites is extremely dangerous, dysfunctional and racist,- everything this government is. | Monica |
| This is straightout Marxism and must be stopped. These moves once again highlight the need for Binding Referenda to stop these anti-democratic plans. | Ronmac |
| If you haven't already, check out Agenda 21. | Allan |
| Another transfer of power to an inept govt and Iwi have far too much power what about Just all kiwis have a say | Barry |
| the thin edge of the wedge before we become a fully fledged communist country with Herr Ardern as supreme leader which is not long to go now. | Richard |
| Does it remind you of a "police state" ?? | Andrew |
| It is a Mish mash of social ignorance. | Maurice |
| If everyone, every New Zealand citizen, is going to be treated the same. Not based on race. And it is for the common good of the building project. | Robert |
| | |
| --- | --- |
| Once again we find a Labour government running wild with no real idea of real world problems or the results that will occur from these rushed laws. The sooner Labour gets the boot the better. | Fraser |
| Until there is a level playing field compulsory land acquisitions must not happen. Remember Germany in the 30's when jews lost all. | Dennis |
| yes, if it's occupied by Iwi …… see how they like it ! | John |
| The only exception to this, would be the taking over of large tracts of land that have been made into "land banks" such as is the case in the Karaka/Kingseat area where investors have bought up numerous farms waiting for the price to rise before releasing it. | Ted |
| If the position they are going in is a test of the intelligence I would say they have not got to brains to get them out if their predicament!! | Brian |
| This is just another step taken by this government towards centurism with all decisions being made by our socialist/marxist comrades because this is so much better than letting the proletariat have any say in their future or governance. As we have seen, why let justice stand in the way of "good order" when a "captain's call" is less troublesome to those in "power". Mao and Stalin would applaud such measures but I do not. The housing crisis was a cornerstone of the Labour Party's election campaign, and here we are two years on and they have completed 202 of the promised 10,356 (1000 in the first year and 10,000 the following years to year 10). Again, the NEW plans to "fix" the problem include special consideration for those with Maori heritage and who claim to be Maori citizens but only "give it to me – there is no discussion" for other citizens. What a crock, and our "Leader" is still fooling 40% of the population that she is a "real leader". Oh what a difference a hijab makes! | Michael |
| NO, I am hoping National will dump all this Labour BS when they win the next election. | Athol |
| race based laws are counterproductive and the few at the top either kiwi or maori will reap the money and it will not filter down. | Jack |
| Absolutely not. Also it's long overdue for us to stop even using the word 'Maori' in relation to projects and special treatment. We should all be treated the same and differentiating us in any way, shape or form needs to stop immediately. We are becoming an apartheid country and successive Governments are destroying our country. | Helen |
| Government control slowly creeping in ? | David |
| This housing problem could be easily remedied if the Govt just sat down for awhile instead of rushing and talk to the people on the ground who know these things. | Barbara |
| This process has all the hallmarks of the Socialist philosophy of creeping nationalisation of land. Worrying indeed. | Colin |
| This govt seems to think they have a God given power to do whatever their tiny brains bounce on to. If this new housing idea is to prioritise Maori over others then use Maori land and leave private land in the hands of the private citizen. Is Labour so concerned about the vote count next election???????? Or is everything they do a knee jerk reaction. | Elizabeth |
| Government needs to govern and just as we need compulsory acquisition for roads and essential services, so we should give the same consideration to housing, however any such consideration should be within the town planning framework with only key areas designated as subject and with the primary object that individual small owners should not bee able to frustrate a planned rebuild by extorting the public purse for critical access. The opposite is to frustrate all future central development in which case modern amenities would end up like old England, France or Poland, with city centers crammed to overflowing and inadequate access, extreme fire risk and poor public health management. However such powers should only apply for high density developments and a premium needs to be paid on compulsory acquisitions noting the changed land use which is a use capitalization that is deprived of the sellor. These powers should NOT be available to iwi based groups only to the fully constituted Council and schemes need to be ratified by the population. | Richard |
| Here we go again with another round of red tape. | Tim |
| Although I can understand that such means would be useful at times. It would definitely need built-in safeguards to prevent abuse and all NZers should have their sacred spots places protected. | Fiona |
| What is private land? If it is suitable for housing and within an urban area it is time for the Government to step in and use it. Stop the speculators. | Peter |
| My understanding is that such powers are there and have been in place for some decades. That power is called The Public Works Act. Extended family lost a parcel of rural waterfront land for sports fields as recently as fifteen years ago. | Colin |
| Dangerous move to allow that. Too much power in 1 Authority | Laurel |
| Five Ministers, 5 times the stuff ups? | Robert |
| Not democratic Too racial. | Maurice |
| Are we not all New Zealanders. I am sick and tired of Maori "privileges" There have to be extremely good reasons for the Government to take over private land. I think this is a perpetration of "the thin end of the wedge" whereby socialists want the government to own everything. | Tim |
| Absolutely Not. This power crazy and incompetent government could not organise a booze up mi brewery with having some sort of compulsion on people to play along or else out would come the big stick. | Colin |
| with a willing buyer and willing seller | Ian |
| Bloody mess. | Mike |
| What will these bozos dream up next? Individuals should have the right to own land "undisturbed". | Mark |
| I don't think anyone should be forced out, but they should be offered a very generous price. | Kate |
| absolutely Not! | Gordon |
| NO that is going back to the bad old days when Government could acquire land without consent or compensation | Colleen |
| What do you expect from a communist Government, lead by that wally Winston Peters | Les |
| Where is racial equality in NZ. I don't think Asians, Arabs or Europeans are getting a fair deal. Who built this Country. And who was here first? Certainly not Maori. | Maureen |
| I remember clearly in 2004 TV, radio and newspapers were full of a ruling made by the International Court of the Hague, Netherlands, in answer to a Maori delegation applying for Indigenous status in New Zealand and were told: "Maori are native to New Zealand, not indigenous". As yet I have not heard this ruling being repealed. When Hon. Pita Sharples sneaked off in secret to the UN to sign UNDRIP he did not supply any hard evidence to support Maoris as indigenous nor, strangely, was it necessary. | George |
| Communists | Greg |
| We all know the story of the 3 little pigs and what happen to their house ??? | Grahame |
| The evils of socialism have no bounds. | Richard |
| This proposal smacks of socialist ideology. Compulsorily acquisition is true socialist thinking.. | Brian |
| Kiwi Build with a new name! | Jim |
| Private land is private land and must remain sacrosanct except for urgent and essential public works, which does not include housing developments. | Alan |
| WTF is this 1930's USSR all over again or something?! | Pavel |
| Depends on the circumstances! | Joe |
| Here we go again – this government getting organised to carry out legalised theft of privately owned land. | Sharron |
| Definitely not. This sounds like communism and this govt is getting in the way of a free market place. Far too dictatorial. | Graeme |
| Once again these clowns are trying to introduce legislation allowing them to steal land in a stealthily manner – not acceptable. | Roy |
| acquisition by theft | john |
| to think that we elect these people. | Arthur |
| Leave our land alone | Tony |
| This Coalition Government has stuffed up big time with rushing a five day change through in respect of firearms which also scooped up a far wider range of weapons than it was touted as necessary for.. Now the muppets are rushing through draconian restrictions on freedom of speech and housing legislation. It will all end in tears and chaos. | Vernon |
| | |
| --- | --- |
| One-sided, unfair on non-Maori and also by forcing private land to be sold to the Authority – at ITS price ("take it or leave it" !). | Bill |
| it sets a dangerous irreversible precedence especially having tribal interference | Anthony |
| Too many "knee-jerk" reaction laws are being passed by this Government without thought to future consequences. | Chris |
| This is communism by stealth, and should be fought against tooth and nail. | Murray |
| What should happen is the government acquire all the wasted good land belonging to Maori for development. | John |
| No. To paraphrase the American Founders whose thoughts would have emanated from the MAGNA CARTA through the British philosopher John Locke: Fix reason firmly in her seat and secure private property rights, for without property rights, no other rights are possible nor any freedom. | Don |
| Land grabbing | Jeff |
| Certainly NOT! This is a communistic attitude that will not wash with NZ ! | Robyn |
| This is still a democracy. | Harvey |
| Remove the racial bias Address the fundamentals – lower compliance costs. KISS | Doug |
| Here we go again. The slow but steady creep of Maori rights being drip-fed into our egalitarian society. As a society we are like the frog being slowly boiled. Wake up New Zealand! | Robert |
| They haven't paid for the major bypasses required and needed now???? | IAN |
| Up to now that Peters selected lot cant run a bath . Why would it be any different on their latest caper. | Tony |
| Communism, here we come! | Alan |
| Typical this has been given a Maori name this stops most people ever find out just what is involved and who is running and this shambles. | Wendy |
| Here we go again.More money for the super race. | Ross |
| if they cant take maori land there is no way they can take white NZers land | Graeme |
| Stalin would applaud this policy. | Dave |
| communism | Allan |
| WHY has jacinda GIVEN such power to iwi who it,s PLAIN have NEVER done ANYTHING good,WHY are ordinary N.Zealanders being treated SO POORLY & WHY should we be controlled by iwi,we are ALL supposed to be EQUAL.jacinda & her green(maori party in disquise) party are turning N.Z. into an iwi country & if your not maori your in BIG TROUBLE so DONT wait EMAIL EVERY mp from BOTH parties about jacindas bill. | Cindy |
| Chairman Jacinda will force this through. | John |
| No. The government should get out of house building and leave it to the private sector who have always proved to be more efficient and more reliable. | Peter |
| Such authority could then make the Government cowboy developers with installation of undersized services (for future development) and below standard of roading. The present cost of acquiring land is not the real issue however the associated costs in completing any major development are now prohibitive making overall subdivision costs excessive. To carry out a cheap development then have to upgrade all of the services within 10 years doubles or even triples costs but moves the funding from the developers to council infrastructure costs (rates) which are already excessive. Therefore I would propose that Govt partly fund developers for the cost of infrastructure rather than compulsory acquisition. | Ian |
| More intrusion and control by a very left wing Government — if and when this goes ahead more will follow. | Alan |
| Hell no. The Fox in charge of the Chicken Coup. It would really work for the Tribal Elite, because by now, they and their Lawyers would be wanting to upgrade their vehicles, at least | Geoff |
| Not surprised that a Labour/Green/Maori government would try to be a totally authoritarian government, the next step is to make democracy illegal. | John |
| Wake up New Zealand! If the apartheid being imposed by stealth upon this country was in favour of the light skinned race, we would become an international pariah, as South Africa was for so many years. The fact that it is slanted in favour of the maoris apparently excuses it in the eyes of the "Liberal Elite" who, for their own ends, manufacture public opinion worldwide. The only losers will be us, the citizens who have contributed, and continue to do so, to the success of this country. | TOBY |
| Every day seems to bring more enforced government control into our lives, attacking our hard-fought democracy, our freedom, our basic Human Rights as individuals. This government also seems hell-ben on dividing New Zealanders, applying rules (like forcibly taking land) to some but not to others. That is not democracy. That is tantamount to some having representation in government but not others. If there is no representation, then why are we paying them? | Harriet |
| | |
| --- | --- |
| This policy is another step to a socialist state and we need to be very careful as this develops. N Z is rapidly becoming a nanny state and the standard of living for middle N Z will be reduced. | Ken |
| Absolutely not! This government steam rollers the property rights of its citizens. Marxism is their real agenda. | Lee |
| Where private land is available it should be properly negotiated but kept within the bounds of the existing rates. | Tom |
| Communism is here with this mob. State housing for those who won't help themselves is not critical commonly benefitting infrastructure that should be the only case for compulsory acquisition. How about building some more hydro dams to fuel all the "green" cars instead…!! | Mike |
| Would have to be on a case by case basis. | Joe |
| There may be justification for seizures during times of war, but not this. Perhaps some sort of revolution is need to sort things out. Unfortunately, revolutions usually result in a dictatorship. Wait a minute, we are nearly at that now. | Ray |
| What next?? | David |
| No – if, as Frederic Bastiat stated, the Law is a defence of the individuals right to own property (in its most basic sense), and the Government is of the opinion that it can ride roughshod over this right in the furtherance of its aims, then we can only conclude that we have a lawless Government! | Scott |
| How soon can we get rid of this government? All the more reason not to have a four year term. Again we see preference being given to Maori elite. | Paloma |
| Free enterprise, democracy, and accountability are disappearing in our expanding apartheid state. Where does it end? | Frank |
| We need a Constitution to limit the powers of government. Draconian and highly deleterious race-based actions like this would then be impossible. The Supreme Court could take on the function of protecting and interpreting the Constitution. At least it would give it something to do! | Kelvin |
| Absolutely NOT. Add that to the race based component and it makes it a disgusting piece of nonsense | Carolyn |
| Primarily because of the race-based influence to be granted to (undefined) Maori. | Bob |
| There is too much compulsorily acquisition in government power already the Christchurch earthquakes is a prime example so no to this idea. | Digby |
| Compulsory Land Acquisition should only be an option in the most extreme circumstances where someone is being bloody minded and holding up a motorway extension because their pet pukeko has made it's home in a particular spot or they have a favourite tree that is blocking a sewerage pond or something similar. There should always be a right of appeal with some "intelligent, common sense, independent judicial oversight". Not sure if their is still anybody with that type of qualification remaining in New Zealand, but I like to think I can still be cautiously optimistic. This Maori dominance will come back to bite everyone – including this ridiculously infantile or outrageously vile government. I am not sure which applies. What I do know is they do not have New Zealanders' interests at heart. They are a bunch of Left Wing extremists in collegial subservience to the UN. | Dianna |
| Given that authority for compulsory acquisitions appears to rest with unelected people chosen for their race, the arrangement constitutes a new apartheid and is anathema to reasonable New Zealanders. Give us a fair go. | Richard |
| The Government is moving to further racist policies that favour one ethnicity over all others which is un-ethical and un-constitutional. The moves are designed to rename and cover up the continual failures of ALL government policies. For New Zealand to think that a National Government would put anything right would be a false hope because National are singing from the same corrupt globalist song book. New Zealand will never get ahead under these faulty policies of greed, power and control. Human nature will not stand for it. | Neil |
| In most cases no, but need to apply some common sense. | Jan |
| NO, definitely not. Just fix this bloody awful RMA, kick that disgraceful enterprise ruining legislation that the smiling one ignored for nine years. Rather be seen playing golf with some clown from the USA. | Sam |
| Socialism at its best. This govt seems hellbent on centralising everything from education, health and now to land development to give them control | Trevor |
| This is one disgusting Government. And as for the way they are handing everything over to the racist maori elite is sickening. Under their rule this once fine country has had it. | Mike |
| Absolutely not, It should be by mutual agreement just like maori land. Concern is also around urban growth impacting on farmers growing food on valuable land around NZ. Pukekohe springs to mind, where the soil is rich and would be wasted under housing. The National food supply should take precedence for any government ahead of housing, as city boundaries extend into the rural sector. | Steve |
| I see the cossacks dancing across my TV screen again! | Bruce |
| I'm truly getting sick of this governments transition to Draco's code. Enough is enough. | Brooke |
| This Government is becoming MORE INTRUSIVE into our lives. WANT them GONE | Carl |
| | |
| --- | --- |
| This is typical socialist government imposing its perverted view of the world onto others. | jd |
| Never. | Clark |
| Changing the name and throwing more ministers and money at it will not work. Leave building houses to private enterprise. Get out of their way and open up private land by killing the RMA. | Ray |
| These types of powers already exist in part but at least give the recipients of the acquisition recourse and payment. With the greater power will be greater corruption. With Iwi involvement there will also be the sense of entitlement and acquisition for Iwi gain, not the countries benefit. This power of acquisition will then be extended to ant land Iwi want, regardless of public benefit. SOOOOO DANGEROUS. | Bruce C |
| Any compulsory purchase must be supported with the right of appeal by the aggrieved party. This safety net is not included in the proposed legislation. | Chris |
| The way this Govt is taking good horticultural land around all our cities and some towns there will be land for this very important industry. Have Aucklanders thought where there vegs were coming from when all that good land, rich in volcanic schools all ends up with houses on it? Also some of best sheep and cattle farms planted in trees. Its very short sighted and very damaging to NZ's future | Kay |
| NO way, Too much State control already Keep their hands off private land.. | Don |
| This is not cool at all and not on | Aphrodite |
| ye gods | John |
| The over-looked priority should be: STOP and REVERSE immigration. Pouring 100's of thousands of foreigners with wildly varying ability to support themselves – the wealthy snapping up kiwi homes and building foreign-looking entire new subdivisions. And the others dependent on Kiwi Generosity to supply all their needs. Any fool can see this was never going to be win-win for all. Close our borders and REVERSE….. | Coral |
| Definitely NO! | Elizabeth |
| Socialism advances. Surprised, no. Not when you watch the PMs famous video. | Robin |
| change and alter the RMA to be more efficient. | Warwick |
| Time to give this Govt the old heave ho! | Peter |
| Over my dead body. | Chris |
| This concept is nothing than but an outrage and a denial of the basic rights of all NZer's – it is reminiscent to a communist dictatorship and if the majority of voters understand this terrible legislation it will be the end of this hopeless Government. Great stuff also for the Hon. Judith Collins as National spokesman on Housing to oppose – she has come a great job so far to expose the hopeless KiwiBuild Programme of this Labour Coalition Government | Hylton |
| No.But we should not be surprised.We have a communist PM who lacks for intelligence and surrounded by socialists,unionists and bums who have never had a proper job and therefore don%u2019t know the sanctity of earning and owning land..watch out kiwis for more from this rabble.Will our masses rebel-not on your Nellie we have just become a flock of sheep | Don |
| No! Not compulsory. But they should be able to offer with a very generous amount so the owners can choose. | Kate |
| communism by stealth | Graeme |
| this Government is really beginning to scare me | Sonia |
| One more step towards communism: the state takes all. | Graham |
| Too much power | Kevin |
| communists!!! Shame on Labour | RICHard |
| No way | Margaret |
| Once again as with Fonterra too much power with too few people. Plus apartheid rears its ugly head again. | Terry |
| Time to get rid of Comrade Adern | Collin |
| All ownership rights must be assured | Gregor |
| HELL no! | David |
| Where does all this rubbish from this government stop | Allan |
| its dictatorship we will all suffer unknown problems. | Jim |
| This got have always been about totally controlling housing, especially tenant ed housing. They are creating more reliance on got, hence more voting support to retain power, hence more CONTROL. Totalitarian is a big step closers to reality. Wake up New Zealand! ! | Sharen |
| This Government appears totally out of it's depth – with its attempted policies falling apart -now they hope to compulsorily acquire land – when simply there is not the infrastructure nor the manpower to action their policies. Why – NO realistic experience for necessary planning – simply idealistic dreams of idealists DON'T work in the bricks and mortar world! | Stuart |
| What are these dictators coming up with next? I thought we got rid of Fascism at the end of WW2. The sooner the next election comes round the better and we can get rid of this racist & fascist government. | Graeme |
| Of course not | Neville |
| You jest!. | John |
| Isn't everyone sick of the hopeless government how could they be so disjointed a bunch of high school kids could do better | Peter |
| | |
| --- | --- |
| Giving bureaucrats the power to seize private land and tax people is outrageous and will encourage them to become dictators. These powers need to be withheld. | Andy |
| Here we go again – special powers for Maori. Labour is a racist Government and Winston Peters and all of his one law for all promises is proving to be a liar. | Murray |
| This government is creating a dangerous dictatorship – seizing property and land | Daniel |
| This is all very worrying. | Rae |
| Super powers, race based privilege, new taxes… This government is destroying New Zealand. | Phil |