May 21, 2017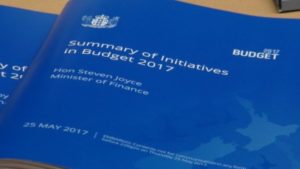 Budget Day has been described as an 'exercise of democratic power'. It's the day the Minister of Finance begins the process of seeking Parliamentary approval for the Government's spending plans for the coming financial year – in this case, by tabling the Appropriation (2017/18 Estimates) Bill.
Budget documents provide an insight into the economic performance of the country. They show we are doing well – a growing surplus, reducing debt, falling unemployment, and strong growth. But while the economy expanded at 3.1 percent, it was less than the 3.6 percent expected, as exports, residential investment and business investment all grew at a slower pace than forecast.
Growth is expected to pick up again and peak at 3.8 percent in 2019, before tapering off to 2.9 percent in 2020 and 2.4 percent in 2021, as housing construction finally meets demand, net migration subsides, and rising interest rates begin to bite.
Government spending has increased by $5 billion in this Budget, taking core Crown expenses to $77.5 billion or 28.8 percent of GDP – lower than 29.2 percent of GDP in the last financial year. While Government spending in future years is expected to increase, expenses as a proportion of GDP is forecast to decline to 27.5 percent by 2021. This is consistent with the long term goal outlined by Finance Minister Bill English in 2014 – to lower government spending to 25 percent of GDP, which empirical evidence shows is the optimal size of government to create a high performing economy.
National's 2017 Budget firmly targets middle New Zealand through a $2 billion family incomes package that is expected to benefit around 1.3 million families by an average of $26 per week.
Through adjustments to the tax thresholds, most workers will receive up to $20 a week in tax cuts, as the bottom two tax rates are lifted from $14,000 to $22,000 for the 10.5 percent tax rate, and from $48,000 to $52,000 for the 17.5 percent rate. Other tax bands – 30 percent to $70,000 and 33 percent above $70,000 – are left unchanged.
Working for Families has also been adjusted with Family Tax Credits rising by over $9 a week for a first child under 16, and between $17 and $26 for other children – with payments abating earlier and more quickly for those moving into higher income brackets.
The Accommodation Supplement, which has not changed since 2007, has also been raised from $25 to $80 a week for most families, and in areas of high housing pressure, up to $145 more a week.
This package, which is expected to reduce hardship for some 50,000 children in low-income households, has been designed to enable 'ordinary' New Zealanders to share in the benefits of economic growth – with anyone who might be worse off having access to a $2 million transition fund.
Since these changes are not scheduled to come into effect until next April – and Labour Leader Andrew Little has not ruled out cancelling them if he becomes Prime Minister in September – the implied message is to vote for National if you want to ensure the changes become law.
In fact, by targeting welfare recipients in the 2015 Budget, with $800 million in benefit increases – the largest rise in 40 years – and now low to middle income working families in this Budget, National has moved right into Labour's territory – emulating Helen Clark's strategy in 2005, when she invaded National's heartland by scrapping interest on student loans.
This week's NZCPR Guest Commentator, financial analyst Frank Newman, gives the budget the thumbs up and explains the politics:
"The National Government has produced a measured and politically clever Budget. Where this budget differs from its previous budgets is that it has opened its wallet and distributed the benefits of eight years of conservative management and the increased tax revenue derived from a very strong domestic economy in recent years.
"Those gains have been distributed widely, nearly everyone will benefit, but they are weighted particularly to low and middle income New Zealand. That has left National's political competitors grasping for credible points of disagreement, and placed National firmly in the middle ground. It has effectively elbowed its opponents into isolated positions representing minority constituencies or special interest groups. National occupies Middle Earth and Labour is nowhere to be seen on that battlefield."
You can read Frank's informative outline of Budget measures HERE.
In his Budget speech, Finance Minister Stephen Joyce explained that his first priority was to keep the economy growing. He identified as one of the main risks to growth, the inward-looking isolationist policies of some world leaders, and politicians here at home, outlining how trade protectionism, immigration cuts, foreign investment reductions, labour market restrictions, and higher taxes, would slow growth, reduce competitiveness, and cost jobs.
The Minister explained that the Budget's Business Growth Agenda would increase trade, lift workforce skills, attract skilled migrants, boost innovation, and bring new investment into regional New Zealand.
A major focus of the Budget is on building infrastructure to cope with our growing population. The $7 billion of new capital spending announced, takes the Government's total commitment to new infrastructure to $32.5 billion over the next four years – 40 percent higher than the last four years.
Of that total, $9 billion is for new State Highways, $2.7 billion for new housing, almost $1 billion for the transport links through Kaikoura, $760 million to increase prison capacity, $570 million for defence, $450 million for more rolling stock for Kiwi Rail, and almost $400 million for building and upgrading schools.
The investment to sustain and expand public services is also significant – $7 billion over four years, with education set to receive $1.1 billion, law and order $1.2 billion, and $4 billion for health, taking the total Health Budget to a record $16.7 billion. While district health boards are the main beneficiaries of the new spending, $60 million has been allocated to ambulance services to double crew all emergency call outs, $60 million to Pharmac for faster access to new medicines, and $1.54 billion for the pay equity settlement of care and support workers.
Of the specific appropriations in the Budget, Vote Treaty Negotiations is worthy of closer examination: It outlines the upfront cost to taxpayers of the new Maori claims gravy train created by National's ill advised Marine and Coastal Area Act. This law, which gives customary title and protected customary rights to groups making claims for New Zealand's coastline, could result in large areas of the coast being exploited by opportunistic claimants – including some who are demanding the right to harvest whales!
It's a disgrace, that at a time when the Treaty settlement process is finally coming to an end after years of conflict and dissension, National's desire to appease the Maori Party has resulted in a brand new claims process that will stretch out for decades into the future, costing New Zealanders dearly.
Total spending for the Vote, which deals with Treaty of Waitangi claims as well as the new foreshore and seabed claims, is $50 million over the next financial year.
Of that, $8.45 million is earmarked for financial assistance to groups claiming customary interests in New Zealand's coastline, with a further $33 million covering the administration of Marine and Coastal Area claims – and historical Treaty claims.
With budgeted expenses relating to Marine and Coastal Area Act claims now costing taxpayers in the region of $30 million dollars this year alone, let's recap on what we know.
Firstly, to gain a customary marine title over an area, a Maori group must essentially prove that they "hold the specified area in accordance with tikanga" and "have exclusively used and occupied the area, without substantial interruption, either from 1840 to the present day or from the time of a customary transfer until the present day."
Any claimants that succeeds in gaining title will have rights akin to ownership, including the right to veto all resource consents and conservation activities in the area, the ability to impose wahi tapu to restrict public access, the right to charge commercial operators, and ownership rights to all minerals – other than petroleum, gold, silver and uranium – including to all royalties from existing mining operations, back-dated to when their application was first lodged.
The architect of the law, the Minister of Treaty Negotiations Chris Finlayson, has now confirmed that around 580 claims were lodged by the April 3 cut-off date, using the two pathways specified in the Act – some 200 claims are with the High Court and 380 are for direct engagement with the Crown.
The Ministry of Justice website states that the law requires anyone applying for resource consents or permits in an area where an application has been lodged "to notify and seek the views of any group that has applied for recognition of customary marine title in the area".
With claims covering the country's entire coastline and Territorial Sea, all applicants within the marine and coastal area will need to consult with each of the parties that have lodged claims in their locality. Those claimants have the right to be consulted – and will no doubt seek a reward for doing so.
Of the $8.45 million of taxpayer funding available to help claimants prepare their claims, those involved in the direct Crown engagement pathway with simple claims, can apply for up to $162,000 in financial assistance, for claims of medium complexity $226,000, for complex claims, $318,500, and for highly complex claims $412,000.
Those applying to the High Court can receive up to $156,750 in assistance for simple claims, $202,750 for medium claims, $260,250 for complex claims, and $316,750 for highly complex claims. That money of course, will largely end up in the pockets of the burgeoning Maori law fraternity.
In comparison, any member of the public, who wants to oppose opportunistic High Court customary rights applications, must pay $110 in fees for each 'notice of appearance' they register.
This is not only a gross inequality, but a gross injustice. Taxpayers are being forced to fund groups who want to exploit the coast for their own selfish ends, while those who want to oppose their spurious claims – in the public interest – are not only not eligible for any assistance at all, but they are being forced to pay!
Only one Marine and Coastal Area claim – CIV-2011-485-806 – has been resolved in the High Court to date. It was for an area to the south west of Stewart Island covering two Muttonbird Islands, and with only the Attorney General opposing the claim, the Judge found in favour of the applicant group.
Accordingly, over the last few weeks, we have been working hard to encourage fishing and recreation groups to oppose all of the 100-plus High Court claims that have been advertised in newspapers. Our aim is to ensure that every claim will be opposed.
As a result, we are now launching a fundraiser to help these groups cover the tens of thousands of dollars in Court application fees and other costs. If you oppose these Marine and Coastal Area claims, please help those who will be standing up for you in the Court, by clicking HERE. And please be generous, because the task these groups have taken on – in the public interest – is not an easy one.
And if you feel strongly about a particular claim, then we would urge you to register a "notice of appearance" HERE with the High Court and oppose it.
To assist those opposing the claims – and to ensure the public can see for themselves what these groups are claiming and what a disaster National's law has become – we have posted the public notices advertising the claims on our NZCPR.com website HERE and loaded claimant applications from the High Court by their CIV number HERE.
THIS WEEK'S POLL ASKS:
Should Marine and Coastal Area Act claimants receive $8.45 million of taxpayer funding to help them prepare their claims for New Zealand's coastline?

*Poll comments are posted below.
*All NZCPR poll results can be seen in the Archive.

THIS WEEK'S POLL COMMENTS
| | |
| --- | --- |
| If the National wants to make things fare to all New Zealanders they should contribute in proportion to to those that wish to oppose the coastal agreement., Or revert back to the status quo in that nz should be run by the Goverment and not by the Maori Party. | Tony |
| Time for the Gravey taain to end. Who are Maroi and who are IWI?. Everyone is of mixed Blood. | Don |
| When is enough enough? More and more hard earned tax dollars being wasted. Our lovely country is slowly but surely being driven broke. Our bloody politicians are useless, hopeless and a whole lot of worse names. time for a change at the top I feel. | Neville |
| A resounding no! If it is good enough for mori to get privileges, it should be a privilege for all. Why should I have to pay $110 to object when the court will, no doubt, ignore my complaint? I will be surprised if it is not already a done deal! | Kevan |
| It's hard to believe that the person/persons responsible for this piece of legislation is a sensible New Zealand citizen. | Don |
| Of course not…. We vote in a Govt that manages all resources in the country for the benefit of all. The Govt does not own these resources so they cannot give them away to satisfy any Maori Claims… | Laurent |
| Absolutely not! This mixed race group of people have already received millions of tax payers money over their spurious treaty claims! | Brian |
| Complete racist bias. | Stu |
| If they want to control the foreshore and seabed by extracting cash from me then they will be fought on the beaches. Similar to ww2. | Allan |
| More racist bullshit from mistaken (ie PC) thinking – it attacks our democracy. | e |
| Racism if there ever was such a thing. Why does the Govt not help out the people who object to Sea Shore Claims. The National party is diving this country like there is no tomorrow. | Wayne |
| The result of coalition with maori and the destruction of the foundations in law this country was built on, namely one sovreignty.. I can not believe that this would even make it to the courts. All party of maori to have 50% of the tax take. Follow the money and you will see the motive. | Dene |
| Enough is enough | Bryan |
| Sick of this stuff from National. Vote Winston! | Murray |
| No it should be the other way round. | Athol |
| Fairness to NZ citizens doesn't even come into it anymore. It's all about keeping National in power with Maori Party votes. | Lesley |
| These claims should never have been initiated. They are in violation of the Treaty signed in 1840. | Lionel |
| And I have personally filed objections to three of the claims -many of which look exceedingly spurious. | Wayne |
| They want to make claims let them pay maori have had enough pay outs already . Time they started helping build NZ not trying to destroy it The National Govt have to go as they pander to maori all the time just to get votes. | John |
| NO NO AND NO AGAIN! | Jim |
| Madness | John |
| NO!!!! Another example of ' the rest of us' are treated like second class citizens. This injustice is like we are paying our own executioners for cutting our heads off. This Government has long failed to operate sensibly and take proper care of all New Zealanders. . It has joined ranks with a -by now – very influential Maori elite to squeeze the living daylights out of our country . They are traitors and criminals who are on this dodgy elite's payroll. | Michael |
| To pay your opponent to attack you is an oxymoron and thus not very logical. | Konrad |
| Definitely not, New Zealand's Coastline belongs to all New Zealanders. | Cherry |
| Only if equal funding was available to those opposing these claimants could the answer be yes. | Brian |
| They already get tax breaks on Maori "charitable" trusts, now we have to fund further land grabs too!? Their history of protecting the environment is equally dubious. | Mark |
| With $40b in assets Maori can afford to pay their own court costs to lodge these claims. Also if they have to pay they may think twice before they waste their money on false claims. It is also racist that one group based on their ethnicity should be able to lodge these claims and have all costs paid. | Lynn |
| Again and again we see Maori interests receiving monies at the expense of non Maori. Just when will this ever end? The government and Maori are successfully precluding non Maori from opposing any claims by the simple expedient of demanding a payment. While we see Maori groups subsidised by the taxpayer. It is hypocritical to recall and praise the anti apartheid riots of some decades ago; for we have our own active version here right in New Zealand. | Brian |
| No, unless the groups opposing also are funded. | Steve |
| Absolutely NOT. | Pam |
| What is the process to notify residents of areas undergoing ownership claim. It seems that residents are being kept in the dark deliberately! | Anthony |
| It is incredible that such skewed law is possible here in New Zealand. Continued favouring of one ethnic group will result in a day which all New Zealanders except the exalted minority will rue.? | Martin |
| Another taxpayer funded gravy train. | Ian |
| How can we get rid of Chris Finlayson and the mess/seperatism he has caused this country? | Nigel |
| Seems unjust to me-we no-one should be allowed to own beaches, water etc..All NZ;s should have equal rights | Colleen |
| They have plenty of their own money. | Sheena |
| Definitely NOT. | Trevor |
| This National Government is so determined to win the next election that they will stop at nothing to win. They are not worried how much this bribery will cost our country. They do not give a damn about the problems facing the ordinary citizens of New Zealand. We have got to get people thinking about this and persuade them not to vote National. We are not helped by the main newspapers and TV news because they also seem to be dominated and seldom print any Maori news of what is happening. So everybody get out and talk to all of your friends and neighbours. | Ernest |
| Why should we pay them to make a claim we oppose? Hardly a fair use of the tax we have paid when we have to pay to counter claim. Something stinks! | Juliet |
| Many of the claimants are of very little Maori blood. When is this nonsense going to stop! We should be one people by now not a divided nation. | judith |
| Governments of the day, from 1975 can be held 100% responsible for the racially divided nation that we now live in. Which political party will stand up and make all NZ citizens equal? | Maureen |
| As the Budget was not read until 25th May, you cannot have a newsletter about the Budget 21st May, Muriel. [Monica – the newsletter came out in "the week of the 21st", but unfortunately the website programme does not allow me to add those extra words! Muriel] This is not an economic growth budget. This is a racist separatist govt. with its Maori policies and does not deserve the Treasury benches again. Bill English is a loser. National needs to be reinvented without Maori party brownmail and an honourable Prime Minister. | Monica |
| Absolutely not. | Bruce |
| One land, one people, one legal system – all of which should consider the various needs and rights of all people. – working together. | Gina |
| This is desperate bribery. | |
| Definitely NO. The whole thing is a typical Maori greedy grab. | Bryan |
| Lets have a level playing field. I resent knowing that my tax payments are to support these claims against the rest of NZ who have been responsible for paying the taxes. All resources should be shared equally by all NZers. | Charles |
| What's the Government coming to giving away our heritage, next thing they and iwis will be claimants on our privately own land (Freehold.). The country is more and more racists every time they close the door to cabinet board room. | Robert |
| Of course not. | Hugo |
| Once again the tax payer gets ripped off there can not be another country on this earth that a Govt lets a minority group ripe of the public at large that can demand millions when and how they like why o why are we made to be idiots by this minority. | Russell |
| It belongs to us all no one group. | Richard |
| This is creating a definate separatists mentality for N Z . One that in this day of enlightenment we should be working to create oneness in our Nation. | Ngaire |
| The New Zealand public are rorted of their birthright, and paying for the privilege. It's like a skit from a Monty Python's show, it would be comical, if it wasn't true. | Brent |
| Let them fund their own costs. The whole thing is nonsense. End Apartheid in New Zealand now! | Kerry |
| Look out New Zealand!! Soon all New Zealand will be 'negotiated' away (for votes) with the ultimate insult being the name of New Zealand being changed to Aotearoa. The long white cloud will encompass all – in this politically created fog! | Stuart |
| The way National pander to maori is disgusting. | Gaz |
| Time this nonsense stopped. NZ continues to go backwards as a country at an alarming rate. | Brett |
| Absolutely NO! | Brian |
| We need a government that will stop this ludicrous gravy train. | Simon |
| What a shameful suggestion. If I didn't have family here in New Zealand I would live in another country where the government isn't so silly. I will not be voting National. | Sheila |
| What the hell goes on with this bloody govt, they are proving to be the biggest losers this country has ever seen. Take a look at Maori tradition, show a tad of backing down and they are in like mad dogs looking for more. Good on them, we have let them get away with this bullshit. | Sam |
| Never let them that THINK they have a genuin clame pay for it themselves. | Clark |
| If claimants receive funding then those opposing those claims should also receive funding. | Murray |
| It seems absurd to be making funds avaialble in this way. It is akin to given criminal a gun to help him rob me! | Steve |
| Our tax contributions are for infrastructure and the like for all NZers not a race based hand out of our funds to support private causes that please only a few to the detriment of most. | Phil |
| Words fail me I am disgusted by the stupidity of Nat Govt!!! | Michael |
| Don't vote National this election or else they will give even more away. | David |
| As it will create a srangle hold on non Maori people it will be a crime against Humanity. | Theodorus |
| The Reserves Act which ensured public access to the foreshoreand river banks with provision for a Queens Chain. That Act dated back to 1908 and gave access rights to all New Zealanders and it has now been hijacked. Can someone please explain how the Government can ignore overwhelming public opinion is against the Marine and Coastal Area Act. Are we no longer a democratic country? | Nev |
| The whole thing is a money grabbing farce and needs to stop immediately. they will end up Bankrupting the country with their demands. | Laure |
| It is time for this madness to end. | Steve |
| These coastal areas are the birthright of all New Zealanders and in fact, Maori claimants are taking these away from all other New Zealanders! So why should they receive any funding to do this? Also, the benefits they will receive by charging for any usage of these coastal areas, and also the sale of the precious ironsands and all other minerals etc discovered , will all go into their own pockets, with nothing shared with non-Maoris. Some of the areas being taken are the land of our first New Zealanders, the Mori Ori who deserve a large percentage of the islands off the East Coast of New Zealand. | John |
| NO. Quite simply NO NO NO. | Mabel |
| One law for all. That's what the treaty was for. | Bruce |
| A continuation of Govt. policy of apartheid. | Colin |
| OK to fund iwi only if there was equal funding for those contesting claims. | Henry |
| Just buying votes! | Jim |
| I won't vote for National again. I will vote for New Zealand first . National is taking te easy road & putting the country into billions in debt to make themselves look good , and are encouraging promotion of Unelected Maori into City Councils etc all at our constant expense . If this gravy train were to stop imagine the money for schools hospitals & mental patients ,for the good of all . I consider National to be a complacent government who have no real forward plan for this country other than staying in power & selling the country off while flooding it with immigrants at our expense.. | COLLEEN |
| Any group claiming ownership of the coastline should fund their own claim. I do not consent to my tax dollars being given to such groups for their ridiculous, ludicrous claim. | Phillip |
| The looneys really are runnng the asylum now. This is like loading the gun for the burglar so he can shoot you. If Kiwis dont vote Conservative at the coming elections and get binding referendum as the law of the country we will see more and moreof this out of control madness. | Ronmac |
| Definitely not. | Campbell |
| Definitely NOT! | Pam |
| To be truly democratic both claimants and objectors should be both given the same financial assistance. | Dennis |
| | |
| --- | --- |
| It is time for the people of N.Z. to show their disgust at what this National Govt is doing to our country. We are one people. An apartheid system is not acceptable. | Robert |
| Why should the taxpayer fund the legal costs of the professional whingers in the grievance industry? | David |
| Absolutely not! | Quentin |
| It's an appalling injustic and a clear encouragement to make mischievous claims. | Gordon |
| Absolutely not. One wonders if it was self funded how many of the more spirious claims would not proceed? Both the claimant and the objector should be on an equal footing. | Chris |
| National will be re-elected in September by stealth. Throw some lollies to the needy, & shout about it 'till the cows come home. Say nothing about the theft of public land [our beaches & privately owned areas considered to be of environmental significance], or the apartheid laws introduced to give rights & privileges to the descendants of just one race. Sound financial management is great, but the issues that are vital to retain our democracy are being largely kept from the news headlines.. | A.G.R. |
| This is utterly outrageous. Whomsoever proposed this unjustifiable absurdity should be censured, removed from office and prosecuted for crimes against the people of New Zealand. | Jim |
| Once again the National Party has sold us out to hold the National Socialist Coalition together. | Hugh |
| Isn't it sad; a tough old world; but whoever wants to lodge a claim through the courts has always had to pay. Why should fat cat (part) Maori financial institutions known as "iwi" and enrichened by taxpayer funds have any advantage over any ordinary citizen of New Zealand? | Rob |
| HELL NO! | Scott |
| Why is this happening, is our Government so weak that Maori are dictating to it.Marine & Coastal areas should belong to everyone. And what is the Media doing are we now living in a Communist state. | Mike |
| Another gravy train. | Jim |
| If Labour wants to win the next election it should confront the whole Treaty industry head on and wind it up now. It is absolute theft of the commonwealth of all NZ people.. | Norm |
| This is a total disgrace, this money would be far better off assisting research into medical illnesses in children just how much money is this government going to keep throwing at a minority . The government seems to forget all New Zealand ers pay tax to assist all N Z not just a few. | Wendy |
| How absolutely ridiculous for this to be considered. Why should any group have rights to control the natural coast line | Arthur |
| If these Maori elders are serious about how impoverished "Our People" are, they should be sickened at diverting valuable taxpayer funds from the Crown away from those New Zealanders in desperate need of financial assistance. Oh! I forgot that these Maori elders don't consider themselves New Zealanders. Perhaps they should return to their homelands in South East Asia, where they may feel more comfortable? | Martin |
| Dreadful inequity. | Keith |
| All of the people of New Zealand should jointly own the seabed and the shore and a responsible government should look after it. | Murray |
| Absolutely not! | Derek |
| The budget had 93 mil for maori's it should be for health or education for all New Zealanders. | Peter |
| And whales as well? I would love to see how that would go in a wake. | Alan |
| IWI—-I want it | David |
| NZ has gone MAD. Why do we stand idly by while APARTHEID is practiced openly in NZ? | Geoff |
| Absolutely not. Blatantly hugely racist. Maori have no propitiatory rights, never have. | Donald |
| | |
| --- | --- |
| All are equal under law,but not in this case! | Charles |
| It's a sad day when our Government throw tax payers money to Maori so they can claim ownership on the coast when it was never theirs in the first place. go N Z first. | Ken |
| No. Absolutely. Unless it can be removed from Maori taxpayers. and similar processes applied for those choosing to dispute the process through the Courts. | Peter |
| Where is the equity and fairness and democratic rights in these disgusting hand-outs? | Paul |
| There should not be any claims, now that there are those in opposition should receive like funding. | Bruce |
| If they want to make claims on marine areas that belong to all New Zealanders, then they should find their own funding. | Andrew |
| They have already been given millions which should be used for this action. | David |
| If anyone has a legitimate claim to coastline, then they only require a lawyer to assemble the relevant documents and they should be supported by cash from their settlement. It's not up to ordinary taxpayers to pay the legal bills of posturing charlatans looking to make an illegitimate grab for assets to which they are not entitled. Making a claim for anything on spurious trumped up grounds is simply a feast for the legal parasites that infest our society, circling like sharks, sniffing out opportunities to grab any available opportunistic pounds of flesh. So that's a definite, unswerving NO from me! | Dianna |
| Definitely not!!! | Ngaire |
| National have lost my vote. If Winston Peters opposes this he will get my vote. | Tony |
| It's a disgrace & national has engouraged it because they need the maori party vote to survive & it will CONTINUE if national gets elected again. | Cindy |
| The 3xact opposite should be the case – Claimants should have to pay $1,000,000 to lodge their claims, with the money being forfeited if they are unable to prove their claims. | John |
| This inequality is mind blowing. | John |
| Yet, another knife into the heart of the NZ taxpayer by further giving away taxpayers money to the Maori by this government,. It appears clearly that they don't care, However, I hope that it will be a wake up call come the next election when they don,t have the numbers to govern and do as they please. | Frank |
| This is another example of Maori greed and this National Governments pro Maori agenda.Since this government has been in power Maori have been handed over 2 billion dollars and they want more.Muriels regular campaigns for fair justice and government for all is to be applauded but again will this one succeed given the corrupt self serving arrogant government we have and the apparent massive degree of kiwi apathy existing.For the sake of your children and the future of nz please all fair minded Kiwis stand up this time and fight this Maori greed and boot this corrupt government out in September. | Don |
| Unless the opposition is also well funded. | LEON |
| No! I am so sick and tired of this dangerous nonsense that words fail me. And surely the proposed prospect of ongoing Treaty claims extending interminably into the future will prove to be the final nail in the coffin of democracy and racial equality in NZ. Thanks to the present apology for a government and its disgraceful pandering to the Maori Party, my two sons have moved permanently overseas. But for my age, I'd follow them. | Martin |
| The inequality where Maori are concerned is beyond belief. It just gets worse with increasing time as Maori want more and more and to be financed by the taxpayers who are always the losers here is unbelievable. Will it ever stop?! | Peter |
| Iwi are in possession of $billions of income from various commercial enetrprises, on some of which they pay no tax.. They don't need to be supported in anything let alone using taxpayer grants to try to take land & sea areas which should belong to all New Zealanders.(the taxpayers!!) | Peter |
| Another reason to vote for Winston, he may be able to pull National back into line. | Eric |
| The coast belongs to all New Zealanders. | John |
| The general public MUST be better informed of these matters. | Don |
| Definitely not – we need a change of government. | IAN |
| Win or lose, claimants are being incentivised to give it a go. It's only the NZ public who miss out. | Fiona |
| Definitely NO. This is yet another example of undemocratic pandering to a racist group. When is this administration going to recognize that ALL citizen should have EQUAL RIGHTS… | Graeme |
| I am sure that the claimants consider such taxpayer funded grants to be proper and just, but how can it be equitable if persons disputing the claim are required to meet their own costs? The fact that claims can be made at all is wrong. The National Government have done many things extremely well, but the fostering of co-governance and the granting of controls over natural resources always considered to be available to all citizens, by the use of legislation, undermines any pretence of democracy. So much for all citizens being equal. It is clear that some are more equal than others. | Michael |
| | |
| --- | --- |
| Absolutely not. Let those greedy sods fund their own campaign like those who oppose the preposterous claims that they are making. Once again Get rid of MMP so we cab get a Government who can tell the Maori party to get stuffed. | Colin |
| The New Zealand Coastline should remain in equal ownership of all those who are of New Zealand Citizenship.. | PETER |
| The National Govt deserves to lose the next election on this policy alone! What a slap in the face to all the hard working European citizens of this country. Shame on them. | Janet |
| There should be no claims for ownership of the coastline so there should be no payments to prepare claims. The foreshore belongs to everybody. If Maoris get hold of it they will either close it off to all visitors or charge an entry fee to visit, as the US does. | Chris |
| Nothing has changed, Chris Findlayson and the National Party are still shamelessly bribing the Maori party in order to get their votes. All the opposition is so weak that they are almost unstoppable. | Richard |
| It's a disgrace that this is has even been considered. | Anthony |
| These claims are not helping the country, only driving then apart Why can't some political party come out and say NO to all this nonsense. | John |
| Once again a rigged process. Claimants are given money to set up their applications while any opponents are forced to pay to oppose these customary rights applications has to pay for the priviledge. It beggars belief that this Act, the brain child of Chris Findlayson the Attorney General, has been used successfully in one application to the High Court and that case was opposed by the Attorney General. Conflict of Interest? Please support the request for funds to assist opponents. | Tony |
| As a tax payer just giving funds to a mob of corrupt tribes led by a cowtowing group of whites called national shows how these blood suckers work, so if the decent people who want to oppose this brown noseing rort can't get funding then the who thing should be shut down now otherwise the taranaki wars will be shown as a picnic to what will happen in the future. | Richard |
| I thought we were ONE PEOPLE ONE COUNTRY. | Geoff |
| This is criminal. And if I decided to oppose every claim being made it would cost me $58,000 that is $110 for every application!!!! What is this country coming to. Apart from the FACT that the whole process is unconstitutional, I don't see how "The Crown" can justify this and remain clear of conscience. I had the sickening experience of listening to maori legalites advising a group how they could swindle "Them", as they referred to the Crown, and this discussion was over fish and chips in a restaurant up the east coast. Bloody crooks. And that unelected pr..k Findlayson is laying it all out for them. | Neil |
| Absolutely not. They should fund it themselves. | William |
| NO, NO, NO. When is this ever going to stop. They want to claim then they should fund themselves,as those that are challenging are forced to do. | Sue |
| Vote Greens!!!!!!!!!!!!!!!! | RICHard |
| No, definitely not – they have enough money already to fund their own claims. Why should the NZ taxpayer finance something that wants to hurt them. | Michelle |
| Of course not, it's blatant discrimination against all New Zealanders except Maori. It's interesting to note that most of the detail in the claims is in the Maori language, which means that most Maori won't understand it either! | Terry |
| No no no no no. Any costs should come out of treaty settlements to date. Is it not a conflict of interest for the gum mint to be deciding claims that it will benefit from (via continued political support) if one of the claimants (iwi) succeed? ALL CLAIMS SHOULD BE ASSESSED INDEPENDENTLY OF GUM MINT. | Lesley |
| It's racism again. | Neil |
| The coast line belongs to NZ everybody that is and should be administered over by the local council in that area. | Peter |
| National is leading this country into an abyss of doom and gloom. | Barry |
| Most maori tribes have received enough financial aid to now support their own rapacious greed to "claims". How hard is it for the Crown to say "NO MORE". | Darryl |
| A very unfair process. | Paul |
| That's like paying the executioner to cut off your head. | Graham |
| None of this would be needed if the coast were kept free for all NZ'ders to use. | Ross |
| More political/racial bias which will not make this country all for one nation and create massive racial discrimination and division. | Ian |
| Have the Nats been smoking some strange new "recreational" drug ?? | Ian |
| …bloody money grabbing iwi false elite…garbage in garbage out…destination land fill… | Chris |
| No no t tax funded hand out for costs, Fund themselves or nothing. | Ray |
| Another treaty ripoff. | Roderick |
| If a person or party wants to lodge a claim, then like any other application it should be at the cost of the applicant. | Ian |
| More of the same. All should be equal before the Law!!!! | Ian |
| A financial incentive to make a claim – what have they got to lose. No wonder there are so many claims. Where do other NZers ever get this option? | Andrew |
| They have been given enough. | Jimmy |
| Absolutely not – under any circumstances!! | Andrew |
| Greedy Maoris yet again. | Kevin |
| It is not a level playing field, why should they get it for free & other have to pay, is there any why a court injunction could be taken out to stop this. | Geoff |
| It would be just another truck-load of our money on the gravy train! | Cyril |
| Racism and greed gone mad. | Bruce |
| | |
| --- | --- |
| Either all New Zealanders get legal aid or none get legal aid. | Terry |
| If they had to pay out of their own pocket there would be a lot less of this rubbish in fact it would probably stop and lawyers would be a lot poorer. As long as lawyers are getting paid win lose or draw they will encourage litigation. . | Jock |
| The whole thing is a massive rort of the taxpayer. National really cocked up big time when they did away with the foreshore & seabed legislation. | Ray |
| Sounds like another GRAVY TRAIN for 15% of the population–GREED GREED Guess National has lost the PLOT and those that have brought New Zealand back to life ad a worthwhile place to live, have wasted their time and effort . New Zealand certainly is now going down the drain –roll on election date after being brought up as National supporter can assure same that in the past 2 elections I have NOT voted National nor will I again..they have forgotten what they stood for "FOR ALL NEW ZEALANDERS" How on earth can we continually give $millions to a minority yet they still want more and for Taxpayers to still look after them as normal—STOP THE GRAVY TRAIN NOW | MARYLIN |
| The $ 8.45 million is made available on a racist basis therefore it is racist as are many thing that this govt is doing. It is hightime they were put out to pasture. | Arthur |
| HELL NO !!!! | Deb |
| | |
| No way. | Owen |
| Had a gutsfull of all this rubbish, we have got huge problems coming. | Graeme |
| They should be paying out of their own pockets for all claims made. A figure of $500 per claimant would sound about right and this fund could be used to pay back any successful claims. | Ralph |
| If this goes ahead National will lose my vote and apartheid will rule. | Brian |
| The next thing will be to supply taxis to robbers to go too and from the local dairy that they want to rob. | Don |
| As a non Maori why should my taxes be gives to help another singular group to acquire a large portion of NZ which should belong to all New Zealanders. | Elizabeth |
| Very definitely NO! We live in an era of not only great wealth production but also of ever increasing wealth distribution by central government rather than by free market forces. Who's wealth is being forcefully taken and redistributed ? As history shows us, it always ends in tears. Decentralise, privatise and free enterprise ! The government is there only to uphold and protect our right to do so. Broadly speaking there are two systems; a country with a government or a government with a country. Translated – free market capitalism or controlled market socialism. | Don |
| …and not a cent available for the majority of NZ citizens who want to object against this apartheid structure – they have to pay fees to object! | Donald |
| What next ???? | David |
| It totally beggers belief that the Nats and Findlayson should have sold out the interests of all NZers into another round of race based assett grasping. But who else is actually opposing it politically? | Richard |
| More, so called, Treaty of Waitangi rubbish – let the claimants for something that is not theirs to mount a claim for , pay the costs themselves . This is nothing more than using taxpayers hard earned money to foster more racial discontent – enough is enough. | Hylton |
| Waste of money. | Alan |
| I'm against any funding that supports Maori claims. In fact. I'm against all Maori claims to part of New Zealand. We all live here and we all should share it equally. | Reg |
| Another aparthied action by an ethnic minority. We are all Kiwi and K comes before Iwi every time. | Kelvin |
| No. Just give it to them. Well, they will get it anyway, eventually especially during this period of the National Party and the Maori Party being bed mates. | David |
| | |
| --- | --- |
| Racist spineless government. This could eventually end in civil war. This is not democracy. | Greg |
| Absolutely no!! What is wrong with this Government that they would even contemplate such an outrageous thing and more particularly with the people of this country that they would stand by in silence and let it happen without a murmur. National will not be getting my vote. | Helen |
| I have just taken a Company to the High Court, cost me a lot of money, the Government would not give me anything. | Bruce |
| I note also that $122 million (in the Budget and pre-Budget announcements) has been allocated to separatist, Maori "initiatives". To think that this betrayal of egalitarian democracy has been perpetrated by a National government is appalling. One can only hope that New Zealand First will hold the balance of power after the election and, when it does, that Winston Peters will honour his oft-repeated pledge to put an end to racist, separatist special treatment for Maori, and the gravy train that goes with it; if he fails to be true to his word, it would be an even greater betrayal of the nation. | Graham |
| They have the funds already or should have. | Doug |
| Nobody should have claim on the coastline. It should be crown owned and everyone can enjoy it. Not one group. | Cherryl |
| Equality has gone out the window. Finlayson is a disgrace. | Pete |
| It should never have got to this stage, it is only bribrey by the govt that has got us into this mess. | Colin |
| It is time the separist agenda of this government is stopped. | Susan |
| If people want to prepare a claim they should pay for it themselves. Mind you I can't see under the rules how there can possibly be many claims. | Chris |
| No Govt funding would see most claims disappear overnight. | Peter |
| They have to stop dipping into the taxes, they need more respect for the actual tax payer, and steadily get rid of all the parasites and politics that allow this theft to actually and continuously happen! | Roy |
| The devil is always in the detail this was not in the media – only from NZCPR by the looks we have been infiltrated by the Marxists one law for all – hypocracy by a govt that only has a greed and lust for power. | Ross |
| Enough is enough. | Graeme |
| Those opposing the marine and coastal area claims are not playing on that 'level field.' | Roger |
| A travesty of justice and fair play.Surely the time is long overdue to bury spurious claims to things of value that bring unworked for financial advantage to a rag bag collection of self-serving half caste parasites? | Charles |
| This is just a waste of good money. This money is need in other places were it would do good. Governments Like to waste TAX payers money on these Maori's who want to claim all they can of New Zealand. Why dose the Governments bend over for these people. But the keep on saying we are all one people living here JUST BLOODY BULL !!!! | Robert |
| | |
| It is ridiculous for our government to finance the claims of those with a Maori ancestor who are trying to grab what they can of our country on a racist basis, but any claims by those not calling themselves Maori but who often have more Maori ancestors than the iwi elite claimants, are rejected for finance because they are not Maori. Ridiculous. | Liz |
| Releasing opportunistic tribal enmitiies while the rest are forced to become the passive paying observers., but not mute yet–come on Sept and the General Election. !!!! | Jack |
| Claimants will get the benefits flowing from a successful application so they should meet their own costs. | Hugh |
| Good grief NO. UNLESS opponents can be given the same financial assistance. But really no, if they want to apply, then they should pay for it, but of course we know darn well they won't, the Government will crumble again under the usual pressure by those greedy grasping claimants. | Audrey |
| | |
| --- | --- |
| This is absolutely outrageous. If these groups want to claim the public's coast they should fund the case themselves. | Bruce |
| Words almost fail me it is such an injustice forcing the public to pay people to grab our resources. | Chris |
| No, no, no – there should be NO special funding for foreshore and seabed claims. | Libby |
| What a crock this whole thing is. National should be ashamed of themselves for inflicting this rubbish on the country. I will never vote for them again unless they repeal this law, and I can't see that happening in a hurry. | Harry |
| Public money should not be used to give to private groups wanting to privatise for their own benefit public resources. The whole thing is an injustice on taxpayers. | Dennis |