August 28, 2016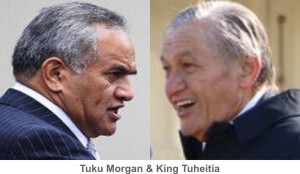 A new battleground is forming, one that has been likened to a real life "Game of Thrones".
It is a battle for the control of the Maori Seats and involves the Maori King Tuheitia Paki and his closest advisor, the new president of the Maori Party, former New Zealand First MP Tukoroirangi Morgan.
While the historical roots of the Kingitangi Movement lay in the Labour Party, the late Queen, Dame Te Atairangikaahu, steadfastly stayed above politics during her 40 year reign. Her former truck driver son – who gained the ascendancy in 2006 – has, however, well and truly entered the fray.
In 2012, the Maori King addressed a national hui claiming that Maori own the country's fresh water resources: "We have always owned the water!"
Last year, he used his annual speech at the anniversary of his coronation to launch a Treaty of Waitangi claim for greater Auckland – extending north to Mahurangi, down the Firth of Thames and across to the Manukau Harbour and Piha.
His most recent foray into politics came last month during commemorations at Turangawaewae for the 10th anniversary of his coronation. In a speech attended by leaders from most iwi, along with other local and Pacific Island dignitaries, he proposed that by 2025, Maori would share in the sovereignty of New Zealand: "I see a country that we as Maori will have a shared role in its sovereignty and this I see happening by 2025."
While he did not explain exactly what he meant by shared sovereignty, he said it was part of a "political manifesto" drawn up by his 12-member Council. His intention was to "present it to all political parties and see which of them would work with us".
The Maori King touched on Tuku Morgan's involvement with the Maori Party: "The recent election of one of my senior officials to the presidency of the Maori Party created a lot of turmoil and questions here inside the Kingitanga, but I have decided to remain static and neutral on this matter".
But King Tuheitia was about to create more turmoil. He dropped a political bombshell, by telling the audience that he would no longer be voting for Labour, saying he had changed his mind about the party after its leadership said it wouldn't work with the Maori Party: "It really hurt me when the leader of the Labour Party said he couldn't work with the Maori Party, you know I'm not voting for them any more."
And so the first shot was fired in the new war for the seven Maori seats.
The King's rejection of her Party came as a shock to Labour MP Nanaia Mahuta – the King's cousin and a possible successor (her father was the adopted elder brother of the Maori Queen). As the MP for the Hauraki-Waikato seat for 17 years, Nanaia Mahuta had enjoyed the on-going backing of the King Movement. But her demotion by the new Labour Leader from the Party's front bench last December was regarded as such a snub against Kingitanga, that Tuku Morgan warned Andrew Little that his decision would "bite the party in the backside".
According to newspaper reports, utu was planned for the day of the King's speech. Word had been passed to Labour's leader that senior government ministers were not going to attend the event, no doubt convincing him to go. He would have been surprised to see the Deputy Prime Minister there.
Andrew Little was seated centre-stage for the speech, completely unaware that the King was about to humiliate him in front of the one thousand strong gathering and assembled media. Fortunately, for him, he was tipped off moments before the speech began, and was able to slip away – to be 'whisked' off in a golf cart to "catch a plane".
Not only did the Maori King denounce Labour in his speech, but he endorsed the Maori Party, saying that he personally backed them and was proud that they were "around the table with the government". He then suggested that they should reach out to the Mana Party and Hone Harawira, whom he described as having "strength, loyalty and guts".
As it happens, within a week of Tuku Morgan being elected President of the Maori Party back in July, he was eating a bacon and eggs with Hone Harawira at a breakfast meeting, discussing whether the two parties could work together to win all of the Maori seats.
While Mr Harawira had indicated he was open to the idea of a union with the Maori Party, co-leaders Te Ururoa Flavell and Marama Fox were quick to say that while there was "no appetite for a formal alliance" between the two parties, there was "an openness to a more cohesive relationship".
Tuku Morgan, through the Maori King, is clearly angling for a combined Maori-Mana Party to become the political arm of the Kingitanga Movement.
But an alliance between the two parties has some challenges.
The Mana Party is opposed to working with National. And, as a result of the animosity shown by Tuku Morgan and the Maori King towards Andrew Little, it's unlikely the Maori Party will want to work with Labour.
However, compromise in the pursuit of political power has a habit of bridging differences, and while it's debatable how much influence King Tuheitia has within Maoridom as a whole, given its tribal nature, there's no doubt that he will have some sway over the 64,000 members of Tainui. There's also talk of targeting the 40,000-strong Ratana Church, which has also traditionally supported Labour.
The repercussions of a Maori-Mana alliance are significant, especially for the seven Maori seats – six of which are held by Labour and one by the Maori Party.
Looking at the results of the 2014 General Election, the Hauraki-Waikato electorate seat was won by Labour's Nania Mahuta with 12,191 votes. With the combined Maori-Mana candidates' vote of 7,612, Labour looks safe – unless the King's message gains enough traction in the electorate to create a huge swing towards the Maori Party.
Labour's Kelvin Davis won 9,712 votes in Northland's Tai Tokerau seat, with Mana's Hone Harawira a close second on 8,969. If that was combined with the Maori Party candidate's 2,579 votes, Labour would lose the seat.
Auckland's Tamaki Makaurau seat was won by Labour's Peeni Henare with 7,533 votes. The Maori and Mana Party candidates together gained 8,695 votes, enough for a majority. Labour could only hold onto the seat, if the Green candidate stood aside – as signalled in the Memorandum of Understanding they signed in June – so they could capture their 3,136 votes.
Taranaki's Tai Hauauru seat was won by Labour's Adrian Rurawhe with 8,089 votes. Between them, the Maori and Mana Party candidates won 8,475 votes, and the Green Party candidate won 3,004 votes. If the Greens supported Labour there is every chance they could hang onto the seat even if there was a swing against them.
Labour's Maka Whaitiri won the Eastern Ikaroa-Rawhiti seat with 9,753 votes. Together the Maori and Mana Party candidates secured 8,928 votes. If there was a swing against Labour, they could only hold onto the seat if the Green candidate's 2,114 votes moved their way.
The Bay of Plenty's Waiarike seat looks secure for the Maori Party co-leader Te Uroroa Flavell, who won 9,726 votes. The Mana candidate won 5,482 votes and the Labour candidate only 5,837.
The South Island's Tai Tonga seat was won by Labour's Rino Tirikatene with 8,445 votes. Combined, the Maori and Mana Party candidates would only have 6,887 votes. With the Green candidate's 3,173 votes potentially available to Labour, it would be difficult to unseat the sitting member.
These indicative numbers show how vulnerable Labour is in the Maori seats. They could stand to lose control of all but two or three, if the Mana and Maori Parties work together.
And with such a major battle looming it is not surprising that the vote buying has already begun.
Labour's Tai Tonga MP Rino Tirikatene, has just drafted a bill for the Parliamentary Members' Ballot to entrench the Maori seats, and "fulfil the promise of the Treaty of Waitangi and treat Maori voters the same way we treat other voters".
If drawn from the ballot and passed into law, a 75 percent majority of Parliament would be needed to abolish the Maori seats – instead of the simple majority that is in place today. The present situation reflects the fact that the Maori seats are temporary and were introduced in those early days of our Parliament to ensure that Maori men could vote. With the need for these reserved seats long gone, they should be abolished. Labour's Bill would make it almost impossible to remove them in the future.
National will be watching these political developments with interest, since they will undoubtedly need strong coalition partners if they are to be able to govern again.
A stronger Maori Party gives National an alternative to New Zealand First, which appears to be their only other option at present. However, a strong Maori Party holding the balance of power could be disastrous for the future of New Zealand, especially if the path ahead is mapped out by Tuku Morgan.
This week's NZCPR Guest Commentator, Canterbury University Law Lecturer David Round, looks at what the Maori King's claims for sovereignty might mean for the country:
"Tuheitia's desires a formally-defined 'share' for Maori in New Zealand's sovereignty. Although he did not say so, it is very difficult to believe that he would be happy with any share of less than 50%. 50% representation for about 15% of the population.
"So ~ so much for democracy. 'Shared' sovereignty ~ you and I will continue to pay our taxes and otherwise obey the laws; but we will have far less say in how those laws are made and how those taxes are spent. At present we abide by the ancient principle of 'no taxation without representation'. We have always thought that to mean 'no taxation without equal representation'.  Tuheitia wants it merely to mean, that there should be 'no taxation without some representation'. That is completely unacceptable.
"And, of course, once this principle, that race trumps equality and human rights, is accepted, why should it not be extended further?  There is, after all, a specious argument that the magical amazing all-powerful Treaty did not cede sovereignty to the Crown at all, and that really, Maori should still be completely in charge. Why would that not be the next item of news, after  this befuddled hereditary chieftain and his rich fat brown mates have got a formal 50% share of sovereignty?  Once you have paid him the Danegeld, you never get rid of the Dane.
In effect, Tuku Morgan and the Maori King are outlining the agenda of the Maori elite – they ultimately want an equal say in the running of the country. And if political parties continue to give in to them, their blackmail will only become more extreme. As David Round says, there is "never any giving by the Maori 'partner' – only taking. The rest of the country does the work and provides the money; the 'Treaty partner' just sits back and decides on how to spend it. Just imagine 'iwi leaders' having a 50% say with our elected government as to where and how our money is to be spent. Never would the old joke be truer, that 'iwi' simply stands for 'I want it'."
So there we have it. The Labour leader being whisked away in a golf cart; Tuku Morgan standing behind the former truck driver, who is now King of an undefined realm with questionable support, promoting an alliance between radical forces to impose racial rule by a minority over a majority. And all of this is being taken seriously by our government.
It really would be hugely comical, if it were not so real.
THIS WEEK'S POLL ASKS:
If National is in a position to form a Government after the next election, would you rather see them work with the Maori Party or New Zealand First?


*Poll comments are posted below.
*All NZCPR poll results can be seen in the Archive.

THIS WEEK'S POLL COMMENTS
| | |
| --- | --- |
| I do not believe is race based seats. | Raewyn |
| National need to divorce themselves from the clutches of Maori. Better the devil you know (NZF) than the one you don't!!! | David |
| A non racist party like NZ first. | Allan |
| Any coalition with the Maori Party is aiding aparteid. | Peter |
| GOD HELP US IF THE MAORIS ACHIEVE THEIR DREAM,ESPECIALY IF UNDIES MORGAN IS INVOLVED. | PETER |
| Maori party only have self interests at heart at any cost to New Zealand. | Donald |
| At least he is on record as saying we are all New Zealanders. | Bill |
| | |
| And they need to work with them on the RMA improvements. | S |
| I hope the combined government will be NZ First and Labour or preferably NZ First forming the Government. | Margaret |
| That New Zealand government is dictated to, by backward, old male tribal leaders is outrageously disgraceful in the modern world. The concept of 'maori values' is BS. | Monica |
| NZ First way less racist. | JC |
| Maoris have bred themselves out of existence. They are part white, not part maori. The treaty as a docuement and maori as as race should be gotten rid of and let the rest of the country get on with living. | Peter |
| Winston would be the lesser of two evils. | Tony |
| It about time National lived up to its election promise of the end to Treaty claims and the end of Maori seats. | Henry |
| The pendulum has swung far to far towards moaridom — and I will vote NZ first if it will mwake NZ fro all Nz'ers — | John |
| Neither. That should have been an option. But certainly not the Maori Party. | Ann |
| The whole Part Moari business is completely out of control . We have no official description of what constitutes a Maori . There is a so called Maori King which never existed until well after the Europeans arrived and really has on legal status . We also have these dam Maori special seats which have out lived there original purpose and are clearly race based. | Hamilton |
| Please move to get rid of the Waitangi Tribunal and the Maori Land Courts as their functions are no longer relevant. | Laurie |
| National have already given too much to Maori to keep them on-side | Alan |
| I never thought I would ever vote for Winston but at this point in time there seems to be little alternative. | Ronmac |
| It's a No Brainer. God Help us if we allow the Maori Radicals any more power than what they already have. | Urban |
| Race-based policies and unelected reps damage democracy. As Winston Churchill said, democracy is the worst form of government we have – apart from all the rest! Democracy just IS the dictatorship of the majority – GET USED TO IT NZ! | G |
| Winston might sort them out. I would like to think we can trust him and him not become Dictatorial. | Colin |
| National aint gonna come in on the next election. Pack your bags an get ready to leave. You's have done too much damage to our country. Alot of people can see your destruction. | Tutai |
| At least The NZ First Party will not bow to Racial discrimination. | Wayne |
| Thats a no brainer. The National Party should give the Maori Party the flick and as quickly as possible. They are there for their own greedy benefit. Next thing you know they will want to make Ngatata Love their financial consultant. | Ralph |
| I'm sick of IWI calling the shots, I'd happily see the abolition of Maori seats, and the end to National kissing the arse of the Maori Party | Peter |
| I hope common sense prevails here on this issue. | Kevin |
| New Zealanders are just too complacent to understand what is brewing here. | Rex |
| The lessor of 2 evils. | David |
| It is bad enough now with the Maori Party in Parliament imagine how worse it would be with more radical Maoris pushing for more control. | Digby |
| Mais ouis!! | Mark |
| Mainly we cant trust maori in power. | David |
| The Maori and Mana parties have absolutely nothing constructive to bring to the table for NZ. They are both radically divisive and racist. Let's take NZ forward to a better future and not back to stone age tribalism. | Steve |
| No contest. | Steve |
| I think NZ First is for all nz where as the maori party is for maori only especially the top maori. | Noel |
| I have seen this coming for a long time and have spoken to many people. I have spoken to the leader of the maori sovereignty movement in South Auckland during my time in the courts there. They definiitely want 50 percent of the tax take. | Dene |
| The Maoris are becoming to demanding and think they own everything. We would pay a terrible price to have them as a governing partner. | John |
| Although Winston Peters doesn't claim any extra just because hes maori as the others do I am a little dis appionted that he is starting to over exaturate the truth and could end up being a hinderance to National. But he is a far better choice than the alternative. | John |
| | |
| --- | --- |
| Although Winston Peters doesn't claim any extra just because hes maori as the others do I am a little dis appionted that he is starting to over exaturate the truth and could end up being a hinderance to National. But he is a far better choice than the alternative. | John |
| … by a country mile 🙂 | Mark |
| Time to get rid of the maori seats … | Dianne |
| God help us. | Pam |
| The National Party better wake up as the Maori party to date have the upper hand even today with National bending over backwards to please them. New Zealand First will be the King Makers they will get my Vote. | Ken |
| They are NOT racist at least they are for ALL kiwi's not like the maori party. | Cindy |
| Sadly, the Maori party has National by the short and curlies, so come on NZ First, make an election promise to get rid of the Maori seats and that will give National and you the treasure benches. | Athol |
| I have primarily voted National over the past 40 years. However, it was Helen Clark (Labour) who stood up to Maori in the Sea Bed & Foreshore legislation, and who would not sign he Indigenous Peoples Treaty at the United Nations. It was National who has given in to Maori, while promising one thing to get into power, but once in power started the process of giving in to Maori to ensure they stay in power. National have ensured that New Zealand will be an apartheid society, in this case Maori will hold the balance of power and the majority will constantly pay a high price for Nationals folly. Some would call Nationals pandering to Maori as a betrayal of the majority as treason. | Fred |
| Preferably neither, but the Maori Party is more predictable than the Peters Party. | Peter |
| Maori have always been at war with one another, how a Maori King is going to hold the peace is beyond comprehension. Winston Peters has a hell of a lot more on top. than any Maori King. | Robert |
| The Maori Party only represent 15% of the population, and very few if any with more than 50%a Maori blood! Are not all New Zealanders? | Peter |
| For all his faults, Winston has always promoted equality. 'Key' on the other hand has allowed apartheid to invade a once harmonious society. Wake up, died in the wool National supporters, your great leader has taken this country down a very divisive path.. | A.G.R. |
| If the Maori Party achieves its proposed aims then sometime in the future this country will have a civil war. At present there is a growing grievance against the unrealistic claims and concessions given to Maori. | Harley |
| I would trust him to be more for nz rather than for themselves. | Les |
| Simple answer, any party other than the racist maori party. | Stevo |
| I predict this will happen anyway,as I intend to urge all disgruntled voters both National and Labour to give their party vote to NZ First. They are the only party dedicated to get rid of all race based shit currently coming down from National. | John |
| | |
| --- | --- |
| After reading your article definitely New Zealand First 200 per cent. | Laraine |
| Enough is enough. South Africa got rid of these sort of politics. | Bryan |
| Using the adjectives rich fat brown is going too far though. | Michael |
| Nil | Peter |
| Why do we need a Maori Party if we are all ONE PEOPLE???. What have they got that the rest of us do not have ???? | Theodorus |
| The Country needs to rid itself of race-based seats and non-elected advisory bodies, particularly where the members are drawn from those having allegiance to a particular race. This will not be achieved with the Maori Party and their alignment with king movement, but it could with New Zealand First and their objective to achieve a non-apartheid society and representation. Perhaps the National party could then return to its pledge of 9 years ago to rid the Country of race-based electorates and special consideration being granted as of right to those claiming Maori descent. | Michael |
| The choice is really between our pseudo democracy or apartheid. Show me a real Maori and I may reconsider (yeah, right). Now excuse me while I get my smartphone so that I can work out what is 4 2. | Mitch |
| Clearly the National Party cannot be allowed to spend another term with the Greedy maori party, so NZ First is the only option. I will not be voting for the National Party, and that is for sure. Would not surprise me to see Winston forming the next Government. | Neil |
| Demands of this so called 'king' are only encouraged because he is aware of this utter political naivety of the general NZ public and — to great extend–members of the political parties. A .Little has been'whisked away' because he is nothing but a sorry glove puppet who did not have the guts to stand up to this bogus 'king' in the first place,.The move towards H Harawera's 'Mana' Party is calculated in order to get hold of his batallions of underdog stormtroopers,which–like the SA in 1930,s Germany will lend muscle to the Maori Party's drive to instill fear and' respect', if more benign methods of persuation are not enough to 'convince' NZ citizens that Tribal Leaders representing a mere 15 % of the entire population of NZ have all the rights to demand a 50 % share in NZ's soveraignity. I predict that- once they achieved this goal-soon after there will be more agressive moves to to achieve 100 % control .If this happens , we will be reduced to peasant status and turned into tax paying cash cows. By then it will be too late to put up any meaningful resistance because the police and the armed forces will be controlled by the Tribal War Lords and they will be prepared to put these forces to good use to put down any resistance. | Michael |
| I have had enough of the loss of democracy in favour of the maoris. | Jimk |
| No question!!!!!!!! | Laura |
| Wake up National Party you have become a racist party. Stop looking at the Maori Party for help and support. | Johan |
| Both options are unpalatable but the Maori Party would be the larger of the two rats to swallow. | Gary |
| I am though anxious about NZ 1st possibly supporting National. | Grace |
| Lets face it you cannot trust Maori now. I shudder to think of them in control. Zimbabwe sound familiar? | Fraser |
| The only party that doesn't have its head in the sand in NZ First. | David |
| As there are no true maori's left there cannot be a truly a maori party. | Tom |
| NZ First cares for our nation and people. Maori care only for themselves and now to gain more power even though they are a minority. | Cecelia |
| NZ First any day. The Maori Party are endeavoring to control the the country & if National goes with them it will be tat ta National and a real divided country based on racial grounds instead of a democracy. It will be Ausie here we come. | Brian |
| A pox on all their houses! "And all of this is being taken seriously by our government" "It really would be hugely comical, if it were not so real." What sort of choice is that?! National needs 'shooting' , yet labourgreen is even worse. | Peter |
| What a shame that the political divide in New Zealand only offers this alternative. | Victor |
| Ideally, we should get rid of MMP so such a choice is unnecessary. The present Maori Party has done more than enough damage to the country and democracy and has too much deleterious influence on our National Government and if Hone Harawira links to the Maori Party again, the result will be disastrous. Winston Peters is an unknown element now especially if he is placed in the position of king-maker. So in the end we should have had a choice in this questionnaire of neither party as I would not trust either party at all. | Chris |
| No contest. | Graeme |
| I would rather National work with NZ First. Some of the greedy Maori are only interested in claims for land and money under any Treaty of Waitangi farce. | Frank |
| Peters is toxic. | Lee |
| New Zealand First is the only Party that has the guts to oppose Apartheid in New Zealand and the reason Ariki Key's National Party ignored it in favour of his pet, the Maori Party. | George |
| It's so obvious because NZ First is the only part able to see how apartheid flourishes and thrives in NZ because it suits the other parties to placate power-hungry so called indigenous Maori (who were not the first settlers anyway) by giving them even more than everything thay ask for. | Alan |
| Iwi stands for "I want it". | David |
| No other option. | Barry |
| DEMOCRACY ONLY. | KELLY |
| This poll has MADE me have to choose. I don't want either party having to prop up National. But being forced to choose, I have chosen what I consider to be the lesser of two evils, although NZ First are on the right track about immigration.National need to make it clear to its supporters that it aims to govern alone. | Sharen |
| Without a doubt. | Kerin |
| If national are stupid enough, or so desperate, to join forces with the Maori Party, that will be the end of New Zealand as we know it. I can see a mass exodus to Australia. | Ernest |
| The Maori party is racist and has used its position with National to further it's own ends. | Peter |
| There is no place in NZ for an Apartheid party. The treaty is not partnership. | Graeme |
| At least the New Zealand First Party are most times in tune with the people of NZ. Maori well getting a little tired of their demands it just goes from one extreme to the other and never relents. | Suzanne |
| I think it will be the down fall of NZ to have the Maori Party in power. They only want everything for the Maori's and the others come a sad second. | Cherryl |
| | |
| --- | --- |
| At least Winston has been telling the Maoris to stop expecting everything for nothing. He wants the Maoris to look for nominations to boards, councils etc because they are qualified to take the job,it not just because they are Maori. | Lloyd |
| NZ First Might be the one to form the gov. I would normally put HA HA after that, but funny things are happening around the world and anyway, we could do worse I guess. | STAN |
| Hopefully National will have an overall majority and change these divisive laws. | Gary |
| NEW ZEALAND seems to be accepting the fact that 15% of the population is running this country and nothing is being done to stop it. They have been given back land plus a huge monetary amount yet want more also want genuine Kiwis to still pay them Welfare housing and many other expenses those at the top in the Maori population take but do not share with their people. They seem to think ther eis a never ending money tree yet we have to borrow to continue this farce. Time enough is enough | MARYLIN |
| The undemocratic allocation of power to the Maori Party must be strenuously denied to prevent chaos in our local and central governments. | Russell |
| Definitely not the racist Maori Party. NZ First favours dispensing with all legislation based on race and I utterly support that. We will never move forward as a united country until this happens. | Helen |
| It's a no-brainer. | Andy |
| The lesser of two evils. | Geoffrey |
| There's only one choice. If National can't see this, I'll certainly not be voting National. | Brent |
| Any thing with the name "maori" in spells danger for NZ. So, abolish all maori sets and lets pray that we NEVER see Tuku Morgan anywhere near parliament. "Truck driver" so called maori king and his criminal son are just a bad joke (somebody pinch me). The NZ party does have some good ideas and are not racist but, PLEASE winston, DO NOT EVER bring porn/racist/nasty piece of work "Shane Jones into NZ First, as he would see the party disintegrate. (Happy with Ron Mark) . If Maoris are not brought to a halt with their thieving demands very soon, this country is doomed. You just cant trust them. Example : "Sir" Ngatata Love!!! | Des |
| Anything to quell the ever growing racial structure currently developing in New Zealand through the present political structure. | Stuart |
| For the sake of democracy in New Zealand it had better be New Zealand First. The National Party/Maori party coalition is taking us far too fast to an irretrievable apartheid situation. | John |
| NZ 1st is the only party that has maintained consistent policies since its inception. They also stand for 'one law for all' and may stiffen up the backbones of the whimpish National Party Ministers. | Maureen |
| Better the Maori party than Winnie !!!! | Ian |
| Winston Peters appears to be the only politician in the house prepared to uphold the democratic principle of "one law for all" John Key and the National party have been a disgrace with their capitulation to maori on any issue maori raise. | Frank |
| The Maori Party – the party you are having when you're not having a party! Isn't it about time the "rest" of New Zealand took the govt to the human rights court for its ridiculous racist Maori privilege laws – and Maoris are not even indigenous – they arrived only a few hundred years before the rest of us and ate the indigenous people! | Liz |
| I don't recognise the validity of Maori racist seats in Parliament. | John |
| This (NZ First) is the only option if you wish for any form of democracy to prevail in this country. | Chris |
| It would be disastrous for NZ if Maori gained a position greater power. | Patricia |
| Best of a bad bunch. | Kevin |
| The Maori Party is Racist. | David |
| I and many thousands of New Zealanders have had an absolute guts full of Maori demands and sense of entitlement. Assuming New Zealand First sticks to it promises and ideals it would have to be the logical party to be in power with National. Something has to be done to save New Zealand from going down the racist gurgles. | Mike |
| Already this country has been divided by the rediculous claims of Maori. What then if the truck driver so called Kings ideas gain traction. Right now Maori represents crime and welfare and we could see this rabble control NZ. Real kiwis wake up to what is happening | Don |
| It is the choice of dealing with both parties who are spendthrift parties but as Winston is anti Maori privileges I would say go with NZ First. | Colin |
| New Zealand first has some good ideas. The Maori Party is all for them to the exclusion of all others. | Sheila |
| A silly question. | Peter |
| New Zealand First because they would bring a very big majority to the Government and at least we would get some positive decisions. | Dianna |
| | |
| --- | --- |
| I am looking forward to next year when the candidates come round and ask me to vote for them. I am going to say: "Come inside and have a cup of tea", and my wife replied: "And that is when I am leaving home" However, I am prepared to bet that not one will come visiting! | Kevan |
| Less demanding! | Jim |
| There is inherent danger in siding with an alternative sovereignty party. | William |
| Sick and tired of the b/s and the hidden agenda. Get 'elected' by a democratic process IF YOU want to be on council/boards etc! Any one wants to be classed as Maori should have minimum 50% Maori blood in their veins. | T |
| Marois are a greedy lot. | Mike |
| Money is the Maori God. They don't give a stuff about the actual land (Raglan Gold Course is a prime example). But with the land given back, under the guise of "stolen", comes "compensation" of at least $10million and when that 10mil is spent on rubbish and on the elites only, then they scramble back for a "top up". But what has the Maori's got to hide in the Waipoua Forest? Evidence that they certainly weren't the first here, they were the 4th and we are the 5th(?) probably we were here before them. | Phil |
| New Zealand has been held to ransom for too many years by the Maoris. This cannot be allowed to continue. Winston is about 75% self interest, not 150% like underpants Morgan. | Chris |
| The Maori Party are not interested in the rest of NZ but only have an "I want it" atitude as long as they do not have to pay for it. | Rog |
| Obviously. | Ian |
| NZ First would take.a view of what's better for the whole country rather than the Moari "what's in it for us". | Kevin |
| The lesser of two evils. | Mike |
| The other option is absurd if they have to give up anything. | Wayne |
| NZ First has consistently promised to remove all racist legislation in this country. Give Winston his last chance. | Paul |
| There is too much Maori influence now and too much money going to the Maori elite. | Murray |
| Maori Party and their "King " completely unknown. NZ First the lesser of the two evils. | Pierre |
| Rather have Winston than Tuku!! | Jon |
| Winston does not wear blinkers. He has NZ interests at heart for everyone. | Bruce |
| At least NZ First purports not to be racist, whereas the Maori Party and the whole separate Maori seats in Parliament thing is simply APARTHEID. | Geoff |
| I would like to see New Zealand First in Government and see what they can do for this county. | Robert |
| Stuff the maoris. | CJ |
| National need to distance its self from maori if it wishes to be reeleceted or the the split vote will unseat them. | Michael |
| THE so called Maori Party is comprised of representatives of all nationalities that want control of all decision making and control of government finances without being elected by democratic procedure. | John |
| We need to rid this country of race based politics at ALL levels of Government & bureaucracy!! | Tony |
| Sad to say it .. but true! | Andy |
| It's time for a change. With NZ First, we know there won't be race-based policies brought into government. | Rayward |
| I have voted national all my life, I am 80, I am Sure at this stage I will be voting NZ First. | Bruce |
| But can we trust Winston to abolish all race based legislation? | Rob |
| Hopefully NZ First would be able to push National into doing what they should have already done – scrapping the Waitangi Tribunal along with the Maori seats and removing all reference to race, colour or creed from our laws and statutes, thereby enabling us to go forward as citizens of one nation, all equal under the Law, which should have been the main thrust of the Treaty in the beginning. | Scott |
| NZF is a one pony show of doubtful substance but many of its policy planks appeal to the general population and fundamentally Winston has always advocated a single "one law for all" equality for all New Zealand citizens, irrespective of ethnic origin., A true form of democracy. Maori on the other hand stand for inequality having 15% of the citizenry demanding 50% of the power with veto powers overriding everything.. This and their penchant for gouging welfare and resources way beyond their population entitlement, means nothing but apartheid in its worst form. In short they cannot be trusted with the administration of democracy.. | Richard |
| Time to end race based politics. We are all New Zealanders, no more and no less. | Frankfy |
| It's about time National honoured the undertakings given when last in Opposition. | John |
| New Zealand First – The lesser of the two evils. | Don |
| As I hear it Winston has promised us equal treatment with Maori which is something John keeps giving away. So Winston's party gets my vote (for the first time) next election. | Eric |
| God help us from the evil, lying, power grubbing, Maori Party and their idiot Government supporters. I am forced to choose between two untrustworthy entities and it could well choke me. I guess the colour of all their stripes will show over the next 12 months and as the Australians say it will be the voters turn to change the flies hovering over the manure pile. | Mike |
| At last Winston is looking for a one NZ not like the Maori separatists. Time for union with Winston. | Andrew |
| What has this country come too? | Carl |
| Winston every time, he is the only real choice. | Edwward |
| Nz first is pro nz!! | June |
| But why would you want National back on the Treasury benches where they have wreaked havoc with our economy, our national (or should that be National?) debt and created a new Third World country with rapidly increasing social damage and crime. Labour may not look great at the moment but at least they don't have proven record of incompetence like the Nats. | John |
| Then they won't be blackmailed into giving maori more money to vote their way. | Peter |
| The racist Maori Party and National have been a disaster for New Zealand. | Tom |
| The lesser of two problems. | Tim |
| We have already seen/witnessed the intrusions which the Maori Party have had, none of which impress me and most of which depress me. Surely NZ First would have views which are less extreme. Time to get over the history and posturing of the past. National/NZ First plus the odds and Dodd if they are still around would suit me. | Mike |
| Enough of the maorification of NZ. | IAN |
| This might slow down the rate of money disappearing from Treasury. | Ross |
| It would be lunacy for the National Government to enter into a coalition or partnership with the Maori Party if the shots are likely to be influenced by Tuheitia Paki, in concert with Tukoroirangi Morgan. | Les |
| The National government has shown far too much willingness to accede to Maori demands, such as continued Treaty settlements, handouts for Maori with no accountability, and so on… NZ First is the only party talking sense. The question is, Will National work with them? Not so far, example: RMA. Maori are definitely the tail wagging the dog. | Laurence |
| The removal of the Maori seats is long overdue and must be a priority of the next Government, whoever that is. | Kevin |
| The prospect of the Maori King, Tuku Morgan, and Hone in charge of anything is scary. | Terry |
| NZ First! I am sick and tired of big concessions always made in favour of the Maoris – almost never NZ as a whole. Winston is the only leader who seems capable of standing up to Maori excesses. Maori and their tribal system is I believe the biggest stumbling block to us advancing as a nation!! Then there's Hone H desperate to be at the trough as well, confusing Maori even more! | Frank |
| New Zealand First, but only because they are the lesser evil. Winston Peters has proven himself to be a difficult character to both major parties. Winston Peters was sacked as a deputy by Jenny Shipley and John Key wanted nothing to do with him after the donation scandal involving Owen Glenn that (in part) cost Helen Clark the 2008 election. | Graeme |
| Enough has been conceded to the Maori party. | Willy |
| The Maori party is racist. We do not need such a party in parliament. | Graeme |
| Whilst Winston is a blow hard, if promised the right stuff he can be a very effective Minister inside government. | Graeme |
| Remove racist parties from parliament. | Bryon |
| NZI are basically National – with a Grey Power twist and a red neck appeal. | Mark |
| No choice really! Why harness your horse to a cart of self interest and seperatism, rather than a cart that may be be idiosyncratic, but relatively close to your own world view??? | Andrew |
| I've seen Winne at a recent meeting and I think he is the most honest Poli I have ever met. | Greg |
| | |
| --- | --- |
| There is no way I would want to see any major political party in coalition with any Maori party This "give us what we want and we will support you in Parliament with our vote " is NO WAY TO RUN A COUNTRY. AND ITS GOT TO STOP. | William |
| The Maori Party is stuffed. How can you expect 15% of the population try to claim so much when there are more Asian style of people in this country who don't really ask for much at all. The Maori seats in parliament are a bloody joke and must be abolished. | Graham |
| Neither! | John |
| Honestly? Neither. | Jim |
| Apartheid. | Donal |
| We don't need more racial discrimination or preference | IAN |
| | |
| --- | --- |
| Would it not be substantially better for New Zealand if New Zealand First was the dominant party? National has betrayed the New Zealand public by entering into undemocratic, race based policies. Other commentators are right, the Maori seats are long overdue to be abolished, as per the recommendations before MMP was introduced. Since that moment of weakness, democracy has suffered. Soon, it will die unless somebody has the courage to remove race based representation and legislation. | Folkert |
| Although I would prefer neither really. | Trevor |
| Clearly, if Maori gained cosovereignty in NZ, no Maori (however that might be defined) would ever be liable to pay tax. The mind boggles!! | Alan |
| National needs to wake up and see what is happening in this country and the TOW. | Sheena |
| It is rather frightening. | Shirley |
| I'll be supporting Winston, tho I've been a Nat supporter in the past. What is Nationals agenda? Will they EVER get enough backbone to put these dangerous, greedy fat cat PART Maori in their place as a minority race in NZ now? There could well be another exodus to Australia if these greedy buggers get their I W I now. | Carolyn |
| Stop this Maori crap … | Kevin |
| An alliance with NZ First, though it might make for a occasionally rocky situation, is better than the scenario of a National-Maori Party coalition if this partnership continues to "work together" as they do now! | Pieter |
| I'm sick of the National party sucking up to the Maori party. | Laurie |
| I appreciate the effort Muriel went to in writing her article. Let's stop Iwi in their tracks. | Ian |
| The maori party should not be allowed to exist, as it is blatantly racist. | John |
| Every time, Winston and his team, together with National working together will make NZ great again without any part maori rabble promoting a load of cultural rubbish from the stonage. | James |
| NZ First is a party that does not pander to maori. Although some of their policies may not be accepted by all they are more aligned to National than Maori or the Mana parties. | Dennis |
| No contest. | Lance |
| Absolutely. | Alan |
| The National party association with the Maori party has been a disaster for this country. Personally I will not vote National again if there is the slightest chance of them going with the Maori Party. | Roger |
| Winston retains a sensible approach to politics, even if he does enjoy the "baubles of office". Don't they all? Far better to work with his Party, than the extreme racist approach being indicated by the Maori king. Note small letters! | Hugh |
| By far the best option for a whole bunch of reasons. | Beryl |
| The Maori Party is racist, as are all Maori only groups, a prime example being the Maori so called "all blacks". NZ has been firmly overtaken by entrenched apartheid. | Trevor |
| Unwillingly. | Chris |
| | |
| --- | --- |
| The Maori Party are destructive and won't be happy until NZ has become another Zimbabwe. At least Winston First just wants a few baubles. | Fiona |
| New Zealand first thoughts are more akin to senior New Zealanders. I would want to see NZ a suitable place to attract my kids back from around the world. They all comment John Key and Co. are not standing up for NZ. | John |
| Separatism must end and quickly, we are all New Zealanders. We are not Maori and other, nor are we pakiha and Maori. I don't want to be labelled with a Maori name. | Ian |
| Neither preferably, both would equally disastrous for the country. | Robert |
| National must take note of the scheming going on behind their backs. | Barry |
| No no no no we can not have the Maori party dictating to the country enough is enough get rid of Maori seats in parliament. | Russell |
| Was a terrible mistake that Key took on the Maori party in his first win. It's shown since then the money-grabbing that has gone on to the detriment of all Kiwis. God fend New Zealand sure takes on that meaning now. | Audrey |
| We would be no better than South Africa if the Maori party get their way. | Joan |
| Especially if they work together to abolish the race based seats as National promised in I think 2008. | Mike |
| NZ First policies make more sense than aligning with a racist party. John Key needs to mend fences with Winston. | Kerry |
| I am sick-to-death of the racist policies of the Maori Party, and of the fawning Labour Party 'wanna-be maori' policies, & the weak National Party backdowns to every Maori 'demand'. | Merv |
| It's 'no contest'. The trouble is that too many people seem to harbour antipathy towards Winston Peters (and, it must be admitted, not without reason), and there's a real risk that their better judgement may be distorted by putting personalities before principles. There's one thing on which Peters has been unwaveringly firm, despite all of his other U-turns: he has an abhorrence of the separatism expressed by the Maori seats, and he has a visceral loathing of the brown 'elite' (the iwi leaders). Accordingly, if NZF were to become National's coalition or support partner, then this would represent the nation's best chance of ridding itself forever of this institutional racism that favours Maori. If, however, the Maori party (particularly if allied with Mana) takes on the role of support party (and, for reasons again, of personalities, John Key wouldn't mind that) then the future of this country will be very grim indeed. The next general election will be a watershed in this country's history. | Graham |
| Hobson's Choice in some ways. Rather like a preference for Trump because the available alternative is simply unthinkable. NZ First is a clear preference over the dodgy, racist Maori Party – National's alliance with whom has already cost NZ dearly … | John |
| | |
| --- | --- |
| Absolutely no way should National go with a strengthened Maori Party. It would be a disaster for New Zealand. | Brenda |
| If National doesn't start governing for all New Zealanders instead of the racists, they will lose support. They should campaign on abolishing the Maori seats and give voters a real choice. | Paul |
| The Maori seats should be abolished. End of story. | Gordon |
| New Zealand First would be a far better option for NZ than a party with a purely racists agenda. This is all sickening. | Michael |
| Winston Peters needs to make a key plank of his election campaign abolishing the Maori seats. Then he would win major support and might be in a position to call the shots! | Brian |