August 9, 2015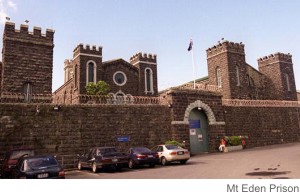 The Department of Corrections has been headlining the news recently, but for all the wrong reasons. A high risk sex offender on an 'Extended Supervision Order' committed "bestial" rape and murder. Another removed his monitoring device and went on the run for two days. Videos posted on social media allegedly showed inmates in a privately run prison, smoking drugs, drinking alcohol and taking part in fight clubs.
Each of these incidents provides a snapshot of the challenges when dealing with society's worst offenders.
First the case of Tony Robertson, who raped and murdered 54-year-old Blessie Gotingco.
Tony Robertson was raised by his mother and her family in Mangakino. There was little contact with his father. At High School he fell in with the wrong crowd. Convicted for offences including aggravated robbery and threatening to kill, he was said to have been prospecting for the Mongrel Mob.
Court documents show that in 2005, Tony Robertson's offending escalated. At 3.40pm on Wednesday 14 December, he tried to entice three young children aged 6, 7 and 8 into his car with promises of presents. The next morning he approached a brother and sister walking to school. By pretending to call their mother, he persuaded the five year old girl to get into the car and drove off.  Her seven year old brother raised the alarm at school, instigating a Police hunt.
Police found him parked in a secluded spot, hunched over the little girl, who was crying in the front of the car. Her seat was in a reclined position and her underpants were in the back.
A jury found Tony Robertson guilty on seven charges, including indecently assaulting the girl and attempting to abduct the other children. The Crown argued for preventative detention – an open-ended jail term that enables a defendant to be imprisoned indefinitely or recalled at any time – on the basis of psychological reports which showed he had difficulty controlling his anger, had not accepted responsibility for his offending, and was extremely likely to offend again.
This was rejected by Judge Keane, who outlined the five factors to be taken into account for preventative detention: whether the offender had a pattern of serious offending, the seriousness of the harm the offender caused to the community; whether serious offences were likely to be committed in the future; whether the offender was prepared to address the causes of their offending, and whether a finite sentence could be imposed that would adequately protect the community.
He explained that while the psychological assessment of Tony Robertson indicated there was a high risk of further sexual offending, a psychiatric report showed a low risk. Accordingly he was sentenced to 8 years imprisonment.
Tony Robertson was refused parole and was released from prison on December 11 2013, three days before the end of his sentence. Within five weeks he had breached his release conditions twice and was sentenced to an Extended Supervision Order. These orders allow Corrections to closely monitor high-risk offenders after their release from prison through various conditions such as GPS tracking, curfews, and restrictions on where they can live.
The sentencing Judge Wylie said, "I am satisfied that Mr Robertson poses a very considerable risk indeed. The evidence compels the conclusion that he is impulsive, and unable to control his anger and aggression. Mr Robertson has a predilection for, and a proclivity towards, sexual offending. He has shown no remorse … Indeed, he continues to deny it."
On Saturday May 24 2014, the day of Blessie's murder, Tony Robertson visited his half-sister – a mother of seven – in South Auckland to mow her lawns and watch his niece play netball. He drove back in the late afternoon. According to the GPS in his anklet, at 6pm he was at the Eskdale Cemetery on Auckland's North Shore – presumably scoping the area, ready for his attack.
At 7.50pm that night, after driving around the neighbourhood, he was on Salisbury Road as Blessie Gotingco got off the bus. Mrs Gotingco had left her workplace, Tower Insurance in the CBD, at about 7pm. She had arranged to get a lift home earlier with a friend, but then volunteered to do some overtime, so took the bus instead.
It was cold and she was making the five-minute walk to the home she shared with her husband and three children, quickly. But just five houses from her front door, Tony Robertson drove onto the footpath and ran her down, breaking her legs and ribs. He bundled her into the back seat of the car and drove to his nearby apartment, arriving by 8pm to comply with his curfew.
There, in the garage, he raped, strangled, and stabbed Mrs Gotingco, before slitting her throat.
The following morning just after his 6am curfew lifted, he drove to the cemetery and dumped her body – wrapped in a sheet – in thick bush.
Two days later, the Police found the knife with traces of her blood at his address. A number of her personal items, including her handbag, were found buried in his garden. Bloodied towels and mop-heads were found in a wheelie bin. Swabs taken from her body confirmed she had been raped.
Judge Brewer sentenced Tony Robertson, 28, to life imprisonment with a minimum-non-parole period of 24 years for the murder of Mrs Gotingco – and preventive detention for the rape. He said he had no doubt that Robertson would re-offend if released from prison.
This case demonstrates that as it stands, the law surrounding preventative detention puts a sentencing Judge in the impossible position of having to predict the future behaviour of offenders – in particular whether they will agree to undergo treatment programmes and rehabilitation in jail. If Judge Keane in 2005 had known Tony Robertson would continue to deny his offending and be considered an unsafe risk for parole, he may well have imposed preventative detention back then – and Blessie Gotingco would still be alive.
In such cases, preventative detention should be able to be applied conditionally, so that at the end of a sentence, an informed assessment can be made as to whether an offender has taken sufficient steps to lower their risk to the community so they are safe for release – or whether they remain at high risk and in need of continued detention.
The second case involves Daniel Livingstone, another high risk child sex offender on an Extended Supervision Order, who cut off his anklet in the early hours of last Thursday morning, and absconded from his Upper Hutt home. Following a 36-hour manhunt, he was located nearby by Police and returned to jail.
Sentenced to 8 years in prison in 2006 for the abduction and rape of a 10-year-old girl in Whangarei, Daniel Livingstone had a background that is only too familiar for high risk offenders – a drug-addicted mother, an absent father, time in the care of Child Youth and Family. His offending began at an early age, and at 14 he left school functionally illiterate. He was 18 when he carried out the abduction and rape.
He too was refused parole, and on his release from prison, was required to wear a GPS anklet, to live at a specified address, to adhere to a strict curfew and to restrictions preventing any association with children.
The issue of law in this case, is that it took Police seven hours to enter his house, from when the alarm first went off indicating that the electronic monitoring equipment had been tampered with. Police explained, "In these circumstances, there are no specific powers of entry without warrant for a constable to forcibly enter premises when they believe an offender is not there."
They eventually forced entry on their third visit, but this is absurd – given the seriousness of the situation, the power of entry should have been available to the Police from the outset.
These two cases involving breaches of supervision orders are not isolated. Figures show there have been more than 15,500 breaches of conditions relating to offenders on home and community detention over the last nine years. As at the end of June, some 3,300 offenders were being electronically monitored.
Finally, the privately run Mt Eden Remand Prison…
Four separate inquiries have been launched into the allegations of law breaking at Mt Eden. The "step in" clause in the contract with the prison operator, Serco, has been invoked, allowing the Department of Corrections to take over the running of the prison. A prison director from Tongariro is now in charge, with a "crack team" of 20 selected officers to oversee the daily running of the prison – along with the regular staff. The contract allows for the imposition of substantial financial penalties if the operator is found to have breached their conditions.
Serco has had the full responsibility for the running of Mt Eden since August 1, 2011. This follows a five year stint between 2000 and 2005 when it was run by the private contractor Australasian Correctional Management.
So, who is Serco? This week's NZCPR Guest Commentator Brian Gaynor, a columnist and the Executive Director of Milford Asset Management, provides some background:
"Serco was established in the United Kingdom in 1929 to provide support to the country's growing cinema industry. It was originally called RCA Services because it was a fully owned subsidiary of Radio Corporation of America. The UK subsidiary diversified between 1960 and 1990 by obtaining maintenance contracts for the UK Ballistic Missile Early Warning System and European Space Agency as well as maintenance contracts for London's traffic signals. It changed its name to Serco following a management buyout in 1986 and a year later obtained a full London Stock Exchange listing.
"Serco describes itself as a company that 'serves governments and other bodies who serve the public or protect their nation's interests'. In other words, it supplies services that were originally supplied internally by government departments and other public agencies."
The allegations against Serco were raised by the Labour Party. We should not forget that Labour is the political arm of the trade union movement and as such, is ideologically opposed to the largely non-unionised private sector becoming involved in public sector activities such as the running of prisons.
Whatever the outcome of the reviews, the reality is that scandals have always occurred in our prisons. In 2006, when Labour was the government, convicted killer George Baker murdered 17 year old Liam Ashley in the back of a prison van. That same year, on her release from jail for the killing of 23-month-old Lillybing, Rachel Namana boasted how she smoked methamphetamine in prison, had access to other drugs, and downloaded porn on her cellphone. She admitted that far from being rehabilitated while in jail, she had become heavily influenced by gangs.
Dealing with the country's most dangerous criminals is a significant challenge. The present government thinks that private providers of prison services can be held more accountable and incentivised to produce better outcomes. That's why the new $270m 960 bed prison at Wiri was established as a public-private partnership – Fletcher Construction, designed and built it, Serco, will operate it, Spotless Facility Services, will provide the maintenance, and the Accident Compensation Corporation, John Laing, and InfraRed, have provided the equity.
With the government having already established a public service goal of reducing re-offending by released prisoners to 25 percent below 2011 rates by 2017, Serco will be able to earn bonuses if prisoners released from their new jail re-offend at rates at least 10-15 percent below those from other prisons.
Accordingly, their focus is on helping inmates learn to read, write, and gain the skills needed to get jobs and integrate into a law-abiding society on their release. With computers in every cell, prisoner will be encouraged into further education. Tablets will also be issued to everyone who enrols in the Open Polytechnic's second chance learners' courses.
In addition more than 200 of the 960 prisoners will be working or training at any one time – 48 will be learning engineering, welding, joinery and carpentry; 40 each working for Envirowaste and PlaceMakers; 21 building cabins for Cabin to Go; 40 in the prison kitchen, and 10 each in the laundry, canteen, horticulture and recycling.
284 staff run the prison under the leadership of Mike Inglis, who has 20 years of experience in the Scottish Prison Service and a master's degree in criminology.
I will leave the last word to Serco's new chief executive Rupert Soames: "Governments need to continuously improve the quality and efficiency of service delivery. We believe that public sector monopolies are, by their nature, less well-equipped to manage continuous innovation and improvement in service delivery than the private sector… the best route to delivering improving quality and reducing the cost of public service is through a contestable tender process involving private companies."
THIS WEEK'S POLL ASKS:
Are you in favour or opposed to the private sector running prisons?
 *Poll comments are posted below.
*All NZCPR poll results can be seen in the Archive.

THIS WEEK'S POLL COMMENTS
| | |
| --- | --- |
| Too much graft in private prisons ,prison is for punishment not games time all prisons should be minus 5 star with bread and water and no outside contact at all. | James |
| I am opposed to trade union movement running anything; they are hardened criminals in prisons not angels. Tony Robertson deserves to be put to death, he is unfit to walk this earth again. | Monica |
| I really don't care, what I would like to see in every sell is a chair and a good stout rope hanging from every sealing. | Athol |
| In favour. Provided crystal-clear goals are set plus ensure no-nonsense assessment by an independent, NON-Government individual or committee to determine hether they have been achieved. If not achieved, fine the operator, or dismiss them if a worst case scenario. Consider obtaining a substantial sum from the agreed operator before they start, to be retained by Government if they fail to perform (like a tenancy bond). | Bill |
| Leave it to the private sector and make the prisoners stay a lot less comfortable no t v and other nice things. And teach them proper English and how to be good members of society. | Ken |
| I'm glad I got my degree from Auckland University…What a load of bollocks! | Mike |
| Although I am for the private sector running prisons there should be more accountablity when this is not supervised properly. The Goverment should have one person on the management team who answers directly to the Minister of prisions. | John |
| Provision of prisons is a proper government function. Whether government does it itself or by contracting the private sector depends solely on which will do it more efficiently. I vote in favour because it would be expected private sector would be more efficient. Possibly some prisons private, some government might be best, providing contestability and a giving government experience to assist in monitoring contractual performance. | Gary |
| It is the "States" business to watch over criminals. Not the private sector. | Roy |
| Clearly shown that the private sector are in it for the money and not in the interest of society. | Tom |
| | |
| --- | --- |
| Opposed because by now it is clear as mud that outsourcing the management of our prisons does not improve anything. The comment of one of the readers ( a former corrections officer) confirms that problems in prisons are endemic. One of my friends used to work in this field and he quit because it was an constant uphill battle against gang culture inside prison and he despaired because there was no political will to substantially change this ongoing situation. Instead what we see today is a network of cushy offices filled with government employees doing a lot of admin work. This whole mess does cost us taxpayers not only exorbitant amounts of money but creates an ongoing problem for society. And the victims of these criminals are usually left out of the equation. How much better would it be to spend $ 40 000 per annum on victim rehab . But there is none of that. And the fact that the costs are rising all the time are not helping us either.Not to mention the huge underlying social cost caused by crime. I suggest: In order to solve this problem with that lot of violent offenders ( everything from child murderes to rapists) we have to expel them from society and deport them to an remote prison island ( the Campbell Islands would be a perfect place) Before they are deported they must be micro chipped to make sure that they can be tracked if they ever make it back to NZ. Set up some basic huts for accomodation and tools to work the land supplied and leave them to it . There they can set up their own society with their own rules( if they have any) From time to time an air drop of food and first aid could be made but that should be about it. First rule for them by us is .: If they ever dare to re enter NZ the micro chipped offenders could be tracked and traced in a short time and deported again. A surveillance network should be set up around the island to control any movement away from land. All in all I am sure this would be a much cheaper resolution to this problem and would free up substantial sums of money for victim rehab and general crime prevention. That is common sense !!! But as we all know, this is not a virtue found among politicians and can only be demanded by us voters. | Michael |
| Private services are in the game to make money as a first priority not the security & the rehabilitation of prisioners. | Tim |
| This is not an area where profit is the criterion. | Jim |
| Serco has shown it reduces staffing of prisons to make bigger profits. It is not of sufficient responsibility to continue the supervision of prisoners. As has been shown in other branches of the civil service, private enterprise cannot do these jobs as well as the public service can. | Chris |
| I had been in favour up until this episode with Serko. I thought it may have been a cheaper alternative, but then look what happens. | Sheena |
| When were "public servants" ever penalised for deficient performance? | Peter |
| Not necessarily opposed but Serco does not seem to be the correct choice. Re repeat offending, if hanging was reintroduced this could not happen. | Rodney |
| The Govt. had many warnings re this firm long before we found out that they couldn't run a chicken farm in any country. John key has to go and the sooner the better. | Hazel |
| Provided accurate and unbiased reporting and publication of comparative results with state systems occur. | Frank |
| I am in favour because there is no evidence showing that state run prisons are any better. Prisons are fundamentally there to punish and there is little focus on rehabilitation. Those in any doubt should contact Prisoners Aid Rehabilitation Society (PARS) and ask then what their thoughts are. | Peter |
| I don't trust Governments, anything they run is more expensive than being privately run. | Eric |
| I feel the latest incidents at Mt Eden Prison show the incompetence of the Serco Company. Put the management back in the hands of the local people ie. The Government and demand they do it competently to protect the Public from these criminals. | Laurel |
| They are non-accountable if they fudge the reporting of incidents. | Peter |
| Let the taxpayer fund a one way ticket to Indonesia and costs for convicted criminals sentenced to LIFE to serve their time without remission under their management. A win for them and us. | BARRY |
| | |
| --- | --- |
| First the education payroll, now prisons. It seems this government want's to privatise everything but at who's expense? | Lionel |
| I approach this question in two minds. Whilst the recent problems at Mt Eden loom large, I can also recall many incidents of equal seriousness that have occurred under the stewardship of the Prison Service. On balance, I have no problem with privatising prisons providing careful and regular auditing of conditions and internal management is conducted by an independent authority directly answerable to Government. | Michael |
| The private companies have no empathy whatsoever with NZ prisoners — money and cost savings for more money is their only goal. | Alan |
| Too prone to outside influences in my opinion. | Colleen |
| I would add a lay inspectorate independent of government to visit prisons say twice a year and look at whatever they wished to. | Brian |
| | |
| --- | --- |
| There has been virtually said about. Govt run prisons but the same or worse will be taking place in those. Anything Govt run…..compare the Cook strait ferries, bluebridge runs at a profit (not Govt Run) and every sailing of Interislander costs the taxpayer a subsidy. Let Setco run the prisons but harden up on the inmates. | Carolyn |
| Giving the job of running our prisons to the lowest tender, as will probably occur, means that either the prison is understaffed or the staff are underpaid. Either or both these factors will lead to problems within prisons and problems once so-called rehabilitated prisoners are released. These problem will be dealt with by government employees, negating any cost savings in this system. The Police and the prison facilities should be far more closely integrated to ensure more diligent monitoring of prisoners who have served their time but are unrepentant and hence like to reoffend. However, the wall at the top of the cliff is in the education system, and far more commitment needs to be shown to educate and guide potential offenders, who can be diagnosed by teachers as early as 5 or 6 years old, to prevent offending in the first place. | Alan |
| I don't have any anecdotal data on this to make a qualified decision but generally speaking, I feel that government departments are over-staffed and filled with incompetent bureaucrats! | Rayward |
| Anything run by the state is invariable a shambles with the management empire building and costing more thsn private companies. | Aunty Podes |
| Personally I can't see any problem with a private contractor running a prison. | Roger |
| Perhaps a random inspection system would prevent the disgusting & unacceptable behavior that has recently come to light. Stupid decisions by those in authority including some judges are a far bigger problem overall. Teaching a productive, honest life-style, to break the repeat criminal cycle has to be top priority, no matter who runs the prisons. No reason why private operators can't achieve this. | A.G.R. |
| Private sector has poor record and simply walks away from its responsibilities with little accountability to be replaced by yet another 'cut cost maximise profit' merchant. | David |
| As with any enterprise puting the correct drivers in the right place will produce superior results to a Union bassed monopoly. | Win |
| These leaches feed off the misery of others for a profit. Their job is to keep that profit coming in. Cerco is for themselves and not for the benifit or saftey of the public or inmates. | Ron |
| A private operation will always operate in a more efficient manner and because it is accountable for the operation and under the threat of some form of financial punishment if it is found to be wanting so it will always provide a better return for taxpayer dollars spent. The current campaign being waged against Serco is purely a Union and idealogical driven one and has nothing to do with whether it is more efficient and effective than a Government controlled operation. | Allan |
| I am not especially opposed to the possibility of the private sector running prisons, but clearly the experience at Mt Eden is not reassuring. | Robin |
| I have no problem with serco running a prison so long as they are accountable. I do have a problem with idiot judges hanging out pathetic sentences to lowlife scum that have usually committed hundreds of offences and have destroyed thousands of lives, parole boards letting out these scum, back onto the streets to re offend. As an ex corrections officer, I know that prisoners get away with doing drugs, dishing out beatings and so much more. The Government is to blame for all of the re offending including all 2nd time murderers. Doing half a sentence dosnt work, but the death penalty will. No second chances for any scum. The same problems will keep on happening if all prisons are under govt control. Do you think Singapore would give criminals under floor heating … when hell freezes over! | Des |
| I don't think it matters who runs prisons as long as they are well managed. Repeat offenders need to be dealt with more harshly each time they reoffend. Instead of parole, how about penalties for those who offend while inside in the form of time added on? Retraining of offenders is a great idea, education is the key to stopping them going back inside. There will be those who just can't or won't be reformed, they need to be locked up & the key thrown away. | Dave |
| More tax money going out of the country.We need to take control. | Robert |
| Private secter every time Govt departments could never run anything efficiently. | Clark |
| New Zealand Society has a stake in the outcomes of our prisons. They should not be cash cows for private companies. | Graeme |
| We would prefer to see high risk prisoners boarded out to Indonesia no doubt a very reasonable rate could be negotiated. | Robin |
| Why do wardens have to even have any touch with the Bad Boys of prisons, they should all be montiered by CCTV no contact with Wardens untill they have proved they are willing to change, Build the prisons at Wairoua & let the Amy, Navy, Air force, Military Police run the prison & police trainers go there for 3 months to lean what to do with prisinors, we have become too PC. | Geoff |
| Private sectors clearly have no idea about running a prison. leave to people who know how to manage prisoners. | Rhys |
| If they can provide a better outcome I would be in favour. Having been a visitor to prisons over a number years and seen too many wasting their lives with nothing to do. They need some motivation but others are comfortable to be in the system when they get out can't wait to get back in again. | Russell |
| It's people that run the prisons regardless of whether they are public or private. | Warren |
| I qualify my vote in favour by adding, "if it can be made to function as a positive going concern, under the Governance of the NZ authorities. | Maggie |
| Where does the BUCK STOP. | Harry |
| The private sector would be running the prisons on the razor edge, Low wages, Low staff numbers, and a non care attitude about what they turn back out into the community. All they see is the almighty dollar. | Wayne |
| Only with strict auditing/monitoring in place. Serco have a poor reputation [just google them!] Find someone competent. Current Minister of Corrections is incompetent as are senior Ministry of Justice Bureaucrats. | David |
| Current situation speaks for itself. | Terry |
| Government are a costly way of doing anything. | Greg |
| Service Company profit is Theft of taxpayer money. Efficient management is the solution to public service waste. | John |
| I'm not sure I can trust these particular contractors! | Cyril |
| It's time we took our heads out of the sand and looked directly into the real issue, how do you change the behaviours of violent and deviant offenders. Its not who runs the prisons, but the need to retain prisoners until they PROVE they can be trusted and have the will and intent to maintain a humane lifestyle and willingness to be proactive, productive, law abiding members of our society before they are released, not theoretically re-habilitated because they have adopted religion. | John |
| Look what has happened since this was done – says it all !! | Elayne |
| I think it is a good idea for the private sector to run prisons, but they need to be able to do whatever is necessary to control those residing in the institutions and to make them do what is required of them. It would be impossible to coerce some of the inmates to abide by prison rules without the freedom to make them do what they are told to do. Prisoners have far to many rights and far too many opportunities to "call the shots". This is obvious by the number of prisoner complains that take up large chunks of Government chargeable time with their complaining and whingeing. My definition of chargeable time is any time anything that requires someone to do something that is then charged to the taxpayers of NZ. | Dianna |
| | |
| --- | --- |
| The proper function of a government in a free society is the police (including prisons), defence and law courts. The private sector should be running, universities, hospitals and welfare institutions. | Don |
| I was in favour of private operators up to the latest debacle. Serco appear only to be interested in collecting the money rather that doing the job. Our own Corrections Dept in my opinion are incompetent. Why does Govt not appear to specify minimum numbers of warders to be own duty and actually do supervision. Or does that make the job too expensive! | Ron |
| Opposed because it is a state responsibility, and should not be run by an organisation capable of making a profit. | Ron |
| I'm not really concerned who runs the prisons as long as they are run efficiently and like a prison not a 4 star hotel. Unfortunately the PC do gooders will be out in force demanding these crims get everything they want and to hell with the victims of crime. | Stevo |
| Although I totally support private enterprise ,management of prisons is not an activity that a 'for profit' non governmental entity should be involved in . Management should be under DIRECT Ministerial control. | Hylton |
| There are certain societal institutions which – IMO – should be controlled/managedbygovernment-only – i.e.,State – NOT private-for-profitorganisations. These include as well as prisons, at least education, health & welfare. | Isabel |
| High risk offenders, sex or physical, should be permanently placed in prison. Murders aught to be hung. When we had capital punishment NZ had one murder a year, since murders were given more rights than their victims more than 300 innocent NZers are murdered each year. I say murders should be made to have the same rights as their victims, hang them. This would prevent so many repeat murders and save the taxpayer millions in prison costs. | George |
| This is a societal obligation, like the court system. I believe The death penalty needs to be available as an option & cost lowering tool. 20-50 yrs @ $40k is stupid ! | Bill |
| For the Government to contract any significant activity our to foreign based service providers is a big cop out, New Zealand should and in most instances can provide as good a service as any off shore Company and we – NZers – need the work. | Peter |
| Direct responsibility of GOVT. | Tim |
| Serco and other providers of services that were once Government responsibilities are there for one reason only and that is to make money for themselves and their shareholders. Any NZ government should be able to provide a better service at a lower cost . | Steve |
| Serco. Such a great record of efficiency, all around the world!!! | Andy |
| Not a suitable institution to be run by organisations to make a profit. Security of these people should be the prime factor. | Colin |
| Whenever there is a profit to be made, profit will trump efficiency and safety every time. | Kenneth |
| No system is perfect, but when money is the deciding factor, corruption is inevitable. | Joanne |
| We need to be one nation. | Marian |
| Opposed in principal to the idea that what is clearly a public sector activity should be contracted out to a private company which must have the profit motive and returns to shareholders a prime reason for existence. | Peter |
| As long as they are externally audited regularly they couldn't be worse than the public sector. | Glenn |
| As long as the Private sector is monitored until it proves to be reliable. | Mary |
| Logical. | David |
| In favour | John |
| They will always see it in terms of making a profit. | Sheila |
| Provided that the Government sets strict standards and conducts regular performance checks. | Peter |
| While Serco's performance hasn't measured up to date, if there is the incentive to get reoffending down below other prisons then ultimately it will be worth while. The publicly run prisons don't seem to have had a particularly good success rate to date, or we wouldn't have so many reoffenders. | Ted |
| This one and lots before it are a valid reason for the death penalty, no more mucking 'round with these bastards, finish it, do the planet a favour. | Barry |
| This is at lest the better of the two | Lance |
| The conditions in prison is better for many Crims than living outside it. So where is the deterrent to stop committing crime? | Valentina |
| Not fussed about prisoners. They lost their rights as soon as they offended…. | Graeme |
| Because of Serco's overseas record of failure to run prisons properly, it is a no brainer. Why would anyone employ such a firm, they are only in it for the money. | David |
| As long as the private sector are doing the job well I don't have a problem, however, I believe that the government should be closely overseeing them which they don't seem to be. | Beryl |
| They have more to lose if they fail. | Chris |
| Once again the profits from running the prisons gos of shore from new zealand this country is so far in debit it will eventualy have to pay it all back but we dont have the resorces to repay it anyway. Another third world country is looming. | Jim |
| Don't mind either way, would presume there would be same procedures for whoever was running them. | Robert |
| A penal system, where offenders have committed offences against state imposed laws, should have common standards of practice as the responsibility of government. | Andrew |
| | |
| --- | --- |
| Absolutely the private sector should be contacted to run government services – the more the better! | Pamela |
| The problem with prisons is the unions. If private contractors get rid of the unions, then that is a step towards better performance. | Graeme |
| So long as contracts are well written with penalties for poor performance, I say the more private sector involvement the better. | John |
| The private sector should be running prisons, schools, hospitals, and welfare services as well. | Thomas |
| I don't trust the Labour Party over those allegations at Mt Eden. It would not surprise me to hear that some of the problems – fight clubs etc – were orchestrated by the unions. | Harry |