October 21, 2018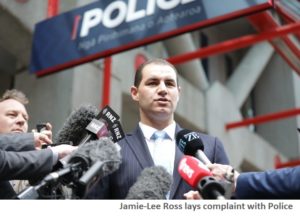 The political media love controversy. There's been an abundance of that ever since Donald Trump was elected US President – but over recent weeks, there's been plenty here as well.
What effect media controversy has on the way people vote remains to be seen.
A good indication of whether voters are overly influenced by scandal, or whether they realise that politicians are human too and ignore their failings to vote on performance, will be the US midterm elections. As this week's NZCPR Guest Commentator, political columnist and executive director of Milford Asset Management Brian Gaynor reminds us, they are on Tuesday November 6th:
"The consensus view is that the Republicans will continue to hold the Senate, with the Democrats having a better than even chance of regaining control of the House.
"As senators have a six-year term, either 33 or 34 seats are up for election every two years. The Democratic Party has 24 Senate seats up for grabs, the Republicans nine seats and the two independents, Bernie Sanders and Angus King, are also up for re-election.
"House of Representatives members have two-year terms, with all 435 voting seats being contested next month. ABC News is predicting that the Democrats have a 74.5 per cent chance of winning House control, although those odds have fallen slightly in recent weeks."
Brian believes that President Trump's impact on the US economy and financial markets has been positive to date. In trying to do what he promised – lowering taxes, draining the 'swamp', and supporting US business growth – the economy is strong, and the country's unemployment rate has dropped to just 3.7 percent, the lowest rate since December 1969. There are, however, major challenges ahead, especially if control of the House or Senate is lost.
Back in New Zealand, it's the National Party that's been creating the controversy. Here's how the Jamie-Lee Ross saga unfolded.
After Bill English resigned as National's leader following the 2017 General Election, Botany MP Jamie-Lee Ross threw his support behind Simon Bridges in the leadership contest. It has been reported that in exchange, he had a number of conditions: a position on the front bench, Shadow Leader of the House, Chief Whip, a seat on the Party's Board, and being in charge of party polling.
Only Simon Bridges and Jamie-Lee Ross will know what assurances were given, if any, but in the post-leadership reshuffle, Jamie-Lee Ross was promoted to the front bench.
There is speculation this did not satisfy Mr Ross.
When Simon Bridge's travel expenses were leaked to Newshub's political editor Tova O'Brien in mid-August, suspicions initially centered on the Office of the Speaker. Simon Bridges called for a public inquiry and two days later, Speaker Trevor Mallard announced one would be held, run by former Solicitor General Michael Heron QC.
But the next day, the Speaker, Simon Bridges, and Tova O'Brien all received an anonymous text from a person claiming to be a National MP and the leaker, pleading for the inquiry to be called off on mental health grounds. They said being publicly exposed could put their life at risk.
The matter was referred to the Police, who subsequently located and spoke to the leaker, but refused to disclose their identity to the Speaker or Simon Bridges.
With the inquiry still going ahead, Jamie-Lee Ross passed the information about the leaker's text and their fragile mental state onto a Radio New Zealand journalist in the hope that publicity would force the inquiry to be abandoned.
While the public inquiry was subsequently called off by the Speaker, he nevertheless asked an audit firm to undertake an investigation in order to clear his name and that of his staff. KPMG found no evidence that the Speaker, his staff, or Parliamentary Service's finance and corporate staff had leaked the expense details. Parliamentary staff in the offices of National MPs, were not included in the investigation.
Simon Bridges was also not satisfied with the identity of the leaker being withheld, and asked Price Waterhouse Coopers to conduct an inquiry for the National Party.
It was during this period, that four women chose to come forward and accuse Jamie-Lee Ross of inappropriate behaviour. The pressure caused a nervous breakdown, and he took leave to deal with 'personal health issues'.
The results of the PWC inquiry were released while Jamie-Lee Ross was on medical leave. While it did not conclusively identify the leaker, since there were no records of anyone contacting Tova O'Brien, it said the evidence pointed to Jamie-Lee Ross as the leaker.
Jamie-Lee Ross has continued to claim that he is innocent and did not leak the travel expenses.
However, with the inquiry identifying Jamie-Lee Ross as the possible leaker, and more allegations of affairs emerging – including a long term relationship with a fellow married National MP who media have chosen not to name – Simon Bridges asked Jamie-Lee Ross to resign.
Jamie-Lee Ross perceived the request as an unfair attempt to pin the blame for the leak onto him, and decided to fight back. He released details of a taped phone conversations with Simon Bridges involving donations, which he alleged showed the leader had engaged in "corrupt" practice.
Jamie-Lee Ross initially announced he would resign from the National Party and Parliament and fight the by-election in his electorate as an independent, but later decided to stay on in Parliament in order to root out the "rot" in the National Party and bring Simon Bridges down.
National is still weighing up its options. If they tried to enforce the new Electoral (Integrity) Amendment Act to remove Jamie-Lee Ross from Parliament, they would face on-going accusations of hypocrisy, having vehemently opposed the Bill when it was going through the House. In addition, to trigger the new law, they would have to show that his expulsion from the Party changed the proportionality of Parliament – which, if Jamie-Lee Ross chose to vote in the same way as National, could be difficult.
Meanwhile, after a "a very real situation" developed over the weekend, Jamie-Lee Ross was taken by the Police to the mental health unit at Middlemore Hospital. Under the Mental Health Act, a person can be sectioned to a safe place against their will and given treatment if their safety is considered to be at risk.
He has now been discharged from Hospital under a care plan, and is staying with friends.
Under these circumstances, it is unlikely that there will be any further developments in this saga for some time.
Meanwhile, the allegations that Simon Bridges breached the Electoral Act over a $100,000 donation are now being investigated by the Police.
Any action would be deemed to be unlawful if a person wanting to give a political donation to a party of over the $15,000 disclosure cap was advised to split the sum up into smaller lots to avoid having to register their name. The disclosure cap for donations made to an electorate is $1,500.
There would similarly be wrongdoing if donations from a single donor were submitted in smaller lots under other people's names, to get around the disclosure rules. But it is perfectly legitimate for donors wishing to remain anonymous, to encourage others to contribute towards a pledged sum, as long as each individual's donation is under the cap.
Controversy over donations is, of course, not unknown in New Zealand politics.
Back in 2008, reports emerged of donation irregularities involving New Zealand First that resulted in two investigations – one by the Serious Fraud Office and the other by Parliament's Privileges Committee. While the Privileges Committee found that Winston Peters had knowingly filed a false return, when he failed to declare a $100,000 donation from Owen Glenn, the SFO found there was no basis for fraud charges over two other large donations. The controversy no doubt contributed to New Zealand First failing to reach the 5 percent threshold for Parliament at the election.
In 2006, Prime Minister Helen Clark was found guilty of wrong doing by the Auditor General over donations worth $885,000 – including using taxpayer funding for Labour's election pledge cards. The money was eventually paid back, with Labour not only passing legislation to legalise their actions, but also changing the law to extend the 'regulated period' for the 2008 election, from three months to the whole year, in order to silence criticism over the misuse of public funds.
Maori Party co-leader Tariana Turia claimed her party had been offered $250,000 in campaign funding by a wealthy business man who lived outside of New Zealand – if they agreed to support Labour after the 2005 election. Offering a financial inducement to a Member of Parliament in an attempt to 'buy' the Government, breeches Section 103 of the Crimes Act, which states: "Every one is liable to imprisonment for a term not exceeding 7 years who corruptly gives or offers or agrees to give any bribe to any person with intent to influence any member of Parliament in respect of any act or omission by him in his capacity as a member of Parliament." No Police complaints were ever laid.
Meanwhile the Green Party is using this latest National Party donation scandal as an opportunity to call for increased state funding for political parties. While taxpayers already pay the salaries and expenses – including travel – of campaigning MPs, along with a substantial broadcasting allocation, the Greens – and now it appears, Labour – want more.
So what is the fallout from the political controversies of the last few weeks?
Firstly, the tape recording between the National Party leader and Jamie-Lee Ross raises questions about donors 'buying' influence, civic honours, or even list candidates.
While we know that Labour and the Greens have a female quota – equal numbers of female MPs and Cabinet Ministers to males – there is now a suggestion that National may have quotas of 'token' MPs to appease ethnic voting blocs.
However, probably the most damaging disclosure was Simon Bridges' shocking comments about his colleagues, in particular, describing Maureen Pugh – a former West Coast counsellor and Mayor – as a "f—ing useless MP". While his indiscretions appear to have been patched over, in all probability, all members of National's Caucus will now be wondering what their leader says about them behind closed doors.
And regarding public opinion, the latest Colmar Brunton poll, which was undertaken during the controversy, shows, that at this stage, National's support has not been too badly damaged, dropping by just 2 percent to 43 percent. Labour increased 3 to 45 percent, the Greens rose 1 to 7 percent, New Zealand First was steady on 5 percent, and ACT did not register.
When it came to the preferred PM stakes, Simon Bridges fell from 10 percent to 7 – his lowest rating since becoming leader – while his colleague Judith Collins rose 3 to 5 percent. Jacinda Ardern was up 2 to 42 percent, and Winston Peters dropped 1 to 4 percent.
Crucially, when asked how Simon Bridges had handled the saga around the travel expenses leak, 51 percent said it made no difference to their perception of him as leader, 38 percent felt less positive, and 2 percent were more positive.
Whether public confidence in Simon Bridges' potential to become Prime Minister has been permanently damaged remains to be seen. If it has, then the show of Caucus solidarity behind him will start to dissipate as possible successors begin to jockey for favour.
However, it is important to remember, that while politics can be an extremely brutal environment, it can also be very forgiving. With hard work, MPs are able to rehabilitate themselves and come back to fight another day.
And for National, surely it's time for a reality check. The next election is not far away, and while the party needs to be strong in holding the Government to account, it must also focus on developing innovative policies that deal with some of the deep concerns of voters – such as standing up for the rights of individuals against the rising tide of collectivism, pressing for equality instead of increasing racial division, and curtailing the excesses of regulations and costs that are now holding back Kiwis and preventing them from getting ahead.
THIS WEEK'S POLL ASKS:
Do you agree with Labour and the Greens that taxpayers should fund the election campaigns of political parties?
*Poll comments are posted below.
*All NZCPR poll results can be seen in the Archive.

THIS WEEK'S POLL COMMENTS
| | |
| --- | --- |
| This would mean that we, the public, could not get rid of parties, no matter how much we might disagree with their policies. | Sylvia |
| I don't really know. We have seen the effects of the million dollar plus donors in USA and the kickbacks they want for their donation otherwise they wouldn't donate. President Trump campaigned on the fact that he paid almost all his costs himself so isn't beholden to anyone. But they only have 2 main parties. In NZ we get all the loonie parties putting their names forward so the answer is "set up a system, put it out for public comment and then gauge the reaction" If there are kickbacks to N Z political donors we need to eliminate it. | Mike |
| They have to work for the chance to be re elected | Willy |
| | |
| --- | --- |
| Definitely not. The get enough from the taxpayers trough already. | Martin |
| Parties seeking election should raise their own funds to pay for their election campaign, otherwise there will be many more groups jumping on the gravy train to have a say. We have too many as it is now. Although there probably needs to be restrictions and rules on disclosure information for large sums this aspect could be looked at to avoid the present silly situations and arguments that waste time, effort and money. | Chris |
| How much more do they want, let us reduce the number of MP's as was required when MMP was proposed! | Peter |
| Not only do we NOT want to fund election political campaigns but the Green party needs to booted out of parliament for jeopardizing our economy and their other deeply dangerous socialist policies. Not one of their members has been voted in by the public. Mike Williams, ex Labour president, be damned for saying on Breakfast TV he wants it.. We are now in the fight of our lives whether we want a New Zealand or some socialist state! | Monica |
| Enough has been committed to election campaigns from the tax payers | Marilyn |
| The useless do not get any more they need to prove they understand the job . | Barry |
| It's total rort, and bureaucratic theft of taxpayer funds! | Denis |
| god no, there's enough pigs in the trough without adding more, they could use the money that they give the bunch of half castes instead as that would keep them in clover until they fall of the perch. | Richard |
| No. But we need to reinforce a culture based on truth and integrity where people can trust that the politicians respect the law. | Reni |
| Why should we continually feather Governments nest egg? They were voted in to do a job on the finances in place…(though seems that said finances are going down the plug hole rapidly and we subjects are propping it up with continual rises e.g. Fuel, food etc… | Marylin |
| If politicians wish to govern then they should get out there and earn their way to power on their own finances. They seem to be rather free and easy with taxpayer money once elected. | Elizabeth |
| No, never. | Sam |
| No way politics must be paid for by mugs who support which ever bunch of clowns are in power or trying to get in | Ian |
| If taxpayers were to be lumbered with this cost, it would mean more taxes on the majority of people who don't get near what sitting members receive anyway; – together with the fact it would make a very uneven playing field for a party wanting to break into the system. | Ted |
| A vehement NO, the Political Parties screw enough out of the average taxpayer already. If the Campaign funding should become taxpayer provider, it would rapidly ramp-up out of control – eg. the thievery being accepted via the Waitangi Tribunal ongoing bioased continuance. | MervB |
| Absolutely not ! | Craig |
| Absolutely not. Pay their own or out of party funds. | Graeme |
| | |
| --- | --- |
| With strong caps on how much is spent. Hundreds, not thousands, of dollars. | Peter |
| Can you imagine how much entitlement these pathetic nobodies will consider to be worth? | Rex |
| Definitely NOT. | Carol |
| We already pay their salaries and travel costs which appears at the moment to be a complete waste of money. | Linda |
| The poor old middle income earning kiwi gets hit again. | Linda |
| Imagine how the left wing would react. IT would be the worlds biggest spending spree | Tony |
| Bloody cheek | Brianb |
| The best way to eliminate wealthy patrons whose interests do not ensure kiwis get honest government. But there needs to be a cap on how much political parties receive based on how many votes they had in the previous election. | Charles |
| A big resounding NO!! They get enough from the taxpayers as it is and they should be responsible for their own election campaigns. I can't think of anything more repugnant than my money going to help a Party I did not like get into power. | Helen |
| We already do that. | Brian |
| Just another tax | Charles |
| | |
| --- | --- |
| No bloody way. | Clark |
| No no no … trough feeders!! | Maddi |
| Yes but only if the Parties were given equal funding, private funding and Govt control of Party favourable TV appearances and etc. banned because it is unfair. | George |
| Absolutely NO. | Rob |
| Of course and at the same time increase the number of MP's to 200!! | John |
| It has always been the party responsibility to raise funds. The left have always been poor at this, and would like the taxpayer to fund them. | John |
| I'd rather cut my own throat than bankroll any party of well heeled freeloaders! | John |
| I am fully behind this organization but do these polls actually have any affect on the situation? | Donald |
| Thanks for full information on the JLR saga. | Ian |
| Absolutely not. Political parties, MPs and staff are well enough funded as it is. Private donations to political parties and what other incomes they have are quite adequate. | Ron |
| Not surprising, the FREE RIDE LEFTIES expect every-body to pay except themselves. Apart from donations from supporters, no public money should go to any political Party, no matter how big or small that Party happens to be.. | A.G.R. |
| Currently campaigns are funded by lobby groups and individuals who have agendas that can and do lead to corrupt practise. | John |
| NO,How about putting a LEVY on all the politicians to pay for their own futures. | Athol |
| That way no body can expect favours. | Anne |
| It will become another trough at taxpayer expence | Tony |
| They all cost TOO MUCH already. | Mark |
| Yes, with increased air time on public broadcasting for ALL parties and no private donations. Funding should be equivalent to number of electorate MPs standing. Not list MPs. | Tessa |
| Why should they | Phil |
| Taxpayers already pay a surplus number of MPS — it needs to come out of their salaries — Imagine if it was Hitler and Nazi party – as a taxpayer i would be guilty by association — | John |
| We contribute enoough now. | bev |
| Politicians get paid enough to fund their own election efforts! | Mark |
| Definitely not. It's bad enough the amount already allocated through salaries and travel by Ministers, MP's, and staff.!!!!" | Joe |
| No, no, no! Needless to say, taxes are not voluntary donations; they are taken under the threat of force without one's sanction and distributed to all parties without individual taxpayers' approval. Just another aspect of statist collectivisation. | Don |
| Never There will always be people willing to donate large sums of Money to political parties to try and influence their policies. Unions for Labour and Businesses for National and Act They will always be looking for ways to get around regulations and stay anonymous. Why should the taxpayer pay for their campaign advertising They pay enough for their travel and other costs already | Colin |
| Certainly not. Presumably under this proposal political parties would be given tax payer funds according to the last election percentage vote. This could have the affect of perpetuating a poor performing government. Like everyone, they should have to work for their funding. | Keith |
| OMG, is there no end to the socialist raiding the taxpayer purse? Do they want total control of our lives? | Geoff |
| On the basis of election support | David |
| Absolutely NOT. This is a thin end of the wedge idea that would lead to domination of politics by parties largely without support. Popular support is vital for democracy. | Roger |
| Funded proportionately to the nuber of electorates in which they are standing a candidate. A token amount relative to the ridiculous expense incurred now with TV and mass media promotion of their policiies (few of which see it into legislation ). Eliminate foreign contributions and Big Business, none of whose support comes without expectations as has been well demonstrated. | Bill |
| Absolutely No: this would be atrocious and disastrous – leading to MORE deceitful money management. It's our money. Under the present MMP system many unelected self serving 'list' politicians will bring our demise. How many of them have experienced real life – against their dream world of say climate change/global warming/projected rising sea levels. Increasing CO2 is, repeat is generating more green growth thus directly increasing green production i.e. more food for the hungry. | Stuart |
| Another ridiculous suggestion from the radical left. Amounts to free advertising of their election bribes. | Richard |
| Yet another attempt by the left to put their collective hands in our pockets, for our own good 🙁 | John |
| Taxpayers are constantly propping up everything while MPs continue to suck them dry. They who run our country should back off and not be so dam greedy. Think of their fellow Kiwis and share more. | Barbara |
| Definitely not. exactly what the fringe weird type parties want. No way in the world. If the greens vote for it, you know its wrong. | Dene |
| It would unbalance the situation, giving the sitting mp's an advantage over other candidates. | Denis |
| But all donations should be clear from where they come from. | Cherryl |
| Their low income streams are a reflection of their appeal to voters which should not be artificially inflated by tax dollars. | Peter |
| | |
| --- | --- |
| Political parties themselves should be the funders. We the taxpayers pay their wages on election. Has worked well todate. Remember, if it's not broken don't fix it. | Dennis |
| Wasters, destructive idiots, | Ian |
| No Way I also suggest that LIST MP's are also paid out of the Party fund's. | Carl |
| A BIG emphatic NO!!! Political parties aren't accountable to taxpayers now, and in no uncertain terms should tax payers fund their election campaigns! What a joke! | Steve |
| No way. The MMP system necessitates all Parties to raise their own support be it financial or voting. Taxpayers are already burdened with a third world grade of politicians as led by Ardern and her rabble of sheer incompetence and dishonesty.NZ taxpayers are at the mercy of this rabble and are suffering at their arrogance and extravagance.Would the real kiwi please stand up and be counted next election | Don |
| Raise their own bloody campaign funds!!! | Tony |
| How could the tax payer possibly afford to fund political campaigns? There wouldn't be anything left over for our Maori friends gravy train. What a gong show! | Mike |
| You've got to be joking with the quality of no hoppers standing now it would be 100 times worse | John |
| No! Don't support the beggars any more than at present. They already get more than they deserve. | Ron |
| Total waste of funds…. | CHowes |
| Sorry, no feee lunches! If the Parties policies are good and attract support, the public will get behind them with money. | Hugh |
| If they cannot get elected as 'honest" poli s then thy should not be helped over the winning post with heaps of public momney | Rob |
| Seems to be a code for yet another burden on the NZ taxpayer – a political party tax! The introduction of such a measure is not only an assault on the unwilling to give to something in which they do not philosophically believe nor in any way to support, but also attacks the fundementals of democratic freedom of choice to support or not to support a poitical party. | Andrew |
| Definite no. I believe, to be completely above reproach that every donation to a political party should be on public record. | Neil |
| Bloody Labour and these Green price idiots can sod off with their impertinent demands. They have ( again) revealed their real intentions. And the general public is still getting fooled by two face jacinderella. As far as National is concerned: I only can recommend that they get rid of this price idiot SB and put Judith Collins in charge. Second– that they stop bending over backwards to all this politically correct bullshit ( ie gender and ethnicity balance of MP's) This is about skill and performance — nothing else counts if it comes to politically represent a constituency.. | Michael |
| Obtaining funding from donors is an essential part of the selection process. If there is no confidence in a party before the vote, that party will have difficulty fund raising. By forcing public funding a lot of money is going to be wasted on bizarre parties that have no real public support. | Alan |
| No way! The current system whereby dodgy shysters can offer seats to infiltrators in exchange for cash is working perfectly. It has enabled us to add a spy trained by the CCP to parliament which not only bolsters diversity but also adds crucial espionage skills! | Trevor |
| Greedy fools | Ian |
| Bugger off, this smacks of the 1950s socialist agenda, same as the first labour gov't tried to bring in central buying and selling of our products. Socialism has never worked anywhere in the world it has been tried. Ray Stevens had a song called "kick the bums out", but what do we replace them with, not these pack of clowns sitting across from the present pack of clowns in power at the moment. | Sam |
| I don't want big money "special interests" buying elections by swamping the electorate with propaganda like in the US. Force the voter to vote on the issues. | Robert |
| The Governments are so friendly with the China and letting China take over this country. Let them ask China to fund their election campaigns. China seem to be giving these parties plenty of money in back handers. New Zealand is being sold out to China. shit heads they all are. | Robert |
| Taxpayers should not fund a bottomless pit and this idea just adds to their burdens. The correct legislation can control the funding of political parties. | Ian |
| They sponge enough off us all ready.. | Don |
| These people haven't got a clue about economics, and no respect for the tax payers of this country, they have to go! | Merryl |
| Salaries of the MPs should be reduced in order to cut down the cost of running our goverment to the public. Our PM is close to the top of the list of paid head of states in the world which is unsustainable for the size of economy like NZ. There is very little fiscal responsibility within the NZ government and there is hardly anybody to hold them accountable. | Mladen |
| To much tax payers money gets wasted on elections now let the fund themselves why should the tax payer be fronting up for a whole lot of useless people | Russell |
| Hell NO! | Simon |
| Certainly not!. | John |
| How Absurd. | David |
| This move is another socialist attempt to undermine the traditions of New Zealand's democratic process. It must be opposed at ever level | James |
| | |
| --- | --- |
| Absolutely not! No way should taxpayers pay for party campaigning. What a revolting idea! | Dean |
| No No No No No. | Geoffrey |
| Political parties should raise campaign funds themselves. We should not pay any more to MPs. We already pay more than enough. | Rebecca |
| Calling for more public money for campaigning is a disgrace. If they were to try to get it we should have a taxpayer revolt! | Andrew |
| The greed of left-wing politicians knows no bounds. Surely we have a right not to have to fund the propaganda of parties we vehemently disagree with trying to fool people into voting for them. The whole idea is sickening. | Susan |