March 24, 2019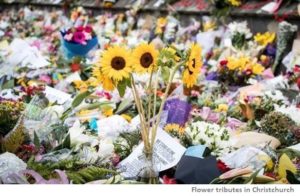 New Zealanders were shocked and horrified by the tragic events in Christchurch where 50 innocent men, women and children were mown down by a deranged Australian gunman as they prayed. The outpouring of national grief and support for the families and the people of Christchurch has been remarkable – a tribute to the kindness and generosity of Kiwis.
What is disturbing, however, is how the matter is now being politicised. The emotions of those in shock and grieving are being exploited by political opportunists and radicals.
This week's NZCPR Guest Commentator, freelance journalist Karl du Fresne, explains that in the days following the shooting, as Kiwis were responding with an outpouring of grief and compassion, an alternative narrative started to emerge:
"According to this alternative narrative, we are a hateful nation of racists, white supremacists and Islamophobes.
"Not only that, but the massacre was no surprise. A sudden outburst of violent race hatred was bound to happen. Rather like the cataclysmic earthquake we are constantly warned to be prepared for, it was not a question of if, but when.
"It was, we were told, the inevitable outcome of a society which condones hate speech."
It is now accepted that the atrocity arose from the actions of a single person acting alone, who, it appears, had little regard for white supremacists.
Despite this, radical Maori sovereignty activists are now using the tragedy to claim that anyone who doesn't support their agenda – which is no less than the co-governance of New Zealand – is not only a racist but a white supremacist as well.
It was reported that people walked out of a vigil held in Auckland last Friday for those killed in the attack, because the speeches were all about racism, colonialism and white supremacy, instead of being about the victims.
A spokesman for the event, which was jointly-organised by Migrants Against Racism and Xenophobia (MARX), Racial Equity Aotearoa, Shakti NZ, Asians Supporting Tino Rangatiratanga and Auckland Peace Action, defended the speakers: "This was perhaps not the Pakeha-style vigil some people expected. We chose to centre the voices of people who have been most affected by white supremacist terrorism. Perhaps for the Pakeha who left 'in protest', this beautiful show of solidarity between tangata whenua, Muslims and migrants of colour is what threatened you the most."
The Green Party co-leader Marama Davidson MP, who also spoke at the gathering, added, "New Zealand was founded on the theft of land, language, identity and the mana of tangata whenua."
While the killer is widely described as a 'white supremacist', he has identified himself as an 'eco-fascist'. An ardent admirer of Communist China, he has been heavily influenced by the scaremongering of extremist environmentalists who claim that humans are destroying the planet through overpopulation and climate change. This led to his obsession with population control and the impact that the mass migration of people with high birth rates is having on the culture of the countries they are settling in.
But while Green extremism was a factor fuelling the delusion that led to this terrible tragedy, the killer wanted his attack to result in a knee-jerk crack-down on law-abiding gun owners. He believed that if the New Zealand Government forced through a hasty and unjust change to gun laws, they would trigger a chain reaction that would reverberate around the world.
In her statement to Parliament about the attack, the Prime Minister said, "There is one person at the centre of this terror attack against our Muslim community in New Zealand. A 28-year-old man, an Australian citizen, has been charged with one count of murder; other charges will follow. He will face the full force of the law in New Zealand. The families of the fallen will have justice. He sought many things from his act of terror, but one was notoriety, and that is why you will never hear me mention his name."
To say the gunman wanted notoriety is a gross over-simplification. His primary motivation appears to be to galvanise the anti-gun lobby into action. His main target was the United States, where the right to bear arms is guaranteed by the Constitution. He wanted to generate such a massive conflict over gun ownership in that country, that it would divide America and lead to civil war, balkanizing the US and destroying their global power base.
By swiftly announcing a New Zealand ban on military style weapons with immediate effect, Jacinda Ardern's Government is doing exactly what the killer wanted. If law changes are forced through under Parliamentary urgency, before the real problems have been identified – for instance, whether the gunman took advantage of laws that are inadequate, or whether he broke laws that are poorly enforced – then the Prime Minister will be doing the country a grave disservice by changing the law based on speculation.
That's why the proposed changes to our gun laws should be postponed until the Royal Commission of Inquiry has identified the exact nature of any problems that exist with present legislation, so that a proper remedy can be designed and introduced.

A robust Parliamentary process, with a reasonable timeframe for public consultation of between four and six months, is essential for good law making. By changing gun laws under urgency to look decisive rather than addressing any immediate threat, the PM will be denying New Zealanders their democratic right to engage in a matter that is of significant public importance.
Putting aside one's views on gun control, protecting democratic rights is an issue we should all be concerned about.

Furthermore, by penalising law-abiding gun owners through hasty legislation that denies them a right to be properly consulted, the Prime Minister will be ignoring an official directive issued in 2017, requiring consultation "with representatives of the firearms community and, where appropriate, the general public on all proposed changes to policy relating to the administration of the Arms Act 1983."
But aside from reinforcing the gravity of the tragedy and giving the public comfort that this will never happen again, is there is an ulterior motive for the Prime Minister's hasty action against gun owners? Perhaps she wants to shield herself from blame if it becomes more widely known that she was responsible for relaxing New Zealand's gun laws in December.
With virtually no publicity, the Prime Minister presided over an executive committee that introduced significant changes to the gun laws late last year. Using an Order in Council to avoid Parliamentary scrutiny, she introduced the Arms (Electronic Transactions) Amendment Regulations 2018, which came into effect on January 20th 2019, to enable anyone applying to become a gun dealer, get a firearms licence, obtain an endorsement for a restricted firearm, secure a permit to buy a military style semi-automatic firearm, or import a restricted weapon, to do so online through the internet.
Until then, anyone wanting a gun permit or license had to physically front up to their nearest Police Station to hand in their application. If the gun they were purchasing had to be officially verified, it then had to be taken back into the Police Station for the check.
As far as military style semi-automatic firearms are concerned, the previous system was rigorous – anyone with an E-category endorsement wanting to buy a new gun, had to visit their Police Station for a permit, show the permit to the seller, and then take the firearm back to the Police for verification.
Under the Prime Minister's law changes, not only can applications for restricted weapons be carried out in relative anonymity through the internet – including the vetting of military-style firearms by video – but an endorsement to own a military style semi-automatic firearm, pistol, or any other restricted weapon, can also be applied for online.
While the Government is unlikely to admit it, it appears that saving money could have been an underlying motivation for the law change. According to a Police consultation document published in January, 76 district-based Arms Licensing Officers and 280 Firearms Licensing Vettors were to be disestablished and replaced with a centralised bureaucracy based at Kapiti.
However, with the link in the document to a Police website for further information about the consultation no longer working, there is every possibility that the restructuring proposal has been quietly abandoned.
If, as reported, the killer used the internet to buy guns, Jacinda Ardern's new law changes may well have contributed to the tragedy. Under the old system, if he had he been required to front up to a Police Station and been interviewed by a Police Officer, in his heightened state, there is a possibility that alarm bells just might have started to ring.

The Government also appears intent on keeping the public permanently in the dark over what really motivated the Australian killer to take the lives of so many New Zealanders.
In an extraordinary step, the Chief Censor David Shanks has decided to ban not only the video of the shooting – a move that most New Zealanders would understand – but also the 'manifesto' that Brenton Tarrant published to explain why he carried out his attack.
Trying to understand why someone would massacre defenceless people – including young children – is crucial if we are to ensure that such a brutal act does not happen again. But classifying the document that provides some answers as "objectionable" under the Films, Videos & Publications Classification Act 1993, means that it is now illegal to distribute or possess a copy.
In light of the gross politicisation of the tragedy – including by the Government – the Chief Censor is doing the country a grave disservice by preventing the public from better understanding what was really behind the attacks. New Zealanders are now extremely vulnerable to the influence of politicians and activists who are making bogus claims to advance their own agendas.
While the Courts have always been loath to restrict the freedom of expression contained in section 14 of the Bill of Rights – which guarantees everyone "the right to freedom of expression, including the freedom to seek, receive, and impart information and opinions of any kind in any form" – the Chief Censor believes he is justified in taking our rights away.
According to Netsafe, this is new territory for New Zealand. Chief executive Martin Cocker says that banning the manifesto is a first for New Zealand. "I don't know of any time in New Zealand's history where the Chief Censor has classified a document of significance, in terms of the number of people who have sought it out. So everything about this is a test – everything about this is new."
The Censor's ban will be enforced by a specialist team operating out of the Department of Internal Affairs, using extraordinarily harsh penalties for any breaches – a prison term of up to 14 years, or a $10,000 fine.
Meanwhile, Turkish President Recep Erdogan has been showing the video of the shooting at his election rallies, where he has also been criticising Australia and New Zealand for sending troops in the First World War with anti-Muslim motives: "Your grandparents came here … and they returned in caskets… Have no doubt we will send you back like your grandfathers."
The Foreign Affairs Minister Winston Peters was duly dispatched to Turkey to clarify matters and stop the President showing the video. But while he met with the President, the video was not discussed and it is still being shown!
While the whole of New Zealand was horrified by the events that took place in Christchurch on March 15, we should not let it undermine our democracy and our right to free expression. Through State censorship and hasty law changes, Jacinda Ardern's Government is trying to disempower New Zealanders and keep us in the dark.
THIS WEEK'S POLL ASKS:
Do you believe the Chief Censor was correct in banning the alleged killer's 'manifesto' explaining why he carried out the attacks?

*Poll comments are posted below.
*All NZCPR poll results can be seen in the Archive.

THIS WEEK'S POLL COMMENTS

| | |
| --- | --- |
| Freedom of speech is paramount for a democratic society to decide, evaluate and determine what is and what is not acceptable. We are slowly being stripped of our rights and freedoms. Governments have no role in restricting our inalienable right to the free flow of information good or bad. | Robert |
| very boring compared to the Unabomber's manifesto (another nutter) and from what i have heard most important parts have been reported on in the msm anyway. But by same token hate speeches by some preachers should also be removed where found and made illegal to view. | Anon |
| This guy must be fired | Norm |
| | |
| --- | --- |
| We as New Zealanders need to be kept informed of all the facts surrounding the reasons for this horrific attack. This country is changing radically and people are being ignorant and muzzled. I am sure it is an attempt to disempower the people. How are we to fight this??? | Marilyn |
| Two key elements to every tyrannical government in modern history began with clamping down on free speech and the disarming of the population. With the unelected Comrade Ardern at the helm, there is legitimate concern for the future of NZ | Allan |
| Everybody should have had access to this information. I wonder if it was objectionable to this government in particular? | Simon |
| thank you for this publication | John |
| It is keeping people in the dark. A further step towards communism. | Jim |
| Ignorance is bliss … | Mal |
| Part of the governments gagging of none leftiest thinking and erosian of free speech | Raymond |
| we have a right to know his motives.NZ isn't really a democracy any more with all the censorship. | Lorraine |
| I don't believe he has the right to do this as it must surely contravene our human rights laws. | Dale |
| With all the conflicting reports about what was in that 'manifesto" I wish to see it for myself and make up my own mind. | Julie |
| We need to know why and make up our own minds | Bev |
| What else do you expect from an extreme leftist like J. Ardern and her Green Marxist cohorts? She is immature, dangerous and is no leader. She looked pathetic in Mother Mary shroud trying to look like a Muslim, then she turns up in a Maori cloak; what religion is she – probably an atheist with her Marxist ideology – what a hypocrite. We need to vote these people out quickly and forever and rub their ideologies into the dirt under our feet. | Monica |
| Leaving NZ is my mandate. Freedom of speech and liberty are more important than fellow kiwis' virtue signalling. NZ is well over done, resisting the socialist marxist crawl is just not worth it anymore. USA low tax state here we come. | Jason |
| No once again parliament is trying to tell us what we can and cannot do or read. | Fraser |
| The banning of the manifesto plays directly into what the gunman hoped to achieve. It also means that more people will want to see it to find out what was so bad about it – just like what happened with The Clockwork Orange. Having more conversations, & freedom to have these conversations without threat of prison or fines or losing our jobs, is the only way to actually prevent this from happening again. When people don't feel listened & they are banned from everything then at some point they will break & it will lead to a violent outcome – not what we want at all! Let's talk about it & have free access to it so we can learn from it & not sweep it under the carpet. | Andrea |
| I don't want to be treated like a child. I want to see what all the fuss is about! | Ron |
| We have a right to access of this manifesto, to find out the reasons why this man did what he did | Carolyn |
| Is New Zealand really a free democracy? | Pieter |
| Censorship in any form is to be avoided. This government has some very bad plans. | Roger |
| If we don't understand the thinking that precipitated such extreme action, then how will we know what lies people are believing so as to address them with the truth? | Skye |
| This is just the beginning. If he gets away with this, what is next? | Nick |
| Not really. Due to the heinous attack we now have totalitarian censorship and unnecessary impulsive and panicked reaction. Free speech and Freedom lost to unbalanced extreme left reaction favouring revisionary attitudes. One could conclude it was organised to promote just the extremism the government has embarked on. Was it according to UN design?. | Bryan |
| Withheld from the general public, – yes, but not from those officials who will be trying to understand the problem. | Ted |
| The public has no idea why the killer carried out the brutal act, except what the government is telling us. | John |
| It's a giant cover up because of the way the gunman was able to avoid detection in unlawfully obtaining guns & avoiding proper vetting in applying for a firearms license. | Rex |
| State control.not good | Kevin |
| As brutal as the reasons might be we need to know to avoid political and media spin. | Nev |
| Knee jerk reactions to incidents such as this often end up with draconian laws that restrict the freedom of choice of law abiding citizens. We must avoid virtue signalling just to look good in the eyes of the rest of the world. Remember, that most of the rest of the world does not enjoy the (dwindling) freedom experienced by Kiwis. | Mitch |
| We the citizens of this country should be able to make our own minds as to the actions of the gunman. Only with speaking to our friends and colleagues we can come to a consensus and reach an equitable solution | Dennis |
| free speech should be free speech | Edward |
| Open Government at all times should be our right. Banning such information treats us the people as morons. | John |
| It might have silenced all the conspiracy theorists | Terry |
| This is a difficult one to answer, one I believe in freedom of speech and two, why would they want to promote a mass killers thoughts anyway when this might encourage other idiots to follow him. Takes all kinds to build a population and since mental institutions were closed that used to care for the intellectually handicapped we all live in a dangerous world where some innocents are killed as a result. Don't think for a moment I'm lending an excuse for this guy, far from it. There's no excuse for his actions. Ardern could have done a better job, for example, at the Remembrance Service in Christchurch today. She chose to wear a racist Maori cloak in honour of Biculturism (apartheid, separate people, separate laws) rather than a head scarf in sympathy with the true reason she attended. She could have worn both in demonstration she tried. | George |
| we need to know, not to be told and asked to believe | John |
| we are on the threshold of communism where the public no longer has a voice and we are dictated what is good for us.This should change the way we vote. | Jim |
| It could have been made R18 to enable informed discussion about the contents by adults. Treating us like children is wrong. | Alec |
| welcome to a communist country run by a censor and ahern and her Cronies | Richard |
| The government don't want the people to know they have played into his hands where it comes to removing firearms from law abiding people; not people like him! | Gail |
| I believe that is should be banned at least until after the trial. Otherwise it may cause prospective jurors to establish a prior position on his guilt or innocence. | Alan |
| Censorship by the state of political opinion is dangerous and at least needs to be done under strict criteria which don't appear to have been met in this case. So now white nationalist material is banned but Maori nationalist stuff will no doubt be fine. Under the censor's ruling, the Koran should now be banned because it has plenty of verses that encourage violence towards unbelievers, verses that plenty of radical Muslims have been putting into practice. Similar for the Bible even though it was some time ago that witch burning was widely practised. | Hans |
| why should ONE person make this type of ban | John |
| no is freedom of speech and info free for all or only some.this whole incident is being used as a vote catcher for a govt in crisis.god help us all if the mossies ever get control, heads will fly//// | James |
| We should be able to see what was in his so called manifesto and make up our own minds. After all we can get Mein Kampf written by Adolf Hitler if we want to | Colin |
| Defend Free Speech at all cost. Most have no interest in reading the manifesto but defend the right of others to do so. | Sam |
| Bad situations almost inevitably make for bad legislation. This is one of those moments | Ross |
| It takes away our choice to make our own decisions | Patsy |
| I and many others I suspect would like to know what led him down this path of destruction. I object to the Chief Censor deciding for me as to what I should or should not read. He may as well ban all crime novels for that matter. | Fiona |
| There certainly seems like there is a political agenda here to keep us in the dark | Graham |
| This whole thing smacks of tactics used by the democratic party in America, and their leader Soros . Ardern is acting illegally too | Mike |
| They must b trying to hide something from us. The Nanny State leaps into action. | Graeme |
| It removes everyone's right to explore the real reasons for the attack. | Jane |
| Why — are we deemed to immature to read and understand it when the whole internet is available to use – it will only drive 'underground' efforts to seek and transfer such like documents | John |
| A democracy relies upon transparencyThe censor simply closed the door in this instance | Rob |
| The less of this type of degrading and dangerous crap publication, the better. The Maori 'elite' of this country are doing well enough distributing biased, misleading, racist commentary already – we do not need any more . . . | MervB |
| I would like to read it. | David |
| Too hasty | Elsa |
| Thin end of the wedge. It opens the door to governments of-the-day hiding information for their political end. It renders useless the OIA. | perron |
| a direct incursion on a person's right to have an opinion, no matter how barbaric the copy is. There are many destructive comments circulating on the net that 'could' and 'do' incite hatred. | Maureen |
| I believe the country has the right to know what is going on behind the scenes and to do so I believe the contents of the manifesto of the killer need to be released. What are they trying to hide??? | Janet |
| You don't want to feed the simple minded with more arguments | wouter |
| We learn by others mistakes | IAN |
| I am a great believer in the NZ general public knowing all the details of such an event and tragedy as this was as it would stop all the speculation and we could make more informed decisions. | Barbara |
| Those who suppress peaceful protest make violent protest inevitable, a fact seemingly lost on this appalling woman Prime Minister of ours. | Alice |
| This smacks of controlling the narrative. What is in the manifest that us peasants must be protected from? That he was an eco-fascist (greeny) , hated conservatives, loved commy China: seems the terrorist was a bit of a lefty and the sheeple must not become aware of this! | Jerry G |
| Needs to be available | Mark |
| Abuse of civil rights. We need to know what was in his mind to allow us to identify future risks | Tom |
| It is important to state that the shooters' video clearly shows that more than one person was involved and that the Government has lied to the public about it being a lone wolf attack. It was a false flag operation. Also, the license plate on shooters' car can be read, FQH875, which may be another reason why it was banned. Someone moved the car the shooter used while he was in the mosque. It moved from the mosque carpark to the road while he was in the mosque at Deans Ave. The manifesto is like one used by the Unabomber apparently, and perhaps there was evidence in that too to incriminate the powers-that-be. | Clare |
| I believe it was unjustified as there should have been an opportunity to see what he wrote & make up our mind of its merits. | 6 |
| No !! And this response is a clear indicator of where we are heading in NZ. It is disturbing to see at what maddening pace the destruction of our democracy is taking place.: Petitions are simply rejected. Deadlines for petitions are kept short to make responses difficult. Police is telling the representatives of shooting sports to ' stay out of this'. Laws are forced through by so called Order of Council without regards to the political consequences. Threatening a 17 year old with 14 years in jail for disseminating information about the attack on the net. Threatening a farmer with persecution for publishing the manifesto on the net. All the hallmarks of a totalitarian regime— NOTHING MORE !!!The PM acts up in shameless virtue signalling gestures of appeasement in the name of all NZ landers .No matter that 44 % of all voters have voted for the Opposition or did not even bother to vote at all. But that does not matter to Comrade Cindy and her red green storm troopers.The MSM joined into a witch hunt from the first hour after the incident and are keenly followed by Maori activists in a frenzy which can only be described as 'hate speech'against white people. We have literally turned into a life version of the 'Animal Farm, where some animals are more equal than others.!! | Michael |
| It assumes that the general public are incapable of acting in a responsible and mature manner should they wish to read this stuff. It is an over-reaction on the part of the chief censor who seems immensely tolerant in all other respects. | Barbara |
| A blatant obstructions of rights for all New Zealanders and an underlying wish by this current Government to control what real Democracy is all about.This will only further Racial tendicies in this Country. | Steve |
| Control of the people is the communist way. Comrade Ardern is only doing her job and Chief Censor is following orders. SOOO SAAAAD! | Colin |
| Although bathed in good sounding gestures, that was the first step of the Socialist Government of NZ to restricted the freedom of NZ citizens, making them much more vulnerable for global criminals to vent themselves. And creating fear in us! Preparing a platform for the NZ government to continue enforcing their Socialist ideology on our country.– The consequences of that had been seen through global history: do your research on Hitler, his strategies, policies & actions. The same for Stalin & Karl Marx and Lenin! The most important question for us is: do we want to go down the Communist road, with a government that enforce their dubious agenda on its citizens. Remember, in the end Stalin had murdered 20 million of his own people! | Anna |
| This is the Swedish method – suppressing and modifying information of democratic consequence to ensure the public is deprived of information that is damaging to their political masters – just as they have done in all communist and fascist countries. Just having a censor says everything about our politicians and our so called democracy! | Rex |
| New Zealand | Murray |
| Lets have a bit of transparency. | Terry |
| WE need the truth not politicized crap let us make our own decisions | Brianb |
| All of us are not children , this is just another form of interference in our lives ,so it would be nice if we could be allowed to be informed and consequently form our own opinions | Roy |
| First they come for the Saturday people, then they come for the Sunday people. NZ is being islamised by stealth. | Coral |
| | |
| --- | --- |
| But I do think banning the video is correct. We do not need to be giving a platform for the shooter to show his actions. | Robin |
| Under whose direction was the Censor operating and what Regulations have been created that give him such sweeping powers? It smacks of a male Patricia Bartlett who clearly believed she was the only person who could resist pornography and it should be banned for all other citizens because they would be corrupted. The Chief Censor and his Masters clearly have the same opinion that the public are incapable of comprehending such a document without being corrupted – How are we ever to gain any insight into the addled thoughts that led to such a horrific event. I believe he is exceeding his authority in banning the problematic Manifesto (unless of course he has been given separate directives from his political masters). The knee-jerk reaction of our Prime Minister and her Deputy, in respect of gun laws and censorship, are of sufficient import to be be discussed in the cold light of day (A Royal Commission I applaud) but not in the emotive heat of moment when emotions are clearly ruling. I wonder if the paramount consideration was entirely political – the need to be seen as being decisive no matter what rights are removed yet again from New Zealand citizens. The Memorial Service at the Auckland War Memorial was, I am afraid, insulting. Also, if one is looking for "Hate Speech" read the transcripts. Whilst I deplore the useless waste of innocent lives, I do not need my Government to decide what is best for me because they know I am incapable of taking responsible action, or a bunch of co-governance activists who tell me I am a white supremacists who has down trodden and cheated a group of disparate tribal clans. How dare they politicise what should have been a spiritual event – have they no shame? | Michael |
| The works of Marx and Engels are not banned, the works of Mao are not banned, Hitler's "manifesto" is not banned, and the book that launched an on-going 1400-year war against the west (the Koran, which is notorious for radicalising people) has not been banned. Why this one? On the contrary, we ought to be using it in high school classes getting students to *question* it, to *immunise( them against the killer's views. | Richard |
| This signifies the end of free speech and indeed many other freedoms the people of New Zealand once enjoyed. One step closer to a Dictatorship. When is the majority in this country going to wake up and smell the coffee. | George |
| Freedom control to the excess and beyond his jurisdiction. | Ian |
| I wonder if they had ever heard of the term Fear, Uncertainty and Doubt. I was at work a few minutes from the Dean's Ave mosque. I understand that there is one academic journal that came to the conclusion that mass media parroting a terrorist agenda could lead to copy cats. We are supposed to be a democracy, our state bureaucracy shouldn't be allowed to use us as a half assed sociological research resource. | Jim |
| Definitely not. What next? Maybe a bookshop will make a book ban decision so we don't "offend" the "precious" Islamic community. Looks like the excuse to "disarm" patriotic New Zealanders is also a windfall. So if it "came to the crunch", as is happening in Britain, how will I ultimately protect my family? Dial 111 and call the authorities so they can be in time to clean up? I believe it is my "God given right" to provide the necessary protection for my family, and of that, there is no contrary argument. If it needs me to own a gun to do that, so be it. It is showing through in the Country's "leaders" that there is weakness of character and a dishonesty which has led to a distortion of truth, and this distortion of truth leads to the illusion of wisdom. And it is said that the farther they get away from the truth, the more there is HATRED for those who speak it. This is the venom that we hear the opportunists who spit at those who speak the truth. So as a white Christian, I am labeled as a far right white supremist racist islamophobic Nazi. When really, I am a "Patriot" who has put 50 years of hard work into this country. And I will defend it against oppression. Our PM says "they are us", but lets be very clear, we are not "them". | Neil |
| We are entitled to know why the killer did what he did. Why not then ban Mine Kamp | Brian |
| but it's a slippery slope to stifling any discussion on religion without being labelled a white supremacist | Russ |
| Never any excuse for killing Innocents | Laurel |
| Open Letter to the Chief Censor … Govt. Classification Office Chief Censor Sir, Madam, LHGB – or whatever, Your organisation grossly oversteps the mark in limiting freedom of both speech and right to information. To exist a human being needs to discriminate all the time between truth and fiction, right and wrong, good and evil, in every case making a logical and rational decision before acting appropriately. The suppression of information directly prevents that function. The government's reactions (including those made by your office) to the recent atrocity is a prime example of this. Twisted and fatuous they may be but the perpetrator published his 'reasons' – which have been suppressed. Due to this we cannot know what those reasons were, cannot judge – rationally – for ourselves their validity or if they were as heinously unjust as they appeared at first sight to be. We cannot know what were his aims, his agenda, his political persuasion, his religious or racial affiliation, or indeed anything whatever cogent to his actions. What do we get instead? His proclamations are labelled "hate speech" – a meaningless term used as a blanket to cover any opinion other than a those of a leftist. A pack of lies suggesting he is "far right"! He is actually a fascist, communist with bizarre, irrational ideas acting, apparently, totally independently of any faction. Our prime minister (who also happens to be a communist!) twists facts and manipulates the media, milking the event for all the political capital and personal advantage she can garner. For her photo-ops she dons a hijab – not for her a burqa – that would conceal her identity – which would never do! I realise you and your kind believe the public cannot be trusted to pass judgement on anything whatever – that we have to be cajoled, "educated" (aka brain-washed) in the principles of "the progressive left" and steered to the left and total domination by the would-be globalist control freaks. I realise – and will fight tooth and nail to resist your malevolence. | Ron |
| Is the average Kiwi not intelligent enough to make up their own minds on the rhetoric of the extreme fringes of society? Clearly our government thinks so. | Kris |
| Hiding the truth does no-one any good. NZers should know what the killer's goals were. This attack is being attributed to Islamaphobia but is that true? Let the NZ public know the truth. | Jacky |
| Its a closed trial clearly and her reaction is purely driven by UN overseas propaganda. It gives credibility to Maori gangs and disarms law abiding citizens. | Sharon |
| Why is the fact about Ardern introducing this ability to secure firearms etc through the internet, not out in the wider community? What else is being hidden by the government and press? | Barbara |
| | |
| --- | --- |
| Another attack on free speech | Ray |
| A self-defeating exercise as it will give rise to the 'forbidden fruit syndrome'. Anyway we need to be able to look inside the mental workings of mass killers to find out what makes them tick so that we can hopefully use that knowledge to prevent more of the same. | Barend |
| Let the relevant details of the manifesto come out in court.. | Jill |
| Banning the footage is one thing, but banning his manifesto is plain over control. When you consider half the nonsense the Censor allows through, makes it double standards. I'd say the Censor did it due to political pressure and in fear of losing their job. | Gavin |
| Everyone has a right to freedom of speech. No matter how outrageous, their agenda. | John |
| Why should we be treated like naive children incapable of forming rational opinions? | Paul |
| The huge danger we all now face is the damage that could be done to free speech and we are already seeing how some of these attacks may look. The left is always going to use this as a excuse to bring in hate speech laws-hate speech being anything they disagree with. | Roger |
| If it is censored you just have to accept whatever anyone tells you about it rather than knowing for yourself what was actually said. | John |
| In the end the politicisation of tragic events and suppression of information is a greater risk than allowing the public to read the manifesto. | John |
| By censoring the manifesto and video the chief censor is feeding the conspiracy theorists. He is allowing media and politicians to interpret the acts with what ever bias they wish to infer. .e. White racist, white supremist, white colonialist etc blah blah | Bruce C |
| Due to the interest from copy cats. BUT I disagree with the Prime Minister and the Labour Governments Influence of the events and law changes. | Carl |
| A sad tragic day for NZ society and NZ politics over running democracy! | Bruza |
| Just shows how far this left wing government will go to keep the general public in the dark. Egg on her face now over relaxing the gun laws has backfired, hence the panic to stop the public from finding out, and being seen by the international community as being proactive where we know it is reactive. Treat them like mushrooms and keep them in the dark. Look at me! | Graeme |
| The Censor and the govt as a whole will stifle anything THEY think is not in the public's interest. They will start burning books next !!!!! | Alan |
| We might find it abhorrent. That is no reason to attempt to stifle our understanding of why and therefore what could be done to prevent a repeat. Currently the Govt & fellow travellers are pushing an alternate version of reality , where we are expected to accept their version of reality. Which is at odds with recorded history. | Derek |
| Are we no longer allowed to think for ourselves. | Edward |
| We're grown up enough to hear his thoughts and come to our own conclusions. | Darag |
| Typical Knee jerk reaction to be politically correct | mike |
| No amount of debate will undo this tragedy. I see no reason fro the manifesto to get any more air time so I therefore agree with the decision taken to ban it. | Peter |
| What happened to people making their own judgement. Is this a nanny state? | Kristene |
| I skimmed the first 30 pages and now cannot find it to read slowly and in total. It is only words. We should be able to read and evaluate for ourselves. I am way more concerned by being told what I can and cannot read. Grow up people. | Rodney |
| If we don't get to understand what drove this individual to commit such an horrendous act, how can we take any steps to prevent it happening again ? | Keith |
| Cannot make a decision without all of the facts | Kevin |
| I want to know how this man thought. I want to understand what motivated him | Tony |
| I would very much like to know the killers motivation. No matter what his motivation was, I could not support his actions. I have come to regard this government as the government of knee-jerk reactions. The influence of the crazy Greens is bringing about some atrocious decision making which will seriously affect our prosperity and freedoms in the future. Jacindarella is more concerned about her international image than she is about improving the prosperity of our nation. She's certainly setting herself up for a sweet posting with the other nutters at UN headquarters. | Dave |
| Having read the manifesto I know his motives but cannot forgive his actions. I believe everyone should have the opportunity to read if they wish – rather than being told selective parts by the media. | Maurice |
| I have read the Manifesto and can not understand why it is now banned. It shows just how "twisted" the author is. | Gary |
| This is a soft country where people get away with murder. The gun laws recently brought in should have been introduced a long time ago. Who in this so called civilized country needs to own automatic guns of any sort . Only brain dead ones . LET'S TOUGHEN UP ON MANY OTHER MATTERS AT THE SAME TIME | Tom |
| The whole scenario of this tragedy is now fraught with kneejerk reactions and politically correct hysterical agendas. | Colin |
| To carry on with the same principle that the Chief Sensor is using then of Objectionable material, Karl Marx Communist Manifesto should also be banned as it advocated for revolution through the use of violence. The Communist regimes of the last 100 years are responsible for the deaths of 100 million people. Freedom is not embraced by Socialists and is restricted and undermined just as this government is now so doing. | Brian |
| There are no words to describe my feelings about this breach of our democracy. | Chris |
| I would like to understand why he did what he did | Cherryl |
| Just more political manipulation. | Joyce |
| In a single act the chief censor has elevate the unhinged writings of a lunatic, into a suppressed manifesto, something to be lusted after by the spectacular F'wits how harbour the same warped reality as the shooter! | John |
| scared we may understand the killers motive for ourselves | Jeff |
| false flag UN NZ Govt sponsored terrorism , MO dictates this, hence Jackinda within a few hours declaring new gun laws….UN gun grab NWO take over of freedoms, Govt, Police, all complicit…nothing new here, IMHO | Wayne |
| This is just an excuse to gain more govt control towards one world govt | Colin |
| Agree with your comments, we need to understand his thinking. | Peter |
| People have a right to decide for themselves | Andi |
| While agreeing that the censorship of the manifesto is wrong I am horrified at the misinformation in your article. You refer to the purchaser of a gun having to go to a police station to pick up a permit and then talk of the purchaser being interviewed by the police. What detail are you going supply that shows a purchaser is interviewed when picking up a permit. You cannot complain about misinformation and then carry out the same type of exercise. | Phil |
| 1984 on steroids | John |
| Freedom of speech must be protected. Also remember that Islam is NOT a race but a religion. | Don |
| dictatorial edicts from powerful officials has no place in democracyPM included | Bud |
| Free speech is the bastion of freedom. I'm voting for the New Conservative Party. They are the only party standing up against the government's censorship. | Jack |
| The more that sort of stuff is published the more it is picked up. | Emerald |
| The move reduces the opportunity for copycat killers. | Gavin |
| It is not an advertisement | Warren |
| The main problem with the alleged killers 'manifesto' being banned is that the general public can now only get their information from the mainstream media. Which, as we all know, are sometimes more interested in pushing a particular point of view than in disseminating facts. | John |
| The summary of Tarrant's 73 page manifesto, & I quote; 'Conservatism is corporatism in disguise. I want no part of it.. The Nation with the closest political and social values to my own is THE PEOPLE'S REPUBLIC OF CHINA'. Does that sound like something "a right wing extremist" would say? Of course the Socialist – Globalist Left [, including National, who would be fighting for the manifesto release, if they weren't in the same boat,] are going to do everything in their power to ensure the Sheeple don't know the truth. Interesting how The attack coincided with a visit from that extreme left U.S.A. Democrat, still lying about a Pres. Trump, Russia collusion. Interesting also, how our MSM have made no mention of the HUNDREDS of Christians raped & murdered in muslim countries such as Nigeria…. | A.G.R. |
| Government needs to be open and debatable and people need to be able to take responsibility for themselves | David |
| some things should not be shown. It can lead to copy cat . | Robert |
| I'm not sure I would have wanted to read it. | Kelly |
| I think they made the call that they thought was in our best interest. | Jo |
| To counter any opinions of the gunman we need to know what his motives were so any future attempts can be stopped | Arthur |
| The censor is another local citizen. He/she has a duty to the people to make mindful and rational decisions based on his conditions of appointment.and the scope of that contract to limit public knowledge of facts which have occurred or may recur. Do those conditions give him the right to keep from the citizens of this country matters which have resulted in the deaths of 50 people (or maybe more) on the basis that somebody somewhere may copy/distort/enlarge on/ whatever the basis on which those acts were perpetuated ? I think not. If we commence / extend censorship after an event of this nature, when will we stop? Are we not to be entrusted with challenging information/reasons/ for such a hideous event? In case we all get out and do it too? I don't think that is appropriate. Nanny state has not anything to recommend it. (We thought that went with Helen and the lightbulbs, towel rails, and similar trivia) . We must be able to defend our own beliefs against (???what) all comers and cannot if we don't know what was said and why. | Mabel |
| Agree with the PM, do NOT give any credence or voice to this sick individual. | Hilary |
| Bending our Laws to suit Politicians. No way ….. Jose. Just another Nail in the Coffin along with the Capital Gains Tax, to ensure that this type of Government gets Voted OUT> | Geoff |
| While this doc. is actually a legal specimen showing his guilt it is freely available online overseas. Banning it stops sane people including relatives of the dead from judging his actions in a responsible manner. | Nick |
| | |
| --- | --- |
| Our govt is rushing round like a flea in a fit with out being constructive whats the use of the censor banning these thing when the are quiet readily available overseas the gun laws are a joke only honest people will hand in there guns leaving a lot out there in the wrong hands we are now in a police state as to what you can say what a shambles | Russell |
| All New Zealanders are entitled to Freedom of expression in terms of the Bill of Rights. | Pierre |
| Knee jerk reaction which has sent this country back to the dark years of maoist and marxist communism in the 1950 to the 1980's | Bert |
| We should all know and understand this psychopaths motivations. Censorship makes me very suspicious of the political motives of the government and vested interest groups. | Richard |
| Absolutely NOT. We are all struggling to come to terms with what has happened and, as a licensed firearms owner, I am bearing the brunt of the backlash that rests primarily with lessened Police oversight, and also with the hurried actions of the Government to introduce changes to the gun laws that will certainly prove to be inadequate and/or wrong. | Carl |
| To understand fully what happened the mindset of the perpetrator needs to be understood. Otherwise claims could and possibly will be made of a Government coverup to justify whatever measures the Government decides to do. The average person does not justify murder as a means of achieving a result. However the Muslim faith can kill and maim people in the course of their religious beliefs and the main stream media seem too frightened to report it. For fear of being labelled anti-Muslim and racist. Yet in the Koran the killing of non-Muslims is encouraged i.e. The Qur'an tells us: 'not to make friendship with Jews and Christians' (5:51), 'kill the disbelievers wherever we find them' (2:191), 'murder them and treat them harshly' (9:123), 'fight and slay the Pagans, seize them, beleaguer them, and lie in wait for them in every stratagey'. Therefore there will always be murder begetting murder in retaliation. | Gary |
| He's hiding something. I want to know what made this person act as he did. I expect his trial will be behind closed doors or censoring the manifesto will be a waste of effort. | Giles |
| We are mature enough to be able to make up our own minds. We don't need "Mother" to do it fir us. The government is beginning its campaign to control us. | Jenny |
| Is the Censor going to rid the internet in NZ of all the ISIS beheadings, I think not. He should not be a puppet for the "Coalition of Losers" pushed in the background by "Angry Aunty Helen" | Tom |
| Is this further evidence that this government under Jacinda intends to block opposition speak when it suites her? Funny how history has an unfortunate habit of repeating itself as authoritarianism spreads it's ugly wings. Ban the shooting video by all and any means. | Stuart |
| Most people are adult enough to make up their own minds about such a matter. For the few who are not, the suppression of just one incident is not going to make any difference to their future actions. | Liz |
| Not hard to figure out his political position. | Alan |
| Absolutely NOT !! Are we babies who cannot be trusted to read a document which has been read by such paragons as our PM, Chief Censor and many in the media ? Completely unacceptable, and smacks of totalitarian control. | John |
| Definitely not. I would like to have read for myself what motivated this shocking event. I do not need an arrogant academic deciding for me. | David |
| Censorship is ignorance. To understand what motivated this offender it is necessary to read the full manifesto. I am 76 years old, with tertiary education and extensive life and business experience. I object to being treated this way! | Eb |
| Hitlers's "Mein Kampf" is not banned and he was responsible for considerably more deaths and crimes against humanity than "he who we can not name." No logic here, only PC gone mad or dare I say it, Political manipulation?. | Vernon |
| censorship is the first tool of tyrants. | Keith |
| Many in this country are adult and educated so can make our own evaluation of rants like this. Are the Jacinderellas of this world and the censor any better at making a proper judgement of the material than most of the rest of us?? Arrogant idiots! | Alan |
| We know hate speech feeds sick people who just go on to create more hate and violence. They are role models for the sick. | Mark |
| Mein Campf is still on the shelves … why this? | Maddi |
| ignorance solves nothing | dave |
| Free speech, yeah, right! That might be the response to anyone talking about the actions of the Chief Censor. And you could add to that the undemocratic action of our Great Dictator Jacinda who immediately took to television screens to announce, without reference to citizens or parliament that there would be immediate changes to what she called the "gun" laws. | Rob |
| I would like to know why. | Dave |
| This ban is uncalled for, what is the Government trying to hide? | Tony |
| Of course he was out of order: to suggest that we, the people of New Zealand, need to be protected from ourselves, because we are evidently too stupid to evaluate the gunman's utterances for what they are, he has displayed breathtaking arrogance and condescension. I suggest that he is unfit for the job. | Graham |
| | |
| --- | --- |
| I believe that there has been a number of people who have read the manifesto and that would include Jacinda Ardern, who then decided that the public shouldn't see it as it would allow them to direct the narrative. | Alan |
| It is ridiculous, treating us like dummies. | Graeme |
| For the very reasons stated by Dr, Newman. Any law that is enacted quickly is bound to be poor law. Time will tell. | Ray |
| Knowledge is power how are people able to make up their own mind whether the shooter was a madman or not with out it | Nigel |
| It is vital to DENY him the audience he is seeking … and please stop naming him . The physcodynamic gain he makes with either is to be denied …. but only when the outcome is as horrendous as the action he took . | David |
| bill of rights | Peter |
| We should be allowed to know why he did it | Chris |
| once again this is another nail in the coffin on New Zealand democracy. | Bill |
| Sounds like this Adern and co have something to hide. It's likely just like the treaty adern hasn't even read his manifesto. Dark days a head for freedom of speech. | Trevor |
| Freedom of speech how are we to understand WHY he did what he did; and learn from this etc… | Tony |
| we should have the right to know all the facts on any issue Politicians have no right to censor the public | William |
| Sets a very bad precedent and must be challenged. | Terry |
| How do we know what people are thinking if we ban what they have to say | Richard |
| No because ideas are the place to start and finish this extremism. This guys ideas and those like his need to be answered thoughtfully and with wisdom. If we do not know what he is stumbling around trying to say how can we counter this violence? Certainly not with censorship! | Ray |
| He had NO RIGHT to take away our DEMOCRATIC RIGHT 2 see this & PEOPLE better start emailing M.P,s & everyone or we will have MORE DRACONIAN LAWS | Cindy |
| Absolutely wrong. He has overridden everything we hold in high regard in NZ. Our freedoms are now secondary to the censor and Ardern's way of thinking. These people must be stopped. | Murray |
| Disgraceful act. | Hone |
| Give us your vote we will give | Jimmy |
| Yet another throttle to freedom of information, and denies people from understanding the shocking information. NB why have all the mass-killings of Christians in the last few years by Muslim extremists been ignored by the MSM? | Peter |
| The only reason I can see for "The manifest" being censored is close reading of it suggests the guy does not fit the narrative we are being sold. | John |
| Believe I am old enough to make my own mind up. It is suppose to be a free country | Jan |
| Freedom is not free | Cutty |
| Once again we are treated as mushrooms ! | Alan |
| Watch for the Streisand Effect to kick in. | Kevin |
| An appalling decision made by one individual without due process. | Judi |
| I have to admit, I thought it was the correct ting to do but having read the argument against, I can see the point made. Perhaps allowing it to be downloaded in a situation where every download could be traced??? | Shelley |
| I would like to understand the motive and not be told by "Little Bo Peep" her reasons | Martin |
| | |
| --- | --- |
| I agree that the video of the shooting should have been banned, but not the document that explains the motive of the killer. People need to be able to read it themselves so they are not deceived by the Government or activists pushing their agendas. | Carol |
| Free speech in NZ is under attack. People need to defend it at all costs. Someone should challenge the Censor's ban. | Murray |
| The Government is spinning this tragedy for all it is worth now. Jacinda does not want people to realise that she relaxed the gun laws. That's why the ban on guns will be carried out under urgency. Shocking really. | Roger |
| The manifesto should not have been banned. The Censor has overstepped the mark. | Fred |
| It is a terrible state of affairs when governments start manipulating people over such dreadful tragedies for political ends. It undermines faith in government and democracy. | Anthony |