January 28, 2013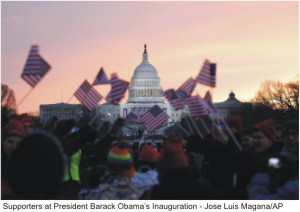 It was a week for political speeches. It began last Monday with the soaring rhetoric of US President Barack Obama's inaugural address, which included inspirational references to nationhood and equality: "Now, more than ever, we must do these things together, as one nation, and one people… We are true to our creed when a little girl born into the bleakest poverty knows that she has the same chance to succeed as anybody else, because she is American, she is free, and she is equal, not just in the eyes of God but also in our own".1
Our political year started in earnest on Wednesday with the Prime Minister's announcement of his Cabinet reshuffle. Through the surprise sacking of two ministers, John Key signalled that he and his government mean business in 2013. The Prime Minister knows only too well that this is the year that voters will begin to consider their options for the 2014 election and he clearly needs to counter the emergence of a Labour-Green alliance.
Ministers Kate Wilkinson and Phil Heatley were effectively replaced by Nick Smith, who picked up their Conservation and Housing portfolios. With housing shaping up to be a major election issue – as both Labour and the Greens promise massive taxpayer spending to address the problem of housing affordability – the Prime Minister clearly needs a strong Minister to counter their proposals.
On Thursday, it was time for party leaders to make their annual political pilgrimage to Ratana Pa. In his speech, John Key reminded the audience that they had National to thank, not Labour, for refurbishing their houses and increasing the pace of Treaty settlements. David Shearer promised to develop a close "partnership" between a Labour Government and the Ratana Movement. The Green Party's Metiria Turei outlined a new housing policy, which would enable 'whanau' to own their own homes with no deposit and no mortgage, but at a huge cost to the taxpayer.
The Maori Party's focus for the day appeared to be on their bitter leadership dispute, which had spilled over into the public arena, to overshadow other events. Maori Party MP Te Ururoa Flavell wants Pita Sharples' job as co-leader, but the 71-year-old is refusing to retire. To complicate matters, Mana Party leader Hone Harawira has mischievously thrown his hat in the ring, touting for leadership of a unified party for Maori.
Asked whether they could work with Mana and the Maori Party under a new leadership arrangement, Prime Minister John Key confirmed that while he could work with the Maori Party he ruled out any deal with Hone Harawira. In reply to the same question Labour leader David Shearer confirmed that he could work with both Mana and the Maori Party and had "left the door open" to both. However, by Friday he had changed his tune: "I think the Maori seats are up for grabs and we are going for broke to get them. We are in competition with the Maori Party and Mana and we are determined to win the Maori seats back."
Meanwhile Winston Peters strongly criticised the pork barrel politics on display at Ratana, saying that a single electoral franchise is the only way forward for New Zealand to achieve national unity and a national purpose: "They have the warped view that Maori will only progress if they have a separate system for everything whereas history shows the most progress has been made while all New Zealanders receive fair and equal treatment."2
He is right of course. The only way this country will progress and prosper is through a single franchise – all New Zealanders registered on one electoral roll, voting for a Parliament made up of 120 general seats that are open to all citizens of all races, religions and cultural affiliations through our MMP electoral system.
This issue of the future of the Maori seats and the Maori Electoral Option are key features identified for consideration in the terms of reference for the government's constitutional review:
"Crown-Maori relationship matters
Maori representation, including Maori Electoral Option, Maori electoral participation, Maori seats in Parliament and local government
The role of the Treaty of Waitangi within our constitutional arrangements" 3
It is extremely important that those people who feel strongly that the Maori seats and the Maori roll have no place in the multi-ethnic society that is modern-day New Zealand, become involved and put forward their point of view to the government. If they remain silent, our politicians will think that the public supports the status quo.
Since the Maori Party's Constitutional Advisory Panel does not appear to have opened up a public submission process at this stage, we have been advising concerned citizens who support one law for all to sign the Declaration of Equality on the www.ConstitutionalReview.org website. We have made a commitment to advise signatories when and where they can send in submissions to the government's review and to the Independent Constitutional Review Panel's "People's Review".
The invitation by the government for New Zealanders to engage in a debate about the future of the Maori seats is an opportunity that should not be missed. Their retention or abolition should become the topic of vigorous debate throughout the country. The media especially – in its role as the 'fourth estate' – should exercise leadership in helping to inform the public about these constitutional issues, since they are matters of crucial importance for the future shape of our democracy.
This week, our NZCPR Guest Commentator is David Round, a Canterbury University law lecturer and Chairman of the Independent Constitutional Review Panel. He begins the year with a chilling prediction about the future:
"The latest round of full and final settlements was supposed to put an end to racial issues and let us get on with the serious business of living together and surviving as one people, planning for the future. At the very least, the settlements should surely have given us a breathing space of a few years, before our local Mafiosi turned up again for the next instalment of the protection money. But no. No sooner have we paid out on the full and final settlements than they are back with a few more things they'd like. They are ramping up the pressure. They have got us on the run. They're thinking to themselves right now, how much more are these stupid pakeha going to give away before they really realise what's up? That this is a takeover. Soon we will have the pistol at our temples, and we'll be emptying out our pockets before being thrown out of the shop. In our own country just as much as in the anguished Middle East, as much as in the indebted nations of Europe, our very own distinctive day of reckoning is coming."
David describes the warning signs: "Isn't this the clear trend? Now it's water, air, consulting rights on everything, 50:50 representation on everything, the bureaucracy following their instructions, and a racist constitution formalising privilege and, in fact, superiority  for ever? This is a takeover, and a recipe for national disaster. And yet, somehow, our leaders seem simply oblivious, either to the process itself or to any doubts about the benefits of our future destination." To read the full article click HERE
Political leaders have now turned their attention to the state of our nation with a series of speeches setting out their party agendas. None of those keynote addresses have mentioned race relations nor the constitutional review. John Key's address on Friday had a strong focus on the economy: "The economy will be front and centre this year". Along with a commitment to returning the Government's finances to a surplus and reducing debt, National will press ahead with measures to boost employment. They want New Zealand to become a "magnet" for investment in order to grow businesses and generate jobs, and they intend to significantly expand apprenticeship training.
With regards to housing, they have warned councils that the delays and excessive costs that are holding up housing development are unacceptable: "We need more houses built in New Zealand, at a lower cost. That means we need more land available for building, more streamlined processes and less costly red tape. This doesn't require the Government to spend a lot of money. There are plenty of private sector investors who want to invest in housing – if only we can remove the roadblocks that are slowing down the process and driving up costs… It's ridiculous, for example, that developers can wait six to 18 months for a resource consent. It's ridiculous that we allow councils to demand almost anything as a condition for the consent. And it's ridiculous that we allow them to charge whatever fees they want. Unless these sorts of issues are dealt with there won't be more affordable housing built."4
In his state of the nation speech Labour's David Shearer blamed the government for holding back the country: "For 4 years we've been fed skilfully spun excuses for why we can't get ahead. It's the Global Financial Crisis, the Canterbury earthquakes, the global outlook that is the problem. There is always an excuse for why we can't get ahead."
He criticised National for being a "fast follower" on climate change, rather than a leader. He reiterated Labour's plan to build 100,000 houses, to change monetary policy and reduce the exchange rate, to introduce a capital gains tax, to increase the minimum wage, and to "put food in schools" to lift "270,000 children in hardship" out of poverty.5
In their "picnic for the planet", the Green Party promised a better future for "Aoteoroa New Zealand". They will focus on the "270,000 kids trapped in poverty", on their new housing policy, on introducing a rail link into Auckland, and on a plan to build a stronger base of Green activists.6
Parliament starts again on Tuesday, with the Prime Minister's commencement speech to the House. This will give party leaders and other MPs additional opportunities to outline the detail of their 2013-14 political agendas.
While this week's political speeches have provided an insight into policy agendas, they have lacked Barack Obama's aspiration and visionary sentiment. Obama talked about unity; none of our main party leaders did – how can they when they support tribal separatists who are trying to pull the country apart by elevating themselves above all other citizens as an elite ruling class?
It's time our political leaders recognised the country is paying too high a price for their liaisons with separatist Maori.  It is long past time that our politicians were forced to listen to the New Zealand public who want a nation united in equality – one nation, one people, one flag. But the reality is that they won't start listening until more New Zealanders start speaking out: "speak up and speak out" must be our national objective for 2013!