November 29, 2015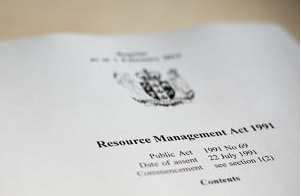 In 2013, National released a consultation document on a proposed overhaul of the Resource Management Act. They claimed the RMA was holding back economic progress, was causing a disastrous housing shortage, and was forcing up the cost of development through wasteful bureaucratic processes.
What has evolved has exposed the very worst of MMP politics.
At the time, two of the government's three coalition partners baulked at the idea of any resource management reforms that involved changes to the Purpose and Principles of the Act – sections 6 and 7. Neither Peter Dunne's UnitedFuture Party, nor the Maori Party, could be convinced that economic development should be given the same weight in law as environmental protection.
Only the ACT Party supported National's call for a rebalancing of the law so economic benefits could be considered on the same footing as environmental concerns, when resource consents were being sought. But with the two parties being one vote short of a majority in Parliament, the reforms did not have the numbers to proceed and were shelved.
National included RMA reform in their 2014 election manifesto, and once back in government outlined ten priority changes: adding natural hazards, recognising urban planning, prioritising housing affordability, acknowledging the importance of infrastructure, giving greater weight to property rights, introducing national planning templates, speeding up plan-making, encouraging collaborative processes, strengthening national tools, and making greater use of the internet.
They planned to introduce a Bill into Parliament in the first half of this year, with a view to passing it into law by Christmas. With the support of ACT, National had the numbers.
However, the sudden resignation of their Far North MP in late January, followed by the loss of the seat in the by-election, meant that National again needed two extra votes to pass any law through Parliament. While ACT still favoured a major overhaul of the RMA, UnitedFuture and the Maori Party remained opposed to changes to sections 6 and 7.
The reforms were again at an impasse.
A few weeks ago, however, Peter Dunne issued a statement explaining what had been going on behind the scenes:
"Several months ago, the Minister for the Environment provided UnitedFuture (and possibly the Maori Party although that is not entirely certain) with a list of 39 headline amendments he wished to make to RMA processes. UnitedFuture's response, after a brief period of consideration was that many of the proposals appeared reasonable, some were clearly objectionable, and others required more information. I suggested the best way forward would be to release a public exposure draft of a Bill so that we could all see how the proposed amendments fitted together and could therefore be assured that the Government was not trying to change the RMA's principles by stealth. When I discussed this with the Prime Minister in late June he agreed.
"That was over four months ago, and nothing seems to have moved since. Various attempts have been made to find out where the exposure draft is at. We keep being told it is still being worked on.
"UnitedFuture remains committed to working alongside like-minded parties on constructive amendments to the RMA's processes, but to do so, we need to see the full details of what is being proposed. The devil, after all, is always in the detail.
"National can make progress now – if it chooses to do so – but it will need to show its full hand, and work openly with its partners. Threatening or implying to 'spit the dummy' is neither credible, nor the way to build a Parliamentary majority. And it does nothing to tidy up the RMA."
Clearly, Mr Dunne was prepared to support most of National's planned reforms – with the bottom line being that they did not weaken sections 6 and 7.
It is this understanding that makes last week's announcement by National that they had secured the support of the Maori Party to introduce their RMA reforms into Parliament, so surprising – particularly since they had abandoned their proposed changes to sections 6 and 7.
National claims they had to 'compromise' to win support for the Resource Legislation Amendment Bill – but by introducing the framework for iwi control over resource management in New Zealand, the changes look less like a compromise, and more like a sell-out.
The point is that National had options. Having abandoned any hope of changing sections 6 and 7 of the RMA, they clearly knew that they could have worked with UnitedFuture and ACT to gain their support for the Bill.
So, why would National agree to a radical deal with the Maori Party, when their other support partners would have stepped up?
The answer can be found in the Maori Party's press release – they explain, that they "worked with Iwi Leaders' Group to negotiate changes to the proposed Bill… that will require councils to engage with iwi on how to better include them in resource management. Iwi Participation Agreements will require councils to engage with iwi during their planning processes to ensure they are involved in resource management decisions at the front end."
The RMA already contains provisions for consenting authorities to transfer their powers to iwi. Under the Section 33 Transfer of Powers, an iwi can become a full consenting authority, and under the Section 36B changes introduced by the Labour Government in 2005 (but opposed by National), they can become a joint consenting authority with a council.
However, over the years, these clauses have rarely been used – except for the Section 36B Joint Management Agreement signed between Ngati Porou and the Gisborne District Council last month. While this agreement, which was instigated by their 2012 Treaty settlement, will give the iwi joint control of water in the Waiapu Catchment, it is just a starting point – the iwi plans to move to full Section 33 consenting authority powers over a 5 year period, with control over the entire region.
The Maori Party's new Iwi Participation Agreements will require councils to formalise their consultation with iwi and abide by their recommendations. The Bill stipulates that within a month of a new council being formed after an election, they must contact all iwi in their area to begin establishing these agreements. To ensure iwi objectives are taken seriously by councils, annual reviews of progress must take place. And if any difficulties arise, the Minister will step in.
It is now clear that these agreements have been designed to provide a fast-track mechanism by which any iwi, any where in the country, can demand the right to become joint or full resource management consenting authorities for the control of water and other natural resources in their area. No other law changes will be necessary.
This week's NZCPR Guest Commentator, the former leader of the National Party, Dr Don Brash, explains how divisive these changes will be:
"The proposed amendments to the Resource Management Act announced just a few days ago make it abundantly clear that we are well down the track of accepting that we are not really one people at all, but two distinct groups with different political rights – one group claiming at least one Maori ancestor (even if with a majority of non-Maori ancestors) and the other larger group with no Maori ancestor.
"In one sense, we shouldn't be surprised.  The original Resource Management Act passed into law in 1991 already required local governments to consult with their community and with Maori – not with the community including Maori – as if Maori were in some sense not really part of the community."
With the National Party still claiming equal citizenship as one of their core values, many New Zealanders had hoped their RMA reforms would remove special rights for iwi – but instead, they are strengthening them.
So how have other parties responded to the Bill?
The Labour Party's Nanaia Mahuta said National's changes to include Iwi Participation Agreements have not gone far enough. Labour wants to include the "mandatory" recognition of iwi management plans by councils – and to press for that change, they are urging all whanau, hapu and iwi to make submissions on the Bill.
New Zealand First's leader, Winston Peters, said National is encouraging separatism: "it is blatantly apparent that they are taking a giant step towards separatist government by caving in to the Maori Party, which has minimal support, even in the Maori world. It is clear that behind closed doors they are negotiating away fundamental rights that should be the same for all New Zealanders. National's separatist approach will do nothing for Maori, and even less for the country."
And iwi leaders have congratulated the government, saying that the new bill is a "positive first step in advancing Maori participation in resource management processes".
The reality is that what National is trying to do is scandalous – on many fronts. We know it was always their intention to allow iwi to control fresh water – catchment by catchment, council by council – because that's what Nick Smith told reporters back in April.
That's why we launched our Keep Water Kiwi public information newspaper advertising campaign – to ensure New Zealanders are aware of their plan.
But how they were planning to facilitate the transfer – on the scale needed – was unclear. Now we know it will be through the new Iwi Participation Agreements and the powers already available under Section 33 and 36B of the RMA.
Let's be clear about what's going on here. The MMP tail (the Maori Party) is wagging the dog (the National Party). National has sold out the principle of equality – just so they can have a more comfortable ride in government.
What they are doing is shameful – and very, very destructive.  Who could have imagined when National came into office, that today they would be planning to hand over control of water to iwi?
Iwi leaders are ambitious – and those ambitions extend well beyond the control of water. In a recent newspaper interview, Tuhoe leader Tamati Kruger revealed that 'ownership' is indeed their focus: "Somehow the crown has laid claim to ownership of water and we need to know how that happened? Also the crown has given its subsidiaries, councils all over New Zealand, the right to meter and sell water. How did they get that mandate?"
Radical and corporate Maori will not stop at water. They want to take power and control away from our democratically elected government, for their own selfish motives.  And although the country has been on a slippery slope since Sir Geoffrey Palmer foolishly and naively introduced the Treaty Principles into legislation in 1986, under National, the slope has become a whole lot steeper. What's worse is that they are not pushing the country towards separatism by force – they are allowing iwi to gain sovereignty over water and other natural resources by choice, since they had other options to get their RMA reforms through Parliament, that wouldn't have required them to put iwi demands ahead of the rights of all other New Zealanders.
What we now know is that the water reform discussion paper, expected to be released early next year, will not include a mechanism for iwi to gain control of water. That mechanism is already in this RMA reform bill under the guise of the innocent-sounding Iwi Participation Agreements.
It will be up to the public to vigorously oppose their inclusion in the Bill in submissions to the Select Committee – if they believe that fast-tracking iwi control of water and other natural resources is not in New Zealand's best interest.
I will leave the last word to Dr Brash: "If, instead of caving in to this Maori Party blackmail, the Government were to dissolve Parliament and go to the country on whether the public want to continue down this separatist track, there can be no doubt that New Zealanders would vote overwhelmingly for our being one people not two."
THIS WEEK'S POLL ASKS:
Do you support National's plan to establish 'Iwi Participation Agreements' in their RMA reform bill?  
 *Poll comments are posted below.
*All NZCPR poll results can be seen in the Archive.

THIS WEEK'S POLL COMMENTS

| | |
| --- | --- |
| This is unbelievable. If National allow this to happens they can kiss goodbye to the Treasury Benches for the next 20 years. I have said it numerous times before, the only way the people can take back control from our gutless parliamentarians is to have binding referendum as the law of the country. If the pollys haven't got the guts to say no to iwi then the people will have to do it for them. | Ronmac |
| One rule for all. | Allan |
| Not at all we are one country. | John |
| There always seems to be plenty of money available when maori put their hands out, but try getting any if you're a working tax payer that needs a hand and you get laughed at. The Govt could take some of the millions handed to maori every year to promote their dead language and spend it on something useful, but they won't. | Stevo |
| No way, There is no place for Rase based deals in NZ. Time to stop all race based Laws . One pepple one law for all. | Don |
| When will this breathtaking arrogance end! | brian |
| My homeland is fast becoming a land I would rather not be living in. We are not getting closer to equality and unity for all citizens of this nation, but fast becoming one of apartheid involving Maori and all the other races. It would seem the only way this unsatisfactory state of affairs is going to be resolved is if we have a civil war. I say this as it does not seem possible that equal rights and privileges are ever going to be achieved by a democratic process under MMP. How did we as a nation ever permit the situation develop to what we have? I cannot accept a situation where Joint management at any level will result in equity for all. | Michael |
| As a constant supporter of National and Act I will certainly change my vote if this happens. I like Winston's views and he may get my vote. Not Labour as they have caused the damage in the first place through Mr Palmer (sorry, Sir )) | Mike |
| Absolutely no need for it – all it will entail is further ticket clipping. Why can't it be Everyday New Zealanders Participation Agreements. | Craig |
| We need a political party that has as its basis no separation between Non-maori and Maori and therefore the elimination of race-based laws in NZ. The word iwi needs to be expunged from our language which is English. This parliament needs to be dissolved as per Don Brash – forget about next flag referendum. | Monica |
| This is a shameful development from a party that I have supported We must rise up and inform the general public they will be discussed. | Ian |
| One country, one people! How can the current National Party be so selfish and short-sighted to divide our country based on bloodlines and easily corrupt processes? Are they blind to what goes on around the world? | Fiona |
| You don't have my permission to give away my water. | Tanya |
| | |
| --- | --- |
| At the last election, the people had the opportunity to vote for parties who campaigned on one law for all. They rejected that, and now we suffer the consequences. Maori were, & still are a primitive tribal people who invented nothing more than a sharp stick. Consequently, without the free ride that this morally bankrupt National Party offers, they would continue to get nowhere & do nothing, just as they do anyway. But now of course they demand to be paid for it. Still pleased you ticked both boxes for National ?? | A.G.R. |
| When is the NZ media going to loudly and repeatedly bring this crap to the dozing & apathetic NZ electorate? Silly question I guess. Suggested reading = "The Suicide of The West" Its spot on. | David |
| We are all New Zealanders with equal rights. This government is selling its soul for the one Maori vote it needs to pass other legislation Do they think we are all fools? I have had enough of Key's dictatorship. | Judith |
| Never. | Colin |
| ApartheidNZ is the 'name' of the game. | Paul |
| Definitely Not. The word Maori does not include these immigrants from who knows where. Surely enough is enough of this ridiculous money grab by a section of our community that have contributed nothing to the development of New Zealand., but still want a hand out. | John |
| Water belongs to all Kiwis and especially not controlled by Maori who do they think they are. | John |
| National continues to place expediency above democracy. They should not continue to underestimate electoral gossip, which is increasingly condemning of their policies. | Murray |
| National are out of touch with the people. Time for a change. | Carroll |
| End Apartheid in New Zealand now! | Kerry |
| NO NO NO why should Maori be involved in anything, when half of them are in jail and the other half are on welfare. | Athol |
| I can not understand why any party would want to promote separatism.Remember this at the next election. | KEVIN |
| Absolutely not. When is this nonsense going to stop. National are signing up future generations to be on-going 'cash cows'. If Maori ventures fail the hand goes out. Where is Maori pride? | Fiona |
| The Iwi leaders who are pushing for this – should be taken out and Shot. | Elayne |
| No, give them nothing and take them nowhere. | James |
| This is a frighting report thank you for the information. | Patricia |
| This country is heading in a v ery bad path of separatism. Pleased I'm not going to live long enough to see the next "maori wars". | Neville |
| I see politics as a dirty secretive structure at the expense of any decent standards. New Zealanders need to wake up and SEE how the dam is about to burst potentially drowning all with their eyes shut. | Stuart |
| No, no, no. | Pam |
| This ipolicy is anti democratic and increases the path that national has followed to develop a neo fascist state in NZ. Democracy is being strangled due to the appeasment policies of John Key. | Wayne |
| I hate to say it but this continued lobbying for separate this and separate that smacks of apartheid. The only difference between what happened in South Africa and here is that continuing taxpayer funding seems to be an integral element of the strategy. When are the taxpayers of NZ going to wake up!! | John |
| Water is essential to all life and must not be 'owned' by any one group. Central Government as duly elected under our democratic process must retain 'full' control of all natural resources. | Ian |
| Why do we not have a referendum on this matter. For this country to survive and progress we must be one people and one law foe all. come on John Key do it and be the greatest PM this country has ever had. | John |
| Absolutely not. This is yet another very dangerous step towards racial separatism in NZ. | Barrie |
| Go to the people and call an election now. | Graeme |
| What idiots would even suggest a thing like this. | Clark |
| I do not want to see any further degradation of equality between New Zealanders. There is no merit in race based legislation in any form. | John |
| Am I Scottish because my Grandfather came from Scotland? The majority of those claiming to be Maori have even less Maori blood than I have Scottish so why do we have to continue to listen to their claims prefabricated from an ancient Treaty? | Mary |
| It is time for an independent political party to oppose the govt. At the next election on the matters giving special rights to Maori or any other minority. | Phil |
| Fundamentally wrong but sadly reflects the weakness of MMP and the arrogance of the National Party who clearly are prepared to lie. | Bruce |
| Water is owned by all people of this country and should be managed by our government for the benefit and well-being of all of us! | Theodorus |
| If John Key and that other idiot Findlayson continue with their sell out we will leave New Zealand permanently! We will not live in a racially segregated nation. | Jim |
| A "yes"vote might give possible govt. control over iwi,but first they would need to control themselves instead of showing the same greed for power…They gotta go!!! | Neil |
| ALL N.Z. is supposed to be equal.N.Z. becoming like south Africa when it was ruled by APARTHEID. | Cindy |
| This spineless government has let down the majority of New Zealanders. Leadership is non-existent. The majority of part Maori citizens also oppose this separatism. Our major problem is complacency. | John |
| | |
| --- | --- |
| This is planned separatism in New Zealand. It is unbelievable. | Irene |
| Control by stealth is a shameful abomination. | John |
| We are one people so no race related interests should have a greater power and influence than the ordinary person. The RMA reforms should not allow Maori Iwi any special powers. | Keith |
| Immoral, irresponsible, illegal. | Michael |
| Absolutely disgusting what is going on .one people…what a joke | Derek |
| Only elected representatives should have any say. | David |
| I struggle to believe the National Party are actually doing this to New Zealand. | Don |
| Scary what is being done. | Marian |
| I strongly disagree. | Peter |
| Certainly Not!! I am at a point where I ask myself why National( and Labour) are so hellbent to undermine the equality of NZlanders by driving these divise and ultimately destructive policies. Call me an conspiracy theorist if you like, but it appears to me that Key and his friends are profiting (one way or the other ) from undermining democracy in this country. It boils down to nothing else but the 'divide and rule' principle.Nobody in their right mind in parliament can be so utterly stupid to endorse this Apartheid supporting crap unless they have been promised some sort of political and material gains by the Maori bosses.NZ First party leader Peters is surely making some noises re the issues at hand, but if he really wants to prove himself as a politician who is acting in all Nzlanders interests , he should( and could) be acting more radical than paying lip service only! What this country needs is a Party who is defending OUR rights for a change!!! | Michael |
| When will the Government Learn, We are one country, and one people. All referendam's on dual representation have been lost by over 75%. | Richard |
| It is the Government's job to control water and all should be equal under the RMA. | Isabel |
| The very notion that, thru a querk of fate those coming into this life with a certain bloodline can assume power and position is in my mind totally incomprehensible. | Steve |
| Apartheid again. | Kevin |
| I certainly do NOT want Maori owning the water rights, they belong to ALL NZer's. | Helen |
| This National must go. They are destroying our country. | Clive |
| Do all National Party MPs lose their common sense when they are elected and enter Parliament? | Steve |
| Strongly opposed to this proposal. National are caving in to enhance their political prospects. Goodbye John. | Gavin |
| Whatever happened to one New Zealand? | Jim |
| I've always voted national but like don brash know they have no principals.since Jim Bolger introduced mmp and tried to steal taranaki farmers rights without compensation, also%50 vote and reneging on a second vote I've not trusted the party.now we have them willing to give control to race based entities the countries assets.i agreed with don when he stated one country one people all equal under the law, yet this govt is willing again to show it has no principals only power at all costs.  I agree with don, go to the people with this and the results will be the same as the poll after his one people speech.%75 in favour of no deal on water for the Maoris. | Morrie |
| Totally unneccessary giving a minority cultural group the power of "Yes" or "No" over all other cultural groups and costing them additional time and money. | Rog |
| One people equal rights. | Gregory |
| That's it. No longer supporting national. | David |
| More bollicks! | Maddi |
| NO! NO! NO! What? We don't already have enough RACIST MOARI APARTHEID for you, John? You turned out to be an immoral, unethical, spineless wimp and a blight on New Zealand. Real New Zealanders are TIRED of paying for your brown nosing obama and the avaricious moari. | Mark |
| This must not be allowed to happen! The control of water and natural resources must remain with bodies who have the interest of all peoples living in NZ, not a select group. | Sue |
| No way should the "Early Settlers" be given more room to create an Apartheid New Zealand. | Tom |
| Never in a thousand years would I support giving anything of any nature to these greedy sods. When will this country wake up and tell them to go to hell once and for all time. It will probably wake up once it is too late as per usual when it will become impossible to reverse the process. | Colin |
| Open your eyes Rt. Hon.John Key plus your Party Govt., Members. I think of NZ being the safest Country on earth but you seem intent of changing my mind. NZ is ONE COUNTRY for ALL New Zealanders NOT TWO. Division is and always be TROUBLE. | Barbara |
| Apartheid rears its ugly head yet again! | Mark |
| What an abrogation of National's 'one nation' policy! | Bernard |
| Absolutely NO but don't suppose Key will take any notice of anyone who objects, that is not his agenda as he only wants to plead the Maori voters who continue to extort money by unfair means from the people of NZ. | Audrey |
| We are all New Zealanders leave it alone. | Laurel |
| More far left policy from the National Party. Labour must be in frantically beside themselves that their home territory has been invaded. | Peter |
| Unbelievable. This National government just keeps on getting worse. Does it still remember its principles : The National Party seeks a safe, prosperous, and successful New Zealand that creates opportunities for all New Zealanders to reach their personal goals and dreams. We believe this will be achieved by building a society based on the following values: Loyalty to our country, its democratic principles, and our Sovereign as Head of State, National and personal security, Equal citizenship and equal opportunity, Individual freedom and choice, Personal responsibility, Competitive enterprise and reward for achievement, Limited government, Strong families and caring communities, Sustainable development of our environment. | Julie |
| No' to iwi control of water rights. | Paul |
| This is disastrous! Why isn't aren't the people jumping all over this? | Brenda |
| If the public of New Zealand do not take action quickly to get rid of John Key and his National Government, we will see Maori tribal leaders running this country. Key is using his position as Prime Minister to further his ambition to gain a top UN job. He does not give a damn about the rest of us. The people of this country MUST start protesting now. If we do nothing NZ will slide into oblivion and all those who have any brains will move to Australia. | Ernest |
| It flies in the face of Democracy. | David |
| We are one people one Nation. | Hector |
| Racist agreements have no place in New Zealand. | Terry |
| National appears to be doing what they like behind the scenes without the voting public knowing. May your days be numbered. | Kath |
| This is an act of treason and at some stage National must be held to account. | Neville |
| What a bloody let down this National govt is. It isn't just National it is just about all the politicians both local and national that are pandering to Maori radicals and so called greedy elite. Are they afraid of them, behind the scenes are they being threatened? . I am totally sick of all these claims and if some of these politicians don't show someballs this country is going to go down the gurgler big time. Wake up you gutless politicians. | Mike |
| They are selling New Zealanders out. | John |
| Key, Finlayson and the National Government sycophants are a disgrace in the way they are destroying equality in New Zealand and are laying the foundation of separatism and ultimate conflict. | Tom |
| KIWI not iwi. | Chris |
| NO NO NO A Thousand times NO I am a castrated Voter, as are most all my family and a good number of friends. We believe in citizen enterprise, self responsibility, family effort and family wealth accumulation, charity in the family, minimal refugees on humanitarian grounds, We uphold christian values in community and law and we reject outright compromising any form of inherited values to imported sharia/muslim dogmas and we likewise reject native nonsensical myth based dogmas being put into our regulations. So you might say we are right of center, a natural national voter. But alas National betrayed our loyalty long since with its looney leftt and native tribal appeasement policies. And so over several issues today we would not Vote National whilst it holds its current policies. So any threat to not vote national over; IwI , water, RMA, Foreshore, land gifts, language bullying, airwaves, special tax deals, Auckland Regional park lands sacrificed, Council unelected representation, apartheid regulations, its all ongoing and each and all such wrong headed policies deny Key a further Vote. The trouble is the opposition are so inept, so backward looking, so one man focused, so plain leftish looney and so steeped in the flawed policies of UN, IMF, Fed Res, TPP and confiscatory Chinese Trade, that they will never rate a vote short of hell freezing over and marshmallows falling from the sky. This generation is a castrated generation. | Richard |
| | |
| --- | --- |
| Some of this crap is beyond belief. Still we only have to wait for the first Muslim problem to appear and all this will be a forgotten memory. | John |
| More PREFENTIAL treatment for some of us – WHY??????? | John |
| It's about time the public had their say and started telling the Government "NO and no more" — they haven't the guts to do it however. | Alan |
| How can the average person fight these matters. | Bryan |
| Sick of the pandering to these partbred Maoris ..we are all one in this country…the history of Maori has been blatantly rewritten and how they treated the other people who lived here before . (maori ) no mention of their cannabilistics ways, NZers needs to get their act together everyone you talk to are fed up with the govt and its pandering to this greedy race. | Dianne |
| Stop pandering to the Maori. | David |
| Definitely not. We are supposed to be 'one people' with equality. | Ron |
| Apartheid by stealth. The elephant in the room is MMP. | Willy |
| Another step towards apartheid. | Peter |
| They will sell the whole nation down the drain in the name of POWER – they want to remain in power – despite the fact that they are giving it away in large chunks to maori. The day will come when National will wake up to the fact that they have been usurped and maorio will say "Now it is all under our control – F-off!" | Aunty Podes |
| NZ is becoming more racial divided. It is time it stopped. | Peter |
| Very frightening. | John |
| Certainly not. | Winifred |
| WHY ??? | Ken |
| National have let us down in this area by giving in to ridiculous claims by Maori. This will result in racial tension and division that will only get worse. | Peter |
| It is becoming very clear that democracy as we have known it in this country is fast disappearing and will be confined to history. The constant promotion of Maori interests over the majority is the apartheid cancer now promoted by the United Nations and followed like a dog on a lead by Mr Key's National Government. The anticipation and acceptance of the MMP electoral system has degraded Political life in New Zealand into a battle of party self survival in Parliament at all costs. This RMA change of rules constitutionally must go to the people for their judgement. \It seems rather ludicrous that National is spending $25 million plus on a Flag debacle when that money would have be far better spent on letting the people decide on what they consider any changes might be made to improve and lessen the bureaucracy involved in RMA . With Andrew Little%u2019s Labour Party in such turmoil and a lack of positive Opposition leadership; calling a General Election would be the most sensible answer to this problem. Instead there is now a future in front of IWI not only of control of the land and water, but of even higher expectations. It is a horizon that glitters with the ultimate prize of Maori Government and control of every facet of central and local government. This will be achieved without the cumbersome problem of having to face any democratic election process, and with a apathetic general public acceptance. A case of 'exitus acta probat'! | Brian |
| Please bring back Helen Clark and Mike Cullen. They knew how to say NO. I hope that when Labour get back in NO will happen. | Donald |
| Interestingly enough, following NZCPR's advertisement campaign, Tauranga's MP Simon Bridges responded in like saying in effect that NZCPR had it wrong and that this (water ownership transfer to Iwi) would never happen. However we have yet to hear from the minister, or to my knowledge, any other minister for that matter, how NZCPR have misinterpreted the proposed reforms. This in itself begs a question. I also question why such an important critical piece of legislation has not been dissected by the media at large. The public should have full and complete knowledge of such an important piece of legislation in order to make an informed decision. After all we are supposed to have a democratically elected government acting for the majority of its citizens – does this still a apply? | Chris |
| Apartheid continues. The RMA was born out of AGENDA 21's ideas. New Zealand was built without the RMA – Drive a stake through both their hearts. Reject any type of authority that cannot be justified by reason. Non objective rules and laws devalue the individual, eliminate reason, forbid complex thought and demand blind obedience. New Zealand has long been a social laboratory for the world while continuing to lay the groundwork for dictatorship…….. while the U.N. smiles. | Don |
| | |
| --- | --- |
| Can this be the same National party whose leader before the. 2008 elections promised the country that he would disestablish the Maori seats in Parliament and limit the Treaty Claims. I just hope for his sake that he doesn't need to rely on my vote in 2017 because he has no chance of getting it. I have voted National all of my life and I never expected this sort of crap from a supposedly right wing government. As has been stated by many the flag debate clearly is a distraction while our earstwhile leader makes plans to sell us down the river. If we are still permitted to use the river. I'm totally disgusted. | Jim |
| No way! Are we one nation or not? | Walter |
| Here we go again iwi of a race with very little Maori left in it but as we get more muslims the battle will really heat up for control thank fully I will not be here to see it but for my grand children it is a concern the world is in a mess and minioritys are the ones causing all the trouble so thanks Muriel for all your good work. | Russell |
| If all the voters in n.z.changed their electoral role from their electorate to the maori roll we would then be one people once again. | Don |
| A further step to provide over representation of a minority group by stealth. | Kevin |
| This separatism has got to be stopped. New Zealand must not put such apartheid agreements into law. When will those in power stand up to Maori anti Treaty demands? | Graeme |
| When asked, no MP has been able to provide hard evidence Maoris are indigenous. Maoris applied to The Hague for indigenous status and intellectual property right to their culture and were refused through lack of evidence. The Treaty was honoured by giving Maoris British citizenship and English law through making NZ a dependency of NSW; it was then a done deal, no more it could do and relegated to Archives as an historical document. Then along came our true founding document, Queen Victoria's Royal Charter of 16-11-1840 that split us from NSW, gave our first constitution, English law only with Courts to administer English law, authorised Hobson's promotion to Governor and allowed authorisation of our own flag, which is older than Australia's. Why have Governments been conning you with Treaty jargon, keeping the above silent? | George |
| As Don Brash says, "the surrender is almost complete " This whole episode is utterly shameful. | Wah |
| Where does it end, and when. | Tina |
| My mistake, I though that New Zealand was a parliamentary democracy… | Graham |
| Of course not! How can we stop National's drive to divide the country on a racial basis? | Terry |
| Perhaps John Key's next referendum should be on whether to rename the National Party as the National Socialist Party. | John |
| More Apartheid implemented by stealth tactics under the smokescreen of flag debacle. | John |
| I have written to our (National ) MP -no doubt weasel words in reply. What a spineless lot the backbenchers are. | Roger |
| Maori are only a small portion of NZ and there are no pure Maori anyway. This is a racist proposal, It's like having a pakeha group, they developoed NZ anyway. | Edward |
| Racially based division of our country -EVERYONE in tNew Zealand should, and must have, equal rights. | Hylton |
| Separatism pure and simple. One has to ask why the Government is going down this track. It will only lead to disaster, and hopefully the anger of the electorate will lead to the demise of this increasingly arrogant and autocratic government. They have outlived their usefulness. | Sylvia |
| Racism Again, Shonkey has lost my vote. | Greg |
| It is race based garbage promoted by politics rather than the people of New Zealand. | William |
| We need a referendum on all N Z's be one born here gained citizen ship you are a New Zealander, end of story. | John |
| This should no longer be a matter, even, of discussion in our country! | Anne |
| Death would be preferable than to live in a separatist society. | John |
| Apartheid! | Peter |
| I am amazed at such a blatant sell out! Lost for words. | Pieter |
| For God's sake when are they just going to be New Zealanders. | Ranald |
| I have said it before & I think it is even more probable now. The government is acting as if it is no longer in control it is as if a "silent" coup has taken place. That to avoid bloodshed the government must implement apartied one step at a time. It is difficult to fathom any other rational justification for the actions of this government, why completely divide us via race now? | Tracy |
| I am against maori/iwi controlling any of our water systems. | Kelvin |
| I don't like the separatist road this country is going down and fear many problems arising from it, we are not one people, but have become one people and maori, it has to stop. | Carolyn |
| NOT NOW, NOT EVER. I am so sorry I came back from overseas residence to live in this country in which I was born. As Brash said last week, the surrender is almost complete….WHY WHY WHY? This is not inclusiveness for the iwi. There are so few real Maori amongst the iwi and the tribes/protesters etc….we all know this is a purely political demand, and move, and the politics of envy at that…..yet we all have similar eventual targets, ambitions, and dreams. AND OPPORTUNITIES. Could we just have a little cold hard reality for a change? Together, in lockstep, hand in hand, into the future, instead of all these new and allegedly "inclusive" determinations which are effectively creating a state of apartheid in NZ. wHAT "AUTHORITY"pray do these IWI have that they did not have the week before,? the casting vote??? No thanks! One country one person and one vote and get n with it. | Maggie |
| Separatism by stealth. | Dave |
| More entrenchment of APARTHEID in NZ. When is the public going to wake up to the fact that APARTHEID IS alive and well in NZ? How ironic! | Geoff |
| I fear that this country is fast becoming two peoples. New Zealanders and Maori. The whole proposal is divisive and puts control into the hands of those least suited for best outcomes. The best outcome would be to scrap the current RMA and return to what was a fully functioning system in 2002. | Dave |
| Not enough people think or care. Sheeple we are. | Michael |
| Why are "Maori" (with a drop of brown blood) being treated as special? What are their special qualifications.? Come on Key, stop being deceitful and devious and tell so-called Maori that everyone in NZ is equal. This Govt is a damned disgrace! | Carolyn |
| Absolutely not. | Kate |
| Absolute Rubbish. | Bill |
| As Dr Brash says: The proposed amendments to the Resource Management Act announced just a few days ago make it abundantly clear that we are well down the track of accepting that we are not really one people at all, but two distinct groups with different political rights." | Rex |
| Wake up National Party! If you persist down this undemocratic track towards special, even total, privilege for one racial group just watch the effect on your election results. | Robin |
| | |
| --- | --- |
| If Iwi were thoroughly concerned with waste management,water quality in streams, rivers, estuaries and lakes, I might consider their greater control a good thing. But they can be as greedy as the worst of Councils and landowners. | Rochelle |
| Absolutely not! | Brian |
| They are one % of the population there are no pure bread maries they are all mixed blood. | Mike |
| What a Joke. | Denis |
| More crap from Maoris! | G |
| New Zealanders are already third class citizens so knocking them down to fourth is no surprise.. Parliament is full of Putins and yes people controlled by the fear of Maori anathema. | Robert |
| Why does Iwi have to be in every thing. What is going on here. | Robert |
| Simply separatism extended – should be soundly resisted. | Russell |
| We have more than enough racial discrimination in existance now. | IAN |
| This is one country one people let it stay the way it is. | Ian |
| That would be one of the worst things that the government could do. That will be another step to wards separatism!! | Bryan |
| Get rid of all this nonsense. | IAN |
| Race based preferential treatment, because what suits them they will push what doesn't they will veto. | Murray |
| This situation gets more outrageous by the minute!!! I USED to think that New Zealand was a DEMOCRACY – NOT a country involved in Tribalism. | Sylvia |
| Unfortunatly the National Party is segregating New Zealanders, This is now APARTIED country. | Wayne |
| This Key led government is selling our birthright. | Nick |
| Iwi have no more rights than the majority of New Zealanders. Equality for all. | Geoff |
| Whatever is proposed will never be enough to satisfy Maori demands, which will continue, and become more and more extreme and bizarre. The rewriting of history to suit the demands will continue unchallenged – sadly many will believe the fictions on which this "new history"is based. | Andrew |
| This has shown Key Finlayson the National party and other hangers on to wont division.Insanity or political stupidity. POWER CORRUPTS ABSOLUTE POWER ABSOLUTELY CORRUPTS. | Lance |
| Another step by National towards a separist state providing special privileges for Maori. | Graham |
| It would be nice if those polls did have any effect on "democracy" in this country. Maori decendant already have way to much "negative" influence on what is happening here. This government is way to politicaly correct and destroying our beautiful country. | Peter |
| I left South Africa to come to a society where all the people had equal rights. It appears now that I was mistaken. | Roger |
| In a word, "scandalous". | Graham |
| Stealing our heritage by a few "Iwi" leaders. | Jeff |
| We all own the water. | Jim |
| Absolutely despicable! | Ian |
| Another act by NZ politicians furthering the erosion of rights of the majority on this issue, patronising the minority numbers of maoris to appease their "claims" and " cultural sensitivities" with total disregard for the rest of NZ people. These same politicians also claim that this country is "One Nation" and all are equal, no matter what race, colour or creed, and no special privilages applied to any specific race. How far have they removed the majority from that !! | David |
| If the Maori control the country it will revert to their way of life in the 1800's. | Barry |
| We are all, NZ citizens in this country. Why are Maori privileged over all others? I understand they were given EQUAL rights! | Peter |
| Are Politician's inherently insane, or is such insanity acquired by osmosis once they step into Parliament. Let's look at this for what it is, the Iwi are attempting to form mandated pressure Groups within an already totally broken system that is currently incapable of making or applying any Policy whatsoever. With so many agendas would/could a single decision ever be made? | George |
| Shameful cave in to separatism. | Alan |
| We are supposed to be one people. | Chris |
| It's hard to believe people like English et el can sell us all done a civil unrest road. | W |
| What has happened to democracy? Those supporting this proposal are traitors and should be taken out and shot.. | Robert |
| Move over Zimbabwe and make way for Aotearoa as it joins the ranks of third world basket cases. Aotearoa will actually go straight to the top of the list of basket case countries as their democratically elected leaders chose the pathway …. it wasn't thrust upon them via a coup or dictator. Talk about dumb and dumber … Kiwis take the cake hands-down. | Steve |
| NO, most definitely not. Why are our politicians hell bent on establishing apartheid in NZ? What a sad sad country this has become. | Trevor |
| Are they going into participation agreements with the rest of NZ. | Colin |
| The maori have been given too much power in the past with other "deals" the govt has handed out. | David |
| | |
| --- | --- |
| What a disgraceful concept this is – how on earth could National even consider giving such power and control over other New Zealanders to iwi. | Brian |
| No, no, no! They should be opposed at every level. | Janice |
| Does National want to see the end of democracy in New Zealand? Can they really be so short sighted? The whole thing is appalling. | Rob |
| We need another general election – and pronto! | Geoffrey |
| MMP should have been thrown out when we had the chance a few years ago. It's influence is corrosive. It corrupts politicians. These iwi agreements should never see the light of day. | Paul |