August 11, 2013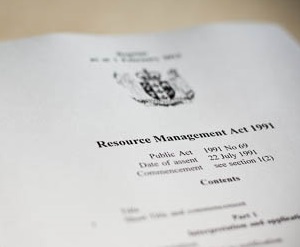 Over the weekend, Prime Minister John Key announced a new tranche of reforms for the Resource Management Act: "New Zealand needs planning law that enables economic growth and jobs, as well as providing strong environmental outcomes.  The changes we are introducing are about striking that balance between our environmental responsibilities and our economic opportunities.  The latest reforms are about providing great confidence for businesses to grow and create jobs, greater certainty for communities to plan for their area's needs, and stronger environmental outcomes as New Zealand's communities grow and change."1
Essentially, these changes follow on from a discussion paper released in March by Environment Minister Amy Adams. They are designed to overcome bizarre RMA outcomes such as the $3,500 cost for a consent to do an $800 job removing a chimney from an earthquake damaged home, a $7,000 consent to add a 4m extension to an existing deck, the need for a resource consent and an arborist's report to trim a backyard tree, a heritage protection order being put on a 14 year old Lockwood home, visual streetscape rules being applied to back sections not visible from the street, councils prescribing how big the front windows of a home can be or where the lounge must be positioned, or whether a child can build a tree house.2
Over the years the RMA has morphed into an increasingly restrictive and costly scheme – the antithesis of the enabling, effects-based regime that the architects of the RMA promised in 1991 as a way of allowing almost any change to occur so long as the effects on the environment were properly mitigated.
The specific changes now being proposed will require councils to publish a list of fixed fees for straightforward consent applications; to introduce a 10-day fast-track consent process for simple projects; to exempt minor breaches from consent rules; to ensure complying subdivisions are non-notified; and to streamline the appeal process.
Councils will be required to consolidate all planning documents into a single plan so that residents and ratepayers can better understand local authority rules and regulations. They will be asked to find better ways to engage more effectively with their communities and be more accountable to them. In particular, they will have to demonstrate how they are meeting local environmental, cultural, social and economic needs through improved reporting and benchmarking against such indicators as vacant section availability and price, local employment information, water and air quality indicators, and so on. In addition, they will be expected to have learnt from the Canterbury earthquakes and the recommendations of the Royal Commission with regards to natural hazards.
However, in spite of announcing a number of very worthwhile changes, National does not appear inclined to address an area of growing concern in many communities – the elevation of iwi rights over those of all other residents and ratepayers through the RMA.
Special rights for Maori were written into the RMA from the beginning. Under Section 33, for example, local authorities can transfer their "functions, powers, or duties" to other public authorities – including an "iwi authority". An iwi authority is defined in the Act as "the authority which represents an iwi and which is recognised by that iwi as having authority to do so".3
In other words, for over 20 years, any local authority that wanted to transfer their resource consent powers to an iwi authority could do so lawfully. The fact that iwi authorities are self-selected groups that are totally driven by self-interest and as such are the antithesis of the other 'public authorities' listed in Section 33 of the RMA (namely government departments, statutory authorities, joint district and regional council committees, or local community boards) appears to have been ignored.
With a thorough review of the RMA now underway, surely it is time for these excessive and inappropriate powers to be repealed. Governance rights should only ever be given to groups that are free from conflicts of interest and can act in the public good. Iwi authorities are mired in conflicts of interests as their demands to local councils regularly demonstrate.
In a bizarre twist, it is also possible that the members of the iwi authorities that are demanding superior powers and rights over local council decision-making do not pay rates.
Under the Local Government (Rating) Act 2002, Maori customary land is one of the categories of land deemed to be exempt from the paying of rates.4 Any Maori land used as a Maori reservation is also exempt, as is any land that is used for a marae or meeting place that does not exceed 2 hectares – including Maori freehold land. In addition, under section 116 of the Act Maori freehold land can be given a general exemption from rates by virtue of an Order in Council.
In other words, the very groups that are demanding reserved seats and a greater say in the way their local authorities are run, are the least likely to contribute to rating income – thanks to laws that enable the owners of some Maori land to avoid paying rates.
The extent of iwi authority demands can be seen very clearly in Auckland. As a result of the formation of the Maori Statutory Board (National's unfortunate response to the rejection of their proposal for Maori seats on the new council) iwi in Auckland are now well organised and are aggressively agitating for more power over the running of the council and the region.
Just last week the Auckland Council chief planning officer Roger Blakeley arranged a private meeting for councillors and local board chairs to hear the demands of the 19 iwi authorities that want more control over council decision-making. According to his memo, "Mana Whenua expressed a specific desire to be further involved in decision-making on feedback submitted to the draft Unitary Plan."
An outline of some of that feedback was provided: "Of the comments received on the Treaty of Waitangi provisions, a number of comments supported the intent of the unitary plan to give effect to the Treaty of Waitangi. A large number of comments were received in specific support for Part 2.5 of the unitary plan – issues of significance to Mana Whenua. There were a small number of comments received in general opposition to the principle of referencing and/or giving effect to the Treaty of Waitangi in the unitary plan. Others supported the proposal for protection of sites of cultural significance and/or requested that the provisions go further to protect Māori culture and heritage."
The memo made it clear that Council staff had been working with Mana Whenua since December 2011 and that the Treaty of Waitangi provisions in the draft plan were the result of that collaboration. In other words, council staff have been working with one group of residents and ratepayers to progress their self-interested agenda, even though their demands will seriously effect the rights of other residents and ratepayers.
The memo outlined other relevant feedback received by the Council:
Support for the Māori Purpose zone generally, requests for more enabling provisions for land use activities and development controls
Requests for more enabling planning controls in relation to papakāinga outside of Māori Purpose zoned land
Sites of significance to Mana Whenua overlay. A moderate proportion of comments expressed support for this overlay. There were some requests for the 50 metre protective distance to be increased and some requests for it to be decreased
Both support for and opposition to the Māori cultural heritage alert layer. Out of the comments received in opposition to the overlay, a large proportion requested greater certainty regarding the position of sites or places of cultural heritage significance. A large proportion requested that the layer be deleted unless this certainty can be provided
Cultural Impact Assessments (CIAs): comments were received in both support and opposition to the provisions. A number of comments were received requesting revisions to the rules regarding CIAs
Requests for revisions to the definition of customary use, and for customary use to be a permitted activity in the Māori Purpose zone and Māori land overlay
Joint Management Agreements, transfer of powers: A number of requests received for joint management over specific sites. Some requests for transfer of powers over specific sites
A number of comments were received requesting amendments to the consultation and engagement provisions, for example stronger and more direct wording to give meaningful effect to the role of Mana Whenua in decision making
In summary, the 19 iwi authorities are demanding plan changes to enable more development on Maori land and Treaty Settlement land, more protection of Maori Cultural Heritage, more say over water quality and allocation, and proper resourcing to enable full Mana Whenua participation in local government including joint management and the transfer of powers.
The bottom line is that as developers, iwi authorities are not only demanding special exemptions for special projects, but they are seeking superior rights in the form of co-governance and co-management over all natural resources. In addition, more and more are developing iwi plans, which under the RMA must be given statutory weight once they are lodged with the council – local authorities must take them into 'account' when preparing or changing district or regional plans and regional policy statements.
Such calls for special rights are now being heard all around the country. As they grow stronger many council members bow down to the pressure of local iwi and council staff, who are continually trying to force Maori seats, iwi committees and Maori statutory-type board arrangements onto local residents and ratepayers. It is long past time that the public took a stand against such pressure and intimidation.
However, one of the major problems for the majority of New Zealanders who are fundamentally opposed to race-based rights is that the general public do not engage in the established consultation processes in sufficient numbers to ensure that the 'majority' view is heard by decision-makers. Pro-active involvement in local government consultation appears to have become largely the domain of vested-interest groups – which is no doubt why the newly announced RMA reforms have highlighted the need to reduce the number of local authority plans to one and to improve engagement with local communities.
This week's NZCPR Guest Commentator Michael Coote, an Auckland-based freelance writer who has long raised the alarm over the racist rorts in the Auckland plan, outlines how Panmure, Onehunga and Pakuranga residents – in conjunction with Auckland's business community and its representative organisations – lobbied successfully to change the excessive height restrictions for new buildings that were being proposed in the new Auckland Unitary Plan. He explains that a joint effort could be just as effective in rolling back the council's 'neo-apartheidist' agenda:
"In essence, the Maori policy of the draft Unitary Plan proposes that mana whenua tribes be officially empowered and facilitated by Auckland Council in their exercise of sweeping, racially-allocated rights of veto, danegelding and rent-seeking via the Resource Management Act 1991 that will have far reaching implications right across Auckland…
"New Zealand doesn't need racially-licensed economic exploitation entrenched in Auckland. It's not too late for business interests to pressure Auckland Council into eliminating the racist bias and economic decline premised in the draft Unitary Plan's highly politicised, anti-democratic interpretation of the RMA."
It is clear that the public needs to take a much stronger interest in what is happening at local government level, since the implications can have such far-reaching consequences. With this in mind, it will be interesting to see whether the government's proposed reform of the RMA will provide some solutions.
But there is another answer – one that's in the public's hands.
Nominations for local body elections close on Friday. Anyone who wants to stand for city and district councils, community boards, and regional councils, must ensure their applications are received by Friday.  Please encourage good people, who are prepared to speak out against racial privilege, to put their names forward.
THIS WEEK'S POLL ASKS: 
Would you like to see race-based rights removed from the Resource Management Act?  
Click HERE to see the results