October 27, 2013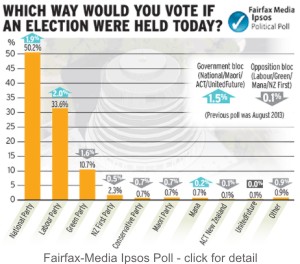 A new Fairfax poll released today shows that while Labour has not made the inroads into National's support that it would have hoped from the leadership change, it has stopped the loss of support to the Greens.1 While the poll indicates that National could govern alone, public opinion always firms up in the run-up to a general election and the polls will inevitably close.
This poll has National on 50.2 percent, up 1.9 percent from the last Fairfax poll in August. Labour, meanwhile, gained 2 percent to 33.6, while the Greens were down 1.6 to 10.7 percent. New Zealand First slid 0.5 to 2.3 percent, both the Conservatives and the Maori Party fell 0.7 to 0.7 percent, Mana increased 0.2 percent to 0.7, ACT fell 0.1 to 0.1, and United Future was unchanged on 0.1 percent.
A TVNZ poll also released today, showed Labour flat on 34 percent, National down 2 on 45 percent, the Greens up 1 on 13 percent, New Zealand First stable on 4 percent, the Conservatives up 1 on 2 percent, and ACT and the Maori Party stable on 1 percent.2
Without a doubt, the major focus in 2014 is going to be the likely shape of the new MMP government. With the difficulties being experienced by National's coalition partners, questions are now being asked about how viable they really are.
United Future's Peter Dunne was, of course, forced to resign from Cabinet following his refusal to cooperate with the inquiry into the leak of a confidential report on the Government Communications Security Bureau. Around the same time his party was deregistered by the Electoral Commission for falling below its 500 member threshold, and he was stripped of his party leadership status. However, once the membership was rebuilt and the party re-instated, Mr Dunne's leader's privileges were restored. The Prime Minister has indicated that if Mr Dunne is cleared by the Privileges Committee over any wrongdoing in the GCSB leak, he may be able to regain his Ministerial posts.
Mr Dunne won his Ohariu electorate seat for the tenth time at the 2011 election, with a total of 14,357 votes – 1,392 ahead of his Labour Party rival. Unless National makes a serious challenge for the seat at the next election, Mr Dunne is likely to retain it.
ACT's John Bank's also had to resign from Cabinet while he faces charges of knowingly filing a false election return during the 2010 Auckland mayoralty race. Following a private prosecution by retired accountant Graham McCready, a Judge found there was a case to answer and a court appearance is expected next year. Mr Banks, meanwhile, is seeking an urgent judicial review of the finding in the High Court, on the basis of the errors it contained. Mr Key has indicated that if Mr Banks is cleared of the charges, he too will be able to regain his position in Cabinet.
Mr Banks won the Epsom electorate seat in 2011 with 15,835 votes, 2,261 ahead of his National Party rival. It was the third time ACT had won the seat of Epsom in a general election, and unless National contests it strongly, there appears every chance that ACT could win it again, providing the party is able to re-built its credibility with Epsom voters
The Maori Party's long running leadership wrangle, between Pita Sharples who didn't want to stand down as co-leader, and Te Ururoa Flavell who was impatient to take over the top job, has taken a toll on the party's support. The party is set to further struggle once the founding co-leaders Tariana Turia and Pita Sharples retire at the next election. That may be why Mr Flavell has agreed to meet with Hone Harawira's Mana Party for talks. However, a TVNZ poll taken earlier this month in Mr Flavell's Waiariki electorate shows that his support remains strong, with 43 percent saying they would vote for the Maori Party candidate, compared to 17 percent support for Labour, and 8 percent for Mana.
The point is that while each of National's current support partners is facing major challenges (which are clearly being reflected in their dismal poll ratings) none can be written off just yet. As Winston Churchill once said, "In war you can only be killed once, but in politics many times". Indeed, it remains one of the great fascinations of politics, that politicians and parties that have been effectively decimated, are able – against all odds – to rise up and fight another day.
So what about Labour?
At a recent Council of Trade Unions conference in Wellington, the new leader revealed the true colours of the Cunliffe Labour Party. Addressing the audience as "Comrades", David Cunliffe explained that under his watch, the party will become "a true red Labour Party", not the "pale blue" one led by Helen Clark.3
Labour's new leader was strongly supported by the trade unions in the recent leadership contest and is clearly committed to returning New Zealand to trade union rule.
He has promised to scrap all of National's employment law changes including the 90-day trial period for new workers, the starting-out youth wage, and the proposed changes to collective bargaining that are currently being considered by a Select Committee.
In return, he intends to significantly strengthen union rights – including introducing national awards, which means that employers in the regions would be forced to pay Auckland wages. He has promised to extend paid parental leave from 14 weeks to 26 weeks – at a cost to taxpayers of $150 million a year – and will increase it to a full twelve months over time.
Mr Cunliffe intends to immediately raise the minimum wage from $13.75 to $15 an hour for all workers – that is, except for those working in the core public service, whose minimum wage he would increase to $18.40 an hour – the so-called 'living' wage. He claims, "The cost of this policy has been estimated at around $30 million per annum".
He then plans to extend the living wage to all "crown entities including the health system and the aged care sector". His aim is to make the living wage the new minimum wage "for all New Zealanders".
Mr Cunliffe clearly isn't concerned that his new minimum wage will drive many small employers out of business, leaving thousands of workers without jobs. Nor is he concerned that these wage increases will flow through into higher priced goods and services, putting pressure on family budgets – and inflation, potentially forcing up interest rates. Nor does he wish to acknowledge that New Zealand already has one of the highest minimum wages in the OECD. His sole focus appears to be on delivering for his new masters – the trade union movement.
David Cunliffe has been accused of misleading New Zealanders by understating the cost of his policy promises. Prime Minister John Key challenged him saying the total cost of a living wage would be $2.5 billion to $4 billion, not the $20 million to $30 million claimed. And the Institute for Economic Research has put the cost of establishing the living wage across the country at $3 billion to $4 billion a year.4
David Cunliffe's speech is the clearest indication yet that the days of spendthrift Labour are back. If this new deep red Labour Party goes into coalition with the reckless Greens, New Zealand would take a giant leap backwards.
This week's Guest Commentator is political commentator and former ACT leader Richard Prebble, who shares his concerns about the prospect of a Labour/Green government in his article A Labour/Green Government. Should we worry? He reminds us that former Labour leader Helen Clark ruled out working with the Greens as being too extreme:
"Have the Greens moderated?  I think they are more extreme. Dr Russell Norman is a socialist. He takes no responsibility for his acts of economic sabotage that have cost the taxpayer over a billion dollars in the Mighty River and now Meridian sale.  'It was not me who made the decision to sell' as if that is an excuse for economic terrorism.
"Metiria Turei does not make me any more reassured.  Ms Turei's speeches reveal she is actually an anarchist. An inconsistent anarchist who supports the liberalization of her vice of choice soft drugs while supporting policies to the right of the Destiny Church on vices she does not approve of such as gambling.
"Norman and Turei campaigned as recently as 2002 saying the major issue facing the country was 'peak oil'.  According to the Greens the world production of oil was going to rapidly decline and we needed to immediately give up our cars for public transport.  Since that prediction the world's production of hydro carbons has exploded and fracking is making America go from the world's largest importer to an exporter."
Richard makes the point that none of this would matter except that Dr. Norman and Ms. Turei may soon have the power to impose their radical ideas onto the country as a major partner in a Labour-Green government. He concludes with this question: "Why is a mainstream party even contemplating sharing power with a party as extreme as the Greens?"
The answer of course, is that under MMP, unless Labour can lift its support dramatically, they will need the Greens to form a government. However, Labour and the Greens are a dangerous mix. Just look at what they have cost New Zealand taxpayers through sabotaging the government's asset sales programme. In a joint press conference held only days before the listing of the first of the state-owned energy companies to be partially privatised, they announced their intention to regulate the wholesale pricing of the electricity industry if they became the government in 2014. The announcement created such a shockwave that the sale of Mighty River Power had to be suspended to allow investors to back out of the deal. Millions of dollars were wiped off the value of the government's shareholding, and within two days of the announcement, the share market value of Contact Energy, Trust Power and Infratil had fallen by almost $600 million.
It is fair to say that New Zealanders have been the big losers from their recklessness. The proceeds from the two share offers – $1.9 billion from Meridian and $1.7 billion from Mighty River Power – have raised $3.6 billion. With $780 million predicted from the partial sale of Genesis Energy, and $280 million from Air New Zealand, the final proceeds from the asset sales programme are now expected to fall well short of the government's $5 billion to $7 billion target. That means less money available for spending on hospitals and schools.
If Labour and the Greens had not played irresponsible politics, all New Zealanders would have gained greater benefit from the asset sales programme – the sharemarket would have been more buoyant, the value of Mighty River Power would probably not have fallen so much, the float of Meridian would have brought in more investors and funds, and New Zealand taxpayers would have been better off by over a billion dollars to be spent on important capital projects.
The point is that people have come to expect the Greens to be reckless and extreme. But they expect Labour to be rational. And that's what's so worrying looking ahead, because Russell Norman has made no secret about the fact that he would expect a top job in a Labour-Green government. While Mr Cunliffe has said that all he would offer is a senior economic role, if having Russell Norman as Finance Minister is all that stands between David Cunliffe becoming Prime Minister, or remaining leader of the opposition, it doesn't take a rocket scientist to figure out what he'll do.
THIS WEEK'S POLL ASKS:
Do you believe Russell Norman would be offered the Finance Minister's role if that is a bottom line to Labour forming a government in 2014?  
Click HERE to vote 
Click HERE to see all NZCPR poll results
FOOTNOTES: