September 1, 2019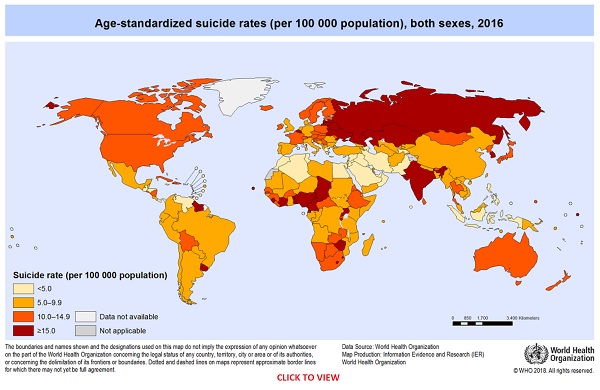 It is a dreadful reality that in New Zealand far more people die by suicide than in motor vehicle accidents.
Whether it's a family member, a friend, or someone we know of, when a suicide occurs one inevitably questions why – and what more could have been done. In many cases the suicide is unexpected and comes as a complete shock.
Besides those who take their own lives each year, there are thousands of attempted suicides that result in hospitalisation. While the majority recover, in some cases the injuries sustained result in permanent disability.
It is thought that for every suicide death, there are around 11 non-fatal attempts, although for teenagers it is said to be as high as 25. With the risk of suicide in this country much higher than we might imagine, providing support to those who are vulnerable is crucial.
Last month, the Chief Coroner released the annual suicide estimates for the year to the end of June 2019 showing that New Zealand's suicide rate is now at its highest level since provisional records were first released in 2007.
Some 685 children, teenagers and adults took their own lives – an increase of 17 deaths since last year. The suicide rate now stands at 13.93 per 100,000 people.
Of those who killed themselves, 73 percent were men and 27 percent were women.
A quarter were under the age of 25, 64 percent were aged 25 to 64, and 11 percent were aged 65 and over.
Of the young people who committed suicide, 11 were children (5 boys and 6 girls) aged between 10 and 14 years old – three more than last year. There were 73 teenagers (48 boys and 25 girls) aged 15 to 19 – a massive increase of 20 over last year. And there were 91 young people (64 young men and 27 young women) aged 20 to 24, an increase of 15 on last year.
When it comes to ethnic breakdown 5 percent were categorised as Asian, 5 percent Pacific Islander, 25 percent Maori, and 65 percent were European and other ethnic groups.
However, in assessing the over-representation of Maori in such official statistics, it's important to remember that classification protocols mean that the count for the Maori ethnic group is significantly overstated, since anyone with any mention of Maori ancestry is categorised as 'Maori', instead of their dominant ethnicity.
When it comes to the methods that people used to commit suicide, in a break from tradition, the latest Coroner's report does not provide the data.
However, the 2018 report shows that 62 percent (417 people) killed themselves by hanging, strangulation or suffocation, 14 percent (92 people) poisoned themselves including through drug overdoses, 7 percent (46) used carbon monoxide poisoning, 6 percent (42) shot themselves, 4 percent (23) crashed their vehicle, 2 percent (16) cut themselves, 2 percent (15) jumped to their death, 1 percent (8) drowned themselves, and 1 percent (6 people) set fire to themselves.
A 2010 study by the Ministry of Health that analysed suicide methods found that for women, hanging was by far the most common method used (48 percent), followed by carbon monoxide (17 percent), and drug overdose (16 percent).
Hanging was also the most common method used by men (52 percent), followed by carbon monoxide (20 percent), and shooting (12 percent).
When it came to employment status, the 2019 statistics showed four main categories – 45 percent of suicides were carried out by people who were employed, 27 percent by those who were unemployed, 10 percent by students, and 10 percent by pensioners.
A recent investigation into the factors leading to the suicide of employed workers found that three-quarters had experienced depression, a third had problems with substance abuse or addiction, and one in five experienced anxiety. Other risk factors included job insecurity, long working hours, relationship difficulties, and an inability to seek help.
When it came to self-employed business owners, the stress was often related to financial pressures and business failure.
Other factors identified in Coroners' reports as contributing to suicide deaths include engagement with criminal justice system, illness or injury, grief, and housing issues including homelessness.
With regards to housing, the failure of KiwiBuild to deliver on its promise of affordable homes, a 40 percent escalation in the state house waiting list to record levels, and an increase in homelessness, may well have exacerbated the situation for some.
And when it comes to those involved in the criminal justice system, while the 2019 statistics showed only one prisoner had committed suicide, British research published in the medical research journal The Lancet, showed that the suicide risk for people recently released from prison is far higher than for the general population, especially during the first few weeks. The paper says the risk for prisoners is similar to another high risk group – recently discharged psychiatric patients.
In a 2003, The Lancet also shed light on child suicide through a Swedish study that found "the risk of suicide was more than twice as high among children in one-parent households compared with those living with both parents. This conclusion came after first identifying some 65,000 children of single-parent homes and 920,000 living with both parents beginning in the mid-1980s, and examining their death rates and hospital admissions throughout the 1990s."
It remains unconscionable that New Zealand's welfare system continues to incentivise single women to have a raise children on their own, without the support of the child's father, even though the evidence is clear that single parent beneficiary households are a risk factor for children.
As our former Governor General the Rt Hon Sir Michael Hardie Boyes explained, "Fatherless families are more likely to give rise… to the risks of being abused, of being emotionally, even physically scarred, of dropping out of school, of becoming pregnant, of living on the streets, of being hooked on alcohol or drugs, of being caught up in gangs, in crime, of being unemployable, of having no ambition, no vision, no hope, at risk of handing down hopelessness to the next generation, at risk of suicide."
Reforming welfare to support single parents through work-related benefits – as most other countries do – would undoubtedly reduce suicide risk for children and young people.
When looking into the Government's plan for combatting suicide, the Ministry of Health's website exposes the shocking reality that the current mental health strategy expired in 2016.
With an outdated strategy guiding mental health services in New Zealand, it is little wonder that suicide is on the rise.
What's worse is that Prime Minister Jacinda Ardern is refusing to be held to account by setting suicide reduction targets.
This is in spite of the Government's $6 million mental health inquiry recommending last November that a target of a 20 percent reduction in suicide rates by 2030 should be set.
The reason given by the Prime Minister for not introducing a suicide target was, "A target implies we have a tolerance for suicide, and we do not. The goal is for no one to be lost to suicide."
The Prime Minister however, would not set a zero target, and be held accountable for its achievement.
The reality is that she knows that under her government, key social "well-being" indicators such as homelessness, state house waiting lists, and child poverty have deteriorated. With the economy now slowing, and financial pressure on families mounting, there is a real risk that New Zealand's suicide numbers will continue to rise.
But it doesn't have to be like this.
One country that has worked hard to reduce suicide through a comprehensive approach is Denmark.
The strategy they adopted was multipronged.
They reduced access to dangerous means of suicide, including restricting the availability of popular medications used for drug overdoses. They introduced catalytic converters into car exhaust systems to reduce toxic concentrations of carbon monoxide. They tightened firearm security, and psychiatric wards were redesigned to eliminate suicide opportunities.
Free psychiatric care for all citizens was introduced, including separate psychiatric emergency rooms, early intervention services for young people with psychosis, and specialised treatment for anxiety and depression.
Suicide Prevention Clinics were set up to provide counselling, therapy, and practical support to anyone with suicidal thoughts or behaviours.
Psychiatric Emergency Outreach teams were established to support people in crisis by having a psychiatrist and an ambulance on call seven days a week.
A Strengthening Outpatient Care After Discharge (SAFE) project was introduced to offer home visits and family support to patients discharged from psychiatric hospitals.
The Danish Lifeline began operating a suicide hotline with anonymous counselling by trained volunteers.
Other areas identified for improvement involve targeted interventions for selected at-risk groups including people experiencing social adversities, homeless individuals, children in foster care, people living in sheltered housing and nursing homes, prisoners, and those suffering from alcohol and drug addictions.
The Danish example shows that with a proactive approach to suicide prevention, lives can be saved.
While our Government announced a substantial $1.9 billion investment into mental health in the Budget, only $40 million over 4 years is earmarked for suicide prevention.
And as if the problem of suicide in New Zealand is not bad enough, the Government is now considering legalising cannabis even though its use doubles the risk of psychosis and schizophrenia, significantly increasing the risk of suicide.
Late last year new research identified that alcohol and drug use plays a far greater role in suicide than previously thought. The study examined the sudden deaths of 313 patients who had been under the care of specialist mental health services in Canterbury between 2005 and 2009, finding that 52 percent had committed suicide with alcohol and drug abuse as the main diagnosis.
This week's NZCPR Guest Commentator is Alex Berenson, a former New York Times reporter and award-winning novelist, who exposes the link between cannabis use and violent crime in a new book, Tell Your Children: The Truth About Marijuana, Mental Illness, and Violence. He explains:
"Dozens of well-designed studies have linked marijuana with psychosis and schizophrenia. Researchers have found marijuana users are much more likely to develop schizophrenia. People with the disease suffer more frequent and severe relapses if they smoke.
"Even so, doctors and scientists have much to learn about the link between cannabis and mental illness. Most people will never have a psychotic episode while using marijuana. Some will have temporary breaks from reality. But an unlucky minority of users will develop full-blown schizophrenia.
"Arguably the most important finding of all came in 2017, when the National Academy of Medicine issued a 468-page research report titled 'The Health Effects of Cannabis and Cannabinoids'. To produce the cannabis report, sixteen professors and doctors worked with a staff of thirteen for more than a year. The committee found strong evidence that marijuana causes schizophrenia and some evidence that it worsens bipolar disorder and increases the risk of suicide, depression, and social anxiety disorder. 'Cannabis use is likely to increase the risk of developing schizophrenia and other psychoses; the higher the use, the greater the risk,' the scientists concluded."
Cannabis not only increases the risk of serious mental illness and suicide, but it also leads to drug dependency, with one in ten adult dope smokers becoming drug addicts, and one in six teenagers.
In the face of such facts about the dangers of cannabis, this week's comments made on National Radio by former Prime Minister Helen Clark – who is promoting the legalisation of cannabis – that marijuana is "hugely less harmful than alcohol or tobacco", is unbelievable.
It flies in the face of the comprehensive Australia and New Zealand research published in The Lancet in 2014 that examined 3,765 participants from three long-running studies, finding that "daily users of cannabis during adolescence were seven times more likely to attempt suicide".
If cannabis is legalised at next year's referendum, there is a very real danger that New Zealand's suicide rate will rise significantly.
THIS WEEK'S POLL ASKS:
Do you agree with former Prime Minister Helen Clark that smoking marijuana is "hugely less harmful than alcohol or tobacco"?
*Poll comments are posted below.
*All NZCPR poll results can be seen in the Archive.

THIS WEEK'S POLL COMMENTS
| | |
| --- | --- |
| Still trying to control the masses – make the populous docile and compliant and then we can do anything we want straight out of the socialist manual | Carolyn |
| Never was a Helen Clark supporter however did respect her ability to lead a government but supporting Marijuana use and decriminalizing is irresponsible. Totally agree with Alex Berenson book. 30 years ago overseas industry showed medical evidence of the harm done to the brain. Crazy comment from HC | Sam |
| It shows a complete lack of love for her fellow New Zealanders. | Alan |
| Perhaps she was having a "toke" when she said or wrote the quote. Abuse of any drug, legal or otherwise, can only be harmful. Ms Clark obviously never studied the statistics presented by this week's commentator., But then what would one expect from a staunch socialist, UN Wannabe, and mentor to our marxist oriented PM. Let us not confuse the issue with facts. The American Lung Association has established clear links between the smoking of marijuana and damage to the lungs (much as smoking), damage to the immune system (not present when smoking tobacco), and cognitive impairment (also not present with tobacco smoking). Impairment under the influence of marijuana is no different to impairment under the influence of alcohol. Perhaps at present, there are more people using alcohol rather than marijuana, but that will change once it is legalised as overseas evidence shows. Ms Clark, you speak with both feet in your mouth and a forked tongue. | Michael |
| I have now lost ALL respect for Helen Clark with her irresponsible nonsense. After 50years as a Health Professional, I have seen first hand the degradation that Alcohol, Tobacco, and recreational drugs have on our society, in my case first hand when my daughter was brought back to life by a team of 10 doctors in A&E. My close neighbour lost a family member from a psychosis suicide from complications of cannabis. The legalising of cannabis WILL be another SUICIDE and a tragedy for New Zealand. | BruceMPS |
| Californian lawmakers have approved medical marijuana in schools for children as young as 5 years old. Alex Berenson was on 'The Ingraham Angle' arguing against this last Fri. pm on Fox cable TV. I feel it will turn against Clark because we don't want to see her on TV. It's bad enough looking at Ardern who is looking very haggard these days, although we realize that she is Clark's patsy. | Monica |
| the liberal fools are at it again | John |
| No way | David |
| She has lost the plot. Proof positive is the sponsorship of her protege Jacinda | Barry |
| WOW !!!!! She really needs to get her head out of the sand !!!!! | peter |
| Ask Helen about Jim Andertons push to lower the drinking age to 18yrs old and he went to his death bed remorseful for the carnage it has caused since. Shame on the Labour socialists. | Brent |
| These so called social drugs including alcohol are harmful in the wrong hands, and the more drugs available in this way, then the more people will become a liability on the state. Lets not widen the problem. | Denis |
| Typical socialist, ideology over facts. | Neville |
| they are all harmful in excess. The illicit drug trade creates the criminal aspect | Laurie |
| I would not believe a word Helen Clark says. Drugs or alcohol are not good in any form. They all lead to depression. | Wayne |
| Denver's drug policy is one not to follow. I understand there are young people in the streets drugged out | Laurie |
| If she knew the harm that cannabis produces then such a statement by a previous PM is absolutely disgusting. Maybe she should grow up and/or keep her mouth shut. | Allan |
| Her true dedication and support for those who are socially disfunctional and generally are traditionally Labour voters comes through strongly here !!! | Nevma |
| Only halfwits and the uneducated would think otherwise | Paul |
| Neither alcohol nor tobacco fry the brain like cannabis does. | Martin |
| Helen Clark is on a mission to thwart sensible parents and those who care for the wellbeing of our nation . To what end ? | Catherine |
| NO they are equally as harmful, the reason that Halen has stuck her nose in, she is, as like Taxcinda, one worlders, and their ambition is to dope and dumb down the population so the one world government (UN) can take over, | Athol |
| No it is mind altering and often leads to stronger drugs | Tony |
| Anything smoked is harmful to the body and degrees of harm become irrelevant. | Anthony |
| It is the start point for some one to get into the drug culture Lets not allow this | Robin |
| An unlikely person to agree with! My answer should really be "probably", as my source of information is limited. | Howard |
| She is playing politics – anything to get Labour re elected next term!! | Sandra |
| It is easy to see that H. C. is still running the Labour Government. She loves the lime light. | Meg |
| She is either totally out of touch with reality or part of a campaign to alter the facts. Her comment should be challenged by the media. Such blatent disregard of the huge body of evidence linking drug use to social problems and mental health is shameful. | john |
| Helen Clark wants to legalise cannabis so she can have more zombies who will vote for the labour party in the future. Once many of the population are addicted there will be the inevitable call for rehabilitation clinics for those dumb enough to start using the stuff in the first place. | Colin |
| Helen Clark should keep out of this debate or at least become educated about the effects of Marijuana use, especially on the brains of our youth. | Florence |
| Her comment is stupid. The fact that a single shot pistol is less dangerous than an AK47 is not an argument to make them freely available. | Mervyn |
| Helen Clark should stay out of it. Probably get more people stoned and more votes for the left. | Graeme |
| With her track record it is hardly surprising that she thinks this way. Appalling. | Craig |
| Marijuana is one of or perhaps the most dangerous drug – far more so than alcohol or tobacco. | Brian |
| Have used both over the last 50 years. Now do not drink alcohol but do have the odd Vap. | Jon |
| Cannabis use must be strictly controlled | Jim |
| With this Government scaremongering about climate change we can expect to have more young people taking their lives. | Alan |
| How can a so called intelligent woman make such a statement. | Keith |
| the growing use of marijuana before and during driving is particularly alarming | Brian |
| Anyone who thinks that legalizing the drug marijuana in New Zealand is CRAZY. Do these people think that the criminals and the gangs will simply shut up shop and go away? | Sylvia |
| Marijuana ends up in the fat cells where it remains for a long time, while alcohol is washed out within a few days. | Annette |
| maybe we should all stick to making NEW ZEALAND, ONE country for all NEW ZEALANDERS | Bill |
| Not really a fan of Helen Clark or Jacinda, I just cant think why they are so stupid. Their job was to look after the good law abiding people of NZ but they just want to put us all into dangerous situations. No good can come of their silly Policies, no common sense here at all. | Barbara |
| The woman must be becoming senile or turning into an idiot you just have to see in countries where it has been legalized the problems they are now having and the increase in traffic accidents as a result of doped up drivers. | Digby |
| Marijuana, alcohol and tobacco all have different "harms" associated with them. Isn't it a bit like comparing apples and oranges? | Jacky |
| It%u2019s ironic that it was Helen Clarkes Government that closed mental health facilities such as Carrington and turfed troubled people onto the streets pretty well to fend for themselves. | Robert |
| It's equally as bad. | Andrew |
| We have to remember that Clark is the one who "set the ball rolling" on all subjects "socialist". Also we have to remember that the weak livered National Government did nothing during their time in office to change any of that process, in fact they just made things worse. Now we have Helen back with all her commie experience at the UN, ready to screw New Zealand over again. I believe the "Helen Clark Think tank" is a traitorous plotting organization hell bent on collapsing the economy of New Zealand so that J's statement that 'capitalism doesn't work' will look as though it is true. We all know, I hope, that it is not marijuana (like smoking a joint, which I never have) that is the danger here. People need to become aware of the refined products that are out there and how they can be used to 'subdue' and 'ameliorate' people without them ever knowing. Just think what the effect would be if one of the compulsory additives to bread was the refined cannibinoid tetrahydrocannabinoid, or THC. Do your research people. I will not vote for a party that supports this bill. I will only vote for a party that will actively eliminate drugs from our shores. None of the incumbent do! The party would also need to exit the UN, "secure" our borders, promote New Zealand patriotism and sovereignty, promote the 'family' unit, etc etc, you get my drift here. | Neil |
| It appears Helen Clarke is clearly stoned and under the influence of the UN attitude of 'let's free up drugs and keep the masses occupied and oblivious of our plans to regulate and control the world.' Marijuana should not be considered less harmful than tobacco and alcohol. DO NOT LEGALISE CANNABIS. | Robert |
| No – it acts as a gateway to far worse outcomes – like a delayed death sentence. As for Helen Clark – why is it that people still give any attention to the pronouncements emanating from this wizened, old, Globalist, has-been? | Scott |
| Why does that has been Helen Clark who is behind Jarcinda in some of labours policy making aloud to make those comments let alone be given all this air time. She should be charged for deceiving the public or be given a one way ticket to Iran. | Ken |
| Legalising cannabis use would begin the slippery slope towards general use of all such drugs and increase the rate of suicides and general crime. Driving a vehicle would become a much more risky process. | Graham |
| Truth has nothing to do with reality when politicians open their mouths.. The article by Guy Steward is right on the button. Easier to control the population when they are dumb-down by school teacher indoctrination, AND drug induced stupor.. Note how the entire Western world is being bombarded with this GLOBALIST stupidity, all at the same time. | A.G.R. |
| Hmmmn, it seems she is turning out to be one of the world's most dangerous women, ouch! | Cyril |
| And "vaping" is harmful, as well | Geoffrey |
| Helen Clark's ill informed view is insane and dangerous | Ken |
| No WAY if Labour pursue this path they are history…. | Carl |
| SHE WAS A DICTATORIAL SOCIALIST AT BEST AND AN EVEN WORSE ADVISER ON LIFE IN GENERAL | Garry |
| I believe in medical marijuana being available for those who need it, but not as a free for all. | Kate |
| clarke is still a como lefty | Steven |
| If she believes that any smoking is OK then she is smoking too much weed ! | Bill |
| It is the combination of cannabis with alcohol that disturbs me most, especially in teenagers. Put them together in a party… | Janice |
| Definitely not. | Susan |
| would any one believe any thing that Clark said ; look back at the permanent damage she implemented with in Nz ; being Jacinda's mentor ; Jacinda is following the same path !! one would not believe any thing either of them dribbled ! | Roy |
| Her only evidence would be that she plays with it herself. | Maurice |
| It is time the gvt faced reality !!!! | Michael |
| | |
| --- | --- |
| She may have been able to organise that rabble of a govt she had but she has totally lost the plot here and doesn't seem to have learned much about life in the real world. The facts are that this drug does screw many users up permanently and is a gateway drug to to worse more potent drug use | Phil |
| I have seen its effects and they are long lasting and dangerous | Laurel |
| I suspect your Guest Commentor this week is turning the few into many. | Rick |
| It seems she is becoming senile in her old age | Clinton |
| Just another nail in the coffin of insanity | Ced |
| HC should butt out. She is not wanted and is irrelevant. Any inhalation of fumes is dangerous! That's why we wear masks at work. To allow legal inhalation is just socializing future health costs – in other words everyone pays for the self abuse of some. | Tony |
| Her judgement has failed. Too much UN nonsense? | Michael |
| That a former PM expressed that opinion would suggest that the opposite is probably the case. There is a strong case for medical derivatives but I doubt it is sensible for drivers and machine operators or neurologically developing (child) brains (that is zero to 24 years old – physiologically!!) | zoran |
| Marijuana is more harmful than tobacco or alcohol. It will kill the folks inNZ . How can nz be smoke free by 2025 if marijuana is legalised??? | Lindsey |
| Her logic is unbelievably flawed. Has he been smoking it? It is as stupid as saying that driving at 160 kph is not as dangerous as driving at 95, because other drivers will not be able to get near you. Spare me! | Dick |
| Road Stats 3/4 of cannabis drivers who dies CAUSED the crash that killed them. Alcohol plus cannabis were mixed together 9 out of 10 drivers were responsible for the crash that killed them. This does not account for the other associated deaths and carnage. Overseas Consumption and User numbers increase. Addiction is real. Gangs and Black Market thrive. Health and Mental costs far exceed tax take. Edibles market targeted at kids. Proven detrimental affects up to 25 years of age. | Debs |
| Helen is either being purposely deceitful, or hugely uninformed in making such a statement. She seems to have gotten onto the "Green" boat, as she is also promoting the Legalization of Abortion! | Ted |
| Both alcohol and smoking have been intensively researched while marijuana research is just in its infancy and so far does not look good for its users. | Anthony |
| stupid and dangerous | Gerard |
| I wonder where these communism pushers get their brains from! They seem to peddle any policy that creates division or destroys economies. | Bruce C |
| Helen Clark is hugely deluded and obviously hasn't studied the facts – is she on the stuff? | Terry |
| Marshal Gebbie Dec 2010 Suicide For my mate Ernest W who cared…. Invisible in silky strands, a gossamer of lethal thought, Drifting through the nether regions, touching on my mind. Complication%u2019s vagaries encroaching on the circumspect Magnifying well beyond solutions I can find. Nervous in the groundswell now, I feel it all inflating, Inflating to a curtaining beyond my self control, Waves of peristalsis in a shrill persistant keening, Locking out the sanity in holding logic's goal. Waves of peristalsis in a bath of perspiration Panic in a rupture at the coccyx of my spine, Ravenously eating at the fabric of all reason Ravenously gnawing at this rationale of mine. Urine in a puddle on the floor beside my footwear Cloying is the stench of the urine in my drawers, Lost are the vestiges of any thought of decency Gone is the differentiation in my flaws. Clenching of hands in a bind of blue confusion Catatonic slowness in arresting the decline, Vaccilating eyeballs are rolling for the camera And utter desolation is a flavour on my mind. Why be concerned with the shaming of tomorrow? Why come to terms with the maunderings of late? Why face the music of the mirth and derision When there's a more practical direction to take? Glide to the realm of the smooth overflowing Slide in the slipstream oblivion makes, Slip the bonds of your sad mortal tenure's Awful array of destructive mistakes. Glide to the realm of serene independence Glide far away from the troubled and hard, Gone to the gossamer web of the ether Gone to the nether world's silky facade. ………..: But what's the guts Courageous, You happy with your deed? Are your friends all overjoyed To see your suicide succeed? Is your family unaffected By the loss and guilt remorse, Your sudden grand departure leaving kids without recourse? Did you think about the aftermath? The chaos and the pain And the long term implications Of your shattered families' shame? The guilt within your partners heart, The kids who are confused And the bloody disappointment Of your mates.. who feel abused? The mess you left behind you And the tangled web you wove And the bruising of good memories For which, you once,…had strove. Your painless, quick demise, you thought, Released you from all this….. But the sadness in the silent eyes Condemns you as remiss. Marshalg In an effort to understand why? ….And explain why not ! 9 December 2010 | Marshal |
| I think at the moment there are more deaths on the road from drug impairment than alcohol | Colin |
| No doubt about that. | Hans |
| Crazy Flies in the face of research Expect better from a political leader | Mike |
| What a dangerous statement for an ex PM to make. When clearly it is not true. Legalisation of marijuana will be the next Pandora's box for NZ. No no no | Robert |
| the poor lady is badly deranged if she think that marijuana is not harmful | Russell |
| All are harmful. Why add to the problems especially as we all know the standards of many of NZ"s citizen's. Ignore that loony Canadian Prime Minister. NZ's general population does not have the maturity to handle marijuana or any other mind altering substance. | Alan |
| This woman is a menace, it's about time the public of NZ told her, that we aren't interested in her opinions, she is no longer relevant. Is she prepared to take responsibility for the problems that this drug causes, Helen BUTT OUT! | Merryl |
| She got it wrong again – just like with the Skyhawks and many other things. Why rely on evidence based decision making when you can help your protege to lure the younger vote with mere opinion made to sound authoritative. | Francis |
| Spoken a retired politician .Where is her evidenced based research to support her statement. Most addictions move onto something more | Margaret |
| Helen Clark has had no formal training in medical matters, therefore she cannot state with certainty the above. | Dennis |
| Typical society-damaging opinion from her. She is responsible for increasing family breakdowns in NZ. A very dangerous influence and in our society. | Gordon |
| I am a retired 37 year front line Police Officer. The last 22 years in the criminal investigation branch. Joined 1958. Saw the use of cannabis develop and increase from that time. The damage it did to young peoples mental health and general motivation. Also as a gateway drug. Anyone who uses the argument that its less harmful than alcohol, needs their head read. Think about it, both cause harm and heart ache and so you want to foist another harmful substance on the community , when you know the damage one is already doing. What sort of reasoning is that. It's the reasoning of a woman who rebelled against her own family values and got herself in a political position, where she became the most socially destructive Prime Minister in my time. By changing legislation and redefining what a family was. She has never had a family herself. Dusted off her husband at election times, put him on the stage and then sent him away again. Now she has thrown her corrupting influence behind further damaging liberalization of laws. Joining forces with the Greens young gun destroyer of social values Chloe Swarbrick , who is 24 years of age, never had been confronted with drug addicted teenagers in her life, and the broken hearted parents who I often spoke to weekly as a Detective Sergeant, trying to stop their teenagers using the weed. Add to this the THC levels in the leaf have now sky rocketed. But this lot will take notice, I can see it. Maybe if one of their family get run into by a doped out driver, who may also have skin full of alcohol, they will take some notice. by that time it will be too late. Look at the dame lowering the drinking age has done, yet they won't change that. I despair the direction this Government is talking us in. Unfortunately the last one also has a lot to answer for. | Dene |
| Absolutely not. For a person in her position to be so misinformed or deliberately obtuse to mislead the public is appalling | Don |
| Not interested in Clark's opinion on anything. | Carole |
| The idea is utterly insane. Look at the experience of Canada. Making supply easier will facilitate the results she believes will happen. | Jim |
| We already have enough problems with alcohol and tobacco so why would any sane nation introduce another problem recreational material. I believe most people consume alcohol to enjoy the flavours, the subtleties, etc but not to get intoxicated, however cannabis is only consumed to get high there is no just consuming for pleasurable enjoyment. Cannabis has the same effects as tobacco with the same chance of throat and mouth cancer so why do we restrict one without restricting the other. From my experience I have seen the effects of cannabis removing the drive from people and creating a lot of mental problems. We don`t want to tolerate any more escapism. like the users themselves it fucks them but with the issues it creates and the malaise within society it fucks NZ too. BAN ALL DRUGS and euthanise all heavy users of all illegal drugs. | richard |
| Clark is nothing but a UN mouthpiece instrumental to another piece of UN agenda to soften up and ultimately destroy all conservative social values. Starting with political correctness , depraved gender politics and finally systematically rot peoples brains until they are going off their rockers. A great opportunity to sustain a massive psychiatry-psychology- counselling .industry and divert billions of tax payers dollars into what they call mental health. Nothing but a bloody farce if you ask me. | Michael |
| Learn the lessons from other countries who have acted against marijuana | Tom |
| Don't be silly we have been teaching kids for years that marijuana addled your brain and reduces your IQ. Perhaps that is what the government wants a load of idiots. | Andrew |
| As a reformed smoker who found it hard to quit 30 years ago I wonder why in stubbing out smoking they would replace it with cannabis which I assume would have harmful effects longterm | Colleen |
| | |
| --- | --- |
| I had a brilliant design draughtsman working for me back in the 1960s who in the space of two years from starting daily use of marijuana could not remember what he had been asked to do less than two hours after the instructions had been given. A waste of a real talent. | Ian |
| She is wrong | John |
| I think she has been on the wacky backy AGAIN!! | Bill |
| I very rarely agree with Helen Clark's opinion on anything. We have to remember of course, that the folks pushing for legalization of cannabis are those who are trying by every means possible to render the populace to a state of dependence and hopelessness, so that they can be easily controlled and manipulated. It's all part of the plan for a communist takeover of everybody everywhere with a few elitist types holding the power and the purse strings on everything. Governments don't give a damn about suicide statistics. They continually impose hideous rules on peoples lives, especially men, with the really ugly laws surrounding marriage break-ups etc etc etc adinfinitum. Councils continue to make home ownership extremely expensive and difficult with rules around building a dwelling so difficult and expensive. Gone are the days when an intelligent man could build a home for his family and then add to it as his family grew. No chance of doing that now days. Sure there we some fairly doubtful constructions going on, but has that changed? No it has not. It is just sooo expensive now to even get a consent to build, never mind actually building. I watch with disgust as Minister of Housing after Minister of Housing fail to identify the main problem causing the housing shortage. It costs literally hundreds of thousands of dollars to create a new section and to get permission to build and then on every stick of timber the Government demands a 15% tax in the form of GST, having already raided every dollar earned to the tune of 28% income tax and every mile travelled around 48% fuel tax. No wonder people commit suicide at such a rate. No surprises there. The only surprise to me is that so few commit suicide. Build some mental Hospitals and get these people off the streets and into rehab. After that there is not much that can be done. Eliminate the DPB and only support those who have made a real effort and just need a helping hand to get them out of whatever hole they have fallen into. I'd even go so far as to manpower the chronically unemployed into work. It may well provide many of them with the best opportunity to escape their neverending cycle of degradation and poverty. | Dianna |
| I think that they would go onto more harmful drugs | Cherryl |
| Both have similar outcomes | John |
| Certainly not. | David |
| As HC herself would say – "Absolute Poppycock!" | Martin |
| She has obviously puffing the weed | Arthur |
| she 's a socialist of course so what could you expect? | Russell |
| Insufficient evidence for this. Seek scientific data. | Robert |
| I can not understand how the govt./Helen Clark can ignore the science indicating the serious health risks associated with the use of marijuana. | Paul |
| She can't have done any in-depth study into the harm decriminalisation will do | Graham |
| Damaging to developing and young adult brains – and that's based on personal experiences! | Liz |
| It is nothing short of bizarre the our 'government' (I employ the term loosely) is trying very hard to outlaw the smoking of tobacco while, at the same time, doing everything it can to encourage the smoking of marijuana. Can anyone explain this for me please? | TOBY |
| The stats speak for them selves | Tony |
| I don't believe it's hugely less harmful, all drugs can be harmful if not treated with caution. I don't however support prohibition as it doesn't work. I know a huge number of people who have smoked cannabis for most of their adult lives but I don't know any who have developed psychosis or schizophrenia from it. | Dave |
| What's she on? | Rod |
| Making cannabis more readily available with cause depression and suicide to increase significantly. It will be catastrophic for Maori. Watch and learn. | Grahame |
| Typical nasty Clark tactics. Whether or not it is less harmful than alcohol or tobacco is irrelevant. Marijuana is bad.Are we trying to cease smoking or not? | Roger |
| She has absolutely no idea apparently of the harm it causes especially to young people. Almost anything to bring about a fully socialist state it seems. | Roger |
| Medicinal cannabis does not exist! "Medicinal" – the comfort word to incite acceptance that it's socially more acceptable to smash your brain with Cannabis than common ol' alcohol or tobacco. Why? Because the media minions have said that removal of THC from marijuana makes it totally safe. Not that this has been proved scientifically but I'm sure Helen is working with Al Gore on that. 'Cos any toxic and dangerous drug that has destroyed 1000s of New Zealand lives can't be all that bad. | Peter |
| What would anyone expect from Clark, so far removed from reality it's astounding, one of the most inept prime ministers this country has had to endure, only to be matched by the current one! who is clearly being led by Clark. The UN escaped her incompetence when she put her hand up to be the General Secretary, they were well aware of her inability then and nothing has changed. Ardern is on the same path as her worshipping student, totally out of step with reality and the people of this country. | David |
| Helen Clark is living proof that "dope" is a good name for it! | Bruce |
| This woman is pushing the COL idealogy – we have enough nutcases in the COL already trying to destroy our nation, they don't need assistance from a "once was" PM trying to use her fading influence to help facilitate more damaging laws being introduced, she is no longer relevant. | Roy |
| How can NZ ever be smoke free if smoking marijuana is legalised? | Margaret |
| The woman's a fool | Jenny |
| There is medical evidence that frequent use affects developing brain cells and damages existing cells | Bryan |
| Where does Helen get her facts from?? | Jack |
| Obviously someone has an agenda here! Even from the 70's we know there are many more side affects from Marijuana than is commonly discussed in the media. | Fiona |
| I have seen marijuana use devastate a family and lives. Legalising its use will only add to NZs problems, including suicides, mental illness and addictions. I fear that legalising it wi%u013Al lead to further abuse including using it in regular foods like desserts, sweets, etc., to unknowing people and especially children. Helen Clark's words are dangerous. | Jill |
| | |
| --- | --- |
| She doesn't live in NZ & should keep her biased opinions to herself.She should know living in America the damage it does but she,s supporting her pal Jacinda in BLIND DAMAGE after all she wont be killed by a drug maniac or robbed by a druggie ETC so she should SHUT UP | Cindy |
| What is wrong with Clark! There's enough overseas evidence (and advice from those at the face) warning that legalising marijuana is NOT the way to go. She's obviously trying to create dependence. | George |
| Clark's thinking has always been at odds with my own views ! | James |
| Based upon my experience in drug counselling and police work, I agree w/ Helen Clark's statement. For example, fifty % of police work involves domestic disputes,, 95% of those involve alcohol resulting in violence. Not once have I ever responded to a domestic where the causative factor was cannabis. Quite the opposite actually. Thx. | James |
| Does anybody really care what this old **** has to say. | Russell |
| She should be ashamed of herself! | David |
| She must be smoking too much dope herself to be saying stupid things like that! | Laurie |
| NZ approaches a nationwide referendum concerning the legalization, or not, of cannabis. It is time therefore for us all to understand the implications of this important vote, and distinguish between medical cannabis, and the opposing harmful compound that is smoked. Mostly taken by mouth medical cannabis, already legalized in NZ and just awaiting a regulatory regime,is often highly beneficial in cases of debilitating cancer chemotherapy, juvenile epilepsy, and certain conditions of intractable pain. On the other hand, cannabis as smoked, is an entirely different, medically dangerous, chemical compound that can permanently affect the health of mind, body, personal relationships, jobs, and finances. Particularly with the young, where many cannabis smokers suffer irreversible brain damage, with 1:6 occasional smokers becoming permanently addicted, and similarly in 1:2 of those that smoke cannabis daily. Most importantly, cannabis smoking can lead to addiction of more harmful drugs. Once these well-established facts are better understood, and in disagreeing with former PM, Helen Clark, surely no-one, with an interest in younger people, and society as a whole, could possibly vote for legalizing harmful addictive non-medical cannabis. I am astounded that Ms Clark could agree with the legalization of cannabis. This has to be one of the most important voting decisions of our time. | Hylton |
| comparing these things does not mean one is less harmful than another. It's the amount of usage and personality of those taking them which makes the difference.. No one really needs cannabis and to legalize it only adds another drug to be misused and thus increase the suicide rate. | Graeme |
| who would listen to her | Allan |
| She has had her turn at running the Country and she should keep her nose out of the current issues. It will be a fatal step to legalise Cannabis. | Peter C |
| Medical evidence totally contradicts her opinion.. | Don |
| equally as harmful | Ngaire |
| She must have been 'HIGH'. All three are bad, but taken in moderation with no tendencies for addiction, one could cope. | Dave |
| Dear Helen Who is usually so sound, has lost the plot on this one. Perhaps been indulging while overseas? | Steve |
| Helen Clark's history of decision failures would suggest she is perhaps using marijuana herself. The results of mass usage of Marijuana is perfectly summarised in the Alex Berenson report, and will happen in NZ if legalised. , | Pierre |
| how many people have been killed or injured when using marijuana and driving a motor vehicle | Arthur |
| The only thing I've ever agreed with her | Richard |
| For some reason Ms Clark thinks she is the expert on everything! | Errol |
| she does not know what she is talking about – how many people does she know who smoke dope??? | Erin |
| The gangs will still be involved, the Govt a cannot control this and the very things they seek to control will become the Advertising Angles of rival gangs to sell their product…Higher THC levels lower price. | Lionel |
| Countries where marijuana has been decriminalized have reported increased problems of schizophrenia, psychosis, and other forms of substance use disorders. | Mike |
| Absolutely not. | Pamela |
| What was she smoking when she made that comment? | Paloma |
| In the ear of the PM & the greenies!!! | Ron |
| All are harmful to a greater or lesser degree each in its' own way to both the taker and the receiver. In practical terms we can only deal with marijuana that, by and large would be the most destructive if liberalised. | Victor |
| She is just one more of the Globalists who want to destroy and dumb down the population so they can be easily controlled | David |
| You left out the link with abortion and euthanasia. This government wants as many abortions as possible and, it seems, want to encourage euthanasia. It is no wonder that they are not interested in suicide prevention! | Anon |
| The statistics out of the United states are clear that cannabis harm has greatly increased since those states that legalized its use can confirm. | Brian |
| That is a silly statement as it depends on the quantity consumed or taken of each. I guess smoking a lot marijuana would do more hard that one glass of wine. | Frank |
| I don't agree with anything she says or does. | Bruce |
| Sometimes I wish Helen Clark would just go away but seems she likes to see herself in the news from time to time, I have never known anyone doing regular alcohol consumption to end up paranoid but know a few who have been regular pot smokers who are, (despite the fact that it apparently can cure every illness known to man), every one of them has tried or gone onto heavier duty brews. | John |
| I would have thought she was smarter than that to make such a dumb statement. | Peter |
| no length of time to observe it – is new to society | Beth |
| Its the thin end of the wedge | Colin |
| Generally less harmful than alcohol and prohibition has also been shown to be a failure only putting money into criminal groups and adding to jail time for harmless crimes. | Kirke |
| Everyone is different and different things effect different people in different ways. | Roger |
| Is Ms. Clark planning on continuing to run this country by proxy, still? Light bulbs, shower heads, turning off the heated towel rails, etc etc. She's had a few flights of fancy in her time. Stand for election, honey bunch, and see where that gets you now. Any habit forming substance is not going to enhance the life of the young and thoughtless, nor that of the old and foolish. Ask any physician, or policeman, or, for that matter, parent of psychologically affected person…but for heaven's sake, don't ask a politician ! | MABEL |
| Helen Clark is being given far too much air time and is still trying to influence the voting public from the wilderness. Time to move on in to retirement Helen! | Jens |
| Alcohol and tobacco cause great harm to the community, adding another dangerous drug to the mix is irresponsible. No wonder our communities have so many problems with this sort of muddled thinking from a senior political advisor. | John |
| Look at adolescent harm to their education and potential. Tobacco poses much less harm actually to brain function and motor skills | Cliff |
| Red Helen continually shows how wedding she is to the international communist state. | John |
| As already stated, there are many research studies already done on this Subject of Marijuana. Just look at the Stats from Colorado, Marijuana legalised in late 2012. What an absolute nightmare for every Government Authority. If Helen Clark is pushing for legalising Marijuana, then, if it goes ahead, then she should also be charged under the Crimes Act for Public Endangerment. | Geoff |
| Is this just an effort to help her feeling important? | JB |
| A high percentage of teenage suicide has marijuana as a factor. Clark would have no idea as she has never brought up children. | Tom |
| Absolutely not! I have huge respect for her but in this case she is clearly too far removed from the realities of life today. Speaking from family experience, and NZTA statistics, legalisation will increase suicide, and vehicle crash deaths! | Hugh |
| We all know Clark is working on a UN agenda. Legalizing drugs is a goal to control and help reduce population. Just as the pushing of abortion and euthanasia are the beginning of their plans | Elizabeth |
| This is a silly comment from a woman who should know better. That said, one must be carful with statistics. The quote that people who smoke cannabis are seven times more likely to attempt suicide might be turned around. Perhaps people who might attempt suicide may also be more likely to use cannabis. However the statistics might be interpreted, legalising cannabis is in my view, unwise. | Peter |
| All three are harmful. Society certainly doesn't need to be agreeing with Helen Clark just look at our suicide rate in this country. Cannabis is known to increase schizophrenia psychosis and therefore high risk of suicide. I think we have enough to contend with in this country what with families living on the welfare unable to feed their children living in below standard accommodation. We do not need another burden to society. | Suzanne |
| She is guilty of hyperbole but making drugs illegal is a clearly failed policy. | Peter |
| Helen Clark is so out of touch with NZ and reality. Her arguments are not accurate and do not even recognise NZ today! | Stewart |
| Smoking marijuana is MORE harmful than tobacco and AS harmful as alcohol | Liz |
| she has lost the plot | Jeff |
| recovering alcoholic who has seen the effects of cannabis on young people and it's psychotic to the point of criminal. | Graeme |
| In my Practice I have seen first hand the anxiety clients presented with only started after cannabis use. | Sue |
| No – it still results in poor decision-making. | Lara |
| Even if it wasn't the evidence of prohibition as a failed policy is overwhelming. We should legalise, regulate and tax not just Marijuana but every drug. Kill off the cartels and get money to treat the addicts. | Ray |
| | |
| --- | --- |
| Pity that she doesn't go out with the Medics/Firemen etc so she can see what damage is done by smoking marijuana just on our roads, but then again she has been brainwashed by the un/greens and being a politician she has no knowledge of the real world | Richard |
| That communist b***h is under instructions from the corrupt UN and the Tooth Fairy takes orders from her Disgusting where we have got to in NZ | Cutty |
| Definitely not. I'm totally amazed by Helen Clark's assertions. It is well known that marijuana taken before a child's brain is properly mature damages it in many ways especially schizophrenia and can lead to suicides. To advocate that it is less harmful than alcohol or tobacco is ridiculous. It is quite beyond me anyway as to why people feel the need to take mind altering substances. There must be something badly missing from their lives!!? | Helen |
| Marijuana has been proved to be a gateway drug to more potent drugs like heroin | Bev |
| What a load of old rope! | Denis |
| No no no – I do not want to expose my grandchildren to the risks of mental illness | Martin |
| It's a Gateway Drug | Ranald |
| There are enough crazy people in the world without it. | Mark |
| I also believe that she has been recorded as stating that MOST New Zealanders have tried Marijuana. She must live and circulate in a different society to most of us..Drugs in industry is bad enough at present without adding to the problem. | Barry |
| As a teacher for 40 years I watched students get Dopeyer and doperye losing the ability to focus and learn and alienated from their parents and other adults thus stepping on the road to crime and suicide. | Terry |
| Washed up politicians like Clark and all the rest should just keep their noses out, they had their shot when they were calling the shots. | Barry |
| The overseas reports show that it's very harmful and it just doesn't work can you see the growers of cannabis stopping or lowering the thc levels hardly Ban it completely even the health benefits are unproven | Peter |
| There is a disconnect in your argument that it is cannabis use that is solely responsible for the 7x greater risk of suicide in the study you quote compared to data on the harm caused through tobacco and or alcohol consumption. It is that latter set of drugs you need to quote similar 'effect' data, even on suicide as 'harm', to be a credible argument presented. I see this as similar to your position on human induced climate change. Somehow you 'believe' that burning the accumulation of 100's of million years of stored solar energy in only at most 200 years of industrial activity does not effect the climate. And that is apart from paleo-climate research linked to CO2 levels. These 'disconnects are disappointing from persons with extensive education and reminds you of the basis of the support for Trump like characters. | Dick |
| Why stroke the flywheel for drug use? | Doug |
| Moderation in all things | Hugh |
| Of course it is,tobacco & alcohol cost the country (tax payers) nearly 10 billion a year.,with alcohol being by far the worst,with road deaths & family violence | Mike |
| it is a well proven fact– that marijuana affects the brain– particularly when taken whilst young people are in their teenage years and into their twenties. I suggest that Helen Clark, the author of the above comment in regard "to marijuana being hugely less harmful then alcohol or tobacco", stays out of the political arena now, and she should listen to proven research Most Mothers know that it is hugely harmful and she only has to speak to Mothers who know the harm that is does and the tragedy of the wasted years ahead for those affected | Jenny |
| All of your polls are horribly skewed by confirmation bias and contribute to an ever narrowing lens you and your readers see the world through | Mark |
| The statement is only part of the puzzle and mental illness and/or suicide may well explode if cannabis is legalised. So I agree with the statement because it's correct, but I wont be voting for legalisation of cannabis. Decriminalisation is a better option. | Mark |
| Smoking any substance is bad for lungs. | Maurice |
| Anyone who knows HC closely understand she has a chip on her shoulder with a predetermined agenda to "change" NZ negatively so as to "penalise" all her antagonists. | Bert |
| its always been the lesser of all the evils,i have seen more damage done in my life by alcohol,than ever done by having a puff, I would like to know how many off these government officials who like to try and rule our lives, sit in there little bar at the beehive tossing back tax payers whiskey | Rodger |
| Deluded socialist | Chris |
| This is a bright woman, how did she get so far off track. I'm totally against the legalisation of this drug. | Eric |
| It is still a drug | Ross |
| No! Legalising cannabis and the consequences of its use will just be another huge charge against the taxpayer-funded National Health Service. If all hospitalisation were privately and voluntarily funded then personal responsibility toward smoking tobacco, cannabis and excessive drinking of alcohol would take on a different outlook- especially for those who couldn't afford health insurance. Think about it for a moment. The choice would be bad health and a potentially early death or abstinence and a longer more healthy life. | Don |
| | |
| --- | --- |
| Helen Clark is dangerous. Legalising cannabis would be a disaster for New Zealand. | Eric |
| There are enough social problems in this country without making dope freely available. | Andy |
| Helen Clark's agenda – like Jacinda Ardern's – is to make more people dependent on the State. Legalising dope will increase addictions, suicides, violence and crime. Welfare rolls will swell. It will devastate New Zealand. | Lionel |
| No! No! No! Helen Clark is soooo wrong about cannabis! | Pam |
| How can Helen Clark say it is less dangerous than smoking and drinking when cannabis leads to addiction, violence, crime and suicide? She is misleading the public. | Murray |